Once you have made fresh chunky applesauce you will wonder why you are still buying the jars of commercial applesauce that are as smooth as baby food.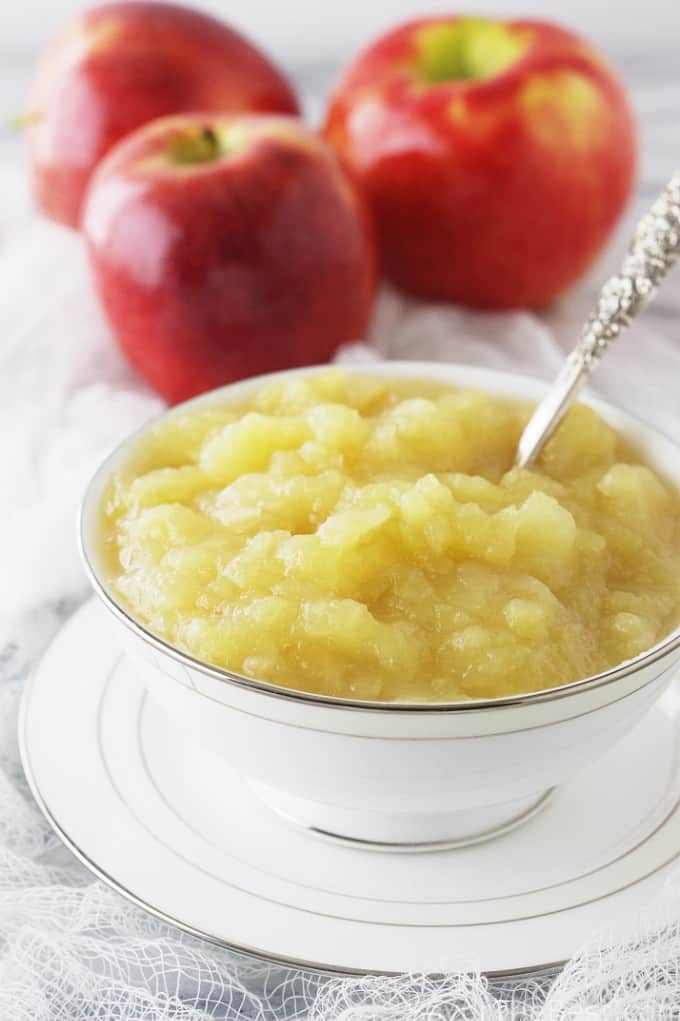 I would be hard pressed to name my favorite fruit but apples would be among the top contenders. This is one of the most versatile fruits that God created and applesauce is one of my life-long loves.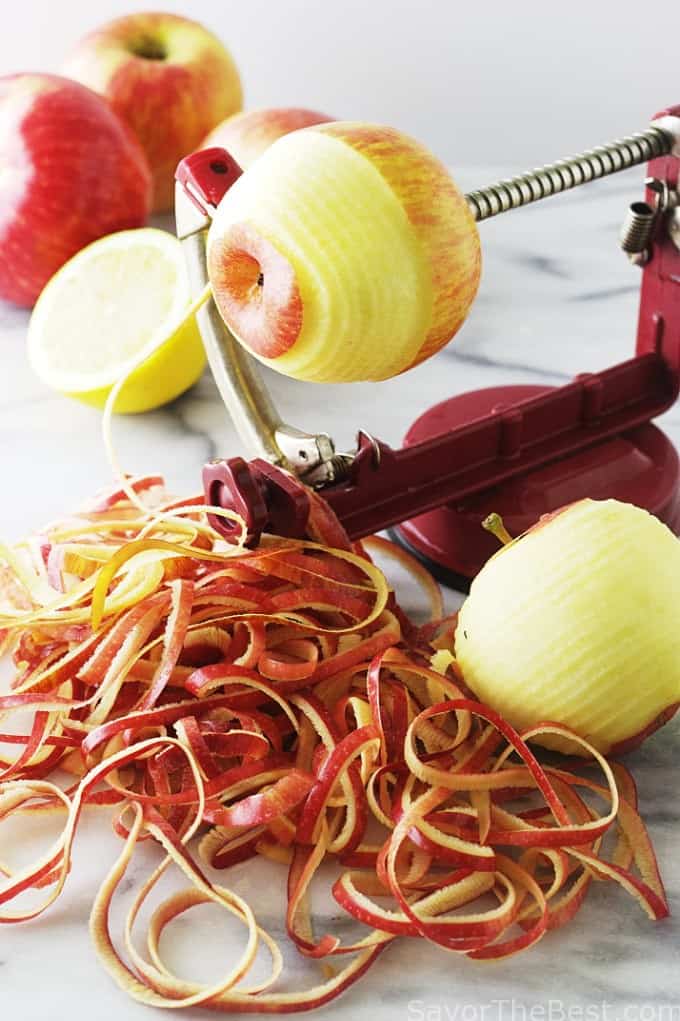 In this recipe for fresh homemade chunky applesauce we are using a combination of Gala, Fuji and Honey-Crisp apples and they are all pretty sweet. A combination of apple types will give you maximum flavor in applesauce.
We do not add any sugar but just let the sweetness of the apples shine. Some apples are just so sweet they do not need any sweetness added in applesauce while others are very tart and could benefit with a sweetener.
Applesauce is delicious with yogurt, in baking, in savory dishes or topped on pancakes and waffles which I prefer rather than syrup. Or, just a nice dish of applesauce with a sprinkle of cinnamon.
If you like your applesauce sweeter than our recipe, you could always add sugar or your preferred sweetener to the apples while they are cooking.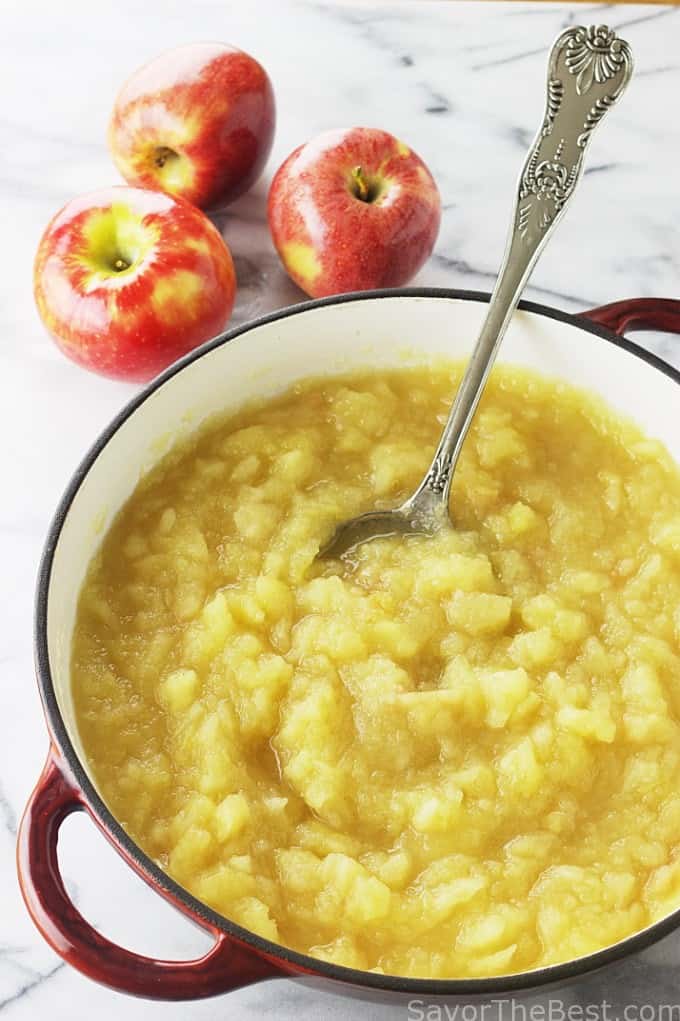 This is a chunky applesauce with all it's natural sweetness. It is easy to prepare applesauce and I appreciate the assistance of my apple peeler that makes the peeling task even easier.
After the apples are peeled, cored and quartered they are added to a pot with lemon juice and only half-a-cup of apple juice. A touch of salt is also added to bring out the sweetness of the apples.
After the apples cook to a reasonably soft stage they are mashed with a pastry blender that cuts them into a chunky applesauce.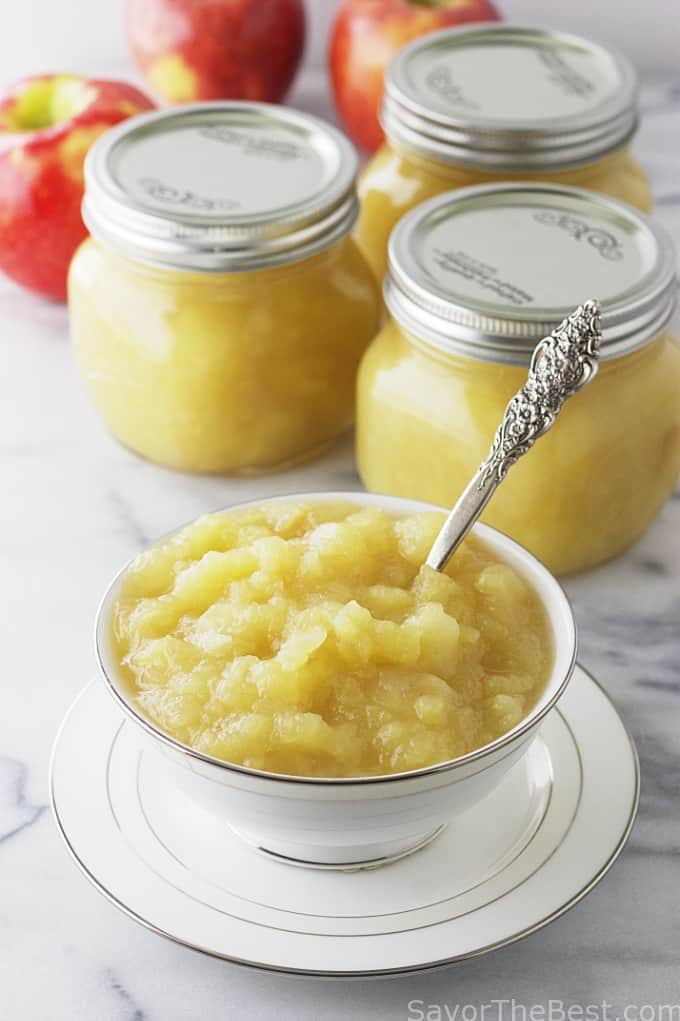 More great-tasting sauces to take a look at:
CONNECT WITH SAVOR THE BEST!
Be sure to follow us on our social media accounts
Facebook * Instagram * Pinterest * Twitter * Youtube
Did you make this recipe? We would love to hear from you. Drop us a comment below.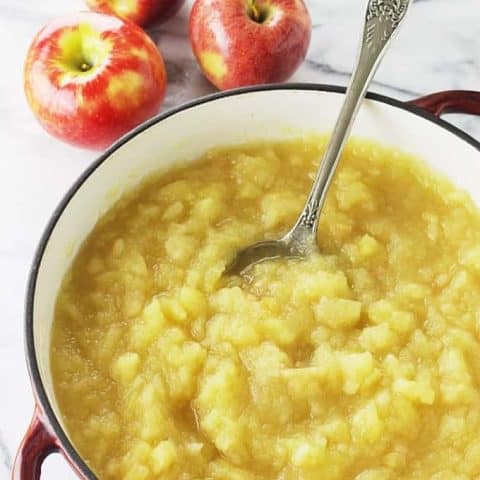 Chunky Applesauce
Yield: 8 cups
Prep Time: 20 minutes
Cook Time: 45 minutes
Total Time: 1 hour 5 minutes
Easy homemade chunky applesauce, no added sugar. Just apples, a little water and a touch of fresh squeezed lemon juice.
Ingredients
2 lemons, juiced
12 fresh apples, any variety or combination
1/2 cup water or apple juice
1/2 teaspoon sea salt
Instructions
Fill a large bowl or pan with cold water and add half of the lemon juice.
Prepare the Apples:
Peel and core the apples, cutting each one into quarters and adding to the bowl of water/lemon juice as each apple is prepared.
When all the apples are peeled, cored and quartered, drain and discard the lemon water and add the apples to a heavy bottomed pot or Dutch oven set over medium-high heat. Add the water or apple juice, the remaining lemon juice and the sea salt. Bring the pot to a boil, stir with a wooden spoon, reduce the heat to low and simmer for 30 minutes. Stir the apples frequently and when they are semi-soft use a pastry blender or potato masher to cut/smash them to a chunky consistency. Continue cooking for an additional 15 minutes. Remove the pot from the hot surface, allow to cool, then ladle into plastic or glass containers, cover and store in the refrigerator.
Notes
If the applesauce is not as sweet as you prefer, simply add additional sugar according to your taste preference and simmer an additional five minutes to dissolve, stirring to distribute.
Nutrition Information:
Yield: 16
Serving Size: 1/2 cup
Amount Per Serving:
Calories: 61
Total Fat: 0.3g
Carbohydrates: 16g
Fiber: 3g
Sugar: 1g
Protein: 0.3g