Apple Slab Pie is a classic dessert fit for a crowd! Sweet and tangy cinnamon-spiced apples are baked into our flaky all-butter pie crust and each bite is divine! This apple slab pie recipe is traditional, meaning it's baked in a standard-sized sheet pan, and results in a more shallow, rectangular pie that's perfect for larger gatherings.
From the gooey apple filling to the buttery crust and sprinkle of sugar to top it all off (don't forget the ice cream!), this apple slab pie is sure to be a crowd-pleaser!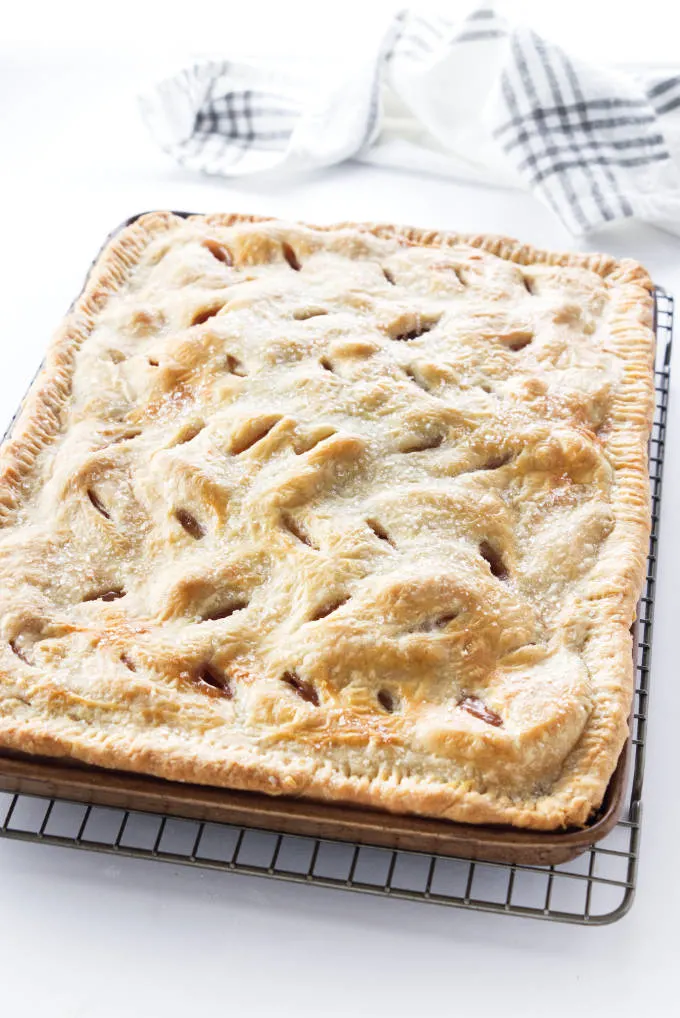 What is a Slab Pie?
Slab pies are wonderful if you're baking a pie for a larger crowd. This apple slab pie- similar to most slab pie recipes- is baked in a standard quarter sheet pan.
The dimensions are 10x14x1-inch, which will give you a large, rectangular pie that's more shallow. However, it is still the epitome of everything we love about a classic deep-dish apple pie!
If you are in search of other slab pie recipes, give our Strawberry-Rhubarb Slab Pie a try! It's another good one. 😉
Why We Love Apple Slab Pie
That flaky, buttery crust. The tender, sweet and tangy apples. Cinnamon and sugar and a gooey filling. It is apple pie perfection in every way, and just as simple to put together as a traditional apple pie.
This Apple Slab Pie is:
the perfect dessert for a crowd
sweet and full of flavor (thank you, butter crust)!
easy to slice and serve
simple to prep
It's true, we are big fans of apple pie of all kinds, and sometimes it's hard to choose which one to go with. We have our Apple Pie with Einkorn Crust, a Dutch Apple Pie with Oatmeal Streusel, and this gooey, decadent Caramel Apple Pie.
And while all of those are amazing in their own way, this apple slab pie is another great one to add to the mix. It fits nearly any occasion with a large gathering- from holiday parties to summertime barbecues and everything in between.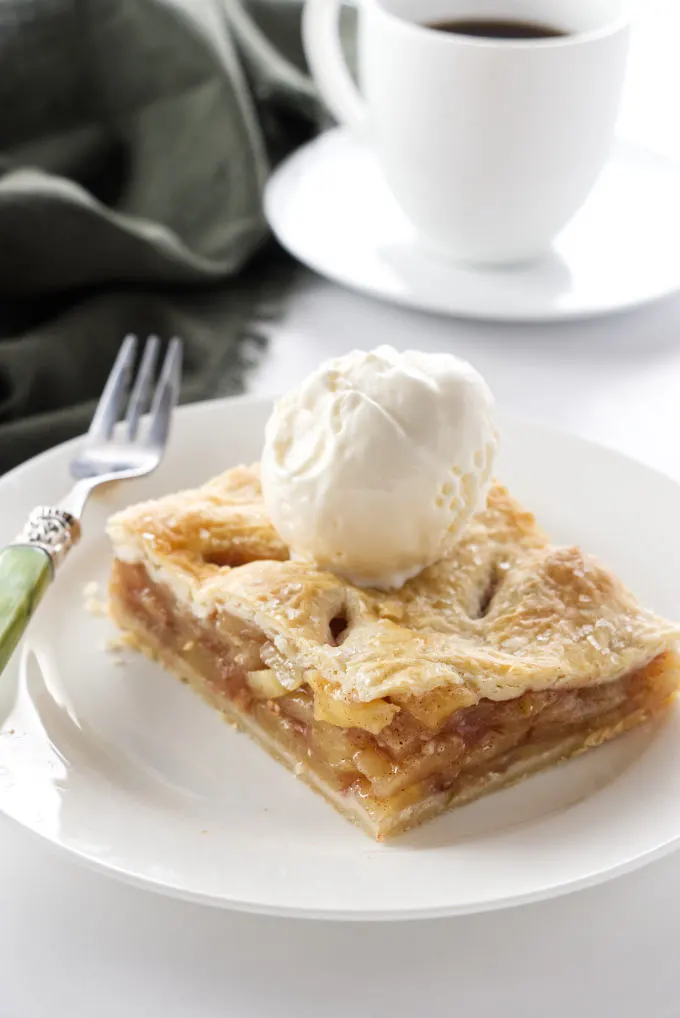 The Ingredient List
The pastry crust we use for this apple slab pie recipe is a variation of our all-butter pie crust. It makes enough for the bottom and top crust, and bakes into a beautifully golden, flaky and buttery pastry.
Here's what you'll need to make apple slab pie (see the recipe card at the bottom of the page for all of the ingredient amounts):
All-purpose flour
Salt
Cold butter, cut into small bits (for the crust and the pie filling)
Ice water
Apples of mixed variety, peeled, cored and sliced
Granulated sugar
Lemon
Cornstarch
Ground cinnamon, cloves, and nutmeg
Egg white wash (optional)
Course sugar (optional topping)
You will also need a quarter sheet pan and rolling pin.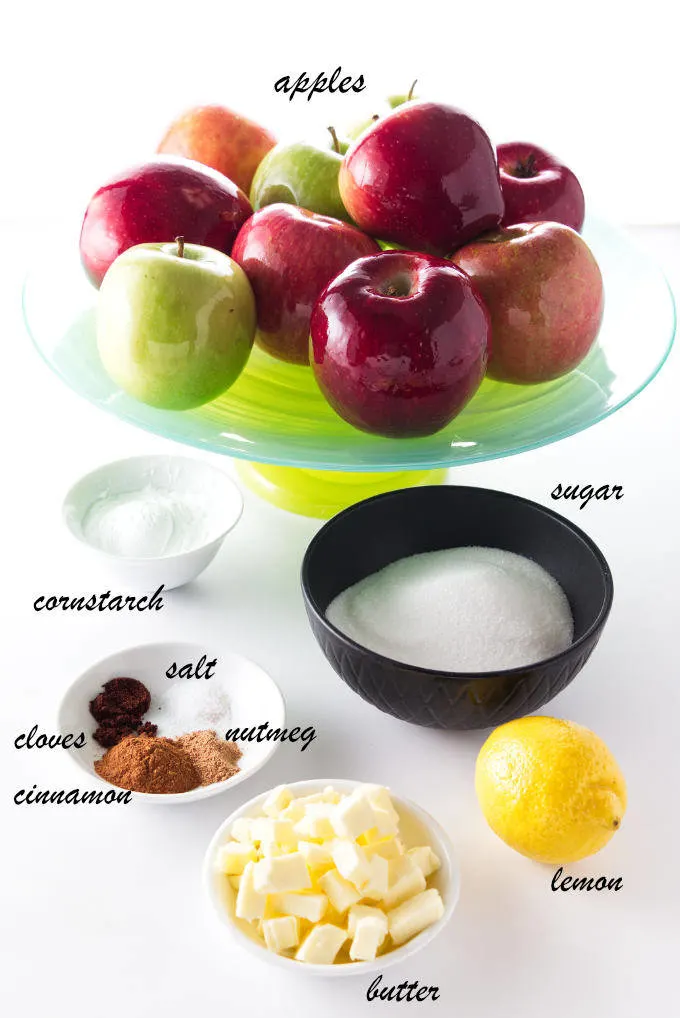 How to Make Apple Slab Pie
Apples are piled into this flaky crust and baked down into the most delicious apple filling.
Tip: Choose apples that are a mix of varieties. We like to combine extra sweet apples with more tart apples to get the perfect sweet-tangy flavor.
Our apple slab pie is easy to make! Here is a brief overview of the recipe. Scroll down to the printable recipe card for all the details.
Prepare the pastry crust: We used a food processor but you can mix it by hand.
Make the filling: After you mix the filling ingredients, set it aside while you roll the dough.
Roll the dough: Roll out one pastry disk and transfer it to a 10×14-inch sheet pan, pressing it into the pan. Pour half of the apple mixture into the pastry and spread it evenly. Dot the top with bits of butter. Add the rest of the apples and squeeze remaining lemon juice over the top. Roll out the other dough disk and lay it over the apple mixture. Trim and crimp the edges.
Bake the slab pie: Combine one egg white with a tablespoon of water and brush the top of the pastry crust. Cut a few slit vents on top of the crust and bake.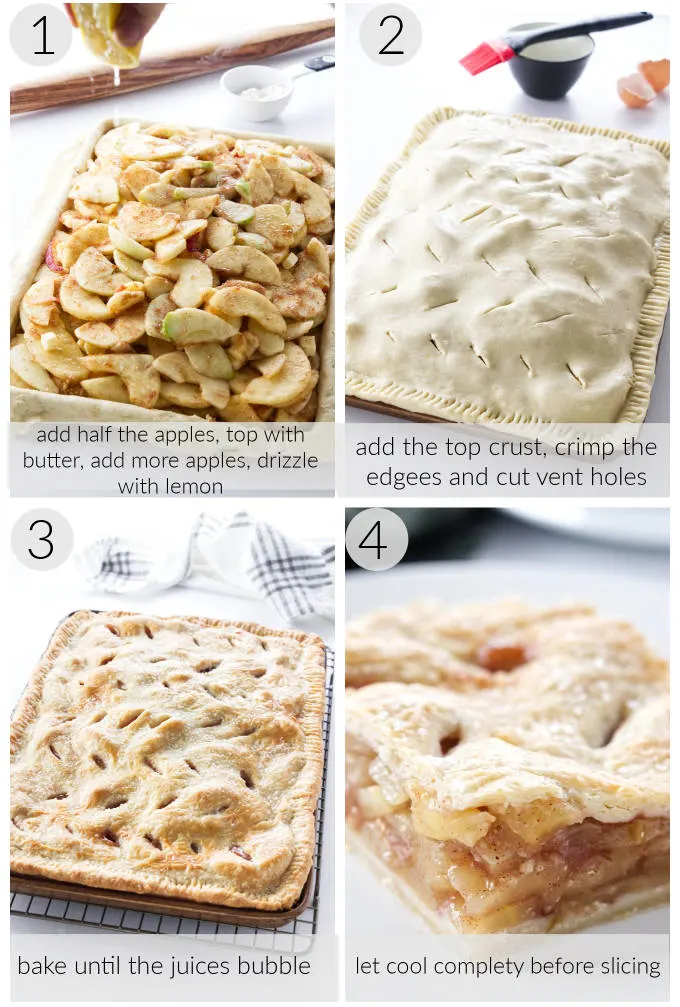 Tips for the Best Apple Slab Pie
Let the hot pie rest at room temperature to cool for at least 2 hours before serving.
If your food processor or mixing bowl is smaller than 14-cups, divide the pastry ingredients and make two separate batches of the pastry crust.
Slice the apples to about 1/4-inch thickness. A mandoline is the best way to get the apples to a uniform size which is important so the filling bakes evenly.
Once the pie is in the oven, check on it after 45 minutes. If it's becoming darker than expected, drape the top with a sheet of foil.

Bake the pie until you see the juices bubble.
Frequently Asked Questions
What kind of apples work best for pie?

For the best flavor in your apple pie, use a combination of apple varieties. We specifically like a combo of Granny Smith, Gala, and Cosmic Crisp apples.
Should you cook your apples before putting them in a pie?

For this apple slab pie recipe, there is no need to pre-cook the apples. They will get soft and tender during the bake time.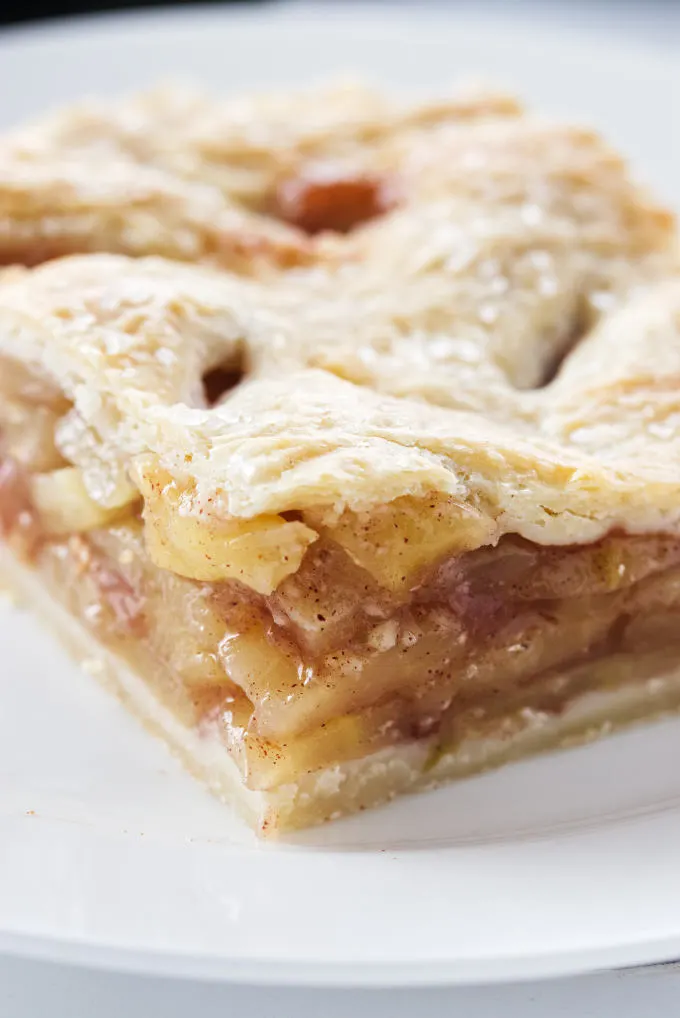 There you have it, an apple slab pie for any occasion! In our opinion, it's best served warm with a scoop of ice cream on top (but aren't all pies?).
Enjoy and happy baking!
Helpful Tools
Some of the following are affiliate links. If you click on these links and purchase something, we may receive a small commission. You don't pay any extra but it will help us keep the lights on.
Some Other Recipes We Are Sure You Will Love:
This chicken pot pie is a new twist on a classic meal! Wild rice and mushrooms add a hearty, earthy flavor to the pot pie filling and we top it off with a rich white wine sauce.
Sweet and nutty, every bite of this French coconut pie has a bold coconut flavor! It's a simple pie to make and is best served with a spoonful of homemade whipped cream.
Our unsweetened applesauce is perfect to add to baked goods like apple muffins and our caramel apple cake.
Ohhhh the combination of peaches and brown butter and bourbon. It really comes together to make the BEST peach pie ever! Brown butter lends the perfect depth of flavor to the peaches, and the bourbon and brown sugar add a hint of sweet molasses.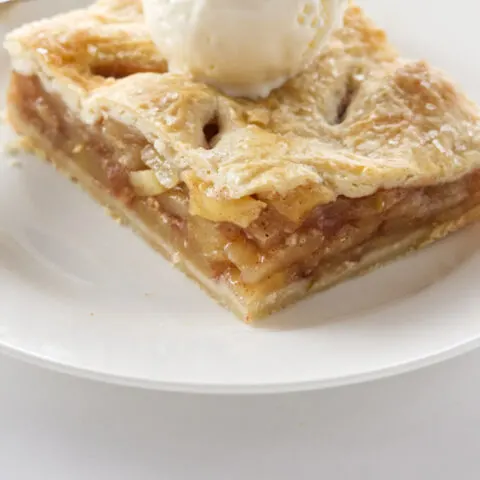 Apple Slab Pie
Total Time:
2 hours
40 minutes
This crowd-pleaser apple slab pie has a tender all-butter crust lining a 10x14x1-inch baking sheet and is filled with a sweet-tangy mix of sliced apples, sugar and spices. The apples are covered with another crust, sprinkled with coarse sugar and baked to perfection.
Ingredients
For the Pastry Crust:
5 cups (600 grams) all-purpose flour
1 teaspoon table salt
2 cups (4 sticks) cold butter, cut into bits
1 cup ice water
For the Filling:
10 large apples of mixed variety, peeled, cored and sliced
1 lemon, divided
3/4 cup granulated sugar
3 tablespoons cornstarch
1 tablespoon ground cinnamon
1/4 teaspoon ground cloves
1/4 teaspoon ground nutmeg
1/2 teaspoon salt
4 tablespoons cold butter, cut into bits
Optional:
Egg white wash
Coarse sugar
Instructions
For the Pastry Crust:
Add the flour and salt to the bowl of a food processor and pulse to combine. Add the butter bits and pulse until the mixture resembles coarse sand.
With the processor running, drizzle in the ice water, then begin pulsing until the dough is crumbly but holds together when squeezed.
Tip the mixture out onto a floured work surface and divide it into two portions. Shape each portion in a flat disk, wrap with plastic and refrigerate for at least 1 hour or the freezer for 20 minutes.
See Notes
For the Filling:
Preheat the oven to 375°F
In a large bowl add the sliced apples, squeeze the juice of 1/2 of the lemon and toss with the apples.
In a small bowl add the granulated sugar, cornstarch, cinnamon, cloves, nutmeg and salt. Whisk the mixture together until well combined.
Toss the sugar mixture with the apples and set aside.
Roll and Fill the Pastry:
On a lightly floured work surface, unwrap and roll out 1 pastry disk to a 12x16-inch rectangle. Transfer the dough to a 10x14-inch sheet pan, pressing to fit into the pan.
Tip half of the apple mixture into the pastry spreading evenly and distribute the butter bits evenly on top. Add the remaining apple mixture and squeeze the juice of the remaining lemon over the apples.
Roll out the remaining pastry disk to an 11x15-inch rectangle and transfer to the top of the apple mixture. Trim the edges of the dough, leaving a 1-1/2-inch overhang around the pie. Fold the overhanging dough under and crimp the edges.
In a small dish whisk together one egg white with a tablespoon of water and brush on top of the pastry crust. Cut a few slit vents on the top of the crust.
Place the pie in the oven bake until the crust is a deep golden brown and the juices are bubbling in the vents, about 55-65 minutes.
Cool on a wire rack for at least 2 hours before serving.
Notes
If you are using a food processor that holds less than a 14-cup bowl you will need to divide the pastry ingredients and make two separate recipes of the pastry crust, shaping and wrapping each one as it is mixed. The best flavored apple pie will come from combining several varieties of firm apples. We used a combination of 10 large apples: Granny Smith, Gayla, and Cosmic Crisp apples.
The apples can be peeled, pared and sliced while the pastry is resting.
Lemon juice or a tablespoon of Fruit Fresh in a water bath with the apples will keep them from discoloring. Remove the apples from the water bath, drain on a kitchen towel before tossing with the sugar and spices.
A mandoline set on a 1/4-inch thickness will slice the apples to a uniform size and the pie filling will bake evenly.
Set your timer for 45 minutes, check pie and if it is becoming darker than expected, drape with a sheet of foil.
When the pie is done, there will be juices bubbling up through the vents, about 55-60 minutes.
Nutrition Information:
Yield:

15
Serving Size:

1
Amount Per Serving:
Calories:

317
Total Fat:

5g
Saturated Fat:

3g
Trans Fat:

0g
Unsaturated Fat:

2g
Cholesterol:

12mg
Sodium:

251mg
Carbohydrates:

65g
Fiber:

5g
Sugar:

26g
Protein:

5g
Nutrition information is a guideline only, is calculated automatically by third-party software, and absolute accuracy is not guaranteed.