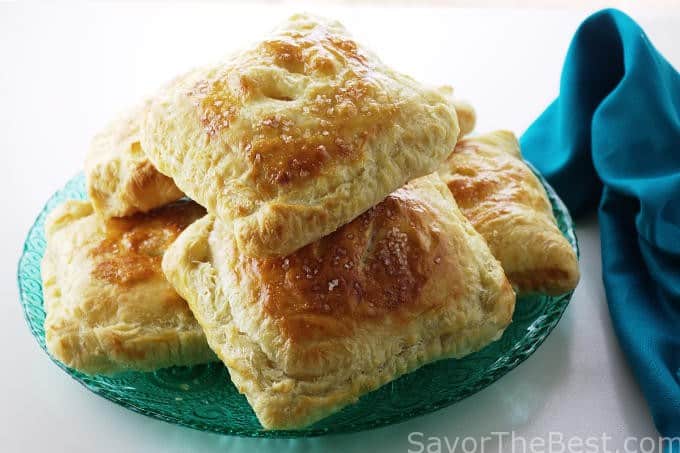 This is apple time and the markets have beautiful displays of all varieties of fresh-picked, crisp and crunchy apples. I wanted some apples for these apple-ginger hand pies and I could not decide which ones to buy so I bought three kinds.
These delicious little hand pies are a combination of the sweet-tart Gala, tart Granny Smith and sweet Fuji all combined with bits of spicy crystalized ginger, a smidgen of cinnamon, then wrapped in sheets of puff pastry. Just a few minutes in the oven and they become light and flakey treats to hold in your hand to eat.
On my first attempt in making these little goodies I sautéed the apples slightly and after they cooled I put the pies together and baked them. I was a little disappointed as the filling was so soft it was like applesauce with ginger pieces. These pies are the revised hand pies and they are so much better as the apple filling has some firmness to it and that spicy preserved ginger bits adds a complex delicious flavor. And, they are unbelievably light and flakey.
These little hand pies are so easy to make using the puff pastry rather than a standard pie pastry. I sprinkled the tops with some sparkling sugar to add some texture and brilliance to the tops but they taste just as great without the topping. They are best served warm and a scoop of vanilla ice cream is perfect with it.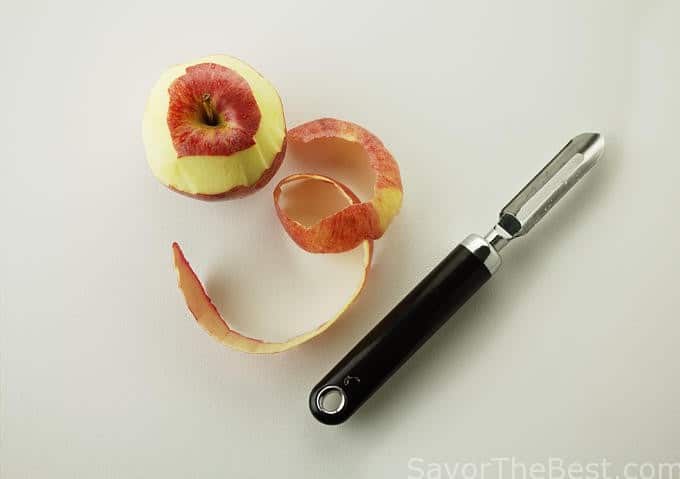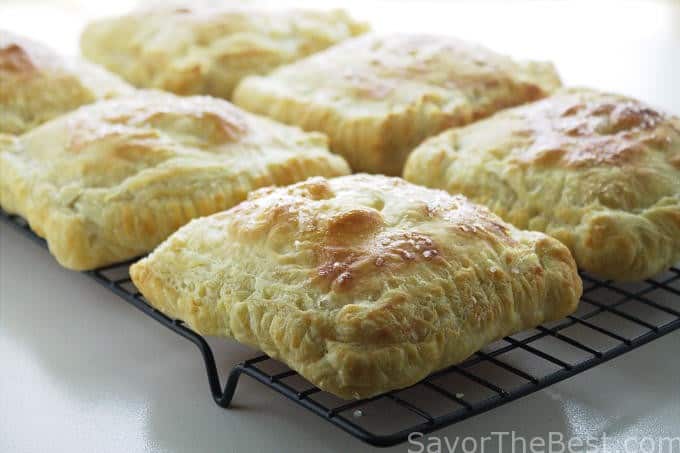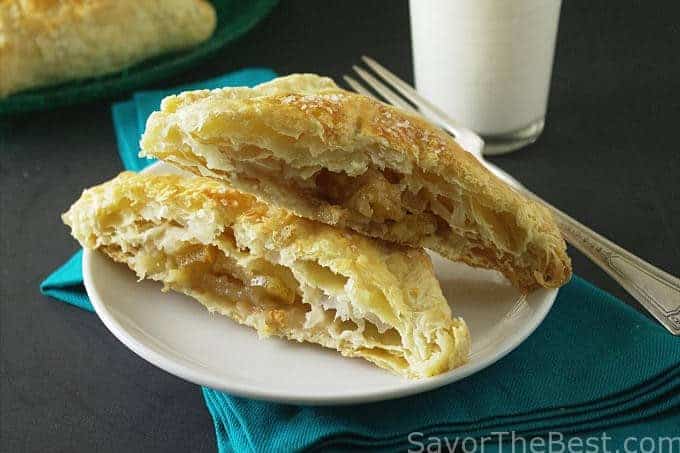 CONNECT WITH SAVOR THE BEST!
Be sure to follow us on our social media accounts
Facebook * Instagram * Pinterest * Twitter * Youtube
Did you make this recipe? We would love to hear from you. Drop us a comment below.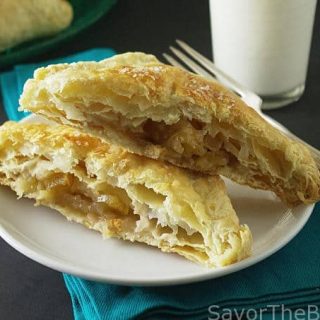 Apple-Ginger Hand Pies
Yield: 8 servings
Prep Time: 40 minutes
Cook Time: 20 minutes
Total Time: 1 hour
These apple-ginger hand pies are so easy to make using the puff pastry rather than a standard pie pastry. They are best served warm and a scoop of vanilla ice cream is perfect with it.
Ingredients
3 apples, peeled, cored and sliced thinly
1/3 cup sugar
1/4 teaspoon cinnamon
1/8 teaspoon salt
1 tablespoon flour
1/2 cup diced crystalized ginger
2 packages puff pastry, thawed according to package instructions
1 egg, lightly whisked with 1 tablespoon water
Sparkling sugar (optional)
Instructions
Preheat the oven to 400°F
Line a baking sheet with parchment paper
In a small bowl, combine the apples, cinnamon, sugar, salt and flour, stirring until thoroughly mixed. Set aside. These may seem dry but not to worry, by the time the puff pastry is rolled the apples will have released some of their juice.
On a lightly floured board, unfold one sheet of the puff pastry and lightly roll it into a square about 14x14. With a sharp knife, cut the pastry into 4 equal portions. On the two portions closet to you, arrange 1/3-1/2 cup of the apples, leaving a 1/2-inch border all around. Sprinkle 1 tablespoon of the diced ginger over the apples, then carefully lift a remaining portion of pastry and lay on the apples. Press the edges of the pastry together, roll a rim and press down with a fork to seal the juices into the pies. Place the pies on the prepared baking sheet. Repeat the process with the remaining sheets of puff pastry.
Brush each pie with the egg wash, and cut two slits in each to vent the steam. Sprinkle each pie with the sparkling sugar and transfer the baking sheet to the middle rack of the oven and bake for 15-20 minutes or until golden brown. Remove from the oven and transfer to a wire rack to cool slightly. Serve warm.
Nutrition Information:
Yield: 8
Serving Size: 1
Amount Per Serving:
Calories: 126
Total Fat: 4g
Saturated Fat: 1g
Trans Fat: 0g
Unsaturated Fat: 3g
Cholesterol: 23mg
Sodium: 60mg
Carbohydrates: 23g
Fiber: 2g
Sugar: 16g
Protein: 2g
Nutrition information is a guideline only, is calculated automatically by third-party software, and absolute accuracy is not guaranteed.