Savor in the simple joys of homemade dessert with this crock pot apple pie filling. While you tackle your day, let your slow cooker blend the rich flavors of apples, spices, and vanilla into a delightful filling.
This recipe is not just for pies—it's a versatile treat that elevates everything from waffles to yogurt parfaits. We also included instructions for freezing so you can enjoy it all year round!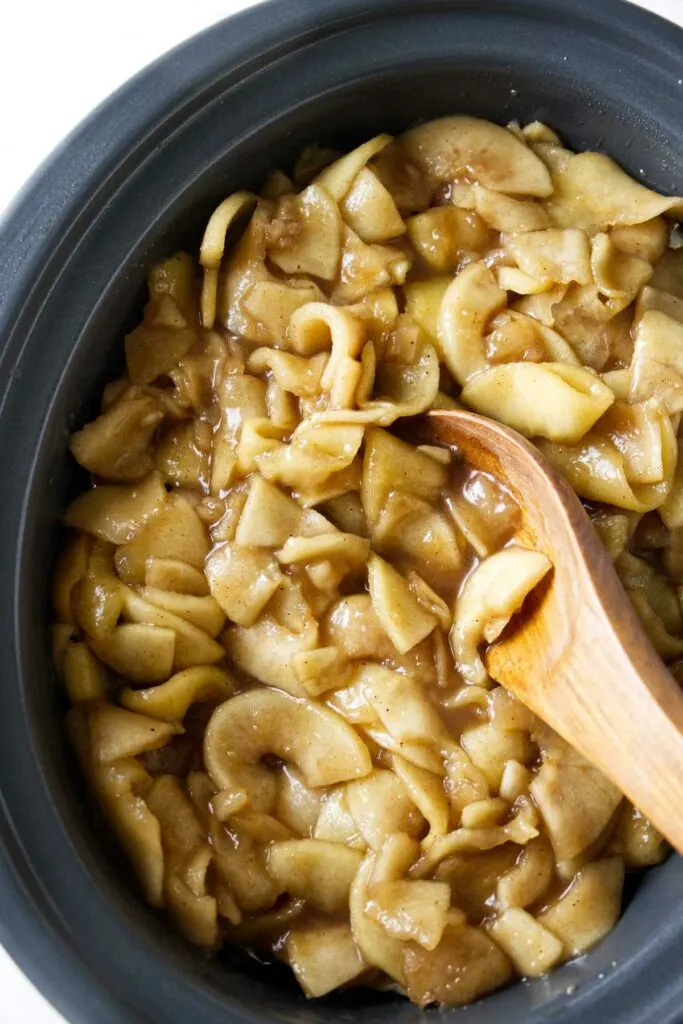 Here is Why This Slow Cooker Recipe Works
Rich, Layered Flavor: Unlike store-bought versions that can often be one-dimensional and bland, this recipe brings out the nuanced flavors of fresh fruit, enhanced by spices and vanilla.
Make-Ahead Convenience: Prepared in advance, this recipe is fridge and freezer-friendly. It is perfect for quick desserts or when company drops by unexpectedly.
Versatility at Its Best: This isn't just for apple pies; think breakfast oatmeal, yogurt parfaits, turnovers, and dessert crumbles. The possibilities are endless!
Slow Cooker Simplicity: Forget about constant stirring over a hot stove. The slow cooker does the work, allowing the flavors to meld beautifully with little effort on your part.
The Ingredients for the Apple Filling
Here is a list of the ingredients you will need for this apple pie compote recipe. See the printable recipe card for complete details.
Produce: Apples, lemon juice.
Pantry: Granulated sugar, vanilla extract, cornstarch, or tapioca flour
Pantry Seasonings: Ground cinnamon, nutmeg, salt.
Dairy: Butter.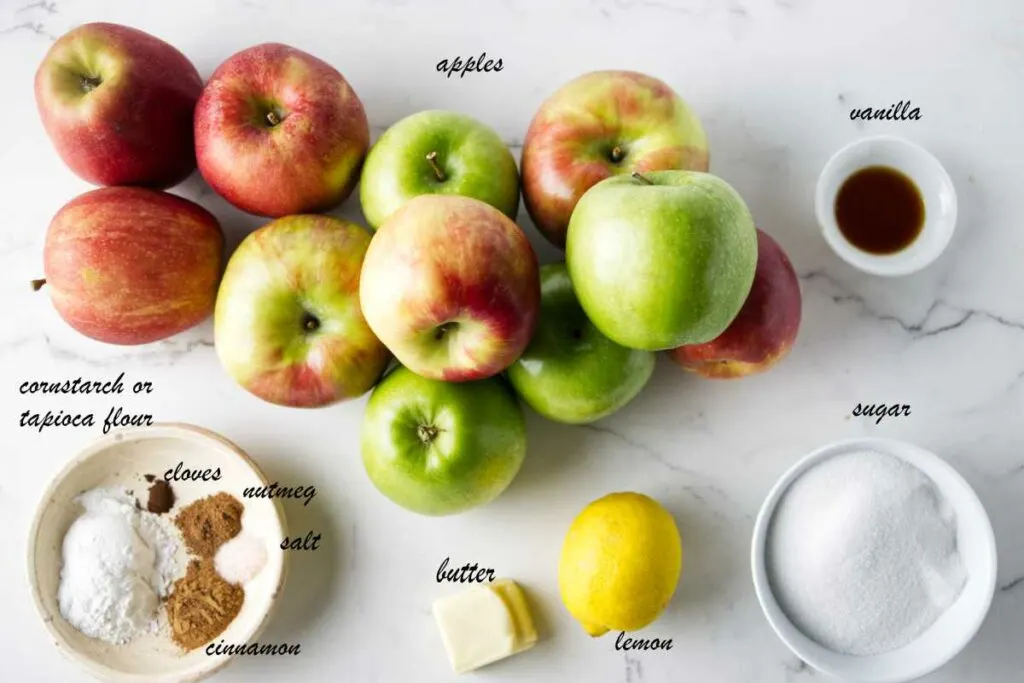 The Best Apples for Cooking
When it comes to making apple pie filling, the type of apple you choose can dramatically impact both flavor and texture. Not all apples are created equal in the world of pie-making, so picking the right variety can make all the difference. Here are some top choices:
Granny Smith: Known for their tartness, Granny Smiths offer a delightful contrast to the sweetness of the pie filling.
Honeycrisp: These beauties are sweet and crisp, adding a lovely texture and natural sweetness to your filling.
Gala: Gala varieties offer a sweet flavor and a fine texture, making them perfect for a softer filling.
Fuji: If you want fruit that maintains its structure and shape well during cooking, Fuji varieties are an excellent option
Braeburn: Braeburns are great if you don't want your filling to turn to mush; they retain their texture beautifully.
Pink Lady: Similar to Braeburn, Pink Lady's also hold their shape well, offering a balance of tart and sweet flavors.
Feel free to mix and match these varieties to create a filling with a more complex flavor profile. For instance, you could pair tart Granny Smiths with sweet Honeycrisps for a filling that's perfectly balanced.
Keep in mind that varieties like Red Delicious and Macintosh will get mushy when you cook them.
How to Make the Perfect Apple Pie Filling
Here is a brief overview to get an idea of what to expect with the recipe. Scroll down to the printable recipe card for all the details.
Prep: Peel, core, and slice apples. Toss with lemon juice in the slow cooker.
Combine & Cook: Mix sugar, your choice of thickener, and spices in a bowl, then add to slices in the slow cooker. Top with cubes of butter and start the slow cooker.
Final Touch: When the apples finish cooking, stir in vanilla extract.
Cool & Store: Allow to cool before transferring to an airtight container.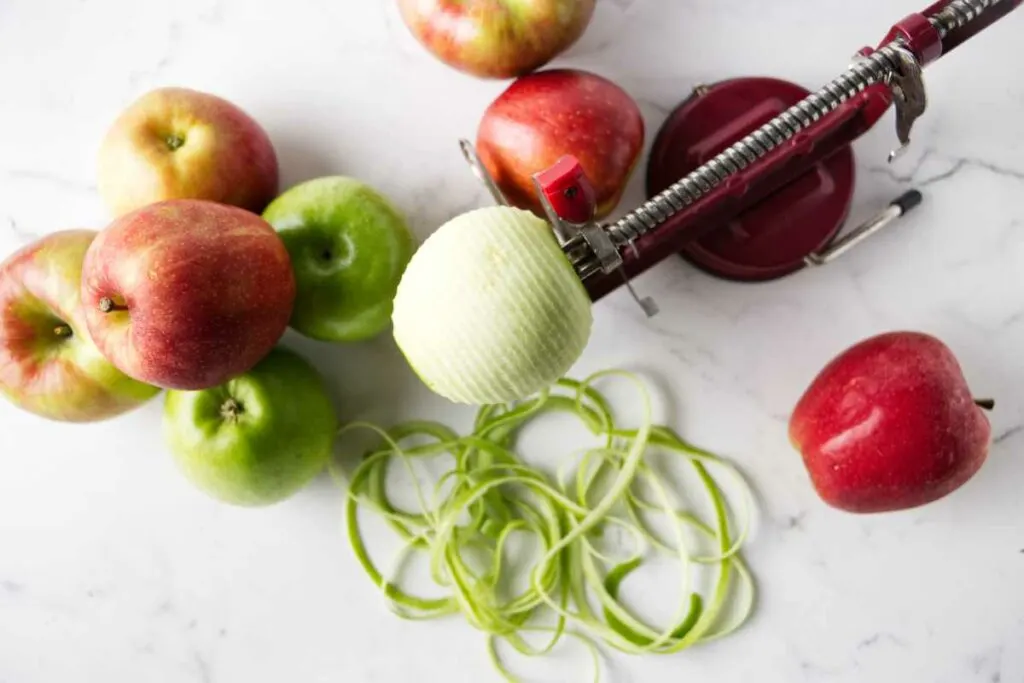 Easy Recipe Variations
Unlock endless possibilities with your slow cooker and some basic ingredients. Transforming the classic apple pie mixture into something extraordinary is as easy as adding a few extra components. Whether you're craving a burst of berries or the comforting notes of caramel, these simple tweaks offer a world of flavor.
Apple Berry Medley
Add 1 cup of mixed berries (like blueberries, raspberries, or blackberries) to the apples for a fruity twist.
Caramel Apple Compote
Drizzle 1/4 cup caramel sauce over the compote after they're cooked but before you add the vanilla extract.
Apple Cranberry Blend
Add 1-1/2 cups of fresh or frozen cranberries to the filling. Since cranberries are high in pectin, reduce the cornstarch or tapioca flour to 2-1/2 tablespoons.
Maple Apple Pie Compote
Replace 1/4 cup of the granulated sugar with pure maple syrup for a fall-friendly flavor.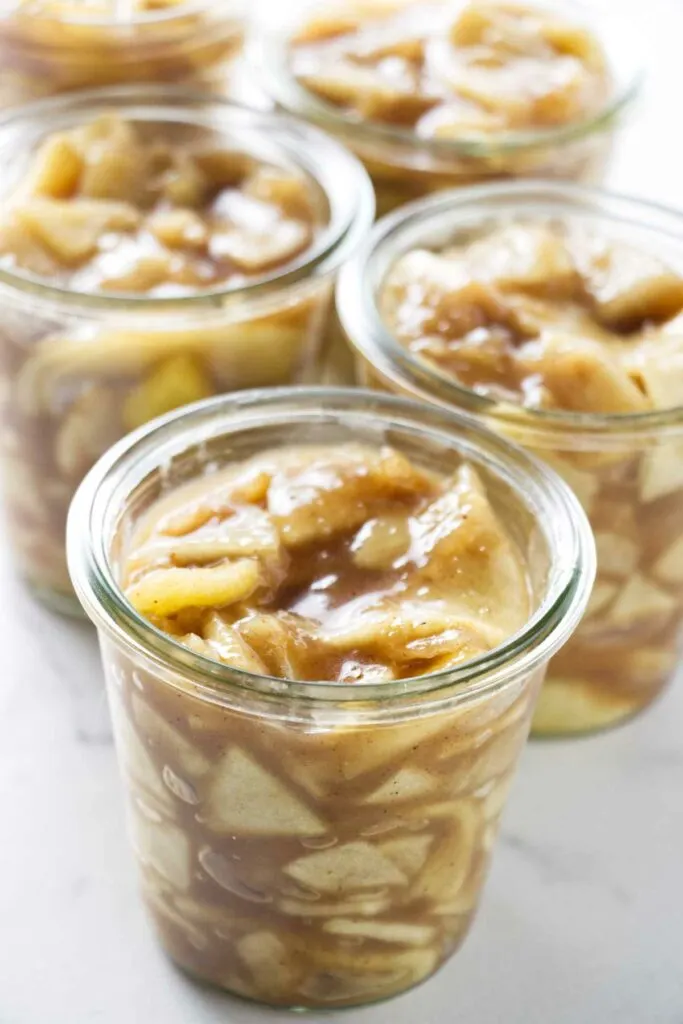 Tips for Crock Pot Success
Making the perfect apple pie mixture doesn't have to be complicated, especially when you're using a slow cooker. Just toss your ingredients into the pot and let the magic happen. Here are some easy tips to get you started.
A mix of different apple types can add complexity to your filling. For instance, combine tart Granny Smith with sweeter Fuji or Gala.
Consider using a crockpot liner for a hassle-free cleanup.
The cooking time will vary based on how thick you slice the apples and your desired level of tenderness. Thin slices will cook faster but may become mushy, while thicker slices will retain more bite.
If you're planning to freeze the filling, opt for tapioca flour as the thickener. It holds up better under freezing conditions compared to cornstarch.
Feel free to adjust the cinnamon and nutmeg to your taste preference. A pinch of allspice or cardamom can also be a nice addition.
Don't skip the lemon juice! It not only adds a hint of tanginess but also prevents the apples from turning brown.
Serving Suggestions for Apple Pie Filling
Don't limit this recipe to only a homemade apple pie. This crock pot creation is far too versatile for that! From breakfast spreads to decadent desserts, this easy crockpot mixture can be the star ingredient in a variety of dishes.
Pancakes and Waffle Topping: Level up your breakfast game by spooning some warm apple pie filling over our barley pancakes or yeast waffles.
Smoothie Ingredient: Blend a scoop into your morning smoothie for an apple pie-flavored start to your day.
Ice Cream Sundae: Use the mixture as a sweet topping for vanilla or caramel ice cream.
Parfait Layers: Alternate layers of apple pie filling, yogurt, and granola for a quick and delicious parfait.
Oatmeal Mix-In: Add some depth to your morning oat groats by mixing in a spoonful or two into the pot.
Apple Crumble: Use the mixture as a base layer, then top with a quick mixture of oats, flour, sugar, and butter before baking.
Muffins or Cupcakes: Take your baked goods to the next level by adding this apple pie filling.
Apple Dump Cake: Spread the filling in a baking dish, top with a simple cake mix, and drizzle with melted butter before baking.
Apple crisp recipe: Place the pie filling in a baking dish. Combine 1 cup brown sugar, 1 cup rolled oats, and 1 stick of melted butter. Sprinkle that over the top of the apple pie filling and bake until golden brown.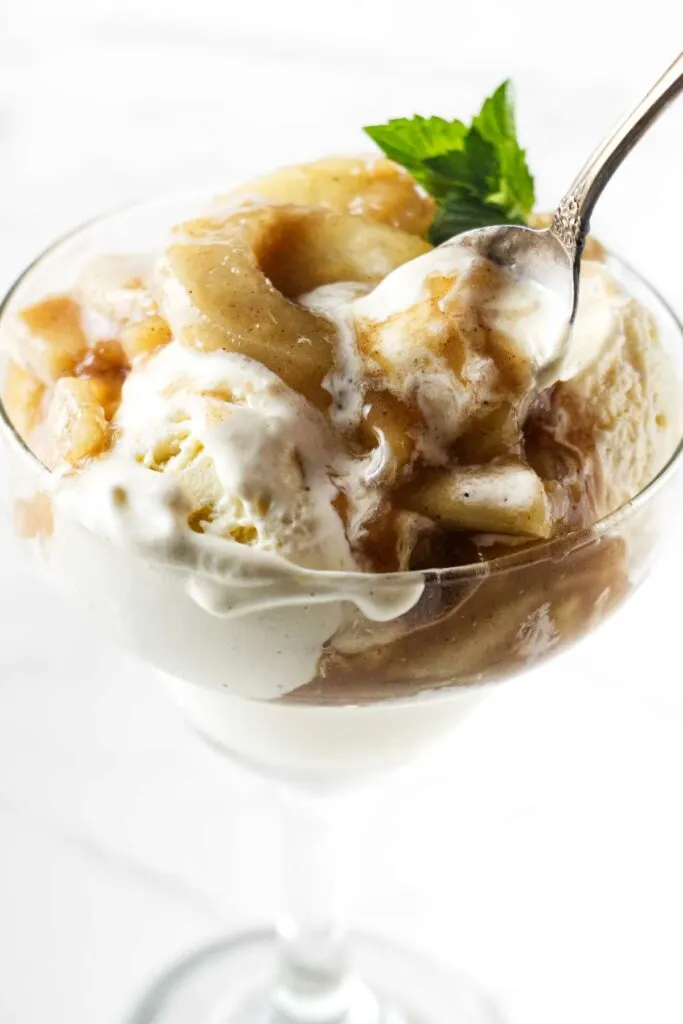 Storage
In the fridge: Leftovers can be stored in an air-tight container and kept in the fridge for up to 4 days.
In the freezer: Apple pie filling freezes well, especially if you use tapioca flour as a thickener. Store it in the freezer for up to 3 months
Frequently Asked Questions
What is the best thickener for apple pie filling?
If you plan to freeze this recipe, tapioca flour is your best option as it holds up well under freezing conditions. Cornstarch gives a glossy finish but can become spongy when frozen and thawed. All-purpose flour offers a traditional, homey texture but may make the filling a bit cloudy.
Why is my filling too runny?
If you find the filling too runny, there are a couple of factors to consider. First, things will naturally be more fluid while it's still warm. As it cools, it will thicken up.

Secondly, the moisture content in the apples and the cooking time will impact the consistency of the filling. If it remains too runny after cooling, mix 1 tablespoon of cornstarch with a tablespoon of water. Stir the cornstarch mixture into the apples and cook in the slow cooker for 1 more hour.
In a world where convenience often trumps quality, it's refreshing to find a recipe that offers both. This slow cooker apple pie filling is not just easy to make, it's also rich in flavor and easy to adapt. Whether you're planning to freeze it for later or use it immediately, this homemade version is a game-changer. So, why settle for store-bought when you can easily make something so much better at home?
More Recipes You Will Love:
Connect With Savor the Best:
Please follow us on our social media accounts
Facebook * Instagram * Pinterest * Youtube * Twitter
Did you make this recipe? We would love to hear from you. Drop us a comment below.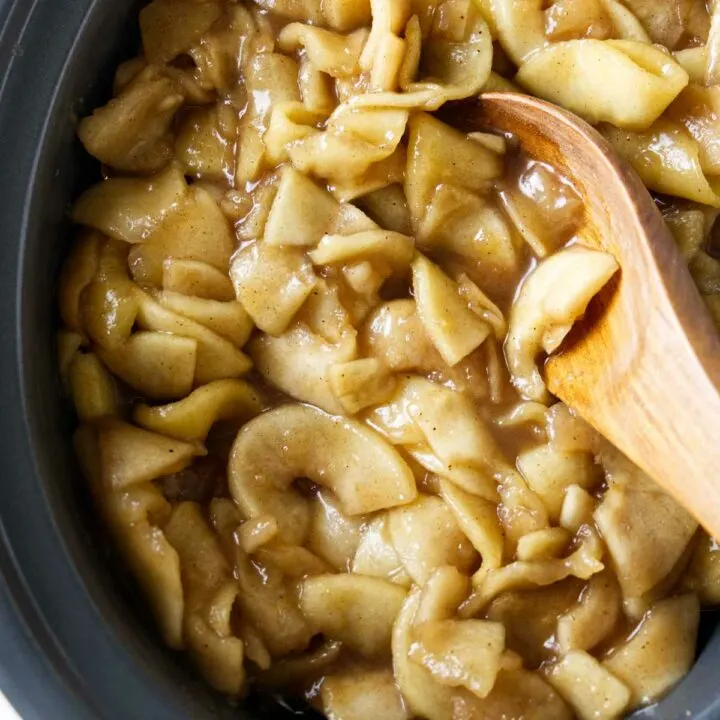 Crockpot Apple Pie Filling
Yield:
6 cups of pie filling
Enjoy the comfort of homemade dessert with minimal effort using this slow cooker apple pie filling. Made with a blend of sweet and tart apples and warm spices, this filling easily elevates pies, tarts, and breakfast toppings. It's also freezer-friendly, offering a convenient option for future uses.
Ingredients
8 cups sliced apples (peeled and cored) 8 to 12 apples depending on the size
2 teaspoons lemon juice
1 cup granulated sugar
¼ cup cornstarch or tapioca flour*
2 teaspoons ground cinnamon
1 teaspoon nutmeg
⅛ teaspoon ground cloves
¼ teaspoon salt
3 tablespoons butter, cut into small cubes
1 teaspoon vanilla extract
Instructions
Begin by peeling, coring, and slicing the apples, then place them into the slow cooker. Toss them with lemon juice.
In a small bowl, combine the sugar, cornstarch (or tapioca flour), cinnamon, nutmeg, and salt. Stir with a fork. This will distribute the cornstarch or tapioca throughout the sugar so it won't clump when you add it to the apples.
Add the sugar mixture to the crockpot and toss with the apples. Drop the pieces of butter on top and place the lid on the crockpot.
Cook on high for 1-½ to 2 hours or on low for 3 to 4 hours or until the apples are tender. The time will vary depending on how thick you sliced the apples. When the apples are tender, stir in the vanilla extract. The filling will get thicker as it cools.
Let the pie filling come to room temperature, then transfer it to an airtight container.
Notes
I like to use a mixture of different types of apples. Some good choices for apple pie filling are: Granny Smith, Honeycrisp, Gala, and Fuji.
Some varieties, like Red Delicious or Macintosh, will get mushy when they cook, so stick to apple varieties that stay firm when cooked.
If you want to freeze the pie filling, I recommend using tapioca flour instead of cornstarch.
Cornstarch has a tendency to become spongy when frozen and then thawed, which can alter the texture of your filling. It will also lose some of its thickening power. Tapioca flour, on the other hand, holds up much better under freezing conditions. It maintains a consistent texture and doesn't break down, ensuring that your pie filling will remain thick after you thaw it out.
Store in the fridge for up to 4 to 5 days or in the freezer for up to 3 months.
Nutrition Information:
Yield:

24
Serving Size:

1/4 cup
Amount Per Serving:
Calories:

76
Total Fat:

2g
Saturated Fat:

1g
Trans Fat:

0g
Unsaturated Fat:

0g
Cholesterol:

4mg
Sodium:

34mg
Carbohydrates:

16g
Fiber:

1g
Sugar:

12g
Protein:

0g
Nutrition information is a guideline only. It is calculated automatically by third-party software, and absolute accuracy is not guaranteed.