This apple Skillet Cake with salted caramel sauce is a perfect fall dessert! Does it get any better than apples and caramel?
This apple cake gets baked right in a cast-iron skillet with chopped fresh apples in the batter and thick slices of apples on top of the batter. Serve this moist, tender cake directly from the skillet with our salted caramel sauce or a quick and easy butterscotch sauce. You can't go wrong.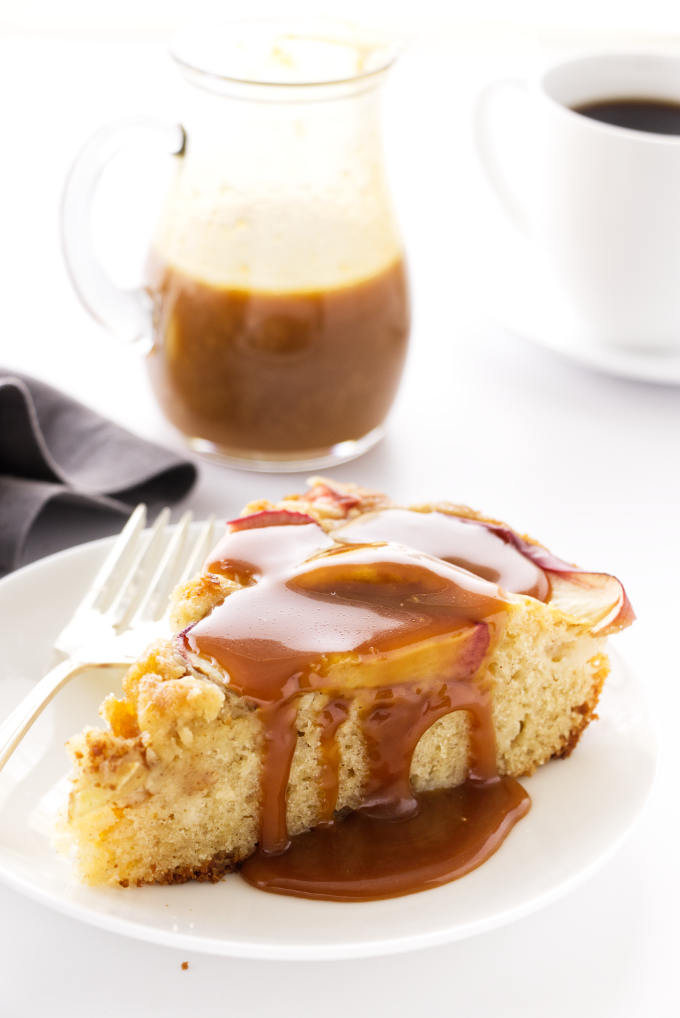 This is fall and it is apple season! Apples are one of my favorite fruits and they are enjoyed throughout the year. But they are at their best when the season gets a new crop.
Sweet, tart, crisp, and crunchy they are perfect for a quick snack or baked up in a gingery apple muffin for or French apple cake.
Apples are delicious in savory dishes as well, and our apple stuffed pork loin and cider-braised pork are perfect examples.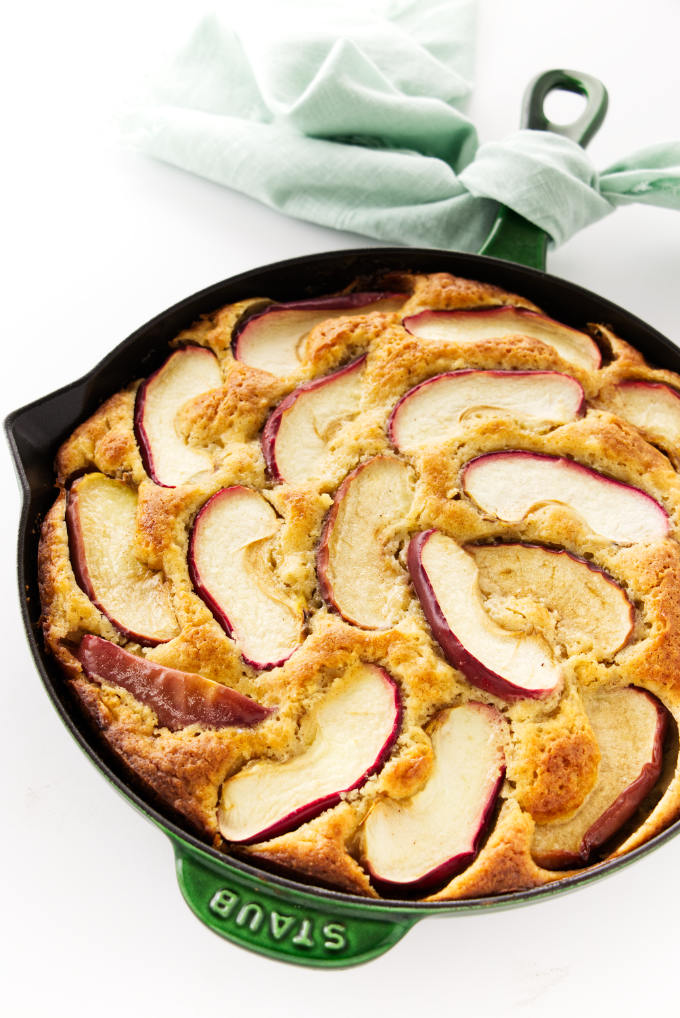 Why This Recipe Works:
Tender texture that stays moist for days.

Packed with apples. Sweet, tart apples get baked in the batter and on top of the cake.

Convenient and easy. It gets baked and served directly from the skillet.
What Kind of Apples Are Best For this Cake?
There are so many apples to choose from but the best are the crisp, sweet-tart apples that you would normally select for an apple pie.
You don't want apples that break down and turn into applesauce when they cook. Try choosing apples that stay firm when they finish baking. Some great choices are:
Granny Smith apples
Braeburn
Cortland
Jonathon
Cosmic crisp
The bright, red Cosmic crisp is our new favorite. It is truly a crisp, crunchy apple that stays crisp when it gets cooked and tastes fantastic as an eating apple.
The Ingredients:
Here's what you will need. You can see we like our fruit cakes! 🙂
Apples
Lemon juice
All-purpose flour
Baking powder
Salt
Cinnamon and nutmeg
Eggs
Granulated sugar
Vegetable oil
Sour cream
Vanilla extract
Melted butter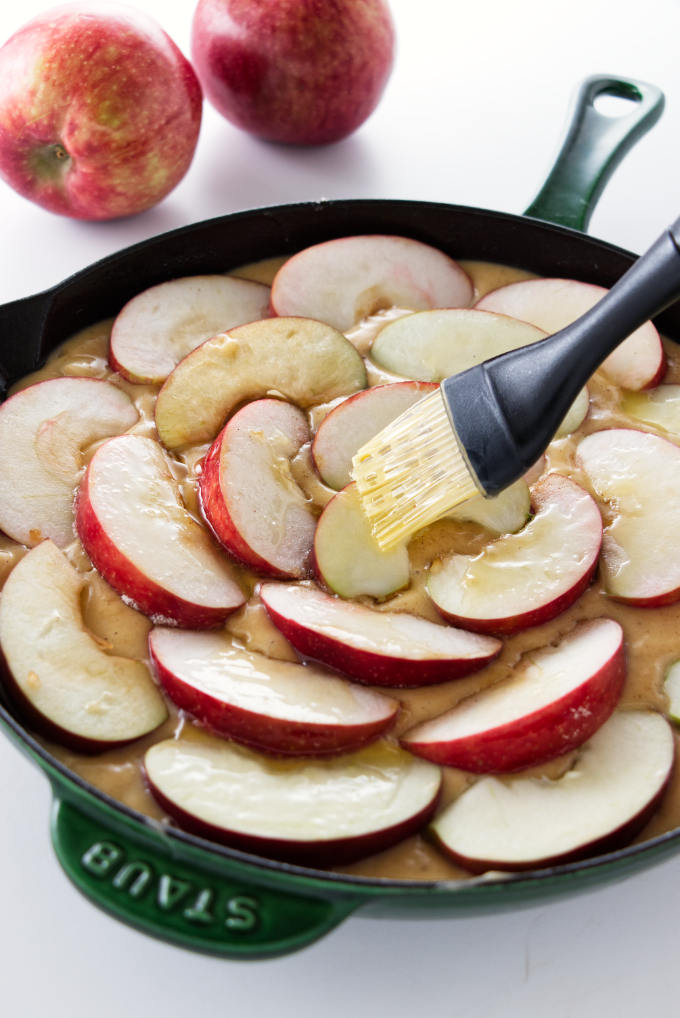 How to Make This Apple Cake:
You can arrange the thick slices of apples on top in any manner you choose. If you slice them a little thinner, you can even create a flower design similar to our Apple Frangipane Tart.
Here is a quick run-down of the process…Be sure to scroll down to the printable recipe card for the full measurements and directions.
Peel and cut the apples. Slice three of them into wedge shapes then dice the remaining apples.
Sift the dry ingredients into a bowl and set aside.
Combine the wet ingredients.
Fold the dry ingredients into the wet ingredients.
Fold in the chopped apples then pour the batter into the skillet and smooth the top.
Arrange the apple slices on top of the batter. Brush melted butter on the exposed apple slices and sprinkle with coarse sugar.
Bake until the cake is puffed and golden brown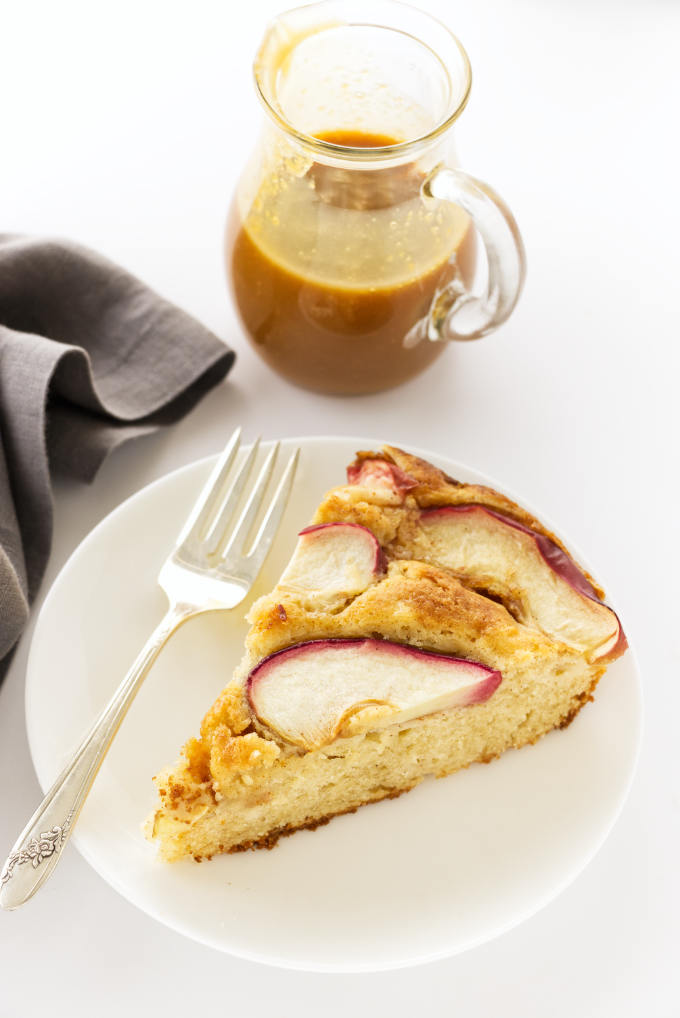 Tips for Success:
Dip the apple slices in lemon water to prevent discoloring.

Do not over mix the batter after adding the flour mixture. Over mixing will make the cake tough and dense.

Add only one cup of diced apple to the batter. Too many apples in the batter will create a dense, wet cake.

Do a toothpick test. Begin checking the cake for doneness at 48 minutes testing with a toothpick, remove when only a tiny bit of crumbs remain on the toothpick.
If you enjoy incorporating seasonal fresh fruit in easy dessert cakes you might like our Fresh Fig Cake or Fresh Cherry Cake recipes. This apple skillet cake is easy to modify to accommodate a variety of fresh fruit.
You can serve this apple skillet cake "as is" but it tastes even more lovely with warm caramel sauce drizzled over the top or a quick and easy butterscotch sauce. Yum!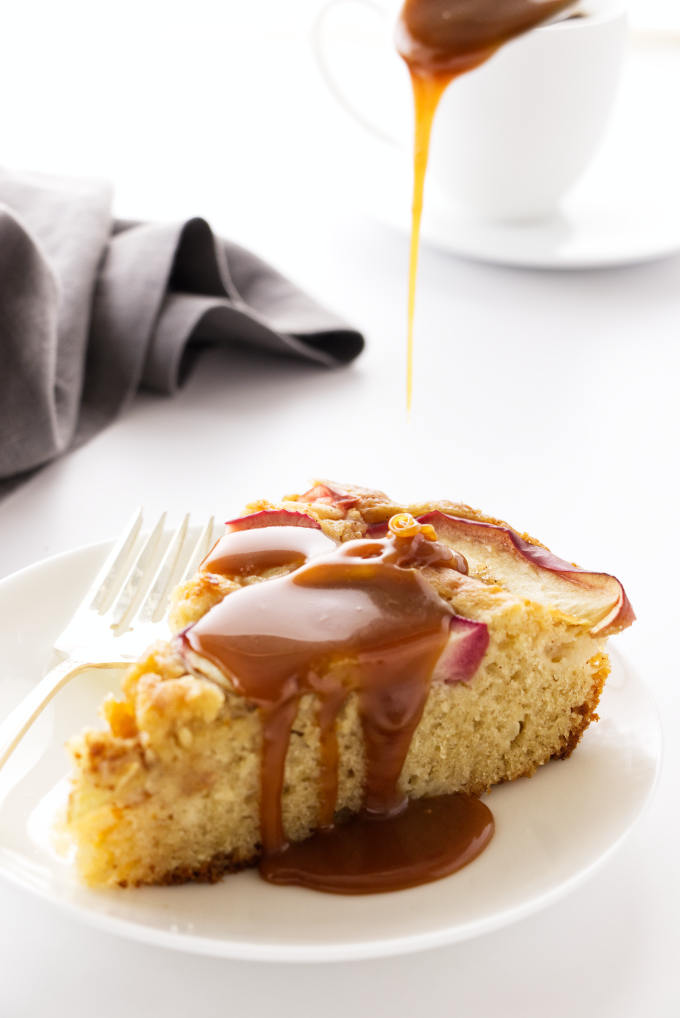 Some Other Recipes We Are Sure You Will Love
Apple pie is always a favorite and we have a few to choose from. Our Dutch apple pie has an oatmeal topping and our einkorn apple pie uses the ancient grain einkorn in the crust. And then our caramel apple pie is loaded with gooey caramel.
Our Caramel Apple Cake is a delicious, moist dessert that will make your fall favorite even more enticing. It is a tender, spiced apple cake topped in sweet, gooey caramel.
And, have you tried fruit and cheese for dessert rather than a typical sweet treat? May I suggest this roasted apple and aged goat cheese for dessert? Fruit and cheese is a wonderful way to finish off a fine dinner!
Connect With Savor the Best:
Please follow us on our social media accounts
Facebook * Instagram * Pinterest * Youtube * Twitter
Did you make this recipe? We would love to hear from you. Drop us a comment below.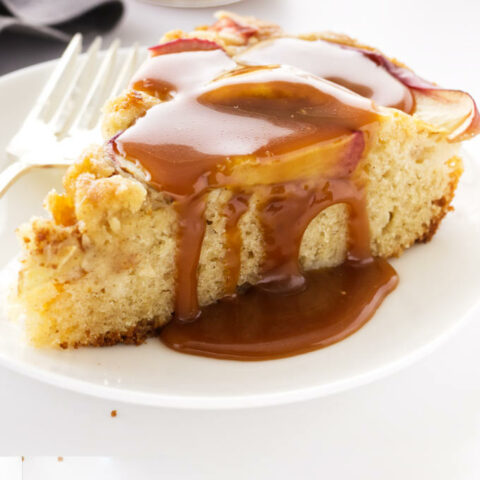 Apple Skillet Cake
Total Time:
1 hour
20 minutes
Diced fresh apples in the batter and thick apple slices baked on top of the batter make this easy apple skillet cake moist and tender. Serve with a rich salted caramel sauce or a scoop of vanilla ice cream.
Ingredients
For the Apples:
1/2 cup lemon juice in 2 cups of water
3 apples, unpeeled, halved, cored and each half apple sliced into 6 slices, (12 per apple)
1 apple, peeled cored, diced and tossed with 2 tablespoons lemon juice
For the Cake:
2 cups all-purpose flour
2 teaspoons baking powder
1 teaspoon salt
1/2 teaspoon cinnamon
1/8 teaspoon freshly grated nutmeg
3 eggs, room temperature
1 cup granulated sugar
1 cup vegetable oil
1/2 cup sour cream
1 teaspoon vanilla extract
2 tablespoons melted butter
Coarse sugar
Instructions
Prepare the Apples:
Mix the lemon juice and water together in a shallow dish.
Cut 3 apples, unpeeled, in half and remove their core. Then cut each half apple into 6 slices, 12 thick slices per apple. Place into the dish of lemon water for 5 minutes to prevent discoloring.
Transfer the lemon slices to a pad of paper towels and reserve.
Peel the remaining apple, remove its core, dice and toss with 2 tablespoons of lemon juice. Set aside.
For the Cake:
Preheat the oven to 350°F and coat a 10-inch skillet with oil spray. Set aside.
Sift together the flour, baking powder, salt and nutmeg. Set aside.
Break the eggs into a large mixing bowl and with the whisk attachment of the electric mixer, whisk for 1 minute. Stop the motor and add the sugar, oil, sour cream and vanilla. Whisk on medium speed for 2 minutes.
Stop the mixer and with a spatula, fold the dry ingredients into the batter in 3 portions. Be sure to scrape the sides and bottom of the bowl.
Fold in the diced apples.
Pour the batter into the skillet and smooth the top.
Arrange the apple slices on top of the batter. Brush melted butter on the exposed apple slices and sprinkle with coarse sugar.
Transfer to the oven and bake for 48-53 minutes or until the cake is puffed, golden and a toothpick inserted into the center comes out clean.
Remove from the oven and cool on a wire rack. Serve warm with salted caramel sauce
Notes
Bottled lemon juice in the soaking water but use freshly squeezed lemon juice in the recipe.
A tablespoon of powdered ascorbic acid devolved in the soaking water will also keep the apple slices from turning brown. A popular choice is Fruit Fresh, available in most supermarkets.
Do not over-mix the batter, fold just until there are no flour streaks left.
Be sure to scrape the bottom and sides of the bowl when folding in the flour mixture.
Ovens can vary in temperature, begin checking the cake for doneness with a toothpick or cake tester at 45 minutes.
Arrange the apple slices in any pattern of your choice. If you end up with extra slice, it's your snack, yum!
Nutrition Information:
Yield:

8
Serving Size:

1
Amount Per Serving:
Calories:

593
Total Fat:

35g
Saturated Fat:

6g
Trans Fat:

1g
Unsaturated Fat:

27g
Cholesterol:

86mg
Sodium:

449mg
Carbohydrates:

66g
Fiber:

4g
Sugar:

37g
Protein:

6g
Nutrition information is a guideline only, is calculated automatically by third-party software, and absolute accuracy is not guaranteed.