Pork chops are one of my long-time comfort foods and this recipe for roasted pork chops with onions and apples is easy enough for a weeknight dinner. A magical sauce made of apple cider vinegar, quince paste and Dijon mustard adds a unique flavor to this dish.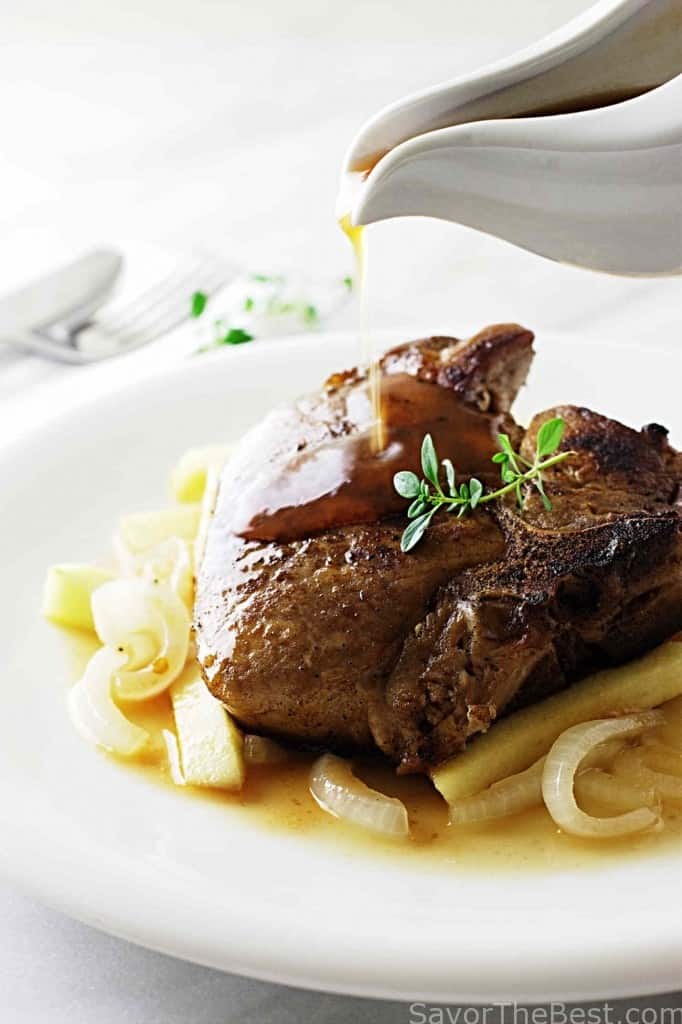 Pork chops are a fast-cooking, budget-friendly meal choice that adapts well to a variety of cooking methods. We chose to brine these chops in a flavorful spice brine of allspice, fennel seeds, juniper berries, red pepper flakes and a little brown sugar. After their overnight brining we gave them a blast in a hot skillet to sear them and finished them up with a quick oven roasting.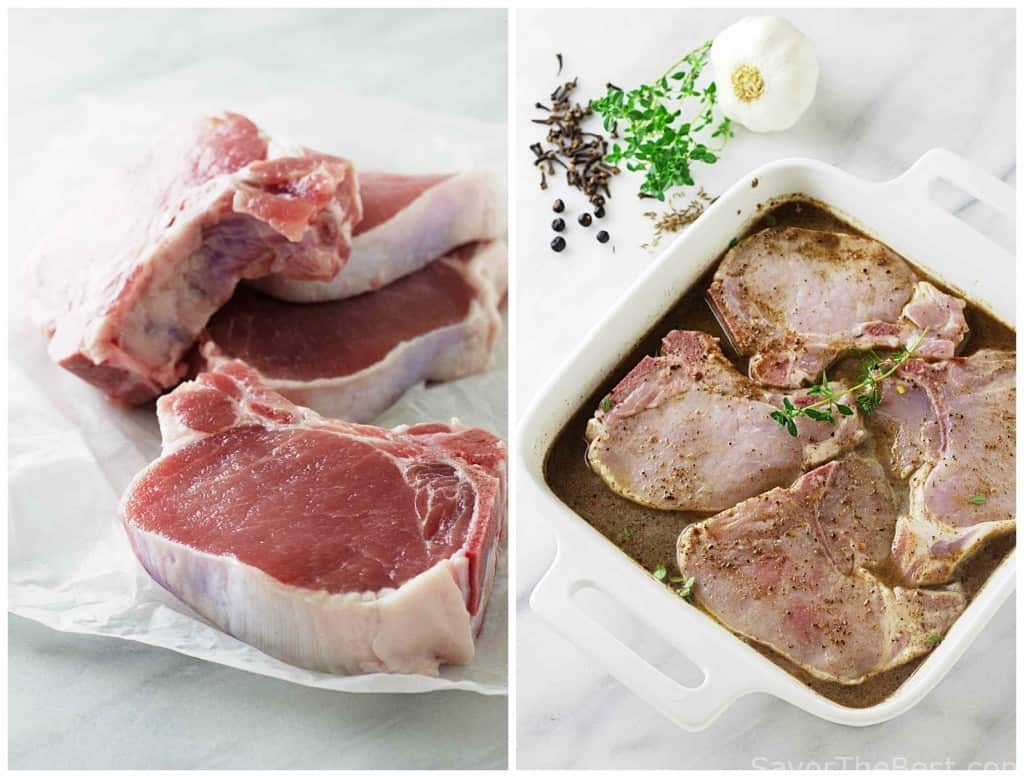 To Make this Roasted Pork Chops with Onions and Apples Recipe:
We bought the bone-in pork chops mostly because the bone acts as an insulator and helps to retain the moisture. I love to gnaw on the bone when all the good stuff is gone. When we cut into these chops they were tender, moist and flavorful with that spicy brine flavor and just a hint of a kick from the red pepper flakes.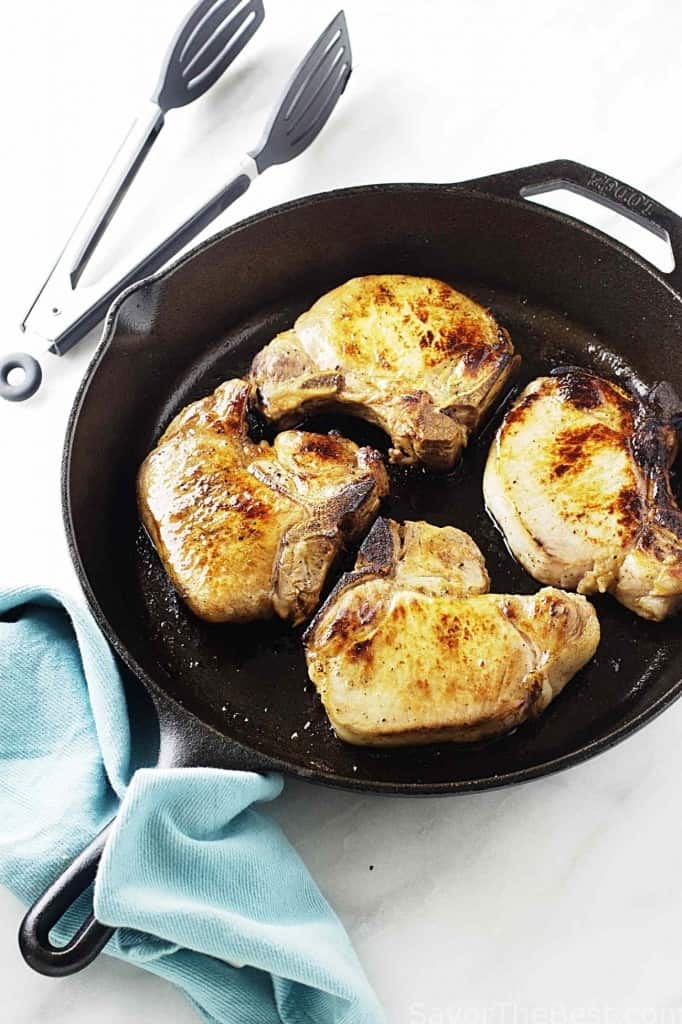 Sliced yellow onions and Granny Smith apple sticks are a welcome addition to these pork chops. They take just a few minutes to cook on the stove-top. But it is the vinegary-sweet/sour sauce mixed with the onions and apples that gives this dish the magic flavor.
You might also like our sheet pan dinner of chipotle pork chops with apples.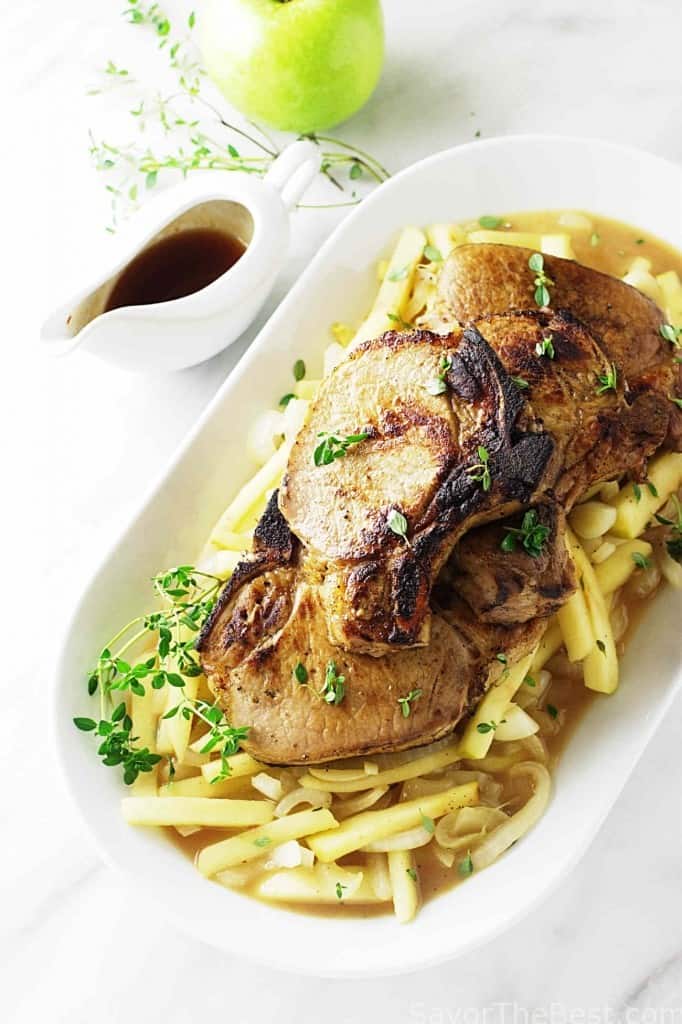 The Sauce for the Roasted Pork Chops with Onions and Apples:
To make the sauce we combined organic, unfiltered, apple cider vinegar, quince paste, a little honey and Dijon mustard. Quince paste is also known as membrillo. Membrillo is a national treat in Spain where they love it paired with manchego cheese and crackers.
Quince is a fruit that is seasonal fruit usually available in the fall. You will recognize it with that bright yellow, lumpy looking, hard fruit. Quince definitely is not as well known as apples and pears. I have had zero experience with this fruit other than enjoying it's taste in the quince paste.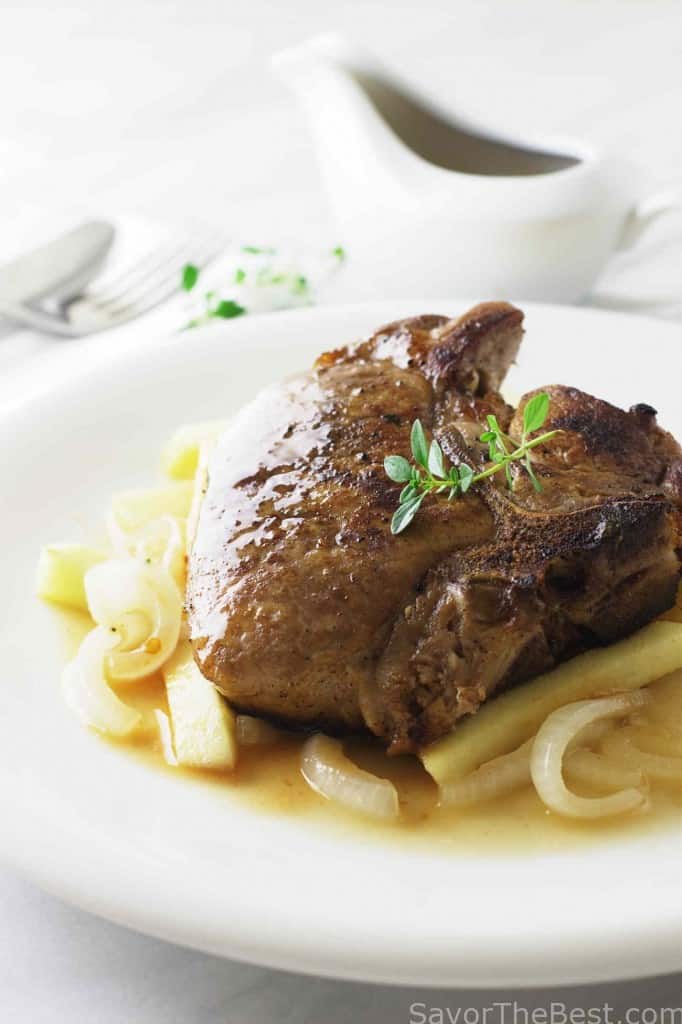 Where to Buy Quince Paste:
I purchased my quince paste from Trader Joe's. Quince paste is also available in the Whole Foods markets as well as online. If you are feeling adventurous you could make a batch yourself. We published a recipe for Pear Paste which is made pretty much the same way with the difference being the fruit.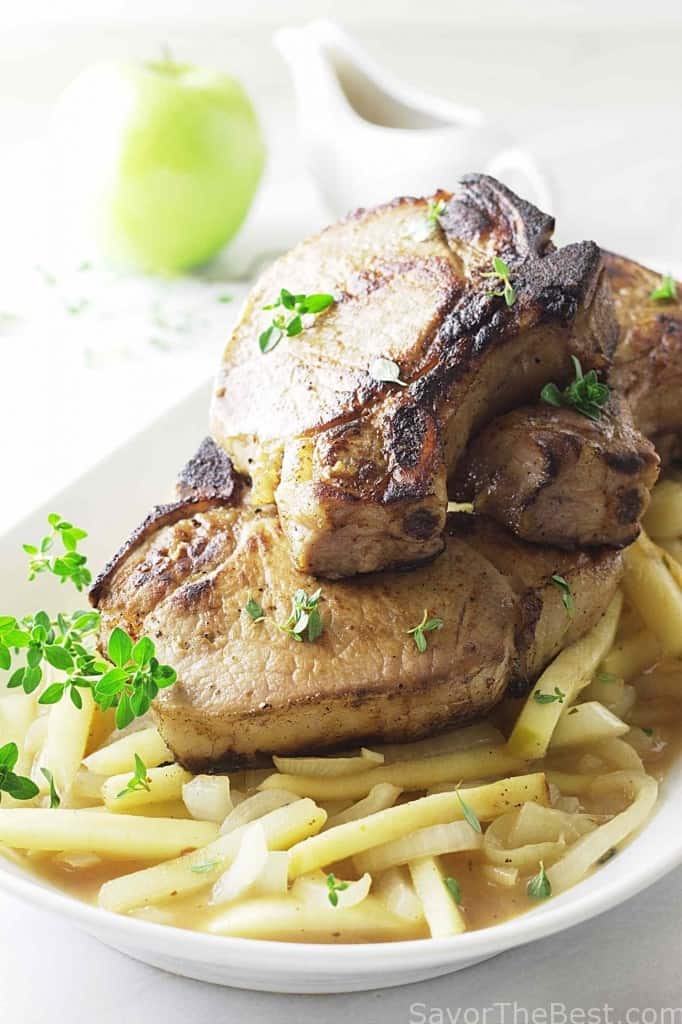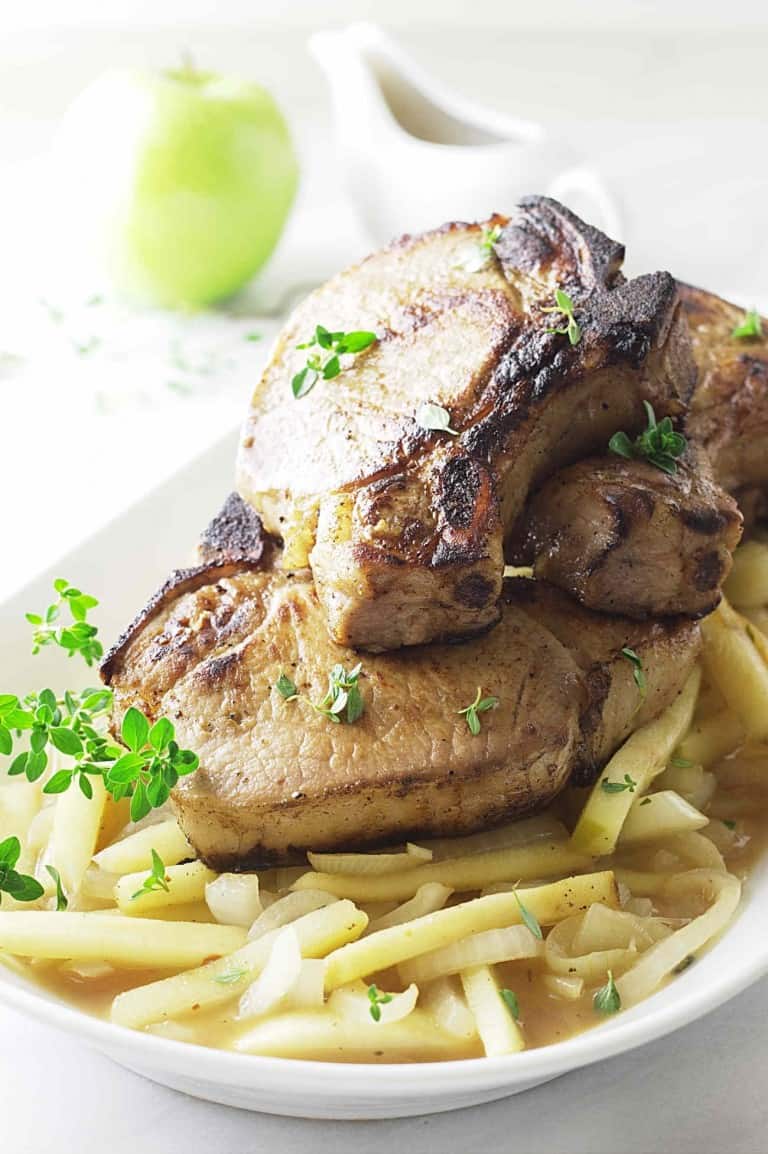 Making a fruit paste is much like making jelly. A fruit paste has a longer cooking time then jelly that results in a thick mass and poured into slabs, or into small molds. Quince paste has a unique flavor. It pairs especially well with the onions and apples in our roasted pork chop dish.
A good substitute for quince paste would be either a quince jelly or apple jelly.
CONNECT WITH SAVOR THE BEST!
Be sure to follow us on our social media accounts
Facebook * Instagram * Pinterest * Twitter * Youtube
Did you make this recipe? We would love to hear from you. Drop us a comment below.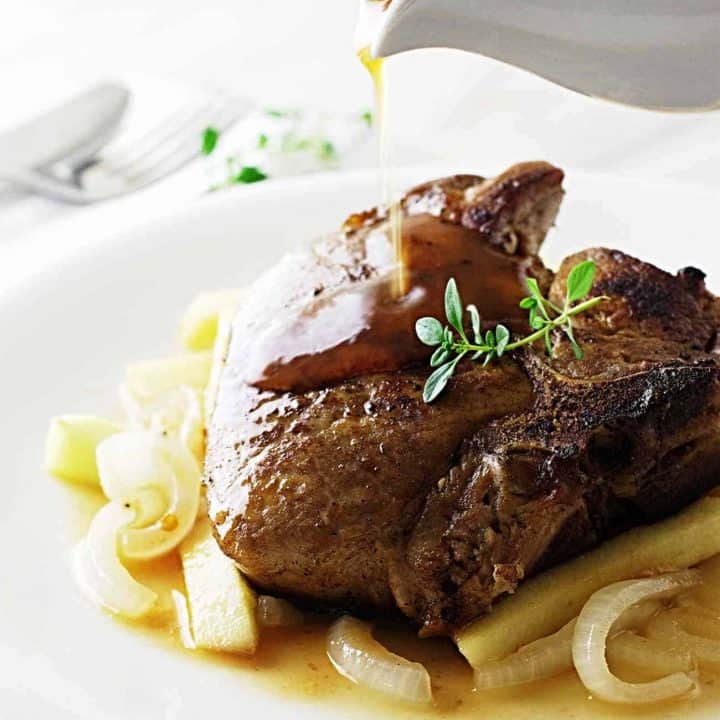 Roasted Pork Chops with Onions and Apples
Total Time:
1 hour
20 minutes
These chops were brined overnight in a flavorful spice brine of allspice, fennel seeds, juniper berries, red pepper flakes and a little brown sugar. Then, we gave them a blast in a hot skillet to sear them and finished them up with an oven roasting. They are served with sliced onions and apple sticks and a delicious vinegary-sweet sauce drizzled on top.
Ingredients
To Make the Spiced Brine:
1 1/2 teaspoons whole allspice berries
1 teaspoon fennel seeds
1/2 teaspoon whole black peppercorns
1/4 teaspoon whole juniper berries
1/8 teaspoon dried red pepper flakes
1/3 cup kosher salt
1/4 cup brown sugar
2 garlic cloves, grated or finely chopped
1 tablespoon chopped fresh thyme leaves
3 cups water, divided
4 (1-inch) thick-cut, bone-in, pork chops, about 2 1/2 pounds
2 tablespoons olive oil
Fresh ground black pepper
To Make the Cider Sauce:
1 1/4 cup apple cider vinegar
3 1/2 ounces quince paste, cut into pieces *see notes
3 tablespoons honey
1 teaspoon Dijon mustard
For the Onions and Apples:
1 tablespoon butter
2 medium yellow onions, cut into 1/4 thick half-rounds
2 Granny Smith apples, cut into match sticks
1 tablespoon chopped fresh thyme
Fresh thyme sprigs for garnish
Instructions
To make the Spiced Brine:
Grind the allspice berries, fennel seeds, peppercorns, and juniper berries in a spice grinder or food processor. Transfer the ground spices to a saucepan and add the red pepper flakes, kosher salt, sugar, garlic and thyme leaves. Add 1/2 cup of water, and bring to a boil to dissolve the salt, whisking to blend in the spices. Remove from the heat and add the the remaining water to cool the brine.
Add the pork chops to a shallow glass baking dish that is large enough to comfortably hold them. Pour the cooled brine over the pork chops, cover with plastic wrap and refrigerate for at least 4 hours and up to 12 hours.
Preheat the oven to 400°F Place a heavy-bottomed skillet in the oven.
Remove the chops from the brine, and pat dry with paper towels. Rub both sides with the olive oil, then sprinkle with fresh ground pepper, no salt.
Remove the hot skillet from the oven and place on stove-top over medium-high heat. Sear the chops to a golden brown, about 3 minutes, flip the chops and sear the second side for 3 minutes. Transfer the skillet and chops to the oven and roast the chops until they reach an internal temperature of 140°F (using an instant-read thermometer) in the thickest part of the chop. This will take from 8-10 minutes, depending on the thickness of the chops. Remove the skillet from the oven and transfer the chops to a serving plate and tent them with foil. Allow to rest 5 to 10 minutes.
While the pork chops are roasting and resting, prepare cider sauce, onions and apples:
For the Cider Vinegar Sauce:
Add cider vinegar to a small saucepan set over medium-high heat and bring it to a boil. Add the quince paste, honey and mustard. Whisk to dissolve the quince paste and blend the mustard. Continue to boil the sauce to allow it to reduce to a syrupy consistency of about 1 cup. This will take 5 to 8 minutes. Remove from the heat, transfer to a small dish or pitcher and reserve.
For the Onions and Apples:
In a large skillet over medium heat, add the butter and when it has melted add the onions. Cook, stirring often, until they are slightly translucent, about 5 minutes. Add the apples and thyme and cook until the apples are tender. Add 1/3 of the reserved cider vinegar sauce, tossing to coat the onions and apples well, bring to a boil and simmer for one minute to slightly thicken the sauce. Remove from heat. Transfer the onions and apples to a serving platter, place the pork chops on top, garnish with fresh thyme sprigs.
Pass the cider vinegar sauce to guests to pour over the pork chops.
Notes
If you do not have time to brine the chops, rub the spice mixture over all sides of the chops, put them on a plate, cover with plastic wrap and refrigerate them for 30 minutes. When ready to cook, rinse briefly, pat dry, season with salt/pepper and proceed.
If you brine the chops they will not require additional salt when cooking.
If you are unable to find the quince paste it can be substituted with apple jelly
Alternative serving suggestion: Divide the onions and apple mixture equally between 4 serving plates, top each with a chop, drizzle with sauce and garnish with fresh thyme.
Nutrition Information:
Yield:

4
Serving Size:

1
Amount Per Serving:
Calories:

392
Total Fat:

15g
Saturated Fat:

4g
Trans Fat:

0g
Unsaturated Fat:

9g
Cholesterol:

41mg
Sodium:

1434mg
Carbohydrates:

43g
Fiber:

5g
Sugar:

31g
Protein:

12g
Nutrition information is a guideline only, is calculated automatically by third-party software, and absolute accuracy is not guaranteed.