You are in for an amazing taste with this easy Stove Top Pork Chops skillet dinner. Perfectly seared, juicy, pork chops and earthy mushrooms team up together for some serious flavor. Serve this easy dinner combo with the rich mushroom pan sauce spooned over a heap of ricotta mashed potatoes!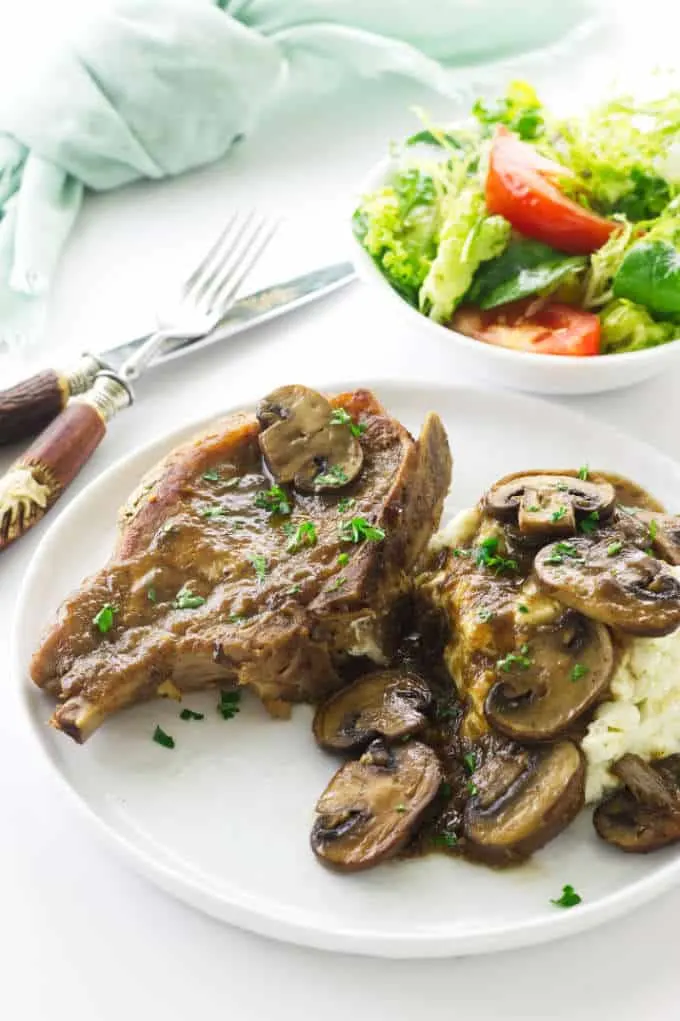 Good news! You can forget about dry, tough pork chops like grandma used to serve. The secret to these juicy, moist pork chops is a simple soak in a salt and brown sugar brine. It takes but minutes and you will be converted!
Here is what we love about this stove-top pork chop recipe:
A family friendly meal
The brine guarantees juicy, flavorful pork chops every time
Lots of meaty mushrooms packed with flavor
Made in just under 30 minutes (not including the brine time)
It's a great dinner for any day of the week that everyone will enjoy. For more pork dinner ideas, try our slow cooker pork chops or our roasted pork and sauerkraut.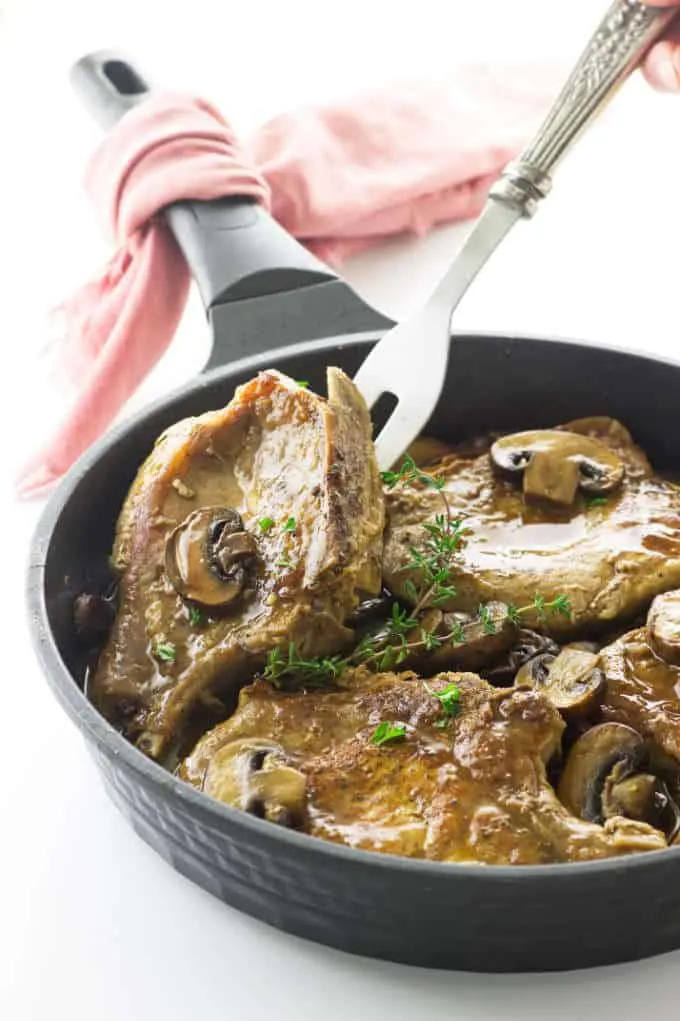 The Ingredients You Need:
Pork chops. We used fairly thick pork chops for this recipe. They are about 1-1/2 inches thick. We also have a recipe for thin cut pork chops.
Mushrooms. Our recipe calls for crimini mushrooms but you can use any type of mushroom you have on hand.
Garlic.
Wine. If you prefer not to cook with wine then you can use some extra chicken broth.
Chicken broth.
Thyme and parsley.
Pepper.
Olive oil.
You will also need Kosher salt and brown sugar to make the brine.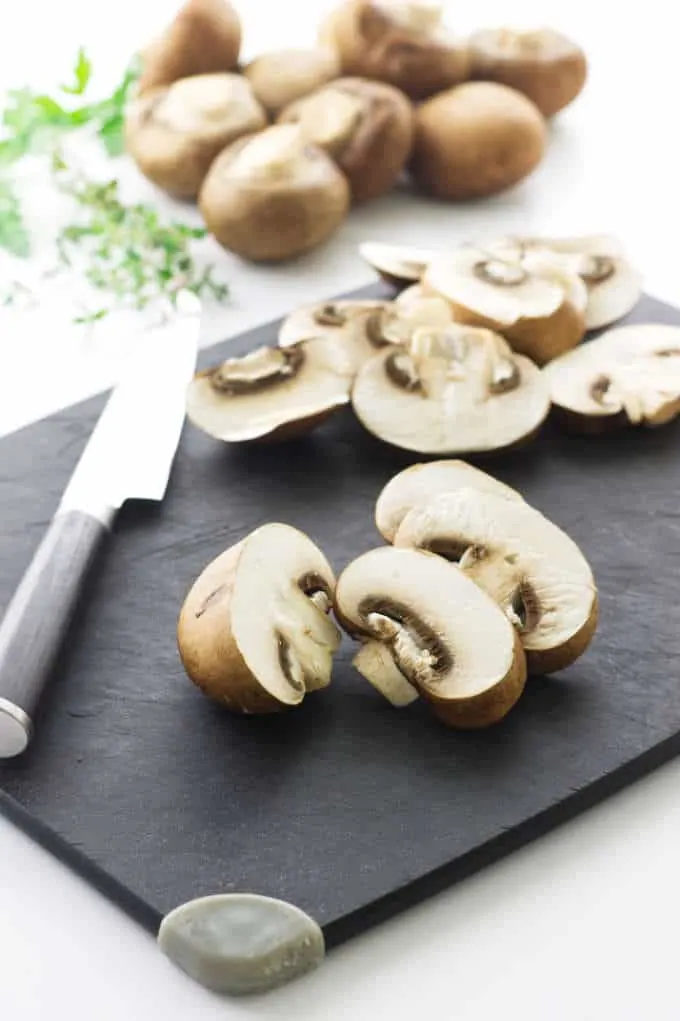 How to Make it:
Here is a brief overview of the recipe for our stovetop pork chops. Make sure you scroll down to the printable recipe card for all the details.
Make the brine and let the pork chops sit in the brine for at least 15 minutes or up to 8 hours.
Remove the pork chops from the brine and pat them dry. Make several score marks in the fat around the rim of the chops (this is an optional step but it will prevent the pork chops from curling up as they cook, see the photo below for how it is done).
Sear the pork chops until they are brown on each side and set them on a plate. They don't have to be fully cooked at this point.
Make the mushroom sauce in the same pan that you seared the pork chops.
Add the pork chops back to the pan and let them cook completly.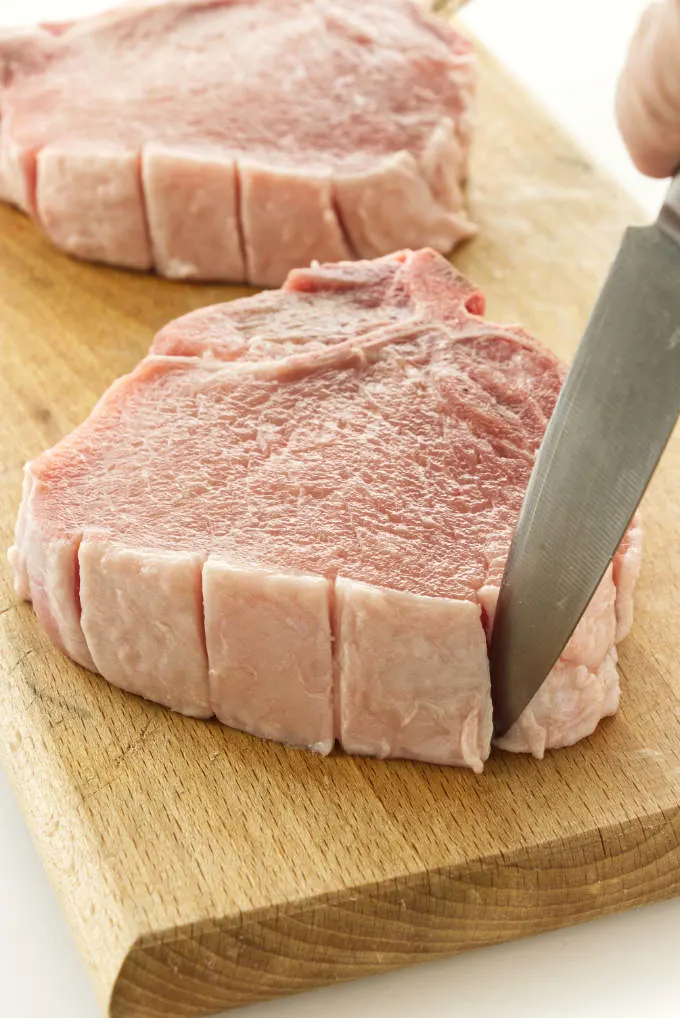 Tips for Success
A brine makes a huge difference for lean proteins like pork. It's a great way to help make sure your meat stays juicy as it cooks. If you don't have a lot of time then let the pork chops sit in the brine for 15 minutes but if you can plan ahead for several hours then the pork will be even juicier.
Searing the meat will intensify the flavor because it caramelizes the outside of the pork chops. Make sure you have a hot skillet before you add the chops.
Cook the pork chops until they reach an internal temperature of 145°F.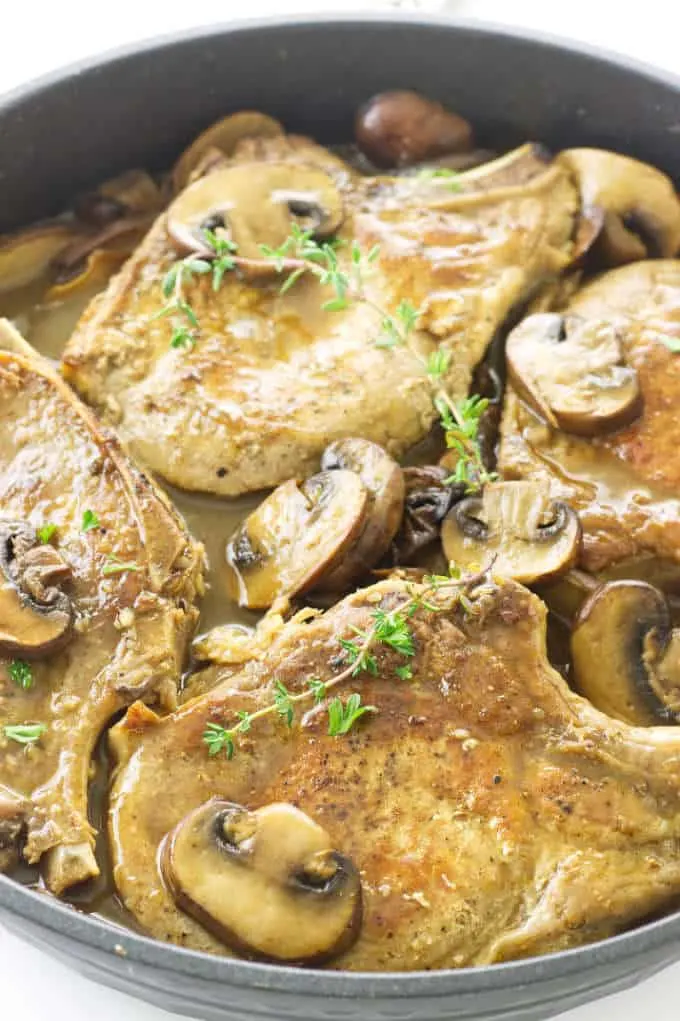 Frequently Asked Questions
How do you cook pork chops without drying them out?
The brine, as well as making sure the pork chops don't overcook, are essential for juicy pork chops. Allow the pork to soak in the brine for at least 15 minutes. Make sure the pork doesn't overcook by using an instant-read thermometer.
How can you tell if pork chops are done?
The most reliable method is to use an instant-read thermometer. If you don't have a thermometer then give them a poke with your finger. The pork should have a firm feel (not too soft and not too hard). It's pretty subjective so that is why we recommend a thermometer.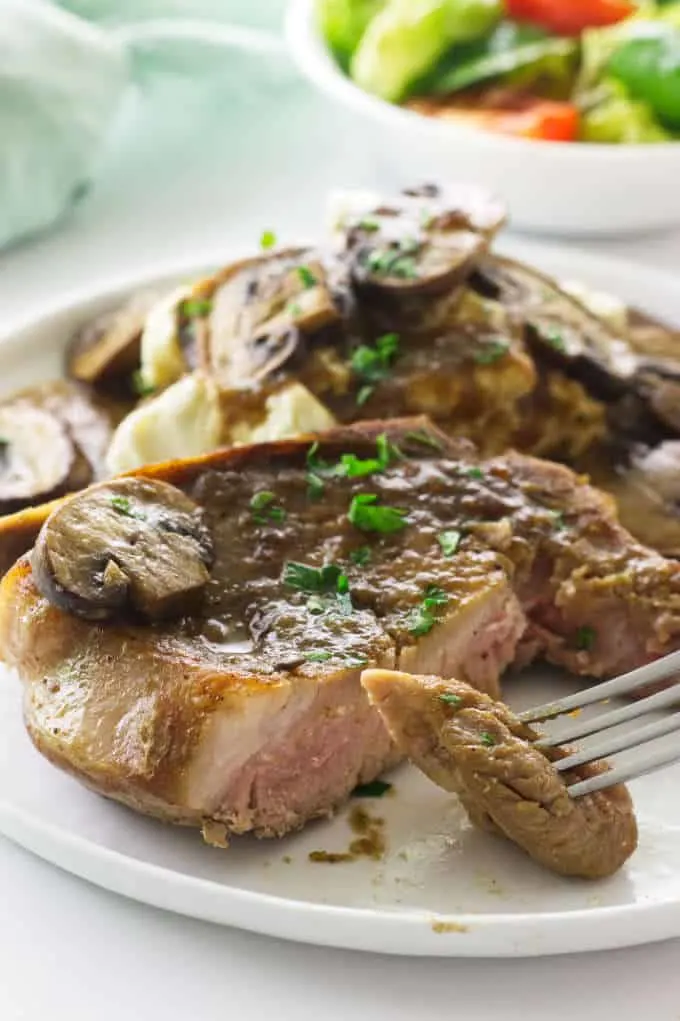 Some Other Recipes You Will Love:
You are sure to love this seriously easy Chipotle Pork Chop Sheet Pan Dinner to sweeten the deal! Juicy, tender pork chops, fingerling potatoes and sweet apple wedges all roast together on one sheet pan. This simple dinner can be on the table in thirty minutes.
Looking for a fast, healthy and delicious alternative to your weeknight menu rotation? Look no farther….You can make easy Pork Fried Rice with leftovers and just 10 minutes of your time. You don't need any 'hard to find' Asian ingredients either. If you have soy sauce in your pantry, you can make this dinner tonight.
A succulent, slow-roasted Pork Roast with Garlic-Ginger Glaze is what's for dinner tonight! This pork roast is pure perfection, it is juicy, tender and delicious with a sauce from the drippings
Connect With Savor the Best:
Please follow us on our social media accounts
Facebook * Instagram * Pinterest * Youtube * Twitter
Did you make this recipe? We would love to hear from you. Drop us a comment below.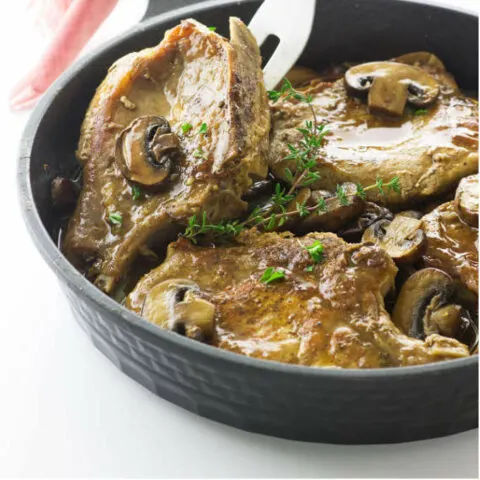 Stove Top Pork Chops and Mushrooms
Brined and perfectly seared, juicy, pork chops and earthy mushrooms team up for some serious flavor. The pork chops are cooked to a rosy-pink which guarantees tender, juicy chops every time! Lots of meaty mushrooms are sautéed with garlic, wine and fresh herbs resulting in a flavor-packed sauce to finish up the chops.
Ingredients
To Brine the Pork Chops:
4 pork chops, bone-in, 1-1/2-inch thick, 8-10 oz. each
Kosher salt
1/4 cup brown sugar
Water
To Cook:
1/4 teaspoon black pepper
3 tablespoons olive oil
2 tablespoon butter
16 ounces crimini mushrooms, see notes
4 garlic cloves, grated or minced
1/2 cup dry white wine
1/4 cup chicken broth
2 tablespoons fresh thyme leaves
1 tablespoon chopped fresh parsley, for garnish
Instructions
Make the Brine:
Place the pork chops in one layer in a 9x13-inch dish. To determine the brine, measure enough cups of cold water to cover the chops. Remove the chops to a plate and reserve. Add 1 tablespoon of Kosher salt for every cup of water measured. In our recipe, we used 5 cups of cold water and 5 tablespoons of Kosher salt.
Stir the brine to dissolve the salt, then return the pork chops to the brine, cover with plastic wrap and refrigerate for at least 15 minutes and up to 8 hours.
Cook the Pork Chops and Mushrooms:
Remove the pork chops from the brine and pat dry with paper towels.
With a sharp knife cut through just the fat rim of the pork chop in 1-inch intervals. As the pork chop cooks the cuts will expand, keeping the pork chop lying flat in the pan and not hump in the center. See the photo in the post for reference.
Sprinkle both sides of the pork chops lightly with pepper, additional salt will not be needed.
Heat the oil in a large skillet set over medium-high. Add 2 of the pork chops and sear until well browned, 3-4 minutes per side. Transfer to a plate and set aside. Repeat with the remaining 2 pork chops. The pork chops will continue cooking from residual heat but not be cooked completely. They will finish cooking in the mushroom sauce.
Melt the butter in the skillet over medium-high heat. Add the mushrooms, tossing to coat with butter. Cook, undisturbed for 4-5 minutes, stir and cook another 3-4 minutes stirring occasionally until browned.
Add the grated garlic and cook for 30 seconds. Add the wine and chicken broth.
Bring to a boil, reduce the heat to low, and return the pork chops and the juices in the plate, to the skillet. Cook, undisturbed, until a meat thermometer inserted into a pork chop registers 140-145°F, about 3-5 minutes.
To Serve:
Plate 1 pork chop per serving with mushrooms and sauce spooned over the chop, garnished with chopped parsley. Serve with mashed potatoes and sauce over the potatoes.
Notes
A basic brine mix is 4 tablespoons of Kosher salt to 4 cups of cold water. Salt is difficult to dissolve in cold water, a quick way to make the brine is to add all the salt to 1 cup of very hot water to dissolve it. Then add the hot brine to the remaining 3 cups of cold water. Remember, do not add any meat to hot or warm brine. It must be cold.
For a good brown searing, do not add all of the pork chops to the skillet at the same time. Sear them in batches of 2 at a time.
Tip to keep pork chops from curling when they cook: With a sharp knife cut through just the fat rim of the pork chop in 1-inch intervals. As the pork chop cooks the cuts will expand, keeping the pork chop lying flat in the pan and not hump up in the center.
Two keys to juicy, tender pork is to brine the pork for a minimum of 15 minutes; and to not overcook the meat. A medium-rare pork chop will be rosy-pink and should register between 140-145°F internally.
USDA guidelines for cooking pork chops, roasts and tenderloins can now be safely cooked to medium with a final internal temperature of 145°F, followed by a short rest time.
Nutrition Information:
Yield:

4
Serving Size:

1
Amount Per Serving:
Calories:

619
Total Fat:

36g
Saturated Fat:

12g
Trans Fat:

0g
Unsaturated Fat:

21g
Cholesterol:

166mg
Sodium:

362mg
Carbohydrates:

18g
Fiber:

1g
Sugar:

13g
Protein:

49g
Nutrition information is a guideline only, is calculated automatically by third-party software, and absolute accuracy is not guaranteed.