The jewel-like pomegranate seeds and snipped mint leaves give this recipe of roasted pork chops with honey-mustard sauce a festive touch.
This recipe could not be easier and from start to table is less than 30 minutes. The pork chops are moist and tender with a golden crust from the searing process with a piquant honey-mustard sauce that enhances their taste.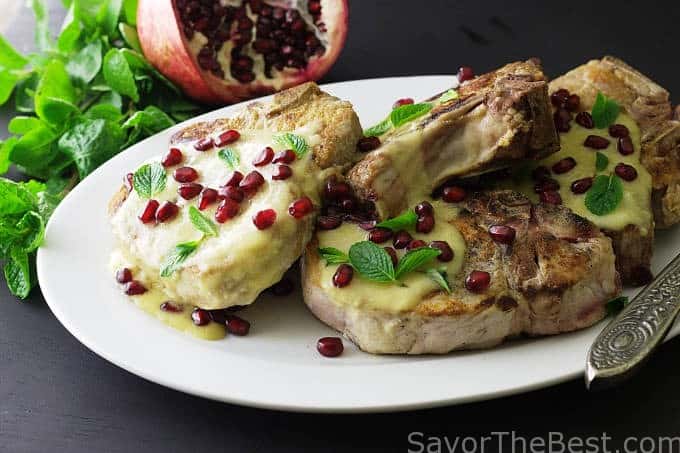 he chops are seared on the outside and finished off in a hot oven. Only sear the one side as when you flip the chop it will quickly sear on the second side while in the oven.
If you sear both sides on the stove top for three minutes per side and then put it into the oven for another six to eight minutes it will overcook.
Even if your chops are a little more than one-inch thick they should roast up nicely to 145°F in no more than eight minutes. As a matter of fact you will need to watch them closely so they do not overcook and loose their juicy flavor.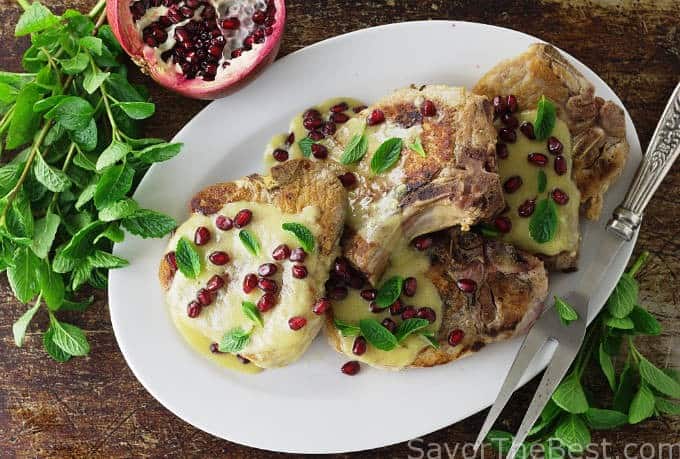 Pork and fruit compliment each other nicely due to the sweetness of the fruit, here we have included the sweetness of honey in the sauce. A little wine and chicken broth are added and the sauce is reduced to a creamy consistency.
Because it will take longer to reduce the sauce than it takes to roast the pork chops the honey-mustard sauce is prepared before starting the chops. Just cover and keep it warm while the chops are roasting. This is a smooth, delicious sauce that is to be spooned over the chops at serving.
The method for roasting the chops has been adapted from The Kitchen where instructions for brining the chops are included as an option.
You can be confident in the safety of roasting your pork to a nice moist medium-rare. According to the USDA guidelines for cooking pork they can now be safely cooked to medium rare with a final internal temperature of 145°F, followed by a short rest time.
More recipes with pork:
Cider Braised Pork Tenderloins with Apples,
Pork Roast with Garlic-Ginger Glaze
Yield: 4 servings
Roasted Pork Chops with Honey Mustard Sauce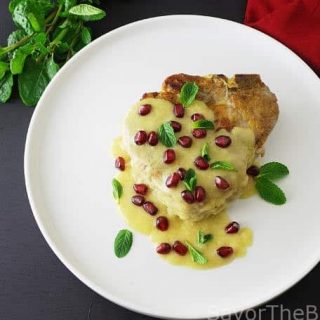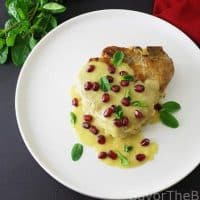 This easy recipe will give you moist, tender pork chops with a tangy-sweet honey-mustard sauce. Finally, they are garnished with pomegranate and fresh mint.
Prep Time 10 minutes
Cook Time 10 minutes
Total Time 20 minutes
Ingredients
For the Sauce:
4 tablespoons butter
2 tablespoons all-purpose flour
1 garlic clove, grated
1/2 cup dry white wine
3/4 cup low-sodium chicken broth
2 tablespoon Dijon mustard
2 tablespoon honey
1/4 teaspoon kosher salt
1/8 teaspoon freshly ground white pepper
For the Pork Chops:
4 Pork chops — center cut, bone-on, each chop, 1 to 1-1/2-inch thick
2 tablespoons melted coconut oil, or vegetable oil
Garnish
1 cup pomegranate seeds
1/4 cup chopped fresh mint
Instructions
Preheat the oven to 400°F.
Place a heavy-bottomed skillet in the oven to heat. A cast iron skillet works the best.
For the Honey-Mustard Sauce:
In a small saucepan set over low heat, add the butter and heat until the foam subsides. Add the flour and cook for 1 minute stirring so it does not brown. Add the grated garlic and cook for 30 seconds. Add the wine, broth, mustard and honey. Bring the sauce to a boil and cook until it has reduced by half. Taste and add the salt and pepper as needed. Cover the saucepan and keep warm while preparing the pork chops.
For the Pork Chops:
Using paper towels, pat the chops dry on both sides and brush with oil, then sprinkle them with salt and pepper.
Carefully, remove the skillet from the oven and set it over medium heat and add the pork chops. Sear them for 3 minutes to a golden brown.
Using tongs, turn the chops and immediately transfer the skillet to the preheated oven.
Roast until they register 140°F to 145°F in the thickest part of the meat with an instant-read thermometer. This should take about 6-8 minutes, depending on the thickness of the chops.
Transfer the hot skillet from the oven and remove the chops to a serving plate. Spoon the sauce on each chop, garnish with pomegranate seeds and fresh mint leaves.
Nutrition Information
Yield
4
Serving Size
1
Amount Per Serving
Calories 423
Total Fat 27g
Saturated Fat 19g
Trans Fat 1g
Unsaturated Fat 16g
Cholesterol 122mg
Sodium 390mg
Carbohydrates 13g
Fiber 2g
Sugar 9g
Protein 25g
Nutrition information is a guideline only, is calculated automatically by third party software, and absolute accuracy is not guaranteed.