The jewel-like pomegranate seeds and snipped mint leaves give this recipe of roasted pork chops with honey-mustard sauce a festive touch. We start the pork chops on the stovetop and finish them in the oven. It is a cooking method that gives the chops a flavorful golden crust with less risk of over-cooking the pork.
This easy recipe for roasted pork chops will give you moist, tender pork chops with a tangy-sweet honey-mustard sauce. The garnish of pomegranates and fresh mint gives the dinner a festive feel. The sweet pomegranate seeds and herby mint complement the savory honey mustard sauce.
This recipe could not be easier and from start to finish it takes less than 30 minutes. The pork chops are moist and tender with a golden crust from the searing process.
Stovetop to oven.
Pork chops are lean and cook very quickly. These two factors make them prone to overcooking and drying out. There is nothing worse than a tough piece of leathery meat for dinner.
This recipe shows you a cooking method that will help prevent overcooking the pork chops. It keeps the pork chops juicy and succulent and flavorful.
We started on the stovetop and gave the chops a good sear to get them golden brown on one side. We didn't start them on the stovetop just for looks alone. That initial browning from a hot skillet gives the pork chops a better flavor. It has to do with the Maillard reaction which, in simple terms, is a chemical reaction with the amino acids in the pork. The important thing is that it gives the roasted pork chops more flavor.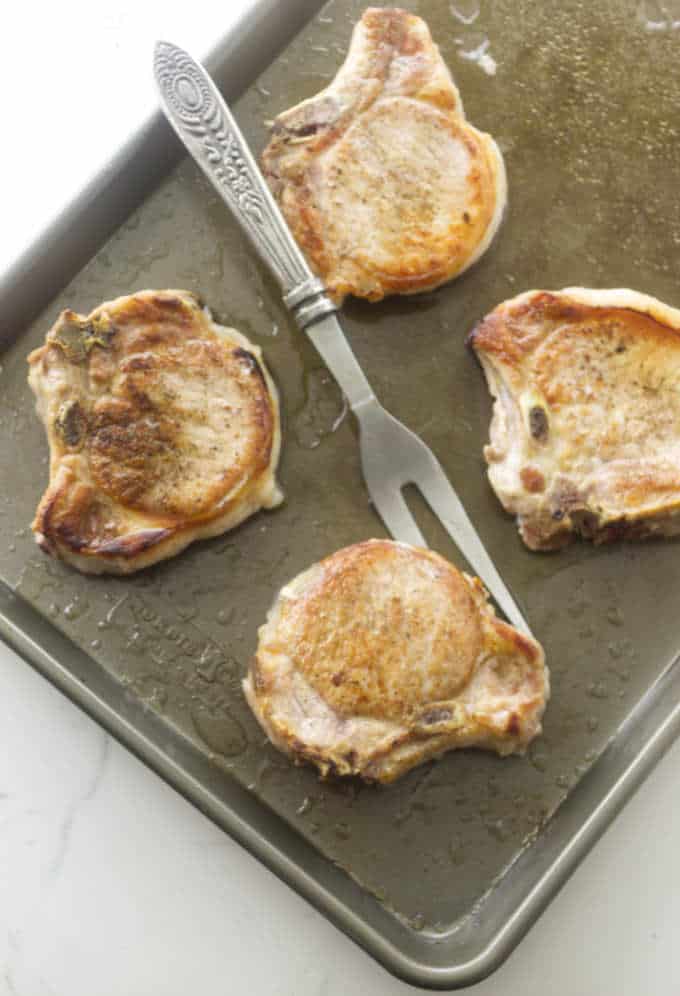 After the pork gets a good sear transfer it to the oven where it will finish cooking under more gentle heat. The oven will cook the center of the pork chops without drying the outside.
The chops are seared on the outside and finished off in a hot oven.
Sear one side.
In this recipe, you only need to sear one side of the pork chops. If you sear both sides on the stovetop for three minutes per side and then put it into the oven for another six to eight minutes it will overcook.
Place the seared side of the pork chops facing down on a sheet pan then stick the pan in the oven to finish cooking. The top of the pork chops will get brown in the oven and finish that Maillard reaction I talked about earlier.
Cook the roasted pork chops to an internal temp of 145°F
The old school method for cooking pork chops always recommended that you cook pork to an internal temperature of 165°F. That always resulted in tough, dry pork. Every. Time. No wonder I never cared for pork when I was younger.
Now there are new guidelines for cooking pork to a lower internal temperature.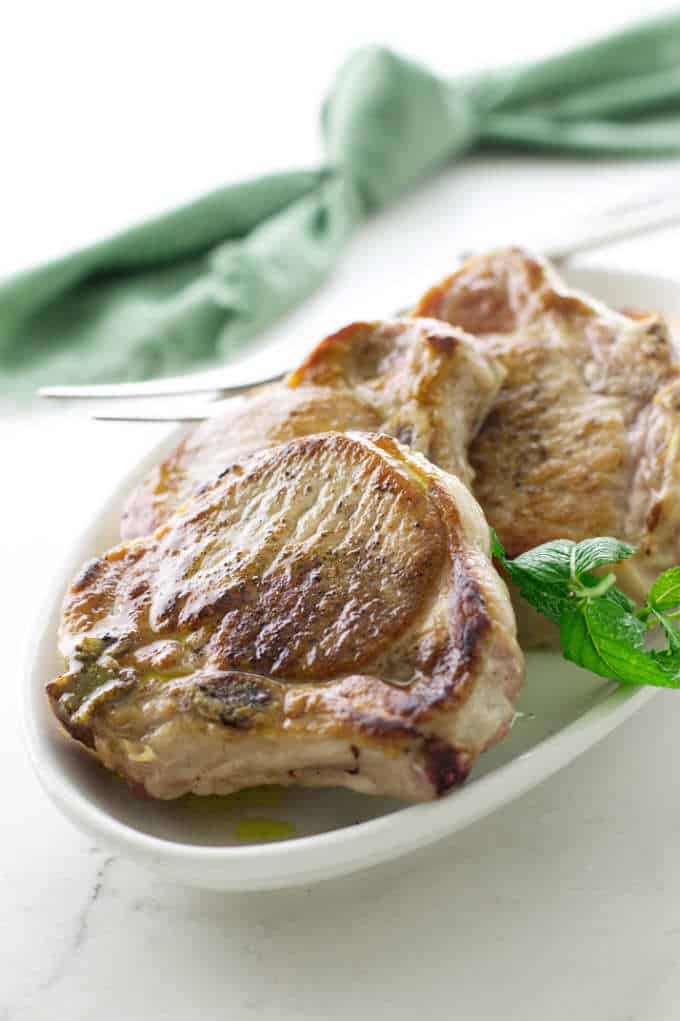 You can be confident in the safety of roasting your pork to a nice moist medium-rare. According to the USDA guidelines for cooking pork, you can safely cook it medium-rare with a final internal temperature of 145°F. Part of the guidelines also indicate that you should follow that up with a short rest time.
Even if your chops are a little more than one-inch thick they should roast up nicely to 145°F in no more than eight minutes. As a matter of fact you will need to watch them closely so they do not overcook and lose their juicy flavor.
Honey Mustard Sauce.
The honey mustard sauce is an amazing flavor with roasted pork chops. We like to serve this dish with rice or potatoes to soak up some of the extra sauce. So good!
We added a little wine and chicken broth to the sauce and reduced it to give it a more concentrated flavor and creamy consistency.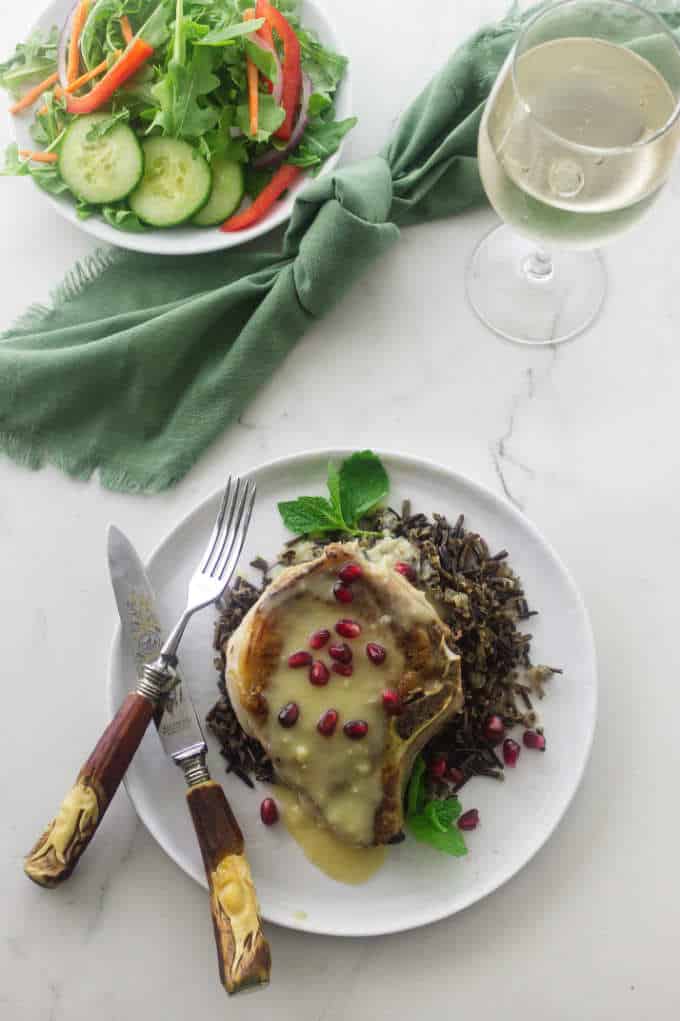 Since it will take longer to reduce the sauce than it will take to roast the pork chops, you should start the honey-mustard sauce before starting the chops. Just cover and keep it warm while the chops are roasting.
When you finish cooking the pork chops spoon the creamy sauce over them and serve with the garnish of pomegranates and chopped mint.
MORE RECIPES WITH PORK:
This recipe for Cider Braised Pork Tenderloins with Apples is a perfect fall dinner. It is a one-pot meal that only takes 15 minutes to prep. The rest of the time is hands-free while the oven does all the work.
This Pork Roast with Garlic-Ginger Glaze is a fantastic Sunday dinner. The pan drippings make a delicious sauce that you can spoon over mashed potatoes or rice.
If you have leftover rice you need to use it to make this Pork Fried Rice. It is a delicious mix of pork, rice, eggs, and vegetables and it makes a fast and easy dinner that is especially great for a week-night.
CONNECT WITH SAVOR THE BEST!
Be sure to follow us on our social media accounts
Facebook * Instagram * Pinterest * Twitter * Youtube
Did you make this recipe for roasted pork chops? We would love to hear from you. Drop us a comment below.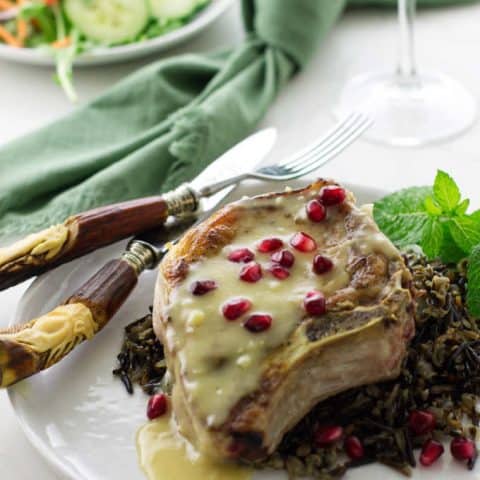 Roasted Pork Chops with Honey Mustard Sauce
Yield: 4 servings
Prep Time: 10 minutes
Cook Time: 10 minutes
Total Time: 20 minutes
This easy recipe will give you moist, tender pork chops with a tangy-sweet honey-mustard sauce. Finally, they are garnished with pomegranate and fresh mint for a festive look.
Ingredients
For the Sauce:
4 tablespoons butter
2 tablespoons all-purpose flour
1 garlic clove, grated
1/2 cup dry white wine
3/4 cup low-sodium chicken broth
2 tablespoon Dijon mustard
2 tablespoon honey
1/4 teaspoon kosher salt
1/8 teaspoon freshly ground white pepper
For the Pork Chops:
4 Pork chops — center cut, bone-on, each chop, 1 to 1-1/2-inch thick
2 tablespoons melted coconut oil, or vegetable oil
Garnish
1 cup pomegranate seeds
1/4 cup chopped fresh mint
Instructions
Preheat the oven to 400°F.
For the Honey-Mustard Sauce:
In a small saucepan set over low heat, add the butter and heat until the foam subsides. Add the flour and cook for 1-minute stirring so it does not brown.
Add the grated garlic and cook for 30 seconds. Add the wine, broth, mustard, and honey.
Bring the sauce to a boil and cook until it has reduced by half. Taste and add the salt and pepper as needed. Cover the saucepan and keep warm while preparing the pork chops.
For the Pork Chops:
Using paper towels, pat the chops dry on both sides and brush with oil, then sprinkle them with salt and pepper.
Place a skillet on the stove-top over medium-high heat. When the skillet is hot, sear the pork chops for 2-3 minutes on one side. This step will give them a nice golden-brown crust.
Arrange the pork chops on a baking sheet, seared side down, and place them in the preheated oven.
Roast until they register 140°F to 145°F in the thickest part of the meat with an instant-read thermometer. This should take about 6-10 minutes, depending on the thickness of the chops.
Transfer the baking sheet from the oven and remove the chops to a serving plate. Spoon the sauce on each chop, garnish with pomegranate seeds and fresh mint leaves.
Notes
Searing the pork chops on the stovetop first will give them a golden-brown crust and a more complex, rich flavor.
Recommended Products
As an Amazon Associate and member of other affiliate programs, I earn from qualifying purchases.
Nutrition Information:
Yield: 4
Serving Size: 1
Amount Per Serving:
Calories: 423
Total Fat: 27g
Saturated Fat: 19g
Trans Fat: 1g
Unsaturated Fat: 16g
Cholesterol: 122mg
Sodium: 390mg
Carbohydrates: 13g
Fiber: 2g
Sugar: 9g
Protein: 25g
Nutrition information is a guideline only, is calculated automatically by third party software, and absolute accuracy is not guaranteed.