These roasted garlic spears make a simple savory side dish that highlights this fabulous seasonal vegetable. Roasting the spears gives them a sweet, mild garlic flavor and a tender texture. You can serve these as a healthy side dish the same way you would serve green beans or asparagus.
Garlic spears are also known as garlic scapes. If you see them in the market, grab them before they are gone. They are easy to prepare and delicious to eat.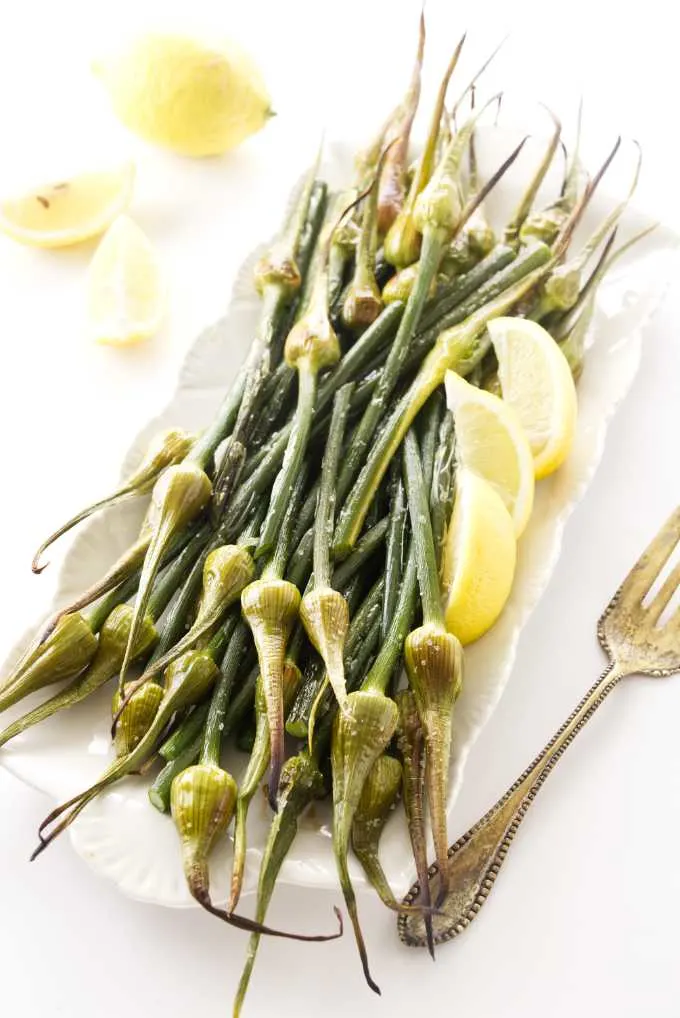 Oh my goodness! These roasted garlic spears are just amazing! I saw these elephant-garlic spears in bundles at Central Market and my curiosity got the best of me. I have prepared them the same as my roasted asparagus and we ate the entire bundle for dinner.
What are Garlic Spears:
Garlic spears (also known as garlic scapes) are the top portion or stem of the garlic bulb. It is typically cut off and harvested early in the season in order to give the garlic bulb a chance to grow larger.
They have a milder flavor than the garlic bulb but in their raw state, they are still fairly assertive. Cooking them makes them sweet and tender with a mild garlic flavor that is reminiscent of roasted garlic.
These would be really delicious chopped raw in a salad, provided the chop is small as they are pretty hot and spicy in their raw state. It is surprising what a difference cooking makes though, as after they are roasted they have a very mild garlic flavor.
Can You Eat Garlic Scapes?
Yes, you can eat the entire scape or spear, including the flower bulb at the top which is maybe the best part. You can eat them raw or cooked and serve them as an excellent side dish or blend them into pesto or other sauces.
I have a garlic soup recipe that would taste wonderful with some roasted elephant-garlic spears included.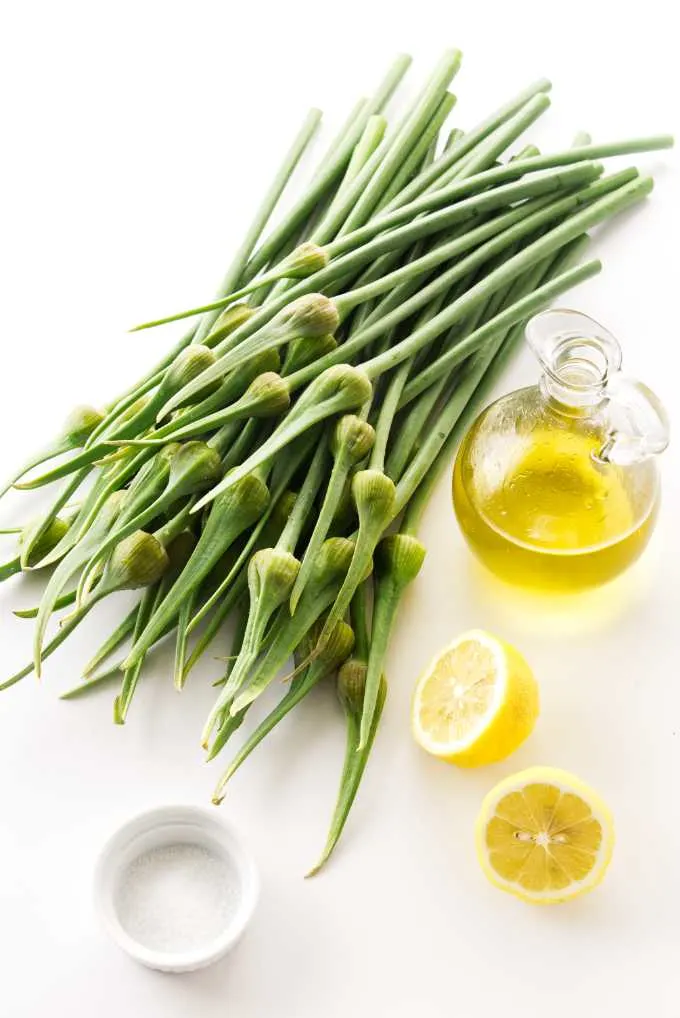 Ingredients Needed:
This is a simple recipe that highlights the flavor of the garlic spear. Here is what you need.
Garlic spears. Also sold as garlic scapes. This recipe works for regular garlic spears or elephant garlic spears.
Cooking oil.
Salt.
Lemon.
That's all you need to bring out the amazing flavors of this vegetable. The oven does all the work to transform the garlic scapes into a tender, delicious side dish with a hint of garlicky flavor.
The serving fork shown in the photo was a wedding gift to my grandma Prentice in 1903. It is part of a two-piece set, the mate to it is a long pickle fork and the gold plating is almost worn off both of them from so much use.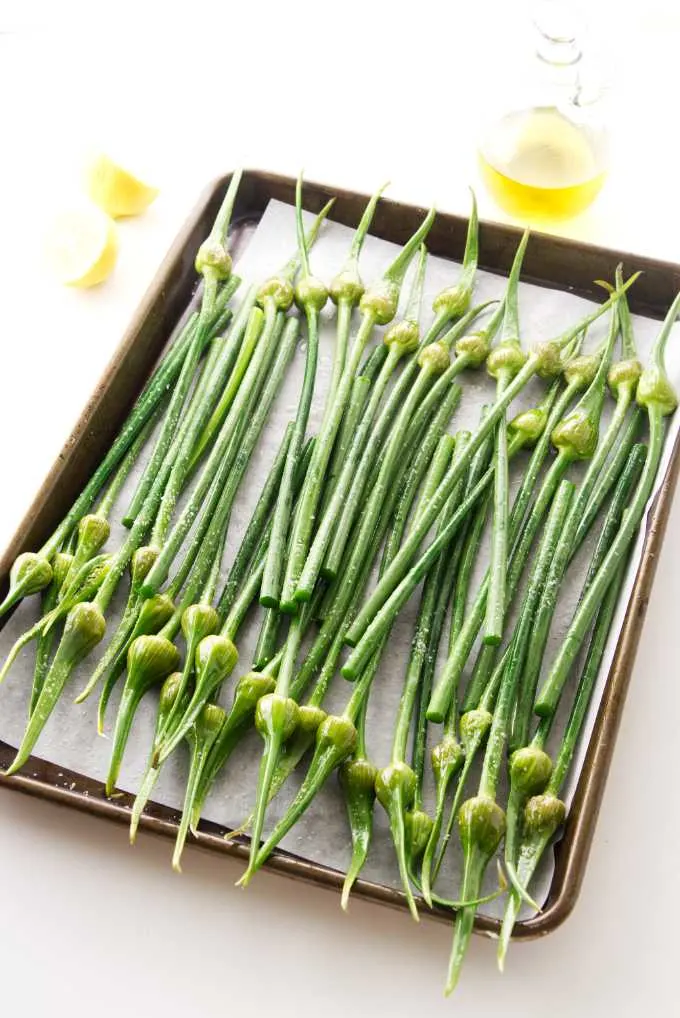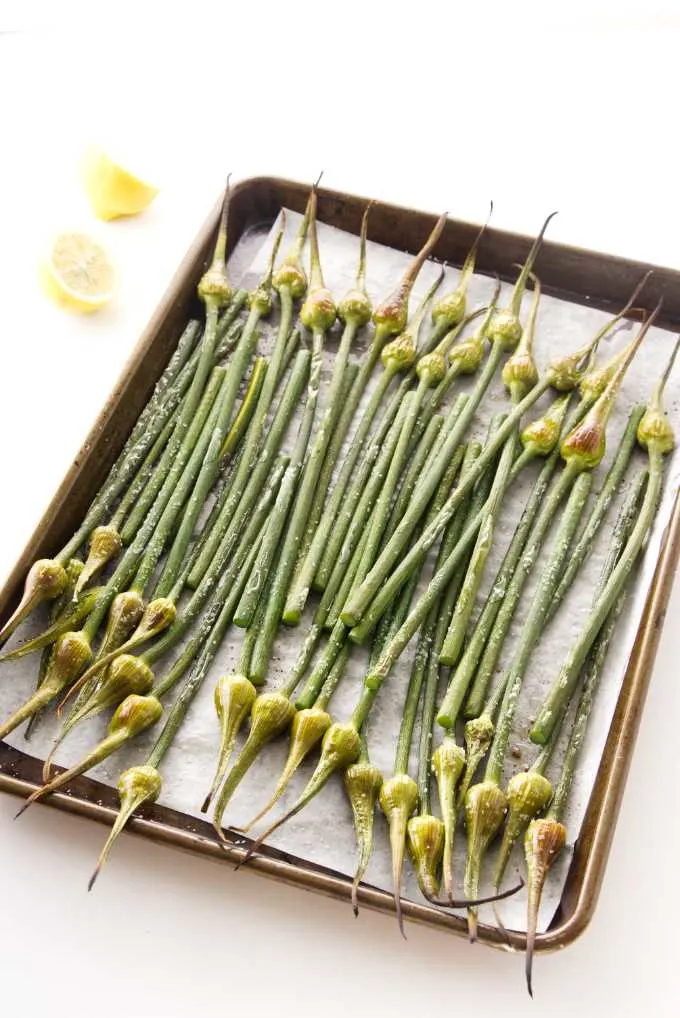 Helpful Tools:
Some of the following links are affiliates. If you click on these links and purchase something, we may receive a small commission. You don't pay any extra but it will help us keep the lights on.
Good quality olive oil.
Kosher salt flakes make a great finishing salt
Some Other Recipes We Are Sure You Will Love:
This green bean salad with bacon and tomatoes is perfect for picnics and family barbecues. You can make it ahead of time and it travels well without getting smashed.
Our sesame snap peas are easy to prepare and make a great side dish for just about any meal. The mild sesame flavor goes well with the peas and gives them a nutty flavor.
This roasted Romanesco is a delicious vegetable side dish with a play on flavor and texture. The parmesan panko topping adds an incredible flavor the the Romanesco
Connect With Savor the Best:
Please follow us on our social media accounts
Facebook * Instagram * Pinterest * Youtube * Twitter
Did you make this recipe? We would love to hear from you. Drop us a comment below.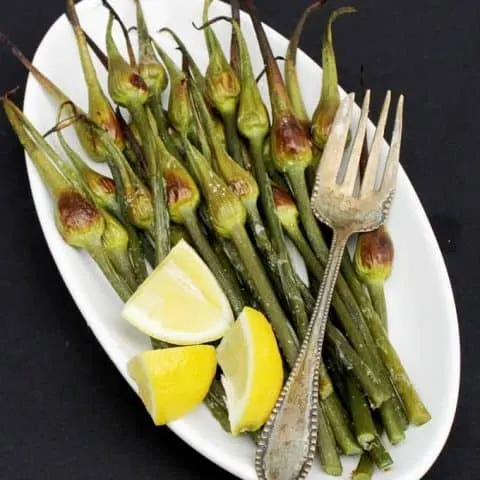 Roasted Garlic Spears
Roasted elephant-garlic spears have a very mild garlic flavor with a texture similar to asparagus or artichoke. Roasting them quickly in a hot oven brings out some natural sweetness in the spears. We used just a few ingredients to highlight the flavor of the garlic spears and make them the star of the dish. They make a fantastic side dish. They are also delicious sliced thinly in a salad or chopped finely and added to a dip.
Ingredients
3/4 pound fresh elephant-garlic spears
2 tablespoons avocado oil, or olive oil
Kosher salt for sprinkling
½ fresh lemon cut in quarters for squeezing
½ fresh lemon, sliced for garnish
Instructions
Preheat the oven to 500 degrees F.
Trim about an inch off the ends of the spears and discard, place the garlic spears in a zip-top bag or in a dish and add the oil. Gently, roll the spears around to coat evenly in the oil. Spread the spears in a single layer, on a baking sheet. If you have a smaller baking sheet, alternate the heads of the spears on either end of the baking sheet so they lay in a single layer. Sprinkle them with salt.
Transfer to the upper rack of the oven and roast for 8 to 10 minutes. Remove the garlic spears from the oven and transfer them to a serving plate. They will be tender and crisp, sprinkle with more salt if desired, and squeeze lemon juice over them. Garnish with lemon quarters.
Notes
Make sure the garlic spears are in a single layer. We alternated the heads of the spears on either end of the baking sheet to prevent the thicker heads from laying on top of each other. If you roast a larger batch of garlic spears, you may need to use two baking sheets. If you pile them on top of each other, they will steam instead of roast and you won't get that beautiful charred look and taste.
The amount of time the garlic spears take to roast will depend on how thick the stalks and heads of the spears are. After they roast for the first 8 minutes, remove one of the spears and check the tenderness. If you want it a bit more tender, add 1 to 2 minutes to the cooking time.
Nutrition Information:
Yield:

4
Serving Size:

1
Amount Per Serving:
Calories:

223
Total Fat:

11g
Saturated Fat:

1g
Trans Fat:

0g
Unsaturated Fat:

9g
Cholesterol:

0mg
Sodium:

160mg
Carbohydrates:

30g
Fiber:

2g
Sugar:

1g
Protein:

6g
Nutrition information is a guideline only, is calculated automatically by third-party software, and absolute accuracy is not guaranteed.
This recipe was originally published on June 8, 2015. We updated the photos but left some of the originals below.