This seafood stew is a fusion of the French style bouillabaisse and the Italian version of cioppino. With flavorful vegetables, fresh seafood, and an abundance of herbs and spices, this recipe is one that will please any crowd. It is absolutely loaded with flavor and makes a festive dinner.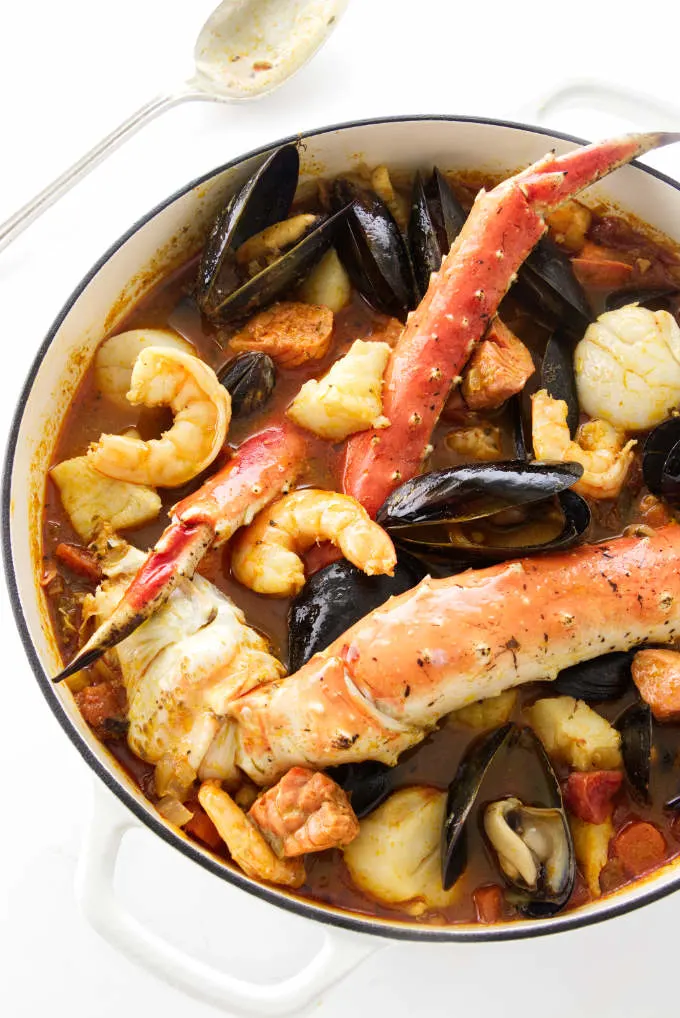 This is a fantastic way to serve an abundance of fresh seafood and it is a surprisingly easy and healthy recipe. Serve it with plenty of crusty bread to sop up the flavorful tomato-based sauce.
Ingredients Used in Seafood Stew:
This is a very versatile recipe and you can use whatever fresh seafood you have on hand. It is a recipe that is meant to take advantage of the fisherman's catch of the day. You can however, use frozen seafood but make sure you thaw it first.
Here is the seafood we used:
Shrimp
Mussels
Crab
Scallops
Salmon
Halibut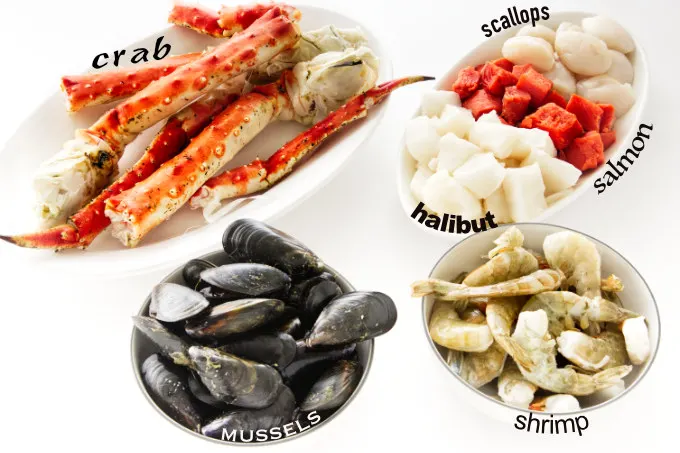 Ingredients Needed to Make the Broth:
Vegetables: Onion, carrots, celery, fennel.
Parsley.
Garlic.
Lemon.
Bay leaf and fresh thyme.
Saffron.
Wine.
Diced tomatoes.
Tomato paste.
Chicken broth.
Red pepper flakes.
Salt and pepper.
How to Make Seafood Stew:
This is a quick overview of the process to show you how easy it is to make this recipe. Make sure to scroll down to the printable recipe card for all the details.
Crush the saffron threads and soak them in hot water.
Saute the vegetables until they are soft and tender. Add the herbs and spices along with the saffron (including the soaking liquid).
Stir in the wine and let the wine simmer to burn off the alcohol flavor.
Stir in the tomatoes, tomato paste, broth, red pepper flakes, salt and pepper. Let the pot simmer for an hour to build up a bold, intense flavor.
Add the fish. Start with the mussels then add the shrimp, crab, scallops and fish. Remove from heat and serve.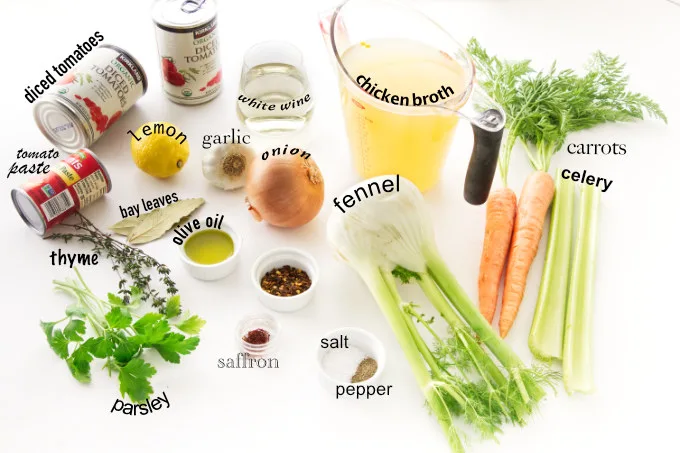 Tips for the Best Seafood Stew
Choose the seafood you add to your stew carefully. Fish that have firm flesh like halibut, sea bass, cod, and mahi-mahi hold up while cooking.
For best results avoid soft flesh like tilapia, snapper, and tuna will likely fall apart during the cooking process. You can still use them in this recipe but you should be prepared for them to fall apart in the stew.
Make sure you are using fresh mussels. You can tell if they are fresh by smelling them. They should have a clean "ocean" scent and they should not smell fishy. If any of the raw mussels are open, tap them on the shell. If they are alive, they will close after you tap them. Toss them out if they do not close and throw out any broken or cracked muscles.
To add more flavor to the seafood stew, you can leave the shells on the shrimp while cooking. We do the same with the crab. It makes eating the stew a bit messy so have plenty of napkins available. You can also place some empty bowls on the table to toss the shells into as you eat the stew.
Spices:
Because of its labor-intensive harvesting requirements, saffron is very expensive. Luckily, you do not need much saffron to add a lot of special flavor to the seafood stew. It will give the stew a very subtle but unique flavor.
To properly prepare saffron, crush it and then let it soak in hot water for ten minutes. Hot liquid releases the flavor. You can simply toss the dry saffron threads into the broth when it simmers but we find that we get better flavor from it when we crush it and soak it first.
Serving the Stew:
As mentioned above, have plenty of napkins available if you cook the shellfish with the shells. It will impart more flavor to the stew but make it a bit messy to eat. We even place warm, damp washcloths on the table.
Pair your seafood stew with garlic bread, or homemade sourdough bread and a garden salad with our preserved lemon vinaigrette.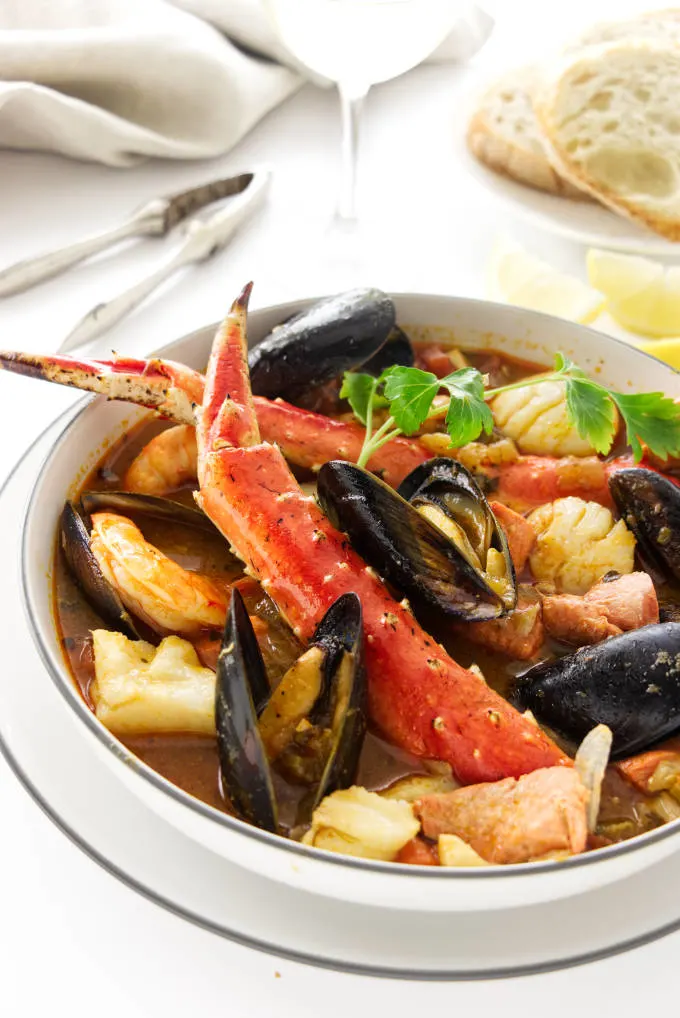 Left-Overs:
This meal is best eaten right after it is cooked. If you can't eat it all, you can store your left-over seafood stew in the fridge for up to 2 days.
When you reheat the stew, place it on the stove top and cook on medium-low heat until the stew is warm enough to eat. Make sure you re-heat it slowly so you don't over-cook the seafood and make it tough.
This stew is freezable, but we don't recommend freezing it. It really is best eaten when freshly made. If you freeze the stew, place it in the fridge overnight to thaw.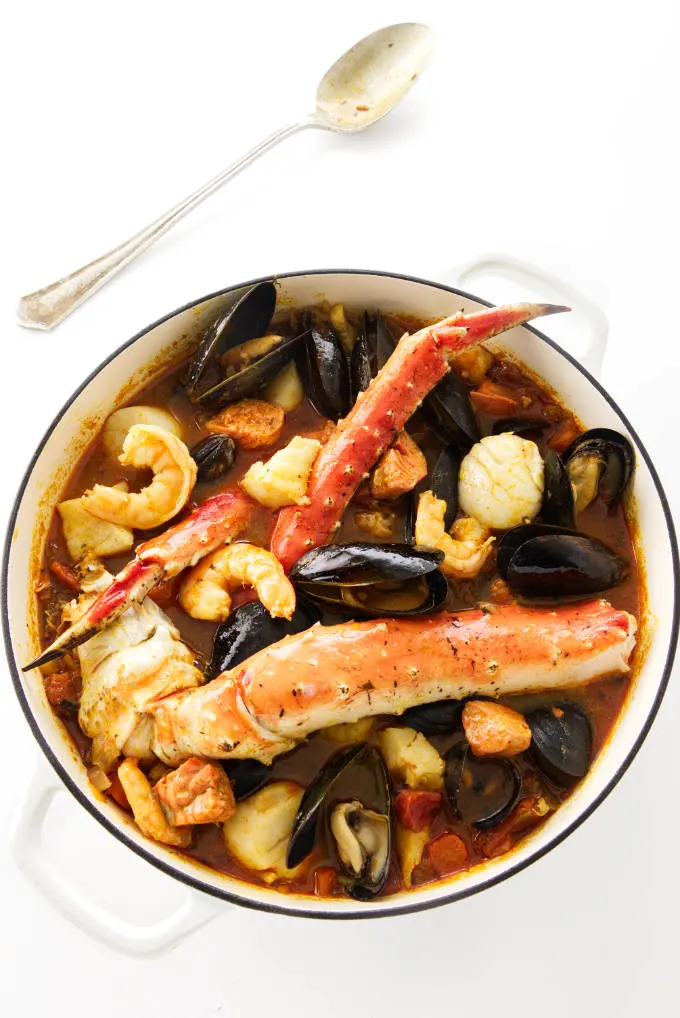 Some Other Recipes We Are Sure You Will Love:
Vegetable and Scallop chowder and our salmon stew are more great ways to enjoy delicious seafood.
Grilled Lobster Tails are a classic dish and make a favorite entree for any occasion. Serve them with garlic lemon butter, and no knead focaccia bread.
Spanish Romesco Seafood Stew is a grand assortment of seafood that includes shrimp, scallops, mussels, and cod. Serve it with our whole wheat einkorn bread to mop up the delicious sauce.
Connect With Savor the Best:
Please follow us on our social media accounts
Facebook * Instagram * Pinterest * Youtube * Twitter
Did you make this recipe? We would love to hear from you. Drop us a comment below.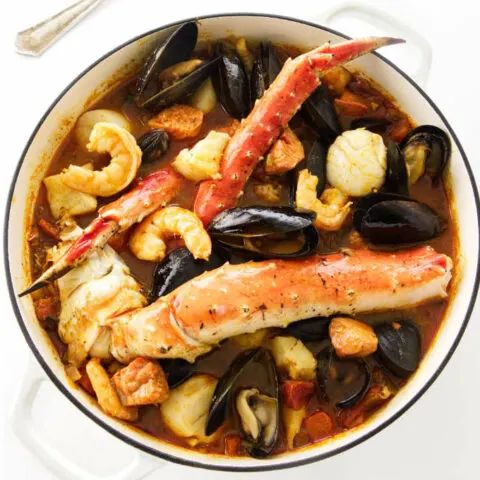 Seafood Stew
Cook Time:
1 hour
20 minutes
Total Time:
1 hour
50 minutes
Our Seafood Stew is a delightful combination of shrimp, crab legs, scallops, salmon and halibut in a savory tomato based broth with a variety of spices and veggies. Serve this flavorful stew with crusty sourdough bread to mop up that broth!
Ingredients
For the broth:
2 tablespoons olive oil
1 large yellow onion, chopped
2 cups chopped carrots
1 cup chopped celery
1 medium fennel bulb, chopped
1/4 cup chopped fennel fronds
1/4 chopped fresh flat-leaf parsley
5-6 cloves garlic, minced
2 tablespoons lemon zest
1 bay leaf
5 sprigs fresh thyme
1/2 teaspoon saffron threads, crushed and soaked in 1/4 cup of hot water
1 cups white wine
2 (14-ounce) cans diced tomatoes
4 tablespoons tomato paste
8 cups chicken stock
1/4 teaspoon red pepper flakes
1/2 teaspoon freshly ground black pepper
1 teaspoon kosher salt
Seafood:
1 pound shrimp, medium or large peeled and deveined
1 pound mussels
4 cooked crab legs
1/3 pound scallops
1/3 pound skinless halibut fillet, or other firm white fish, cut into 1-inch pieces
1/3 pound skinless salmon fillet, cut into 1-inch pieces
Instructions
In a large saucepan, heat the oil over medium heat. Add the onions, carrots, celery, fennel, and fennel fronds. Cook, stirring occasionally, until the vegetables start to brown, about 10 minutes. Stir in the parsley, garlic, lemon zest, bay leaf, thyme, and saffron along with the soaking liquid. Add the wine and simmer for 10 minutes.
Stir in the tomatoes, tomato paste, chicken stock, red pepper flakes, black pepper, and salt and bring to a boil. Reduce heat and simmer for 1 hour, uncovered.
Add the mussels and cook over medium heat until they are all open, about 3 minutes. Stir in the shrimp, crab legs, scallops, halibut and salmon. Cook another 3-5 minutes until the fish is cooked. (Discard any mussels that did not open.) Remove from heat and serve with hot garlic bread and a salad.
Notes
When choosing the fish for this seafood stew you should choose a firm-fleshed fish such as halibut, sea bass, cod, swordfish or mahi-mahi. Fish that is tender and flaky will fall apart in the stew. Examples of flaky fish that will fall apart are: tilapia, smelt, snapper, and tuna. Salmon is a medium texture fish and has a tendency to fall apart if it is cooked well-done. If you use salmon, add it last.
Saffron is expensive but you only need a small amount to make a big impact on the flavor. There is no point in using it if you don't prepare it correctly. To release the flavor of the saffron, crush it with a mortar and pestle or a spice grinder then let it soak in hot water for at least 10 minutes. If you can't find saffron you can substitute it with turmeric. However, turmeric will not give you the same unique, floral flavor that saffron imparts.
We usually shell the shrimp but if you leave the shells on then they will impart more flavor to the dish.
Inspect the mussels closely and give them a good sniff with your nose. They should not smell fishy. Fresh mussels have a clean, ocean smell. Toss out mussels that have broken shells. Toss out dead mussels. If any mussels are open give them a tap and wait a few seconds. Live mussels should close within a few seconds after you tap them.
Store leftovers in the fridge for 2 days. Re-heating the stew can over-cook the seafood and make it tough. To reheat, place it on the stovetop over medium-low heat and heat it just until the seafood is heated through.
Another option for reheating this stew is to transfer as much of the seafood as possible to a large bowl then add the broth to a saucepan over medium-high until hot. Turn the heat off and add the seafood, cover the pot and let the stew sit for 5 minutes before serving.
This stew can be frozen but we don't recommend it. It is so much better eaten right after you make it. If you do decide to freeze the leftovers, let it thaw overnight in the fridge before reheating.
Nutrition Information:
Yield:

8
Serving Size:

2 cups
Amount Per Serving:
Calories:

328
Total Fat:

13g
Saturated Fat:

3g
Trans Fat:

0g
Unsaturated Fat:

9g
Cholesterol:

203mg
Sodium:

2102mg
Carbohydrates:

21g
Fiber:

3g
Sugar:

9g
Protein:

39g
Nutrition information is a guideline only, is calculated automatically by third-party software, and absolute accuracy is not guaranteed.
This recipe was first published on January 17, 2014. We updated the photos in the post.