This grilled sea bass is prepared with the skin on and results in a flaky, tender fish with an extra crispy skin. The secret? Don't be afraid to turn up the heat! A hot fire will guarantee a crisp skin, beautiful grill marks, and Chilean sea bass that is cooked to perfection.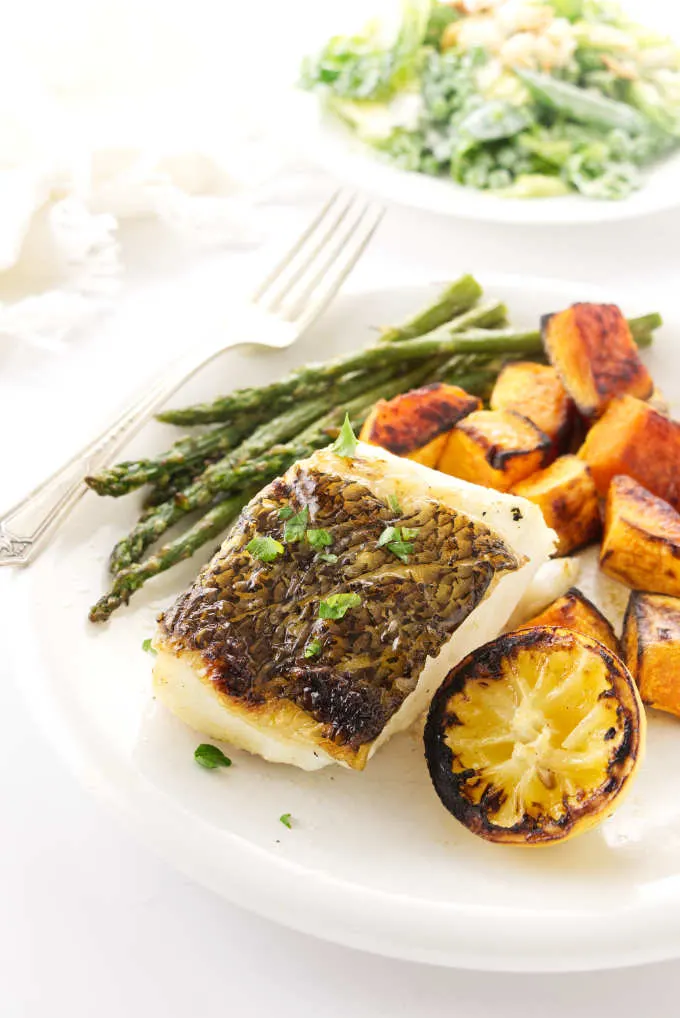 Sea bass is a white fish that has a mild flavor and flaky texture. The firm flesh makes it an ideal choice for grilling.
This grilled sea bass recipe is such a treat. When prepared right, Chilean sea bass is really something special. It's elegant and delicious, and there are so many different ways to enjoy this delicate fish.
We have several bass recipes on the site, including sea bass recipe with compound butter, sea bass with beurre blanc and our miso glazed sea bass.
But this grilled Chilean sea bass recipe is the first to feature a super crispy skin that we know you'll savor. And we can't forget about the delicious grill taste that you can't get from any other cooking method.
Why this Sea Bass Recipe Works
For this grilled Chilean sea bass, we're keeping things simple so the fish (including that crispy skin) is the star of the show.
Not only is it very easy to prep, but you'll only need six ingredients to make really epic sea bass.
Our skin-on Chilean sea bass recipe is:
No-fuss, foolproof, and simple to follow.

Incredibly delicious with simple seasonings.

A perfectly tender and moist fish with an extra crispy skin.

Nutritious and quick to prepare
If Chilean sea bass always seemed a bit intimidating to prepare at home, this is the perfect beginner recipe!
Ingredients for Grilled Sea Bass
To make crispy skin grilled Chilean sea bass, you will need the following ingredients:
Chilean sea bass filets- choose portions that are about 6-8 ounces (1-1/2 to 2 inches thick)
Olive oil
Salt and pepper
Non-stick oil spray – for the grill
Lemons- cut in half
That's it! This recipe is truly simplicity at its best.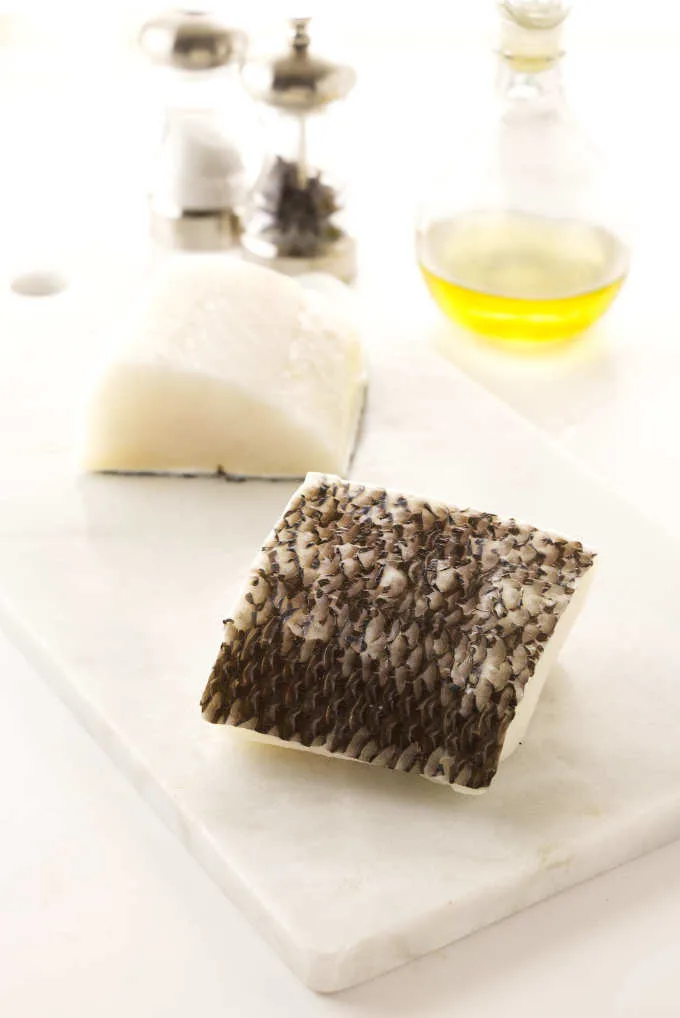 How to Grill Chilean Sea Bass
The secret to getting the crispiest skin on the sea bass portions is to make sure the grill is extra hot. This will cook the fish perfectly, allowing the skin to crisp nicely without drying out the filets.
Here's a quick rundown of how to grill Chilean sea bass. For the full, printable recipe card and ingredient amounts, scroll to the bottom of the page.
Grilled Chilean Sea Bass -Skin On
Prepare the grill: Close the lid so the grate can get hot. (See the recipe card for tips)
Prepare the fish filets: While the grate heats, brush the fish filets with oil on the flesh side and sprinkle a generous amount of salt and pepper on them.
Grill the sea bass: Coat the grate with non-stick oil and place the fillets flesh-side down. Grill on each side and add the lemon halves to the grill (see the printable recipe for details).
Serve: To serve the grilled Chilean sea bass, place the filets skin side up on individual plates with a charred lemon on the side.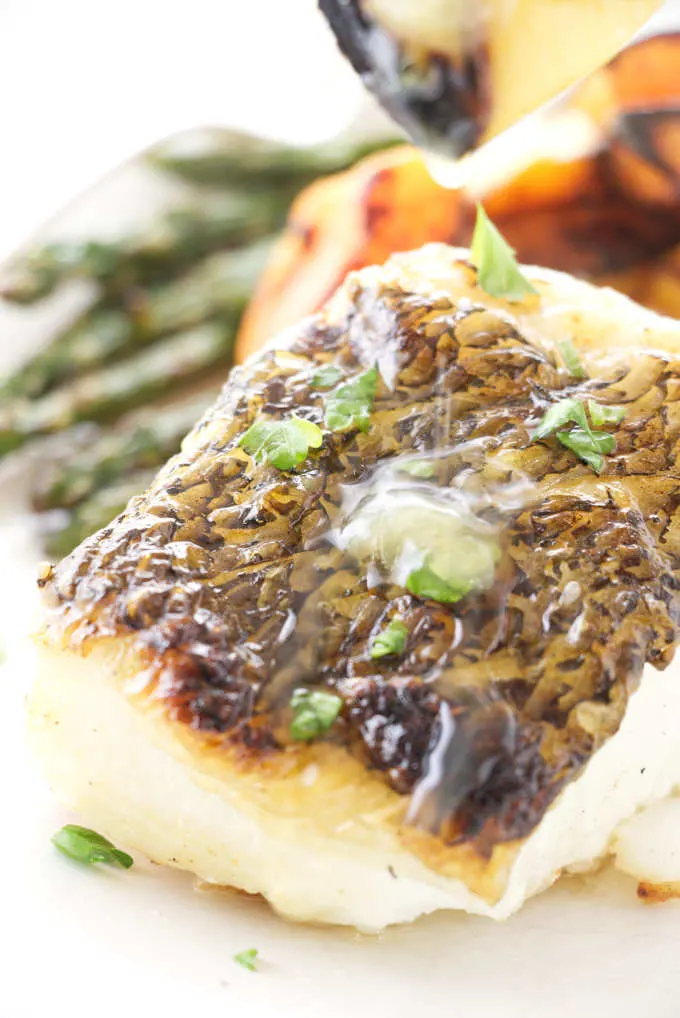 More Grilling Recipes
Recipe Tips and Frequently Asked Questions
How do I make my sea bass skin crispy?
The trick to getting crispy skin for grilled sea bass is to make sure the grill is hot. We preheat the grill for at least 5 minutes before putting the fish on. A charcoal grill will need extra time to get hot but you'll know it's ready once the charcoal is ashy.
Can you eat the skin of Chilean sea bass?
Yes, absolutely! The skin is packed with nutrients and is delicious when prepared right. In this case, extra crisp!
Do you cook Chilean sea bass skin side down first?
Place the sea bass with the flesh side down on the grate first and cook the fish for 5 minutes before flipping it over so it's skin side down. This ensures the skin has plenty of time to crisp up and the flesh side of the fish doesn't overcook.
How do I know sea bass is done?
The fish is done when it can flake easily or when the internal temperature reaches 145°F with a meat thermometer. According to food safety and health officials, the general safety rule is to cook fish 10 minutes for every inch of thickness.
What to Serve with Grilled Chilean Sea Bass
Since this grilled Chilean sea bass has a rich and delicate flavor, it pairs well with a variety of side dishes! Here are a few great recipes to enjoy along with the fish.
This skin-on Chilean sea bass recipe is easy, delicious and elegant! It's a healthy and very versatile main dish that you can dress up however you like!
More Fish Recipes You Will Love:
Broiled Cod with Chive Butter is a quick weekday entrée that takes less than 30 minutes to prepare. Cod is low-calorie, low-fat and one of the healthiest fish in the sea!
Salmon with Beurre Blanc Sauce is elegant and sooo flavorful. A classic French beurre blanc sauce is enhanced with a touch of white truffle and spooned over a thick, tender broiled salmon fillet.
This Ahi Tuna Poke Bowl is packed with tender cubes of marinated sushi-grade Ahi tuna, avocado and pickled ginger. All served over a portion of hot sushi rice! This is an easy lunch or light dinner anytime.
Connect With Savor the Best:
Please follow us on our social media accounts
Facebook * Instagram * Pinterest * Youtube * Twitter
Did you make this recipe? We would love to hear from you. Drop us a comment below.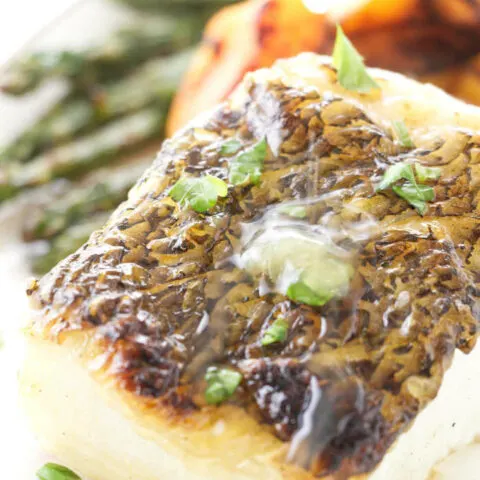 Crispy Skin Grilled Chilean Sea Bass
These Grilled Sea Bass fillets are tender and flaky, with a crispy skin! The grill gives the fish a nice smokiness, making it perfect for summer dining. Make sure you let the grill get hot before you add the fish so the skin gets crispy and the flesh stays tender, moist, and flaky.
Ingredients
2 Chilean sea bass filets, 6-8 oz each, 2-inches thick
2 tablespoons olive oil
Salt
Pepper
Non-stick oil spray
2 lemons, cut in half
Instructions
Preheat the grill to medium-high heat (about 450°F). You can cook the fish on a charcoal grill or a gas grill, just make sure you give it time to heat up.
While the grate is heating, brush the fish filets with oil and sprinkle liberally with salt and pepper. Brush oil on the lemon halves.
Spray or brush non-stick oil on the grate and place the fish filets, flesh side down, on the hot grill grates. Place the lemon halves on the grill, cut side down.
Grill the lemons for 3 to 5 minutes or until charred. Grill the sea bass for 5 minutes, then flip it skin side down and grill for another 5 to 10 minutes, depending on the thickness of the filets.
When the filets have reached 145°F and flake easily with a fork, transfer them to a platter.
To serve, place the filets, skin side up, on individual plates along with the charred lemons.
Notes
The fish will flake easily when a fork is inserted into the thickest part of the filet or when it reaches 145°F with a meat thermometer.
According to Washington State Dept. of Health, the general rule to cook fish safely is 10 minutes of cooking time for every inch of thickness and to an internal temperature of 145°
Nutrition Information:
Yield:

2
Serving Size:

1
Amount Per Serving:
Calories:

447
Total Fat:

31g
Saturated Fat:

6g
Trans Fat:

0g
Unsaturated Fat:

22g
Cholesterol:

95mg
Sodium:

404mg
Carbohydrates:

9g
Fiber:

3g
Sugar:

2g
Protein:

36g
Nutrition information is a guideline only, is calculated automatically by third-party software, and absolute accuracy is not guaranteed.