Our Creamy Salmon Piccata is a dream dinner! Tender salmon fillets are pan-seared to get a light and crunchy crust, then drenched in an easy-to-make, creamy lemon caper sauce. Serve each piece over hot linguini and spoon on the extra sauce for a delicious, comforting meal that makes a great weeknight dinner or a special occasion main dish.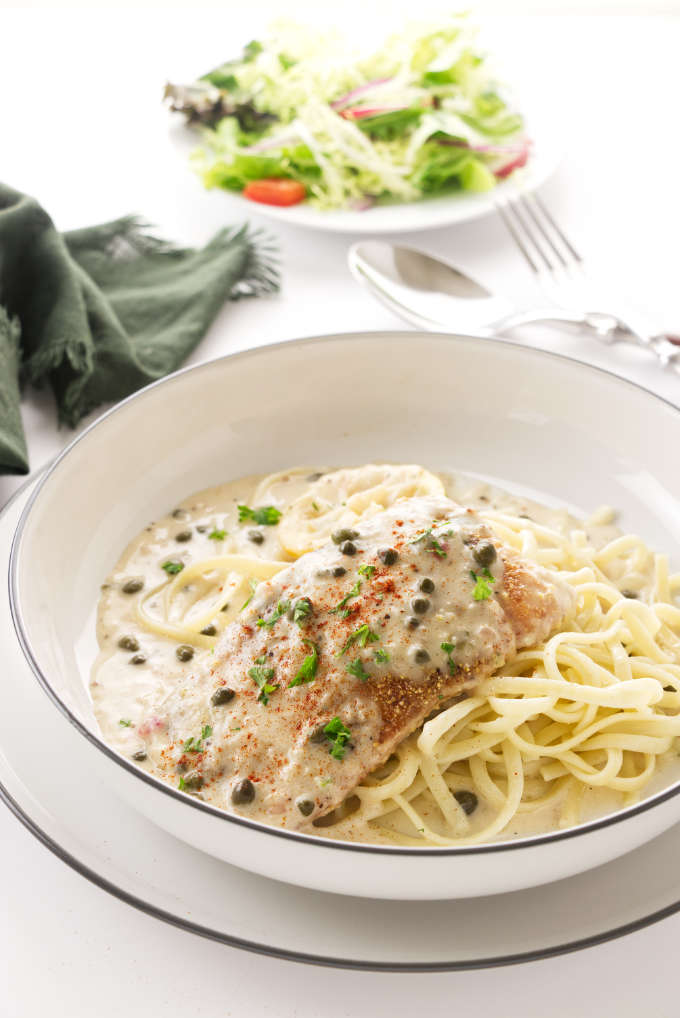 Salmon dinners are a favorite of ours and this one is no different! Have you made our Pan-Seared Salmon with Dill Hollandaise Sauce? Or our Salmon with White Truffle Beurre Blanc Sauce? Tender and buttery salmon is always a hit when paired with a rich cream sauce, which is why this Creamy Salmon Piccata Recipe is a winner!
The caper and lemon white wine sauce is so good you'll need seconds, and thankfully, you'll have a big plate of hot linguini to soak up that delicious sauce.
Why you will love Creamy Salmon Piccata:
This easy salmon piccata recipe is:
A beautiful mix of flavors and textures, from the crusted salmon to the silky and creamy lemon caper sauce
An elegant meal that's easy to prepare
Hearty and filling- it's the epitome of comfort food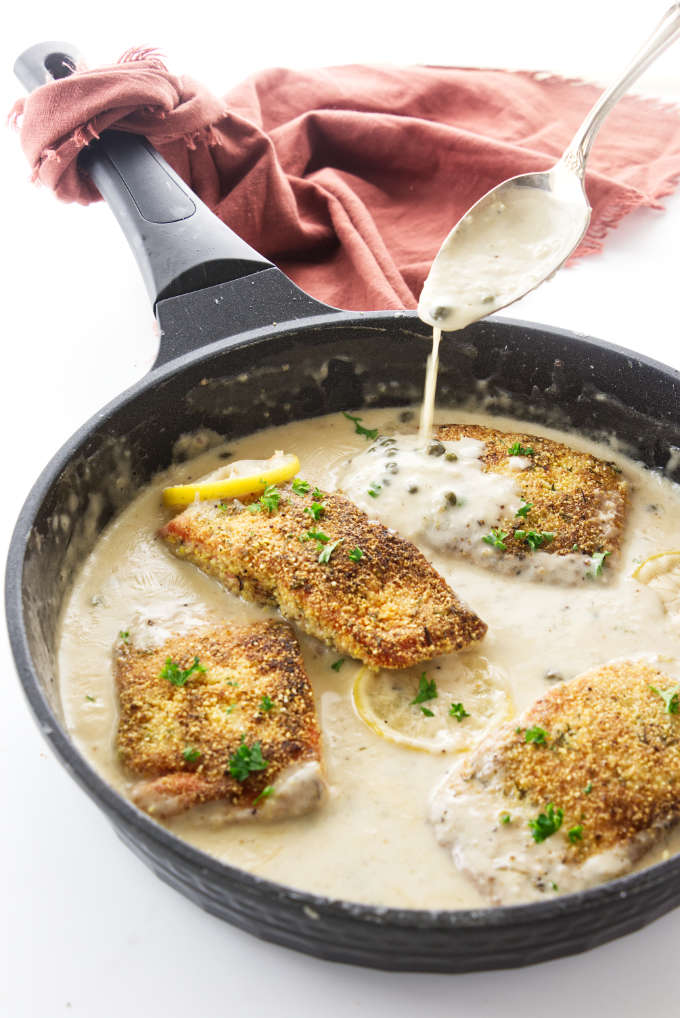 The Ingredient List:
To make this creamy salmon piccata, you will need:
Salmon fillets, skins removed
Fine-grind semolina flour or all-purpose flour
Snipped fresh dill
Salt and pepper
Vegetable oil
Butter
Shallot, finely-chopped
Garlic, minced or crushed
Dry white wine
Chicken broth
Lemon juice
Capers, drained and rinsed
Whole lemon, thinly sliced
Heavy cream
Chopped parsley or dill sprigs for garnish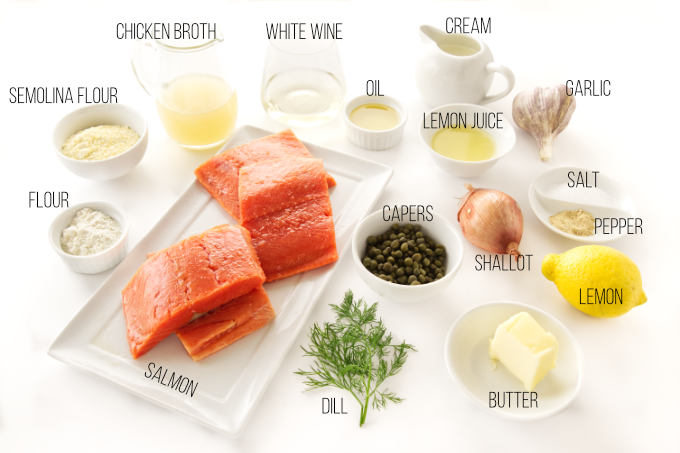 How to Make Creamy Salmon Piccata:
While salmon piccata might sound a bit complex or time-consuming to make, this creamy salmon piccata recipe is in fact, quite simple and a tasty, low-effort dish! Here's the process (make sure to scroll down to the printable recipe card for all the details).
Cook the salmon: Combine the flour, dill, salt and pepper. Dry the salmon fillets and dredge them through the flour mixture. Pan-fry them in a skillet on each side.
Make the lemon caper sauce: Melt the butter in the skillet and sauté the shallots. Add the garllic, then sprinkle the flour in the pan. Stir and cook a couple of minutes, then pour in the wine. Add the chicken broth, lemon juice, capers and lemon sauce. Bring to a boil and reduce to simmer for 5 minutes. Whisk in the cream.
Serve: Add the salmon fillets back into the skillet, spooning the sauce over the fish. Serve the lemon piccata salmon on top of cooked linguine with extra sauce and chopped parsley or fresh dill as garnish.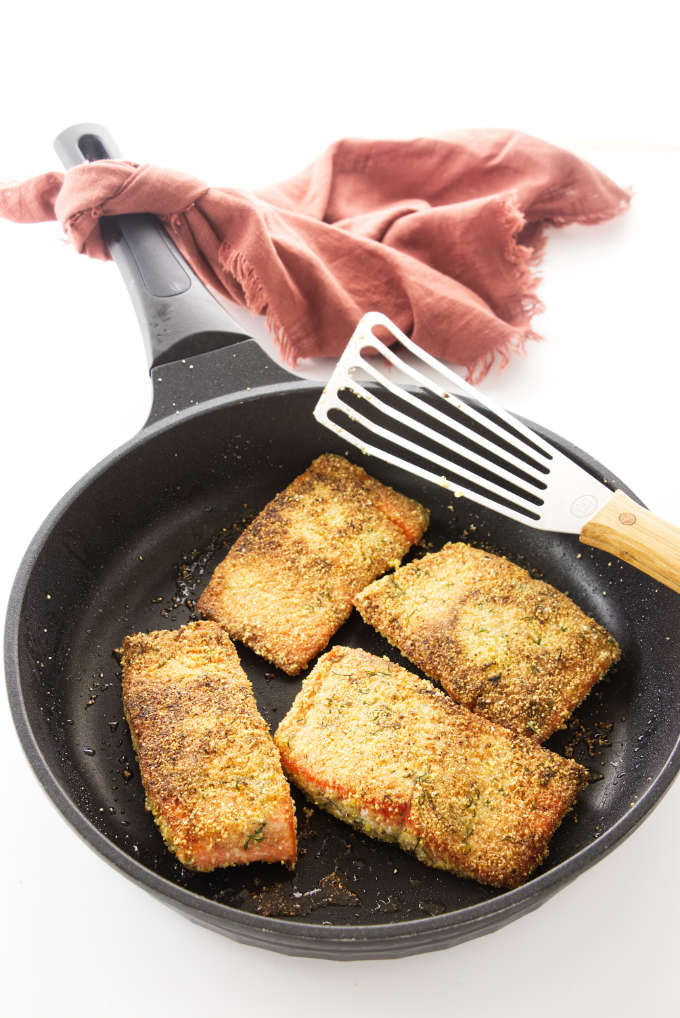 Pro tips and FAQs
The salmon cook time depends on how thick each salmon fillet is.
Rinse and dry the capers to remove the salty brine.
Feel free to serve this creamy salmon piccata with your favorite pasta! Some great linguine substitutions include: fettuccini, spaghetti, bucatini, or pappardelle.
What is piccata sauce made of? A traditional piccata sauce is made with butter, white wine and lemon juice. It's rich and flavorful with a hint of lemon and packed with capers. A little heavy cream gives the sauce extra richness and flavor.
This creamy salmon piccata recipe makes a 30-minute dinner that is both comforting and luxurious. In fact, no one would ever know it came together that quickly! Salmon piccata is tender, buttery, and so flavorful, it deserves its own special place in your dinner rotation. Enjoy!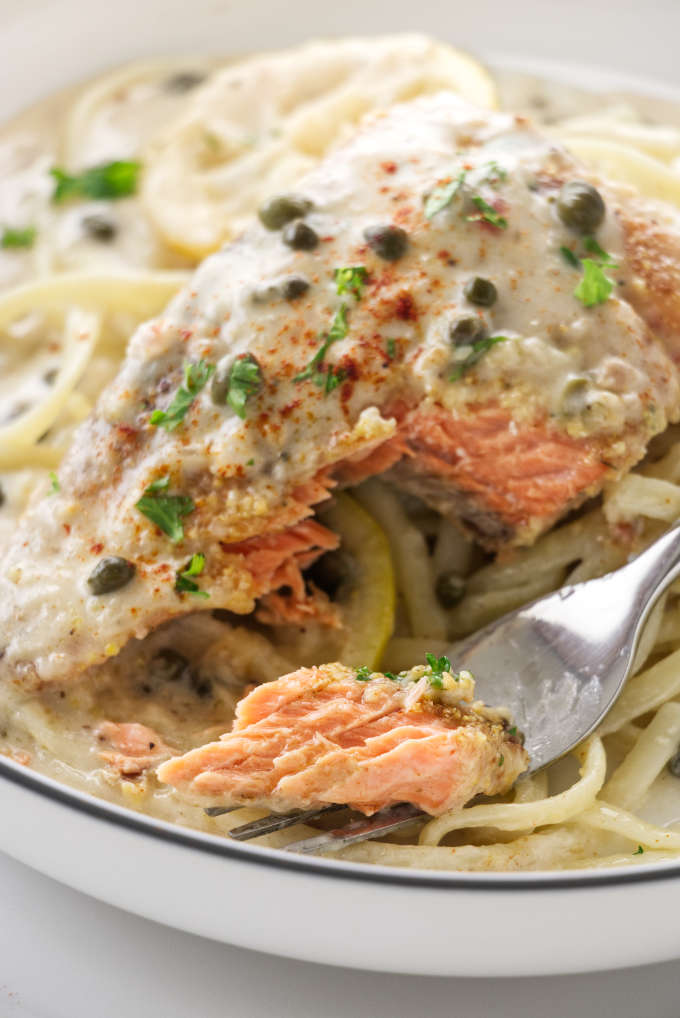 Some Other Recipes We Are Sure You Will Love:
Pan-Seared Salmon with Dill Hollandaise Sauce: Pan-searing the salmon is quick and easy and so is the creamy 5-minute dill hollandaise sauce made in a blender! A main entree in less than 30 minutes!
Red Miso-Hoisin Salmon: Our wild-caught Coho salmon fillets are first brined, then slathered with a red-miso-hoisin sauce. Broiling is one of our favorite methods for preparing salmon and results in a moist, flavorful treat.
Salmon Salad with Strawberries: This salmon salad uses left-over cooked salmon and makes a full meal. Perfect for those warm days when cooking in a hot kitchen is too much. Tender, moist cold salmon, crisp salad greens, sweet strawberries, blue cheese and a tangy lemon dressing. You just can't beat this!
Connect With Savor the Best:
Please follow us on our social media accounts
Facebook * Instagram * Pinterest * Youtube * Twitter
Did you make this recipe? We would love to hear from you. Drop us a comment below.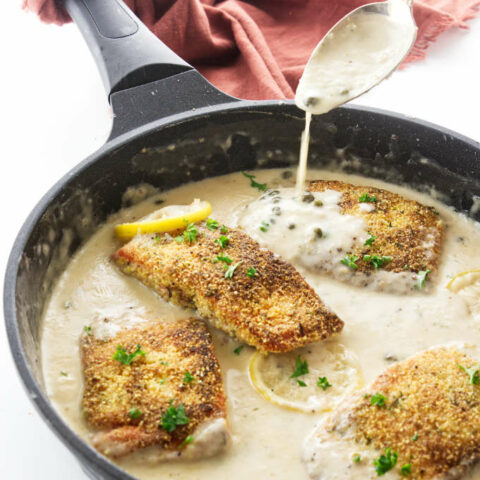 Creamy Salmon Piccata
Yield: 4 Servings
Prep Time: 10 minutes
Cook Time: 15 minutes
Total Time: 25 minutes
A light, crunchy crust coats these pan-seared salmon fillets. They are drenched in an easy, creamy lemon-caper sauce and served over hot linguini.
Ingredients
For the Salmon:
4 Salmon fillets, 6 oz. each, skins removed
1/4 cup fine grind semolina flour or all-purpose flour
1 tablespoon snipped fresh dill
1 teaspoon salt
1/2 teaspoon white or black pepper
2-3 tablespoons vegetable oil
For the Sauce:
3 tablespoons butter, divided
1 small shallot, finely chopped
3-4 garlic cloves, minced or crushed
1 tablespoon all-purpose flour
1/2 cup dry white wine
3/4 cup chicken broth
1/4 cup lemon juice
1/4 cup capers, drained and rinsed
1 whole lemon, thinly sliced
1/4 cup heavy cream
Chopped parsley or dill sprigs for garnish
Instructions
For the Salmon Fillets:
Pat the salmon fillets with a paper towel to remove excess moisture.
In a shallow bowl combine the semolina flour or all-purpose flour, dill, salt and pepper.
Dredge the fillets in the flour mixture, shake off the excess and place the fillets on a plate.
In a large skillet set over medium-high, heat the oil and place the fillets into the skillet. Cook the salmon for 4 minutes, flip and cook an additional 2 minutes (for medium rare) or according to your preference.
Remove the salmon fillets, place on a plate and cover with foil to stay warm.
For the Lemon Sauce:
Melt 2 tablespoons of the butter in the skillet and sauté the shallots until soft and translucent, about 1-2 minutes. Add the garlic and cook for 30 seconds until fragrant.
Add the remaining tablespoon of butter to the skillet and when it has meted sprinkle the flour over the shallot/garlic mixture. Stir and cook for 1-2 minutes; then pour in the wine stirring to remove any bits stuck on the bottom. Pour in the chicken broth, lemon juice, capers and lemon slices. Bring the sauce to a boil and immediately reduce to low and simmer the sauce for 5 minutes.
Whisk in the cream and simmer for another minute.
Add the salmon fillets back to the skillet, spooning sauce over them and simmer for another minute.
To serve:
Spoon a puddle of the sauce into individual pasta bowls and add a portion of cooked linguine.
Place a salmon fillet and lemon slices on each serving, add more sauce over the salmon and pasta and garnish with chopped parsley or fresh dill sprigs.
Notes
Cooking time for the salmon will depend on the thickness of the fillets.
Be sure to rinse and drain the capers as they are preserved in a salty brine.
Other options for pasta would be spaghetti, fettuccini, bucatini or pappardelle
Nutrition Information:
Yield: 4
Serving Size: 1
Amount Per Serving:
Calories: 777
Total Fat: 46g
Saturated Fat: 14g
Trans Fat: 1g
Unsaturated Fat: 28g
Cholesterol: 148mg
Sodium: 1089mg
Carbohydrates: 41g
Fiber: 3g
Sugar: 3g
Protein: 44g
Nutrition information is a guideline only, is calculated automatically by third-party software, and absolute accuracy is not guaranteed.