Wild caught Red Miso-Hoisin Salmon is a delicious dinner treat for either week nights, special occasions or anytime! Plus, it cooks up fast under the broiler with the miso-hoisin sauce getting all bubbly and crusty.
We prefer wild salmon both for ecological reasons and its mild flavor. Most all Atlantic fish sold commercially are farm-raised. In comparison to wild-caught salmon the farm-raised salmon are fattier but the good omega-3 fats are much higher. Either way, wild or farmed, salmon is a good-for-you fish.
These wild Coho salmon fillets are fished from the cold waters of Puget Sound and appear in our markets between June and September. Coho salmon are also known as silvers because of their silvery looking skin. Their bright orange flesh is firm with a delicate texture. This is a fatty fish but that's one reason why it has such a rich, wonderful flavor.
Why brine salmon?
The salmon fillets get a brief soaking in a salt-water brine, which helps to retain moisture. But the main reason I brine them is to reduce or eliminate the albumin that oozes out of the salmon as it cooks. I know it is a natural process and harmless but I don't like the looks of it. It is an easy fix with just a short 15-minute soak.
To prepare Red Miso-Hoisin Salmon fillets:
A simple mixture of red miso paste was whisked together with hoisin sauce, garlic, fresh ginger and honey. After the salmon fillets had their soak the sauce was slathered with a thick layer on top of the fillets. When broiling salmon, a good rule of thumb for medium is eight minutes for every one-inch thickness. As you can see these fillets are about a half-inch thick and I broiled them for five minutes.
Use an instant-read thermometer to check for preferred doneness:
110°F to 125°F =medium rare
125°F to 140°F= medium to well-done
I served these yummy red miso-hoisin salmon fillets with jasmine rice and baby bok choy. So, thirty minutes from start to finish for this dinner. While the rice cooked, the salmon was brined, miso-hoisin sauce mixed, salmon broiled and bok choy steamed. Easy peasy!
Check out these salmon recipes:
Did you make this recipe? We would love to see a picture. Tag us on Instagram.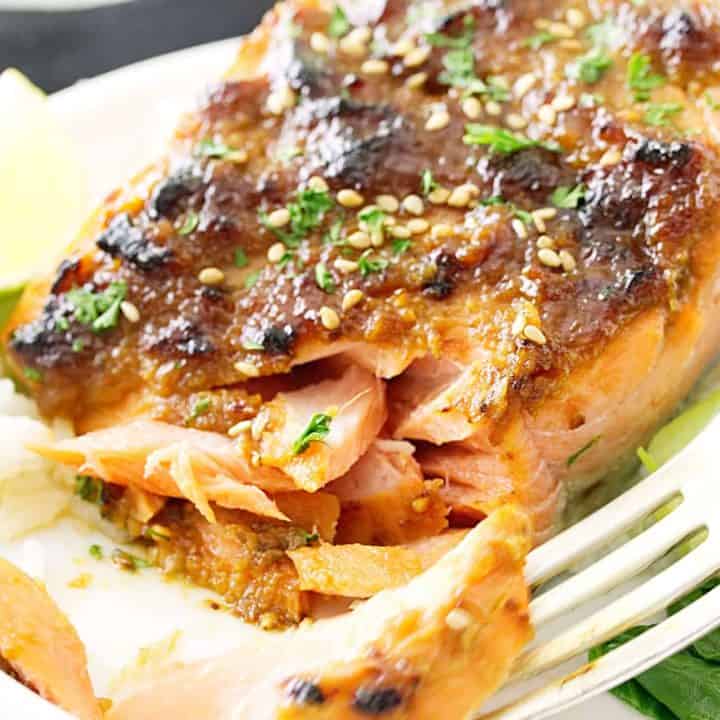 Red Miso-Hoisin Salmon
Yield: 4 servings
Prep Time: 15 minutes
Cook Time: 5 minutes
Total Time: 20 minutes
Wild caught Red Miso-Hoisin Salmon is prepared with a short brine and slathered with a red miso-hoisin sauce then broiled to a moist, flavorful treat.
Ingredients
For the Brine:
Cold water
Kosher salt
Brown sugar
For the Red Miso-Hoisin Sauce:
1/4 cup red miso paste
1/4 cup hoisin sauce
1 tablespoon sesame oil
2-3 garlic cloves, grated
Small knob fresh ginger, grated
2 tablespoons honey
Juice of 2 limes
For the Salmon:
4 (6 ounce) salmon filets
2 tablespoons toasted sesame seeds
Fresh parsley, finely chopped
Instructions
For the brine:
Determine how much water you need to cover the fish, then mix salt, sugar and water in proportions of: 1 tablespoon kosher salt and 1 teaspoon sugar per cup of water. *See Notes
Place the salmon fillets in a dish in one layer and cover with the brine mixture. Allow to sit for 15 minutes while preparing the miso-hoisin sauce.
For the Red Miso-Hoisin Sauce:
In a small dish, add the miso paste, hoisin sauce, sesame oil, garlic, ginger and honey. Mash with the back of a tablespoon to thoroughly combine. Mix lime juice, a teaspoon at a time until a spreadable paste is achieved.
For the salmon fillets:
Set the oven on broiler and raise the oven shelf to it's highest level.
Place a wire rack on a rimmed baking sheet and spray with baking oil to prevent fish from sticking to the rack. Set aside
Remove the fillets from the brine and rinse under cold tap water, pat dry with paper towels and place skin side down, on the wire rack.
Spoon the red miso-hoisin sauce on each fillet, spreading to cover the entire top of the fillets.
Transfer the baking sheet to the preheated oven and broil, for 4-6 minutes, depending on your preferred doneness.
Remove from the oven and transfer the fillets to a serving plate, garnish with toasted sesame seeds and chopped parsley.
Notes
An easy way to determine the amount of brine to mix is to lay the salmon into a dish, then use a measuring cup to add enough water to cover the fish. Remove the fish and mix the brine: 1 tablespoon kosher salt and 1 teaspoon sugar per cup of water. Stir to dissolve, then add the fillets to the brine.
If your fish are more than one-inch thick you may need to lower the oven rack so the salmon does not burn before it is fully cooked.
Glazes with sweeteners such as honey and sugar are more prone to burning.
Keeping the oven door cracked slightly will allow the broiling unit to continue to radiate heat. Close the door completely and the heating element will cycle on and off.
Nutrition Information:
Yield: 4
Serving Size: 1
Amount Per Serving:
Calories: 311
Total Fat: 16g
Saturated Fat: 6g
Trans Fat: 0g
Unsaturated Fat: 25g
Cholesterol: 25mg
Sodium: 1224mg
Carbohydrates: 23g
Fiber: 3g
Sugar: 23g
Protein: 34g
Nutrition information is a guideline only, is calculated automatically by third party software, and absolute accuracy is not guaranteed.