Tender, tasty Crockpot Chicken thighs and vegetables. The crockpot cooks this chicken dinner for hours, creating a rich flavorful sauce with very little hands-on.
You only need about 10 minutes to prep this dinner then the slow cooker does all the work. The chicken thighs cook in a garlic butter, white wine sauce that turns into a creamy gravy.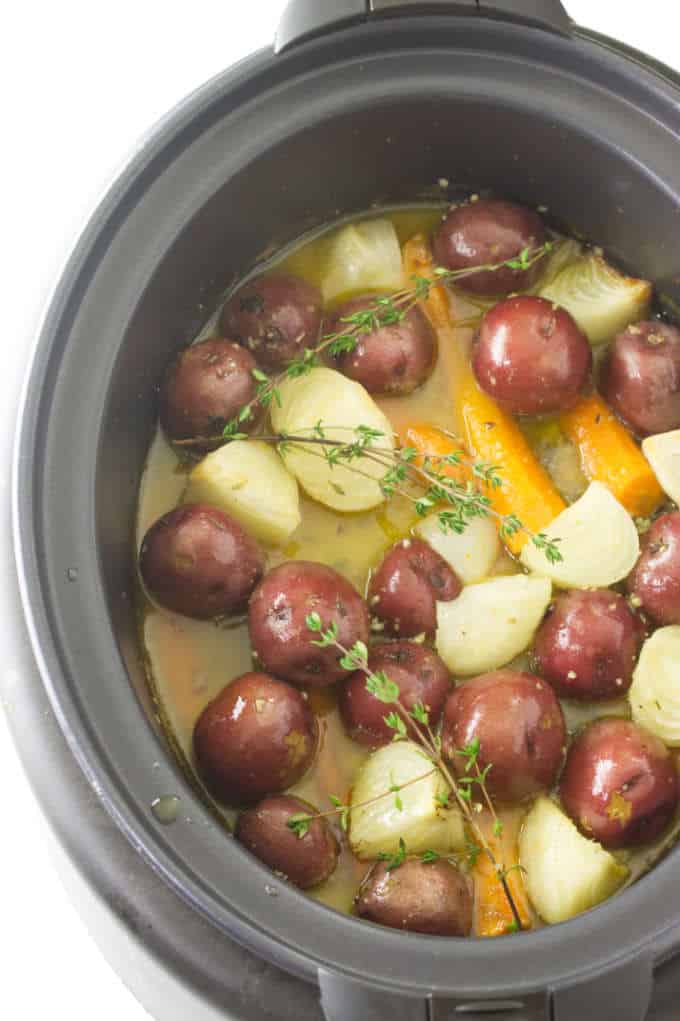 Whoever came up with the idea of this crockpot cooker did a good thing! Wouldn't my grandma Prentice have loved this marvel? Grammy was a hard-working farm wife and this Crockpot Chicken dinner would be such a time saver for her.
Oh, yeah….grammy would round up one of her chickens, hack off its head and de-feather it by seven in the morning. She would gather potatoes, carrots and onions from her root cellar and herbs from her very own kitchen garden. She would have this crockpot chicken and vegetables cooking by nine o'clock. Yep, she would have loved the crockpot idea!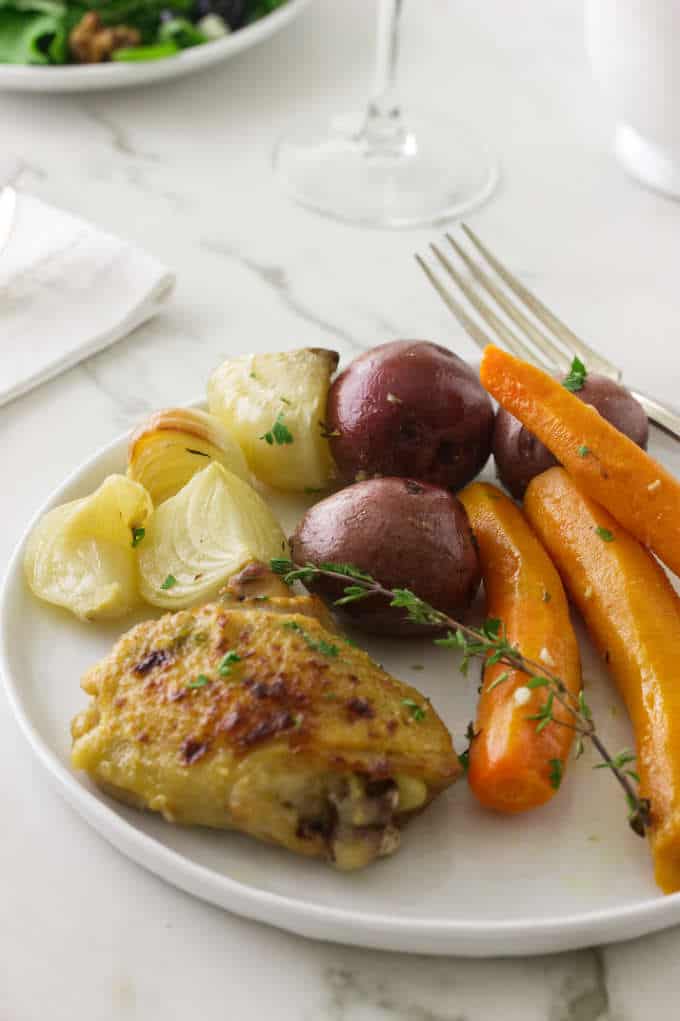 This crockpot chicken thigh dinner works just as well for us modern-day folk that work all day and come home to a hungry, busy family to feed. It is a nutritious and healthy one-pot meal.
Everything you need for dinner is right there and ready to eat when you get home.
How To Cook Chicken Thighs in the Crockpot:
We used skin-on, bone-in chicken thighs but breasts or a combination of chicken parts will work just as well.
They get a nice browning in a skillet, then the drippings are made into a creamy sauce with garlic, chicken broth and white wine.
We transferred the sauce into the bottom of the crockpot and arranged the chicken in the sauce. Sounds doable so far, right?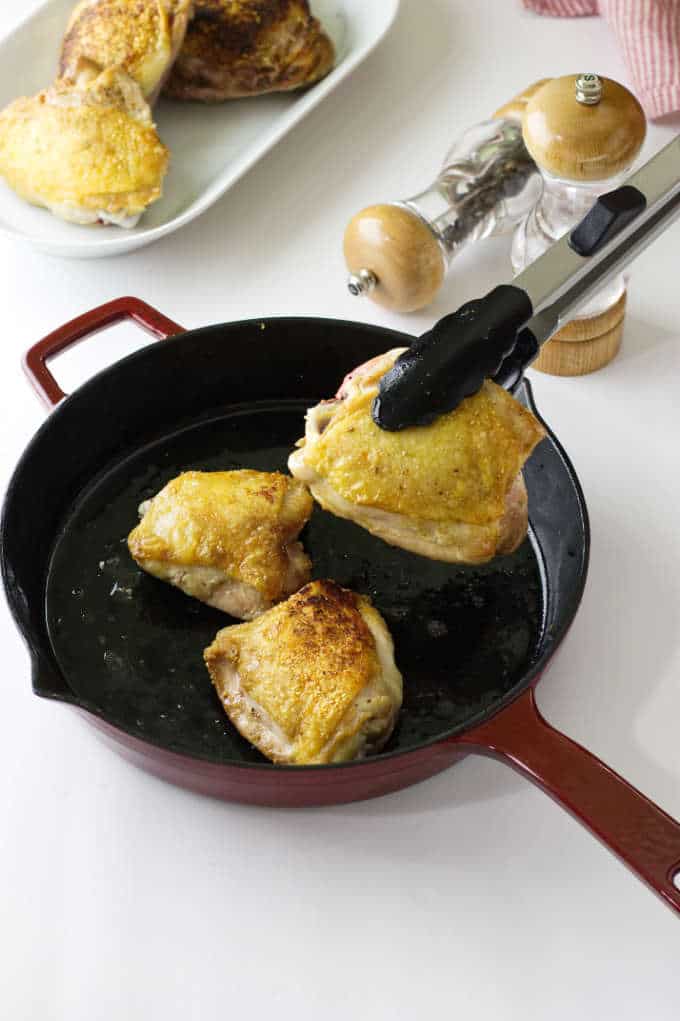 Fresh herbs and garlic add a ton of flavor to this crockpot chicken dinner and they are sprinkled over the chicken. The vegetables go in next, then more fresh herbs and seasoning.
Although we chose the basic assortment of vegetables including small red potatoes, carrots and onions you could switch in any of your personal favorites. Some choices that come to mind would be:
Fingerling potatoes

Sweet potatoes

Parsnips

Turnips
Choose Your Cooking Time:
We mixed seasoning, melted butter and garlic together and poured it over the vegetables. Then we sprinkled thyme leaves over the top.
The lid went on, the unit was set at high and the timer for three and one-half hours. For an all-day cook, set the heat on low and the timer for six hours. This is perfect for all you hard-working parents.
We love this crockpot, if the dinner is ready before we are, the timer goes to 'warm' until we can enjoy our dinner.
To finish this and bring it to the table, just transfer the veggies to a platter and arrange the chicken pieces next to it.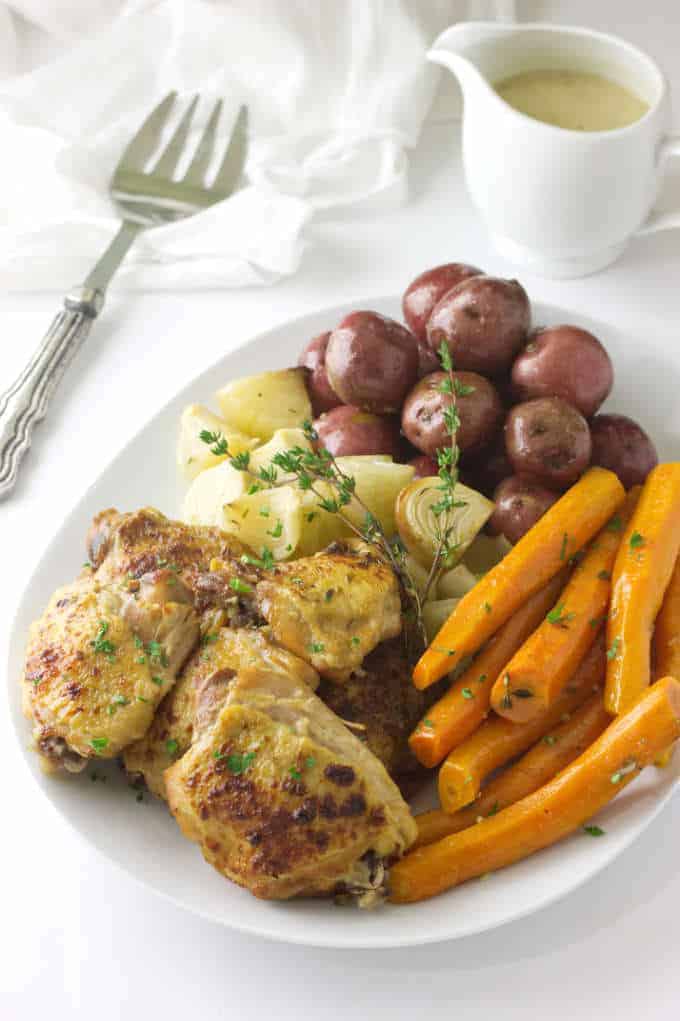 There will be about two cups of cooking sauce in the bottom of the crockpot. We stirred in a little cream and transferred it to a pitcher for the dinner.
This is a pretty easy dinner with a lot of flavor-reward. All you need to finish off this chicken and vegetable dinner is a quick green salad and crusty sourdough bread. Oh…. that makes me think of grandma's thick slices of warm homemade bread!
SOME OTHER RECIPES WE ARE SURE YOU WILL LOVE:
Our Farro Chicken Bake is a one-pot casserole dinner that will satisfy even the hungriest beast in your family. It is perfect for a large family or it will give you leftovers so you don't have to cook the next day.
Our Slow Cooker Turkey Chili with Beer has beans added for a hearty dinner. The beer gives the chili a malty depth of flavor and the turkey makes it healthy and low in fat.
These oven roasted chicken thighs have a zesty glaze made with honey and herbs. It is easy and full of flavor.
CONNECT WITH SAVOR THE BEST!
Be sure to follow us on our social media accounts
Facebook * Instagram * Pinterest * Twitter * Youtube
Did you make this recipe? We would love to hear from you. Drop us a comment below.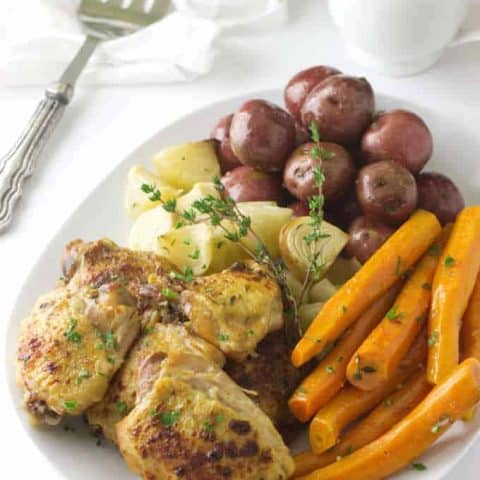 Crockpot Chicken and Vegetables
Cook Time:
3 hours
30 minutes
Total Time:
3 hours
45 minutes
This Crockpot Chicken and Vegetables is a breeze to prepare and a huge time saver. Tender, tasty chicken, fresh veggies and herbs cooked for hours and creating a rich sauce.
Ingredients
6 chicken thighs, bone-in with skin (about 1-1/2 pounds)
Salt/Pepper
2 tablespoon oil
4 garlic cloves, finely chopped, divided
4 tablespoons thyme leaves, divided
2 tablespoons flour
1 cup chicken broth
1/2 cup white wine
1 pound carrots, peeled or scrubbed
1-1/2 pounds baby red potatoes
3 small onions, peeled and quartered
4 tablespoons butter, melted
1/2 teaspoon salt
1/4 teaspoon black pepper
1/3 cup cream
Fresh thyme sprigs for garnish
Instructions
Season the chicken well with the salt and pepper.
Add the oil to a large skillet set over medium-high heat and when it is hot add the chicken pieces, skin side down and and cook to a golden brown on each side. About 5-6 minutes. Transfer to a plate and reserve while making the sauce.
Stir the flour into the remaining oil in the skillet and cook for 1 minute. Slowly add the chicken broth, stirring to loosen any bits stuck to the pan. Add the wine and cook until the sauce is smooth.
Transfer the sauce to the crockpot and add the browned chicken in one layer. Sprinkle half of the chopped garlic and half of the thyme leaves over the chicken.
Add the carrots, potatoes and onions over the chicken.
In a small dish mix the melted butter, salt, pepper and the remaining chopped garlic. Pour the mixture over the vegetables and sprinkle with the remaining thyme leaves. Cover the crockpot with the lid and cook on high for 3-4 hours or on low for 6 hours or until the chicken is cooked through and the vegetables are tender.
Transfer the chicken and vegetables to a platter and garnish with thyme sprigs. Increase the crockpot temperature to high and stir the cream into the remaining sauce. Stir to combine and when it is bubbly, transfer the sauce to a small dish or pitcher and serve along with the chicken and veggies.
Notes
Crockpot meals are great time-savers, especially when you are a working mom. Toss the ingredients into the crockpot, set it to cooking and boom! Dinner is ready when you get home from work.
If adding fresh green vegetables such as string beans, peas or asparagus add them the last 30 minutes of cooking time.
We cooked this on high for 3 1/2 hours
For crispy chicken skin: When ready to serve, transfer the chicken from the crockpot and place on a sheet pan, slide it under the broiler unit of the oven for two or three minutes then add them to the platter with the vegetables, serve and enjoy!
Nutrition Information:
Yield:

6
Serving Size:

1 Chicken Thigh, 1 Portion Vegetables
Amount Per Serving:
Calories:

267
Total Fat:

15g
Saturated Fat:

10.2g
Cholesterol:

135mg
Sodium:

535mg
Carbohydrates:

27.2g
Fiber:

3.3g
Sugar:

4.8g
Protein:

17g