Slow Cooker Coq au Vin is a hearty, flavorful and comforting dish. The chicken is fall-off-the-bone tender the braising liquid is life-changing. Make sure you have some crusty bread to dip into the juices.
The French name might sound a bit fancy but this dinner is really a simple chicken stew made even easier with the slow cooker. It's the perfect meal to enjoy on a cold evening.
If you do not have a slow cooker, check out our Dutch oven coq au vin recipe.
What is coq au vin?
If you've never heard of coq au vin, it's a French chicken dish that braises in red wine and broth. The braising liquid is filled with a lot of great aromatics adding depth of flavor to the dish.
The texture of the meat is perfectly tender after a lengthy braising process. All you have to do is the prep work. Then you set it and forget it for a perfect coq au vin by dinner time.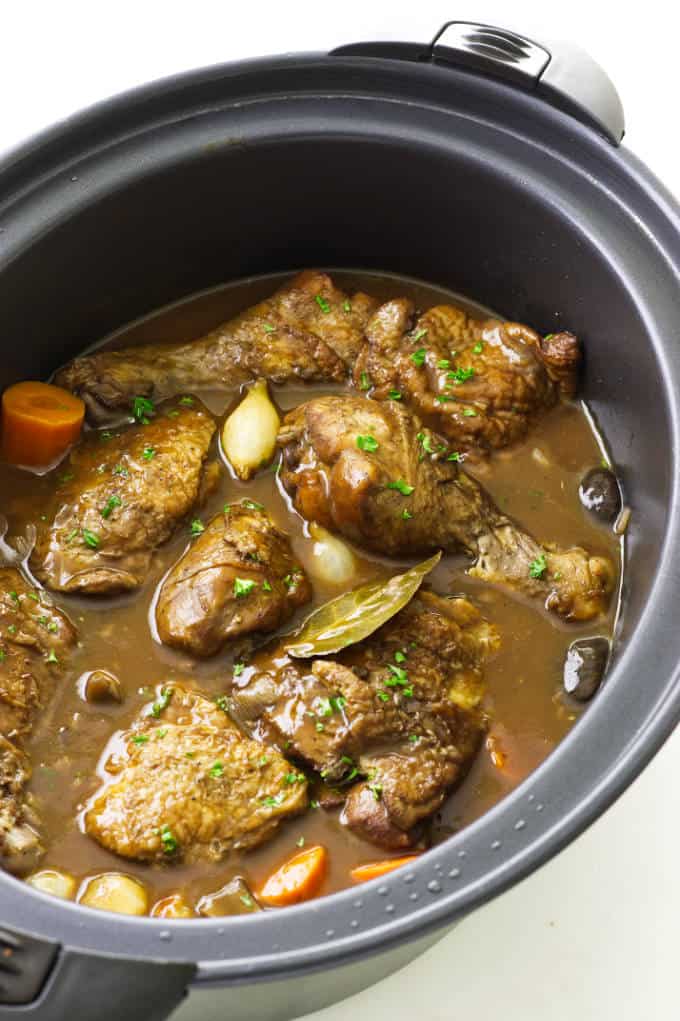 Ingredients needed for slow cooker coq au vin
To make this dish, here's what you'll need to add to your shopping list:
Lean salt pork or sliced thick-cut bacon
Fresh pearl onions
Chicken thighs and legs
Salt and pepper
Cremini mushrooms
Shallots
Garlic
Carrots
Chicken broth
Tomato paste
Dry red wine
Fresh thyme, rosemary, and bay leaves
Butter
All-purpose flour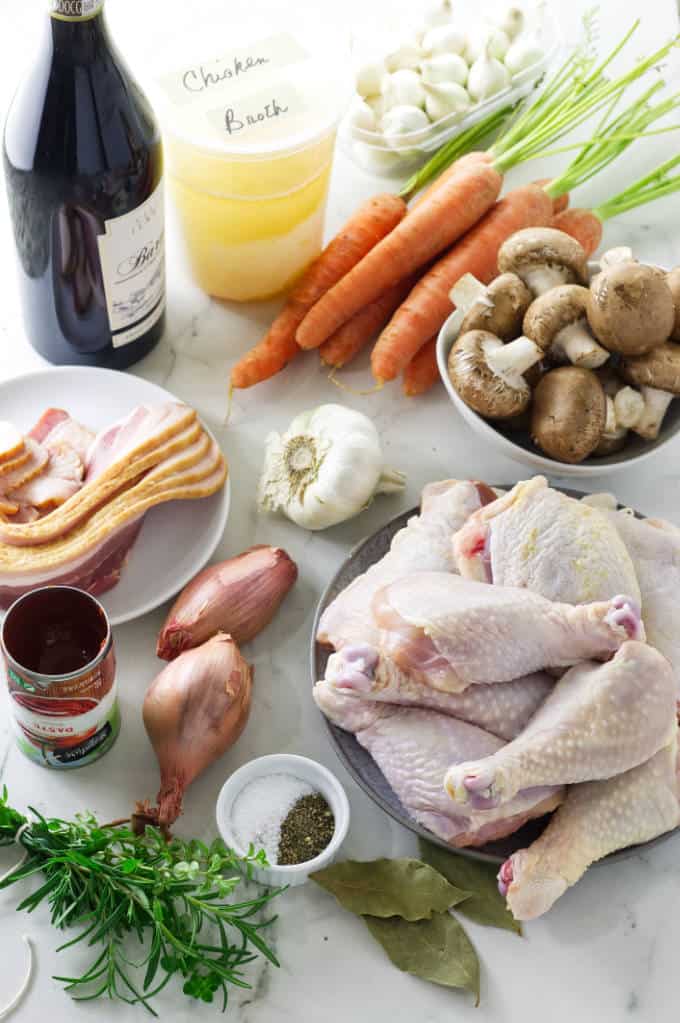 How to make slow cooker coq au vin
Here are the easy steps, make sure to scroll down to the printable recipe card below.
Cook bacon: Crisp up the bacon in a skillet. Set it aside on a paper-towel lined plate.
Cook pearl onions: Brown the pearl onions in the bacon fat. Remove with a slotted spoon and place into the slow cooker.
Sear the chicken: Sear chicken seasoned with salt and pepper in batches on the skillet allowing the skin to get golden brown. Set aside.
Add ingredients to slow cooker: Add veggies and aromatics to the slow cooker along with stirred and combined chicken broth and tomato paste. Add red wine, tied sprigs of thyme and rosemary, and bay leaves. Place the chicken in the slow cooker. Cover with the lid.
Cook: Cook for 7 to 8 hours at a low temperature.
Stir flour-butter mixture into slow cooker: Mash butter and flour together to create a paste. Add it to the slow cooker 1 hour before the dish is finished to thicken the cooking liquid.
Serve: Ladle the coq au vin into shallow bowls with cooked noodles or mashed potatoes. Top with bacon bits and parsley.
Tips for recipe success
Here are a few tips to nail this recipe:
Use a dry red wine that you like to drink as it will impart its flavors on the dish. Use part of the bottle in the recipe then enjoy the rest when you eat your dinner.
If you don't drink wine then you can freeze the rest of the wine in an ice cube tray then thaw it out for the next recipe that calls for wine.
To peel fresh pearl onions, boil them for 1 to 2 minutes then plunge them into an ice bath. Snip off the top. The skins will slide right off.
You can use frozen pearl onions instead. Let them thaw completely and add them to the slow cooker at the end when you're adding the flour-butter paste.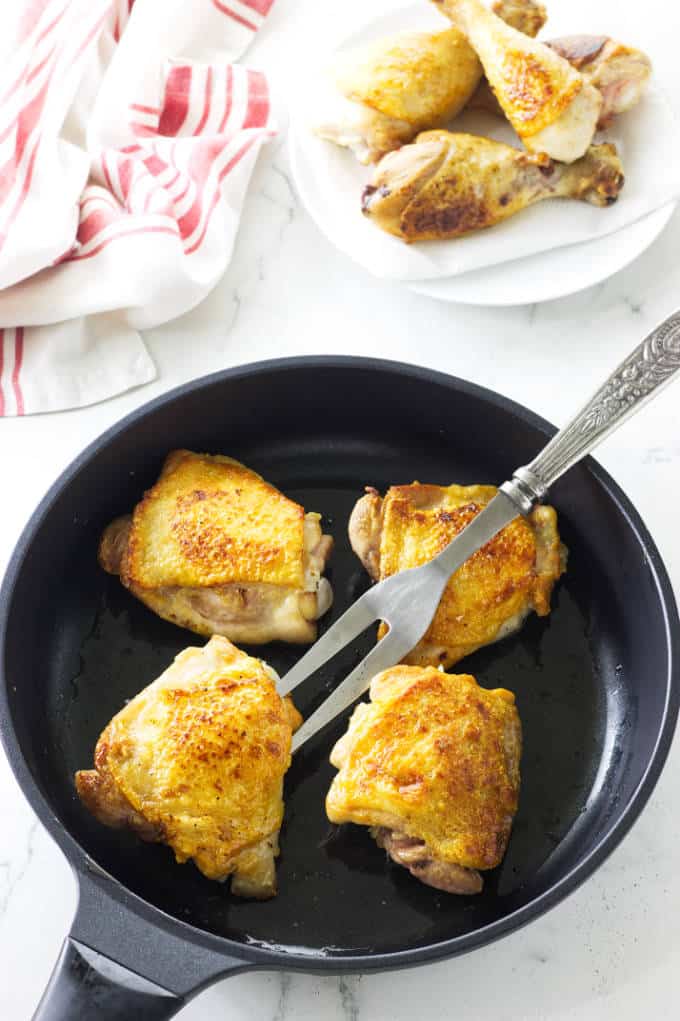 Frequently asked questions
What do you serve with coq au vin?
Serve this dish with cooked noodles, mashed potatoes, or rice. Anything starchy and fairly neutral works well so you can sop up the sauce.
How long does coq au vin keep?
You can store it in an airtight container for up to 4 days in the refrigerator. If you have a big batch of coq au vin to store, let it come to room temperature for about an hour before storing in a big container.
Storing a large container of hot coq au vin in your fridge will risk spoilage of the other things in your fridge. If you are in a rush, ladle out smaller portions of coq au vin into smaller airtight containers. Seal and store in the fridge leaving some space between them.
Enjoy within a few days. It tastes even better the next day!
Can you freeze this dish?
Yes, you can freeze coq au vin. Store portions in airtight containers and enjoy within 3 months. Label your containers with the expiration date so you remember to consume them on time.
To thaw, place it in the refrigerator. Depending on the size of the container, it may take a few hours or overnight to fully thaw. Then, reheat on your stovetop and serve.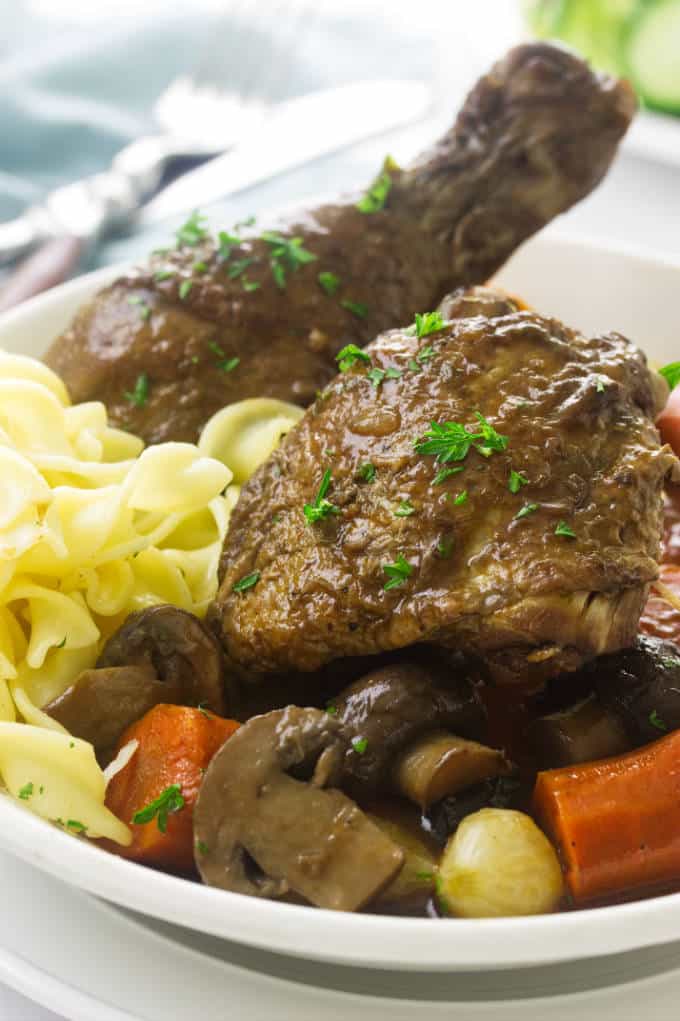 SOME OTHER RECIPES WE ARE SURE YOU WILL LOVE:
Slow Cooker Pot Roast: This is the ultimate, fall-apart pot roast. With tender vegetables and a killer sauce, it makes a swoon-worthy meal. Conveniently made in your slow cooker.
Whole Chicken in The Crockpot: Roasted, tender and juicy whole chicken cooked in the crockpot. This easy to prepare, chicken is a great base for Sunday or weeknight dinner.
Slow Cooker Turkey and Beer Chili with Beans: The zesty spices are complemented by the maltiness of beer in this slow cooker chili with turkey and beer.
CONNECT WITH SAVOR THE BEST!
Be sure to follow us on our social media accounts
Facebook * Instagram * Pinterest * Twitter * Youtube
Did you make this recipe? We would love to hear from you. Drop us a comment below.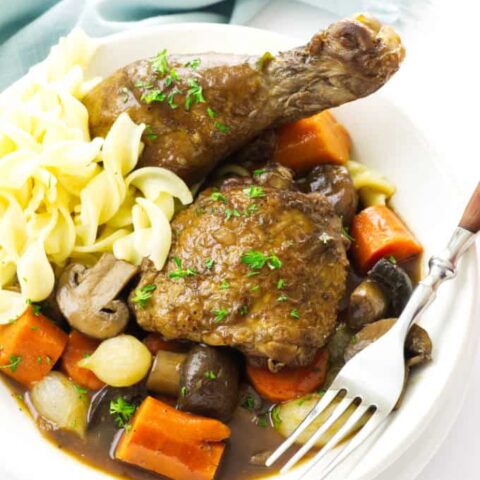 Slow Cooker Coq au Vin
Yield: 4 servings
Prep Time: 30 minutes
Cook Time: 8 hours
Total Time: 8 hours 30 minutes
Coq au Vin is an old-world French classic of chicken and vegetable braised in the oven. We have updated the recipe as a Slow Cooker Coq au Vin with all the same awesome flavors without heating up the oven.
Ingredients
1/2 pound, lean salt pork or sliced thick-cut bacon, diced
8 ounces fresh pearl onions, peeled (see Notes)
3 pounds chicken thighs and legs (4 each)
1 teaspoon salt
1/2 teaspoon black pepper
1 pound fresh Crimini mushroom, whole if small, halved if large
2 shallots, finely chopped
4 garlic cloves, grated or minced
6 carrots, peeled and cut into 1-inch chunks
4 cups chicken broth
3 ounces tomato paste
2 cups dry red wine
Fresh herbs sprigs of thyme and rosemary tied together with string
3 dried bay leaves
2 tablespoons soft butter
2 tablespoons all-purpose flour
Instructions
In a heavy-bottomed skillet set on medium heat, cook the bacon until crisp. Transfer to a paper towel-lined plate to drain.
Add the peeled onions to the rendered fat in the skillet and brown the lightly. Remove the onions with a slotted spoon and add to the slow cooker insert.
Season the chicken with the salt and pepper and, working in batches, brown to a rich, golden brown. Using tongs, remove to a plate as they brown and continue until all the chicken has been browned.
Add the mushrooms, shallots, garlic and carrots to the slow cooker. Combine the chicken broth with the tomato paste and stir until the tomato paste is lump-free, then add to the slow cooker.
Pour in the red wine and stir to blend the ingredients; then add the tied herbs and the bay leaves.
Place the browned chicken in the slow cooker, just barely submerged. Place the lid on the cooker and set the temperature to low. Cook for 7-8 hours, taste and correct the seasoning if necessary.
In a small dish, mash the butter and flour together to a smooth paste and stir into the slow cooker mixture.
Cook for an additional hour to thicken the liquid slightly.
When ready to serve, bring the slow cooker insert to the table and ladle the coq au vin into shallow bowls with 1 thigh and 1 chicken leg per serving with cooked noodles or mashed potatoes. Top each serving with a tablespoon of the reserved bacon bits and garnish with parsley.
Notes
To peel the pearl onion, tip them into a saucepan of boiling water for one to two minutes then plunge them into ice water to stop the cooking; then remove them and drain on a kitchen towel. When they are cool, snip off the top and squeeze the root end and they slide right out of their skins.
Frozen pearl onions can be used instead of the fresh onions. Thaw them completely and add them to the slow cooker when stirring in the flour/butter mixture.
This recipe will use 1/2 of a bottle of dry red wine. Buy a good bottle that you like and finish the bottle with your delicious dinner!♥️
Nutrition Information:
Yield: 4
Serving Size: 1
Amount Per Serving:
Calories: 578
Total Fat: 41g
Saturated Fat: 14g
Cholesterol: 155mg
Sodium: 1363mg
Carbohydrates: 25g
Fiber: 4g
Sugar: 6g
Protein: 29g
Nutrition information is a guideline only, is calculated automatically by third-party software, and absolute accuracy is not guaranteed.