These Traeger jalapeno poppers make the perfect party snack. They are stuffed with a creamy, gooey cheese filling, wrapped in bacon, and finished with a sweet, savory maple glaze.
Enjoy them on their own or with a selection of flavorful dipping sauces, like ranch dressing, marinara sauce, and blue cheese dressing.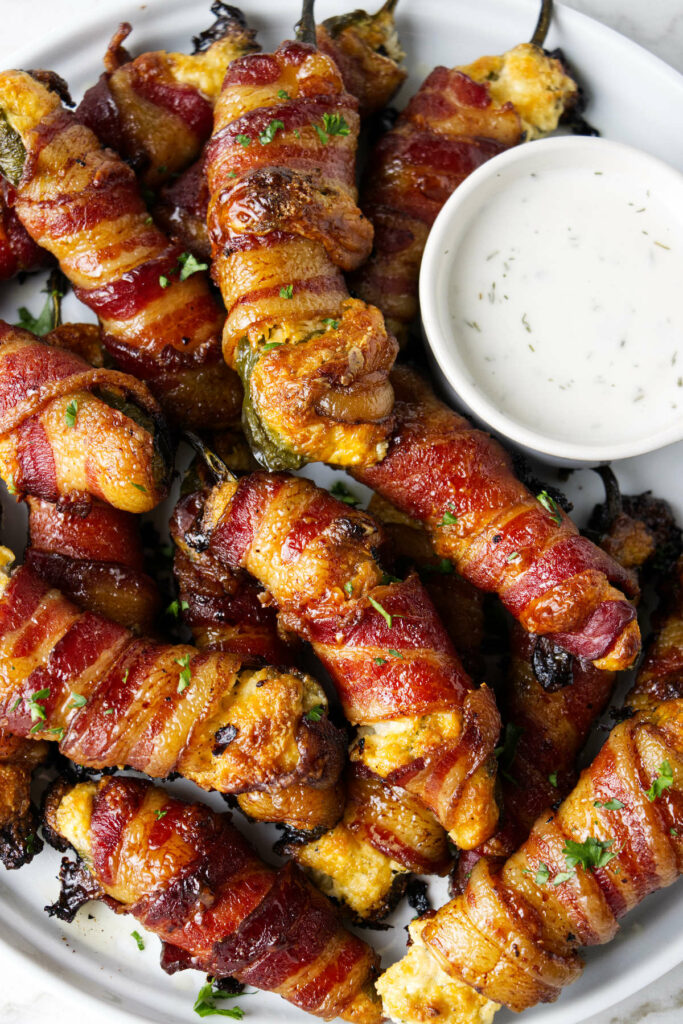 Whether you're cheering on your team during game day, hosting a tailgate party, or just celebrating with friends and family, these poppers make the perfect party appetizer.
❤️ Here is Why This Recipe Works
Easy to make and ready for the grill in just 20 minutes.
The Traeger pellet grill gives them a smoky flavor that brings them over the top!
You can prep them in advance so all you have to do is pop them on the grill when it's close to party time.
The combination of sweet and savory flavors is irresistible! These poppers are sure to be a hit with all your guests.
🗒 The Ingredients
Here is a list of the ingredients you will need for our smoked bacon wrapped jalapenos. Scroll down to the printable recipe card for all the details.
Jalapeno peppers. Try to find peppers that are about 3-1/2 to 4 inches long. If you have smaller peppers, purchase more of them to have enough for all the filling.
Cream cheese. Make sure to let the cream cheese get soft, so it is easy to mix with the other ingredients.
Shredded cheese. Use Cheddar cheese or a blend of Cheddar, Pepper Jack, and smoked Gouda. Or have fun with your own creative blend of cheeses.
Green onions. Thinly sliced green onion adds a hint of onion flavor.
Garlic. Fresh garlic will have a bolder flavor than dried garlic. However, this recipe works fine if you substitute it with garlic powder.
Cornstarch. Using cornstarch in the cheese mixture will prevent the filling from separating. If you purchase pre-grated cheese, you can skip the cornstarch as the packaged stuff usually has cornstarch added already.
Salt and pepper.
Bacon. Make sure you get thin-sliced bacon. If the bacon is too thick, it will not cook at the same rate as the jalapeno peppers.
Maple syrup. We used real maple syrup but this recipe will work with artificially flavored pancake syrup.
Soy sauce. The soy sauce adds a savory, umami flavor to the maple glaze.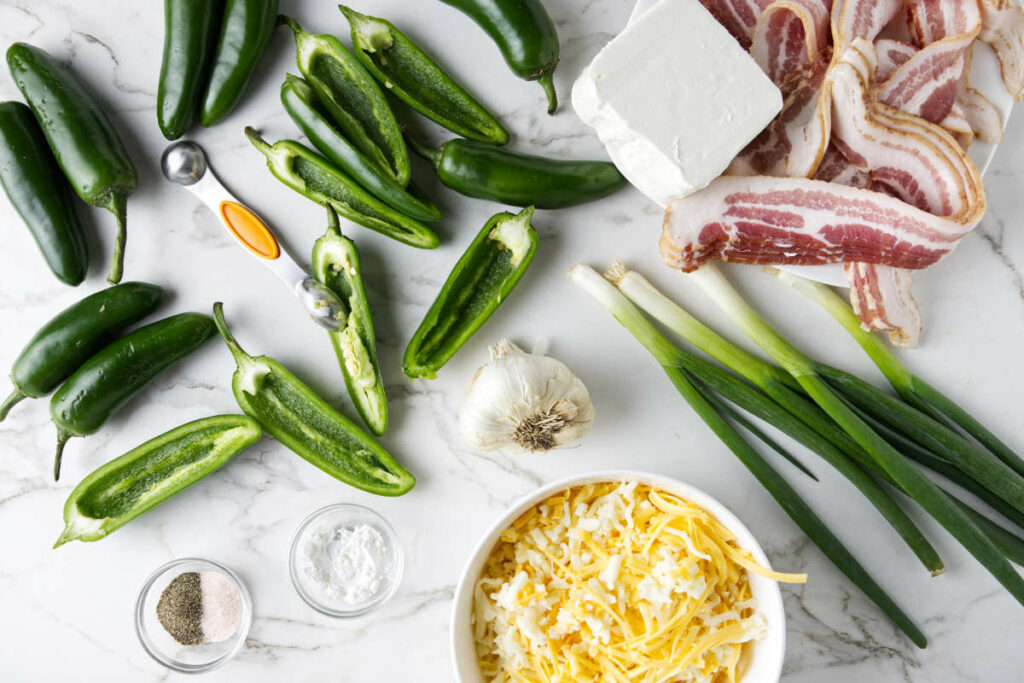 👨‍🍳 How to Make It
Here is a brief overview to get an idea of what to expect with these Traeger jalapeno poppers. Scroll down to the printable recipe card for all the details.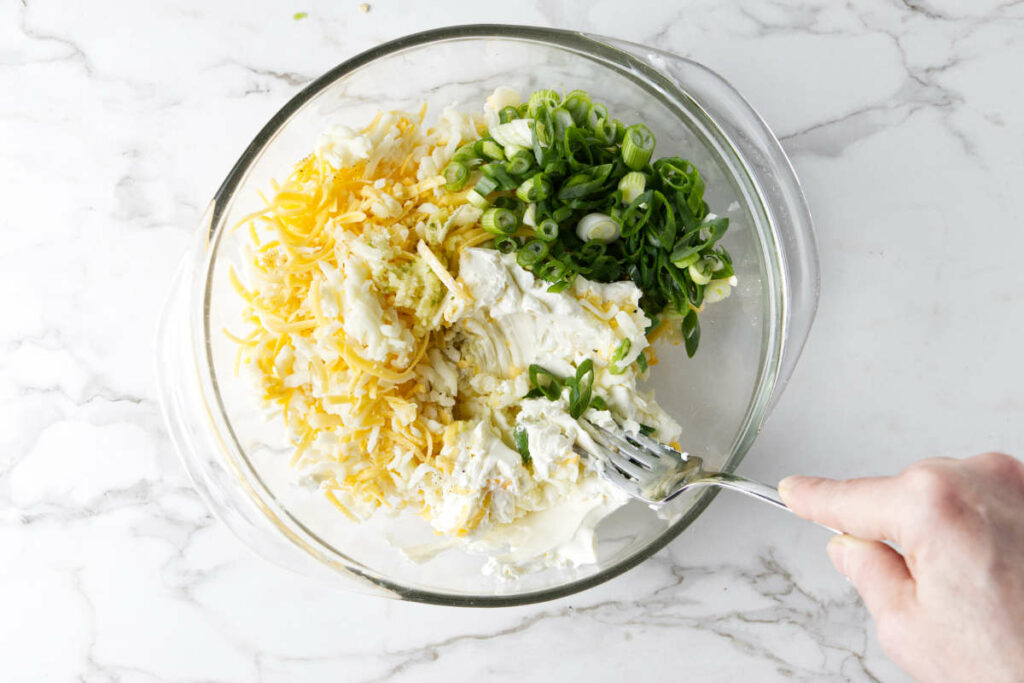 Slice the jalapenos in half, then scoop out the white part and the seeds. Mix the ingredients for the filling in a medium bowl.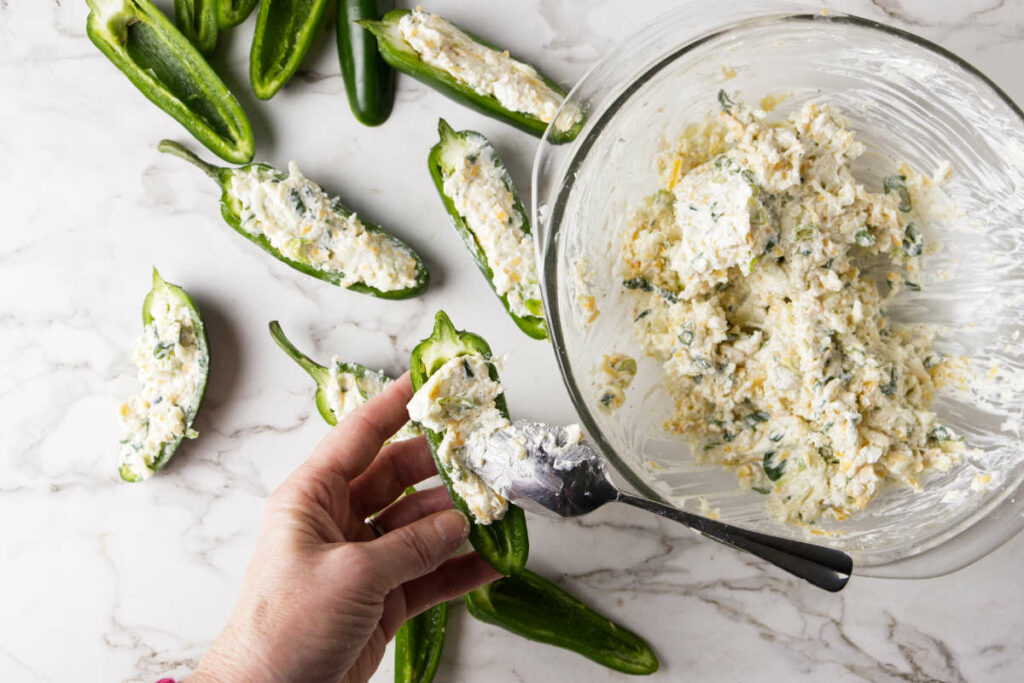 Fill each jalapeno half with the cheese mixture.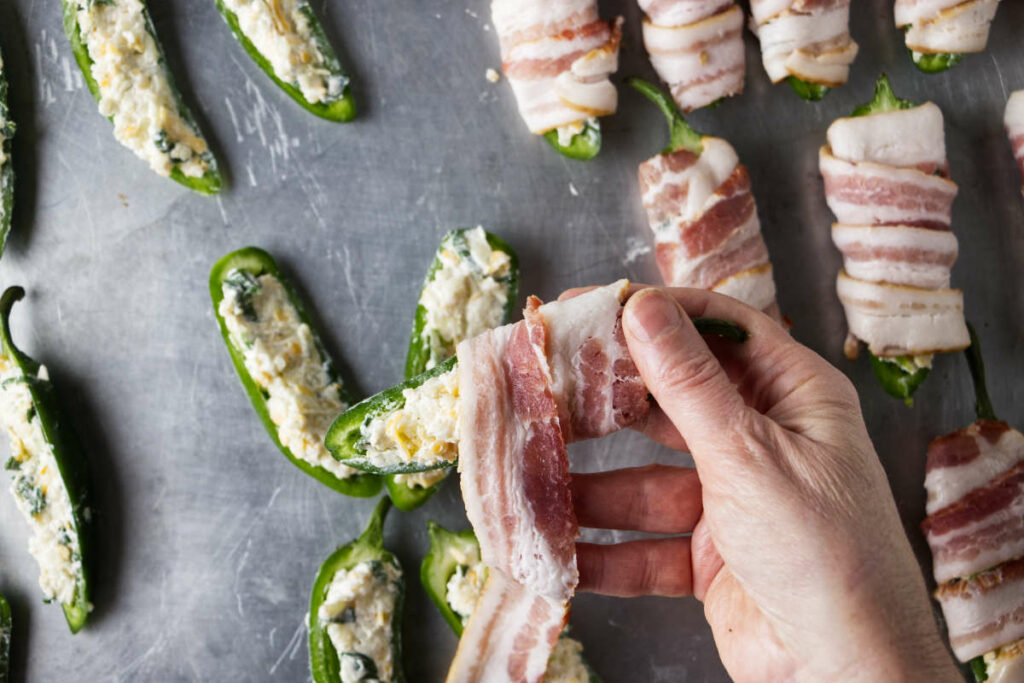 Wrap the jalapenos with a strip of bacon and place them on a baking sheet.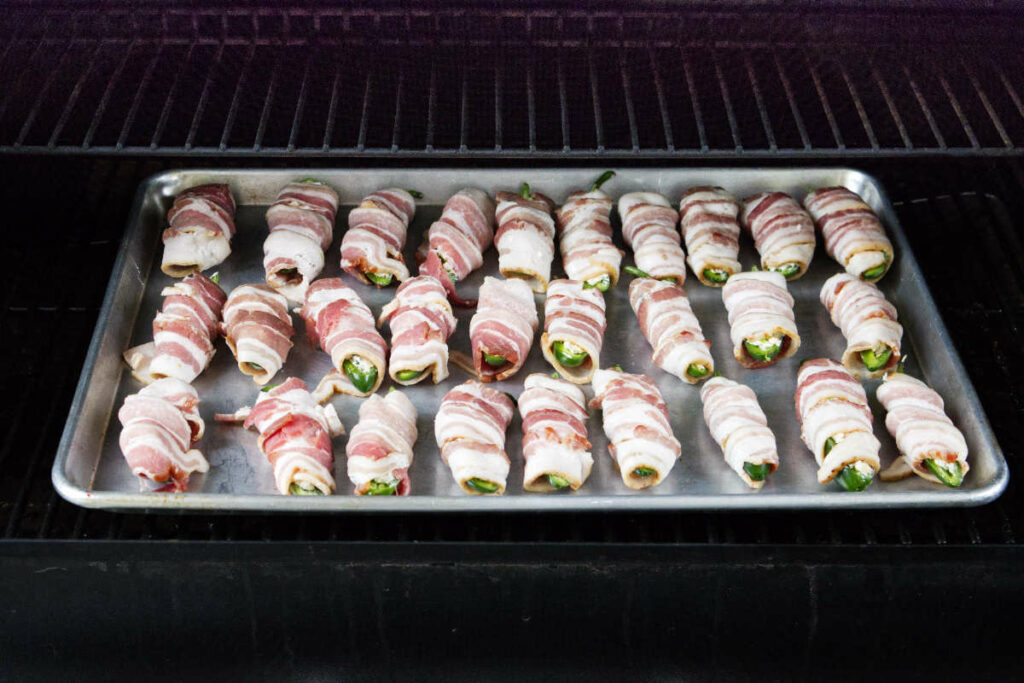 Smoke the jalapeno poppers on low heat for 60 minutes, then increase the temperature and cook them until the bacon gets crisp.
😉 Tips for Success
Wear gloves. Jalapeno peppers contain capsaicin which can burn your skin. Wear gloves to prevent burning your skin, and wash your hands after handling the peppers.

Soften the cream cheese. If you want to get the cream cheese soft quickly, zap it in the microwave on low power or the defrost setting. Use 10 to 15 seconds increments, so you don't melt the cheese.

Pick uniform-sized peppers. Try to select jalapeno peppers that are the same size so they cook at the same rate.

Remove the seeds and white pith. If you want the smoked poppers to have a spicy bite, leave some white pith. Otherwise, removing it will make the poppers mild.

Use thinly sliced bacon. It is best to opt for thinner slices of bacon. Otherwise, the peppers may become tender before the bacon gets crisp.

Wrap the bacon in a single layer. Don't overlap the bacon when you wrap it around the peppers or it won't have time to crisp on the Traeger smoker.

Use parchment paper. Some of the filling in the stuffed peppers will invariably spill over. Line the baking sheet with parchment to help make cleanup easy.
✅ Substitutions and Variations
Unleash your creativity and stuff the smoked jalapeño poppers with whatever flavor combinations you can dream up! Here are some ideas:
Add meat: Mix in some pre-cooked ground sausage, shredded pork, or shredded chicken to the cheese filling.
Change up the seasonings: Try adding Cajun seasoning or our taco seasoning blend to the cheese filling.
Other additions: Stir in some grilled peppers, olives, or roasted corn for a little extra flavor.
Try different glazes: Brush the poppers with a tangy barbeque sauce, sweet and sour sauce, or Carolina gold sauce.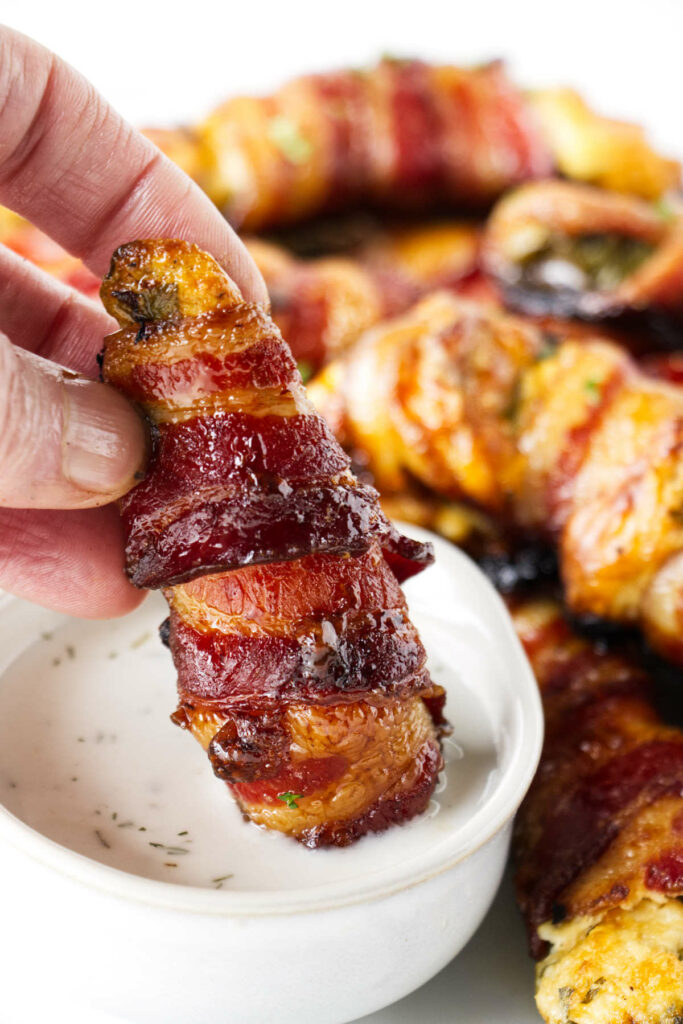 ⏲ Storage and Reheating
Store the smoked jalapeno poppers in an airtight container in the fridge for up to three days.
To reheat them, zap them in the microwave in 20-second increments until they are warm. You can also heat them in the oven or the Traeger grill at 350°F for about 10 minutes.
You can also reheat the poppers in an air fryer at 320°F for 6 to 8 minutes.
❓Frequently Asked Questions
What temp do you smoke jalapeno poppers?
We smoke the poppers at 180°F for 1 hour. If you are in a hurry, you can smoke them at 225°F for 30 minutes then turn the heat up and cook them until the bacon gets crisp.
How do you know when jalapeno poppers are done?
These bacon wrapped smoked poppers are finished cooking when the jalapeno peppers are tender, and the bacon is cooked to your liking.
Should you blanch jalapenos before making poppers?
You don't need to blanch the peppers first. Since these smoked poppers cook low and slow, they have plenty of time to get tender.
These Traeger jalapeno poppers are a great way to add smoky flavor and excitement to any gathering. They're easy to make, full of flavor, and you can customize them with your favorite fillings or glazes.
Plus, they'll get everyone talking – after all, there's nothing quite like the smell of bacon-wrapped peppers on the grill! It is a favorite appetizer every single time.
⭐️ Helpful Tools
Some of the following are affiliate links. We may receive a small commission if you click on these links and purchase something. You don't pay any extra, but it will help us keep the lights on.
😋 More Recipes You Will Love:
If you would like more easy Traeger recipes, check out our smoked baked potatoes, Traeger pork shoulder, Traeger smoked salmon, beer can chicken, or smoked sea bass.
For a delicious and savory dish, these bacon-wrapped stuffed chicken breasts are absolutely unbeatable. Every juicy slice is filled with melted cheese, encased in smoky bacon goodness, for an amazing experience!
For more game day appetizers, try our bacon bean dip, bacon wrapped figs, chili relleno dip, or steak bites.
Connect With Savor the Best:
Please follow us on our social media accounts
Facebook * Instagram * Pinterest * Youtube * Twitter
Did you make this recipe? We would love to hear from you. Drop us a comment below.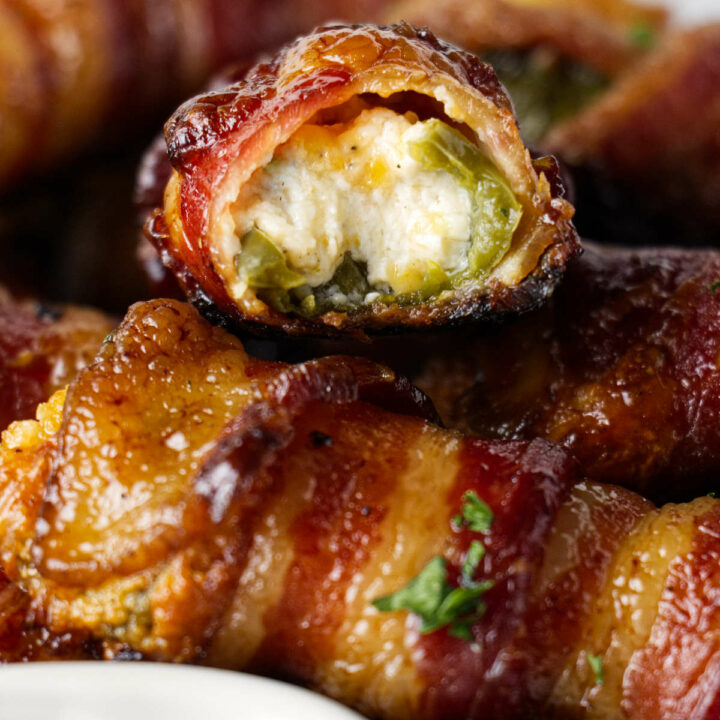 Traeger Jalapeno Poppers
Cook Time:
1 hour
35 minutes
Total Time:
1 hour
55 minutes
These Traeger jalapeno poppers are stuffed with a creamy, gooey cheese filling and wrapped in bacon. A quick finish of maple syrup adds a delicious sweetness to the smoky bacon and brings them to a whole new level of flavor.
These poppers are perfect for game day snacking, tailgates, and any other celebration. They're easy to make and you can prep them ahead of time, then pop them on the grill when it is close to party time. Serve them on their own or with an array of dipping sauces, such as ranch dressing, marinara, or blue cheese dressing.
Ingredients
14 medium jalapenos
8 ounces cream cheese, softened
2 cups shredded Cheddar cheese (or a mix, see notes)
4 green onions, thinly sliced
2 garlic cloves, minced
1 teaspoon cornstarch, optional (prevents the filling from separating)
pinch of salt and pepper
28 slices of bacon (thin cut works best)
Glaze
1/4 cup maple syrup
4 teaspoons soy sauce
Instructions
Preheat the Traeger to 180°F and line a baking sheet with parchment to make clean up quick and easy.
Slice the jalapenos in half, lengthwise, and scoop out the seeds and white ribs.
In a large bowl, combine the softened cream cheese, shredded cheese, green onions, garlic, cornstarch (if using), salt, and pepper. Stir until well combined.
Fill each halved jalapeno with the cheese mixture.
Wrap the stuffed jalapenos with bacon and place them on a baking sheet.
Transfer the baking sheet to the Traeger and smoke for 60 minutes. Increase the temperature on the Traeger to 400°F and cook for 35 to 50 more minutes or until the jalapenos are tender and the bacon is crisp. The cooking time will vary depending on the thickness of the bacon.
During the last 10 minutes of the grill time, combine the maple syrup and soy sauce in a dish, then baste the tops of the poppers.
Notes
For a spicier version, leave the white ribs and seeds inside the peppers or add extra jalapenos to the cheese filling!
For the shredded cheese, you can use a combination of different types of cheese. Some delicious options are Cheddar, Monterey Jack, Swiss, and smoked Gouda.
Try to wrap the bacon around the peppers with the ends of the bacon on the underside of the peppers. If the ends are on top, you can use a toothpick to secure the bacon.
Use thinly sliced bacon. Thick sliced bacon will not cook as evenly and won't have time to get crisp before the peppers get tender.
You can place the poppers directly on the Traeger grill grates, but using a sheet pan will make it much easier to transfer them. A sheet pan will also contain the mess easier if the cheese filling oozes out.
We recommend lining the sheet pan with parchment paper. Some of the cheese filling will ooze out and bake onto the bottom of the pan. The parchment makes it super easy to clean the mess.
We used a whole strip of bacon to cover the stuffed jalapenos. If you want to save a few bucks on the grocery bill, use half a strip of bacon and reduce the cooking time by 5 to 8 minutes since the bacon won't be layered as thickly.
After you stuff the peppers and wrap them in bacon, they can be refrigerated for 2 days before cooking them.
Nutrition Information:
Yield:

28
Serving Size:

1
Amount Per Serving:
Calories:

126
Total Fat:

10g
Saturated Fat:

5g
Trans Fat:

0g
Unsaturated Fat:

4g
Cholesterol:

28mg
Sodium:

317mg
Carbohydrates:

4g
Fiber:

0g
Sugar:

2g
Protein:

6g
Nutrition information is a guideline only. It is calculated automatically by third-party software, and absolute accuracy is not guaranteed.