This Eggplant Lasagna with Spicy Italian Sausage Meat Sauce is not your average pasta-based lasagna. We have by-passed the standard lasagna noodles and opted for slices of eggplant instead and packed in a ton of flavor with spicy Italian sausage and fresh herbs.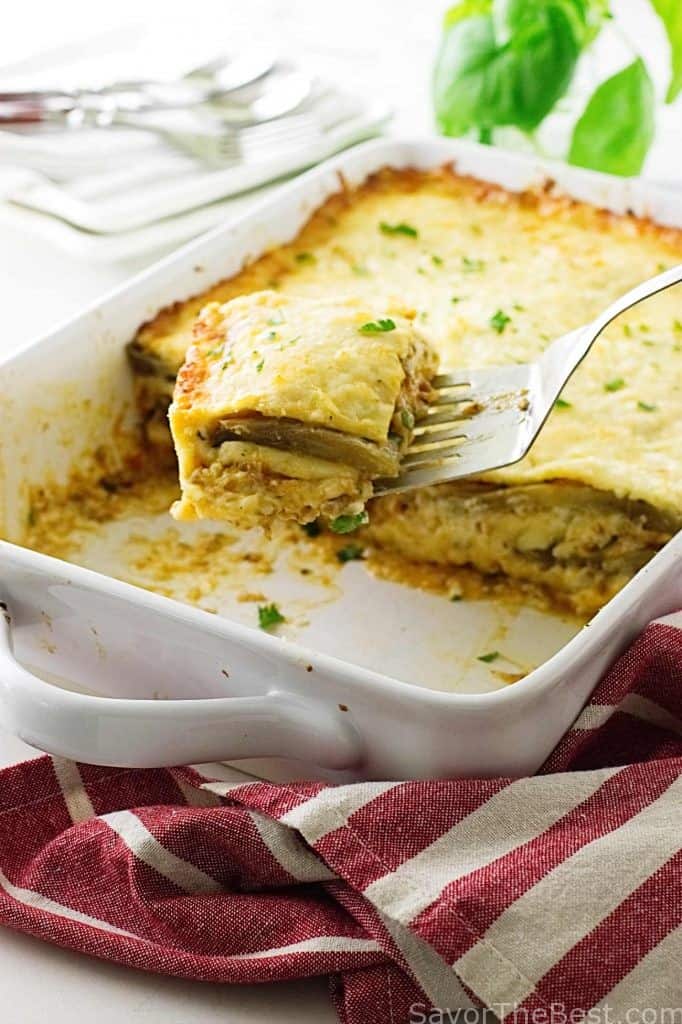 Did you know that July 29th is National Lasagna Day? We did not! Now that we have been enlightened we are giggling and wondering who dreams up these special days. As it is, we are presenting a pasta-less lasagna that is guaranteed to please heart, mind and tummy.
Eggplant is a wonderful vegetable that seems to be ignored way too often. They are available year around and the new crop will be beginning in another month. You will know they are the freshest crop by their bright green top-knot and they will be firm to the touch.
These big, glossy, purple eggplants are aptly named for their egg-like shape, they are heart-healthy and nutritious. They have a bland flavor and a spongy texture which causes the flesh to absorb flavors when included with other ingredients.
Lasagna is a much-loved layered casserole and we have been told that the crinkly-edged lasagna noodle was created specifically for this Italian specialty. Lasagna is one of the oldest Italian dishes to be found in Italy, dating back as far as Roman times. You can do just about anything you want in making lasagna and recipes abound in cookbooks and on the internet. Not all lasagna dishes include pasta but all lasagna dishes are layered.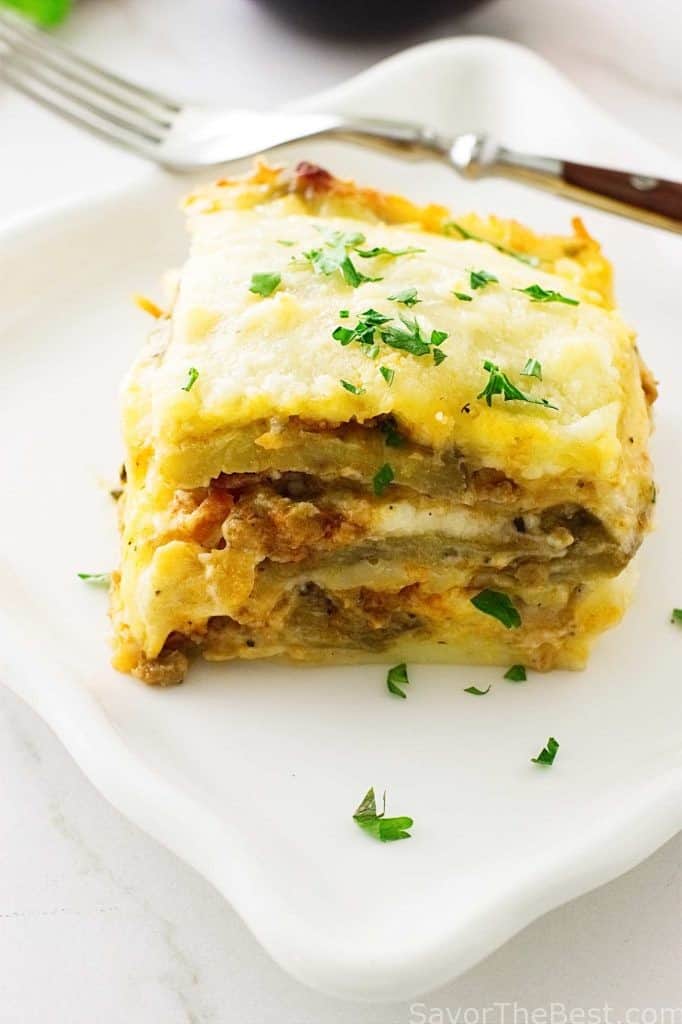 There are three layers in our eggplant lasagna and they will fill a 9×13-inch casserole dish and serve a crowd. That beautiful purple skin is loaded with nutrition and somewhat chewy, but for this lasagna recipe we used a vegetable peeler to remove it. The peeled eggplants were cut into 1/4-inch thick slices, placed on an oiled baking sheet and roasted for 15-minutes. After they cooled the slices were ready to use in place of pasta noodles.
Spicy Italian sausage was cooked with onion, garlic, red wine and marinara sauce. We simmered the sauce to reduce it down to a rich, thick sauce. If you notice the absence of salt in the meat sauce, it is intended and not an error as there is plenty of seasoning in the sausage and marinara sauce, the flavors become more concentrated when the sauce is reduced.
While the sauce was simmering the béchamel sauce was prepared. Béchamel is a fancy French word for a basic white sauce that works very well in lasagna. Shredded mozzarella cheese and chopped fresh basil was added in each layer with a sprinkling of Parmesan cheese over the top of the final layer.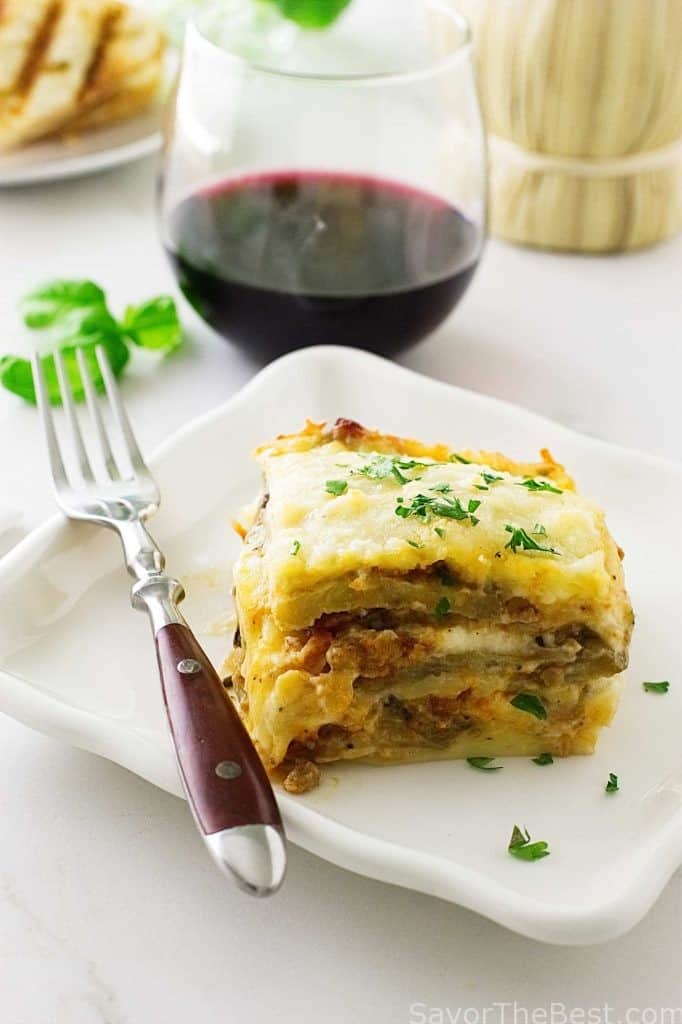 So…. now that you know that July 29th is National Lasagna Day, what favorite lasagna will you be creating to celebrate the event?
More Lasagna Recipes: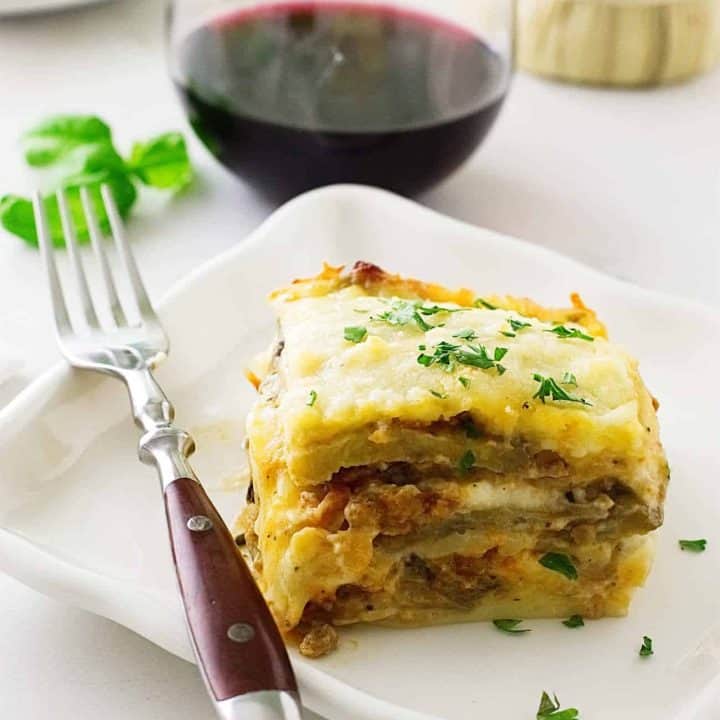 Eggplant Lasagna with Spicy Italian Sausage Meat Sauce
Total Time:
1 hour
30 minutes
This Eggplant Lasagna with Spicy Italian Sausage Meat Sauce is not your average pasta-based lasagna. Slices of eggplant are used in lieu of pasta noodles. Spicy Italian sausage, béchamel sauce, fresh herbs and mozzarella cheese are added in the layering of the casserole.
Ingredients
For the Eggplants:
3 medium-size eggplants
3-4 tablespoons olive oil
For the Meat Sauce:
1 pound bulk spicy Italian sausage
1 medium onion
4 cloves garlic, crushed or grated
1 tablespoon dried Italian seasoning mix
1/2 cup red wine
1 25-oz. jar marinara sauce
For the Béchamel Sauce:
5 tablespoons unsalted butter
2 garlic cloves, chopped
1/3 cup (40 g) all-purpose flour
1/2 teaspoon sea salt
1/8 teaspoon freshly grated black pepper
4 1/2 cups 2% milk
For Assembling:
1/2 cup chopped fresh basil
2 tablespoons chopped fresh oregano
1/2 cup chopped fresh parsley
16 ounces Mozzarella cheese, shredded
4 ounces Parmesan cheese, grated
2 tablespoons chopped parsley for garnish
Fresh basil sprigs for garnish
Instructions
Preheat the oven to 400°F.
Brush 2 baking sheets lightly with olive oil
Spray a 9x13-inch baking dish with oil-spray
Cut off the tops from the eggplants and cut them lengthwise into 1/4-inch thick slices. Arrange eggplant slices on the baking sheets. Brush each slice with oil and bake 20 minutes, turning slices and rotating the baking sheet when halfway through the baking process. Remove from oven and allow to cool.
In a large skillet set over medium-high heat, add the sausage and break up with a wooden spoon or fork. Cook, while continuing to stir occasionally, until lightly browned. Drain off and discard the accumulated fat, push the sausage to one side and add the chopped onions, garlic and seasoning mix. Cook and stir until the onions are translucent. Add the wine and cook for 1 minute to burn of the alcohol. Add the marinara sauce, stir to combine well. Increase the heat to high and bring the sauce to a boil then lower the heat and simmer the sauce to reduce the volume. Remove from the heat and reserve.
To make the Béchamel Sauce:
Add the butter to a large saucepan set over medium heat and when it has melted add the garlic and cook for a few seconds until fragrant. Add the flour, salt and pepper and cook, stirring until a pale golden color. Add the milk slowly while whisking constantly, bring to a boil and whisk until thick and smooth, about 8-10 minutes. Remove from the heat and set reserve.
Add the chopped fresh herbs to a small dish and reserve.
To Assemble the Lasagna:
Add 1 cup of the béchamel sauce to the bottom of the prepared baking dish. Add slices of eggplant alternating positions to fit the dish. Add 1 cup of the meat mixture, spread 1 cup of the béchamel sauce over the meat sauce and sprinkle with 1/3 of the shredded mozzarella, add 1/3 of the fresh herb mixture. Continue with the remaining layers......eggplant, meat sauce, béchamel sauce, mozzarella and fresh herbs, finishing with the grated Parmesan.
Using a piece of foil large enough to cover the dish, spray the underside with non-stick oil and cover the dish. Transfer the lasagna to the middle of the oven and bake for 30 minutes, remove the foil and continue to bake for another 15 minutes until bubbly and golden brown. Transfer from the oven and cool for 15 minutes, Garnish with parsley or basil before serving.
Notes
To keep the slices of eggplant from discoloring: As you cut each slice dip it into a bowl with a solution of 2 cups of water mixed with the juice of a lemon and lay the slice on a kitchen towel.
Mozzarella cheese can be substituted with Monterey Jack cheese if desired
Line a baking sheet with foil and place it on the oven rack under the rack with the lasagna to catch any drips that may overflow.
Nutrition Information:
Yield:

12
Serving Size:

1
Amount Per Serving:
Calories:

486
Total Fat:

34g
Saturated Fat:

15g
Trans Fat:

0g
Unsaturated Fat:

18g
Cholesterol:

81mg
Sodium:

1125mg
Carbohydrates:

31g
Fiber:

6g
Sugar:

14g
Protein:

24g
Nutrition information is a guideline only, is calculated automatically by third party software, and absolute accuracy is not guaranteed.