This vegetable lasagna with white sauce is a guaranteed crowd-pleaser. It's easy to make and comes with layers of creamy white sauce, cheese, garden vegetables, and tender lasagna noodles. The best part about this dish is that you can use whatever vegetables you have on hand.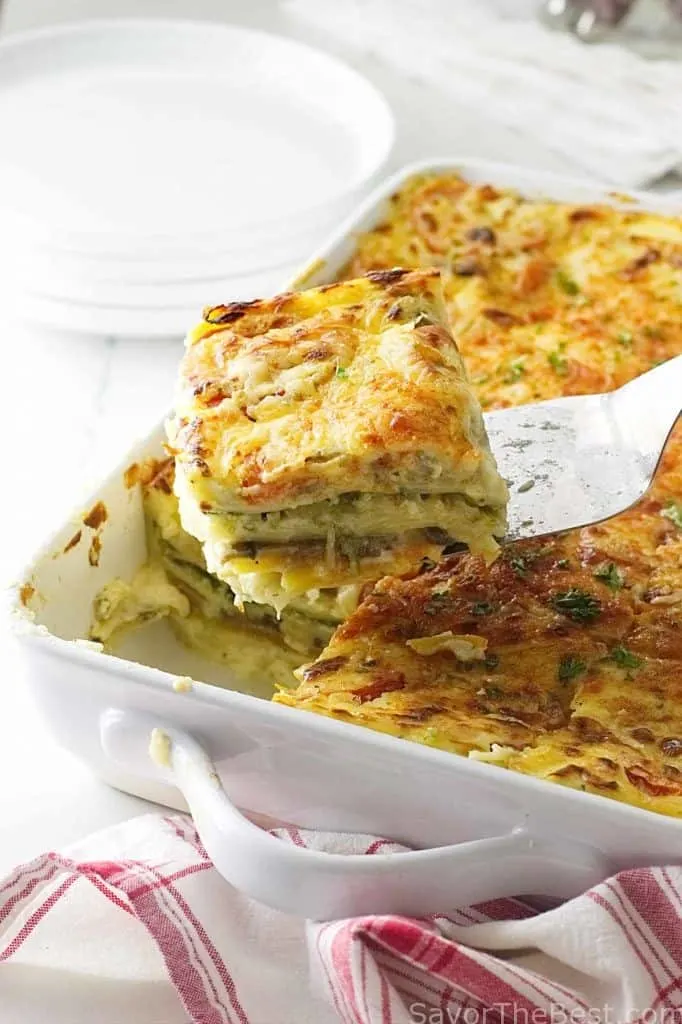 Making pasta from scratch is not as time-sensitive as you would think it to be. There is just something about getting your hands in that dough, rolling it out and cutting those noodles that is so satisfying.
Spelt flour has less gluten than traditional flour and requires less moisture as well as less kneading yet it yields tender, great-tasting pasta.
Fresh spelt pasta is just flour, eggs, oil and salt that are combined together to create tender, rich, eggy pasta. If you have a pasta machine or attachment to your mixer you can make a variety of shapes with fresh pasta dough. We chose to just roll and cut the strips for this pasta.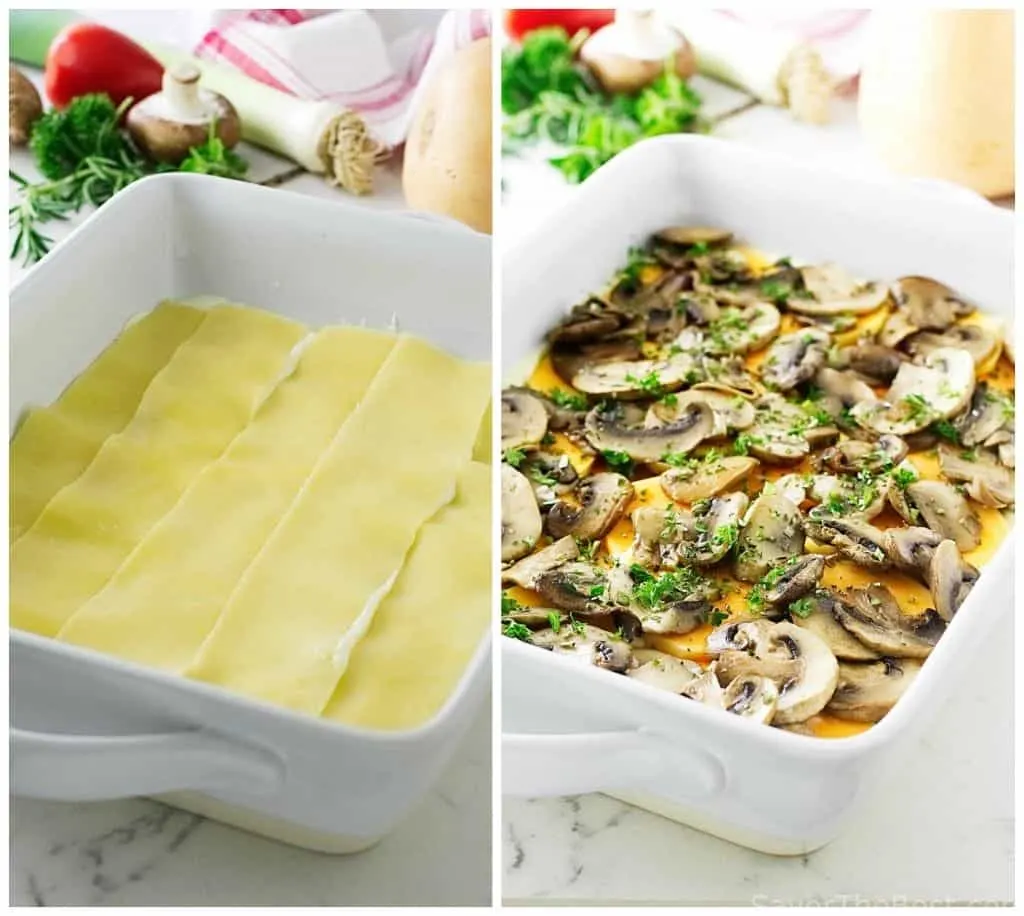 This was a nice, 'rainy day' project for us but we completely understand if you would rather make this vegetable lasagna with the more convenient store-bought dry lasagna pasta. If that is your choice, just scroll down through the recipe, skipping the instructions for the homemade noodles.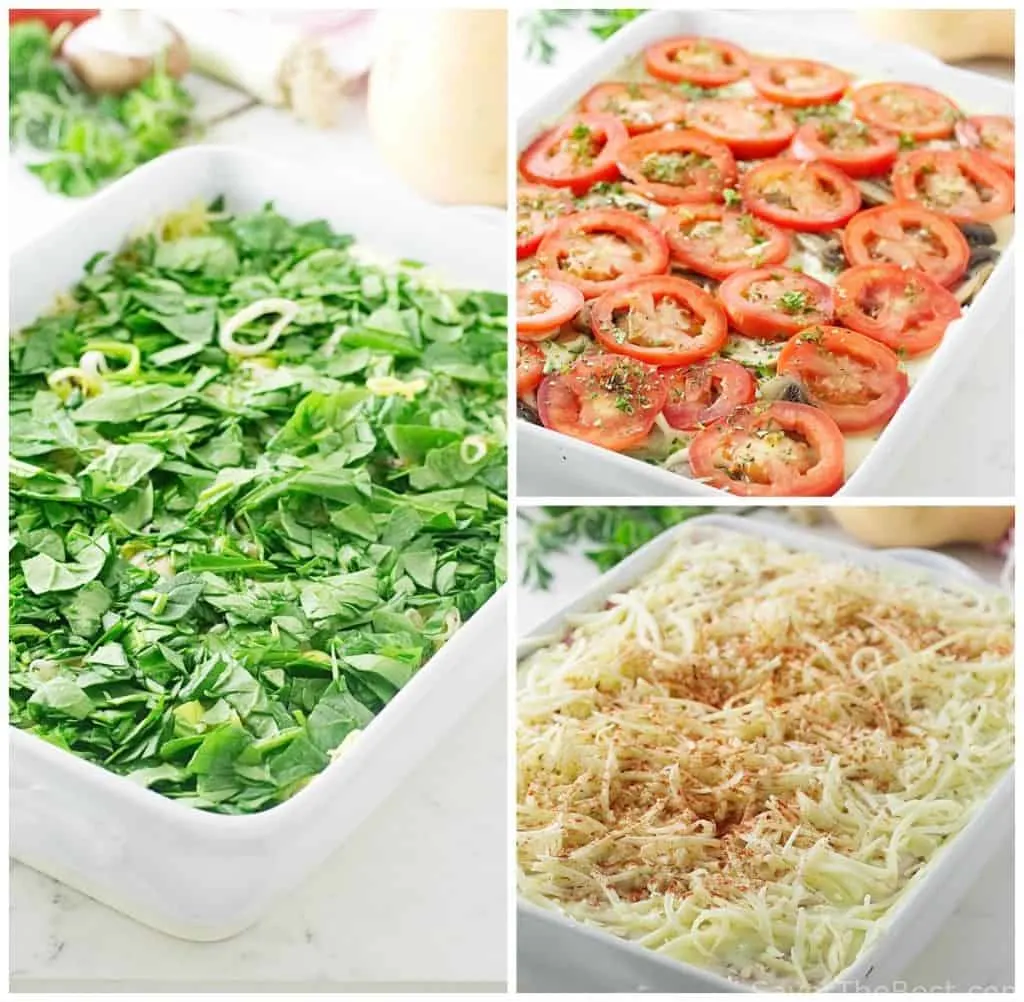 Instead of a tomato based sauce we used a béchamel sauce for our lasagna. Béchamel is a fancy sounding French name otherwise known as a white sauce. Our version is a creamy sauce that has been spiffed up with garlic and white wine. After it cooked and became slightly thick we added Pepper-Jack cheese and stirred it to a smooth creaminess. The Pepper-Jack cheese is a zesty partner for the vegetables, adding just enough zip to compliment the flavors of the veggies.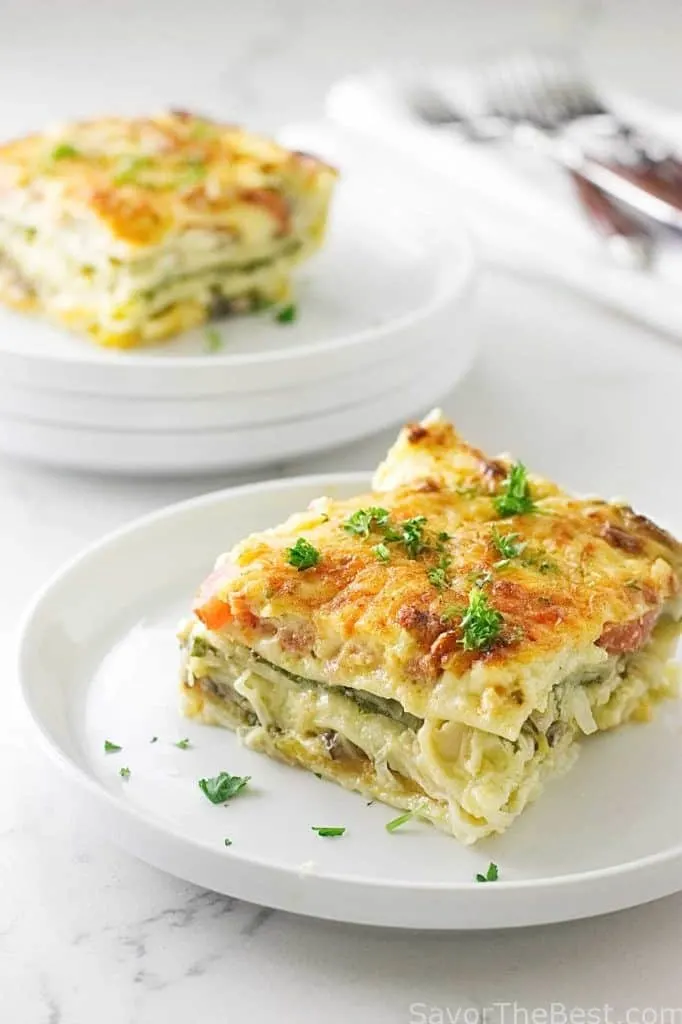 Our lasagna has three layers consisting of noodles and two vegetables per layer. Thin slices of butternut squash with mushrooms; leeks with chopped spinach; and mushrooms with tomatoes.
Each layer has a generous portion of the sauce on the noodles and a blend of three fresh herbs and a little grated cheese sprinkled on each vegetable layer. There is one final portion of the sauce on the top with the last of the grated cheese. We also added a dusting of smokey paprika just before popping the dish into the oven.
Yes, you can use different vegetables to make this lasagna…we would love to hear your vegetable suggestions. 🙂
More recipes you may like: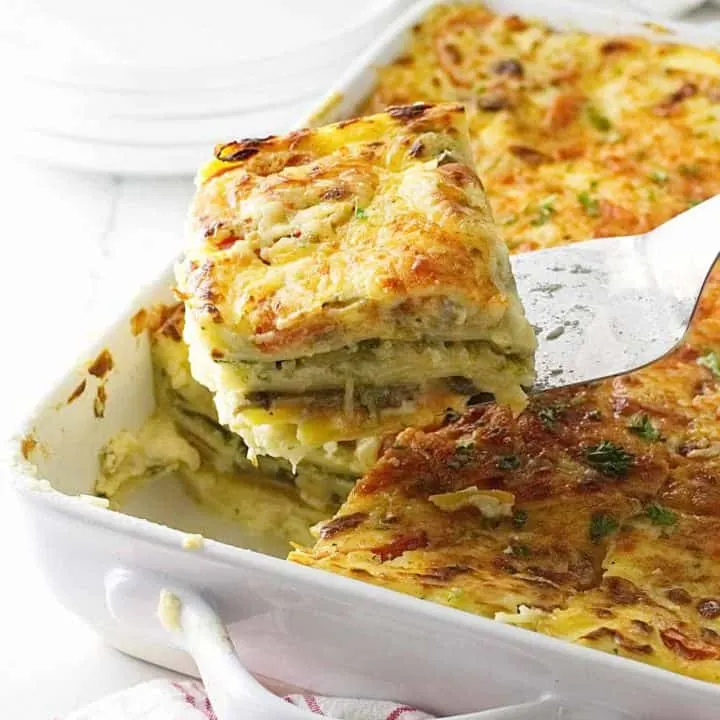 Vegetable Lasagna with White Sauce
Total Time:
1 hour
5 minutes
Fresh Vegetable Lasagna with white sauce combines layers of vegetables with tender noodles in a creamy Pepper-Jack sauce.
Ingredients
For Homemade Spelt Noodles:
4 cups white spelt flour, plus more for dusting while kneading
1 teaspoon salt
6 large eggs
4 Tablespoons olive oil
If using store-bought dry lasagna...Start Here:
12-14 pieces of dry box lasagna
For the Béchamel Cheese Sauce:
4 tablespoons butter
2 garlic cloves, minced or grated
4 tablespoons flour
3 cups whole milk
1/2 cup heavy cream
1/2 cup dry white wine (or chicken broth)
1/4 teaspoon sea salt (or to taste)
1/4 teaspoon freshly ground white pepper
12 ounces pepper-jack cheese, shredded (divided)
For the Filling:
1 tablespoon olive oil
12 ounces mushrooms, sliced
8 ounce chunk of butternut squashed sliced in 1/4-inch slices
1 large leek, (white and light green only) thinly sliced
2 -3 ounces fresh spinach leaves, chopped
4-6 Roma tomatoes, sliced into 1/4-inch slices
1 tablespoon fresh oregano leaves, chopped
1 tablespoon fresh rosemary, chopped
1 tablespoon fresh parsley, chopped
Dusting of paprika (optional)
Instructions
For Homemade Spelt Noodles:
Add the flour and salt to a large shallow bowl whisking together, push into a mound and make a well in the center of the mound. Add the eggs and olive oil to the well and mix with a fork, incorporating more of the spelt flour in an ever-increasing wider path until the flour is completely mixed.
Transfer the dough to a lightly-dusted pastry board and knead with your hands until the dough comes together in a ball. Wrap in plastic wrap, allow to rest for 20 to 30 minutes.
Divide the rested pasta dough in half and working with one section at a time roll out into a large rectangle about 1/4-inch thick. Cut the rectangle into 8 strips at 1-1/2 —inches wide. Continue with the remaining half of pasta, ending with 16 strips.
Bring a large pot of salted water to the boil then cook the noodles in batches for 45-60 seconds. (See Notes) Remove as they cook and place on the oiled baking sheet and brush them lightly with oil. Drape with plastic wrap until ready to assemble.
If using store-bought lasagna noodles, start here:
Preheat the oven to 350°F and coat a 9x13-inch baking sheet with oil spray.
Bring a large pot of salted water to boil and cook the noodles according to package directions. Do not over cook, they should be al dente. Drain and place on an oiled baking sheet while preparing the sauce and vegetables.
To make the Béchamel Cheese Sauce:
Melt the butter in a large saucepan over medium high heat. Add the garlic and sauté until fragrant - stir continuously to avoid burning. Add the flour and salt. Whisk and cook for 1-2 minutes. Slowly add the milk, cream and wine one cup at a time, whisking after each addition. Bring to a boil, stirring continually while it thickens, about 2 minutes. Remove from the heat and add 8 ounces (2 cups) of the shredded pepper jack cheese stirring until the cheese has melted and the sauce is smooth and creamy. Cover and set aside while preparing the vegetables.
In a large skillet, heat the olive oil over medium heat and cook the mushrooms for 3-5 minutes until slightly soft and they have released their liquid. Remove from heat, drain on paper towel-lined plate and cool.
When preparing the vegetables keep them separated into individual bowls or plates. Chop the fresh herbs and combine them together in a small dish. For assembling the lasagna there will be one layer with butternut/mushrooms, one layer with leeks/onions and one layer with mushrooms/tomatoes. A tablespoon of the fresh herbs and 1/3 of the remaining cheese will be sprinkled on each layer.
Putting it all together:
Begin by scooping 3/4 cup of the cheese sauce onto the bottom of the baking dish. Add 4 of the noodles, overlapping to cover the bottom. Add enough of the slices of butternut squash to cover the noodles and add one-half of the cooled mushrooms. Sprinkle with 1 tablespoon of the chopped fresh herbs and 1/3 of the remaining pepper jack cheese. Cover with 4 more noodles, spread another 3/4 cup of sauce over the noodles and add the leeks and spinach. Sprinkle with 1 tablespoon of the herbs and 1/3 of the pepper jack cheese. Add another 4 noodles, cover with 3/4 cup of sauce and add the remaining mushrooms and the sliced tomatoes and the remains 1 tablespoon of herbs . Spread the remaining cheese sauce over the tomatoes and sprinkle with shredded pepper jack cheese.
Cover the dish with a sheet of foil that has been sprayed with non-stick oil spray and transfer to the oven. Place a sheet pan or foil on the race below the casserole in case there are drips bubbling over. Bake for 45 minutes, remove the foil and bake an additional 15 minutes. Remove from the oven and allow to cool for 10-15 minutes before serving.
If you prefer the top to be browner, set the dish under the broiler for 1-2 minutes.
Notes
When the pasta is rolled out you could either cut the lasagna noodles or cut 3 sheets the same size as your baking dish to make 3 layers of noodles.
Homemade pasta will cook much faster than store-bought pasta. They should cook just long enough to take the 'raw flour' taste out, this will take from 45 to 60 seconds but we recommend doing a taste-test.
Mushrooms have a lot of water in them which if they are used without sautéing may cause the dish to be too wet when baked. Sautéing them lightly will improve the finished casserole.
Nutrition Information:
Yield:

12
Serving Size:

1
Amount Per Serving:
Calories:

456
Total Fat:

30g
Saturated Fat:

14g
Trans Fat:

0g
Unsaturated Fat:

13g
Cholesterol:

166mg
Sodium:

638mg
Carbohydrates:

25g
Fiber:

4g
Sugar:

6g
Protein:

22g
Nutrition information is a guideline only, is calculated automatically by third party software, and absolute accuracy is not guaranteed.