Our keto Italian meatballs are a go-to recipe if you're looking to make meatballs without breadcrumbs. While we don't follow a keto diet, sometimes it's nice to have low-carb options, and this keto meatballs recipe is perfect if you're watching your carbs but still want a good, old-fashioned pasta night!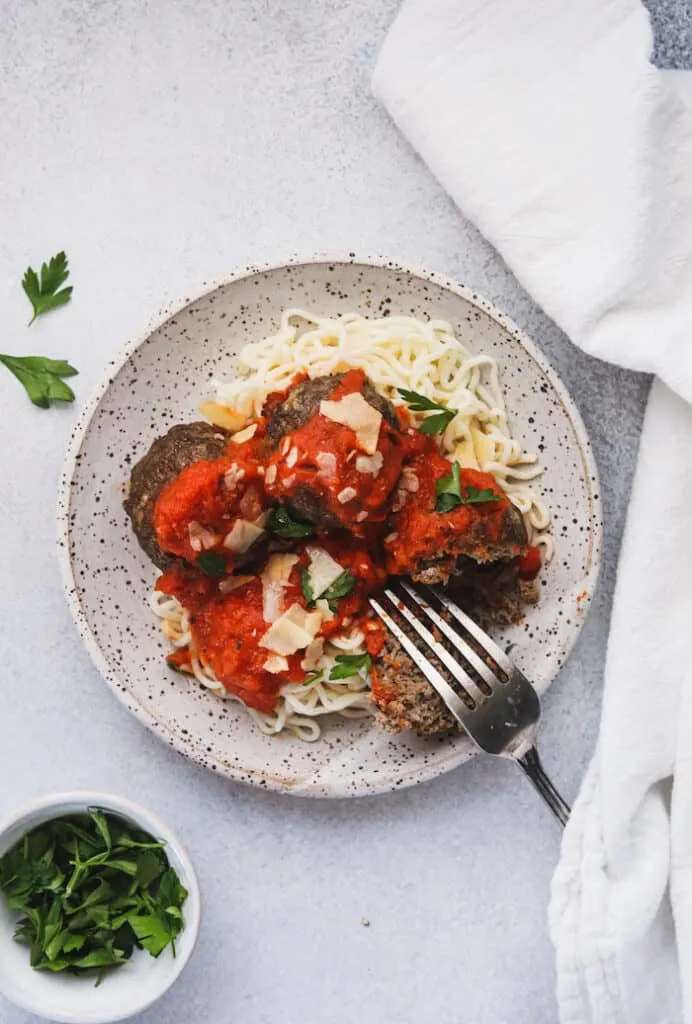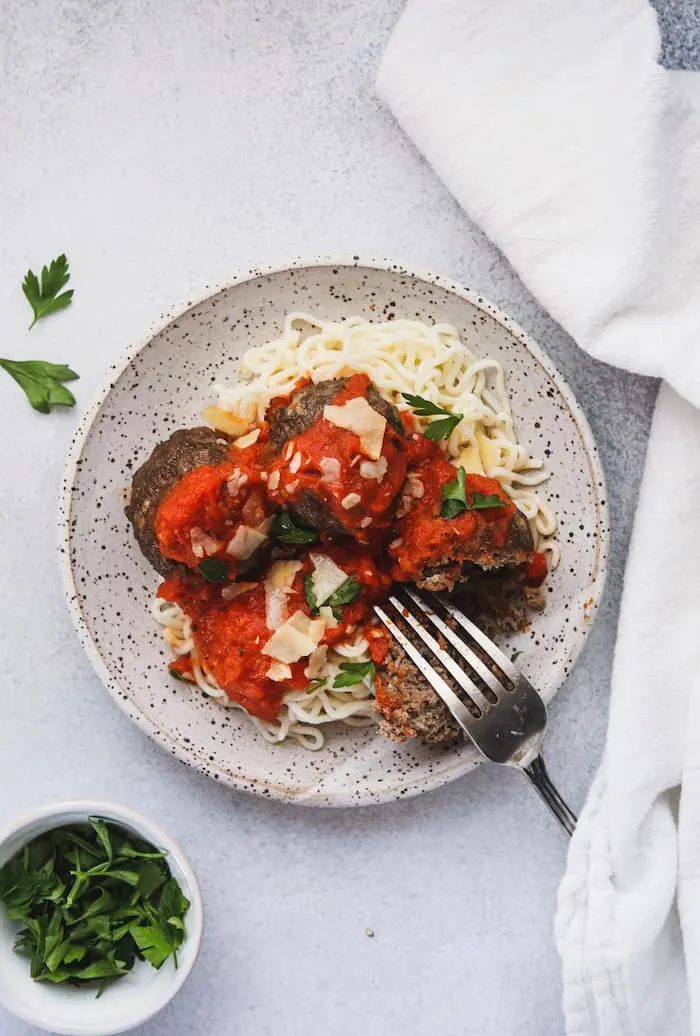 Pair these keto meatballs with zucchini noodles or tofu shiritaki noodles and a sugar-free pasta sauce for the ultimate spaghetti dinner, without the carbs! (Speaking of zucchini noodles, here's a lovely zoodle salad with a spicy Thai peanut sauce!)
keto meatballs, a healthier option
You may know by now that we have quite the love for meatballs! Perhaps you've tried our Italian Meatballs and Spaghetti with Tomato Garlic Sauce. Or have you ever tasted our Moroccan Lamb Meatballs? This recipe for Keto Teriyaki Chicken Meatballs and Broccoli is also a tasty one. Our meatball obsession goes way back, and this keto Italian meatballs recipe is no different! We love it just the same.
Here's what makes it a healthier option:
We swap the traditional breadcrumbs for coconut flour, which is a gluten-free and high-fiber flour
We bake these meatballs, which means you can skip the pan-frying process!
You only need a few whole food ingredients to make these
You can serve them with zucchini noodles, spaghetti squash, or tofu shiritaki noodles for a much healthier spin on spaghetti!
These Italian meatballs work for many diet types, including gluten-free and grain-free, diabetics, low-carb and keto
how to make keto meatballs
Making these keto Italian meatballs only requires a few minutes of prep, and the oven does the rest of the work!
Here are the ingredients you'll need:
Ground beef
Grated or shaved parmesan (optional)
egg
Salt and pepper
Onion powder
Minced garlic
Coconut flour
Fresh parsley, chopped
Oregano, dried
Basil, dried
Thyme, dried
Olive oil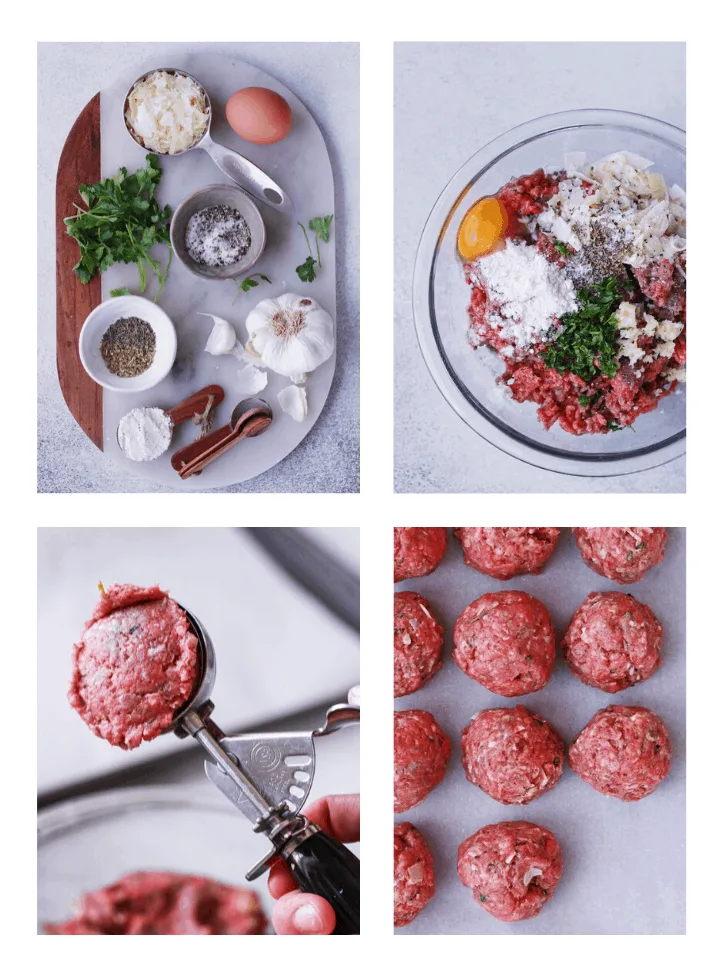 The whole process of making these Italian meatballs is really quite simple, and here's a quick summary (but make sure to scroll all the way down to the bottom of the page to check out the full recipe):
In a large mixing bowl, combine all the ingredients except for the olive oil.
Use a fork to mix it all together, then use your hands to work the meat mixture, making sure all the ingredients are well combined.
With a cookie dough or ice cream scoop, spoon out portions of the meat and drop them onto a baking tray lined with silpat or parchment paper. You can also scoop the meat into your hands and gently roll out that flat bottom edge before placing onto the baking sheet.
Bake the meatballs at 450°F for 15 minutes, then remove from the oven. Brush olive oil onto the tops of the meatballs with a kitchen or pastry brush.
Return the tray of keto meatballs to the oven. Increase the temperature to 500°F and bake for another 5 minutes.
The final step of brushing the olive oil onto the keto meatballs and baking for another five minutes, allows the meatballs to brown and gives them a nice, crisp crust.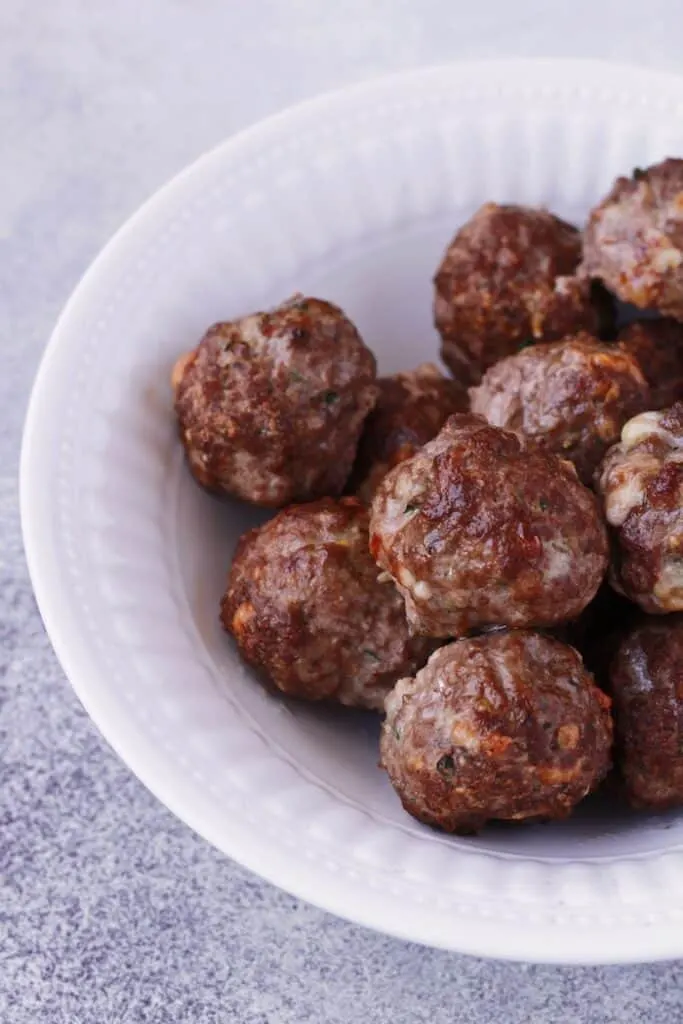 pro tips for keto meatballs
For the best keto Italian meatballs, here are a few tips:
We like to use a cookie dough or ice cream scoop to ensure that each meatball is the same portion and bake evenly. If you don't have one, you can use a standard tablespoon to scoop the meat mixture- just make sure to try and get each meatball the same size.
Depending on the type of ground beef you use, fat from the ground beef may pool in the form of oil at the bottom of the pan. If your meat has a higher fat percentage, you're more likely to see more oil. This is fine, and you'll make the keto meatballs the same way, but just be careful as you're lifting the tray out of the oven.
Don't skip the final step of brushing the keto meatballs with olive oil! This makes them crisp and browned on the outside.
why we love these keto Italian meatballs
Not only are they healthy, but this keto meatballs recipe is also a flexible one! You can use various types of ground meat and still get excellent results. I've made these keto Italian meatballs with both ground chicken sausage and ground bison, and both are delicious! I haven't tried it yet, but ground turkey should work well too.
These keto Italian meatballs are also juicy, full of flavor, and the perfect meatball texture. In fact, I guarantee young eaters will also love them!
how to serve these Italian meatballs
You can enjoy these keto Italian meatballs in a number of ways! There's always the classic plate of spaghetti and meatballs (with traditional noodles or a healthier, low-carb option). Eat them plain or with your favorite dipping sauce (I have a tzatziki or this delicious chimichurri on my mind). Do up a dinner of fun apps and serve them alongside this keto Ricotta and Asparagus Flatbread. If counting carbs is low on your priority list, then enjoy these Italian meatballs with our creamy mushroom risotto, or make your own homemade meatball sub.
The options are endless– another reason to love these low-carb Italian meatballs!
SOME OTHER RECIPES WE ARE SURE YOU WILL LOVE:
Our Spanish Chorizo and Shrimp Pasta is an incredible combination of flavors– spicy chorizo, plump shrimp and olives served with thick strands of fettucine!
Looking for more low-carb inspiration? Our Instant Pot Lebanese Braised Green Beans makes an amazing side dish. They taste just like they're slow-braised, but the Instant Pot speeds up that process, cooking the green beans in a rich tomato sauce with warm spices in record time!
Our Fried Goat Cheese Discs and Roasted Beet Salad are my new favorite way to enjoy goat cheese (and perhaps salad!). The goat cheese discs have a crunchy, golden crust and a tart and creamy center. Pair it with the roasted beets for a heavenly side or starter!
More Meatball Recipes
Connect With Savor the Best:
Please follow us on our social media accounts
Facebook * Instagram * Pinterest * Youtube * Twitter
Did you make this recipe? We would love to hear from you. Drop us a comment below.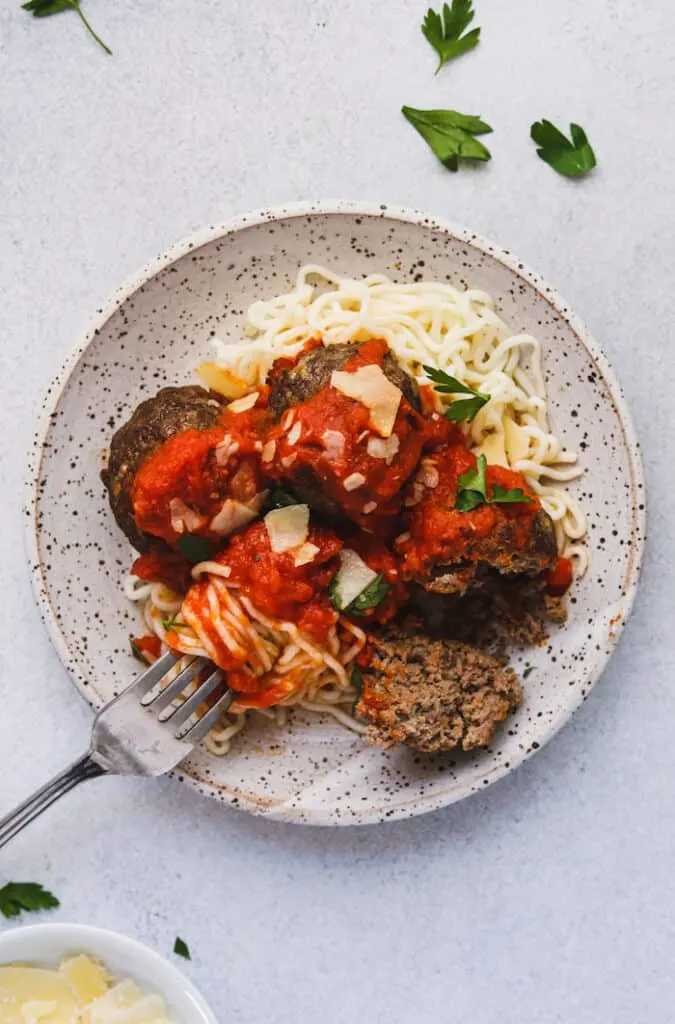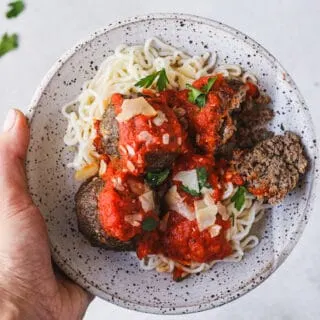 Keto Italian Meatballs
These keto Italian meatballs are perfect if you're looking for a low-carb or gluten-free Italian meatball recipe! They are juicy, crisp on the outside, and there is no frying required!
Ingredients
2 pounds ground beef
1/3 cup shaved or grated parmesan
1 egg
2 teaspoons salt
2 teaspoons ground black pepper
1 teaspoon onion powder
2 large cloves garlic, minced
2 tablespoons coconut flour
1 tablespoon finely chopped parsley
1/2 teaspoon dried oregano
1/2 teaspoon dried basil
1/2 teaspoon dried thyme
1 tablespoon olive oil
Instructions
Preheat the oven to 450°F. Line a baking sheet with parchment paper or a baking mat. In a large mixing bowl, combine all of the ingredients (except for the olive oil).
Use a fork to mix the ingredients into the meat, then finish mixing with your hands, kneading the meat mixture to incorporate all of the ingredients. Continue mixing for about 2 minutes, or until well-combined.
With a large cookie dough or ice cream scoop, spoon out a scoop of the meat mixture into your hands (about 2 tablespoons worth of meat). Gently roll it so it's perfectly round. Place the meatball on the baking tray, and repeat with the remaining meat.
The meatballs should be spread evenly across the baking sheet. Place the baking sheet in the oven and bake the meatballs for 15 minutes.*
Remove them from the oven, then use a pastry/kitchen brush to brush a light coating of olive oil on the tops of the meatballs. Increase the oven temperature to 500°F and return the meatballs to the oven to bake for another 5 minutes.
Remove the meatballs from the oven and allow them to cool for 2-4 minutes before serving.
Notes
If you make the meatballs smaller than about 2 tablespoons, they will not need to bake as long. Depending on their size, they should be slightly done after about 8-10 minutes of baking, then bake for another 5 minutes at the higher temperature to brown them.
Be careful as you lift the tray out of the oven when they're done baking. Depending on the type of ground beef you use, fat from the ground beef may pool in the form of oil at the bottom of the pan. (If your meat has a higher fat percentage, you're more likely to see more oil.)
Nutrition Information:
Yield:

12
Serving Size:

1
Amount Per Serving:
Calories:

242
Total Fat:

16g
Saturated Fat:

6g
Trans Fat:

1g
Unsaturated Fat:

8g
Cholesterol:

85mg
Sodium:

478mg
Carbohydrates:

2g
Fiber:

0g
Sugar:

0g
Protein:

22g
Nutrition information is a guideline only, is calculated automatically by third-party software, and absolute accuracy is not guaranteed.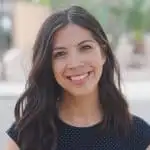 Abby creates delicious, low-carb, sugar-free, and keto-friendly recipes that are simple and easy. Find more keto recipe inspiration on her blog, Stem and Spoon.