This is a crazy, wacky cake! It comes together with nothing but simple pantry ingredients. No eggs, butter, milk or dairy of any kind! Heck, you don't even need a mixer or separate mixing bowl. There is a reason it is called a wacky chocolate cake. Even the fudgy, chocolate peanut butter frosting is made with basic pantry ingredients.
If you have been baking for a while, you might think the recipe is missing something. But I guarantee you, it has everything you need for a perfectly moist, tender chocolate cake. It is such a simple, straightforward recipe!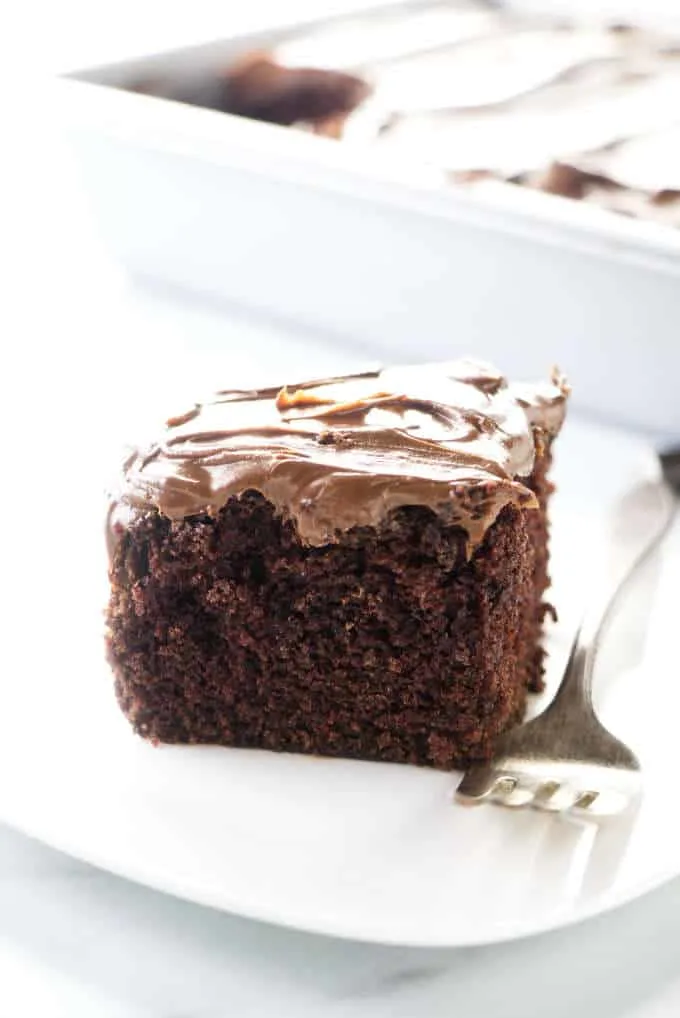 I love recipes that have stories behind it but this has to be one of my favorite stories. A dear friend (and amazing cardiologist), Wayne Levy, sent me this recipe. It is the recipe his mother, Helen Levy would make for the family. If you scroll down, you will see the original recipe card that she used.
Helen's recipe came out of the Atholton Church cookbook. The very church that Wayne's father, Enos Levy, a general contractor, volunteered to help build.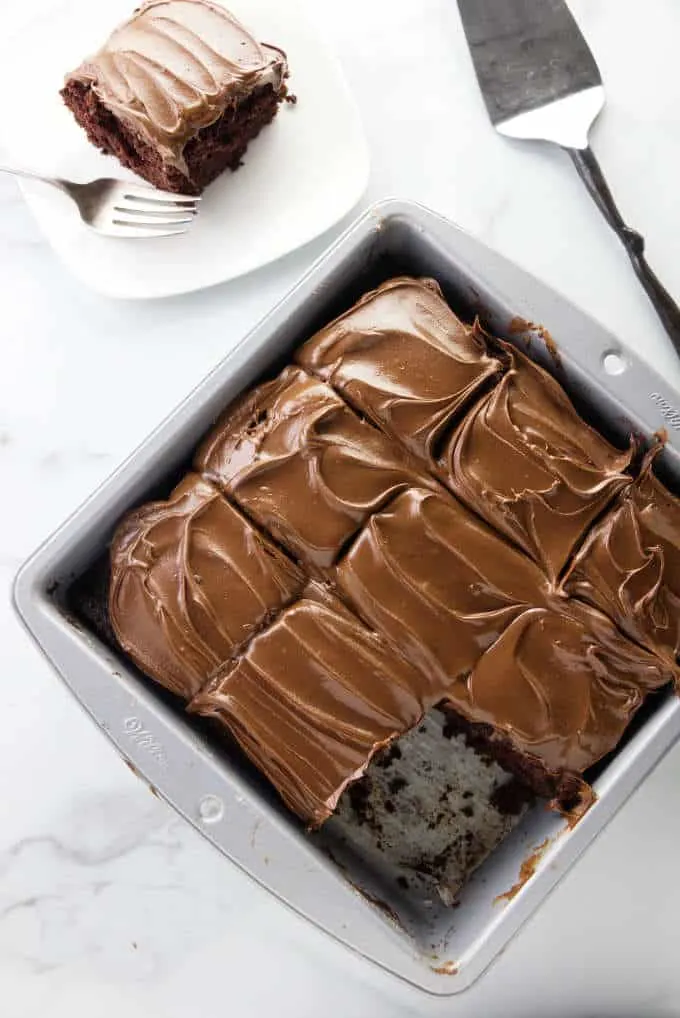 Wacky Chocolate Cake!
This wacky cake isn't exclusive to the Levy family but I'm sharing the original version of Helen's recipe in the photo below. Helen cut back just a tad on the sugar and she used lemon juice instead of vinegar. Keep reading and I will explain the ingredients.
This cake has been around for a long time. It has a few other names:
Crazy cake. It is referred to as crazy for the same reason it is wacky. It has an unbelievably simple list of ingredients and an unusual method of mixing. It's so crazy it is hard to believe it works.
Three Hole cake. One of the unusual things about this cake is the instructions. The original version has you make three holes or wells in the flour mixture. You then pour the liquid ingredients into each hole before mixing everything together.
Mix-in-the-pan chocolate cake. A feature of this cake is that you can literally mix all the ingredients right in the baking pan. No need for a separate mixing bowl. You will see in the video that I made the cake right in the pan. With that said, it is MUCH easier to mix the batter in a separate bowl.
Depression cake. The original version of this cake dates back to the Great Depression when food was being rationed. No matter how hard times get, people still want their chocolate cake!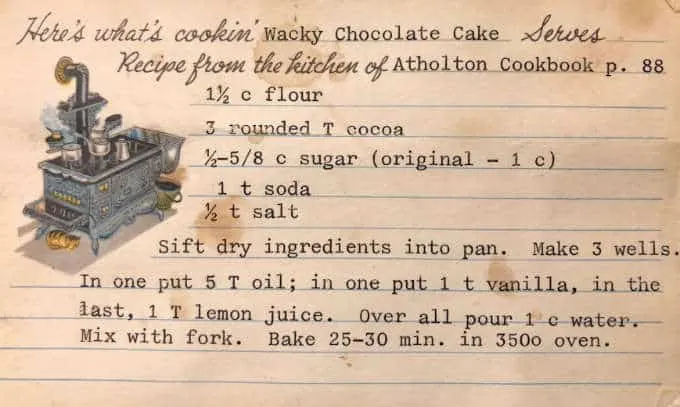 Ingredients needed for this wacky cake.
You can make this cake entirely from common pantry ingredients. I made a couple of modifications to the original recipe but the changes are optional.
Flour. Just regular, all-purpose flour. Nothing fancy here.
Sugar. Plain ole white sugar.
Cocoa powder. The unsweetened stuff.
Baking soda. It is important to use baking soda and not baking powder. Keep reading for the explanation.
Salt and vanilla extract. These are important for enhancing the flavor of the cake.
Water or coffee. If you use coffee it will enhance the flavor of the chocolate but water will work as well.
Vegetable oil. Oil guarantees the cake will turn out moist.
Vinegar or lemon juice. You need to use an acid to activate the baking soda. When baking soda comes into contact with an acid like vinegar or lemon juice, it creates carbon dioxide and starts to form bubbles. Those little bubbles get trapped inside the cake batter and make it rise into a light, fluffy cake.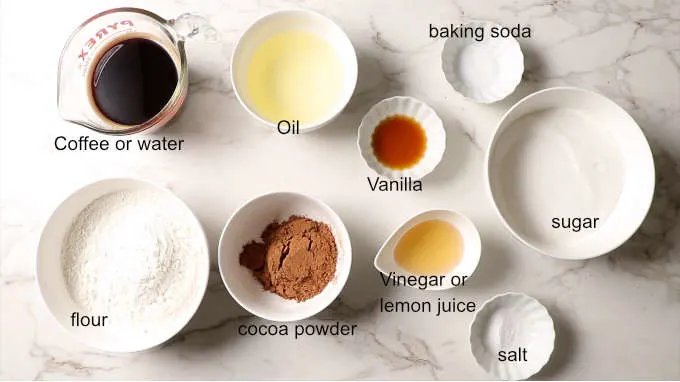 How to make this cake.
If you thought our amazing chocolate cake recipe was easy, you will love this recipe. This really is a dump and bake cake. All you need to do is dump the ingredients in a pan, stir them well, then bake the cake. Keep reading and I will give you some tips and answer some questions.
Tips for success.
Preheat the oven. Since baking soda is a quick-acting leavening agent, the cake should not sit out for long. You should stick it in the hot oven as soon as the batter is mixed.
Blend the flour, cocoa, sugar, baking soda, and salt together first. This will ensure that the baking soda and salt are distributed throughout the entire mixture before adding the liquids. If the baking soda stays in one clump then your cake will not rise.
You can mix this in the baking pan but we recommend using a mixing bowl. In the video, I mixed the batter right in the pan simply to show you that it CAN be done that way. The problem with the pan is that it has edges and corners that will trap the flour and make it more difficult to incorporate everything. It comes together much easier in a mixing bowl.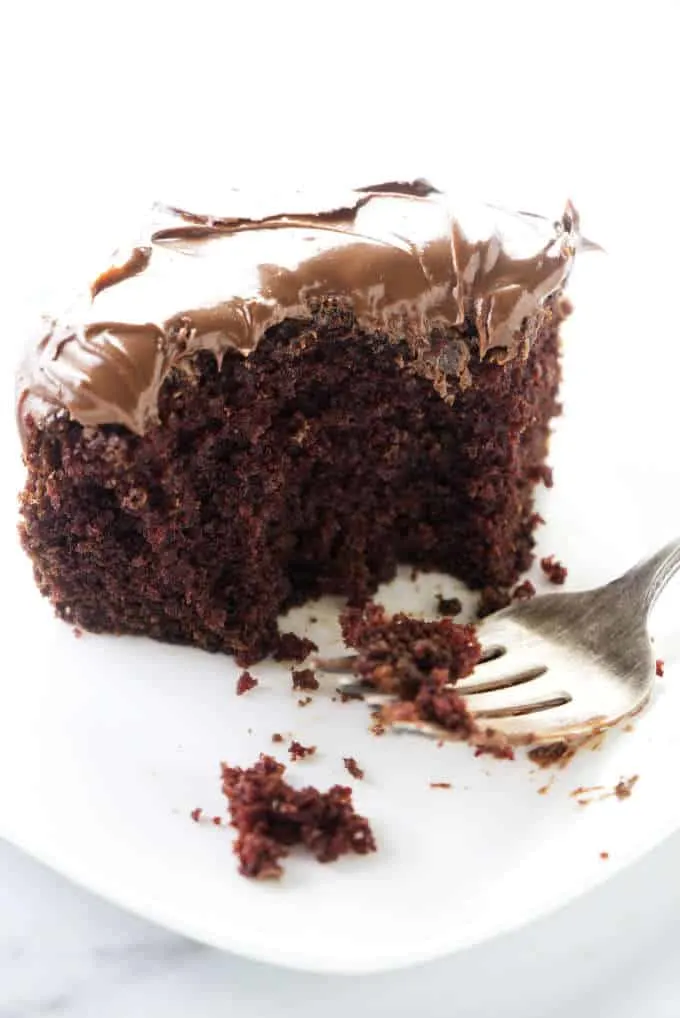 The two-ingredient pantry frosting.
Helen's original recipe did not include a frosting but I couldn't help myself. I topped the cake with a rich, fudgy, chocolate peanut butter ganache. You only need 2 ingredients.
Peanut butter
chocolate chips.
In the right ratios, it creates a smooth and decadent frosting and you don't need any butter, milk or cream. We are sticking to pantry ingredients!
All the questions.
Why does the recipe have you make three wells or holes before adding the liquid?
Because that is how Helen's recipe was originally written. Baking soda is a very quick-acting leavening agent. As soon as the baking soda comes into contact with the vinegar, the chemical leavening process will begin to work.
I imagine the original recipe was written in an attempt to delay the chemical leavening for as long as possible. It isn't absolutely necessary. As long as you put the cake in the oven as soon as the ingredients are mixed, the cake will rise just fine.
What if I don't have sugar?
This wacky cake works with brown sugar too. I can assure you, however, that it will not work with Splenda. Since there are no eggs or dairy in this recipe, it relies heavily on sugar to provide structure, moisture, and a tender texture.
What if I don't have all-purpose flour?
Flour has been a high demand commodity these days. If you don't have all-purpose flour, you can use cake flour, spelt flour, or a gluten-free flour blend. I tried it with our gluten-free ancient grain flour blend as well as the Cup4Cup blend.
White spelt flour worked better than whole wheat spelt.
The gluten-free flour blends that I used above worked very well, however, the cake tends to dry out faster. If you don't eat it right away, I recommend freezing the leftovers.
Almond flour does not work with this recipe. I did not test with coconut flour but based on my testing with almond flour, I doubt it would work without significant changes to the recipe.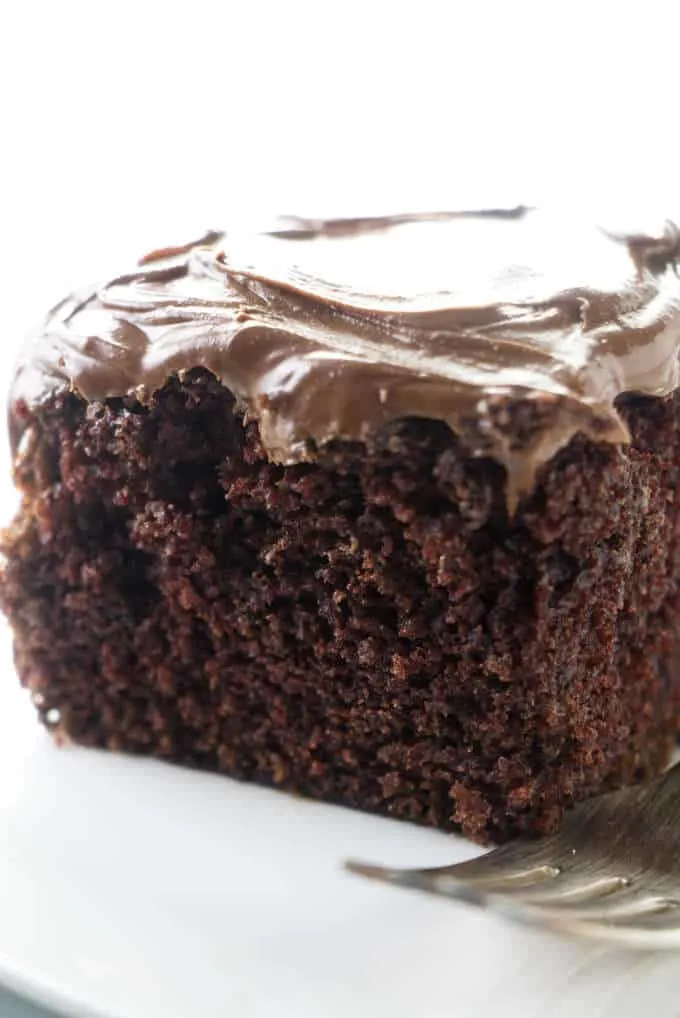 SOME OTHER RECIPES WE ARE SURE YOU WILL LOVE:
Our chocolate cake with chocolate buttercream is easy, adaptable, and delicious. We provided you with several options for ingredient substitutions so you can make it with what you have on hand. If you want a chocolate cake with cream cheese frosting then we have you covered there too.
Our soft chocolate sugar cookies are always a favorite. They are crisp on the edges and chewy in the center. Just how a soft sugar cookie is supposed to be.
If you like crisp cookies, our crispy double chocolate cookies are amazing. They are perfect for sandwiching with an easy vanilla cake filling, chocolate filling, or even ice cream.
Connect With Savor the Best:
Please follow us on our social media accounts
Facebook * Instagram * Pinterest * Youtube * Twitter
Did you make this recipe? We would love to hear from you. Drop us a comment below.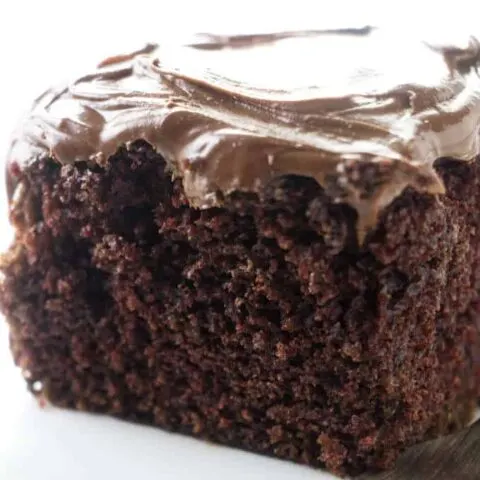 Wacky Chocolate Cake
This is a crazy, wacky cake! It comes together with nothing but simple pantry ingredients. No eggs, butter, milk or dairy of any kind! Even the fudgy, chocolate peanut butter frosting is made with basic pantry ingredients.
Ingredients
1-1/2 cups all-purpose flour
1 cup sugar
1/4 cup cocoa powder
1 teaspoon baking soda
1/2 teaspoon salt
1/3 cup vegetable oil
1 tablespoon vinegar or lemon juice
1 teaspoon vanilla
1 cup water or brewed coffee
Chocolate Peanut Butter Frosting
3/4 cup peanut butter
1/2 cup chocolate chips
Instructions
Preheat the oven to 350°F and grab an 8-inch square cake pan.
Sift or whisk the flour, sugar, cocoa, baking soda, and salt into the cake pan (or use a mixing bowl for easier mixing).
Make 3 wells or indentations in the flour mixture.
Pour the oil, vinegar, and vanilla into the separate wells.
Add the water or coffee then stir until combined.
Bake for 28 to 30 minutes or until a toothpick comes out clean.
For the Chocolate Peanut Butter Frosting
Combine the peanut butter and chocolate chips in a microwavable bowl.
Heat in 20-second intervals until the chocolate is melted. Stir well between intervals.
Spread on cooled cake.

Notes
It is much easier to mix all the ingredients in a bowl then transfer to the cake pan.
If you use the cake pan to mix the ingredients in then make sure you scrape the corners and edges of the pan. The dry ingredients can get trapped in the edges of the pan.
Make sure you preheat the oven before you mix the cake batter.
Nutrition Information:
Yield:

9
Serving Size:

1
Amount Per Serving:
Calories:

269
Total Fat:

8g
Saturated Fat:

1g
Trans Fat:

0g
Unsaturated Fat:

7g
Cholesterol:

0mg
Sodium:

260mg
Carbohydrates:

45g
Fiber:

1g
Sugar:

22g
Protein:

3g
Nutrition information is a guideline only, is calculated automatically by third-party software, and absolute accuracy is not guaranteed.