Spelt penne pasta with chicken, artichokes and mushrooms in a creamy sauce is a delicious and easy weeknight dinner. Actually, it would be delicious for any dinner night! This recipe is loaded with generous chunks of chicken breast, thick slices of mushroom, artichoke hearts, sun-dried tomatoes and a delicate cream sauce. All this deliciousness is served over al dente cooked spelt penne pasta.
There is a lot of flavor packed into this pasta dish. We made the velvety smooth cream sauce with fresh herbs, garlic and white wine. Freshly grated parmesan cheese was whisked in and evaporated milk was substituted for heavy cream to make it a little lighter in calories.
The sun-dried tomatoes added another layer of flavor to the sauce, plus a touch of bright color. We chose to use the sun-dried tomatoes that are packed in olive oil as they always look and taste wonderful. There is a little trick to eliminate some of the oily calories. Just put the measured tomatoes in a small strainer and rinse with warm water from the kitchen faucet to remove the oil. Let them drain, then spread them out on paper towels, blotting them with another paper towel to absorb the water.
The sauce was combined with the chicken, artichokes, mushrooms and sun-dried tomatoes, then spooned over individual plates of the cooked pasta. It was topped off with a dollop of basil pesto. A store bought jar of the pesto is convenient but if you have a lot of basil growing we have an excellent recipe here for a freshly made pesto.
Spelt is an ancient wheat grain that is hybridized from the emmer wheat. Spelt is one of the oldest cultivated grains and can be traced back 6,000 years. Spelt is mentioned in Ezekiel 4:9 as one of the ingredients to bread making in biblical days. Spelt still retains its original characteristics and nutritional qualities that it had in the biblical days.
Modern technologies in cultivating and refining wheat had pushed spelt aside in the market place but it is fast re-gaining popularity due to it's nutritional and health benefits. As opposed to the high gluten content in modern wheat the lesser gluten in spelt is much more water soluble making it easier to digest than modern wheat. Spelt also has a higher fiber content and a lower glucose index but it is a wheat product and it is not gluten-free.
Spelt products are available not only in health food stores but are now appearing in many local grocery stores. Spelt products can be found in packages of flour and pastas as well as in the bulk foods sections and online. The spelt penne pasta used in our recipe has a mild nutty flavor and is delicious with the chicken, artichoke mushrooms and creamy sauce.
You might also like: Spelt Agnolottis with Mushrooms, Pine Nuts and Goat Cheese
Sprouted Spelt Rosemary Walnut Bread Oatmeal Raisin Spelt Cookies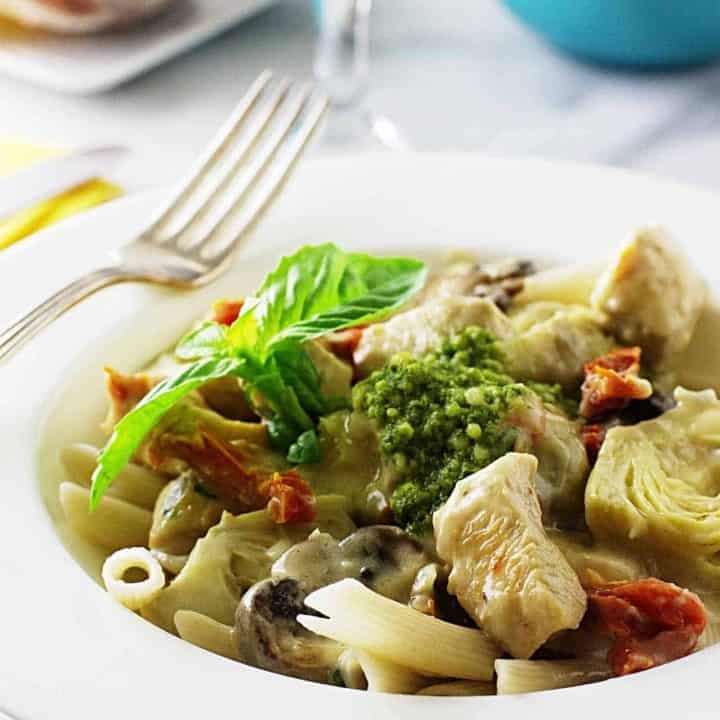 Spelt Penne Pasta with Chicken, Artichokes and Mushrooms
Yield: 6 servings
Prep Time: 10 minutes
Cook Time: 30 minutes
Total Time: 40 minutes
Spelt penne pasta with chicken, artichokes and mushrooms is a delicious and easy weeknight dinner. You will love the flavors in this one-pot entree but it is the creamy sauce that pulls it all together. This recipe is a keeper and one you will refer back to often.
Ingredients
For the Pasta:
8 ounce package Spelt penne pasta
1 tablespoon kosher salt
For the Chicken and Sauce:
1 pound chicken breasts, boneless, skinless
1/2 teaspoon salt
1/4 teaspoon black pepper
1 tablespoons olive oil
4 ounces fresh crimini mushrooms, sliced 1/4-inch thick
3 garlic cloves, grated or minced
2 tablespoons butter
2 tablespoons olive oil
1/4 cup flour
1/2 cup white wine
1 1/2 cup chicken broth
1 cup evaporated milk
1/2 cup freshly grated parmesan cheese
10 ounces water-packed artichokes hearts, drained and cut in half
1/2 cup oil-packed sun dried tomatoes, drained and oil blotted off
1 tablespoon fresh thyme leaves
1 tablespoon fresh oregano leaves, chopped
1 tablespoon fresh basil leaves, chopped
3 tablespoons prepared basil pesto (optional)
Fresh basil sprigs for garnish
Instructions
To cook the Pasta:
In a large pot, add the salt to 2 quarts of water and bring to a boil. Add the penne pasta and cook for 6 minutes, stirring occasionally. Do not overcook. Drain, return to the empty pot and toss with 1 tablespoon of olive oil which will prevent sticking together. Cover and reserve.
For the Chicken and Sauce— While the pasta is cooking:
Cut the chicken breasts into 1-inch bite size pieces, season with salt and pepper.
Heat the olive oil In a large skillet set over medium-high heat and add the chicken pieces and cook for about 5 minutes until lightly golden.
Reduce the heat under the skillet to medium-low, add the sliced mushrooms and cook, stirring frequently until the mushrooms soften and loose some of their moisture. Add the garlic and cook for an additional 30 seconds until fragrant. Remove from the heat.
In a small saucepan set over medium heat, melt the butter and olive oil together. Add the flour and cook for 1 or two minutes to cook the flour. Whisk in the chicken broth, evaporated milk and the white wine, simmer for 1 or 2 minutes to burn off the alcohol. Add the parmesan cheese, whisking until the sauce becomes smooth. Transfer the sauce to the skillet with the chicken, mushrooms and garlic and over medium heat, bring to a simmer.
Add the artichoke hearts, sun dried tomatoes and the chopped fresh herbs. Simmer for 2-4 minutes to heat thoroughly. Remove from the heat.
Divide the reserved penne pasta between 4 individual heated pasta dishes and spoon the hot chicken and sauce mixture over the tops. Add a tablespoon of the pesto to each serving and a sprig of fresh basil for garnishment.
Notes
A 10-ounce package of frozen/thawed artichoke hearts can be substitutedIf using the sun-dried in their dry form, reconstitute them in chicken broth or white wine before adding them to the sauce.
Nutrition Information:
Yield: 6
Serving Size: 1
Amount Per Serving:
Calories: 494
Total Fat: 20g
Sodium: 700mg
Carbohydrates: 45g
Sugar: 7g
Protein: 33g