This homemade onion soup mix is preservative-free and low in sodium. You know exactly what goes in this mix and it keeps for a long time. There is no MSG in this but it has that special umami flavor from a secret ingredient. You'll never guess what we used in this mix!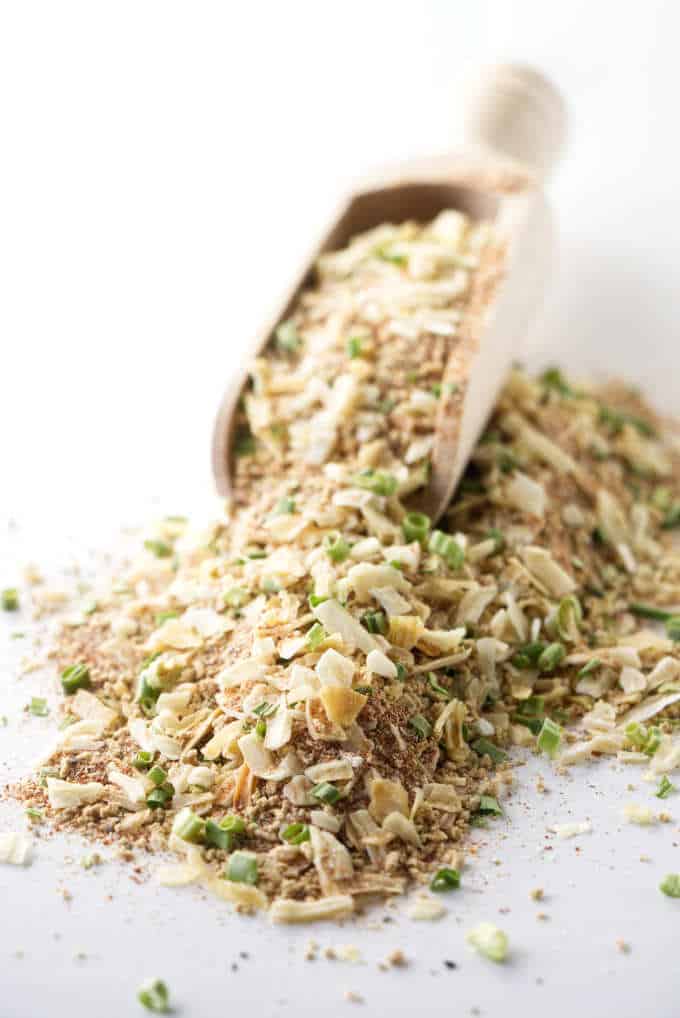 There are a ton of uses for onion soup mix. It has a special flavor that turns an ordinary recipe into a crave-able, addictive, dish with no effort at all. Just blend a serving into some meatloaf and everyone will ask for seconds. It can turn shredded beef or a chip dip into a flavor-packed party.
Stir it into rice, add it to pot roast or whip it into mashed potatoes for instant flavor. The possibilities are endless and it is a fast way to transform a meal or appetizer. If you love all the flavors of onion soup then you will love this spice blend.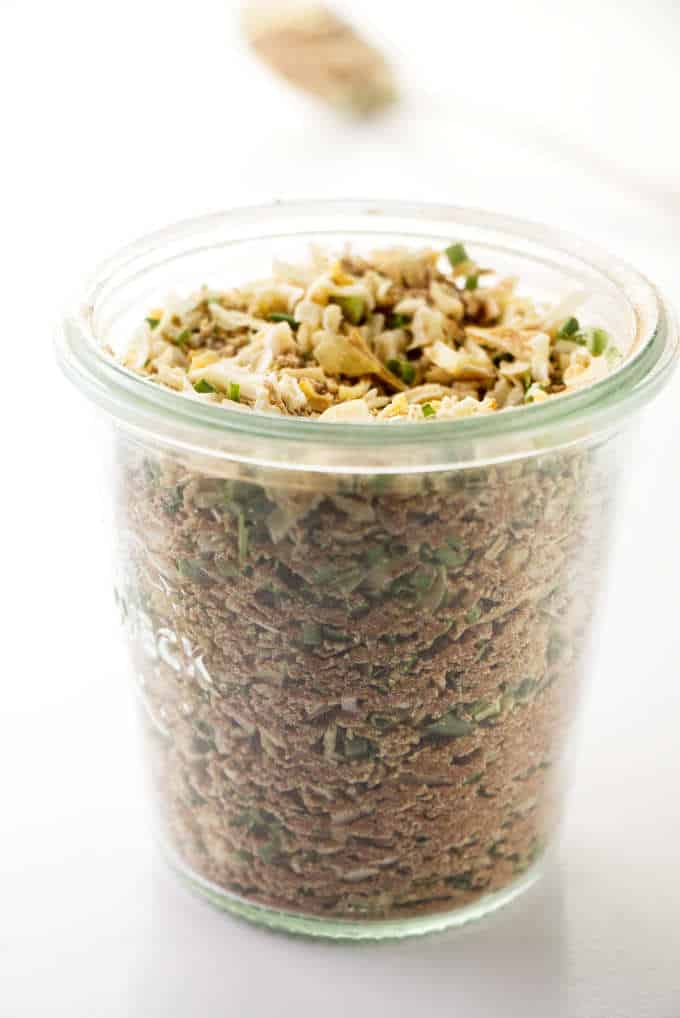 Low in sodium and no MSG.
The problem many people have with store-bought onion soup mix is the high sodium content and the MSG. However, reducing the sodium and eliminating the MSG makes the seasoning mix pretty bland. MSG gives things that special, crave-able umami flavor. It is a distinct flavor that no amount of salt could ever mimic.
Umami flavor with healthy ingredients.
So how did we get that umami flavor without using MSG? We used three different ingredients to make this onion soup mix a home-run.
These are not your ordinary pantry ingredients so you will have to plan ahead if you want to make this seasoning mix. You can purchase them online but it is worth the wait.
The umami powder is made with dried shitake mushrooms and gives the most kick to the seasoning mix. When you order the umami powder, you will get more than you need for this recipe but that is a good thing. You will want to use it for a lot of things.
Sprinkle it on steak, chicken, salad dressings, roasted veggies…. It does have some salt in it but if you use it in place of salt then you will reduce your sodium intake and enhance the flavor of anything you eat.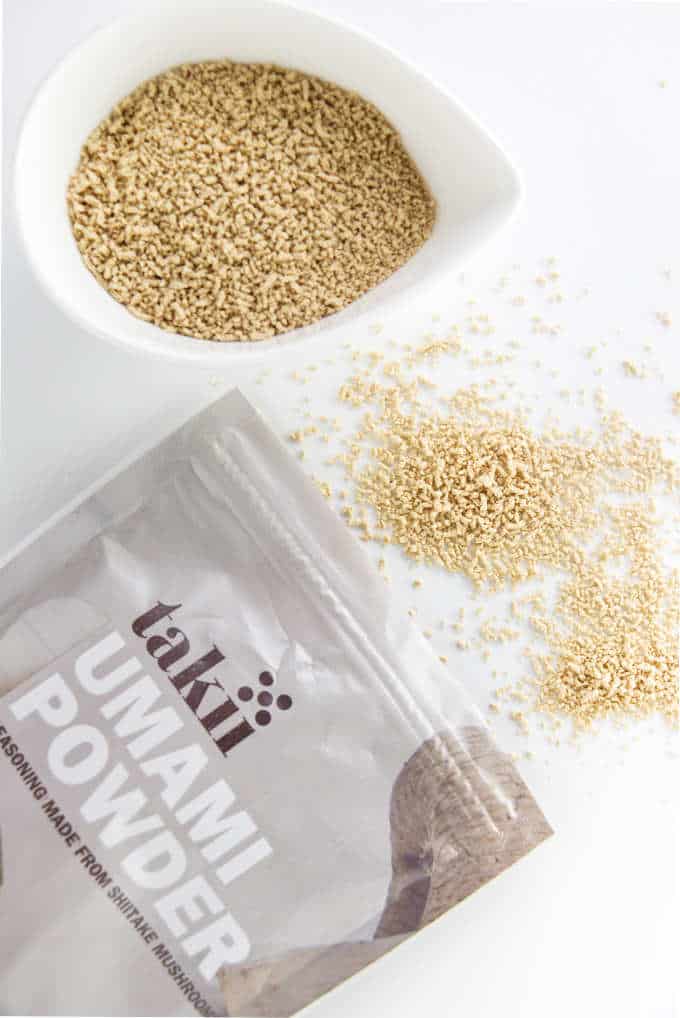 The tomato powder and Worcestershire powder are pretty self-explanatory. Just dried, powdered forms of those two ingredients. They add some extra layers of umami flavor without making the sodium content go through the roof.
We had tried using powdered soy sauce for a bit of umami but the soy sauce brought the sodium level up pretty high. A tablespoon of soy sauce has 880 mg of sodium while a tablespoon of Worcestershire sauce only has 167 mg of sodium.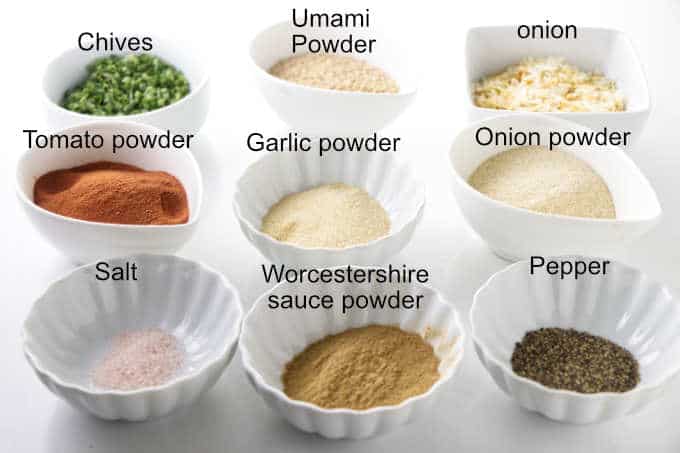 Healthy onion soup mix from scratch
This is an easy recipe to make even though the ingredients are a bit uncommon. Make a large batch and store it in an airtight container so you can use it in all your recipes. It is a healthy way to add instant flavor to everything.
Here are the ingredients you will need:
Dried minced onions
Umami powder
Dried onion powder
Tomato powder
Dried Worcestershire sauce powder
Garlic powder
Salt
Dried chives
The chives are optional. Some of our taste testers felt like the chives added to the onion-like flavor and others thought that it did nothing but add color.
How to make this seasoning mix
This is the easiest recipe ever. Just two steps.
Mix all the ingredients together.
Store in an airtight container.
The mix will last for 6 to 8 months if you store it correctly.
How much homemade onion soup mix is equal to a packet?
Three tablespoons is equivalent to 1 packet of storebought onion soup mix.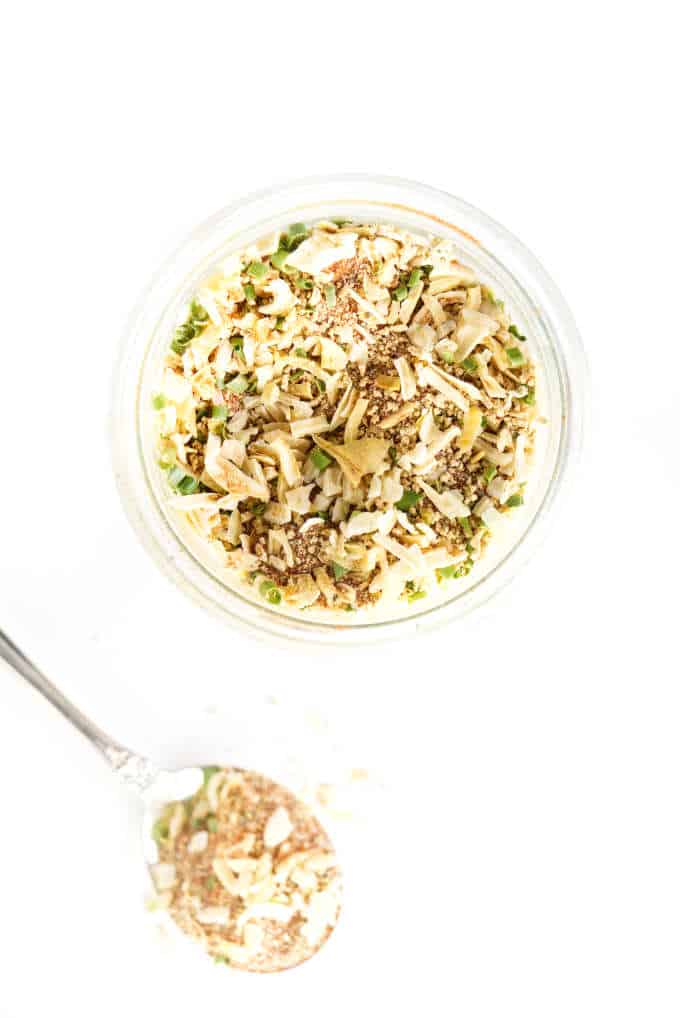 SOME OTHER RECIPES WE ARE SURE YOU WILL LOVE:
We love keeping great flavor enhancers in our pantry. This Cajun seasoning mix is a great, all-purpose dry rub. Store it next to your onion soup mix for a quick seasoning.
Caramelized onions are amazing. They are another way to make any dinner into an extraordinary meal. We have all the tips to make them just right.
Our French onion soup casserole has all the flavors of French onion soup and it is easy to serve to a crowd.
CONNECT WITH SAVOR THE BEST!
Be sure to follow us on our social media accounts
Facebook * Instagram * Pinterest * Twitter * Youtube
Did you make this recipe? We would love to hear from you. Drop us a comment below.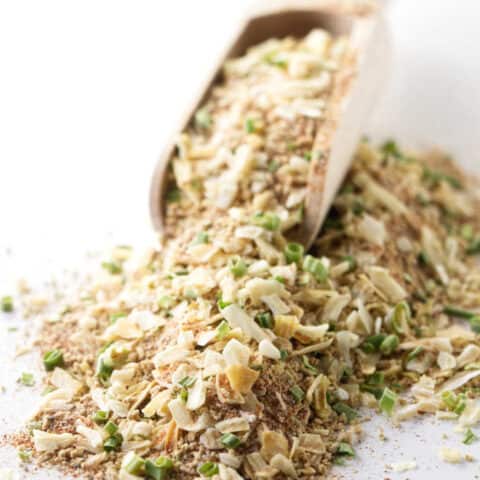 Homemade Onion Soup Mix
Yield: 21 tablespoons
Prep Time: 5 minutes
Total Time: 5 minutes
This homemade onion soup mix is lower in sodium and healthier than the storebought version. Thanks to some special ingredients, it is big on flavor.
Ingredients
1/2 cup dried minced onions
1/4 cup Umami powder
3 tablespoons onion powder
3 tablespoons tomato powder
1 tablespoon Worcestershire sauce powder
1 tablespoon garlic powder
1 teaspoon black pepper
1/4 teaspoon salt
Optional: 1 tablespoon dried chives
Instructions
Combine all the ingredients and store in an airtight container.
Three tablespoons is equivalent to 1 package of storebought onion soup mix.
Nutrition Information:
Yield: 21
Serving Size: 1
Amount Per Serving:
Calories: 8
Total Fat: 0g
Saturated Fat: 0g
Trans Fat: 0g
Unsaturated Fat: 0g
Cholesterol: 0mg
Sodium: 34mg
Carbohydrates: 2g
Fiber: 0g
Sugar: 0g
Protein: 0g
Nutrition information is a guideline only, is calculated automatically by third-party software, and absolute accuracy is not guaranteed.