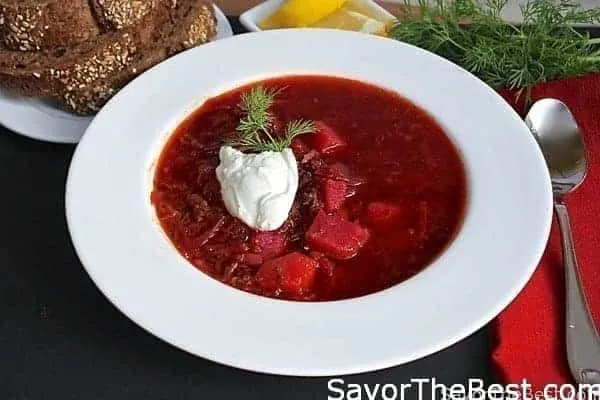 As I am writing this the television is going in the background with screaming crowds and screeching announcers from Sochi, Russia. The Sochi 2014 Winter Olympics are in full force and Don has been glued to the television as often as possible. Right now the luge is going and there is such excitement. Our favorite is the ice figure skating and ice dancing. It is so graceful and beautiful! I hate to see one take a fall on the ice but they jump right up like it never happened.
So, in light of the Sochi Olympic games, I thought a borscht soup would be in order. Borscht soup actually originated in Ukraine but it is popular throughout Eastern Europe with many variations.
It can be served hot or cold, with or without meat. In Sochi, Russia at the 2014 Winter Olympics over 70,000 gallons of this bright, ruby red soup is being served.
Last summer I planted a short row of beet seeds and I later discovered that I did not plant enough. When they grew to about the size of a golf ball I began pulling them up and cooking them.
Beets have a natural sweetness to them and I like them prepared so that they still have a little crunch to them. I have roasted some and used them in salads, sautéed them in butter and, just like my mom used to do when I was growing up I made some beet pickles.
Mom would always add peeled hard-boiled eggs to the bright red liquid in the pickle jar after the pickles had been eaten. As I said, I did not plant enough and by the time I had harvested to the end of the short row they had grown to about the size of a tennis ball.
I know that the greens are supposed to be tasty and full of nutrition but after trying them once I just have not been excited enough to try them again. This year I will plant a couple rows of beets. The produce guy at the market told me that beets keep for about a month if you just wipe the dirt off but not wash them and wrap each one in a paper towel and store them in the refrigerator.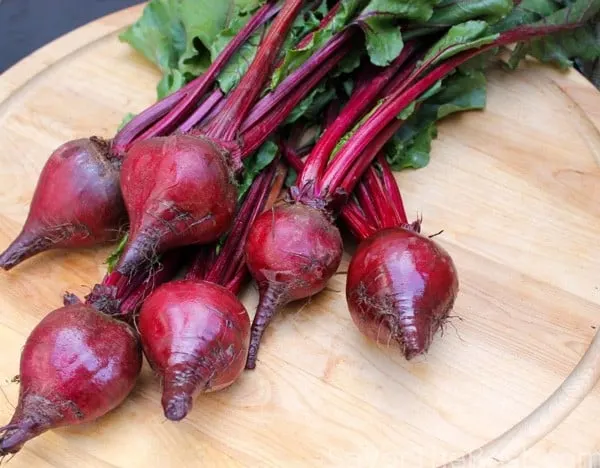 And now, from Russia with Love….I give you borscht soup, a ruby-red soup with beets as the main ingredient which gives the soup its distinctive color.
Borscht is the highlight of a Russian meal and the secret to a great borscht is in the homemade stock and by using fresh beets. A good chunk of dark rye bread will be perfect with this soup!
This recipe has been adapted from the Foods and Cooking of Russia and Poland by, Elena Makhonko and Ewa Michalik.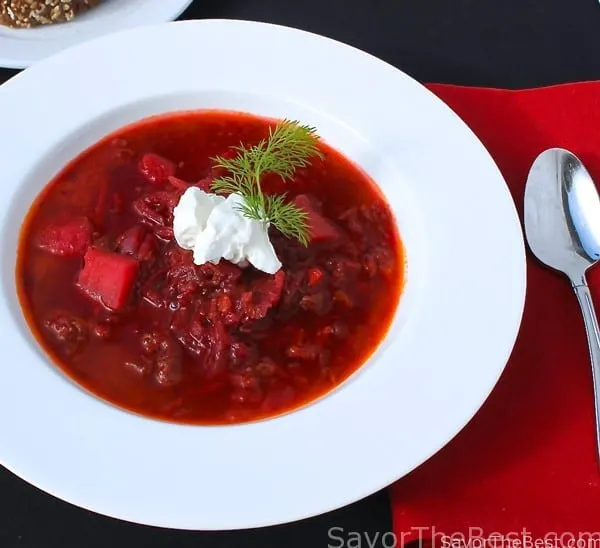 SOME OTHER RECIPES WE ARE SURE YOU WILL LOVE:
Cider braised pork tenderloin with apples
CONNECT WITH SAVOR THE BEST!
Be sure to follow us on our social media accounts
Facebook | Twitter | Youtube | Pinterest | Instagram
Did you make this recipe? We would love to hear from you. Drop us a comment below.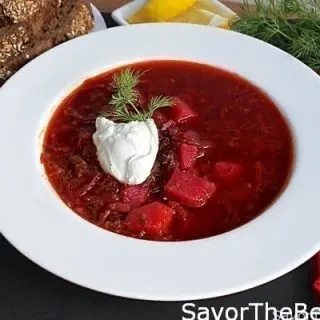 Borscht
Total Time:
2 hours
40 minutes
Beets are the primary ingredient in this soup which gives it a beautiful bright ruby-red color.
Ingredients
To make the stock:
2-1/2 pounds of beef on the bone, (I used chuck roast and 2 morrow bones)
12 cups water
1 carrot
1 parsnip
1 celeriac
1 onion
2 bay leaves
4-6 peppercorns
2-4 fresh parsley stalks
1 teaspoon sea salt
1/2 teaspoon fresh black pepper
For the soup:
2 pounds fresh beets, scrubbed of soil
1 cup cubed carrots (9 oz.)
2 cups shredded cabbage (12 oz.)
2 cups cubed white potatoes
2 medium onions, sliced
3 tablespoons tomato paste
1 tablespoon sugar
Garnish
8 tablespoons sour cream
4-8 tablespoons snipped dill
2 lemons cut into wedges
Instructions
To make the stock:
To a large stock pot add beef and bones, the water, carrots, parsnips, celeriac, onion, bay leaves, peppercorns, parsley, salt and pepper. Bring to a boil, reduce heat, cover and simmer for two hours. Remove the vegetables and discard them and reserve the liquid. Transfer the meat and bones to a cutting board and allow to cool enough to handle. Remove any meat from the bones and dice or chop all the meat into pieces. Discard the bones.
To make the soup:
Add the beets to the stock, bring to a boil and simmer 20 minutes or until the tip of a sharp knife slides into the beets with some resistance. Remove the beets from the soup pot and transfer to a plate to cool.
Add the carrots, cabbage, potatoes and onions to the stock, bring back to a boil and reduce the heat to simmer. Cook 15-20 minutes.
While the vegetables are cooking grate the cooled beets. I used the large grate attachment to my food processor to grate them. When the vegetables are tender add the beets and meat to the stock with the tomato puree, sugar and salt. Simmer for 10 minutes and serve immediately.
To serve, pour soup into shallow bowls, top with 1 tablespoon sour cream and a sprinkling of the dill. Accompany each serving with a lemon wedge.
Notes
The soup stock can be made earlier and put in the refrigerator to allow any accumulated fat to surface, harden and be removed.
Nutrition Information:
Yield:

8
Serving Size:

1 cup
Amount Per Serving:
Calories:

344
Total Fat:

8g
Saturated Fat:

3g
Cholesterol:

60mg
Sodium:

433mg
Carbohydrates:

25g
Fiber:

6g
Sugar:

16g
Protein:

35g