Sourdough blueberry muffins are luscious and soft and tender! They're bursting with juicy blueberries and have an added depth of flavor from the sourdough that just can't be beat. Enjoy these tasty sourdough muffins as a delicious and portable breakfast or snack.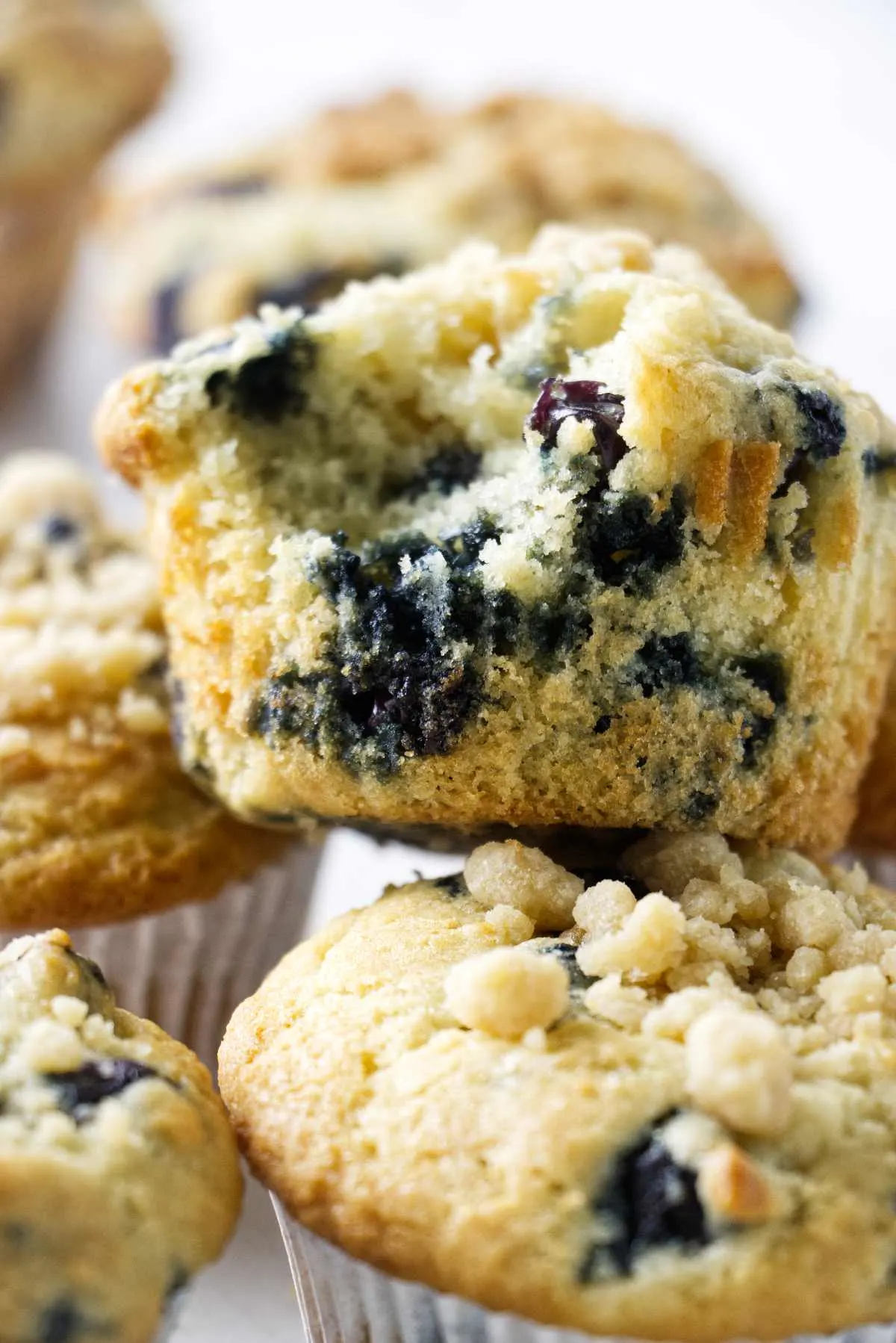 We know a good blueberry muffin and have quite a few recipes to choose from here on Savor the Best. There's our Banana Blueberry Muffins recipe, our Blueberry Spelt Muffins and Sour Cream Blueberry Muffins, among others.
But as we've found new and exciting ways to use up leftover sourdough starter, we've come to discover that the distinct, tangy flavor of sourdough will make nearly any baked good infinitely tastier! This recipe for sourdough discard muffins is proof (and so are our Baked Sourdough Cake Donuts, Sourdough Blueberry Scones and Fudgy Sourdough Brownies).
The Best Blueberry Muffins with Sourdough Discard
Fresh blueberries become extra sweet and juicy baked into the sourdough discard muffins. This easy recipe is a great way to use leftover sourdough discard from your active sourdough starter. If you don't have one, you can check out our full post on how to make a Wild Yeast Sourdough Starter.
Sourdough blueberry discard muffins come together in a large bowl and in almost no time at all! Here's why this recipe works:
The fluffy sourdough discard muffins have a bold blueberry flavor!
It's a great way to enjoy blueberry season but is also simple to make year-round.
They make a wonderful breakfast, brunch item or afternoon snack!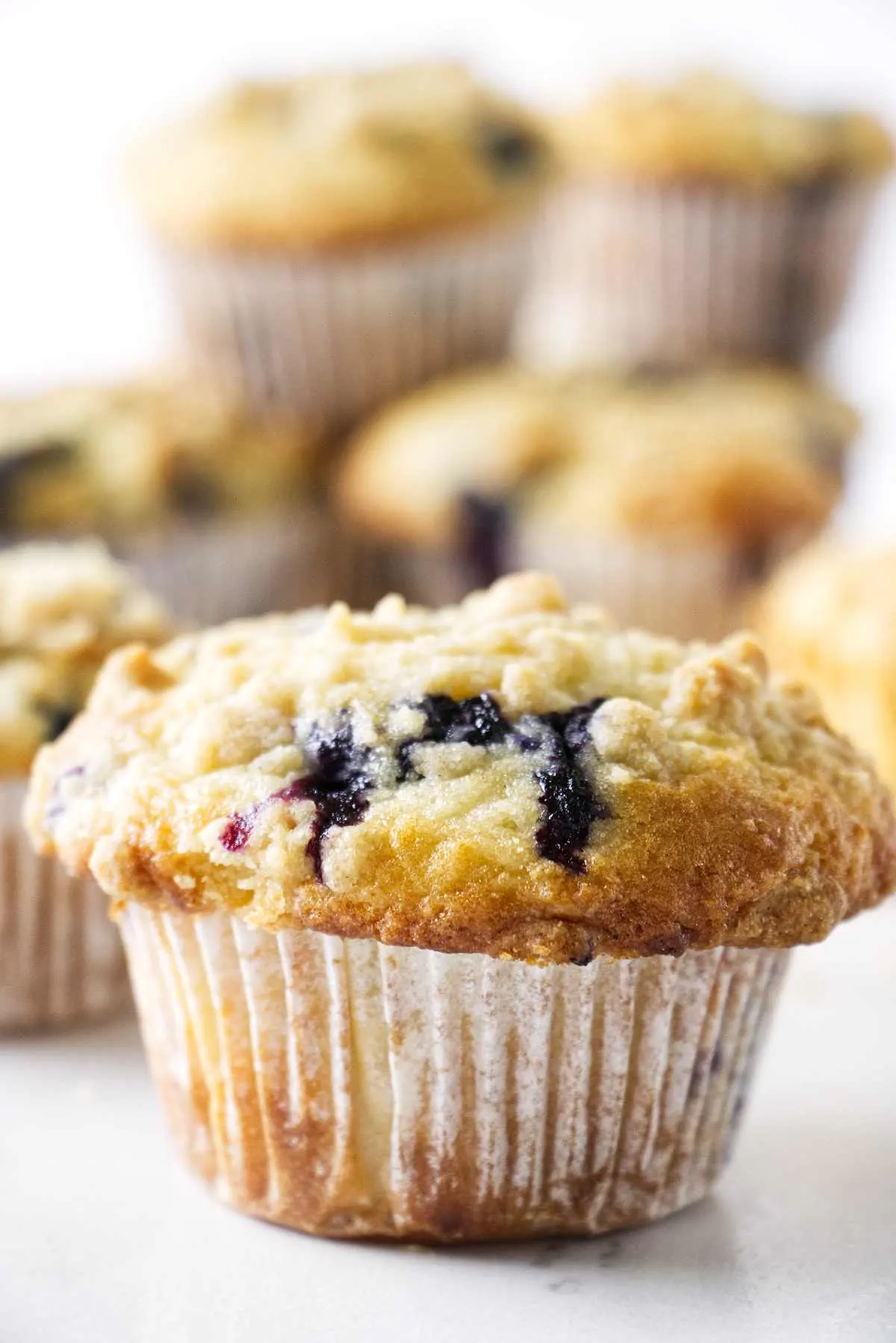 Ingredient List for Sourdough Blueberry Muffins
Here's a look at the items you will need to make this sourdough blueberry muffin recipe.
Streusel crumble. ​A simple mix of brown sugar, all-purpose flour, softened butter and cinnamon.
All-purpose flour. ​The base ingredient for these muffins.
Baking powder and baking soda. ​For leavening to give you the perfect rise to the muffins.
Salt. ​Just a little bit will enhance the flavor of everything else.
Butter. The muffins have a rich, buttery flavor. Make sure to use butter that is softened to room temperature (no need for melted butter).
Sugar. ​Granulated sugar gives the muffins the perfect amount of sweetness.
Eggs. ​Room temperature eggs will ensure all of the ingredients encorporate well.
Sourdough starter discard. ​The secret ingredient to the fluffiest, most flavorful blueberry muffins.
Sour cream. A little bit of sour cream gives the muffins an extra tender texture. Use full-fat for the best results.
Lemon zest. ​For the slightest amount of lemon-y tang!
Vanilla extract. A hint of vanilla flavor is a must.
Fresh or frozen blueberries. ​Either will work in this recipe which means it's a great one year-round.
You will also need a standard sized cupcake tin and paper liners for easy removal.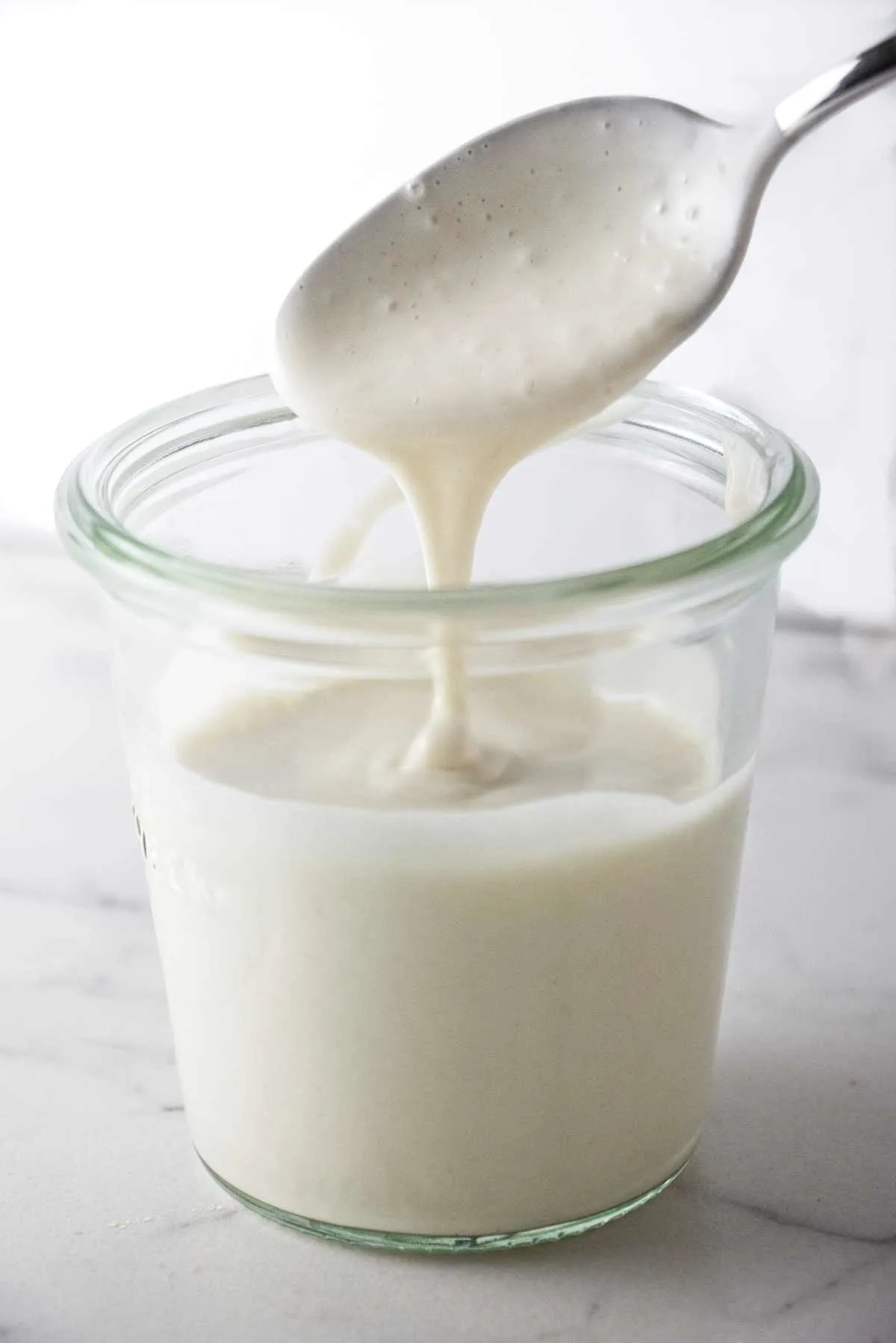 Bakery Muffin Recipe with Sourdough
Here's a look at the steps required to make the most delicious sourdough discard blueberry muffins! For the full ingredient list and all of the details, be sure to scroll to the bottom of the page to view the printable recipe card.
Before you begin: Preheat the oven and place liners into the pans. Combine the streusel topping ingredients and blend with a fork or pastry cutter. In a small bowl, sift together the flour, leavening, and salt. Set the flour mixture aside.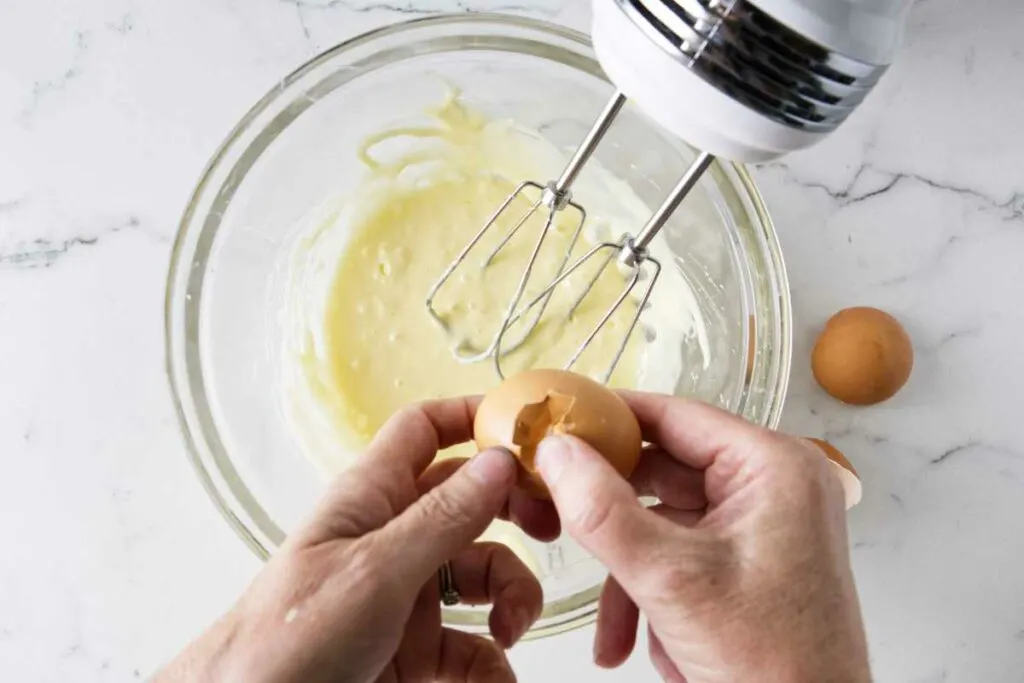 In a large mixing bowl, add the butter and sugar. Using an electric mixer (handheld or stand mixer), mix on medium-high speed until the mixture is pale yellow. Add the eggs one at a time.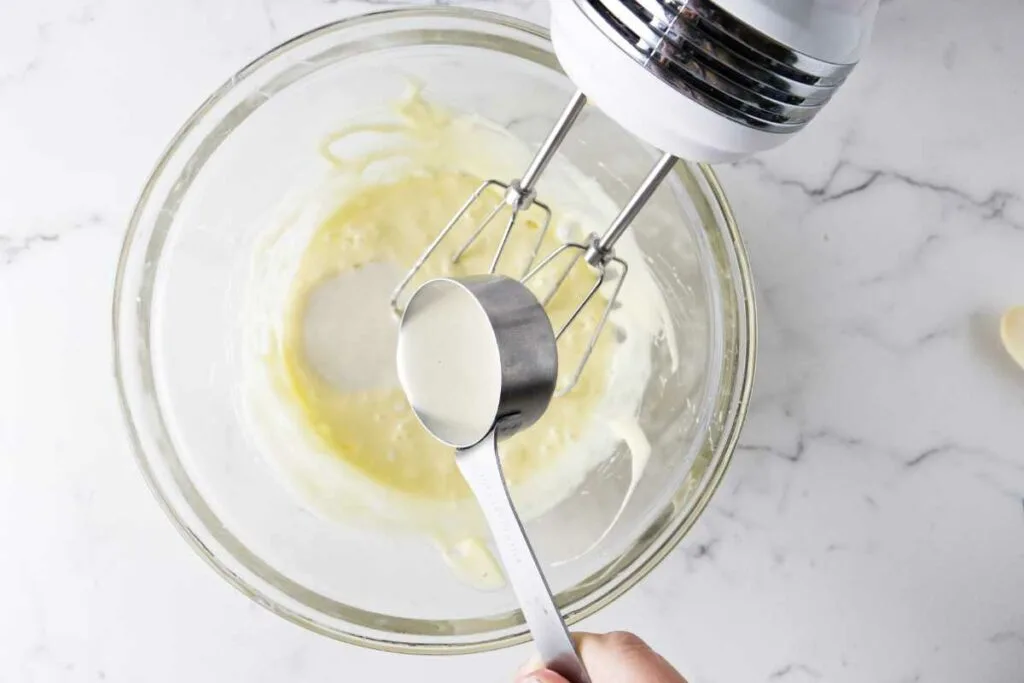 Add the wet ingredients- the starter, sour cream, lemon zest, and vanilla. Mix well.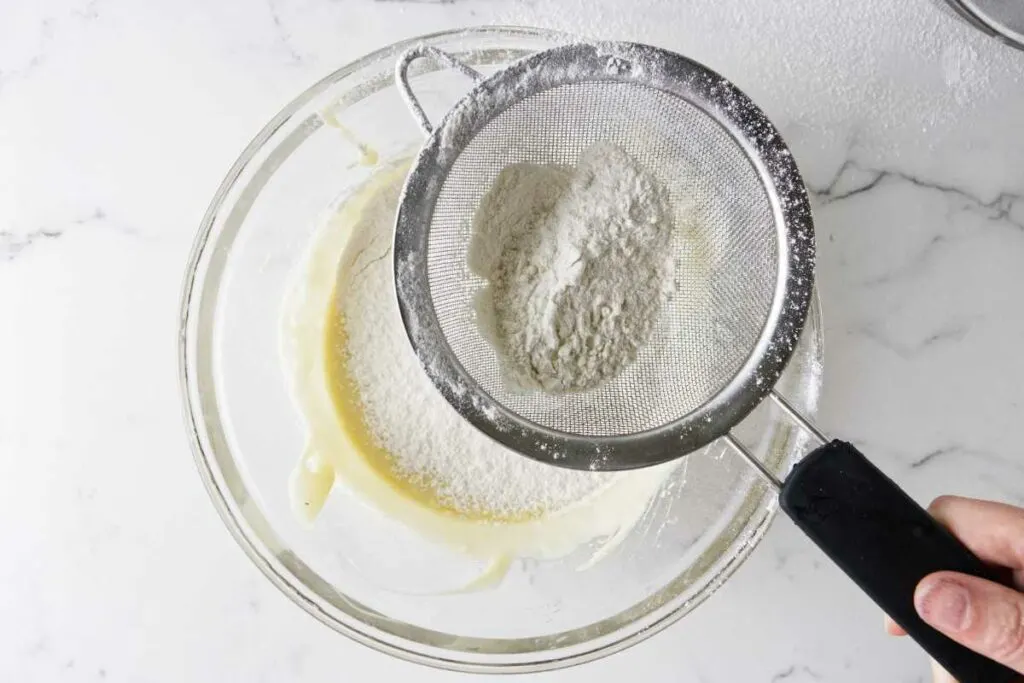 Pour the flour mixture into the batter and fold by hand.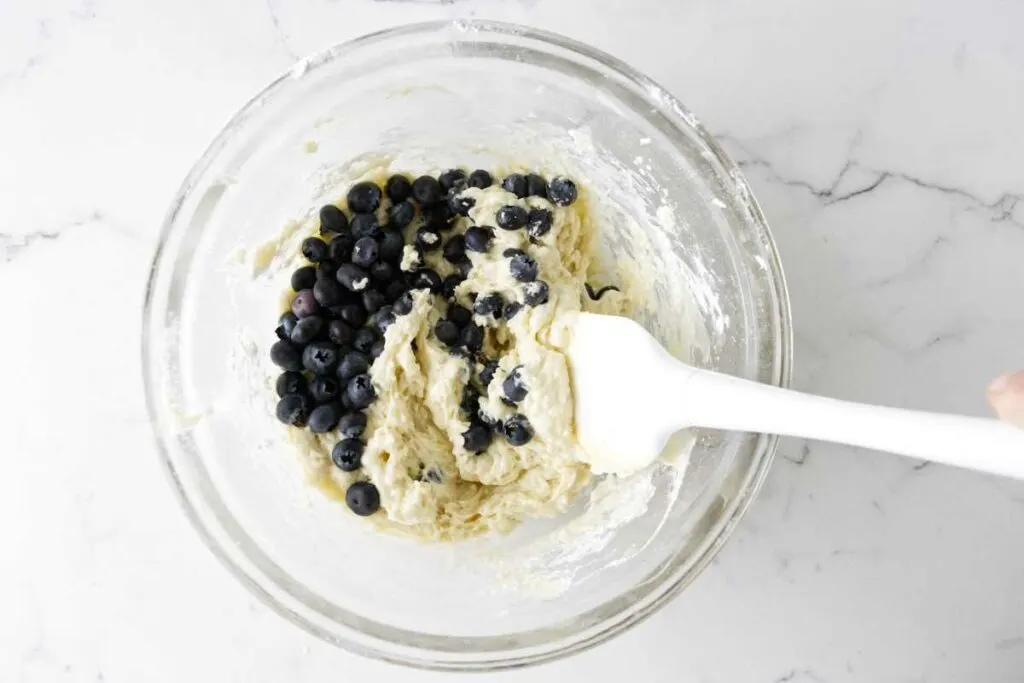 Use a spatula to gently fold the blueberries into the thick muffin batter.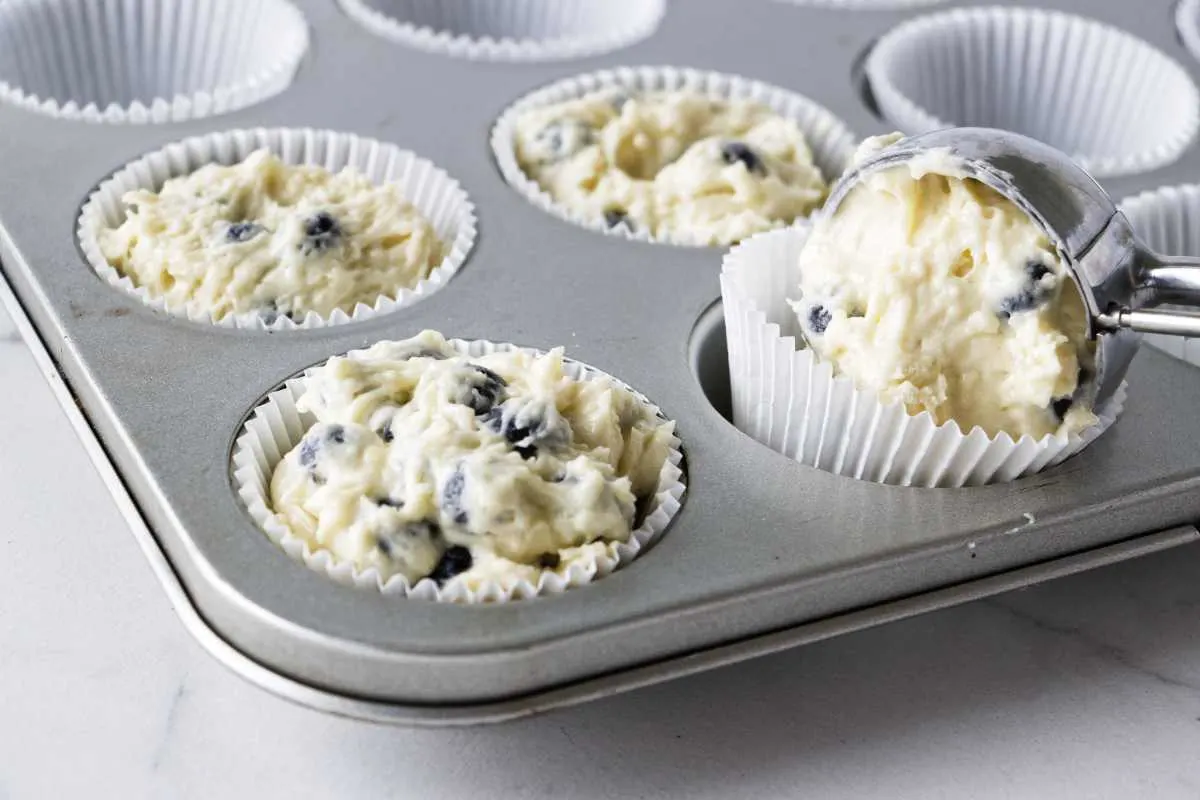 ​Scoop the batter into the pan and top each with the crumb topping. Bake for 5 minutes, then turn the oven temp to 350°F and continue baking until done. Cool the muffins on a wire rack.
Tips for Sourdough Muffins
You can mix the batter 8-12 hours in advance and let it ferment in the fridge before baking. The longer fermentation time will give the muffins more of a tangy sourdough flavor.
Use room temperature ingredients for the best results. If the eggs are cold, you can place them in a bowl of warm water for about 5 minutes to quickly take the chill off.
I like to use an ice cream scooper to scoop the batter into the muffin cups. This ensures that the muffins are around the same size.
Greek yogurt is a great substitute for sour cream and will increase the amount of protein in the muffins.
For a less sweet muffin, reduce the sugar in the recipe to 3/4 cup.
Fold the flour mixture into the batter with a wide spatula and don't stir the batter too much. A few lumps are okay.
If you have extra large blueberries, consider tossing them in a little flour before adding them to the batter. This helps suspend the blueberries in the batter and will prevent them from sinking to the bottom. Since this batter is thick, the berries won't sink easily but extra large ones might.
Store leftover blueberry muffins in an airtight container or covered in plastic wrap at room temperature for up to five days.
For extra precise measuring, we recommend using a kitchen scale, especially when it comes to measuring the flour. If you use a measuring cup, fluff the flour first, then use a spoon to lightly spoon the flour into the cup.
The hot burst of air during the first five minutes of baking helps create taller muffins. Make sure you don't forget to turn down the temperature after 5 minutes!
You can use frozen or fresh blueberries. If you use frozen blueberries, do not thaw them first. Just toss them in the batter while frozen. That way the juices won't turn the muffins purple.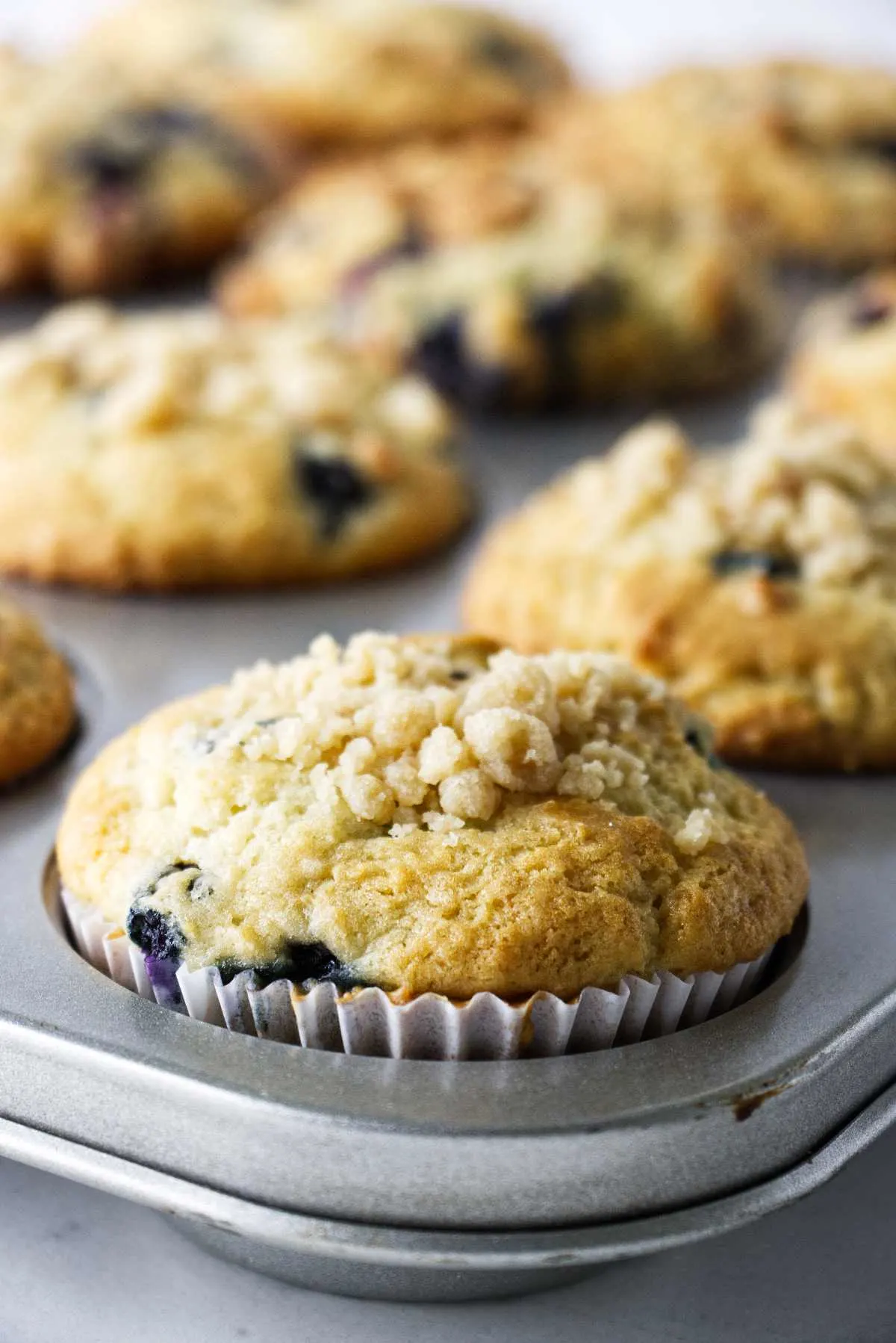 Recipe Variations
Sourdough muffins are wonderful because the starter lends a unique depth of flavor. Here are some recipe variations
Swap the lemon zest for orange zest and add 1/2 teaspoon of extract.
Let your starter ferment overnight for a deeper sourdough flavor.
Incorporate 1-2 teaspoons of dried culinary lavender (ground or finely chopped) to the batter for a floral twist.
Add 1/2 teaspoon of almond extract to the batter and slivers of almonds to the streusel.
Fold in ½ cup of white chocolate chips or chunks to your batter.
More Sourdough Recipes
There are so many wonderful things to do with sourdough discard! Every time you refresh your starter, instead of throwing away the leftover unfed starter, you can put it to use in all kinds of delicious sourdough recipes.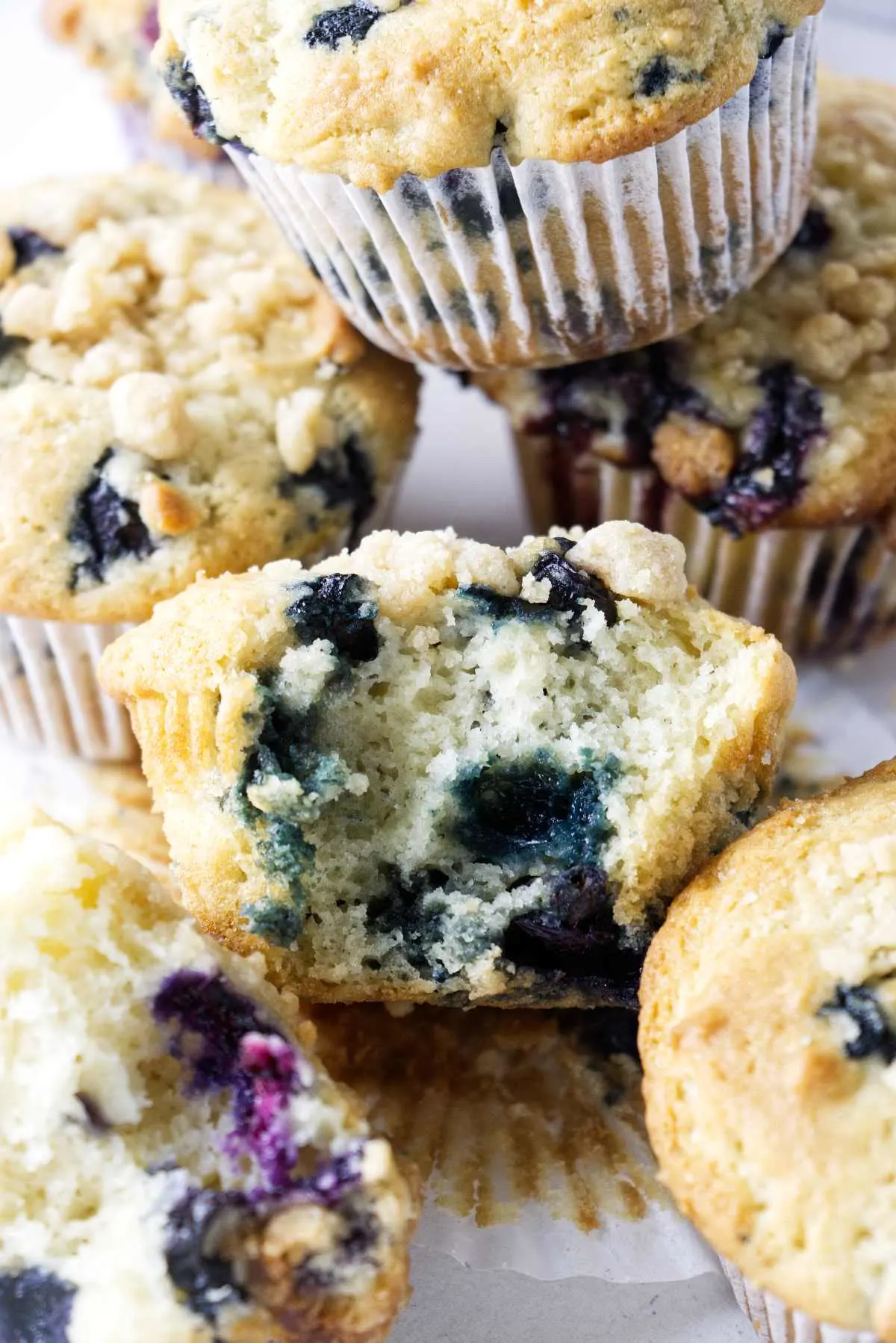 ⭐️ Helpful Tools
Here are some handy baking tools for these muffins. Some of the following are affiliate links. We may receive a small commission if you click on these links and purchase something. You don't pay any extra, but it will help us keep the lights on.
More Recipes You Will Love:
Strawberry Rhubarb Muffins are so tender and tasty and packed with flavor, you'll be craving them all summer long! And if you like this, try our strawberry white chocolate muffins.
Chocolate Chip Muffins with Toffee Crumb Streusel create the perfect flavors of chocolate and toffee with tender muffins. These muffins not only work as breakfast or an after school snack, but they can also double as dessert!
This Blueberry Coffee Cake Cheesecake recipe combines two classic desserts into one tasty treat! The coffee cake texture is filled with a creamy cheesecake and is bursting with juicy blueberries baked in. Enjoy it for brunch, dessert or a special mid-day treat.
Connect With Savor the Best:
Please follow us on our social media accounts
Facebook * Instagram * Pinterest * Youtube * Twitter
Did you make this recipe? We would love to hear from you. Drop us a comment below.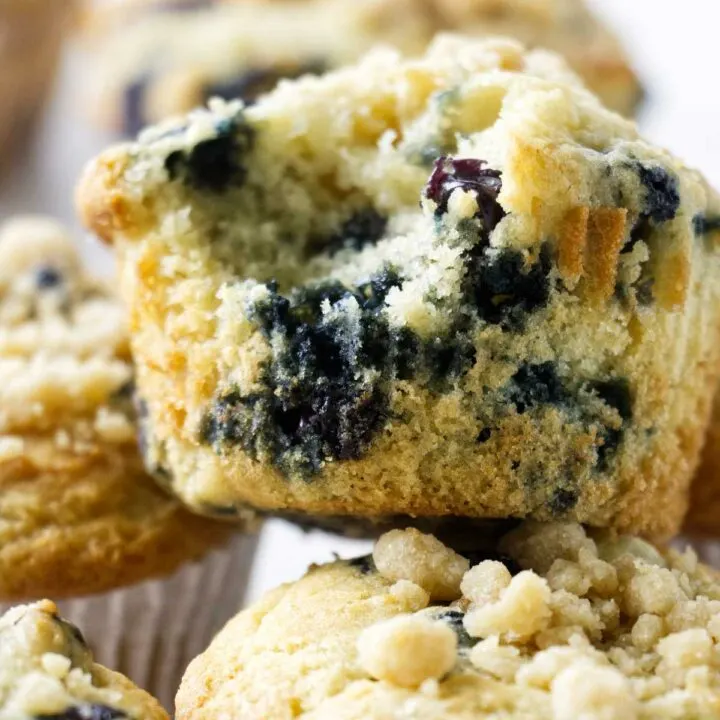 Sourdough Blueberry Muffins
These sourdough blueberry muffins are soft, tender, and bursting with juicy blueberries. They are easy to make, and the addition of sourdough gives them an added depth of flavor that can't be beat! These muffins make for a delicious breakfast or snack any time of day!
Ingredients
Streusel topping
½ cup brown sugar (105 grams)
¾ cup all-purpose flour (120 grams)
6 tablespoons butter, softened
2 teaspoons cinnamon
Muffin Batter
1-¾ cups all-purpose flour (210 grams)
1-½ teaspoons baking powder
1 teaspoon baking soda
¾ teaspoon salt
8 tablespoons (1 stick) butter, softened
1 cup sugar (200 grams)
2 eggs, room temperature
½ cup sourdough starter discard
¼ cup sour cream (60 grams)
zest of 1 lemon
1-½ teaspoons vanilla extract
1-½ cups fresh or frozen blueberries
Instructions
Preheat the oven to 425° (you will turn the temp down after the muffins bake for 5 minutes). Place 15 cupcake liners into muffin pans.
Streusel topping
Combine the streusel-topping ingredients in a bowl and blend with a fork or pastry cutter until the mixture looks like coarse sand. Set aside.
Muffin Batter
In a small bowl, sift together the flour, baking powder, baking soda, and salt. Set aside.
In a mixing bowl, combine the butter and sugar. Using an electric mixer, mix on medium-high speed until the mixture turns a pale yellow, about 4 to 5 minutes.
Add the eggs one at a time, blending each egg in and scraping the bowl down after each addition. Add the sourdough discard, sour cream, lemon zest, and vanilla, and mix well.
Add the flour mixture and fold by hand just until the flour is moistened. Using a spatula, gently fold in the blueberries. The batter will be thick.
Scoop the batter into the muffin pans (I used an ice-cream scooper) and top each muffin with the streusel topping. Bake for 5 minutes then turn the oven down to 350°F and bake for another 12 to 15 minutes or until you can stick a toothpick in the middle of the muffin and it comes out clean.
Cool on a wire rack.
Notes
You can mix the batter 8 to 12 hours in advance and let it ferment in the fridge prior to baking. The longer fermentation time will develop more flavor and make them more "tangy".
Start with room temperature ingredients for best results. If the eggs are straight out of the fridge, place them in a bowl of warm water for about 5 minutes. That will get them close to room temperature pretty quickly.
You can swap Greek yogurt for sour cream.
Full-fat sour cream will make the muffins more tender than reduced-fat sour cream.
For a less sweet muffin, you can reduce the sugar to 3/4 cups without adversely affecting the texture of the muffins.
When you combine the flour with the butter and egg mixture, make sure you fold the ingredients gently with a wide spatula. Don't stir the batter too much. It is ok if there are a few lumps.
Sometimes it helps to toss the blueberries in a little flour before adding them to the batter. When they are coated in flour, they suspend in the batter and don't sink to the bottom. This batter is pretty thick, so the berries don't sink easily. However, extremely large blueberries will tend to sink to the bottom.
Nutrition Information:
Yield:

12
Serving Size:

1
Amount Per Serving:
Calories:

248
Total Fat:

8g
Saturated Fat:

4g
Trans Fat:

0g
Unsaturated Fat:

3g
Cholesterol:

49mg
Sodium:

320mg
Carbohydrates:

42g
Fiber:

1g
Sugar:

25g
Protein:

4g
Nutrition information is a guideline only. It is calculated automatically by third-party software, and absolute accuracy is not guaranteed.
These are perfect for a Mother's Day brunch. Check out our Web Stories here.