Rich and fudgy, these sourdough brownies are the ultimate chocolate-y treat! The addition of sourdough starter to the brownie batter gives the brownies a deeper flavor and keeps them extra moist for days. A gooey, chewy center combined with a deliciously shiny and crackly top are requirements of every good brownie. And not only does this recipe deliver, but it's a wonderful way to use sourdough starter discard.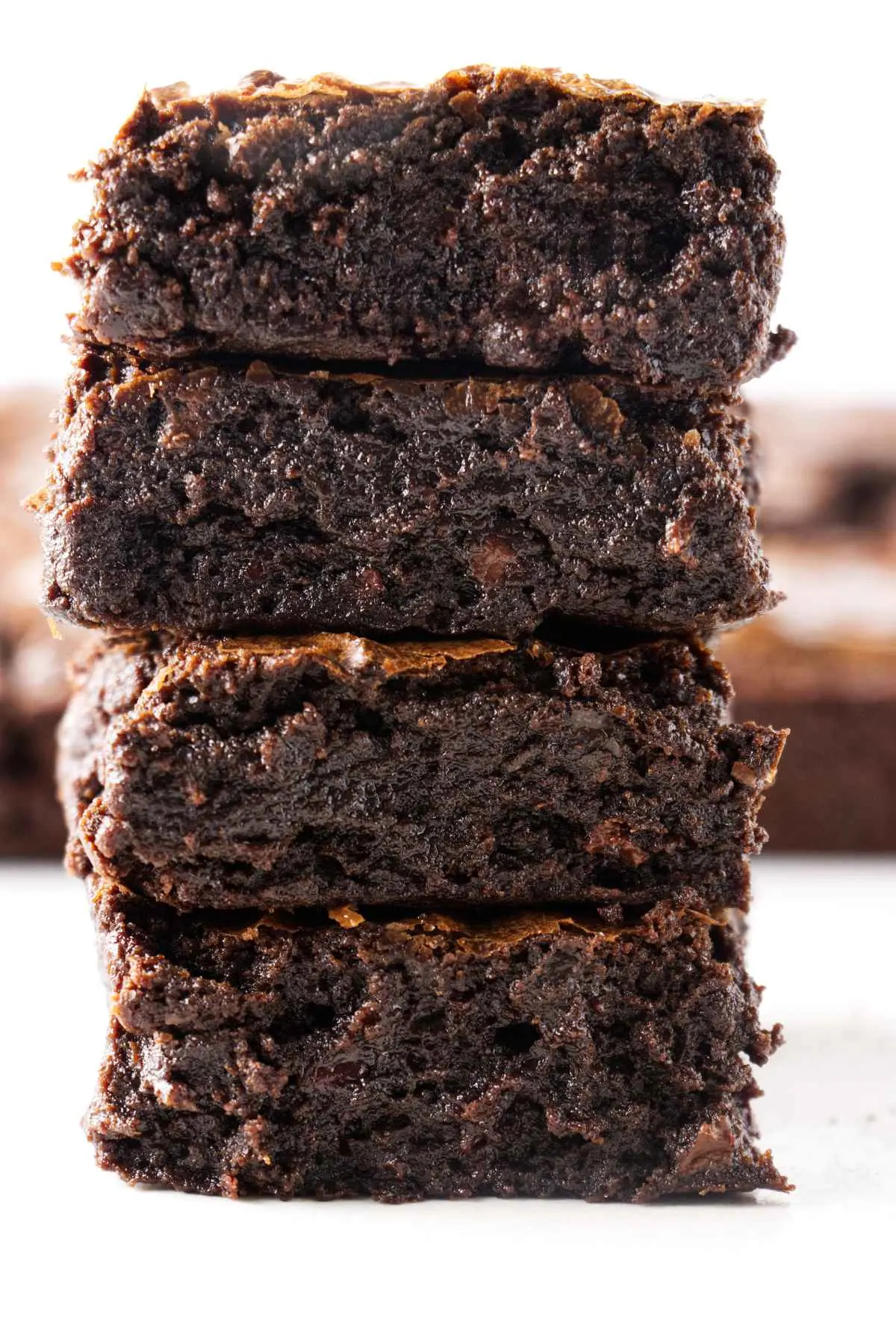 Sourdough Brownies
Fudgy brownies with a rich chocolate flavor and the distinct tang of that natural yeast flavor? A chewy, tender brownie that is melt-in-your mouth delightful? This fudgy sourdough brownie recipe has so much going for it, we can't quite pinpoint what we love most.
Here's the main point: you'll get some of the most delicious brownies ever!
We have quite the collection of sourdough discard recipes, like our Sourdough Blueberry Scones, Sourdough Banana Bread and even this savory Sourdough Stuffing.
These easy sourdough brownies are the latest way we've played around with excess sourdough discard and the result is unmatched.
We might even love them more than regular brownies, although it's hard to say since our Triple Chocolate Brownies and our Brownies with Cream Cheese Frosting are both pretty top-notch and hold their own in our favorite brownie lineup.
And our condensed milk brownies are so simple.
Why This Recipe Works
Sourdough starter discard adds just the right among of moisture and flavor. This is a delicious way to make downright perfect brownies with your extra sourdough discard. Plus, two different types of chocolate- semisweet chocolate and cocoa powder- give these an extra rich depth of flavor.
The recipe also calls for melting the butter with the sugar which gives the brownies a shiny, crackly top and keeps them extra chewy in the middle.
​You can easily whip up a batch when your chocolate cravings hit. And fair warning: once you try a bite of these sourdough brownies, those chocolate cravings might just be a little more frequent than usual. 😉
​Our sourdough brownies are:
fudgy, chewy and tender with an intense chocolate flavor
an easy recipe that delivers incredible results
a tasty spin on traditional brownies.
Ingredients for Sourdough Brownies
Here's an overview of the ingredients you'll need to make these homemade sourdough brownies! Be sure to scroll to the bottom of the page to view the full recipe card.
Unsalted butter. One of the key ingredients to getting extra tender, rich and buttery brownies!
Granulated sugar. It's just the right amount of sweetness to offset the bitter chocolate.
Semi-sweet chocolate. We recommend using a semisweet chocolate bar and chopping it.
Cocoa powder. Make sure to use unsweetened cocoa powder for this recipe!
Sourdough starter. The main ingredient that sets this apart from regular brownies. If you don't have sourdough discard, check out our full post for a Wild Yeast Sourdough Starter.
Eggs. Use large eggs, preferably at room temperature which helps them incorporate well into the batter.
Vanilla extract. For a light and subtle hint of vanilla.
Flour. All-purpose flour is all you need here (no cake flour or other special flours required).
Salt. A must-have ingredient for flavor!
Espresso powder. While this is an optional ingredient, the rich taste of espresso helps to intensify the chocolate. Highly recommended!
Baking powder. For leavening. Baking powder is all you need to get that perfect rise.
Chocolate chips. Another optional ingredient but it's certainly tasty, especially if you want an extra layer of chocolate. You can go with dark chocolate, milk chocolate or semi-sweet chocolate chips.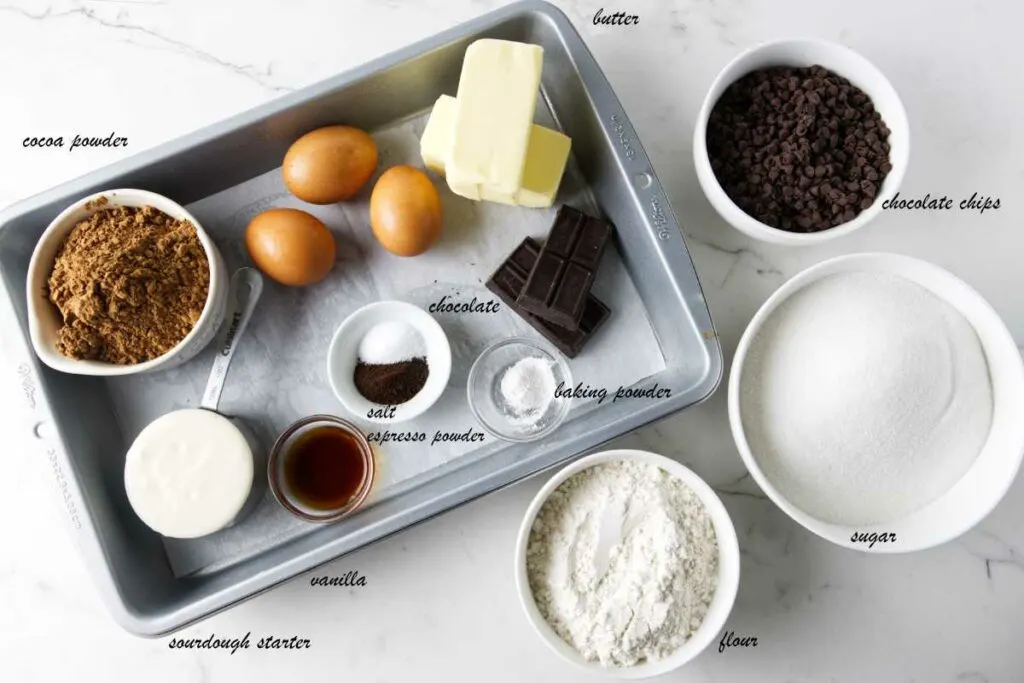 How to Make Sourdough Brownies
If you've ever made homemade brownies, you know how simple it is to create perfect brownies that just don't compare to the store-box mixes.
Here's a look at the process but be sure to scroll to the bottom of the page to view the printable recipe card, ingredient amounts, and all of the finer details: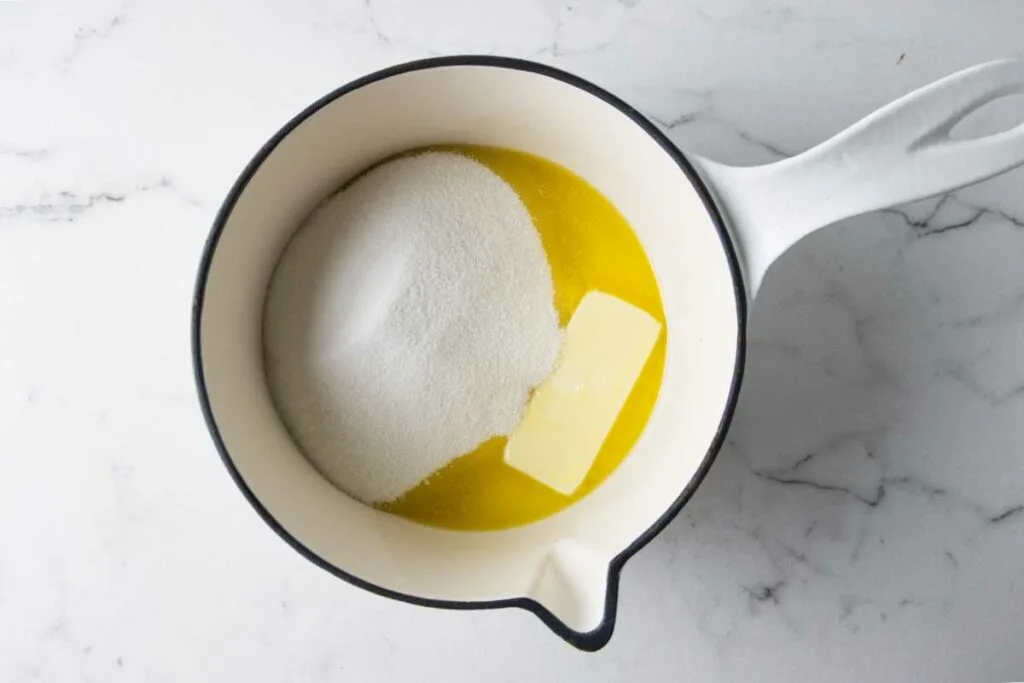 Place the butter and sugar in a saucepan and heat over medium heat until the butter melts. Cook it for 1-2 minutes to let the sugar dissolve.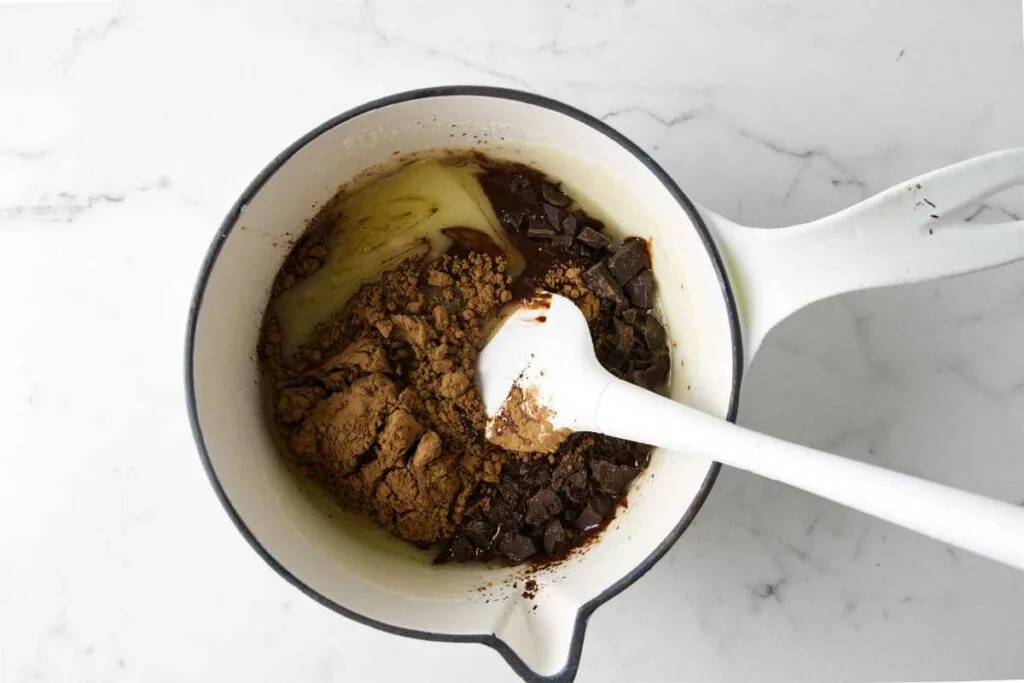 Remove from heat and toss in the chopped chocolate and cocoa powder. Stir well.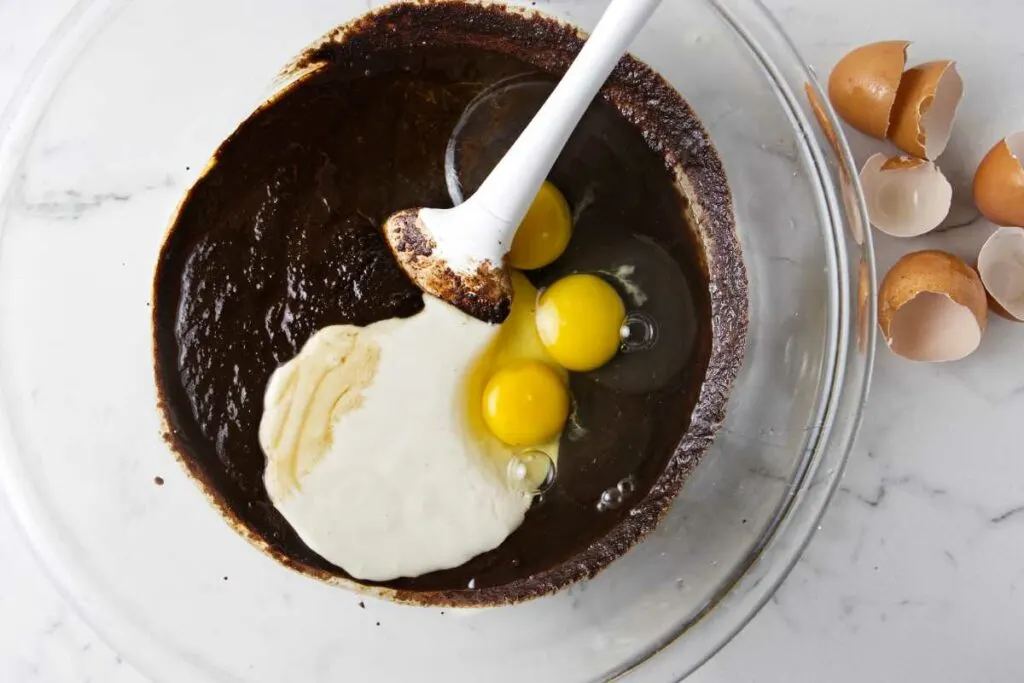 Transfer the chocolate mixer to a large bowl (or bowl of a stand mixer) and stir a few minutes to cool. Add the sourdough starter, eggs and vanilla and mix with a rubber spatula or wooden spoon.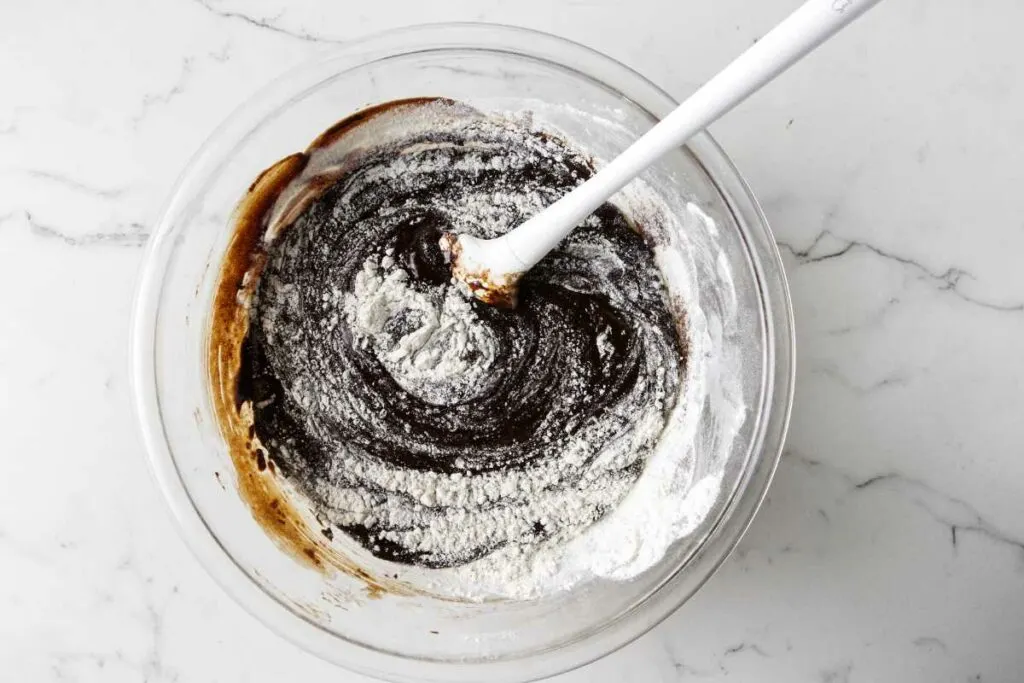 Sift in the dry ingredients- the flour, sea salt, espresso powder and baking powder- and stir the chocolate mixture until well combined. Mix in chocolate chips.
Spread the brownie batter into a prepared 13×9 pan and bake.
Don't forget to scroll to the printable recipe card below for all the details.
You'll know the brownies are done when the edges look set and the internal temperature is 185°F to 198°F (measured by an instant read thermometer).
Let them cool for a while in the pan (the hard part!) and then slice into equal squares.
Enjoy them plain or alongside a scoop of ice cream. They're also epic served up brownie sundae style, topped with Raspberry Sauce, Butterscotch Sauce or homemade Salted Caramel.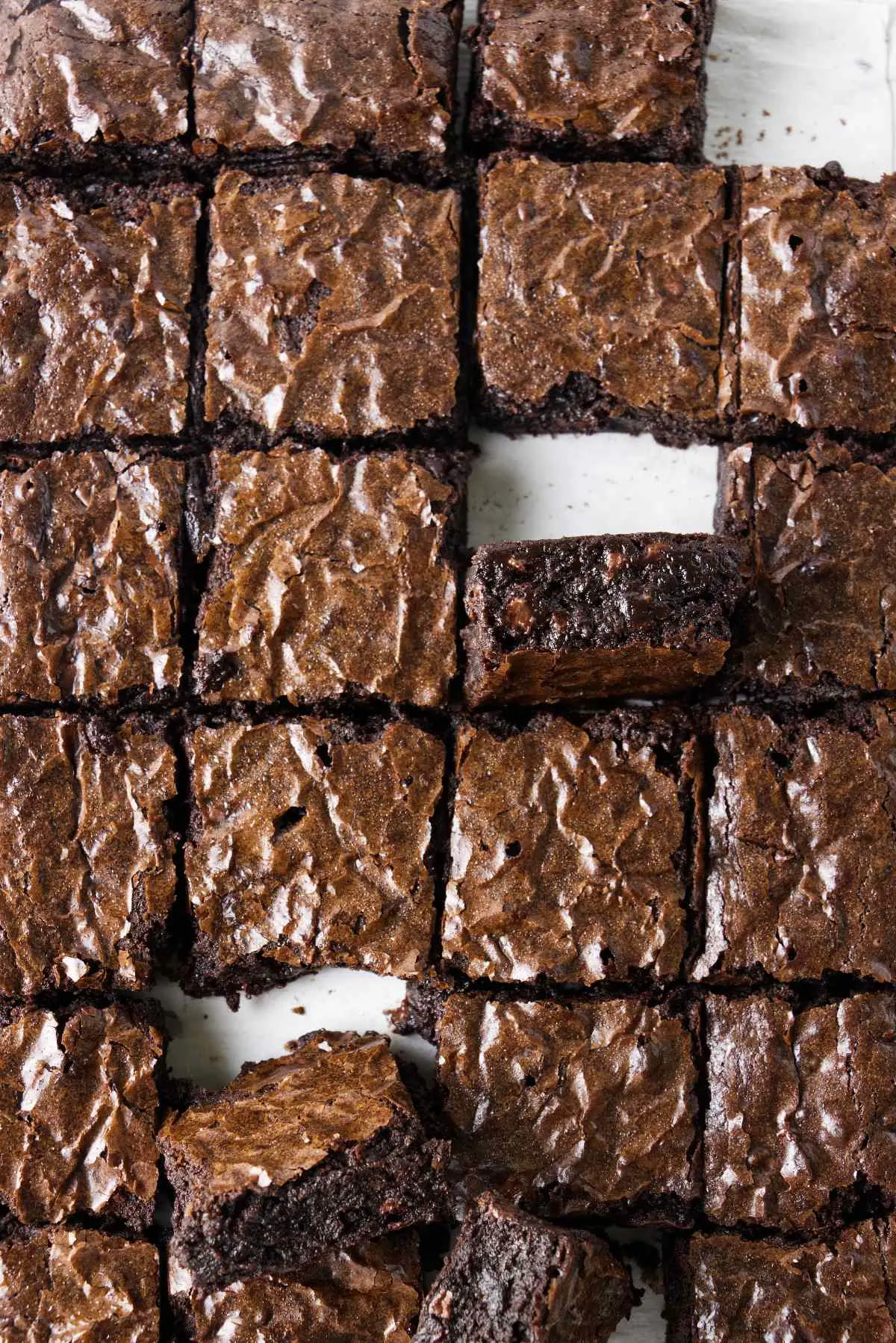 More Sourdough Recipes
There are so many wonderful things to do with sourdough discard! Every time you refresh your starter, instead of throwing away the leftover unfed starter, you can put it to use in all kinds of delicious sourdough recipes.
Tips for Success
In baking, the toothpick test is a go-to for checking to see when baked goods are done. While you can certainly use it for the brownies, a better way is to use an instant read thermometer. This is a more accurate way to test doneness without over-baking. If you prefer brownies to be a bit more soft and gooey in the center, you can remove them from the oven around 22 minutes.

Spray your baking pan with nonstick spray or line it with parchment paper for easy brownie removal.

Store leftover brownies at room temperature. You can cover them with plastic wrap or place cut squares in an air-tight container for up to 5 days. These fudgy sourdough brownies also freeze well! Store them in the freezer for up to 3 months.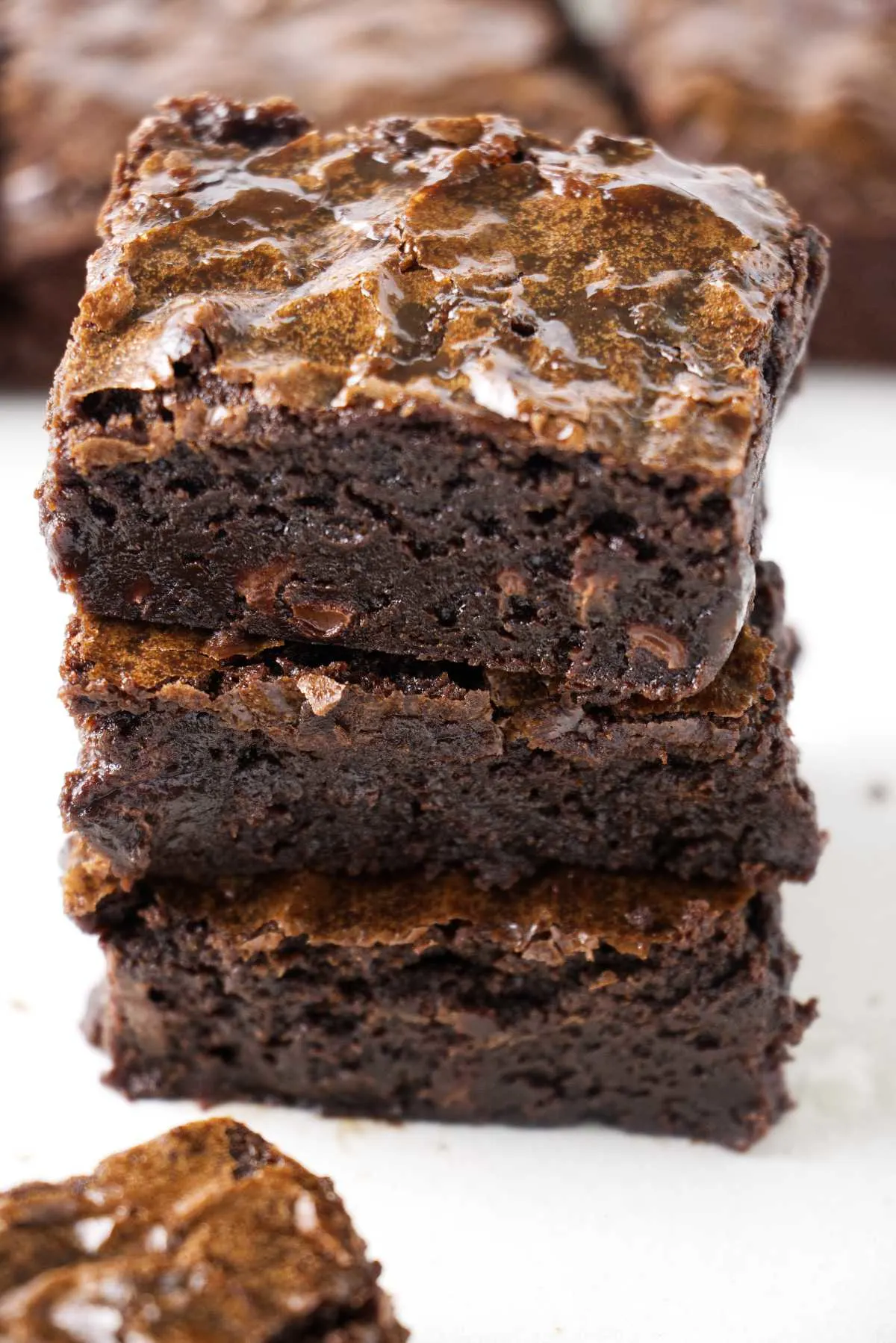 ⭐️ Helpful Tools
Some of the following are affiliate links. We may receive a small commission if you click on these links and purchase something. You don't pay any extra, but it will help us keep the lights on.
? More Recipes You Will Love:
Gluten Free Banana Cookies are soft and tender with a cake-y texture. They're so simple to make and are the perfect way to make use over overripe bananas! Toss in your favorite add-ins for extra flavor and texture!
Sourdough Scones with Discard are sure to be some of the tastiest scones you've ever had! The recipe is simple to make and easy to adapt- you can mix in your favorite flavor additions like chocolate chips, chopped nuts or dried fruit.
Sourdough Donuts, need we say more? 😉 Sweet and tender and coated with a delicious glaze (three types to choose from!), this sourdough discard recipe takes homemade donuts to the next level. They are light and airy and the perfect balance of sweet with tangy sourdough.
Connect With Savor the Best:
Please follow us on our social media accounts
Facebook * Instagram * Pinterest * Youtube * Twitter
Did you make this recipe? We would love to hear from you. Drop us a comment below.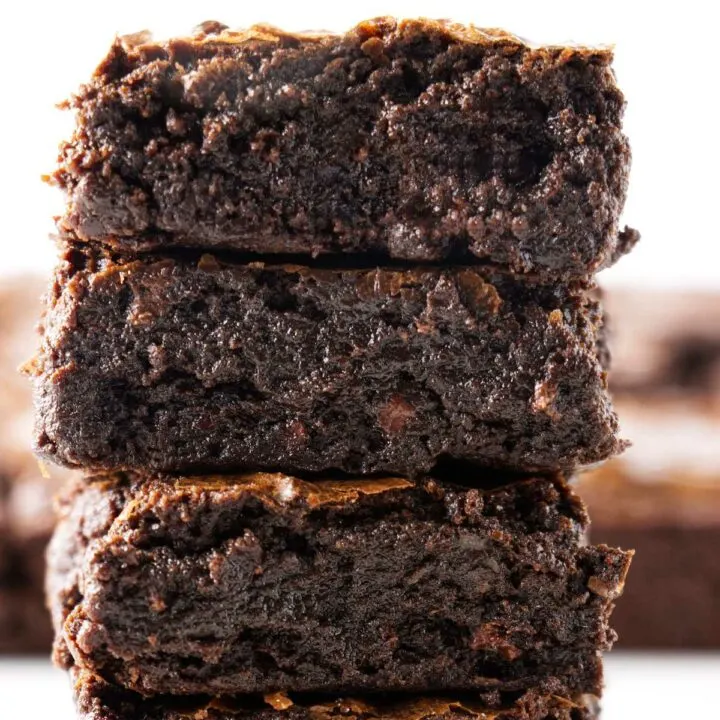 Sourdough Brownies
These sourdough brownies are rich, fudgy, and loaded with chocolate. The sourdough discard has extra acidity that gives the brownies a deeper flavor and helps them stay moist for days. Melting the butter with the sugar helps give the brownies a shiny top and chewy center. This recipe is a great way to use some of that sourdough discard and make some of the best brownies ever.
Ingredients
1 cup butter (16 tablespoons, 227 grams)
2-¼ cups granulated sugar (450 grams)
2 ounces semi-sweet chocolate, chopped (56 grams)
1 cup unsweetened cocoa powder (85 grams)
½ cup sourdough starter (120 grams)
3 eggs
1 tablespoons vanilla extract
1-¼ cups all purpose flour (150 grams)
1 teaspoon salt
1 teaspoon espresso powder (optional)
½ teaspoon baking powder
2 cups chocolate chips (optional)
Instructions
Preheat the oven to 350°F and line a 13 x 9 inch baking pan with parchment paper or spray it with non stick spray.
Place the butter and sugar in a saucepan and heat over medium heat until the better melts. Continue to cook over medium heat for 1 to 2 minutes (this will help some of the sugar dissolve and give the brownies a shiny top).
Remove from heat and toss in the chopped chocolate and cocoa powder. Stir until all the chocolate melts.
Transfer the chocolate mixture to a large mixing bowl and stir for a few minutes until it cools down slightly.
Stir in the sourdough starter, eggs, and vanilla extract. Place a sifter over the bowl and sift the flour, salt, espresso powder, and baking powder over the batter. Stir until well combined. Stir in the chocolate chips.
Spread the batter into the 13 x 9 inch pan and bake for 22 to 28 minutes or until the edges look set. If you have an instant read thermometer the center of the brownies will be 185°F to 198°F when done.
Notes
Store leftovers at room temperature in an airtight container for up to 5 days or freeze for up to three months.
Recommended Products
As an Amazon Associate and member of other affiliate programs, I earn from qualifying purchases.
Nutrition Information:
Yield:

24
Serving Size:

1
Amount Per Serving:
Calories:

203
Total Fat:

14g
Saturated Fat:

8g
Trans Fat:

0g
Unsaturated Fat:

5g
Cholesterol:

44mg
Sodium:

170mg
Carbohydrates:

20g
Fiber:

2g
Sugar:

13g
Protein:

3g
Nutrition information is a guideline only. It is calculated automatically by third-party software, and absolute accuracy is not guaranteed.