Our lentil turkey soup is perfect for a hearty and satisfying meal. The soup is packed with nutrients and fiber, making it a healthy option for lunch or dinner. You can make the soup with ground turkey or leftover turkey if you have some on hand.
This turkey lentil soup is perfect for a hearty and satisfying meal, and it is also great for meal prep if you want to make it a few days ahead of time.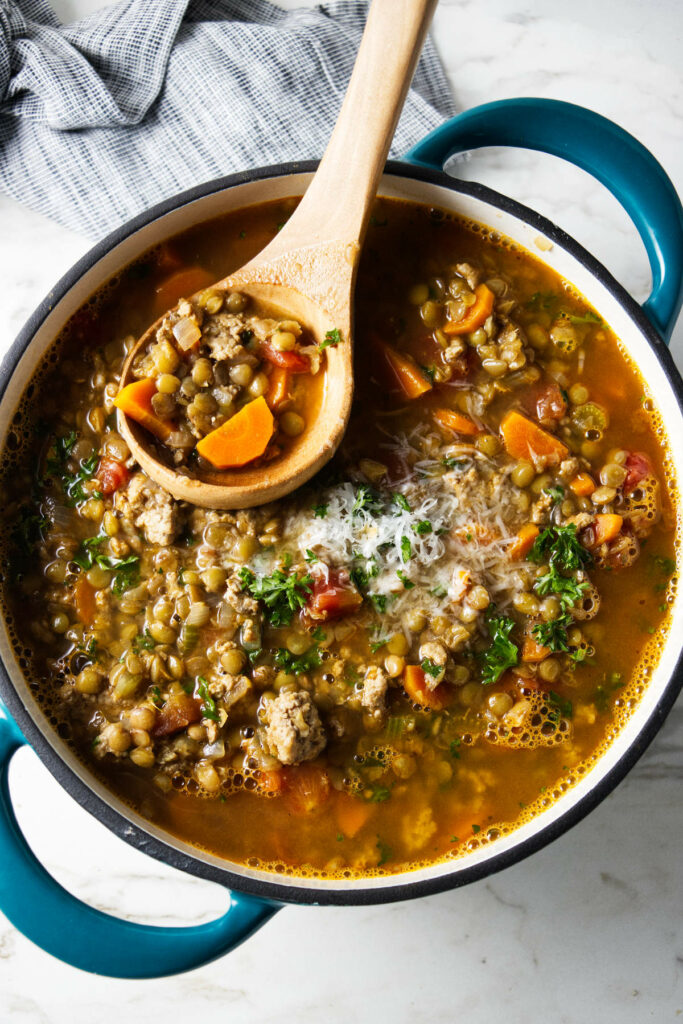 We love all the layers of flavor in this lentil turkey soup. It begins with a mirepoix, a combination of cooked carrots, onion, and celery. The soup also includes some of our favorite seasonings, such as fresh thyme, cumin, and bay leaves. You can smell and taste all the flavors in the broth, and the lentils and turkey give it added texture.
Why This Recipe Works
Lemon juice adds acidity to balance the flavors and give the soup a brightness.

Freezer-friendly recipe. Pack it in re-usable freezer containers and store it for up to 6 months. You may need to add a splash of broth to thin the soup down after it thaws.

It reheats easily and even tastes better the next day.

Lentil turkey soup is an easy one-pot meal. Just serve it with a side of focaccia bread or some hearty rye bread for dipping, and you've got a meal that will fill you up without weighing you down.

Budget-friendly meal, especially if you are feeding a crowd.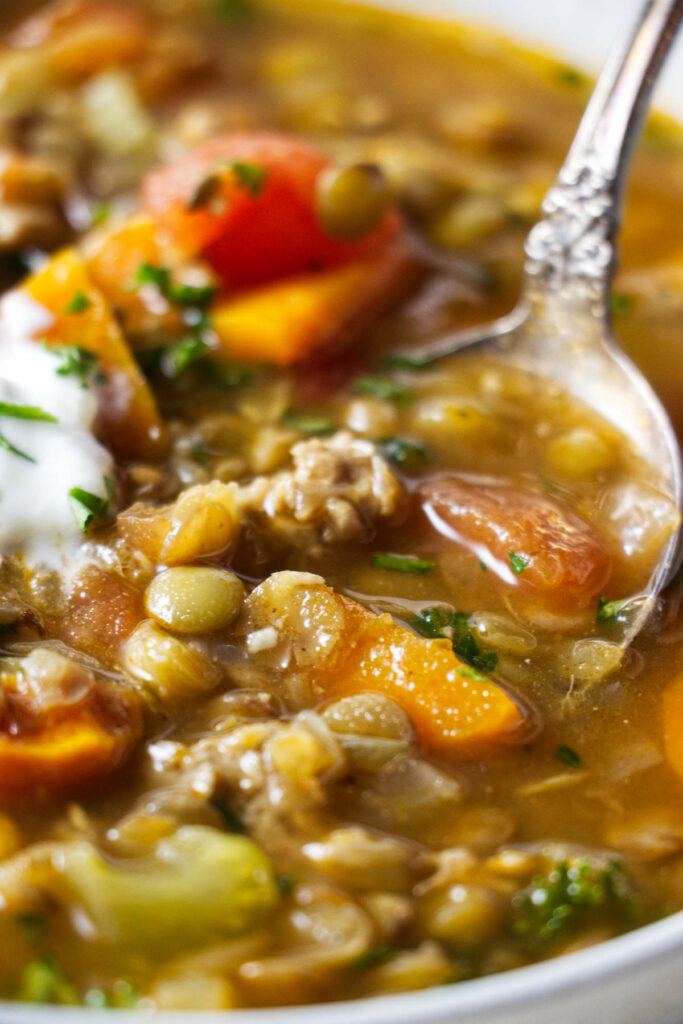 Ingredients Needed
Here is a list of the ingredients you will need for our lentil turkey soup recipe. Scroll down to the printable recipe card for all the details.
Ground or shredded turkey
Olive oil
Vegetables. Onion, carrots, celery, garlic.
Salt and ground black pepper
Tomato paste
Lentils
Diced tomatoes
Chicken broth
Herbs and spices. Fresh thyme, cumin, bay leaves, parsley.
Lemon juice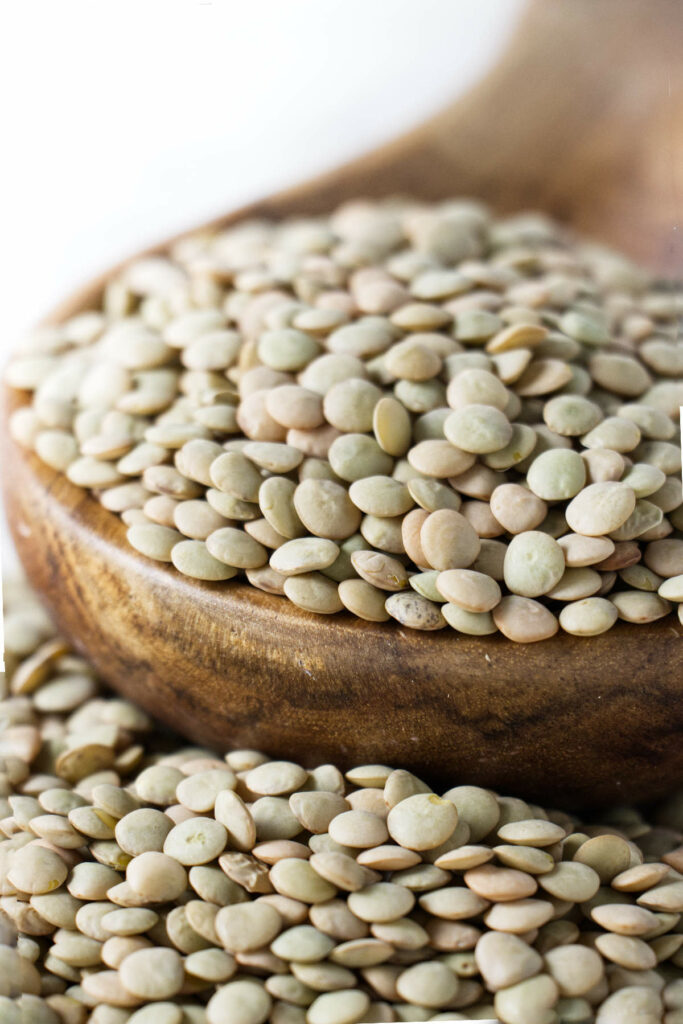 How to Make Lentil Turkey Soup
Here is a brief overview to get an idea of what to expect with the recipe, whether you use ground turkey or leftover turkey. Scroll down to the printable recipe card for all the details.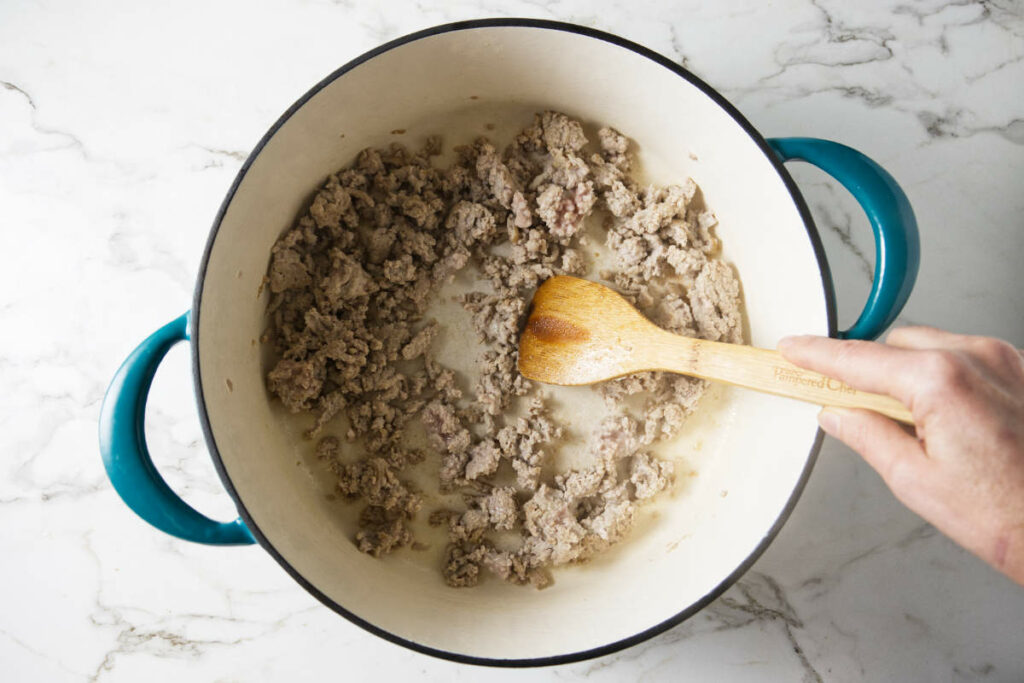 Brown the turkey. You can use raw ground turkey or start with leftover turkey from last night's dinner.
We used ground turkey in the photo above. If you use cooked turkey, you can add it in this step or when you add the broth.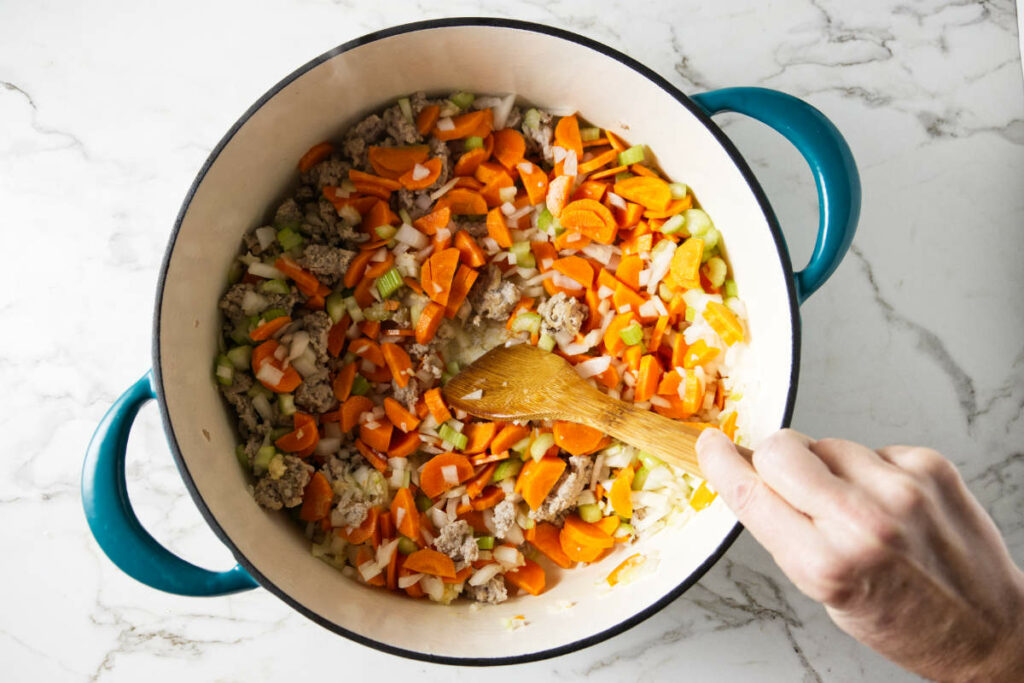 Toss in the vegetables and stir until they get slightly softened. Stir in the tomato paste until it coats the vegetables. You can also add additional vegetables like spinach or zucchini in this step.
Tip: We love adding a spoonful of harissa paste to the soup. It has a smokey, garlicky, spicy flavor that kicks the soup up a notch. If you use harissa, go easy with it, as some brands are much spicier than others.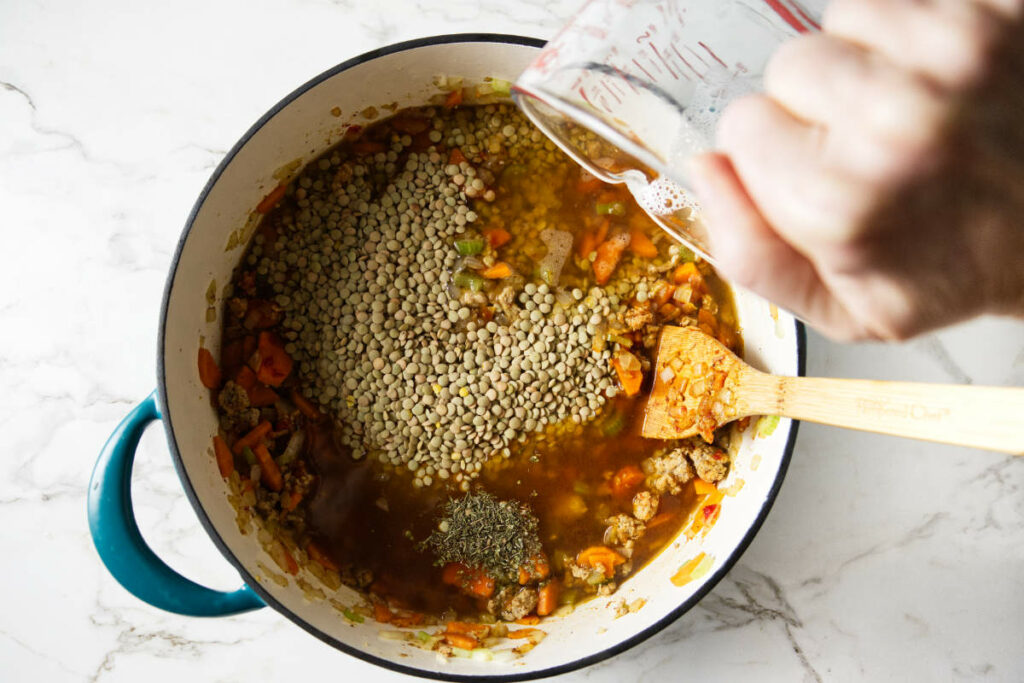 Toss in the lentils, broth, and spices. Simmer the soup until the lentils get soft.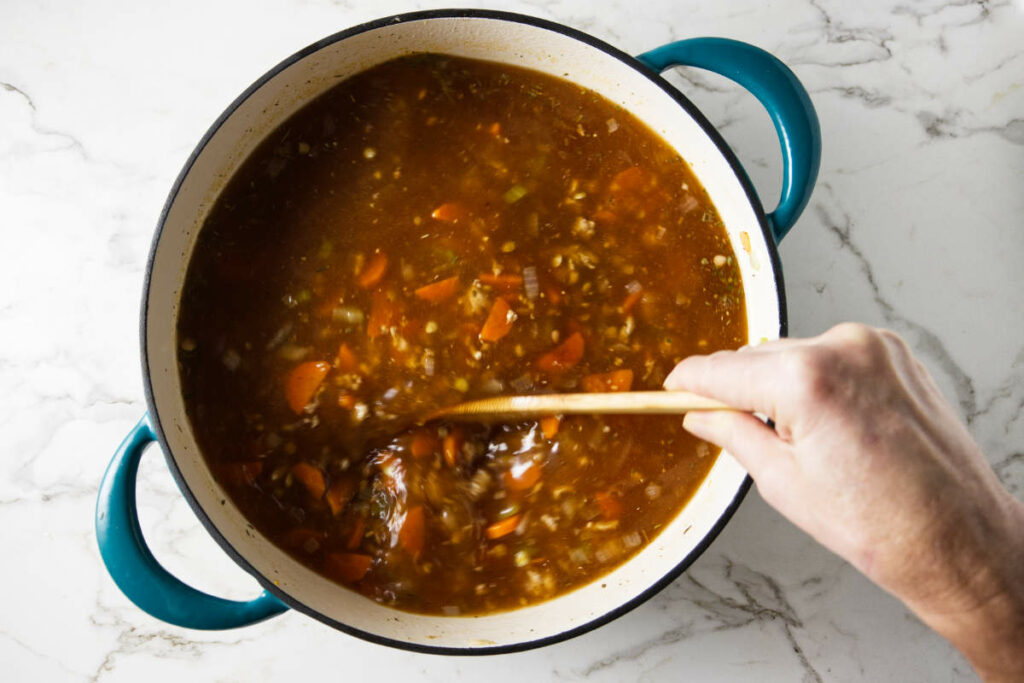 Stir in the tomatoes and the lemon juice then add a handful of freshly chopped parsley.
Tips for Success
Use pre-cooked turkey (shredded or diced) to cut down on your prep time (our smoked turkey adds a layer of smoky flavor).

You can add some Harissa paste for a more complex flavor and a bit of spicy heat.

Rinse the lentils before using them in case there is any debris.

Stir the diced tomatoes and lemon juice into the soup once the lentils finish cooking.

The cooking time will vary depending on the type of lentils you use. Red, yellow, and split lentils cook the fastest (as quickly as 15 minutes). Green and puy lentils can take as long as 45 minutes to get soft.

Leftovers are even better! You can store the soup in the fridge for up to 3 days or the freezer for up to 6 months. The lentils will soak up some of the broth, but you can add more chicken broth or vegetable broth to thin it down.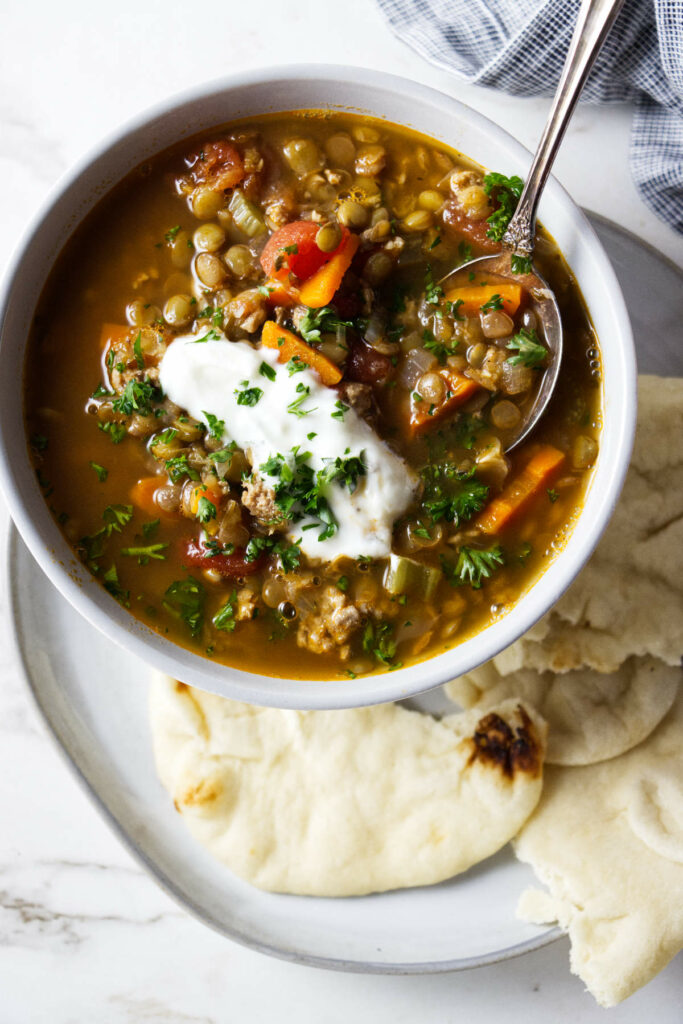 Frequently Asked Questions
Is turkey lentil soup good for you?
Yes! The turkey meat is a great source of protein and makes this soup low in fat. The lentils add more protein as well as fiber and minerals. However, this soup is not low in carbs. If you want a healthy, low-carb soup, try our lamb soup or our oxtail soup.
Which is healthier, lentils or rice?
Lentils are considerably healthier than rice due to their high protein and fiber content.
Which color lentil is best for soup?
We love this soup with any type of lentil. If you prefer that the lentils dissolve in your lentil turkey soup, use red lentils. On the other hand, green and darker-colored lentils retain their shape, adding texture.
Helpful Tools
Some of the following are affiliate links. We may receive a small commission if you click on these links and purchase something. You don't pay any extra, but it will help us keep the lights on.
Some Other Recipes We Are Sure You Will Love:
This 15-bean soup is hearty, filling, and full of flavor. This dish is full of healthy vegetables and various beans that taste great together. Serve it with some naan bread or Texas toast garlic bread.
This delicious lamb soup, full of savory vegetables and chunks of lamb, is the perfect meal to nourish your body and soul.
Our yellow pea soup is hearty and flavorful. Smoked ham hocks and a savory broth give it a rich, smoky flavor. Serve it with some homemade barley bread for a quick lunch or dinner.
Connect With Savor the Best:
Please follow us on our social media accounts
Facebook * Instagram * Pinterest * Youtube * Twitter
Did you make this recipe? We would love to hear from you. Drop us a comment below.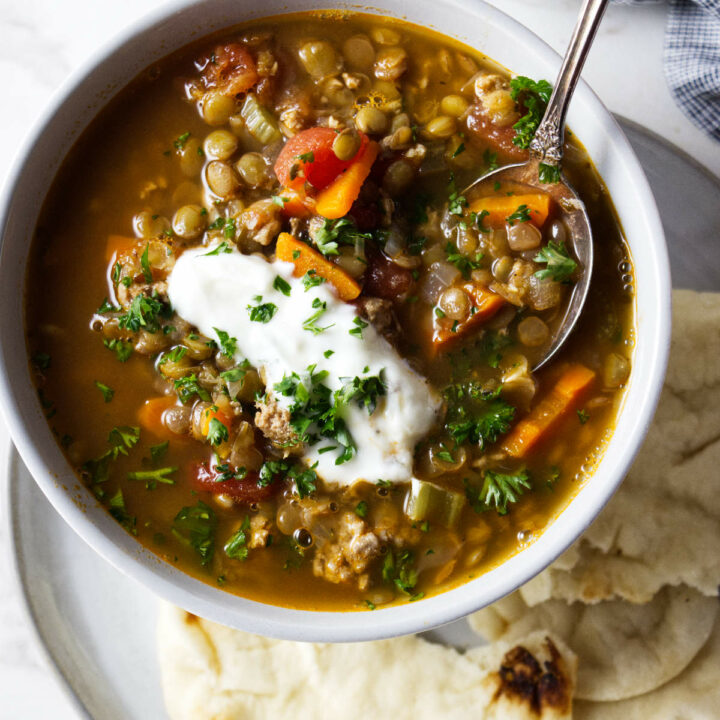 Lentil Turkey Soup
Total Time:
1 hour
25 minutes
A hearty, healthy, and delicious soup that is full of flavor with low-fat turkey and thick with veggies. You can use leftover turkey or start from raw, ground turkey.
Ingredients
2 tablespoons olive oil
1/2 pound ground turkey (or 1-1/2 cups shredded leftover turkey)
1 medium white onion, finely chopped
3 to 4 large carrots, finely chopped
2 celery stalks, finely chopped
2 cloves garlic, finely chopped
1-1/2 teaspoons salt
1/2 teaspoon ground pepper
3 tablespoons tomato paste
1 pound lentils, rinsed
12 cups chicken broth
2 tablespoons chopped fresh thyme
1 teaspoon ground cumin
2 bay leaves
2 cans of diced tomatoes (14 ounces each)
1/4 cup fresh chopped parsley
1 tablespoon lemon juice
Instructions
Heat the olive oil in a large soup pot set over medium heat. Once hot, add the ground turkey and cook for 2-3 minutes (if you are using leftover turkey, heat it for 30 to 60 seconds).
Add the onion, carrot, celery, garlic, salt, and pepper to the pot. Sauté until the vegetables are slightly soft, approximately 6 to 7 minutes. Add the tomato paste and stir to coat the vegetables and turkey.
Add the lentils, broth, thyme, cumin, and bay leaves and stir to combine. Increase the heat to high and bring just to a boil.
Reduce the heat to low, cover, and cook at a low simmer until the lentils are tender, approximately 20 to 35 minutes, depending on the type of lentils you have (if you are using split lentils, cooking time will only be 15 to 20 minutes).
Stir in the canned tomatoes and cook for 5 to 10 minutes until heated through. Stir in the parsley and lemon juice.
Notes
Before using the lentils, sort through them and make sure there are not any small pebbles in the lot. Give them a rinse under running water to wash off any debris.
The cooking time will vary depending on the type of lentils you use and how long they have been sitting on the shelf. Older, expired lentils can take considerably longer to soften.
A simmer is just below the boiling point. You should see small bubbles come to the surface when the soup is simmering. If you have the heat turned down too low, it will take longer for the lentils to get soft.
Another reason to avoid old, expired lentils is that they will lose their flavor over time. For the best flavor, use lentils that have not reached their expiration date and keep them stored in an airtight container.
Do not add the tomatoes and lemon juice until after the lentils get soft. The acid in the tomatoes and lemon juice can inhibit the lentils from cooking. The small amount of tomato paste has never impacted the cooking time of the lentils. (Contrary to some opinions, salt will not prevent the lentils from cooking).
You can freeze this soup in freezer-proof containers for up to 6 months. You may need to add a bit more broth when you thaw the soup.
Variations: add 2 cups diced zucchini or chopped spinach along with the carrots and celery. Swap out the ground turkey for turkey sausage. Stir in 2 to 3 tablespoons of Harissa paste when you add the tomato paste.
Nutrition Information:
Yield:

12
Serving Size:

1 cup
Amount Per Serving:
Calories:

254
Total Fat:

6g
Sodium:

1063mg
Carbohydrates:

30g
Protein:

20g
This post was originally published on September 24, 2014.