This Lettuce Salad with Shrimp is ideal for either a side dish or a light meal. It combines crisp lettuce, succulent shrimp, and fresh dill with a lemony dressing that doubles as a marinade for the shrimp. It is a healthy, nutritious salad that can be enjoyed any night of the week.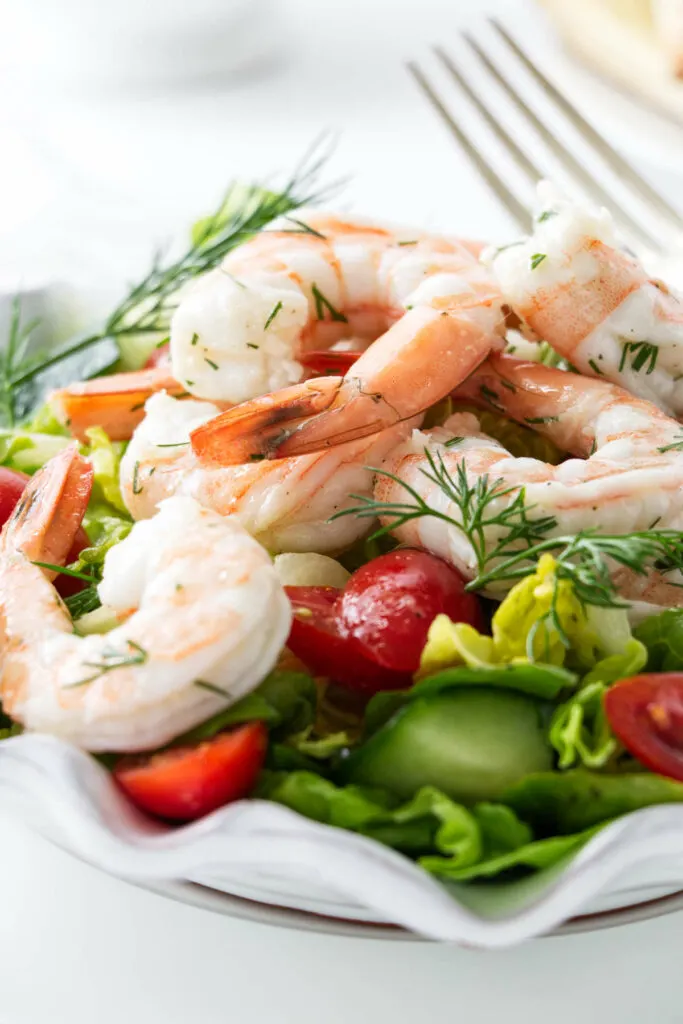 Shrimp is fast and easy to thaw and cook. It makes a fantastic protein when you need a quick meal like this salad or a heartier salad like our shrimp Louie.
Keep a package in the freezer for weeknight dinners like our pineapple shrimp fried rice or our shrimp diablo. It is also great for appetizers like shrimp cocktails and firecracker shrimp.
Why This Recipe Works
The shrimp adds a significant source of protein, making this dish an excellent choice for lunch or dinner.

The lettuce provides a bed of crunchy greens, while the shrimp adds a hint of sweetness and protein, making this salad satisfying yet light.

The best part is that you can make it in minutes with just a few simple ingredients.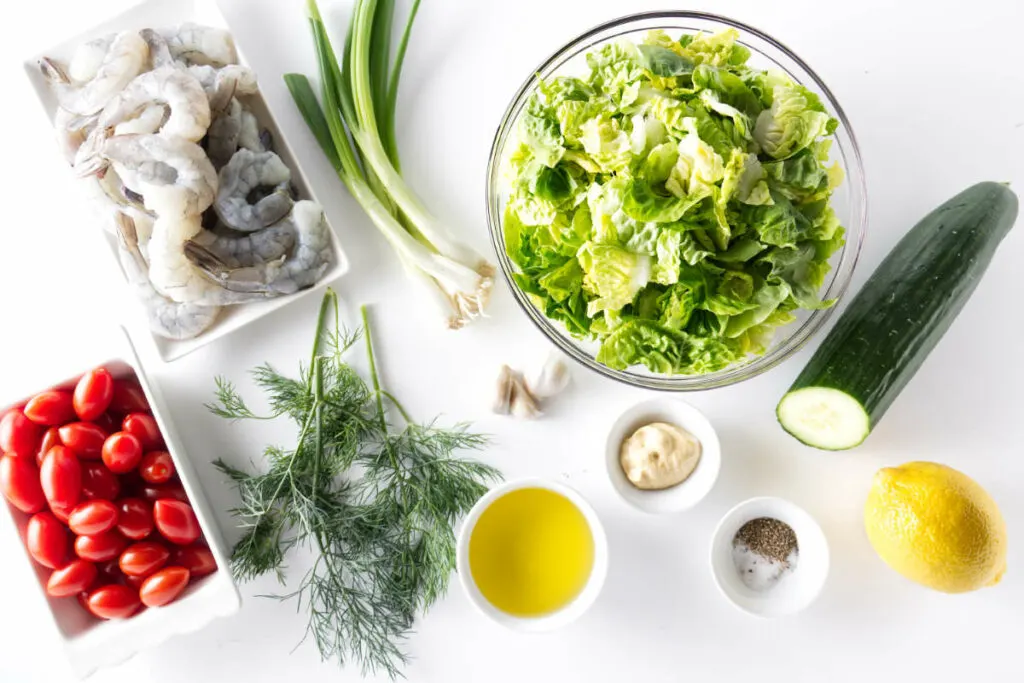 The Ingredients
Here is a list of the ingredients you will need for this lettuce salad with shrimp. Scroll down to the printable recipe card for all the details.
Shrimp. If you purchase individually frozen shrimp, they will thaw very quickly under cold running water.
Salt. Use the salt in the water when you boil the shrimp. It makes a huge difference in the flavor of the shrimp.
Fresh dill. Pull the dill fronds off the stem and pack them tightly in the measuring cup.
Lettuce. You can use any type of lettuce, but we recommend sturdy, crisp varieties like Iceberg, Little Gem, or Romaine lettuce.
Scallions. Also known as green onions.
English cucumber. We like English cucumbers in this salad because the skin isn't bitter, and there are fewer seeds than other cucumbers. Use your leftovers for our Korean cucumber salad.
Tomatoes. We used grape tomatoes but choose any variety that is ripe and juicy.
Lemon Dijon vinaigrette. The vinaigrette has lemon juice, olive oil, Dijon mustard, salt, pepper, and fresh garlic.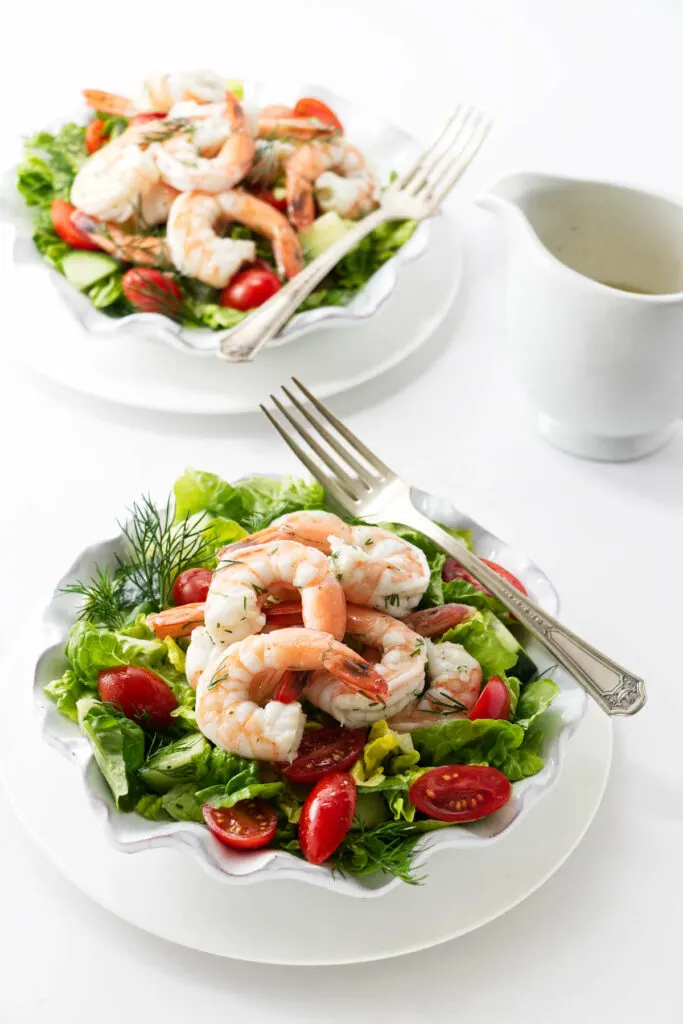 How to Make It
Here is a brief overview to get an idea of what to expect with our shrimp and lettuce salad recipe. Scroll down to the printable recipe card for all the details.
Make the vinaigrette by adding all the ingredients to a jar and giving it a shake.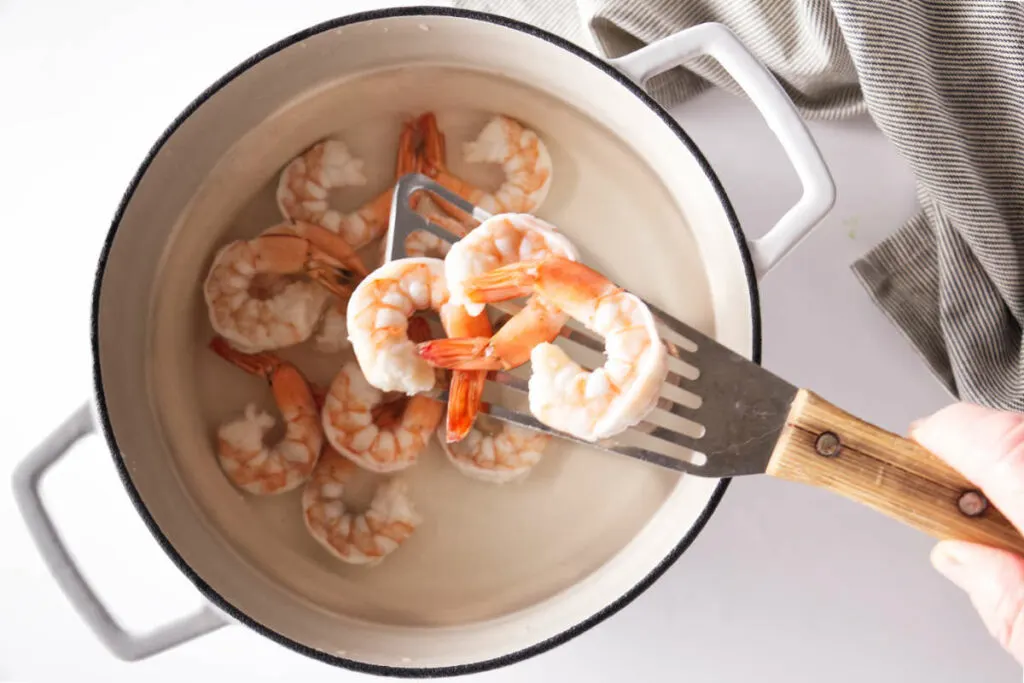 Cook the shrimp. Bring a large pot of water to a boil, then remove it from the heat and drop the shrimp in. Let the shrimp sit in the hot water until they turn bright pink.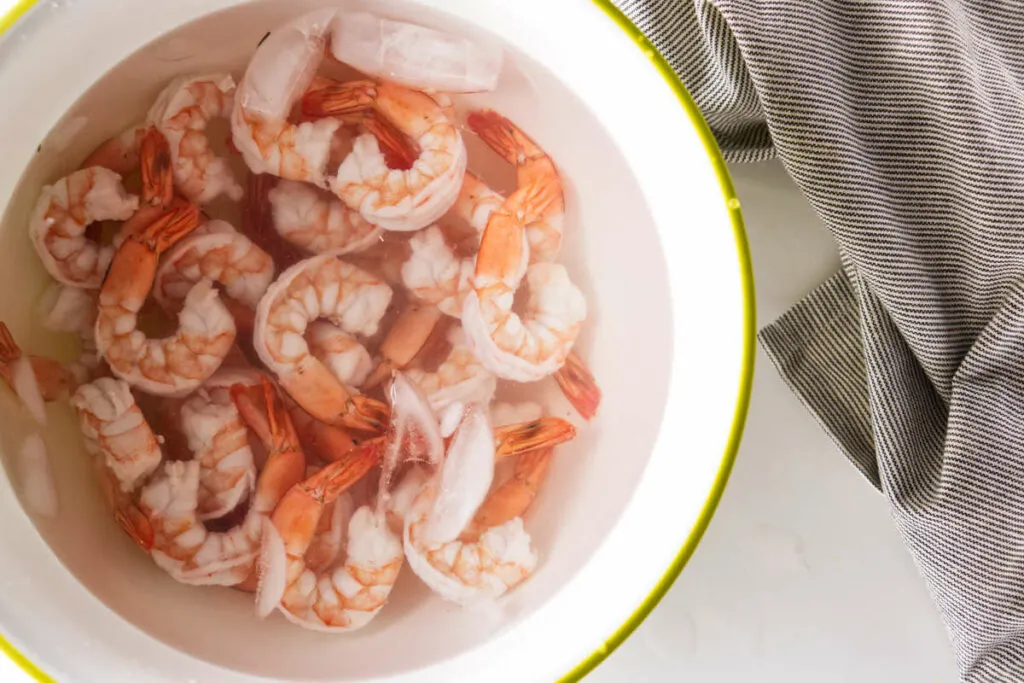 Transfer the shrimp to ice cold water. The cold water will prevent any residual heat from cooking the shrimp further.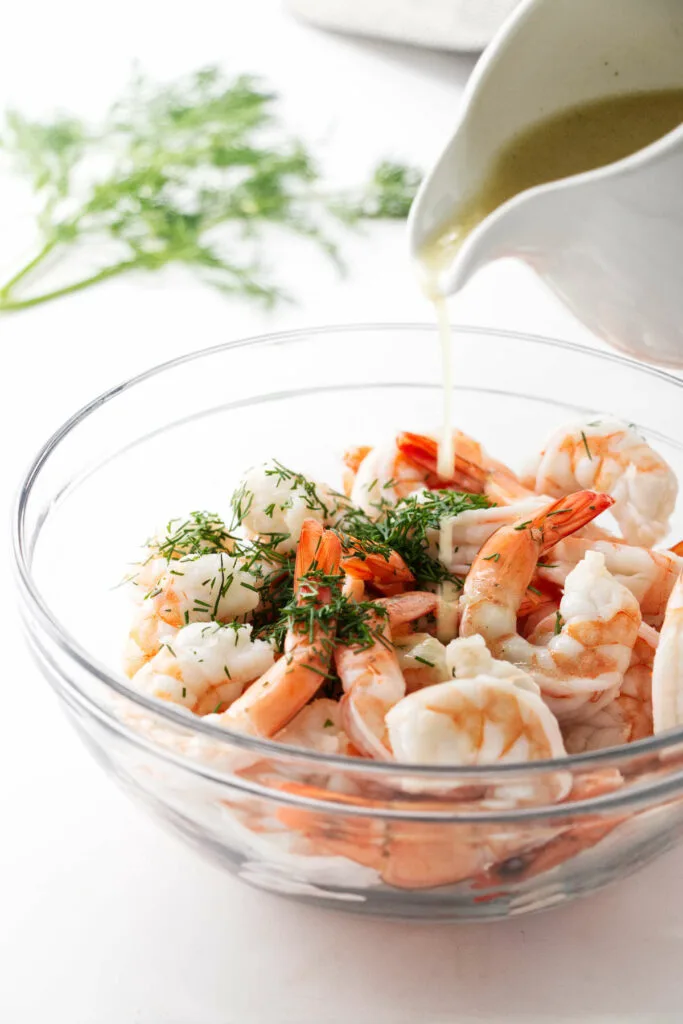 Toss the shrimp with fresh dill and some of the vinaigrette and let them marinate in the fridge for a while.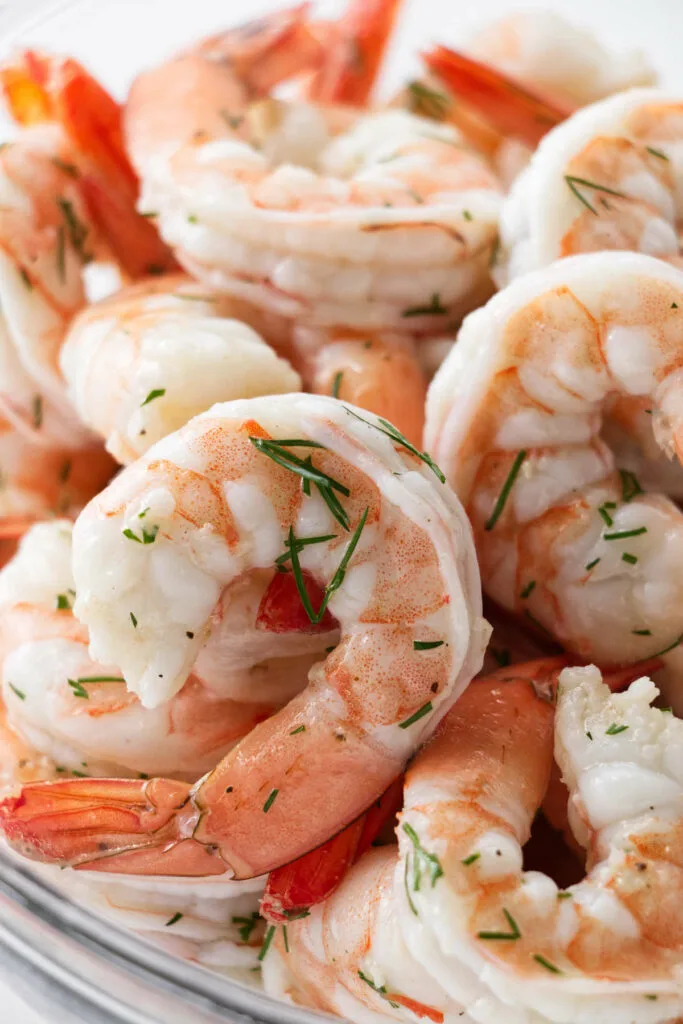 Tips for Success
Devein the shrimp before you cook them. To save time, you can purchase shrimp that are already deveined.
Don't let the shrimp cool in the cooking water. They will overcook and get tough and rubbery.
Shrimp cook very fast, so have an ice bath before placing the shrimp in the hot water.
Substitutions and Variations
Add hard boiled eggs, crab, avocado, and croutons for a heartier, more filling salad.
For extra tang, add pickled daikon or asparagus.
Change out the vinaigrette for our Caesar dressing or a creamy buttermilk ranch dressing.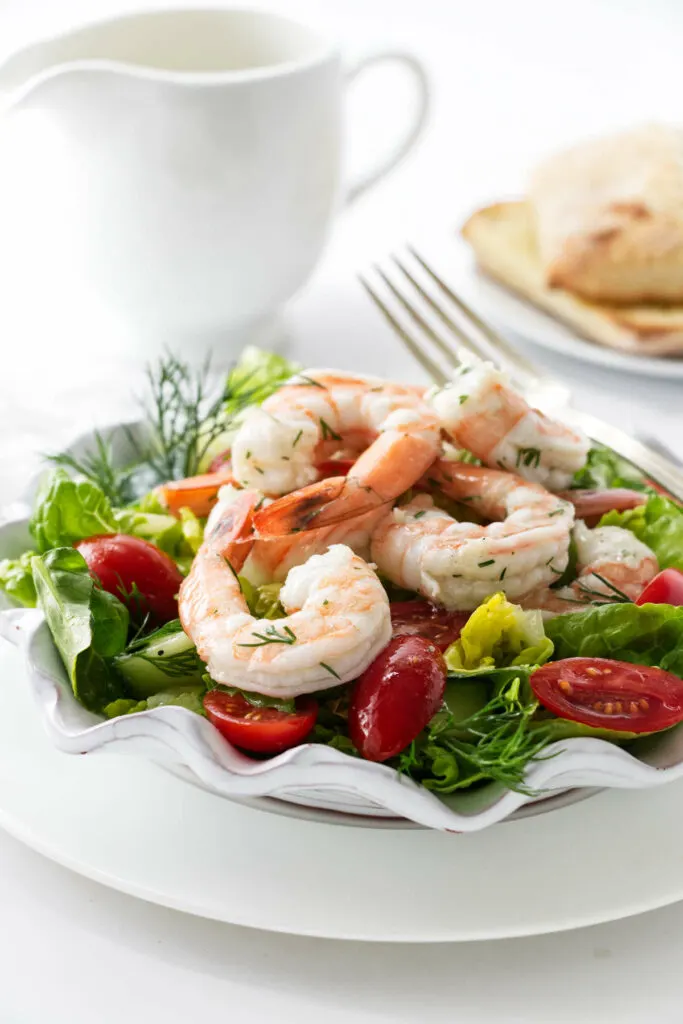 ⏲ Storage
For convenience, you can whip up your vinaigrette a full week in advance and cook the shrimp up to two days ahead of time.
Keep the shrimp and vinaigrette refrigerated in a sealed container.
⭐️ Helpful Tools
Some of the following are affiliate links. We may receive a small commission if you click on these links and purchase something. You don't pay any extra, but it will help us keep the lights on.
More Recipes You Will Love:
Our crab stuffed shrimp dish is the perfect recipe for an unforgettable dinner party. Serve as either an appetizer or main course to wow your guests.
Our creamy garlic butter shrimp pasta is perfect for weeknights. It is fast and easy to make, and you can have dinner on the table in less than 30 minutes.
These garlic shrimp appetizers are perfect for cocktail parties and game nights. They are quick and easy to make, and the garlic-infused shrimp is so flavorful.
Our tuna stuffed tomato salad is fast and easy. There is no mayo in this recipe, just wholesome goodness.
Connect With Savor the Best:
Please follow us on our social media accounts
Facebook * Instagram * Pinterest * Youtube * Twitter
Did you make this recipe? We would love to hear from you. Drop us a comment below.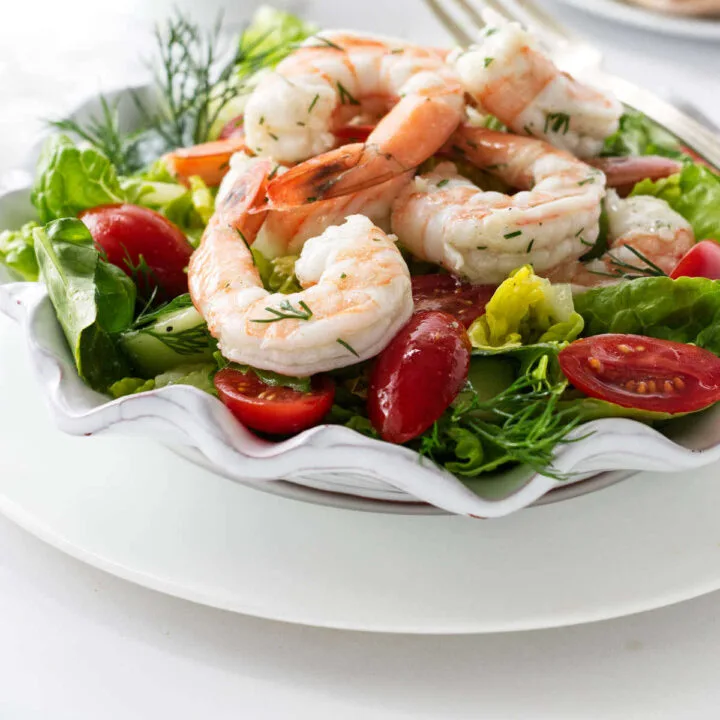 Lettuce Salad with Shrimp
This mouthwatering Lettuce Salad with Shrimp makes a perfect meal or side dish. With crisp lettuce, succulent shrimp, and a lemony dressing, it's sure to please everyone at the table!
The best part is that you can make it in minutes with just a few simple ingredients. This healthy, nutritious salad can be enjoyed any night of the week.
Ingredients
Make the Vinaigrette:
¼ cup freshly squeezed lemon juice
1 clove garlic, grated or minced
1 tablespoon Dijon mustard
¼ teaspoon salt
⅛ teaspoon ground black pepper
½ cup Extra-Virgin olive oil
For the Shrimp:
1-½ pounds medium or large shrimp shelled and deveined (about 24)
1 tablespoon salt
For the Lettuce Salad:
1 packet (.66 oz.) fresh dill fronds, divided (about 3/4 cup)
10 ounces lettuce, torn
4 green scallions, sliced
½ English cucumber, cubed
8 ounces grape tomatoes, cut in half
Instructions
For the Vinaigrette
Add the vinaigrette ingredients to a jar. Cover and shake until well combined. Set aside.
For the Shrimp
Prepare an ice bath by filling a bowl with cold water and add a cup of ice.
Fill a large pot with 2 to 3 quarts of water, add the salt and bring to a boil.
Remove the pot from the heat and add the shrimp. Allow the shrimp to poach in the hot water for 2 to 3 minutes until they are pink and cooked through (the time may vary depending on the size of your shrimp).
Scoop the shrimp out with a slotted spoon and immediately plunge into the ice-water bath to stop them from cooking.
For the Salad
Chop enough dill fronds to equal 2 tablespoons and add to the bowl with the shrimp.
Pour 1/3 cup of the vinaigrette over the poached shrimp and toss to combine. Cover with plastic wrap and place them in the fridge to marinate while you prepare the lettuce salad.
Combine the lettuce, scallions, and cucumber chunks in a large bowl. Break or chop the remaining dill fronds into small pieces and toss with the lettuce mixture.
Divide the lettuce mixture equally into 4 chilled salad plates. Add sliced grape tomatoes to each portion and drizzle 1-2 tablespoons of the vinaigrette over each salad.
Transfer the shrimp from the refrigerator and divide equally among each salad, about 6 shrimp per serving.
Notes
You can use any variety of lettuce. However, the sturdier varieties such as Romain, Romain hearts, Iceberg, or Little Gems will work best for this salad.
You can prepare the vinaigrette a week in advance and the shrimp up to 2 days in advance. Keep them covered and refrigerated until you are ready to serve the salad.
The flat packets of fresh dill can be found in most grocery stores located in the produce section together with a wide variety of fresh herbs.
Fresh dill fronds are especially tasty in this salad and complements the shrimp.
For a heartier salad, you can add slices of hard-boiled eggs, avocado, and crunchy croutons.
Nutrition Information:
Yield:

4
Serving Size:

1
Amount Per Serving:
Calories:

278
Total Fat:

28g
Saturated Fat:

4g
Trans Fat:

0g
Unsaturated Fat:

23g
Cholesterol:

3mg
Sodium:

1849mg
Carbohydrates:

8g
Fiber:

3g
Sugar:

3g
Protein:

2g
Nutrition information is a guideline only. It is calculated automatically by third-party software, and absolute accuracy is not guaranteed.
This post was originally published on October 20, 2014