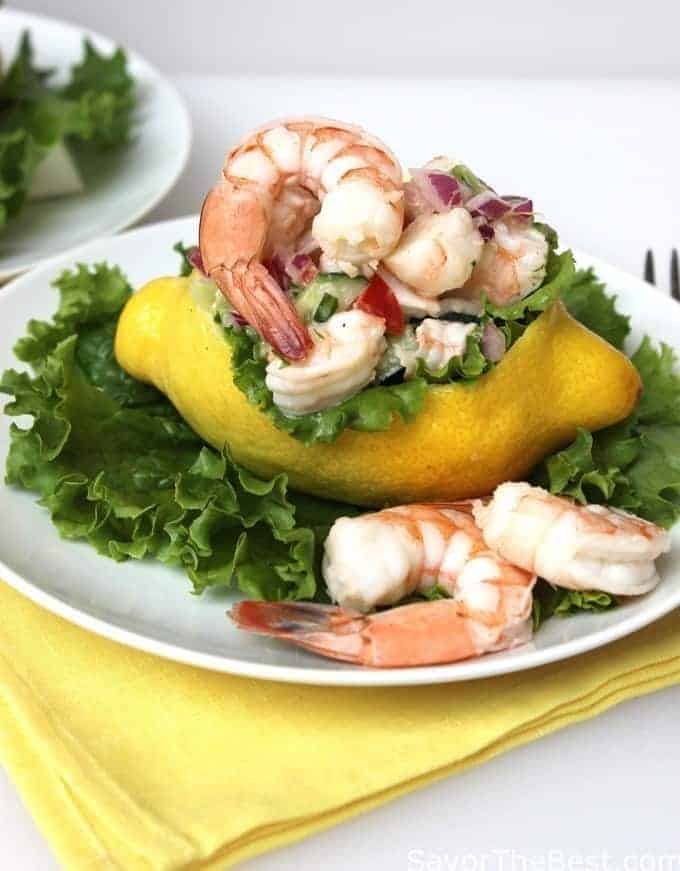 I stopped at the store to buy some lemons as I needed a couple for my Lemon Shrimp Salad and I was stunned to see the size of these babies. Holy Moly…They must grow those in the Land of the Giants. I bought several and have decided to showcase them with this Lemon-Shrimp Salad as a serving dish, I measured one and it was five and one-half inches long!
Shrimp may be the most popular crustacean in this country and they vary in size from tiny shrimp to big tiger prawns. Isn't a prawn just an extra-large shrimp, or is it a complete different species? I don't know but I do know that I love, love, love both shrimp and prawns and when we lived in the Philippines I had the opportunity to eat as many as I wanted and as often as I wanted as they were very abundant and inexpensive. In the Philippines they have man-made fish ponds of both salt and fresh water and they are exported to different parts of the world. We ate both the fresh and salt water shrimp and I couldn't tell the difference in taste. Some of the shrimp were much bigger than the tiger prawns that we see in America.
For my lemon shrimp salad I washed the lemons and dried them with a paper towel and then sliced off just a smidgen of the rind so it would sit nice and not roll around. Then I cut part of the top off and scooped out the fruit inside. What was left was a cute little lemon shell-dish.
It would have been nice to have a grapefruit spoon to scoop the fruit out but I didn't have one so I used this ancient peach-pitter tool that my mom gave me about 1972, or so, and it did the job nicely. I saved the lemon juice to use in my vinaigrette dressing. Next, I put some water in a pan, salted it and when it began to boil I removed it from the burner and tossed in the shrimp. Just letting them sit in the hot water for 2-3 minutes is enough to turn them pink and they will be cooked through.
Over-cooked shrimp is tough and rather flavorless. I drained the water off of the shrimp and put them on a plate lined with a double thickness of paper towels and popped them into the refrigerator while I prepared the salad dressing and the rest of the salad ingredients.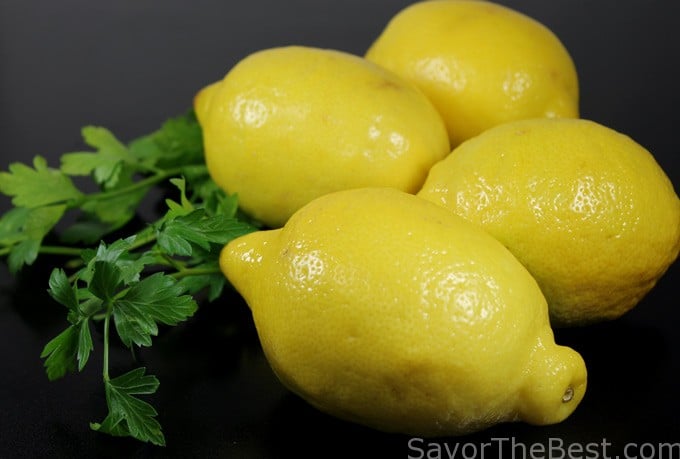 When everything was chopped, and the shrimp had chilled, I cut it up and mixed it into the salad bowl and tossed everything together with part of the salad dressing. I have a thing about over dressing salads, I don't like them swimming in the dressing and two tablespoons of the dressing was enough to moisten and flavor this salad.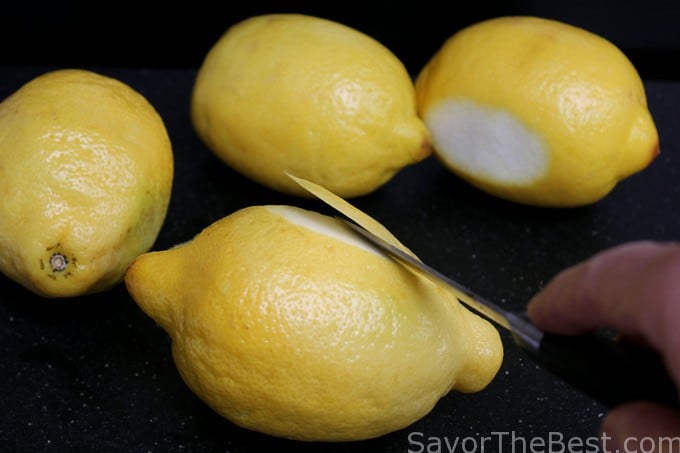 I lined each of the lemon dishes with a lettuce leaf to keep the bitter part of the rind from absorbing into the salad, then I spooned almost a cup of that delicious salad into each lemon dish and placed it on the salad plate with some more lettuce.
This yummy lemon shrimp salad recipe has only 226 calories, 7.5 grams of fat, and 35 grams of protein, and that includes the dressing. There is a nice tang to the lemon vinaigrette and some crunch from the celery and red bell pepper. Don and I each ate one for lunch today and there is still enough for lunch tomorrow but I am going to add a nice glass of chilled sauvignon blanc wine which will be perfect. This salad was fun to make with creating the lemon serving dishes, that did take a little time but the rest of the salad actually goes together pretty quickly.
Shrimp is my favorite shellfish, even over lobster, and this lemon-shrimp salad is a dish that I have prepared frequently, although this is the first time that I have used the lemon rind as a serving dish.
Another favorite dish with shrimp is with pasta and a creamy, cheesy sauce that is high calorie and high fat…so I do not make that too often. How about a shrimp cocktail, or grilled shrimp, coconut shrimp, shrimp on pizza? Yum… Shrimp fried rice was a big dinner-time hit with our kids when we lived in the Philippines and it was prepared the same as the pork fried rice in our recipe index.
I would love to hear what your favorite shrimp dish is and how you prepare it.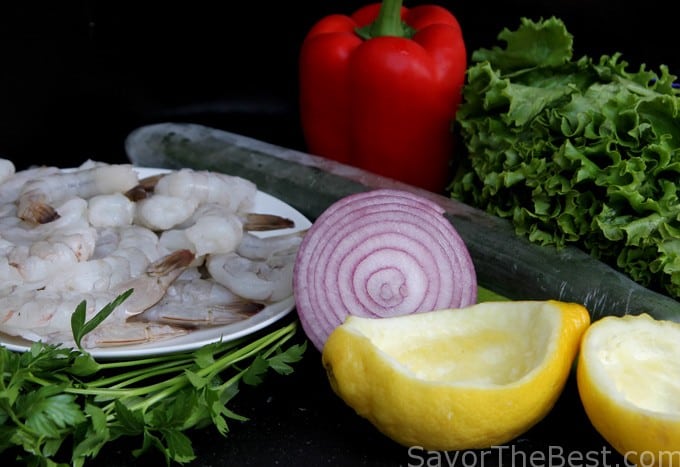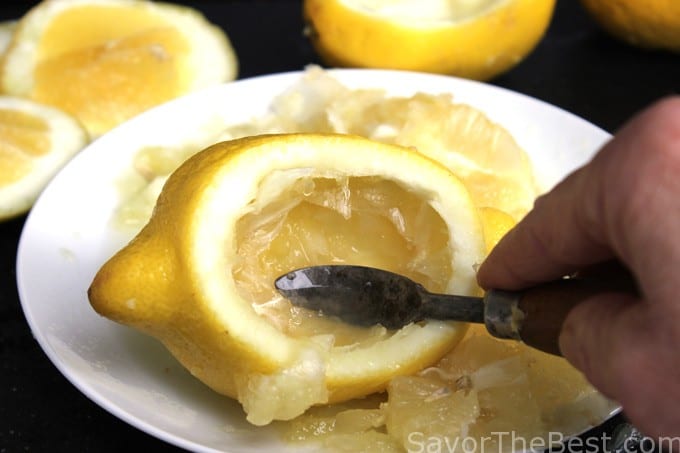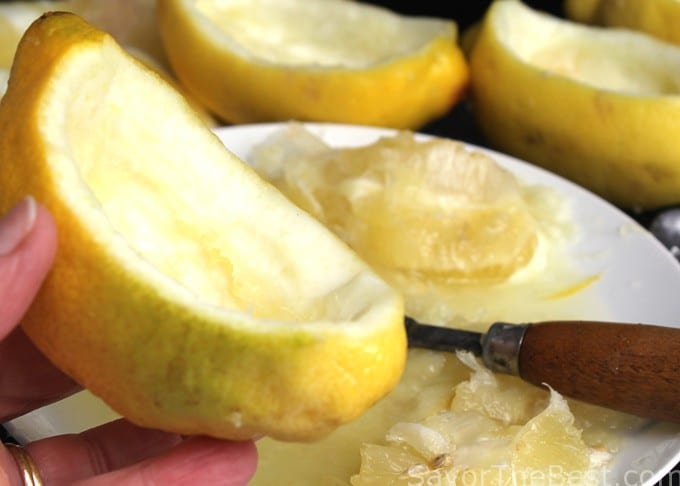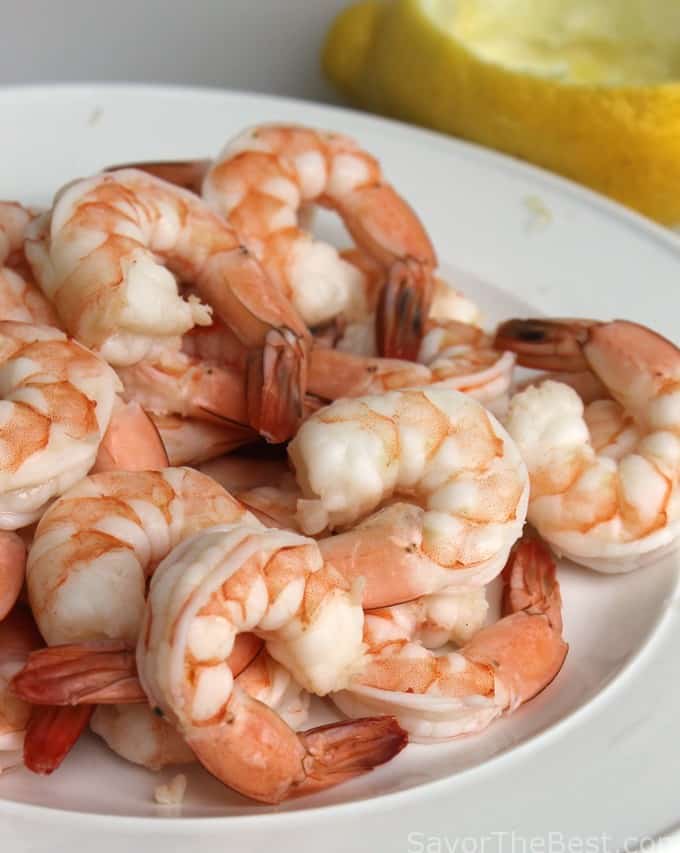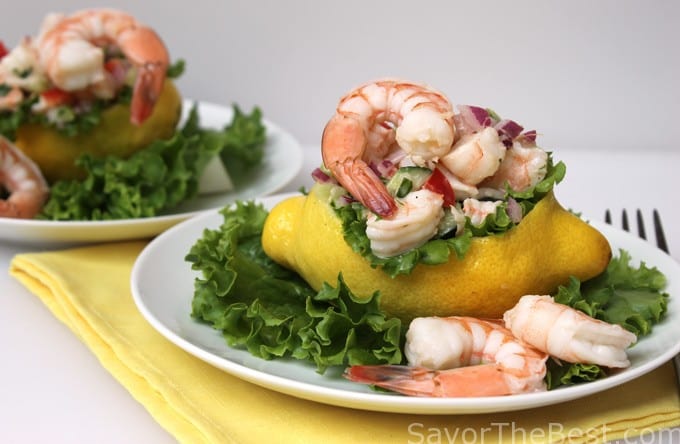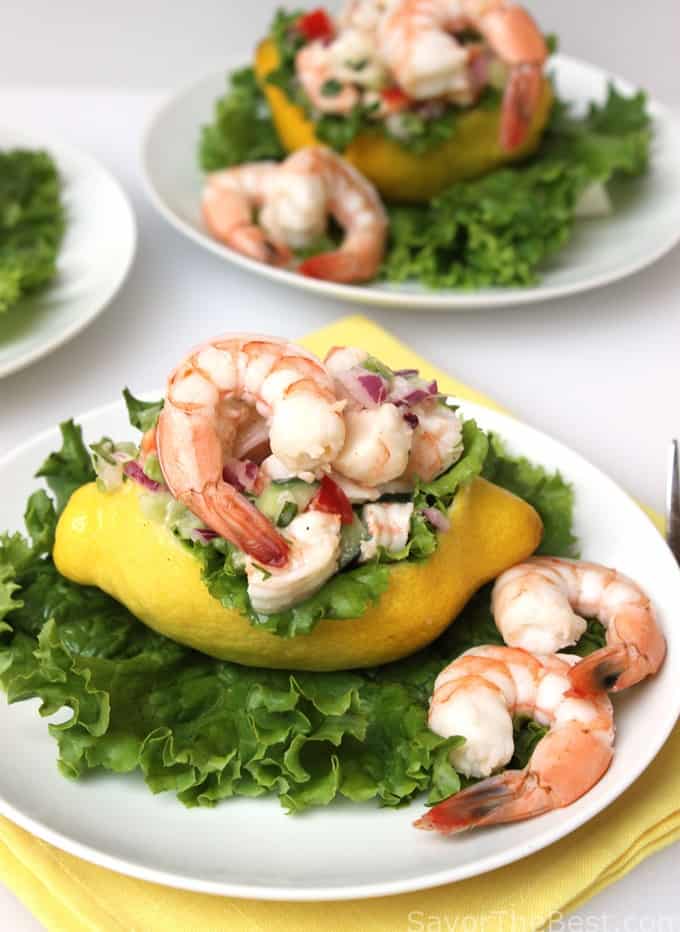 CONNECT WITH SAVOR THE BEST!
Be sure to follow us on our social media accounts
Facebook * Instagram * Pinterest * Twitter * Youtube
Did you make this recipe? We would love to hear from you. Drop us a comment below.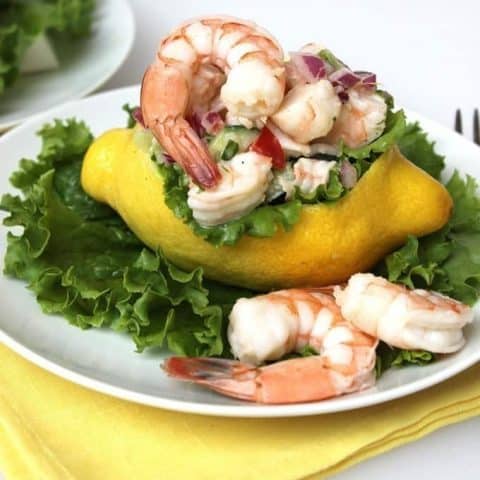 Lemon Shrimp Salad
Yield: 4 servings
Prep Time: 30 minutes
Cook Time: 5 minutes
Total Time: 35 minutes
This lemon shrimp salad recipe is full of juicy shrimp and has a nice tang to the lemon vinaigrette and some crunch from the celery and red bell pepper.
Ingredients
4 extra-large lemons, washed
For the Shrimp:
2 quarts water
1 tablespoon kosher salt
1-1/2 pounds shelled and deveined medium or large size shrimp
For the vinaigrette:
1 garlic clove, minced
1/4 cup fresh squeezed lemon juice
1 tablespoon dijon mustard
1/4 teaspoon salt
1/8 teaspoon freshly ground black pepper
1/2 cup olive or avocado oil
For the salad:
1/2 cup cucumber, diced
1/4 cup celery, diced
1/4 cup red onion, diced
1/4 cup red bell pepper, diced
2 tablespoons minced fresh parsley
Curly leaf lettuce
Instructions
Prepare the lemons:
With a sharp paring knife, slice a thin sliver of lemon from the bottom side of each lemon so they will sit level and not roll. On the top part of a lemon gently cut an oval shape through the rind and remove that section of the lemon. Using a teaspoon and the paring knife, (a grapefruit spoon would work really well) scoop out the inside of the lemon leaving a lemon-rind shell. Be very careful so you do not scrape through the bottom as it will be thiner from removing the sliver of rind. Continue with the other three lemons and when they have all been prepared into lemon shells reserve them until needed.
For the shrimp:
In a saucepan over medium-high heat, add the water and salt and bring to a boil. Remove the saucepan from the heat and add the shrimp and allow to poach until barely pink. Drain the water from the pan and transfer the shrimp to a plate lined with a double thickness of paper towels. Place the shrimp in the refrigerator to chill while preparing the vinaigrette and chopping the vegetables.
For the vinaigrette:
Add the garlic, lemon juice, mustard, salt and pepper to a blender or mini food processor and blend for 30 seconds. With the motor running, add the oil slowly in a thin stream and continue to blend to a creamy thickness. Transfer to a small pint jar and refrigerate Makes 3/4 of a cup of dressing.
When the shrimp is completely chilled, select a few shrimp and reserve them for garnishment. With the remaining shrimp, remove the tails and cut each shrimp into several sections. Add the cut-up shrimp to a large salad bowl, add the cucumber, celery, onion, red bell pepper and the parsley. Toss with 2 tablespoons of vinaigrette to combine.
To assemble the salads:
Line each of the lemon-peel shells with a lettuce leaf, fill each lemon-peel shell with one-forth of the shrimp salad, place additional lettuce leaves on salad plates, add the salad and garnish with a shrimp. Serve and enjoy….
Nutrition Information:
Yield: 4
Serving Size: 1
Amount Per Serving:
Calories: 226
Total Fat: 7g
Sodium: 290mg
Carbohydrates: 5.7g
Protein: 35g