These tuna stuffed tomatoes are bursting with Mediterranean flavors from the combination of extra virgin olive oil, lemon juice, capers, olives, and crisp bell peppers. Forget about mayonnaise – these delightful treats provide all the tasty flavors you crave in a healthy, low-fat meal. Enjoy them as a light lunch, an appetizer or as part of your favorite salad.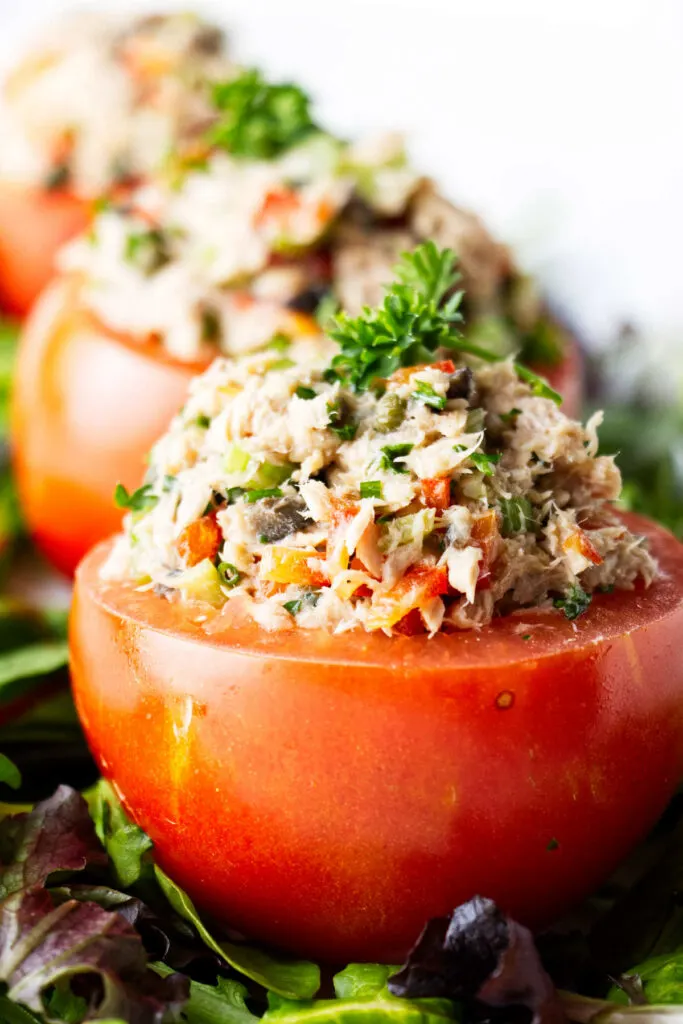 These tuna stuffed tomatoes are perfect individual servings of the classic tuna salad. If you have tried our strawberry salmon salad or our salmon Caesar, you will love this healthy tuna salad.
Here is Why This Tuna Stuffed Tomato Recipe Works
Serving the tuna salad in tomatoes instead of on bread is a great way to save calories and reduce all the heavy carbs. Plus, you can make these ahead of time and store them in the refrigerator for 2 to 3 days – it's a great way to have healthy meals ready for when you need them.

Olives and capers add a briny kick, while lemon juice gives it enough zing to make your taste buds dance.

Eliminating mayonnaise reduces the calories as compared to traditional tuna salad. Swapping it for a small amount of olive oil gives the salad a rich flavor and some healthy fats. If you want a creamy texture, you can always add in some Greek yogurt.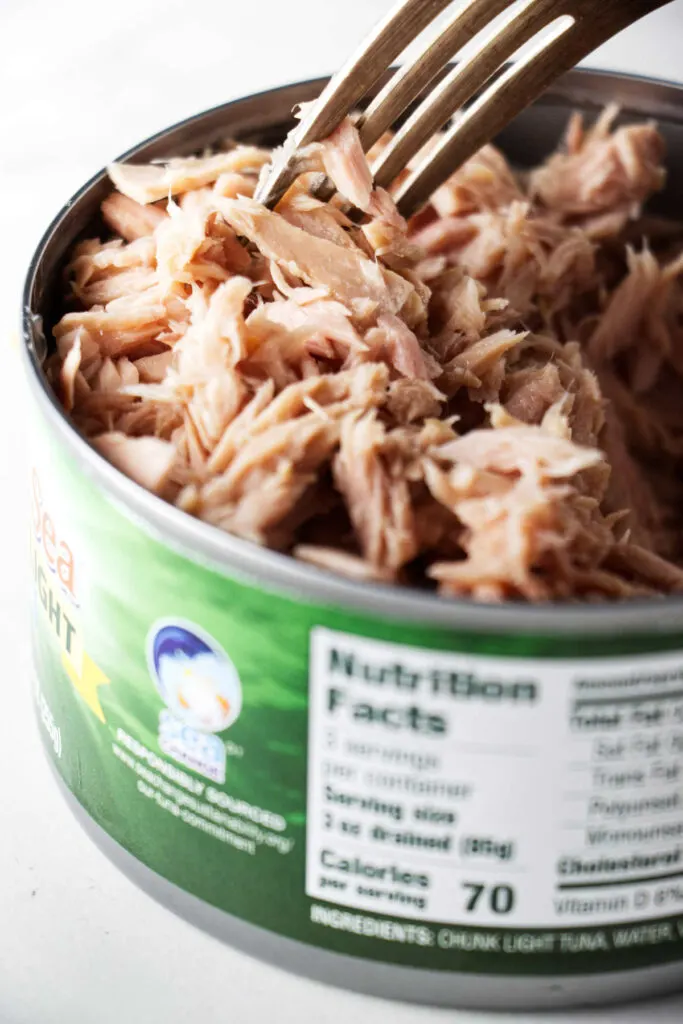 The Ingredients For Tomatoes Filled with Healthy Tuna Salad
Here is a list of the ingredients you will need for this tuna stuffed tomato recipe. Scroll down to the printable recipe card for all the details.
Tomatoes. Choose ripe but firm tomatoes. If they are overripe, they will be too soft and squishy when you fill them.

Tuna. White albacore tuna has a lighter flavor and a chunky robust texture that holds up to the other ingredients.

Olives. A mix of green and black olives gives the healthy tuna salad an edgy Mediterranean flavor.

Bell pepper. Red bell pepper adds a slight sweetness and a crisp texture.

Celery. Celery adds extra crunch and texture.

Capers. These briny, salty little gems add a special touch of flavor.

Parsley or Basil. A handful of freshly chopped herbs adds a unique flavor and a pop of color.
Green onions.

Olive oil. This healthy fat replaces mayonnaise for an even healthier option.

Lemon. Add the zest and a bit of juice for a fresh, lemony flavor.

Pepper. Freshly cracked black pepper finishes the salad and adds a subtle heat.
Recipe Highlights For Tuna Loaded Tomato Cups
Here is a brief overview to get an idea of what to expect when making these tuna stuffed tomatoes. Scroll down to the printable recipe card for all the details.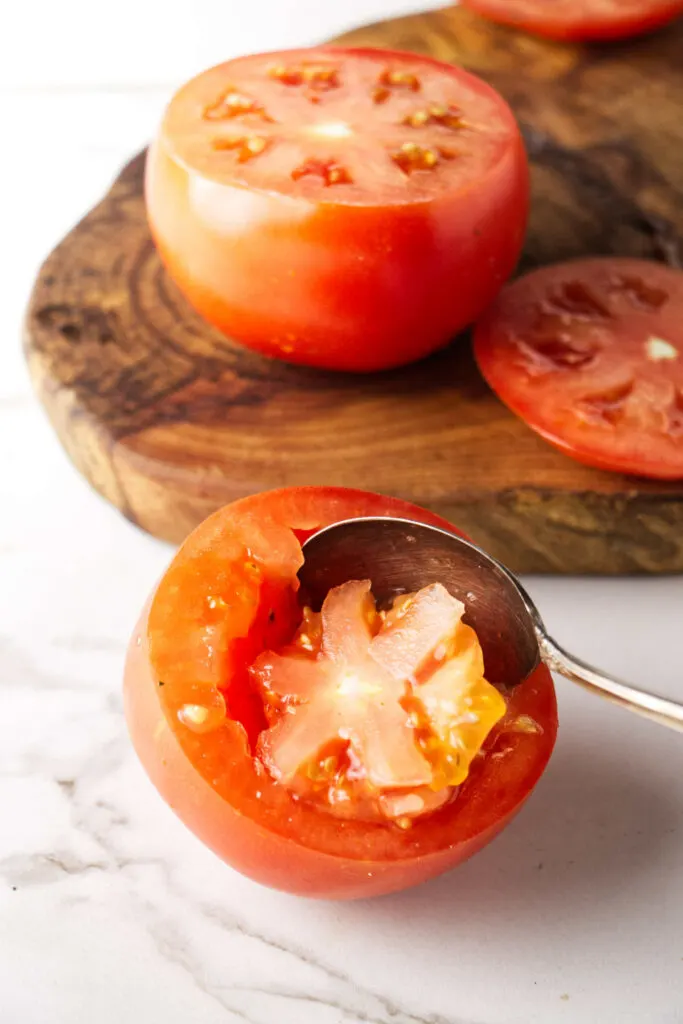 Slice the tops off the tomatoes and scoop the pulp out of the center.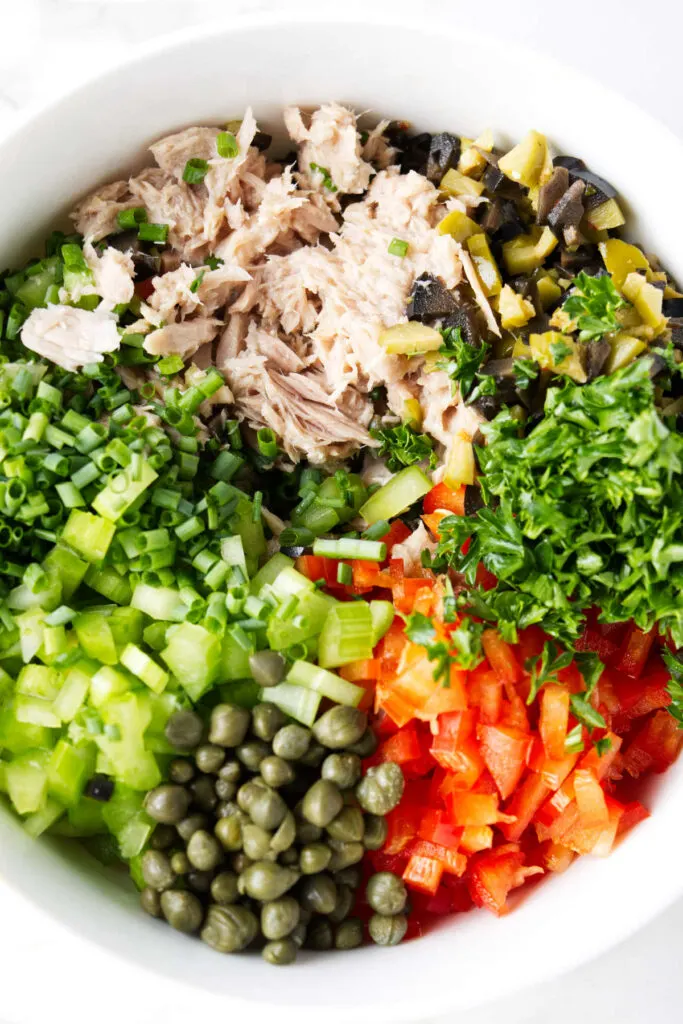 Combine the tuna with all the veggies, herbs, and spices. Spoon the tuna salad into the center of the hollowed-out tomatoes.
Tips for Success
Dice the veggies very finely so they mix into the salad well.
Drain the liquid from the cans of tuna before you mix the salad.
Purchase ripe but firm tomatoes that will not squish easily.
Substitutions and Variations
Add some feta cheese for a salty, creamy finish and a sharpness that pairs perfectly with the tuna salad.
Swap out the Mediterranean flavors for a Mexican twist by adding some black beans, corn, jalapenos, and cilantro.
Storing Stuffed Tomatoes
Store the stuffed tomatoes in a covered container for two days in the fridge.
You can store the tuna salad mixture for up to four days if you do not stuff it inside the tomatoes.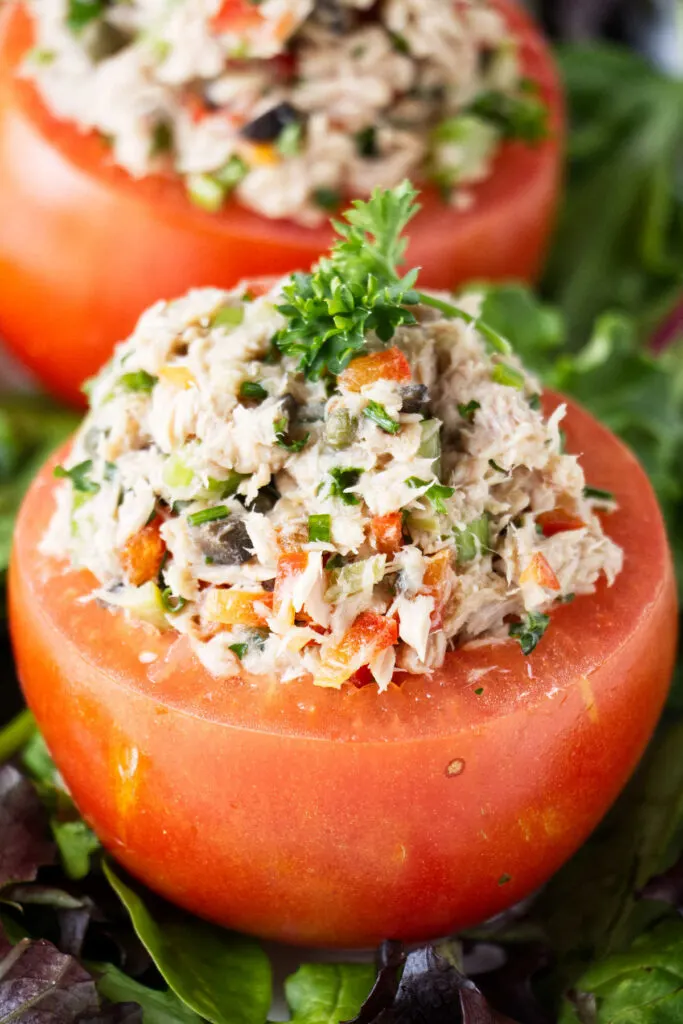 Frequently Asked Questions
Can you freeze tuna salad?
Yes, but do not freeze the tuna stuffed tomatoes. To freeze the tuna salad, keep it separate from the tomatoes and stuff the tomatoes after you thaw the tuna.
What tomatoes are best for stuffing?
You can use any tomatoes with a plump round bottom rather than a pointed bottom. Beefsteak tomatoes work well for this recipe, but Campari tomatoes have a lovely round shape if you want smaller salads.
Helpful Tools
Some of the following are affiliate links. We may receive a small commission if you click on these links and purchase something. You don't pay any extra, but it will help us keep the lights on.
More Recipes You Will Love:
We've taken the traditional tuna noodle casserole and given it an elevated twist. It's filled to the brim with creamy, bold flavor , a crunchy topping, and of course, plenty of protein-packed tuna.
Get ready to enjoy the delectable combination of a classic tuna fish sandwich and luscious, flaky dough in these delightful mini tuna empanadas!
If you're looking for a delicious and simple dish to make on an ordinary weeknight, then this tuna piccata recipe is the perfect solution.
Connect With Savor the Best:
Please follow us on our social media accounts
Facebook * Instagram * Pinterest * Youtube * Twitter
Did you make this recipe? We would love to hear from you. Drop us a comment below.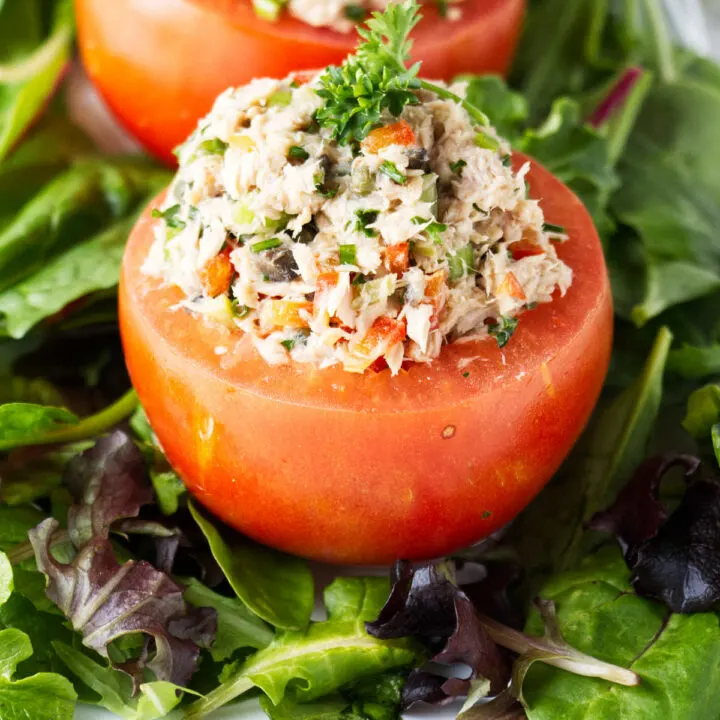 Tuna Stuffed Tomatoes
There is no mayonnaise in this tuna stuffed tomato recipe. Extra virgin olive oil, citrusy lemon, briny capers, and olives give it a Mediterranean flavor, while celery and bell peppers bring a satisfying crunch.
Serve this healthy tuna salad on a bed of lettuce or with a slice of toasted bread for a delicious lunch. If you prefer to use mayonnaise, read the notes for amounts.
Ingredients
4 to 6 large ripe tomatoes
2 cans tuna, (6 ounces each) drained
¼ cup chopped olives
¼ cup chopped red bell pepper
1 celery stalk, chopped
2 tablespoons capers, drained and finely chopped
1 tablespoon chopped fresh parsley or basil
2 green onions, finely chopped
2 tablespoons olive oil
zest of 1 lemon
squeeze of lemon juice
¼ freshly ground pepper
Instructions
Cut a slice off the top of each tomato. Use a spoon to scoop out the pulp from the center of the tomatoes then pat the insides dry with a paper towel.
Add the drained tuna to a bowl and break it up with a fork. Add the rest of the ingredients and stir to combine.
Spoon the tuna mixture equally into the tomato shells.
Notes
The olives and capers have salt in them but you may desire additional salt. Taste the tuna mixture before determining if salt is necessary.
You can use olive tapenade instead of chopped olives.
If you prefer to mix the tuna salad with mayonnaise, eliminate the olive oil and add 1/3 cup of mayonnaise. You can also use
Dice the veggies very finely so they mix into the salad well.
Drain the liquid from the cans of tuna before you mix the salad.
Purchase ripe but firm tomatoes that will not squish easily.
Nutrition Information:
Yield:

6
Serving Size:

1
Amount Per Serving:
Calories:

141
Total Fat:

6g
Sodium:

295mg
Carbohydrates:

6g
Protein:

15g
This recipe was originally published on July 29, 2015.