Our Pomegranate Pear Salad is a showstopper! This is a salad to celebrate the season! Sweet pear slices, crisp greens, blue cheese chunks, sugary pecans and bright red, jewel-like pomegranate arils. A lemon Dijon vinaigrette brings it all together.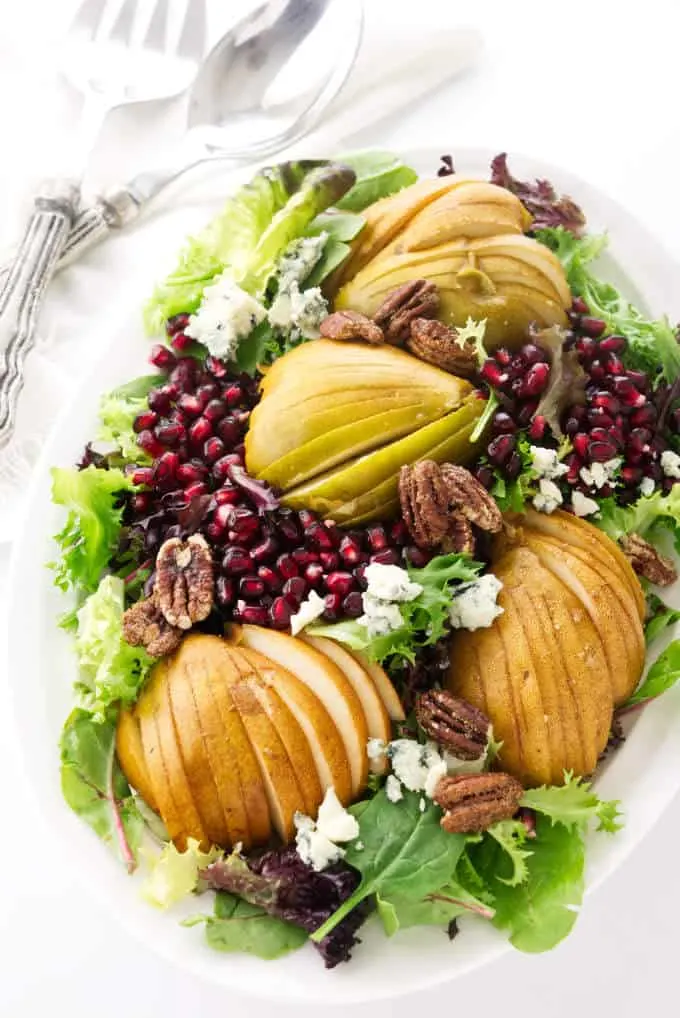 Why you will like pomegranate pear salad
This salad is light and refreshing. Here's why you'll love it:
You only need 10 ingredients plus salt and pepper to make it.
It takes 10 minutes to prepare.
It's delicious, nutritious, and good for you. What a great way to start the new year with fresh, whole foods!
It is the perfect accompaniment for your dinner or lunch.
You'll have homemade vinaigrette that stays fresh for at least a week in your fridge.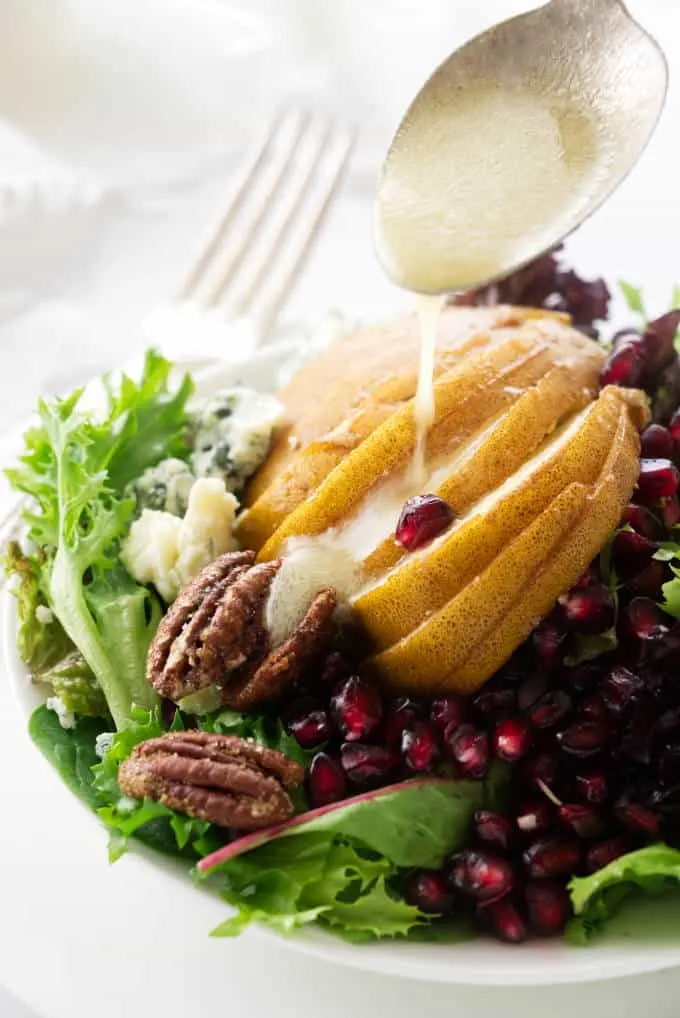 Ingredients needed for this salad
Add these ingredients to your shopping list for the various components of the salad:
Mixed salad greens. We used a baby spring mix but any blend will work with this salad.
Red onion. If the onion is especially strong, you can soak the slices in cold water for 10 minutes to take the harsh bite out of them.
Pears. Choose firm but ripe pears.
Pomegranate arils (seeds). You can buy the seeds already packaged or you can buy a whole pomegranate and remove the seeds yourself.
Blue cheese. Preferably, buy a block of blue cheese and crumble it yourself as pre-crumbled blue cheese is usually dryer and has less flavor.
Candied pecans. Homemade or storebought.
To make the vinaigrette, buy:
Lemon
Dijon mustard
Honey
Olive oil
Salt
Black pepper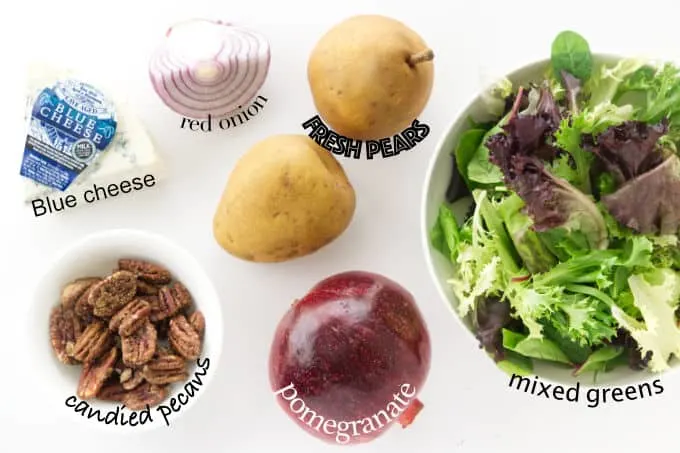 How to make pomegranate pear salad
This salad is easy to make. Here are the steps:
Assemble salad components: Toss the salad greens and sliced red onions in a large bowl. Lay butterflied pear slices on top. Add pomegranate seeds, crumbled blue cheese, and candied pecans.
Make vinaigrette: Combine all the vinaigrette ingredients. Whisk well or shake in a sealed jar to fully combine.
Serve: Drizzle vinaigrette on the salad or on top of individual servings. Toss and enjoy.
Tips for recipe success
For the perfect pomegranate pear salad, here are some tips to follow:
Choose a firm, ripe, ready-to-eat pear variety.
To prevent discoloration of the pears, place them in a bowl filled with water and lemon juice, then pat them dry and add to the salad.
If you are not a fan of blue cheese, you can use a soft goat cheese or aged goat cheese as a nice pairing for the pears
If you have extra pears make some pear paste or a fresh pear cake. They are great ways to use the fresh fruit of the season.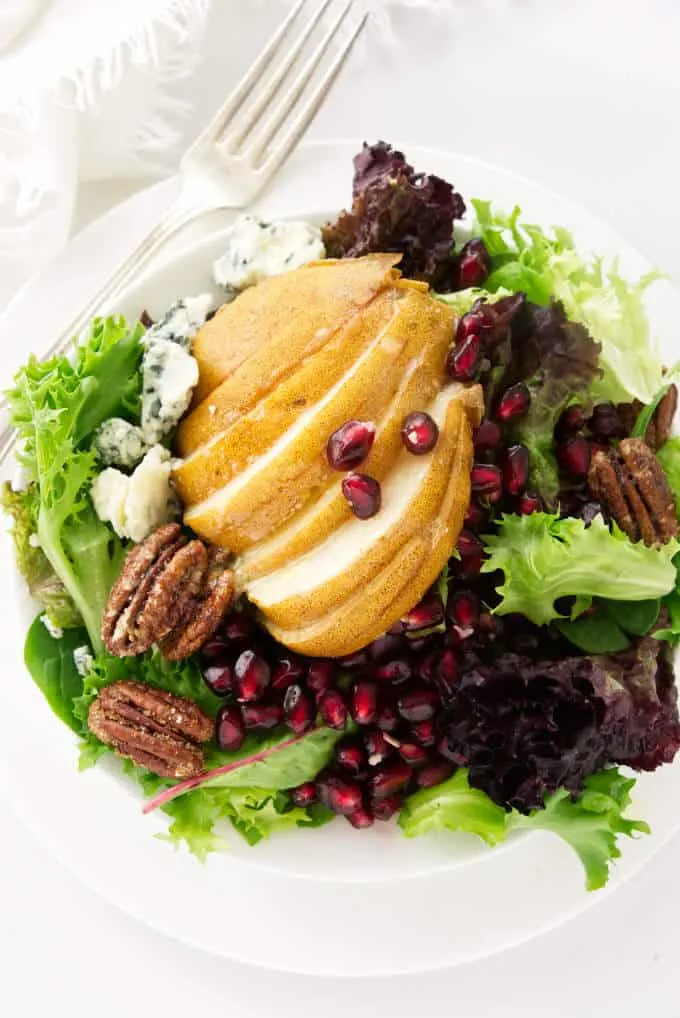 Frequently asked questions
How long will the vinaigrette keep?
The vinaigrette keeps for 1 to 2 weeks. Store it in a jar or airtight container, sealed in the refrigerator.
This recipe is for 1 cup of vinaigrette. You'll probably only need about 1/3 or 1/2 of a cup of the dressing for your salad, so you'll definitely have leftover vinaigrette to enjoy throughout the week!
What pears are good for salads?
Any pear variety that you like will work well with this dish. Bosc, Anjou, and Bartlett pears are all great choices for this salad. Make sure you are using perfectly ripe, firm pears as overripe pears will be too sweet and mushy.
How do you slice pears?
Slicing butterflied pears is easy. Start by washing your pears well. Do not peel off the skin. To slice the pears, cut them in half. Remove the core from the bottom using a melon baller, spoon, or your knife. Lay your pear flesh side down.
Make various lengthwise cuts 1/2-inch from the top all the way to the bottom, keeping your pear connected. Press down lightly on the fat body to fan out the slices for a beautiful butterflied display on your salad.
How do you prevent your pear from browning?
Before you serve your salad, you can place your sliced pear halves into a bowl of cold water with some lemon juice. Pat the pear halves dry before adding them to the greens. The lemon prevents oxidation which results in discoloration or browning.
How do you remove pomegranate seeds?
If you bought a whole pomegranate and are looking to remove the arils yourself, there are a few methods. Either way, start by washing your pomegranate to prevent bacteria from making its way in when you slice it.
The first method is the slice and whack. Cut your pomegranate in half. Then, use a wooden spoon to whack out any seeds. Keep a bowl underneath to catch the arils as they drop.
The second method is the sectioning approach. Slice the stem of the pomegranate off exposing the membrane. Remove the center of the fruit. Use a paring knife to create six slits lengthwise from the stem of the pomegranate to the bottom. Pull the wedges apart. Pop the seeds out and enjoy.
How long do pomegranate arils keep?
Fresh pomegranate seeds keep for 5 days in the refrigerator, stored in an airtight container. So, if you buy your own pomegranate and end up with more seeds than you'll need for your salad, do not worry! They'll be fresh for several days.
Add them to your morning oatmeal or use them as a garnish. They are so pretty they add eye appeal to any dish and who can resist that crunch!
Can you freeze pomegranate seeds?
Yes! You can freeze pomegranate seeds. Lay them flat on a baking sheet lined with parchment paper.
Place in the freezer until they are frozen solid to prevent them from sticking together. Then transfer to an airtight container or plastic bag. Use them within 12 months. Label with your expiry date.
SOME OTHER RECIPES WE ARE SURE YOU WILL LOVE:
CONNECT WITH SAVOR THE BEST!
Be sure to follow us on our social media accounts
Facebook * Instagram * Pinterest * Twitter * Youtube
Did you make this Pomegranate Pear Salad? We would love to hear from you. Drop us a comment below.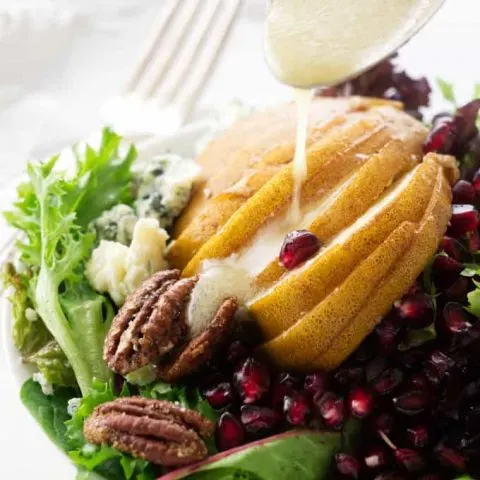 Pomegranate Pear Salad
Our Pomegranate Pear Salad is a showstopper! Sweet pear slices, crisp greens, blue cheese chunks, sugary pecans and bright red, jewel-like pomegranate arils. A lemon Dijon vinaigrette brings it all together.
Ingredients
4-6 cups mixed salad greens
1/4 small red onion, thinly sliced
2 ripe pears, halved, cored and fan-sliced
1 cup fresh pomegranate arils
4 oz. blue cheese, crumbled
1/2 cup candied pecans
For the Vinaigrette:
1/4 cup lemon juice
1 tablespoon Dijon mustard
2 tablespoons honey
1/2 cup olive oil
1/4 teaspoon salt
Pinch freshly ground black pepper
Instructions
Toss the salad greens and onion slices together in a bowl.
Cut each pear in half and remove the core. Lay one pear half, flesh side down on a cutting board and make cuts from about 1/2-inch from top to the bottom of the pear. Press lightly on the pear to fan it out then slide your knife beneath it and transfer it to the salad greens. Continue with the remaining pear halves.
Spoon the pomegranate arils, blue cheese crumbles and the candied pecans on the salad greens.
For the Vinaigrette:
Combine all the ingredients in a small jelly jar and shake vigorously to combine.
Drizzle the vinaigrette over the top the salad or on individual servings.
Notes
Use any pears of choice, it should be ripe, sweet and ready to eat.
To keep the pears from discoloring juice a lemon in a small bowl of water and dip the pear. Blot with a paper towel before adding to the greens.
The blue cheese is very complimentary to the pears and can be substituted with a variety of cheeses. A soft goat cheese or an aged goat cheese also works well.
The vinaigrette will make about 1 cup but you will only need about 1/3 to 1/2 of it. The unused portion will keep in the refrigerator for 1-2 weeks.
The nutritional value does not include the vinaigrette
Nutrition Information:
Yield:

4
Serving Size:

1
Amount Per Serving:
Calories:

283
Total Fat:

14g
Saturated Fat:

6g
Trans Fat:

0g
Unsaturated Fat:

7g
Cholesterol:

21mg
Sodium:

423mg
Carbohydrates:

35g
Fiber:

8g
Sugar:

22g
Protein:

10g
Nutrition information is a guideline only, is calculated automatically by third-party software, and absolute accuracy is not guaranteed.