Toasting the coconut in our coconut cream pie isn't just a step; it's a game-changer. This seemingly simple act brings out an enriched depth and a caramelized sweetness, taking the coconut's flavor from delightful to absolutely mesmerizing. This cream pie is a testament to the joy of creating something from scratch.
So, this recipe is calling your name, whether you're marking a memorable occasion in the kitchen or simply in the mood for a tropical treat.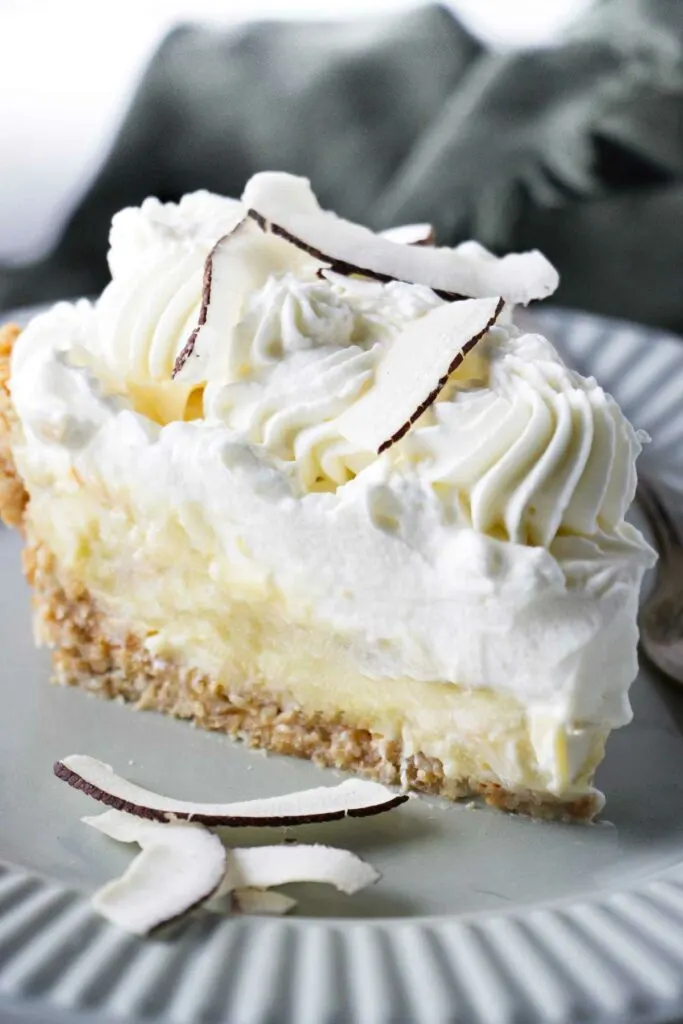 This dessert is the perfect way to end a meal or to enjoy as a special treat during the holidays or family gatherings. It's also a great dessert to bring to a potluck or party.
Why You Will Love This Pie Recipe
Balanced Thickeners: Using both cornstarch and all-purpose flour in the pie filling is a game-changer. Relying too much on cornstarch can cause a custard pie filling to get too firm. However, by adding flour to the mix, the pie strikes a harmonious balance, offering a slice that holds its shape yet melts in the mouth.
Authentic Coconut Flavor: The use of multiple coconut elements—like coconut cookies for the crust, coconut milk, and toasted shreds of coconut—ensures that the pie has a pronounced and authentic coconut flavor that is rich and creamy.
Varied Textures: From the crunchy coconut cookie crust to the coconut cream custard, followed by the soft whipped cream topping, this pie recipe offers a symphony of textures.
Ingredients for the Pie
To make this coconut cream pie recipe, you'll need Tates Bake Shop coconut cookies (or any crisp cookies), shredded sweetened coconut flakes, unsweetened canned coconut milk, and some coconut-flavored extract.
If you don't have them on hand in your pantry, they are easy to find at the grocery store. As you can see, you're getting a triple whammy of coconut!
Pantry: Crisp coconut cookies, granulated sugar, all-purpose flour, salt, sweetened toasted coconut, unsweetened coconut milk, cornstarch. vanilla extract, coconut extract, almond extract.
Refrigerated: Heavy whipping cream, whole milk, eggs, butter.
Specialty pantry items: White chocolate and large coconut flakes for decoration.
When buying the whipping cream for the topping, make sure the label says it's at least 30% butter fat.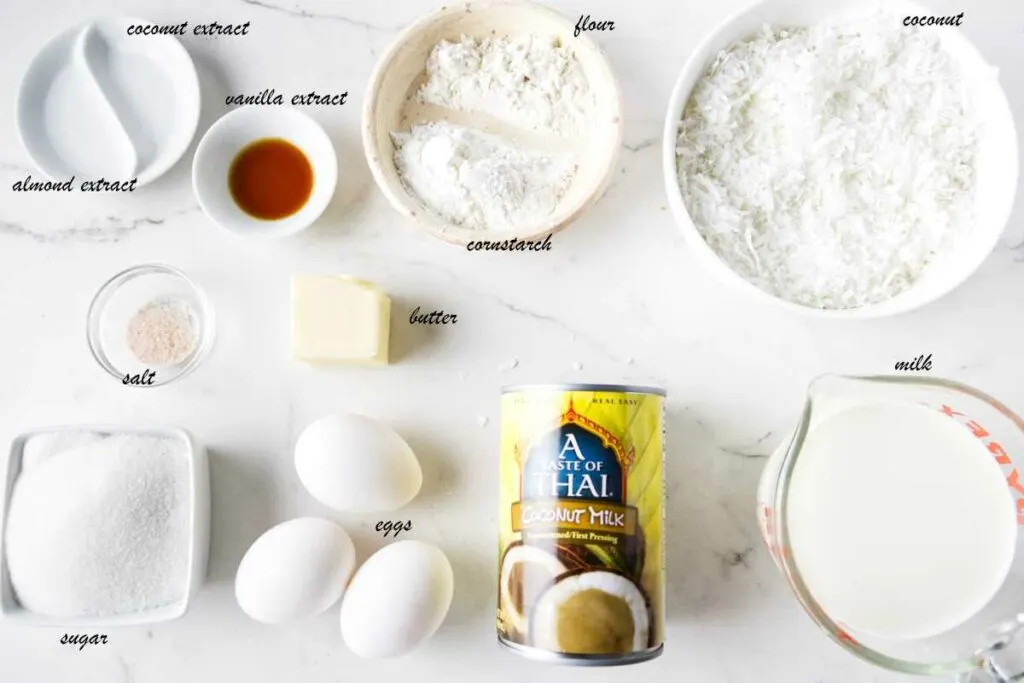 How To Make This Homemade Coconut Cream Pie Recipe
If you're looking for a quick snapshot of our toasted coconut cream pie, here's a quick overview to give you a glimpse of the steps involved in the recipe. Perfect for those who appreciate a brief rundown before getting started!
Coconut Cookie Crust:
Pulse the coconut cookies with salt in a food processor. Add melted butter and pulse until combined.
Press the mixture into a 9-inch pie plate.
Cook in a preheated oven until the crust turns golden. If the crust shrinks down, push it back with a spoon while it is still warm.
Coconut Pastry Cream Filling
Whisk dry ingredients with eggs in a mixing bowl.
Simmer the coconut milk, whole milk, salt, and toasted coconut.
Slowly add the hot mixture to the egg mixture, whisking continuously.
Return the combined mixture to the heat. Stir until it thickens.
Mix in butter and extracts.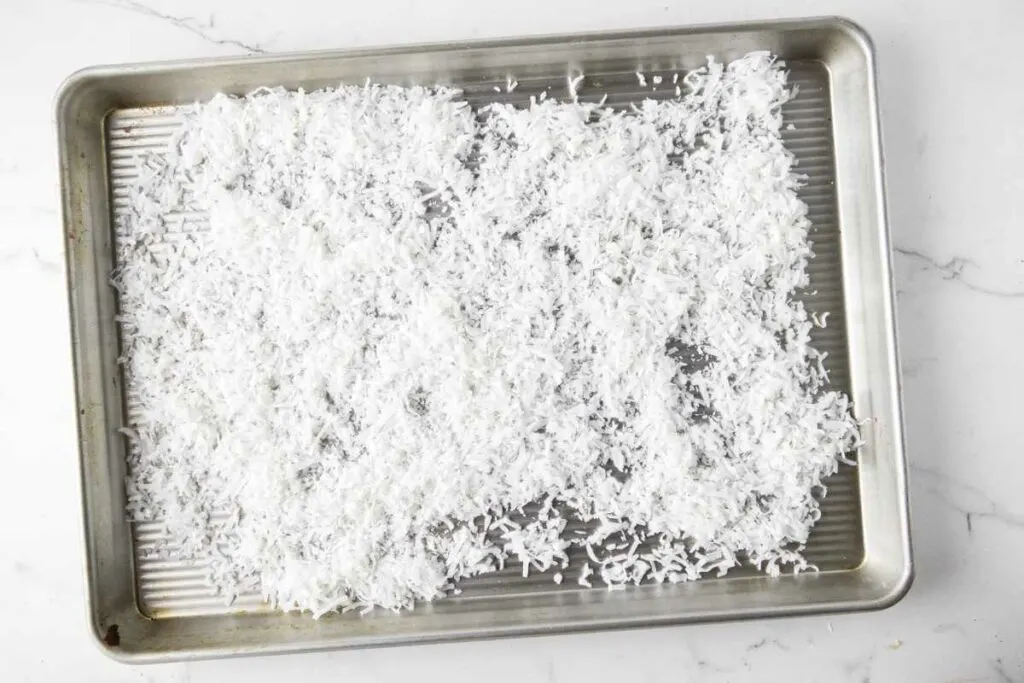 Whipped Cream Topping
Mix whipping cream, sugar, and extracts together.
Beat the mixture until stiff peaks form.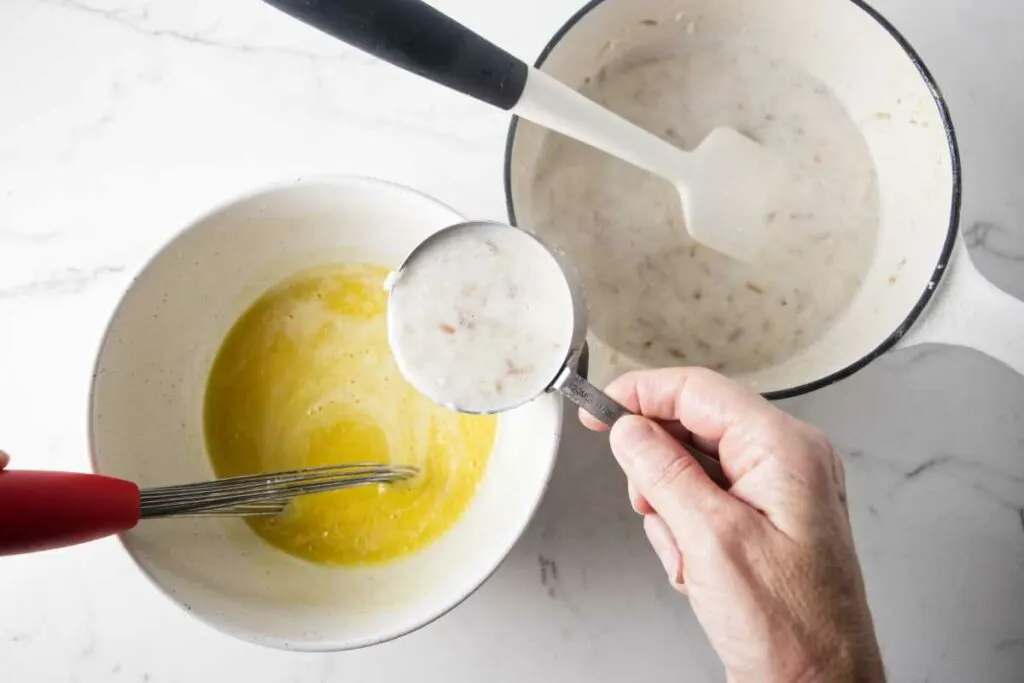 Assembling the Coconut Cream Custard Pie
Spread the creamy custard filling into the baked pie crust and chill for several hours.
Pipe or spread the whipped cream over the custard.
Sprinkle the top with toasted coconut flakes and white chocolate curls.
Full ingredient amounts and directions for this Homemade Coconut Cream Pie are in the recipe card below.
Substitutions
Everyone has unique tastes and pantry supplies, so consider these handy swaps to make the recipe fit just right for you:
Crust Alternative: While the coconut cookie crust adds a special touch, a traditional pie crust can work just as beautifully if that's what you have on hand or prefer.
Topping Twist: Instead of the toasted coconut, consider sprinkling chopped pecans for a nutty contrast.
A Different Finish: Opt for a glossy egg white meringue if whipped cream isn't your thing. Just whip to stiff peaks and toast it under the broiler until golden brown.
Below are a few more suggestions to creatively tweak and personalize this coconut cream pie recipe.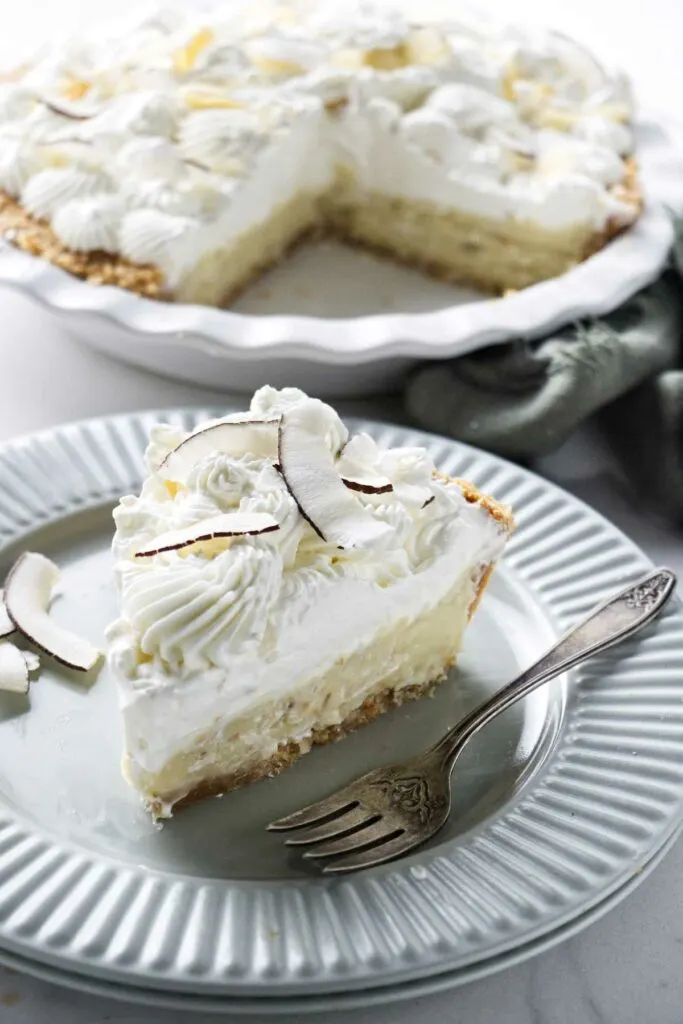 Recipe Variations
Every classic recipe has the potential for reinvention! If you're feeling adventurous or seeking a fresh take on our Toasted Coconut Cream Pie, these recipes offer some fun twists.
Macadamia Oreo Coconut Pie:
Crust: Replace the coconut cookies with crushed chocolate Oreo cookies to make a rich, chocolaty base.
Topping: After adding the whipped cream layer, generously sprinkle chopped macadamia nuts over the top. You can even add macadamia nuts to the filling if you want.
Caramel Infused Coconut Cream Pie
Base Layer: Once your chosen pie crust is baked and cooled, spread a thin, even layer of silky caramel sauce over it.
Filling: Layer the custard filling followed by the whipped cream topping, then finish with an additional drizzle of caramel sauce. You can use storebought caramel or make our caramel sauce recipe.
Lime and Coconut Cream Pie
Sugar Prep: Rub the zest of a fresh lime into the granulated sugar. This technique extracts the aromatic oils from the zest, infusing the sugar with a lively citrus flair that resonates throughout the pie.
Filling: Incorporate this lime-infused sugar into the recipe for the coconut custard filling. The subtle tanginess from the lime zest will complement the creamy coconut beautifully, creating a delightful tropical flavor blend.
Topping: Garnish with thin lime slices and additional lime zest on top of the pie.
Serving Suggestions
Cream pies, with their rich and velvety fillings, often stand out on their own. However, if you want to elevate this homemade coconut cream pie recipe even further, consider serving it with a simple whipped cream topping, toasted chopped pecans, or a fluffy meringue topping. It's also delicious with a drizzle of chocolate sauce.
Additional showstopper dessert recipes to entertain with: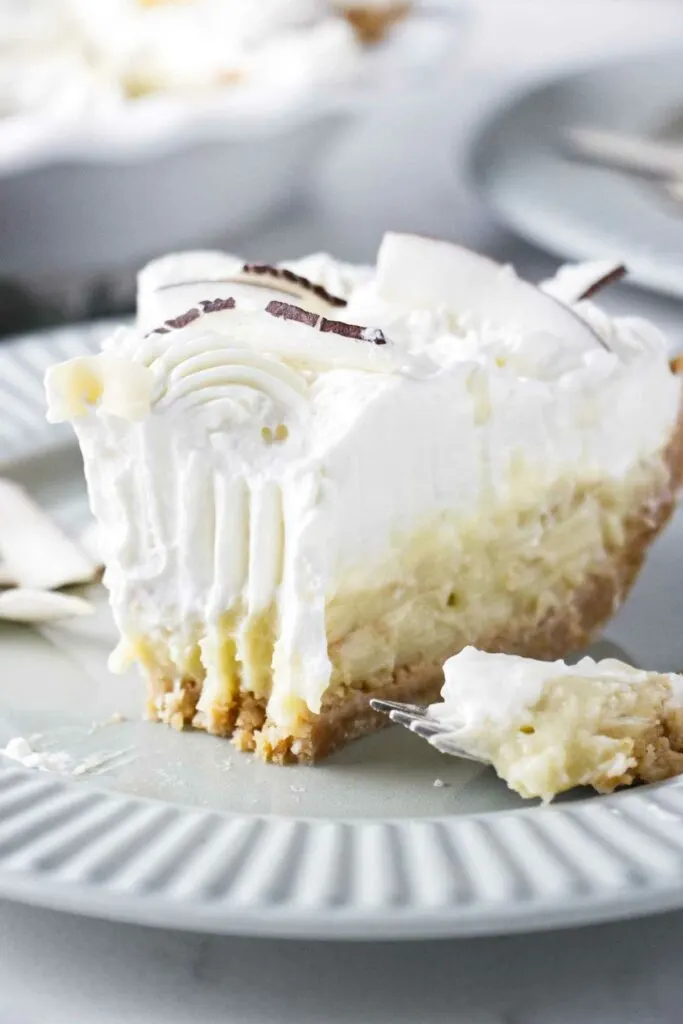 Other Pie Recipes You Might Love
Tips For Success
For a richer custard, use whole milk instead of skim milk in the pastry cream.

If the cookie crust shrinks a little, press it back into the pie plate while it is still hot.

If you are using a store-bought flaky pie crust instead of a cookie crust, be sure to prick the bottom of the crust with a fork before baking. This will help to prevent the crust from bubbling up.

If you want to make a traditional crust, we have a flaky pie dough recipe and a gluten free pie crust recipe. You an even add some toasted coconut in the dough.

Always temper the eggs with the coconut milk pastry custard before incorporating them into the saucepan with the hot milk mixture. This ensures a smooth texture and prevents scrambled eggs from forming in the coconut cream filling.
Storage Options
To store any leftover toasted coconut cream pie (if leftover are even possible), cover it tightly with plastic wrap and refrigerate for up to 3 days.
I don't recommend freezing a cream pie that uses cornstarch in the filling. However, if you want to freeze the pie, keep it in a freezer-proof container for up to 3 months. The filling will be slightly less thick when it thaws.
Helpful Tools
Some of the following are affiliate links. We may receive a small commission if you click on these links and purchase something. You don't pay any extra, but it will help us keep the lights on.
Some pieces of equipment you may find helpful when making this toasted coconut cream pie:
Frequently Asked Questions
Why does my coconut cream pie get watery?
If your coconut cream pie becomes watery, it can be due to undercooking or overcooking the custard. Undercooking the custard will not allow it to set properly, leaving you with a runny filling. On the other hand, overcooking can break down the structure, releasing moisture into the pie.
Additionally, covering the pie with the whipped topping while it's still warm can cause condensation.
Can I use a regular flaky pie crust?
Yes, use any recipe for a one crust pie or any store bought prepared pie crust.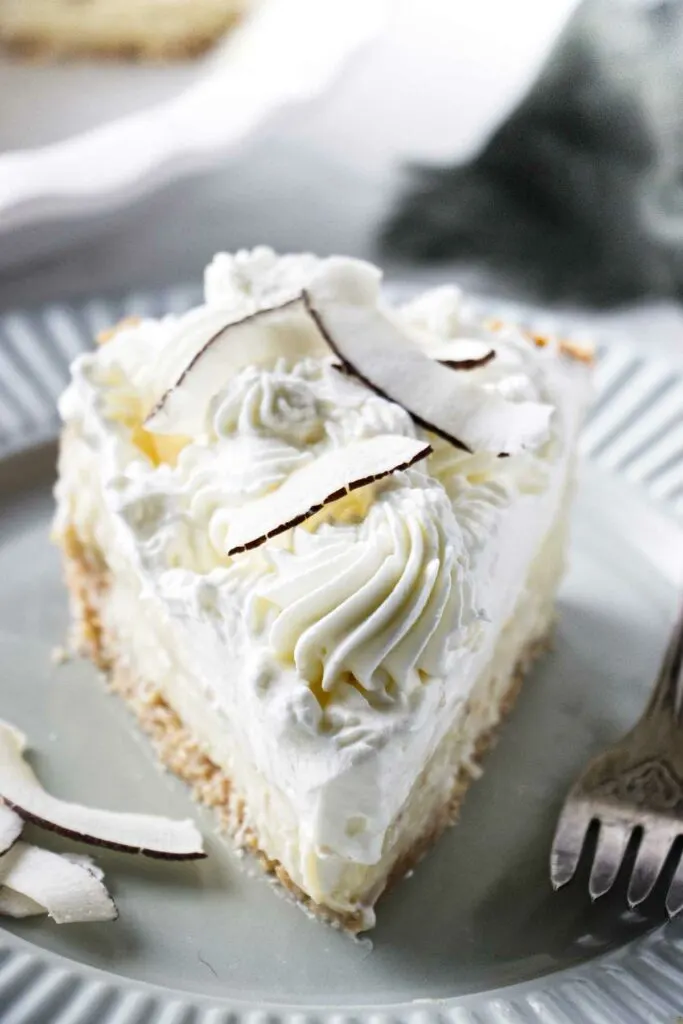 Our Toasted Coconut Cream Pie beautifully marries classic flavors with a modern twist. Every bite is a tropical escape, making it the ideal dessert for both relaxed afternoons and grand celebrations. When you're in the mood to make something truly special in your kitchen, let this pie be your masterpiece.
More Dessert Recipes
Connect With Savor the Best:
Please follow us on our social media accounts
Facebook * Instagram * Pinterest * Youtube * Twitter
Did you make this recipe? We would love to hear from you. Drop us a comment below.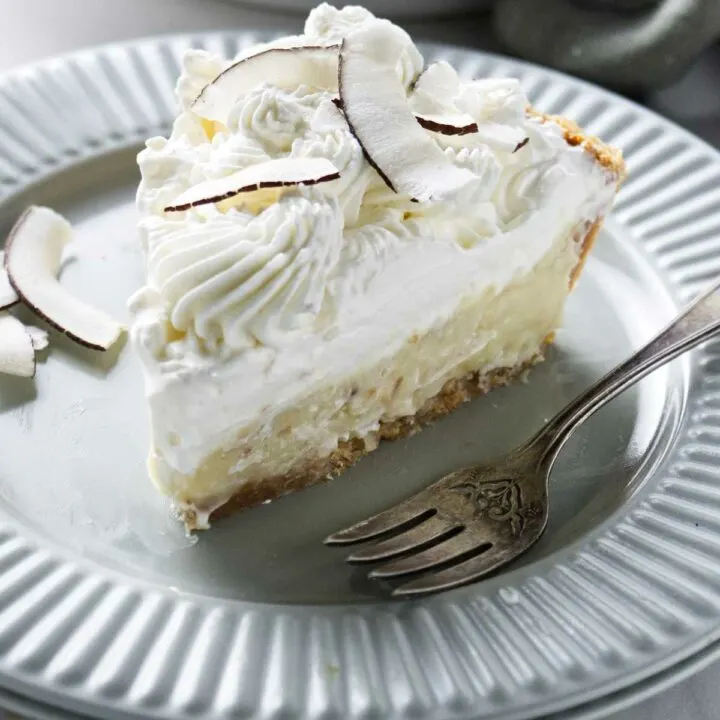 Toasted Coconut Cream Pie
Indulge in the tropical flavors of this Coconut Cream Pie, complete with a coconut cookie crust and rich coconut pastry cream. The pie is a delightful blend of crispy, creamy, and dreamy.
The custardy pie filling combines both cornstarch and flour for the perfect consistency, while a medley of extracts elevates the flavors.
Finish it off with a fluffy whipped topping and a sprinkle of toasted coconut flakes for the ultimate homemade treat. This pie is a coconut lover's dream, made simple enough for anyone to tackle.
Ingredients
Coconut Cookie Crust
7 ounces crisp coconut cookies, such as Tates Bake Shop cookies** 14 cookies
¼ teaspoon salt
4 tablespoons butter, melted
Coconut Pastry Cream
2 cups sweetened shredded coconut
1 can (13.5 ounce) unsweetened coconut milk, well shaken
1-½ cups (340g) whole milk
1/2 teaspoon salt
2/3 cup (134g) granulated sugar
3 tablespoons cornstarch
2 tablespoons all-purpose flour
2 whole eggs
1 egg yolk
4 tablespoons (57g) butter
1 1/2 teaspoons vanilla extract
½ teaspoon coconut extract
¼ teaspoon almond extract
Topping
2 cups heavy whipping cream, chilled
¼ cup sugar
1 teaspoon vanilla extract
1/8 teaspoon coconut extract (optional)
1/3 cup large flaked coconut
2 to 3 ounces white chocolate (for curls)
Instructions
Coconut Cookie Crust
Preheat the oven to 350°F.
Place the coconut cookies in a food processoer along with the salt (you can use shortbread cookies or graham crackers here as well). Pulse until finely ground. Add the butter and pulse until well incorporated
Press the mixture into the bottom and up the sides of a 9-inch deep-dish pie plate.
Pop it in the oven and bake for about 15 minutes or until it turns light golden brown. Remove from the oven: If it shrinks down the sides, gently press it with the back of a spoon while it is still warm and push it back up the sides. Set aside to cool.
Coconut Pastry Cream
Before diving into the pastry cream, let's toast the sweetened shredded coconut. Spread it evenly on a baking sheet and bake at 350°F. Stir frequently until golden brown. This only takes 2 to 4 minutes. The first minute or two, it seems like nothing is happening, then it will get golden brown super fast, so keep a close eye on it.
In a medium mixing bowl, combine the sugar, cornstarch, flour, whole eggs, and egg yolk. Whisk until smooth and set aside, but keep it close to the stove.
In a medium saucepan, combine the coconut milk, whole milk, salt, and 1-1/2 cups of the toasted coconut flakes (reserve the remaining 1/2 cup to decorate the top of the pie). Bring the mixture to a boil over medium-high heat, then reduce to a gentle simmer.
Temper the eggs by pouring about ½ cup of the hot milk mixture into the egg mixture, whisking constantly. Now, slowly pour the warmed egg mixture into the saucepan, whisking continuously. Bring the mixture to a simmer, stirring constantly until it thickens. If you have an instant-read thermometer, it should read 200°F. If you don't have a thermometer, let it cook until a few bubbles burst on the surface, then stir constantly for one more minute.
Remove from the heat and stir in the butter, vanilla extract, coconut extract, and almond extract. Pour into the pie crust and press some plastic wrap directly on the surface. Chill in the fridge for 4 to 6 hours.
Whipped Topping
In a chilled mixing bowl, combine the heavy whipping cream, sugar, vanilla extract, and coconut extract. Whip until stiff peaks form.
Assemble the Pie
Spread the chilled coconut pastry cream into the baked pie shell. Spread or pipe the whipped cream over the pie.
Sprinkle the top with toasted coconut flakes and use a vegetable peeler to make white chocolate curls for garnish.
Notes
Store in the refrigerator for up to 4 days.
About the thickener: Cornstarch is a powerful thickener that creates a smooth, shiny texture. However, using large amounts can result in a more gel-like consistency.

On the flip side, flour is a milder thickener, but it gives the cream a rich "custardy" texture. It's also more stable with prolonged cooking. By combining the two, you're getting the best of both worlds: a pie filling that is thick enough to slice but still has a creamy, custardy texture.
Nutrition Information:
Yield:

8
Serving Size:

1
Amount Per Serving:
Calories:

1055
Total Fat:

73g
Saturated Fat:

41g
Trans Fat:

1g
Unsaturated Fat:

27g
Cholesterol:

160mg
Sodium:

707mg
Carbohydrates:

94g
Fiber:

5g
Sugar:

52g
Protein:

12g
Nutrition information is a guideline only. It is calculated automatically by third-party software, and absolute accuracy is not guaranteed.