This strawberry crunch topping is incredibly easy to make and only requires 3 ingredients! It is a delicious and unique way to top cakes, ice cream, and other desserts.
Made with freeze dried strawberries and golden Oreo cookies, this irresistible topping adds a burst of bright and tangy strawberry flavor and fabulous texture to any dessert.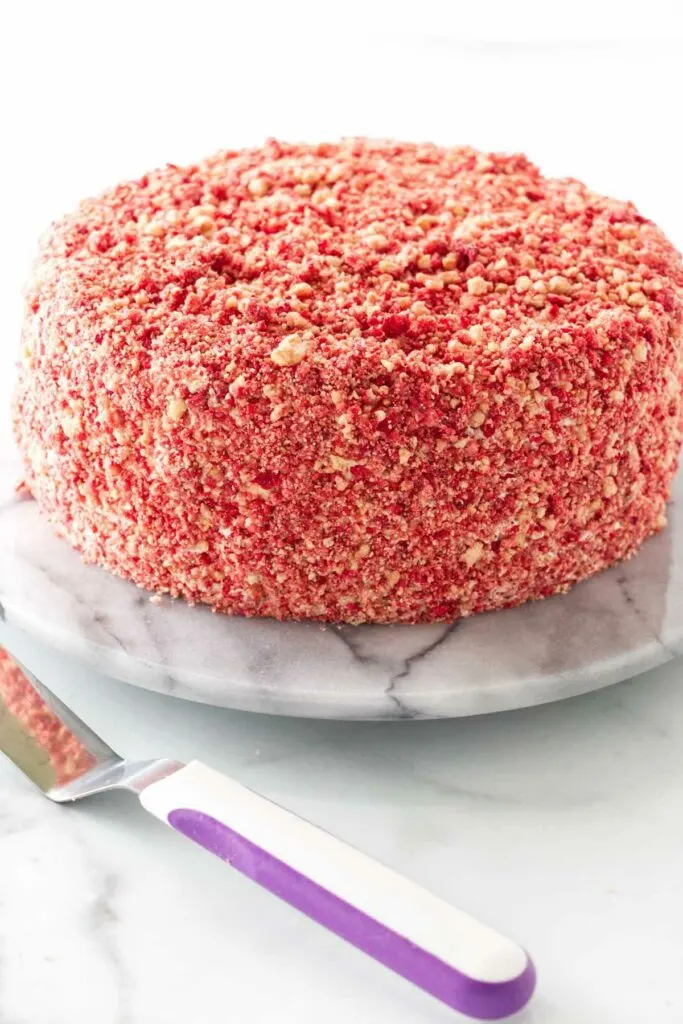 Do you want to dazzle your guests for a birthday celebration or special occasion? Our strawberry crunch crumble topping is meant for you. This easy recipe combines real strawberries with crisp cookies to make a crunchy shortcake crumble topping that will bring any dessert to the next level.
If you lived in a neighborhood where an ice cream truck would drive down the street, then this recipe will bring back sweet memories. This strawberry crunch topping was inspired by the strawberry shortcake bars from Good Humor (that crunchy coating on the outside of the bar).
Why This Recipe Works
Easy to make with only 3 ingredients.
Freeze-dried strawberries give an authentic sweet strawberry flavor to the topping and gives it a delightful crunch (some recipes use strawberry jello which has an artificial flavor).
This strawberry shortcake crumble is the perfect way to spruce up your favorite cakes, cheesecake, and cupcakes, and it makes an excellent topping for ice cream sundaes.
The golden Oreo cookies give the topping a nice touch of sweetness and crunch without overpowering the strawberry flavor.
For a truly decadent dessert experience, try combining our homemade strawberry crunch recipe with a vanilla sponge cake with berries, Lemon Curd Cake, or check out our strawberry crunch cake recipe. You can even add it to creamy desserts like Raspberry Mousse.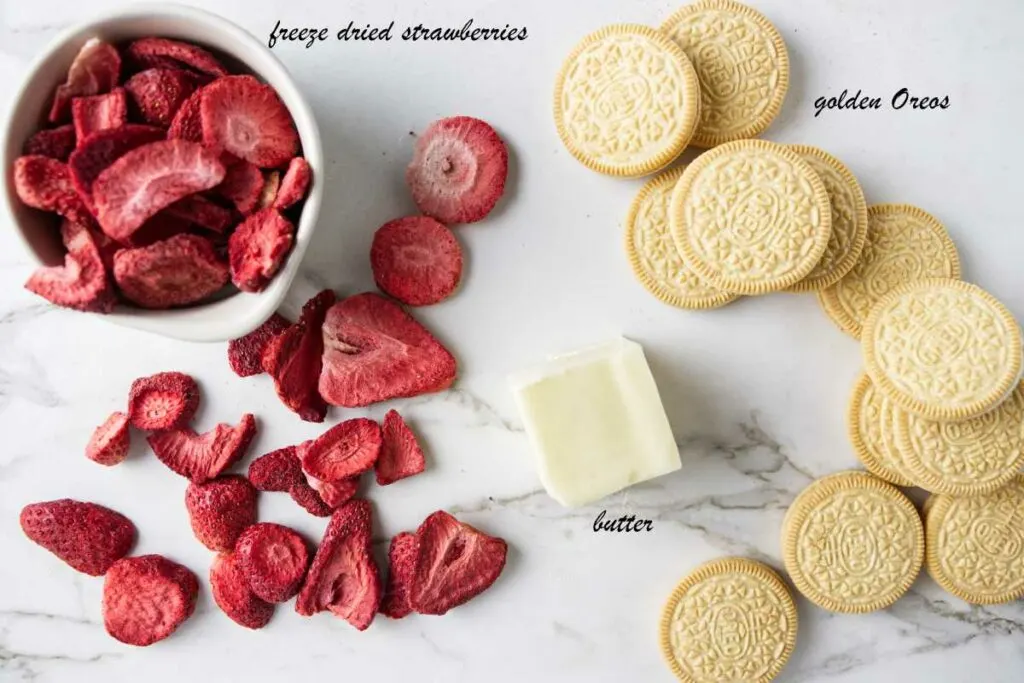 The Ingredients
Here is a list of the ingredients you will need for this strawberry crunch crumble topping. Scroll down to the printable recipe card for all the details.
Freeze dried strawberries. Make sure you select freeze dried strawberries and not standard dehydrated strawberries. The freeze-dried berries have a crisp texture that gives the topping the perfect crunch.
Golden Oreo Cookies. You can use any crispy vanilla cookie. If you have a sandwich cookie, keep the filling because it will add to the sweet flavor, but this recipe works with non-filled cookies.
Butter. You can use salted or unsalted butter. The butter helps the crumbs cling together and adds a rich flavor. If you can't do butter, you can substitute it with margarine.
That's IT!
?‍? Recipe Highlights
Here is a brief overview to get an idea of what to expect when you make this strawberry crunch recipe. Scroll down to the printable recipe card for all the details.
This recipe couldn't be easier. Requiring only THREE ingredients and very little leg work, you can spice up your favorite cakes and cupcakes in mere minutes to give them a sweet, tart and refreshing spin!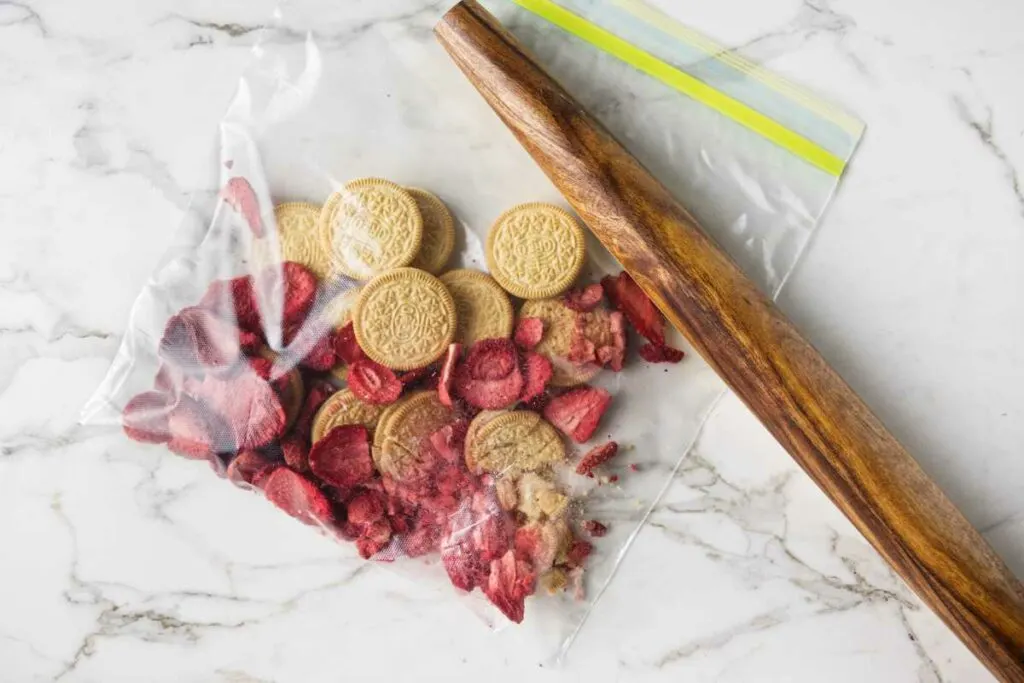 Place the cookies and freeze-dried strawberries into a re-sealable ziploc bag and crush them with a rolling pin.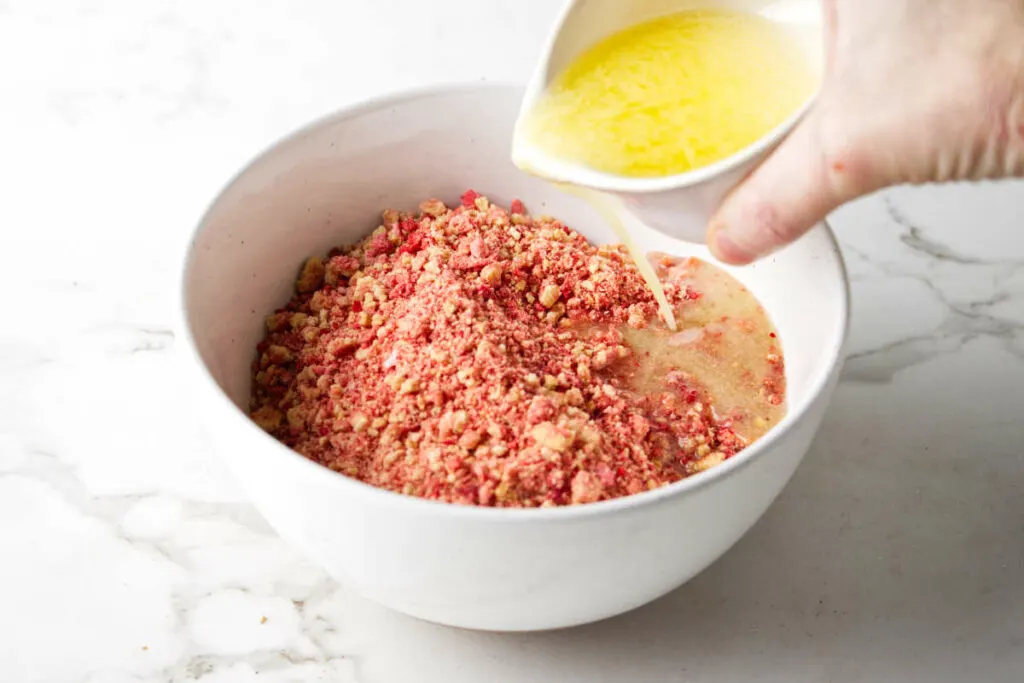 Transfer the crumbs to a bowl and toss them with melted butter.
Ways to Use Strawberry Crunch
You may want to spoon the strawberry crunch crumbles right into your mouth (no judgment here). But if you want to be a bit more creative, there are plenty of ways to enjoy the topping.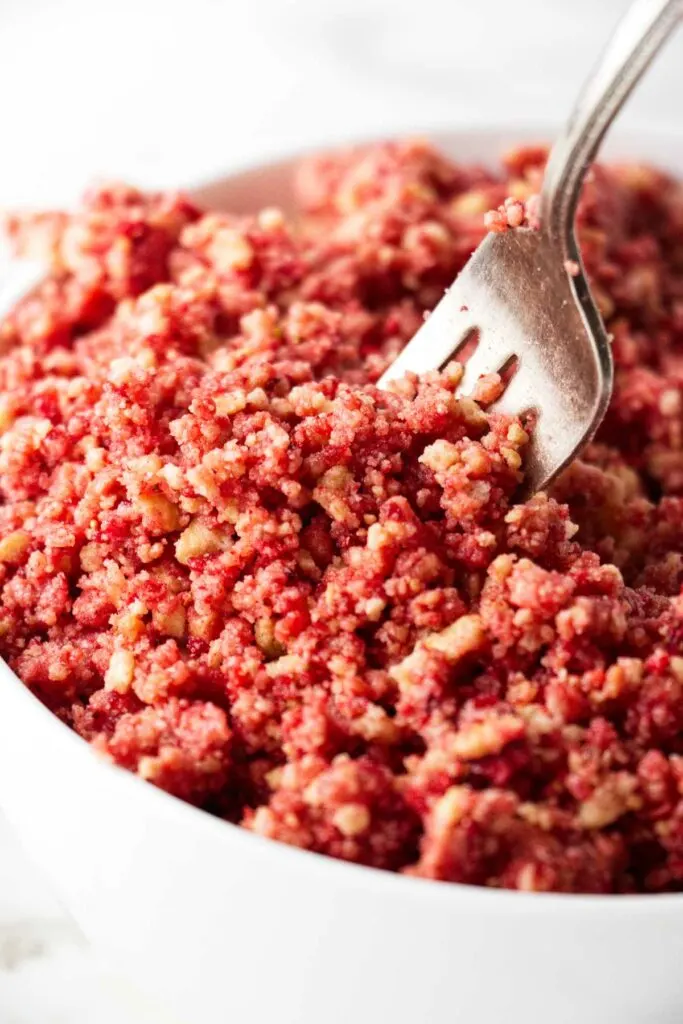 ? Tips for Success
Make sure you use freeze-dried strawberries and not dehydrated strawberries. Freeze drying removes all the moisture from the fruit and makes the strawberries extra crunchy. You will be able to pound them into small bits much easier.

You can use a food processor to make the shortcake crumbles, but make sure you don't over-process them. We like using a rolling pin to pound them into large, coarse crumbs that have more texture.

Don't leave the package of freeze dried strawberries open. If air gets to it, then the strawberries will absorb moisture and lose their crisp texture (then they will not crush as easily). Keep the package closed until you are ready to use them.

If you have leftover strawberries, make our strawberry shortbread cookies.
✅ Substitutions and Variations
Use crisp lemon cookies instead of golden Oreos. The lemon compliments the strawberries and adds a tangy flavor.
Substitute the Golden Oreos with original chocolate Oreos for a chocolate strawberry crunch topping (who doesn't love strawberries with chocolate? Hello, strawberry-stuffed cheesecake and chocolate covered strawberries).
Switch out the strawberries for freeze dried raspberries or blueberries.
⏲ Storage
Store in an airtight container in the fridge for up to 2 weeks or in the freezer for up to 3 months.
When you make the strawberry crunch topping, the strawberries will absorb the moisture from the butter, but the cookies will keep the crumble topping crunchy.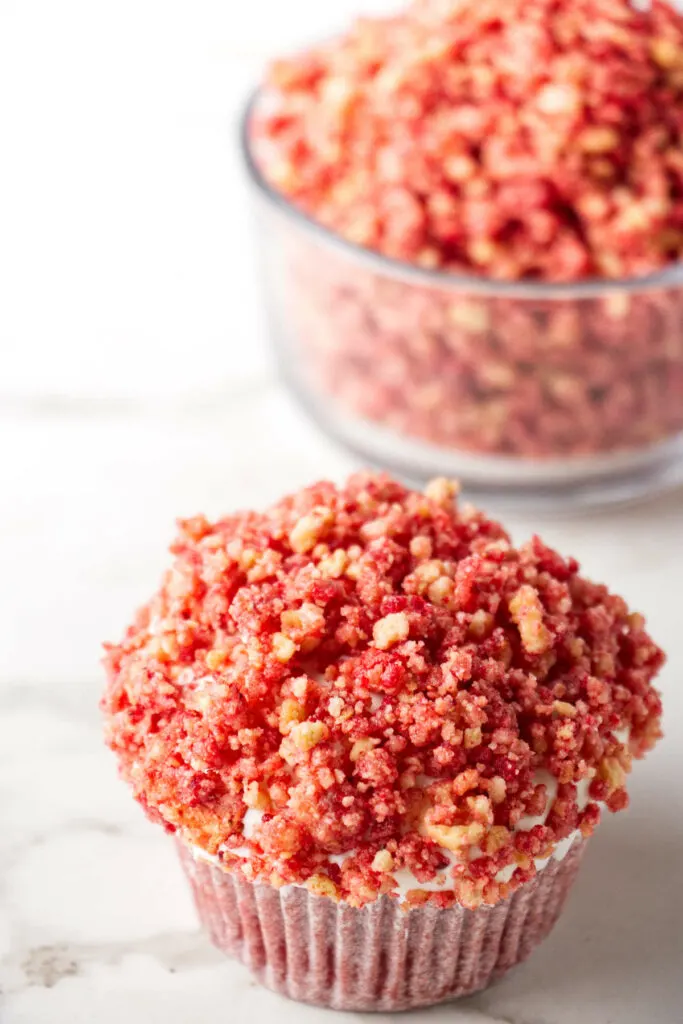 ⭐️ Helpful Tools
Some of the following are affiliate links. We may receive a small commission if you click on these links and purchase something. You don't pay any extra, but it will help us keep the lights on.
? More Recipes You Will Love:
Lavender cupcakes are soft, tender and fluffy with a delicate floral flavor. Lavender extract and dried lavender buds infuse these delicious cupcakes with an irresistibly fresh and herby flavor!
Our chocolate raspberry tart is an indulgent treat that combines rich chocolate with tart raspberries. It is perfect for special occasions.
This Moist Lemon Cake Recipe is fluffy, tangy, and so easy to make from scratch! Every bite of this supremely moist pound cake is bursting with fresh lemon flavor and the easy lemon glaze on top will have you hooked after just one bite.
For More Strawberry Recipes
Connect With Savor the Best:
Please follow us on our social media accounts
Facebook * Instagram * Pinterest * Youtube * Twitter
Did you make this recipe? We would love to hear from you. Drop us a comment below.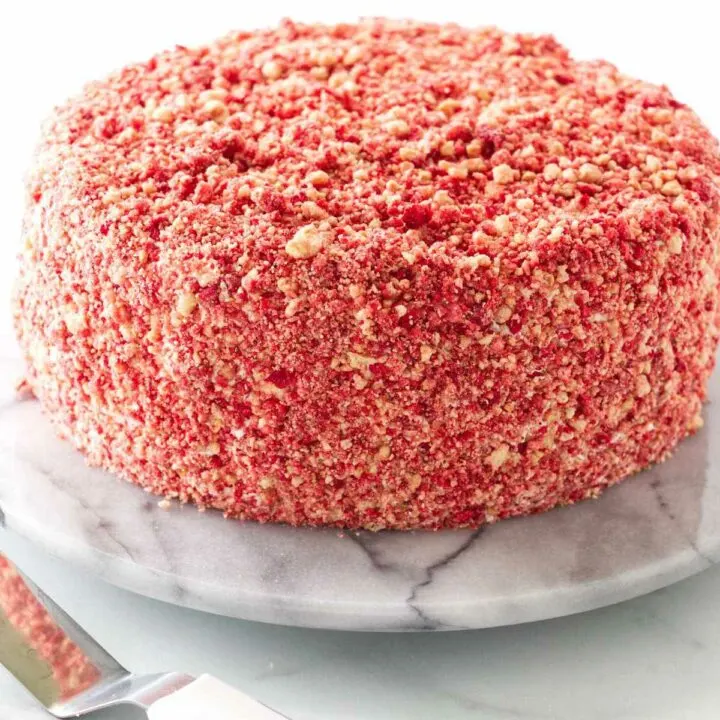 Strawberry Crunch Topping
This strawberry crunch crumble topping is the perfect way to transform a simple dessert into an impressive masterpiece. It's sweet and crunchy and packed with natural strawberry flavor. And best of all, it's so easy to make!
For the best results, make sure you use freeze-dried strawberries and not dehydrated strawberries.
Ingredients
16 golden Oreo cookies
1 ounce freeze dried strawberries (1 cup)
4 tablespoons butter, melted
Instructions
Place the cookies and freeze-dried strawberries into a re-sealable plastic bag and crush them with a rolling pin. When the crumbles are the size of small pebbles, transfer them to a mixing bowl.

Pour the melted butter over the crumbs and toss them with a fork until well distributed.

Store in an airtight container in the fridge for up to 2 weeks or in the freezer for up to 3 months.
Notes
You can use any crunchy vanilla sandwich cookie.
We did not remove the filling from the cookies.
If you prefer to crush the cookies and strawberries in a food processor, pulse in 2 to 3-second increments until you have the texture you prefer. The food processor tends to make the crumbles much finer.
Use freeze-dried strawberries and not dehydrated strawberries (which are chewier and do not crush into crumbles as easily).
Recommended Products
As an Amazon Associate and member of other affiliate programs, I earn from qualifying purchases.
Nutrition Information:
Yield:

20
Serving Size:

1
Amount Per Serving:
Calories:

65
Total Fat:

4g
Saturated Fat:

2g
Trans Fat:

0g
Unsaturated Fat:

2g
Cholesterol:

6mg
Sodium:

56mg
Carbohydrates:

7g
Fiber:

0g
Sugar:

4g
Protein:

1g
Nutrition information is a guideline only. It is calculated automatically by third-party software, and absolute accuracy is not guaranteed.