Thick and creamy with the sweet, fruity flavor of raspberry, our raspberry mousse recipe makes a delightful cake filling and a standalone dessert.
The recipe begins with a fresh raspberry sauce that will leave you with extra for drizzling onto the mousse or serving alongside another favorite dessert, like this lemon raspberry parfait or our flourless chocolate cake.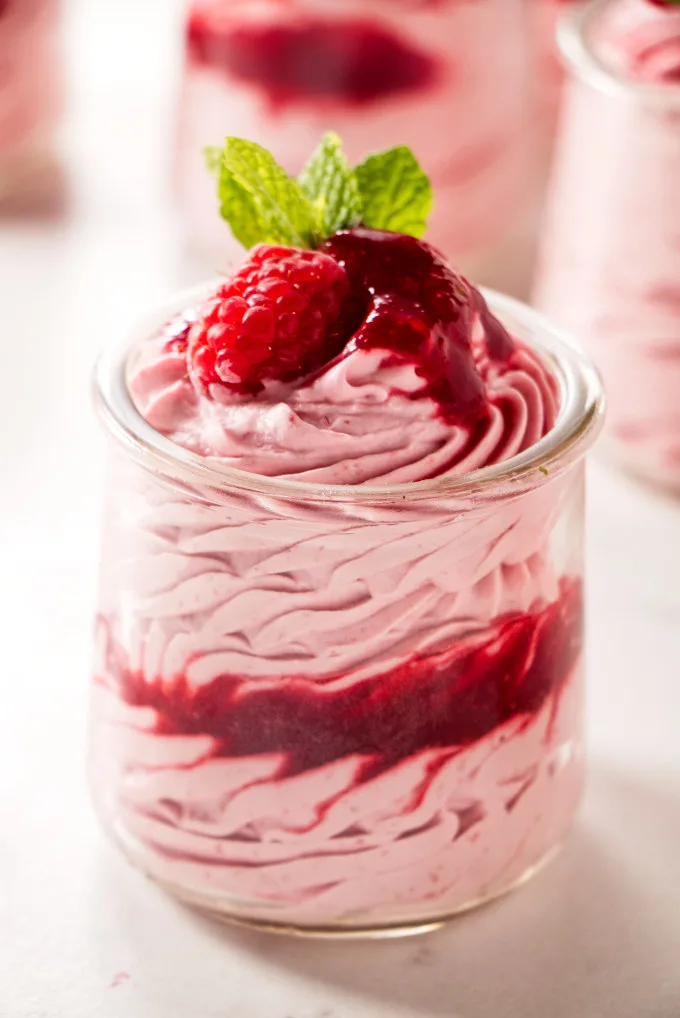 We love serving mousse in individual dessert cups, but many of our mousse recipes also make delicious cake fillings!
This raspberry mousse sets up firmly and is similar to our white chocolate mousse filling in that it's perfect to spread (or pipe) between two fluffy cake layers.
The sweet and fruity flavor of raspberry pairs beautifully with a variety of cakes, from a white chocolate cake to our coconut cake and this 6-inch yellow cake recipe. It even goes well with our perfect chocolate cake.
And while we also have a raspberry white chocolate mousse recipe, we wanted to create an all raspberry mousse to enjoy that deliciously sweet and fruity berry flavor.
Why this Raspberry Mousse Recipe Works
The mixture of mascarpone cream, heavy cream, and fresh (or frozen) berries, gives this dreamy raspberry mousse cake filling a rich and creamy consistency that remains light and fresh.
Our raspberry mousse is:
fruity and sweet (but not overly sweet)
easy to prepare
multi-use and perfect for serving on its own or in a layer cake
a dessert to enjoy year-round with the option to use frozen berries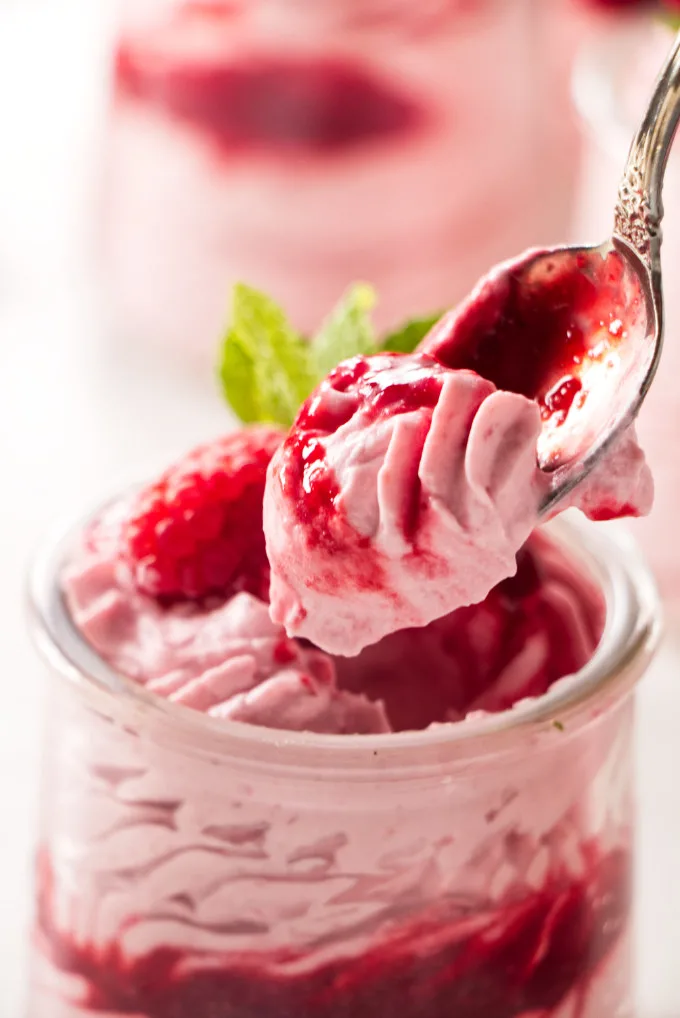 Ingredients for Raspberry Mousse Cake Filling
This easy raspberry mousse recipe only calls for seven ingredients. With a beautiful pink color and extra raspberry sauce for drizzling, raspberry mousse cake filling creates an elegant and sophisticated dessert, too!
Here is the full ingredient list:
fresh or frozen raspberries
sugar, divided
lemon juice
unflavored powdered gelatin
water
mascarpone cream, chilled
heavy cream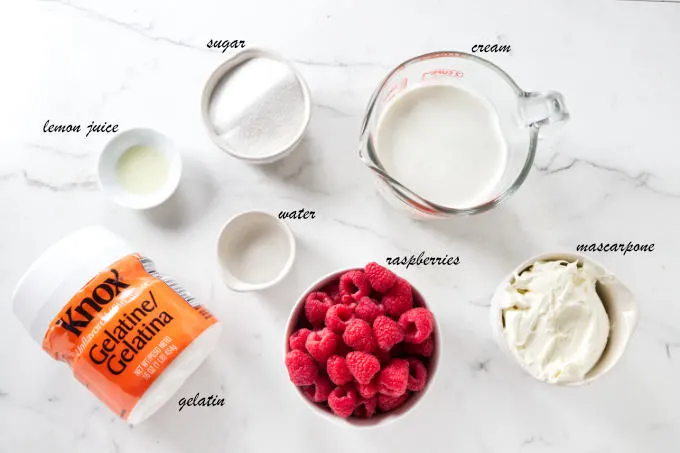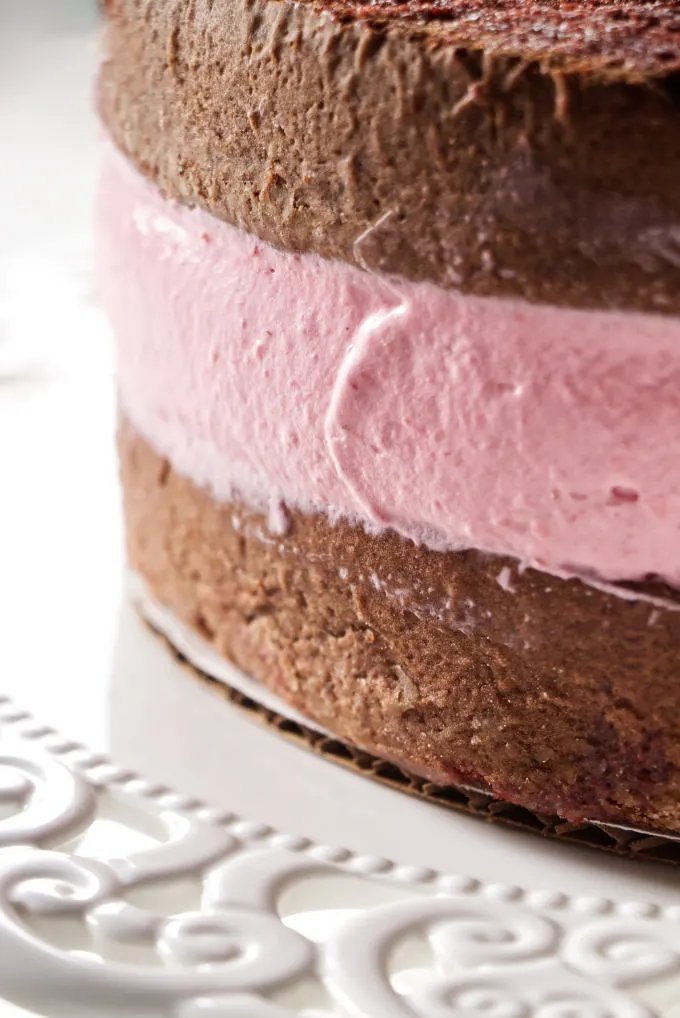 How to Make Raspberry Mousse
We start by making a simple raspberry sauce. The actual mousse recipe only calls for about 1 cup of the sauce which means you'll be left with about 1/4 cup to 1/3 cup of leftover raspberry sauce.
If you plan to serve this raspberry mousse as dessert, you can drizzle that leftover sauce on top. It creates a beautiful, red swirl in the mousse and gives it an extra punch of that sweet-tart berry flavor.
If you're making this mousse for a cake filling, don't discard the excess raspberry sauce! You can enjoy it over strawberry ice cream, sourdough pancakes, crispy yeast waffles, or lemon ricotta cake.
Here's a quick look at how to make raspberry mousse (make sure to scroll to the bottom of the page to view the printable recipe card and all of the details):
Make the raspberry sauce: After you cook the sauce, pour it through a strainer to remove as much pulp as possible and discard the pulp and seeds.

Prepare the gelatin: The gelatine needs to bloom or hydrate BEFORE you dissolve it and make it liquified.

Beat the cream: In a chilled mixing bowl, combine the mascarpone cream with the sugar, beating it on low speed for 30 seconds. Pour in half of the heavy cream and beat for 30 seconds to 1 minute. Stop the mixer and scrape down the sides of the bowl. Pour in the remaining cream and beat on medium-low until the mixture reaches soft peaks. Pour in the raspberry/gelatin mixture and beat until stiff peaks form.

Serve the raspberry mousse: Divide into 6-8 dessert glasses (we like to pipe it into the glasses) or use it as a cake filling. If you plan to serve it as a dessert, drizzle the extra raspberry sauce on top.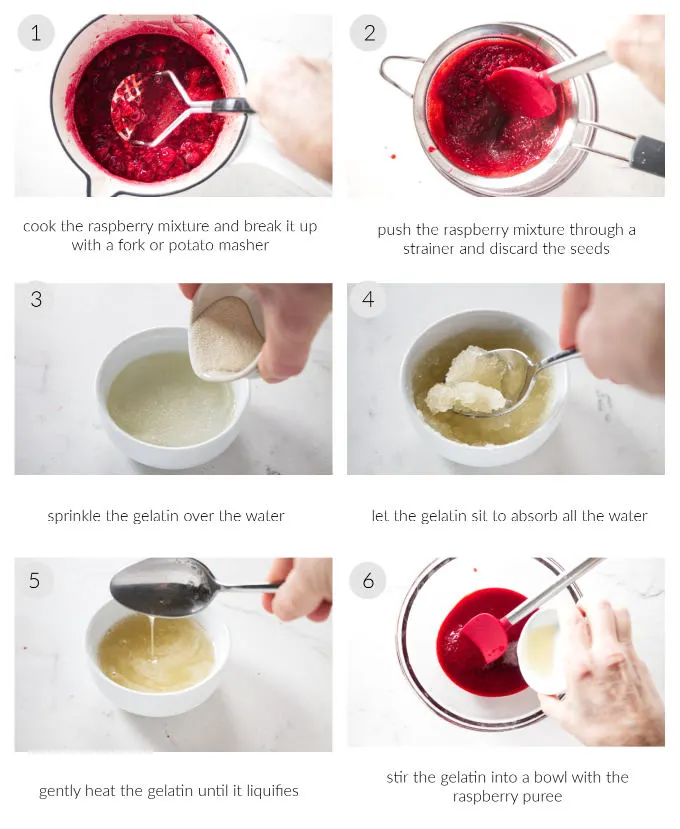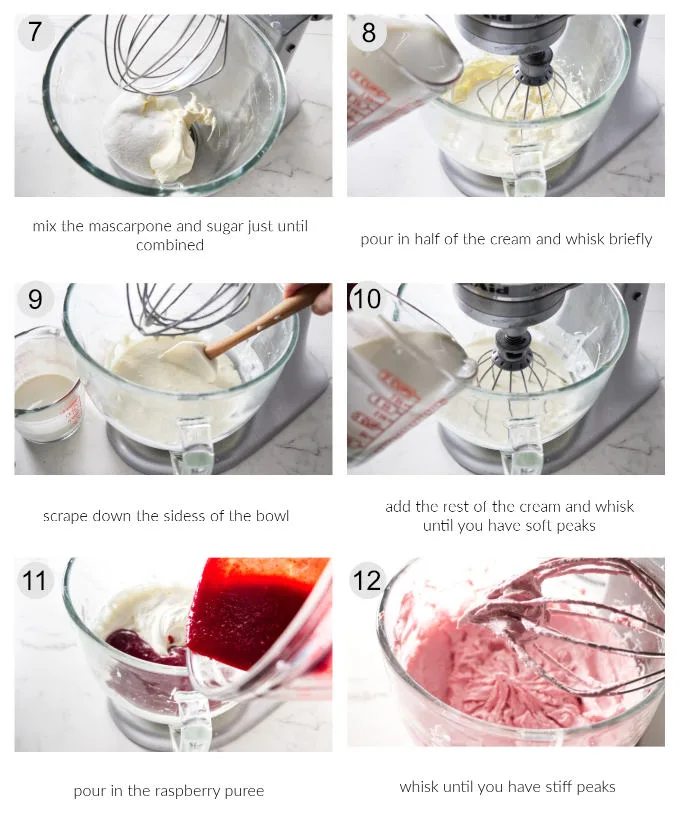 Recipe Tips for Success
Make sure that the heavy cream and the mascarpone are chilled. You'll also want to chill your mixing bowl. Pop it in the fridge while you make the raspberry sauce.

Do not whip the mascarpone mixture for too long or the mascarpone will break and appear curdled.

Let the gelatin powder sit in cold water to hydrate or bloom before you heat it up and dissolve the granules.

When microwaving the gelatin, heat it in 3-second increments, just until it is in liquid form. Be careful not to overheat! If gelatin gets too hot, it will lose it's ability to thicken the mousse.

If you do not have dessert cups, wine glasses or small mason jars will do just fine!

The mousse will get thicker and firmer after it chills in the fridge.
Frequently Asked Questions
How long does fruit mousse last in the fridge?
This raspberry mousse cake filling will last in the fridge for up to five days. Once it chills for at least 4-6 hours, it will also thicken and firm up quite a bit.
What is the difference between pudding and mousse?
The biggest difference between pudding and mousse is that pudding is a cooked milk and sugar mixture that is thickened (often with corn starch).

Mousse is not cooked and is made with whipped cream or whipped egg whites to give it a fluffy, lighter consistency than pudding.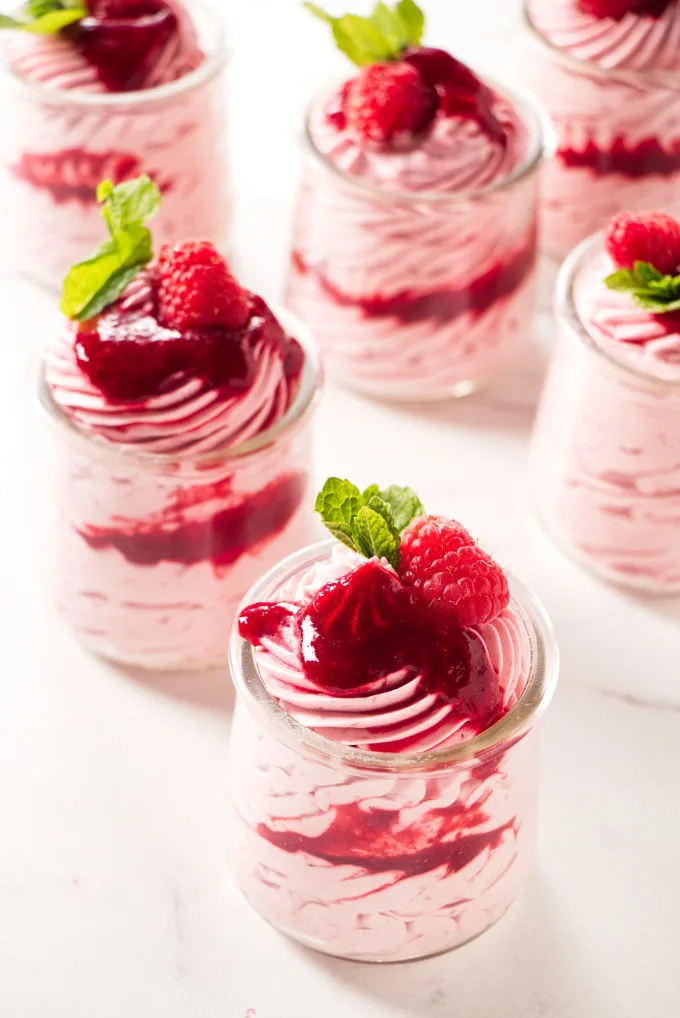 This easy raspberry mousse recipe is fruity and fabulous! A creamy, mascarpone base with swirls of fresh raspberry sauce is the perfect finish to any meal. And its ability to double as a cake filling means there are twice as many ways to enjoy this sweet indulgence.
Helpful Tools
Some of the following are affiliate links. If you click on these links and purchase something, we may receive a small commission. You don't pay any extra but it will help us keep the lights on.
Some Other Recipes We Are Sure You Will Love:
The tropical flavors of mango and coconut combine in this creamy and luscious mango mousse cake! A sweet mango mousse is just delightful served on top of a coconut-infused sponge cake.
Life just got better with our Nutella Buttercream and Cake Filling. Nutella is amazing on its own, but have you tried it as a cake filling? That deliciously addicting chocolate-hazelnut combination turns into a light and fluffy buttercream frosting that is simply irresistible.
This exquisite lemon lavender cake is for the ultimate lemon fan! A luscious lemon curd is layered between two tender lavender-scented sponge cakes that are soaked with lavender syrup. The entire cake is topped with more lemon curd and an Italian meringue buttercream.
Connect With Savor the Best:
Please follow us on our social media accounts
Facebook * Instagram * Pinterest * Youtube * Twitter
Did you make this recipe? We would love to hear from you. Drop us a comment below.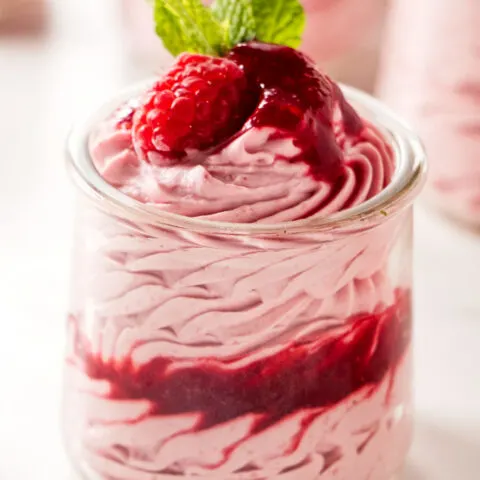 Raspberry Mousse
Yield:
8 servings (4 cups)
Thick, creamy raspberry mousse makes a beautiful dessert piped in glasses or uses the mousse for a cake filling. Since the mousse sets up firmly, you can put a thick layer between cakes.
When you make the raspberry sauce, you will end up with 1-1/4 cups to 1-1/3 cups of sauce. You will only use 1 cup of sauce to make the mousse and you can use the remaining sauce to drizzle over the top of the mousse when you serve it.
Ingredients
Make the Raspberry Sauce
24 ounces fresh or frozen raspberries
1/4 cup sugar
1 tablespoon lemon juice
For the Raspberry Mousse
2-1/2 teaspoons unflavored powdered gelatin
1/4 cup water
3/4 cup (6 ounces) mascarpone cheese, chilled
1/2 cup sugar
1 cup heavy cream, chilled
Instructions
Place a mixing bowl and whisk in the fridge to chill while you make the raspberry sauce. You will use the chilled bowl when you whip the mascarpone and cream.
Place the raspberries, sugar and lemon juice in a saucepan. Cook over medium heat, breaking it up with a fork or potato masher. Cook, stirring frequently for 10 to 12 minutes.
Place a strainer over a bowl and pour the raspberry mixture into the strainer. Push the mixture through the strainer to get as much juice and pulp into the bowl as possible. You should have 1-1/4 cups to 1-1/3 cups of sauce in the bowl. Toss out the seeds.
Measure out 1 cup of the raspberry sauce and place it in a bowl. Save the remaining puree to drizzle over the top of your mousse when you serve it.
Place 1/4 cup of water in a small microwavable bowl. Sprinkle the gelatin over the top of the water and let it sit for 3 to 5 minutes.
Place the bowl in the microwave for 6 to 12 seconds stopping to stir every 3 seconds until it gets liquified. Do not cook the gelatin mixture too much as high heat will destroy the thickening power of the gelatin.
Stir the gelatin mixture into the bowl with raspberry puree.
Add the mascarpone cream and the sugar to a chilled bowl and beat on low speed just until the sugar gets incorporated, about 30 seconds.
Pour in half of the heavy cream, beat for 30 seconds to 1 minute until the mixture looks liquid. Stop the mixer and scrape down the sides of the bowl.
Pour in the rest of the cream and beat on medium-low speed until the mixture reaches soft peaks.
Pour in the raspberry/gelatin mixture and beat on medium-low speed until stiff peaks form. If it reaches stiff peaks before the raspberry is fully incorporated, stop whipping and use a wide spatula to fold the mixture until the raspberry is completely combined.
Divide among six to eight dessert glasses or use as a cake filling. Use any remaining raspberry puree to drizzle on top of the mousse.
Keep chilled until time to serve. The mousse will thicken even more after 4 to 6 hours in the fridge.
Notes
Make sure the cream and mascarpone are chilled as well as the bowl.
Don't whip the mixture too long or the mascarpone will break and look curdled. As soon as you see the mixture reach stiff peaks, stop the mixer. If the raspberry puree is not fully incorporated by that time, you can use a spatula to gently fold the mixture.
Nutrition Information:
Yield:

8
Serving Size:

1/2 cup
Amount Per Serving:
Calories:

233
Total Fat:

13g
Saturated Fat:

8g
Trans Fat:

0g
Unsaturated Fat:

4g
Cholesterol:

38mg
Sodium:

12mg
Carbohydrates:

30g
Fiber:

6g
Sugar:

23g
Protein:

2g
Nutrition information is a guideline only, is calculated automatically by third-party software, and absolute accuracy is not guaranteed.