Our cold oven pound cake checks all the boxes for a delicious, tender, and buttery cake that is perfectly dense and flavorful. While it might sound counterintuitive, starting out with a cold oven ensures a delicate crumb and an even bake from the outside in.
Dense is what we're going for so the cold oven start means the cake isn't blasted with heat at first, which keeps it from getting too much of a lift.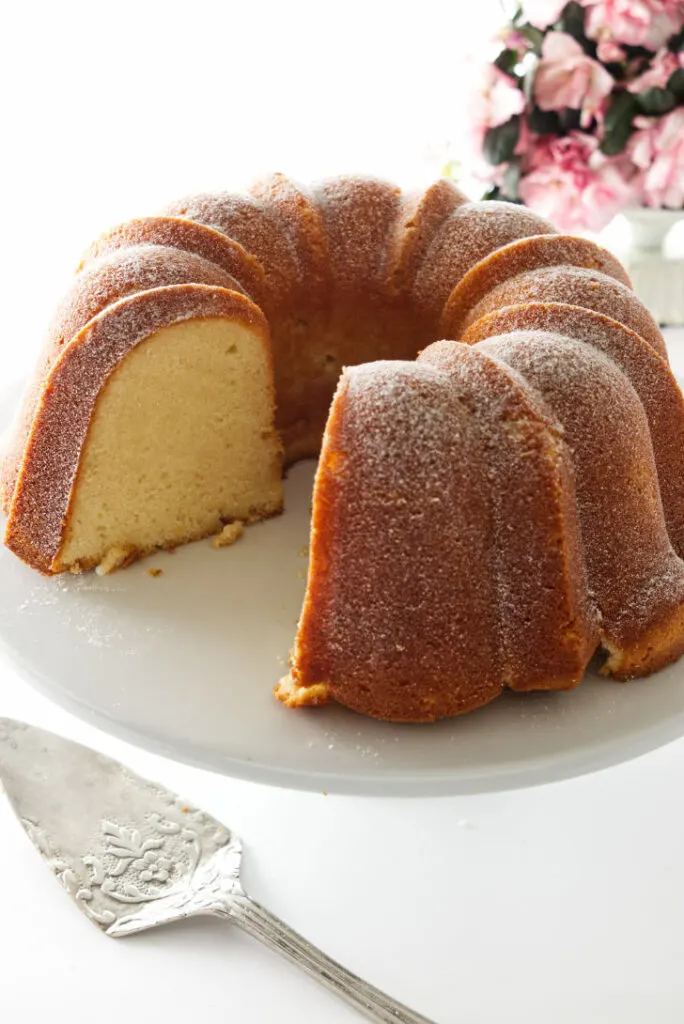 A classic pound cake is thick, rich and buttery, and this version will not disappoint! Just like our old-fashioned cream cheese pound cake, this one also has a slight spin (a hint of lemon and a unique baking technique) that delivers a delicious cake nonetheless!
The bones of this recipe stay true to a traditional pound cake, but we've added a bit of lemon to lighten up the flavor and add a lovely, citrus touch. It's quite yummy plain, but you can always dress it up with a dollop of homemade whipped cream or strawberry topping to make it look like a strawberry shortcake with pound cake.
The wonderful thing about pound cake is that anything goes!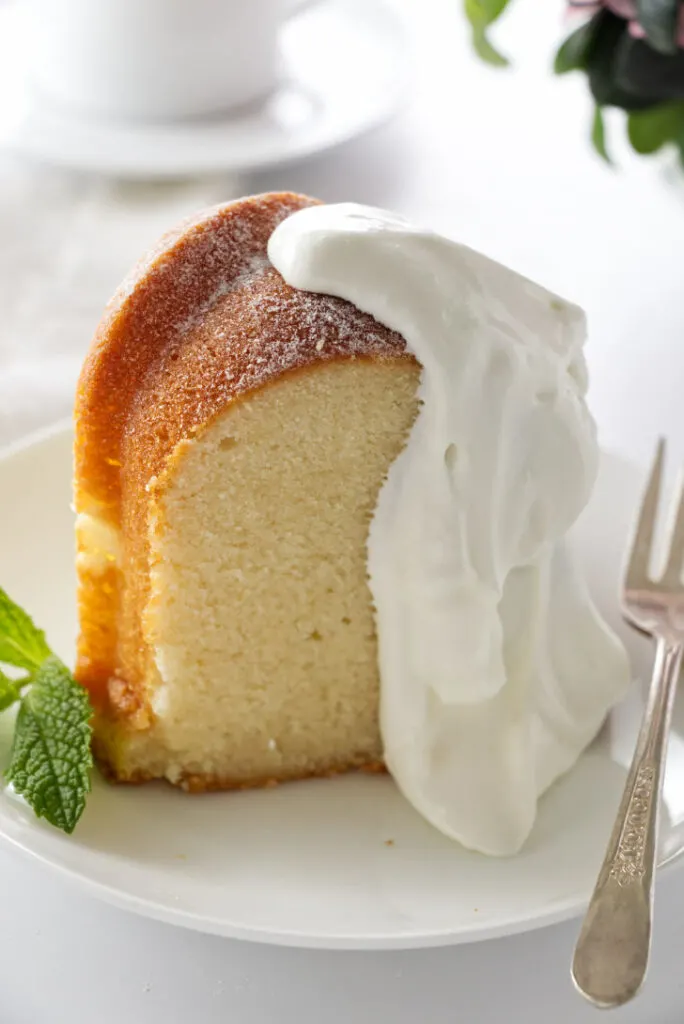 Why this Cold Oven Pound Cake Recipe Works
While we'd typically tell you to always preheat your oven, there are some exceptions to this rule and this old-fashioned cold oven pound cake recipe is one of them!
Since a pound cake needs to be quite dense, it doesn't benefit from that initial blast of heat that reacts with leavening agents to create more of a rise in a cake.
Instead, starting out with a cold oven ensures that the top bakes until it's nice and golden (without over baking), and the inside is buttery, dense, and deliciously creamy. It's easy to see why pound cake makes the perfect cold oven cake!
This pound cake is:
rich and buttery
dense and smooth with a tender crumb
Using lemon juice powder gives the cake extra lemony flavor without adding too much liquid.
perfect for any occasion
Ingredients for Cold Oven Pound Cake
The classic, old-fashioned pound cake recipe originally got its name from the ingredients required: one pound of butter, one pound of sugar, one pound of flour.
But over time, the recipe has been adapted to create a lighter cake that still stays true to its dense and buttery origins.
What hasn't changed? The fact that simple ingredients baked in a cold oven creates a beautiful pound cake.
Here's the list of ingredients you'll need for this cold oven pound cake recipe:
Flour: We use all-purpose flour, preferably measured with a kitchen scale. If you don't have one, the best way to measure it is to fluff it up and spoon it into a measuring cup, then level off the top with a butterknife.
Salt and leavening: Like most baked goods, a little salt goes a long way when it comes to flavor! As for leavening, we use baking powder.
Flavor ingredients: We're giving this old-fashioned pound cake recipe a bright and sunny spin with a little bit of lemon juice powder, fresh lemon juice, and lemon zest (for garnish). You'll also need a bit of vanilla.
Milk: Use whole milk for the best cake texture and flavor.
Butter: Allow for time for the butter to soften to room temperature.
Granulated sugar: A necessity for any delicious cake!
Eggs: You'll need six of them and they're best at room temperature.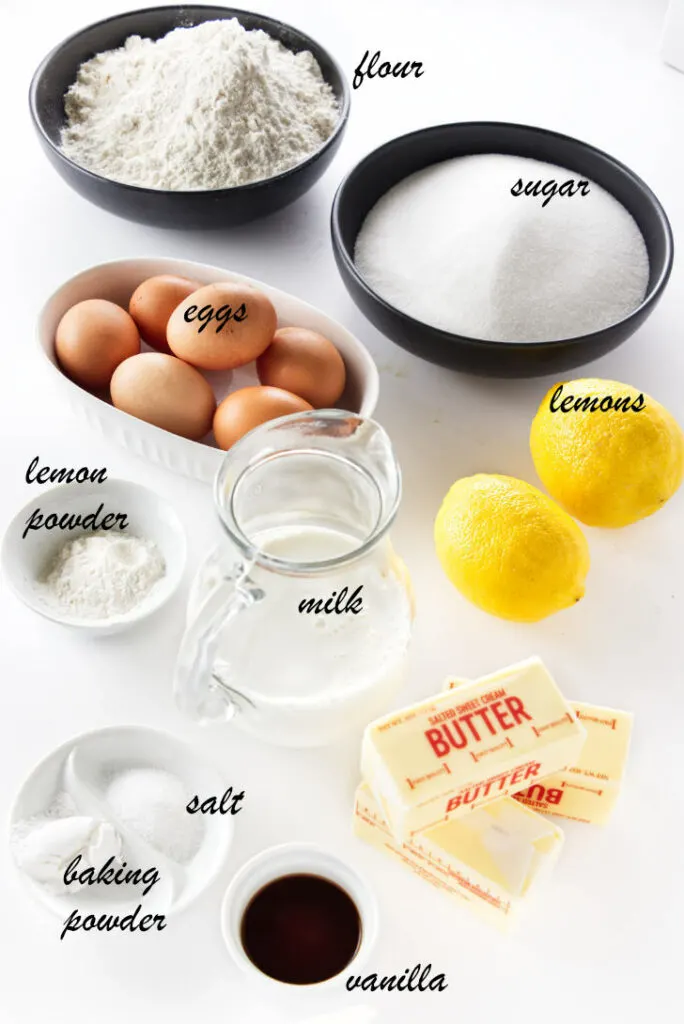 How to Make a Cold Oven Pound Cake
The process is super easy and the batter comes together in just a few minutes! We cook this in a 12-inch Bundt pan to create a stunner of a lemon pound cake that's worthy of any occasion.
Prepare the pan: Grease and flour the Bundt pan, taking care to get in all of the crevices.
Sift the dry ingredients: In a large bowl, sift together the flour, baking powder, salt, and lemon juice powder.
Cream the butter and sugar: Beat the softened butter until fluffy.
Combine: Add the eggs one at a time. In a small pitcher, combine the milk, vanilla, and lemon juice. Add a bit of the flour mixture to the mixing bowl, alternating with the milk mixture, until it is all combined. Stir in the lemon zest by hand.
Bake the pound cake: Pour the batter into the Bundt pan and smooth out the top. Place in the center of your cold oven then set the temperature and bake.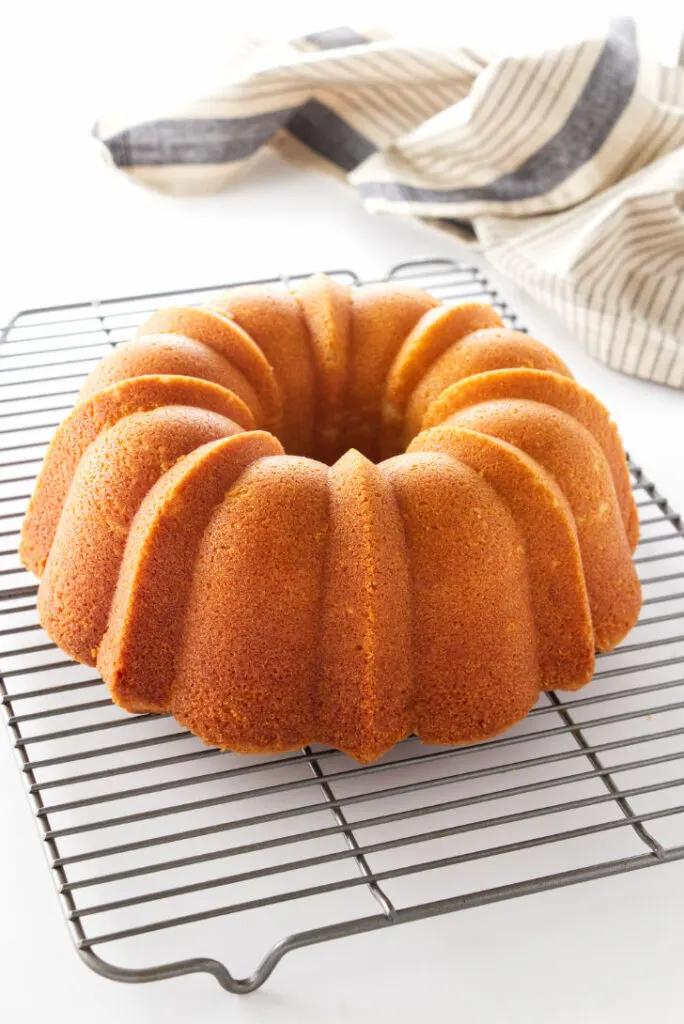 Pro Tips for the Best Results
If you don't want to grease and flour the pan, you can also coat it with a non-stick baking spray.

The lemon juice powder (affiliate link) is a nifty ingredient that gives this cake a yummy flavor boost! The general rule of thumb is to use one tablespoon of lemon juice powder per cup of flour.

Some serving suggestions include whipped cream, a dusting of confectioner's sugar, strawberry basil ice cream, or lemon curd.

Results will vary if you have a gas oven because they heat up quicker than electric ovens.

Do not use a quick preheat feature on your oven. If you use a quick preheat or if the broiler comes on during the preheat, the top of the cake will burn.
Frequently Asked Questions
Why do you start a pound cake in a cold oven?
A cold oven helps the cake stay dense and almost creamy inside while ensuring the outside turns a beautiful golden brown without overbaking.
What is the secret to a moist pound cake?
There are several ingredients that can add moisture to pound cake. In this old-fashioned cold oven pound cake recipe, we use whole milk to add a touch of extra moisture and prevent the cake from drying out. Butter, eggs, and sugar also work together to create a moist cake.
What makes pound cakes fall?
Too much sugar or leavening can cause a pound cake to fall. One of the beautiful things about starting out with a cold oven is that it prevents the pound cake from rising too much (and perhaps falling later).
Do you have to sift flour for pound cake?
We like to sift all of the dry ingredients for this pound cake recipe. It will prevent any lumps from forming in the batter and it overall ensures an even crumb throughout.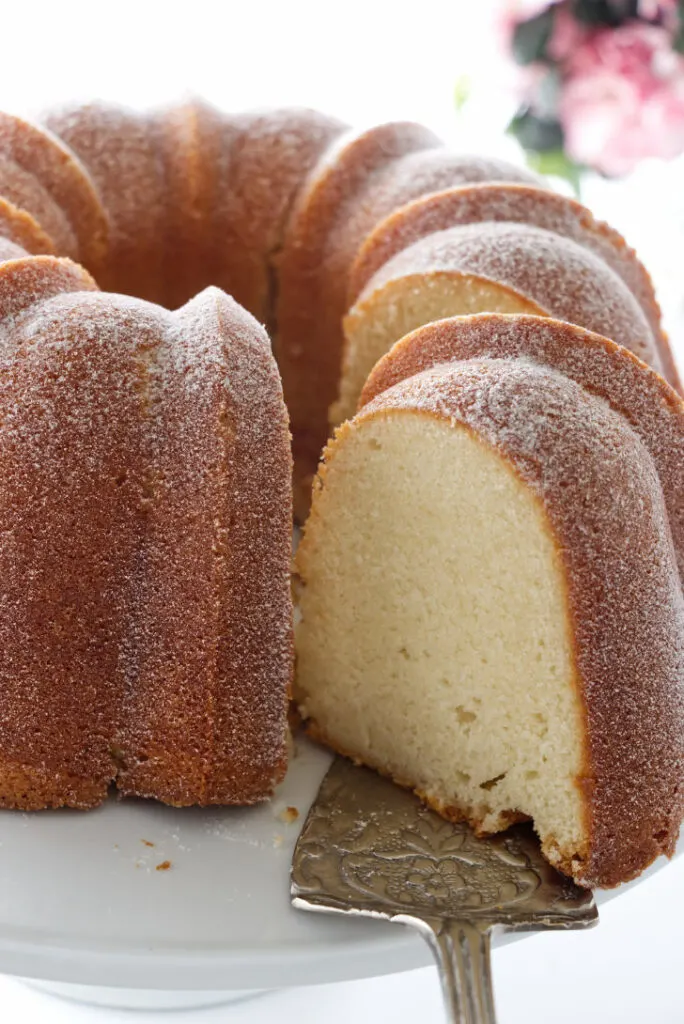 This cold oven pound cake is a stunning and tasty treat that you can enjoy any time! Serve it for brunch, dessert, or cut it into cubes to make your own homemade dessert fondue!
We love the overall brightness of the lemon flavor in this buttery pound cake. Each bite will simply melt in your mouth!
Some Other Recipes We Are Sure You Will Love:
Soft and fluffy and packed with lemon flavor, these lemon ricotta cookies are a dream! A delicious lemon glaze tops each tender cookie. The combination will transport you to an Italian café.
Lemon and lavender make an irresistible flavor pairing and this summery lavender cake tastes just as elegant and sophisticated as it looks! A soft sponge cake infused with lavender is paired with a tart lemon curd and Italian meringue buttercream.
Say hello to your new favorite chocolate cake recipe! This easy, everyday kind of chocolate cake is so simple to prepare and checks all of the boxes. It's moist, chocolatey, and tender. The ultimate chocolate treat!
Connect With Savor the Best:
Please follow us on our social media accounts
Facebook * Instagram * Pinterest * Youtube * Twitter
Did you make this recipe? We would love to hear from you. Drop us a comment below.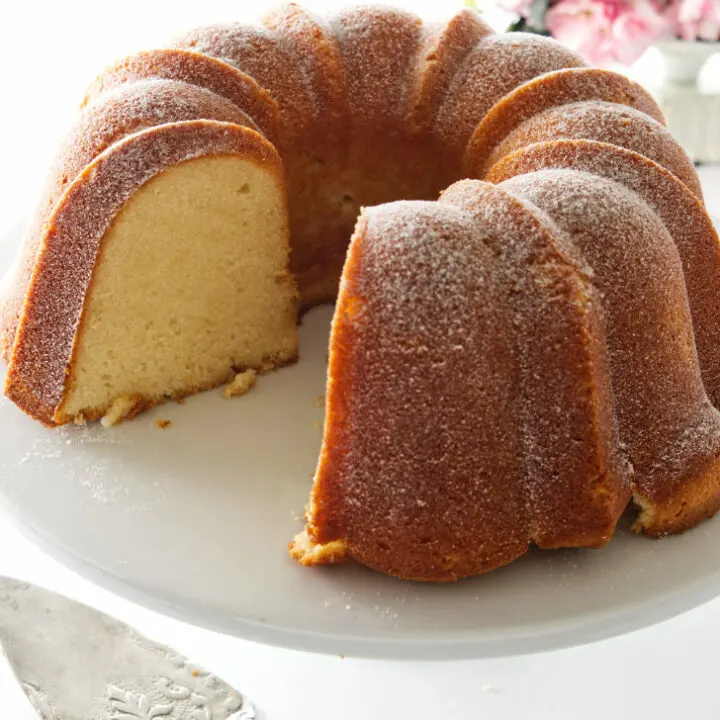 Cold Oven Pound Cake
Cook Time:
1 hour
8 minutes
Total Time:
1 hour
23 minutes
Our Cold Oven Pound Cake checks off all the boxes for a delicious, tender, buttery, and dense cake.
While it might sound counterintuitive, starting out with a cold oven ensures that the cake will bake slowly as the oven heats up. It prevents the cake from rising quickly which gives it a tight, dense crumb like a pound cake should be.
Ingredients
3-1/2 cups all-purpose flour (420 grams)
1 teaspoon baking powder
1 teaspoon salt
3 tablespoons lemon juice powder
1-1/2 cups whole milk
2 teaspoons vanilla extract
2 tablespoons freshly squeezed lemon juice
1-1/2 cups butter (3 sticks), room temperature
3 cups (600 grams) granulated sugar
6 large eggs, room temperature
Zest of 2 lemons
Instructions
Grease and flour a 12-inch Bundt pan making sure to get into all the crevices of the pan.
In a large bowl, sift the flour, baking powder, salt and lemon juice powder. Set aside
Place the butter in a mixing bowl. Beat with an electric mixer until smooth and creamy, 2-3 minutes.
Reduce the speed to low and add the sugar, then increase the speed to medium-high and beat until light and fluffy, 2-3 minutes.
Reduce the speed to low and add the eggs, one at a time. Beat well after each addition. Stop the motor several times to scrape the bottom and sides with a spatula.
Combine the milk, vanilla, and lemon juice in a pitcher.
With the motor on medium-low, add a third of the flour mixture to the mixing bowl. Add half of the milk mixture and continue alternating with the flour and milk mixture. Mix only until combined and no flour streaks show. Do not overmix.
Remove the bowl from the machine and stir in the lemon zest by hand, scraping the sides and bottom of the bowl well.
Tip the batter into the prepared bundt pan, smoothing out the top.
Place the pan in the center of a COLD oven and set the temperature to 325° (165°C). Bake for 65-70 minutes until a cake tester inserted in the center comes out clean.
Remove from the oven, set on a cooling rack, and let the cake cool in the pan for 20 minutes. Invert the cake and lift off the pan and allow to cool on the rack completely.
Notes
Alternative to greasing and flouring the pan, coat with non-stick baking spray (a combination of cooking oil and flour) located in the baking aisle of most supermarkets.
Lemon juice powder will give your cake a great flavor boost. Use one tablespoon per cup of flour.
Suggestions for serving: Whip cream, dusted with confectioners' sugar, ice cream, or lemon curd.
If your oven has a quick pre-heat feature, do not use that setting for this recipe.
Gas ovens heat up quicker than most electric ovens and results will vary if you use a gas oven.
Recommended Products
As an Amazon Associate and member of other affiliate programs, I earn from qualifying purchases.
Nutrition Information:
Yield:

12
Serving Size:

1
Amount Per Serving:
Calories:

419
Total Fat:

35g
Saturated Fat:

21g
Trans Fat:

1g
Unsaturated Fat:

11g
Cholesterol:

178mg
Sodium:

515mg
Carbohydrates:

21g
Fiber:

1g
Sugar:

4g
Protein:

7g
Nutrition information is a guideline only, is calculated automatically by third-party software, and absolute accuracy is not guaranteed.
View our Web Story here.