Our fresh Herb Salmon Salad with Blue Cheese Dressing is especially for those weeknights when only a healthy salad will do. Broiled Sockeye salmon fillets are served on a bed of crisp lettuce, fresh herbs and tossed with a pungent blue cheese dressing.
We like the idea of a quick and easy salad as the main dinner entrée. This healthy salad keeps the kitchen time to a minimum while providing your protein and veggies in a power-punch refreshing meal.
Herb Salmon Salad with Blue Cheese Dressing
Wild Sockeye salmon is our salmon of choice for this wonderful herb salmon salad with blue cheese dressing. Sockeye is one of seven salmon species in the Pacific ocean, and it is the smallest in size, ranging from five to fifteen pounds. Sockeye is caught in the cold waters of the Pacific ocean. While its skin is blue in the ocean, it turns bright red after caught.
Sockeye gets its orange-colored flesh from eating the orange krill in the ocean. Salmon is packed with heart-healthy Omega-3s, and the high-fat content keeps it moist and flaky when cooked. Sockeye is a firm-flesh fish and is excellent for grilling or broiling as it holds together nicely. Sockeye is moderately priced and available both fresh and frozen.
Crisp lettuce and spicy arugula are mingled with fresh herbs, creamy chunks of blue cheese and the crunch of croutons.
The refreshing contrast of flavors and textures in this deliciously healthy salad is complemented with our own blue cheese salad dressing. It is a blend of simple ingredients that is both creamy and chunky with bits of Maytag blue cheese. This herb salmon salad with blue cheese salad dressing will make an easy meal for lunch or dinner.
The moist lemony salmon fillets are bursting with flavor and give this main dish salad a special quality.
More Great Salad Recipes:
Salade Lyonnaise with Poached Duck Egg
Buckwheat Noodle Salad with Shrimp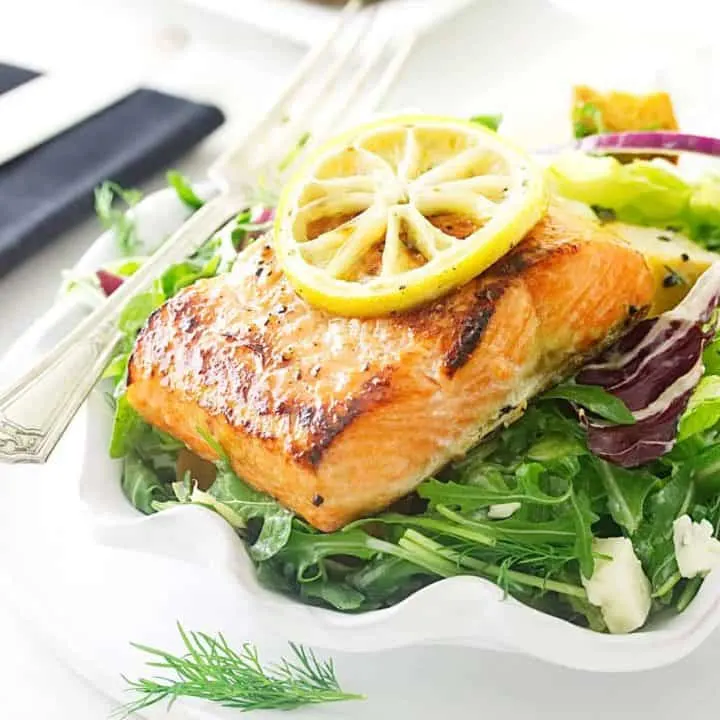 Herb Salmon Salad with Blue Cheese Dressing
Herb Salmon Salad with Blue Cheese Dressing. Sockeye salmon fillets sit as king on a bed of lettuce and herbs. Tossed with a pungent blue cheese dressing.
Ingredients
For the Salmon:
1 tablespoon olive oil
2 tablespoons fresh lemon juice
1 lemon, sliced
4 salmon fillets
Salt/pepper
For the Salad:
6 cups Butter Lettuce & Radicchio (7-oz bag)
2 ounces arugula
1/2 red onion, thinly sliced
1 cup fresh tarragon leaves
2 ounces fresh flat-leaf parsley
1/2 cup fresh dill sprigs
4-6 oz. blue cheese salad dressing (store-bought or homemade)
3 ounces blue cheese, crumbled
1 cup salad croutons
Instructions
Preheat the broiler with the oven rack positioned to broil. Coat a sheet pan with oil spray.
For the Salmon:
Combine the lemon juice and the olive oil and brush it on the salmon fillets. Season liberally with salt and pepper. Add a lemon slice to each salmon fillet, place salmon skin-side-down on the prepared sheet pan and transfer to the oven. Broil 6 to 8 minutes depending on thickness of the salmon. Calculate 4 minutes for each 1/2-inch thickness of salmon. Remove from the oven and transfer to a plate and cover with foil.
For the Herb Salad:
In a large salad bowl, add the butter lettuce/radicchio, arugula, red onion slices, tarragon, parsley and dill. Add blue cheese salad dressing to coat lightly and toss to combine. Divide equally into 4 chilled salad plates. Garnish with blue cheese crumbles and crunchy salad croutons. Place one salmon fillet on top of each salad portion. Serve immediately
Notes
Nutrition values are for the salad and salmon without the blue cheese dressing.
2 tablespoons of dressing = 150 cals., 16 fat, 1.5 sat. fat, 1 carb, 1 pro.
Nutrition Information:
Yield:

4
Serving Size:

1
Amount Per Serving:
Calories:

439
Total Fat:

21g
Cholesterol:

91mg
Sodium:

510mg
Carbohydrates:

22g
Fiber:

3g
Sugar:

3g
Protein:

44g