This classic Italian Minestrone Soup is hearty, healthy and easy to make. It is full of vegetables and goodness. Also, it is gluten-free with no pasta. Try this for a full-meal on a Meatless Monday!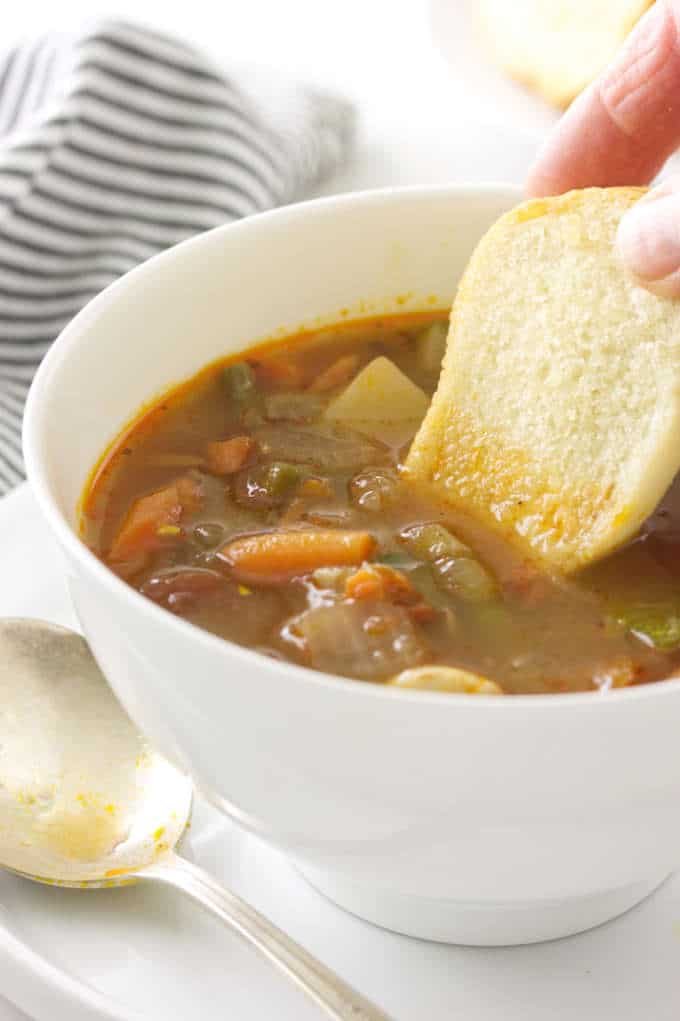 Usually I have about three or four different kinds of soup in my freezer. It doesn't matter if it is winter or summer I always have soup divvied up into three-cup containers. Soups are fast to thaw in the microwave or in a pot on the stove. They are nutritious, filling, delicious and make for a quick lunch or even dinner.
I took inventory of my freezer last week. I was down to only three measly containers hiding in the corner on a shelf. One was labeled Tomato-Basil. The other two containers had labels that read Tuscan White-Bean Soup.
Hmmm, I need to cook up a big pot of soup. Minestrone will be perfect with all the nutritious vegetables and it is so low-fat! This is a good choice for our holiday season when so many wonderful and high-calorie foods are on display to tempt us.
Minestrone Soup, An Italian Classic!
Every Italian restaurant has their own minestrone soup recipe. I love minestrone soup and look forward with excitement to each variation.
Sometimes the chef adds pasta in it. Others add chopped greens and sometimes the broth is very thick. But they each have a variety of vegetables and a wonderful flavor! I have never been disappointed.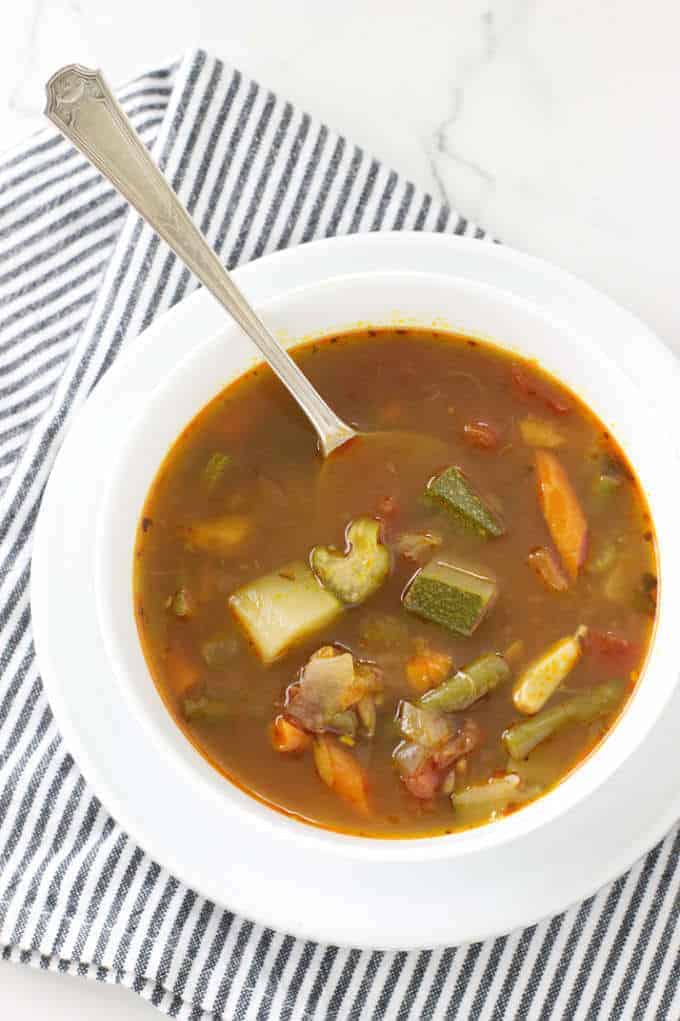 I have been making this minestrone soup for a long time and have tweaked and re-tweaked it to this version. I always make a really large batch of soup so there will be some for the freezer.
Besides, it is a lot of chopping and prepping so why make just a small pot of soup? Did you notice…there isn't any pasta in my soup.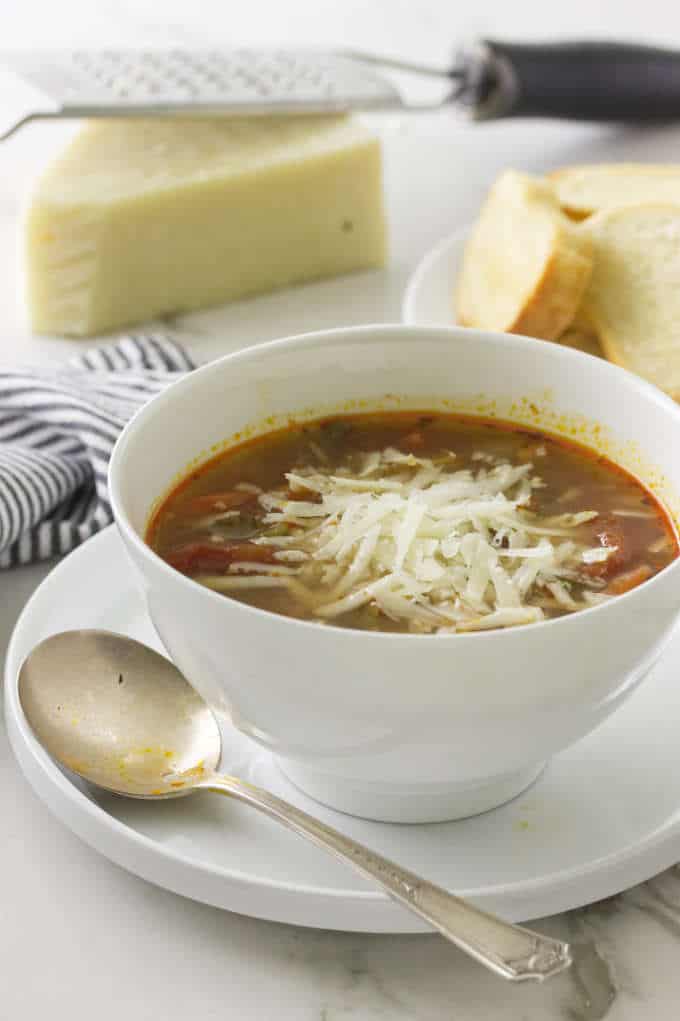 I have found that when pasta is added to the soup and then frozen, the pasta becomes soggy when thawed and reheated. I like to freeze the soup without the pasta. It is easy to add a little cooked pasta to the soup when reheating.
Serve this hearty soup topped with a sprinkle of Parmesan cheese in each bowl. And if you are not gluten-free, add a hot crusty chunk of sour-dough bread and a glass of red wine and you will be a hero!
SOME OTHER RECIPES WE ARE SURE YOU WILL LOVE:
CONNECT WITH SAVOR THE BEST!
Be sure to follow us on our social media accounts
Facebook * Instagram * Pinterest * Twitter * Youtube
If you make one of our recipes, snap a photo and tag it @savorthebest on Instagram and hashtag it #savorthebest
Have you made this Minestrone soup? We would love to hear from you. Drop us a comment below.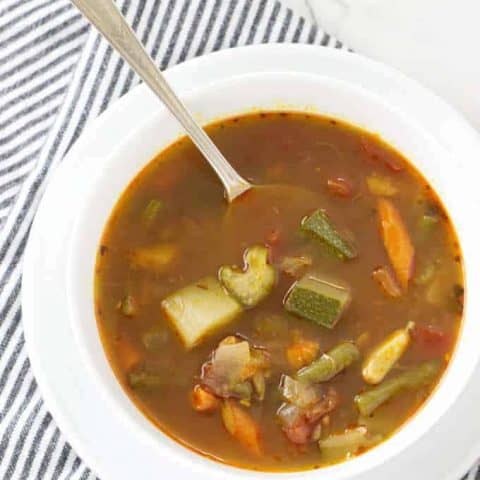 Minestrone Soup
Yield: 18 servings
Prep Time: 20 minutes
Cook Time: 2 hours
Total Time: 2 hours 20 minutes
A traditional Italian minestrone soup recipe that is full of vegetables and flavor.
Ingredients
½ cup each of dry cannelloni beans, garbanzo beans, and red beans
1 tablespoon salt
6 cups cold water
4 slices bacon, cut in ½ inch pieces
2 medium yellow onions, cut in ½ inch pieces
2 stalks celery, 8 inches long, cut in ½ inch pieces
1 leek, white and light green parts only, 8 inches long, cut in ½ inch pieces
2 carrots 8 inches long, cut into ½ inch pieces
4 cloves garlic, minced
4 quarts of chicken stock
1 bottle red wine
2 cans tomatoes, 15-oz size
1 jar pasta or marinara sauce, 40-oz size
2 zucchinis, 8-inch long, chopped to ½ inch cubes
2 cups fresh green beans, cut to 1-inch pieces
3 bay leaves
Kosher salt, to taste
Black pepper, to taste
½ cup fresh parsley, finely chopped
½ cup fresh shredded Parmesan cheese
Instructions
Measure the cannelloni, garbanzo and red beans into a heavy bottomed pan, add the tablespoon of salt, cover with the water. Bring to a boil and reduce the heat to simmer and cook while preparing the soup.
In a very large soup/stock pot add the bacon and cook over medium heat, stirring frequently till crisp and browned. To the bacon and the drippings, add the chopped onion, celery, leek, carrot and garlic. Cook until the vegetables are just softened, 4-6 minutes, stirring frequently. Add the chicken stock, red wine, tomatoes, pasta/marinara sauce, zucchini and green beans . Add the bay leaves and parsley and season to your taste preference with salt and pepper.
Remove the cannelloni, garbanzo and red beans from the heat, drain them and add to the soup pot. Bring the soup to a boil, reduce to simmer, cover and cook for one hour. Remove bay leaf and serve each bowl of soup sprinkled with 2 tablespoons of Parmesan cheese.
Notes
Cooked pasta is a great addition and can be cooked separately and added in bowls at serving.
If freezing the soup do not include pasta as it becomes soggy when the soup is thawed and reheated.
Spinach, kale or any leafy greens are a wonderful addition to this soup
Nutrition Information:
Yield: 18
Serving Size: 1 cup
Amount Per Serving:
Calories: 97
Total Fat: 1.5g
Cholesterol: 1mg
Sodium: 1300mg
Carbohydrates: 17g
Fiber: 4g
Sugar: 2.3g
Protein: 4.3g