When you carve your Jack-O-Lantern or roast a fresh pumpkin, save those pumpkin seeds! I will show you how to roast pumpkin seeds and turn them into a delicious crunchy snack. You can use them as a salad topping, sprinkle them in soup for a crunchy texture, or pop them straight into your mouth for a quick nibble.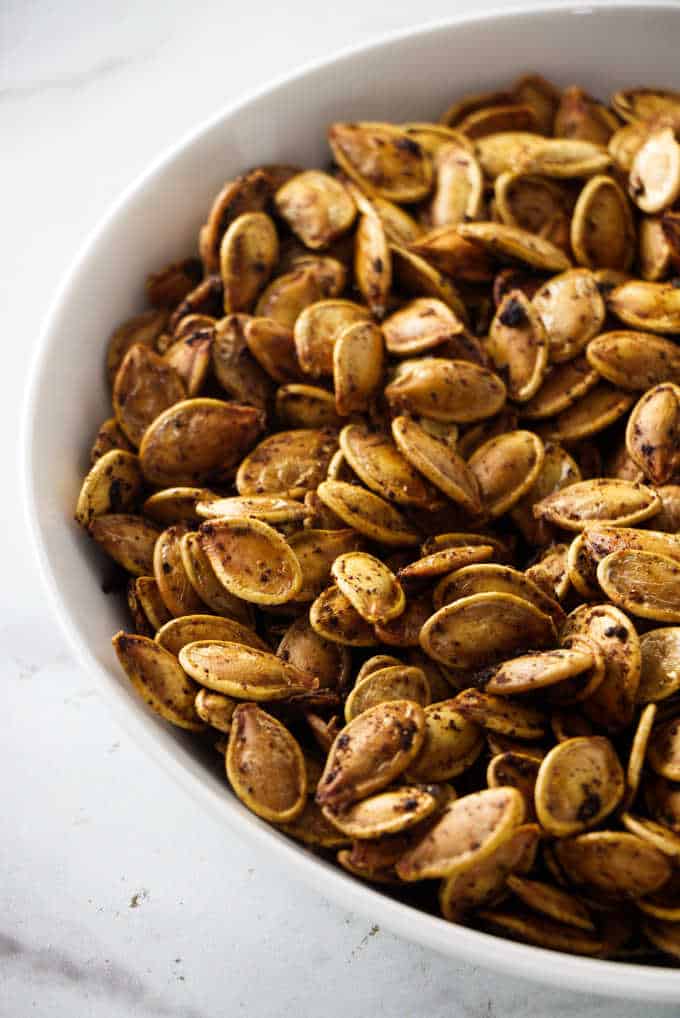 What to do with roasted pumpkin seeds:
Roasted pumpkin seeds are a delicious snack all by themselves. They are way healthier than potato chips or pretzels. Next time you get a craving for something salty and crunchy, reach for pumpkin seeds instead. They will curb your appetite and your cravings.
But they aren't just for snack cravings, they add flavor, texture, and that 'extra something' to your recipes. Here are a few ideas: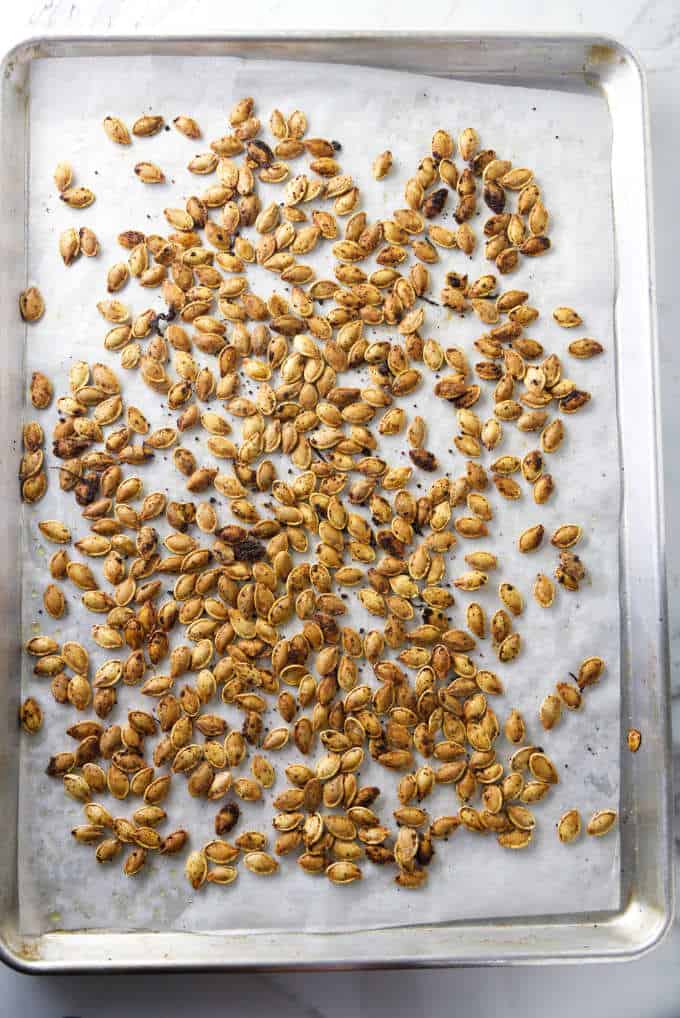 How to roast pumpkin seeds.
This recipe is super easy, you just have to be willing to get a bit messy. When you clean out the inside of a pumpkin, the pulp is stringy, slimy, and gooey.
But that's part of the fun. You can turn it into an entertaining, tactile and sensory project for the kiddos. Let them help you with the messy part then show them how to roast raw pumpkin seeds.
Slice a pumpkin open. If you are going to carve the pumpkin, slice the top off as I did in the video, otherwise just slice it in half.
Scoop out the seeds. Use a large spoon or the scooper that comes with those Jack-O-Lantern carving kits.
Wash the pulp off of the seeds. Place the seeds and pulp in a colander and run water over them while you pull the stringy pulp away.
Dry the seeds. Rub the seeds around in a dish towel to dry them off. If they are too wet they will take longer to roast.
Season the seeds. We have several ideas for roasted pumpkin seed seasonings in our printable recipe card. Just scan down to the notes to find the BEST pumpkin seed recipe. You can even make sweet roasted pumpkin seeds.
Roast the pumpkin seeds. If you keep the oven temp at 300° they will have enough time to get dry and crisp without burning. However, if you add sugar to the pumpkin seeds you will need to stir them more frequently or even turn the oven down to 250°F.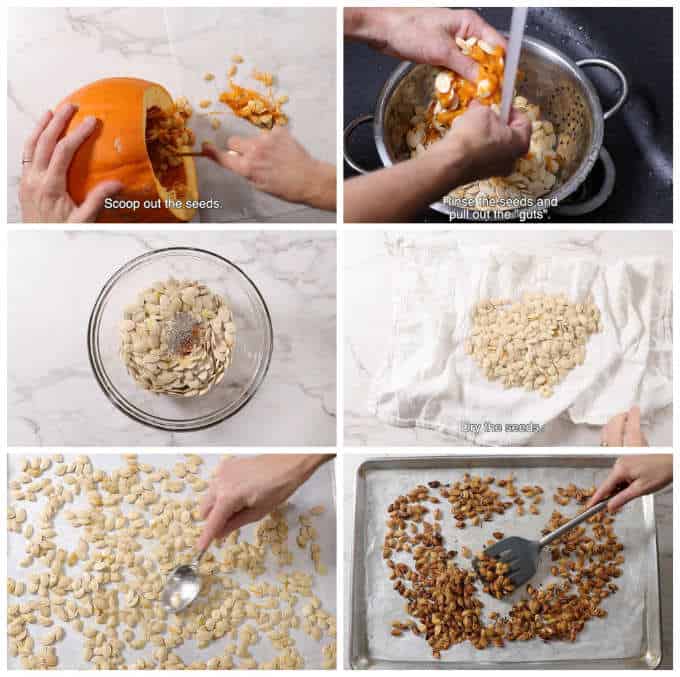 You can freeze roasted pumpkin seeds.
Make an extra batch or two of these pumpkin seeds and store them in the freezer for up to 6 months. I actually found some in the back of my deep freeze from a year ago that were still good. I packaged them with a vacuum sealer which lengthened their freezer life.
You can eat the entire pumpkin seed, shell and all.
The outer portion (hull) of the pumpkin seed is a bit tough and fibrous but you can eat it. Some pumpkins have seeds that do not have a hull or tough outer shell. Those pumpkin seeds are called pepitas and they come from hulless or oilseed pumpkins.
Pepitas are smaller and much more tender than the pumpkin seeds we are using in this recipe. We are using the pumpkin seeds from traditional pumpkins that you typically see in Fall pumpkin patches. You can eat the entire pumpkin seed, shell and all.
If you don't want to eat the shell or hull of the pumpkin seed then you can find a hulless pumpkin or purchase raw pepitas. However, the roasting time for the small pepitas will only take about 15 to 20 minutes.
Pumpkin seeds are good for you.
Pumpkin seeds are full of healthy nutrients and antioxidants. They make a nutritious snack and their fiber content will help fill you up until your next meal. Next time you're craving something crunchy, grab this healthy snack instead of fried potato chips.
You can switch up the flavor with different seasonings, we have provided several options below. Aside from the seasoning blends at the top of our recipe card check the notes at the end of the card to see a few other ideas for roasted pumpkin seed seasoning.
You can make:
Pumpkin spice pumpkin seeds
Ranch pumpkin seeds
Taco seasoned pumpkin seeds
Chili lime pumpkin seeds
Everything Bagel pumpkin seeds
Curry spiced pumpkin seeds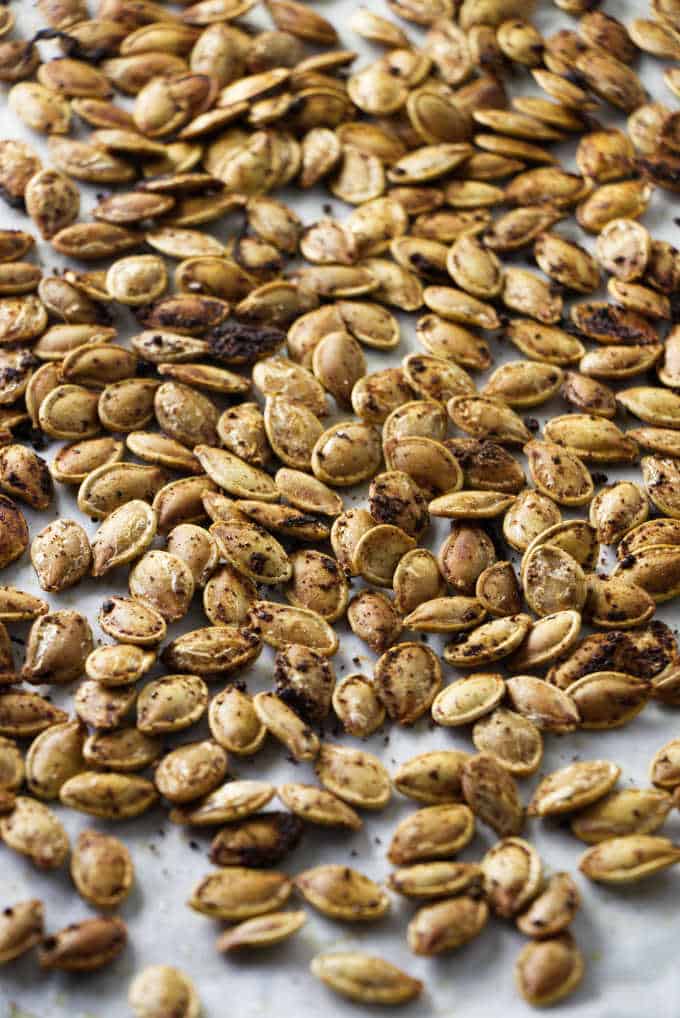 SOME OTHER RECIPES WE ARE SURE YOU WILL LOVE:
As long as we are talking about pumpkin I have to tell you about these cheesecake stuffed pumpkin muffins. They have everything you ever needed in a muffin. Soft, tender muffins stuffed with a creamy cheesecake filling and topped off with a crunchy cinnamon streusel topping.
This spiced pumpkin cheesecake is so easy to make and it tastes fabulous. We have a special tip that makes it so easy to make a water bath. If you make any cheesecake, make sure you read this recipe and use our tips with every cheesecake you make.
Most pumpkin recipes are on the sweet side but pumpkin makes a great savory dish as well. This pumpkin and pork stew is an easy one-pot meal. Just serve it with a side salad and you are set.
CONNECT WITH SAVOR THE BEST!
Be sure to follow us on our social media accounts
Facebook * Instagram * Pinterest * Twitter * Youtube
Find the best pumpkin seed recipe below and tell us what you think. We would love to hear from you. Drop us a comment.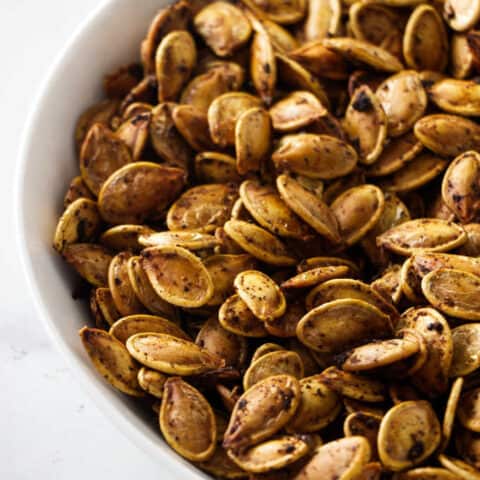 How to Roast Pumpkin Seeds
Yield: 2 cups of pumpkin seeds
Prep Time: 10 minutes
Cook Time: 40 minutes
Total Time: 50 minutes
Save those pumpkin seeds when you carve your pumpkins this year. Roasted pumpkin seeds are crunchy, healthy snacks and they make a great salad or soup topping. Here are the easy steps to perfectly roasted pumpkin seeds.
Ingredients
1 to 2 large pumpkins (or 2 cups of pumpkin seeds)
FOR SAVORY ROASTED PUMPKIN SEEDS
2 tablespoons olive oil or melted butter
1 teaspoon salt
1 teaspoon garlic powder
1 teaspoon onion powder
1/4 teaspoon cayenne pepper (optional)
1/4 teaspoon black pepper
FOR SWEET ROASTED PUMPKIN SEEDS
2 tablespoons olive oil or melted butter
2 tablespoons maple syrup
1 tablespoon brown sugar
2 teaspoons cinnamon
Instructions
Pre-heat the oven to 300°F and spray a baking sheet with non-stick spray or line it with parchment paper.
CLEAN THE PUMPKIN SEEDS:
Cut the top off a pumpkin and use a large spoon to scrape the seeds out. (Stringy, slimy pulp will cling to the seeds.)
Pull the seeds away from the larger chunks of pulp and place the seeds in a colander.
Run cold water over the seeds while you stir the seeds around in the colander to get off the rest of the slimy pumpkin pulp.
Spread the seeds onto a kitchen towel and rub them in the kitchen towel to remove any remaining pulp that clings to the seeds.
Place the pumpkin seeds in a medium bowl and add all the ingredients for either the savory or sweet pumpkin seeds then toss to coat all the seeds.
Spread the seeds out on the baking sheet and bake for 40 to 50 minutes. Stir the seeds every 20 minutes so they roast evenly. (see notes)
When the seeds get crunchy and golden brown remove them from the oven and let them cool.
Notes
NOTES:
Store roasted pumpkin seeds in an airtight container for 2 weeks or freeze them for 3 months.
Do not use a paper towel to dry the seeds, bits of paper towel will break off and stick to the seeds. Use a cloth towel instead.
Make sure to dry the seeds well so the oil clings to them better. Thoroughly dry seeds will also take less time to roast.
If you make the sweet pumpkin seeds check them more frequently. The sugar has a tendency to burn before the pumpkin seeds finish roasting. If they start to get too dark, turn the oven down to 250°F.
I got about 1 cup of seeds out of a large pumpkin.
OTHER FLAVOR OPTIONS:
PUMPKIN SPICE = 1 tablespoon pumpkin pie spice + 2 tablespoons brown sugar + 2 tablespoons oil or butter.
RANCH = 2 tablespoons ranch seasoning mix + 2 tablespoons oil or butter.
TACO = 2 tablespoons taco seasoning mix + 2 tablespoons oil or butter.
CHILI LIME= 2 tablespoons chili lime seasoning blend + 2 tablespoons oil or butter.
EVERYTHING BAGEL = 2 tablespoons Everything Bagel seasoning blend + 2 tablespoons oil or butter.
CURRY SPICE = 2 tablespoons curry powder + 1/4 teaspoon cayenne pepper + 1 teaspoon salt + 2 tablespoons oil or butter
Recommended Products
As an Amazon Associate and member of other affiliate programs, I earn from qualifying purchases.
Nutrition Information:
Yield: 8
Serving Size: 1
Amount Per Serving:
Calories: 57
Total Fat: 5g
Saturated Fat: 1g
Trans Fat: 0g
Unsaturated Fat: 3g
Cholesterol: 4mg
Sodium: 277mg
Carbohydrates: 4g
Fiber: 1g
Sugar: 1g
Protein: 1g
Nutrition information is a guideline only, is calculated automatically by third-party software, and absolute accuracy is not guaranteed.