Nutritious, wholesome, whole-grain einkorn blueberry pancakes! This is a breakfast you can feel good about. The pancakes take less than 10 minutes to whip up and they taste amazing.
Einkorn is an ancient grain that has a slightly nutty, sweet flavor. Whole wheat einkorn flour makes an incredibly delicious pancake and does not have the bitterness that regular whole wheat flour can have.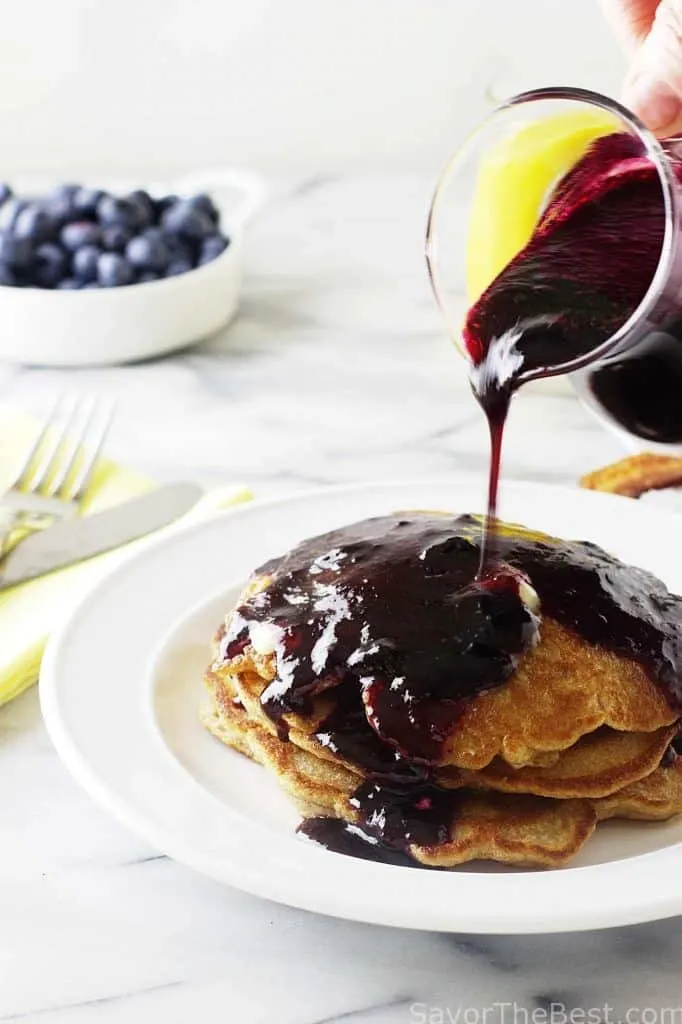 These whole grain blueberry pancakes are light, fluffy and incredibly delicious. We absolutely love the sweet, nutty flavor of the whole grain einkorn flour. Whole grains are packed with fiber, vitamins, minerals and antioxidants. A diet rich in whole grains has been shown to reduce the risk of heart disease, cancer and type 2 diabetes as well as help promote weight loss.
Whole-grain einkorn
One of the biggest problems people have is acquiring a taste for whole grains. That problem is easily solved with einkorn. Einkorn is the original wheat that has never been hybridized. That means it hasn't been changed over the years and isn't stripped of nutrients and flavor. It is wheat that tastes the way wheat is supposed to taste. Nutty, slightly sweet, fresh and delicious.
If you have been avoiding whole wheat because you don't care for the flavor, we encourage you to try whole wheat einkorn flour.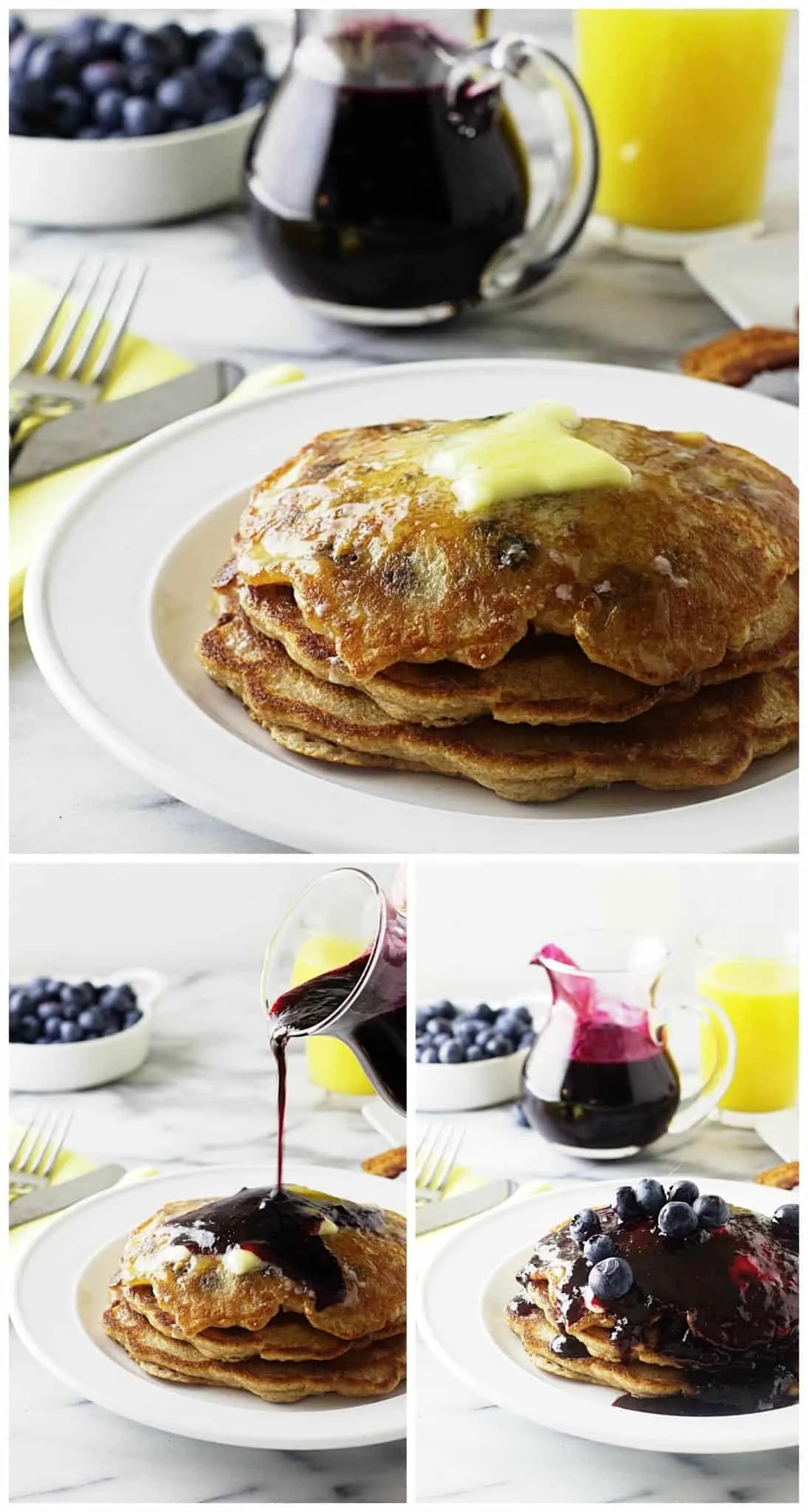 Einkorn blueberry pancakes
We have served these blueberry pancakes with our incredible blueberry-lemon syrup for extra blueberry flavor and deliciousness. To be honest, these pancakes are wonderful without any syrup or butter, they already have a ton of flavor, but isn't it fun to add a fruity syrup to pancakes.
Lemon compliments blueberries so well and makes the blueberries more vibrant and fruity. It is such a yummy syrup to serve with these pancakes.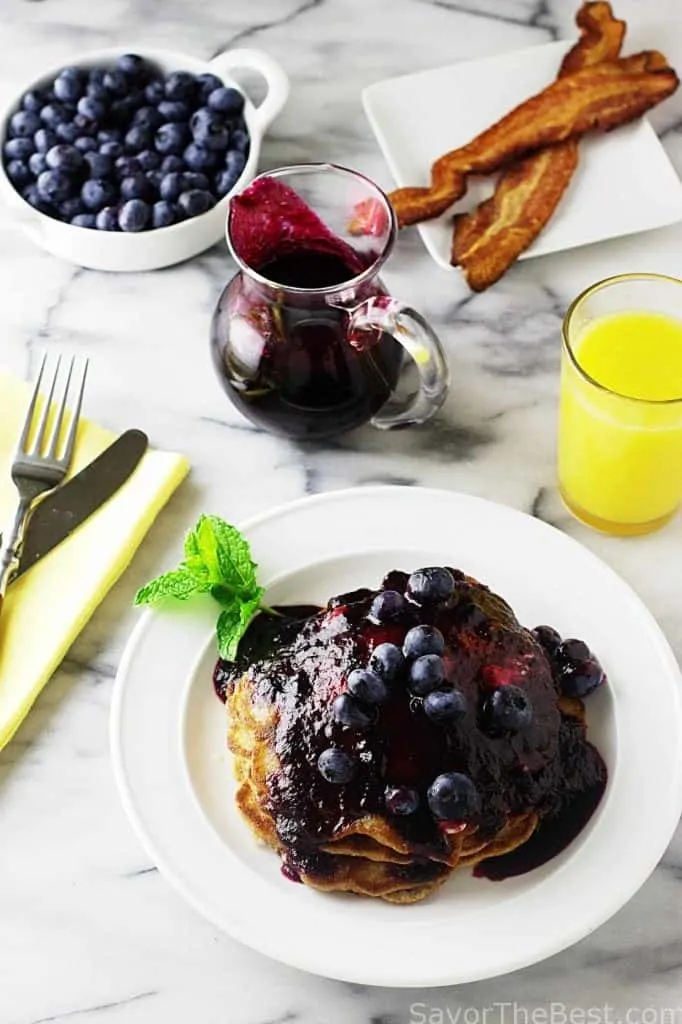 We always use a scale to measure our flour and encourage you to do the same. Once you start the practice, you will find that it is easier, faster, and more accurate.
Just place the bowl on the scale, press zero to tare the scale, then dump the flour into the bowl until you get the correct amount of flour. No additional measuring cups to clean.. yippee! And it is definitely more accurate.
Even fluffing the flour and carefully spooning it into measuring cups will lead to inconsistent measurements and almost always leads you to over-measuring your flour which will create a denser baked good.
Sometimes a little extra flour has very little impact on your baking but sometimes it makes a big difference. This recipe is very forgiving if you add a little too much flour.
If you find the batter is too thick, just stir in a little more milk to thin it out. These pancakes are good no matter how thick the batter is.
You might also like our Ricotta Pancakes with Pomegranate Syrup or our Kamut Buttermilk Waffles
For More Einkorn Recipes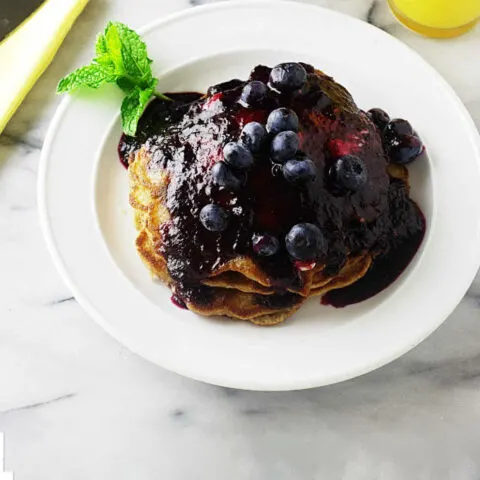 Whole Grain Einkorn Blueberry Pancakes
Whole wheat einkorn flour makes an incredibly delicious pancake and does not have the bitterness that regular whole wheat flour can sometimes have. Serve these up with our blueberry lemon syrup but if you want to limit your sugar intake then make the syrup without the sugar. It will be more of a sauce than a syrup.
Ingredients
Pancakes
1 3⁄4 cups whole grain einkorn flour (168 grams)
2 tablespoons coconut sugar or brown sugar
1 tablespoon baking powder
1⁄4 teaspoon salt
2 eggs, slightly beaten
1 1/4 cups almond milk or milk of choice
3 tablespoons light olive oil
1 1/2 cups fresh or frozen blueberries
Syrup (optional)
Instructions
In a large bowl, stir together flour, sugar, baking powder, and salt. In another small bowl, mix with a fork the egg, milk, and oil. Add egg mixture all at once to flour mixture. Stir until just moistened.
Gently fold in the blueberries. (See notes)
Heat a skillet on medium heat and grease the pan with a little oil or butter. Add about 1/4 cup of pancake batter to the skillet and wait for the bubbles to form on top (3 to 4 minutes).
When the bubbles cover the whole surface of the pancake and the opposite side is golden brown, flip the cake and cook the other side until golden brown (about 2 minutest).
Notes
It is very easy to over-measure flour if you use measuring cups, you will have more success if you use a scale to measure your flour.
Often times the batter will become streaked purple from the blueberry juices, especially if you use frozen blueberries. If you want to avoid this from happening then instead of stirring the blueberries into the batter, pour the batter onto the griddle then sprinkle some blueberries on top of the pancake.
Recommended Products
As an Amazon Associate and member of other affiliate programs, I earn from qualifying purchases.
Nutrition Information:
Yield:

12
Serving Size:

1
Amount Per Serving:
Calories:

157
Total Fat:

5g
Saturated Fat:

1g
Trans Fat:

0g
Unsaturated Fat:

4g
Cholesterol:

33mg
Sodium:

194mg
Carbohydrates:

25g
Fiber:

3g
Sugar:

8g
Protein:

4g
Nutrition information is a guideline only, is calculated automatically by third party software, and absolute accuracy is not guaranteed.