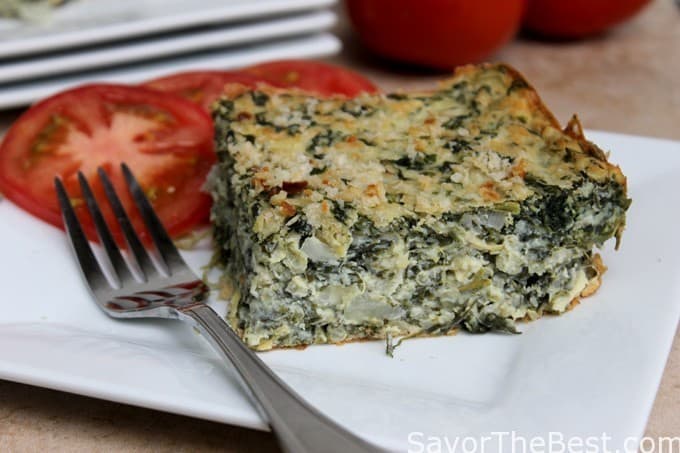 If you shop at Costco you are well aware of all the food samples that they serve. I have learned to be selective in these little tidbits as some of them are good, healthy choices while others….not so much.
This recipe for spinach-artichoke-quinoa casserole was inspired by one of the samples that was being offered. I tasted the sample, it was good, it was low in fat and had lots of healthy good things in it but reading all the ingredients I saw it also had some preservatives included. I thought to myself, I can do this and make it more healthy by eliminating all the preservatives and chemicals listed here.
I did buy that package of patties that I sampled, mainly to use as a guide in making my version. So, for lunch the next day, I cooked up two of the little patties, only 50 calories each with 10 grams of fat it was a nice low-cal/low-fat lunch and they were really good and filling. But……several hours later I wasn't feeling so great and wished I had some Beano. I told Don he better not let me out the door because I would be just like one of those party balloons and I would float off to the moon. The rest of that package of patties went into the garbage can.
So this spinach-artichoke-quinoa casserole is my version of that sample. I baked them in a 9×12 casserole dish and cut them into 12 nice size squares, which by the way was a more generous serving that even 2 of those little patties. I vacuum-sealed them and stashed them in my freezer. It only takes a jiffy in the microwave and makes a great breakfast. They really are tasty, they each have 219 calories and 11.9 grams of fat, no chemicals or preservatives. And, I promise, you won't need the Beano!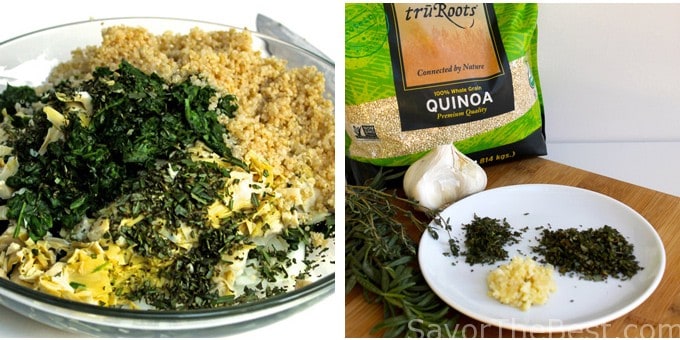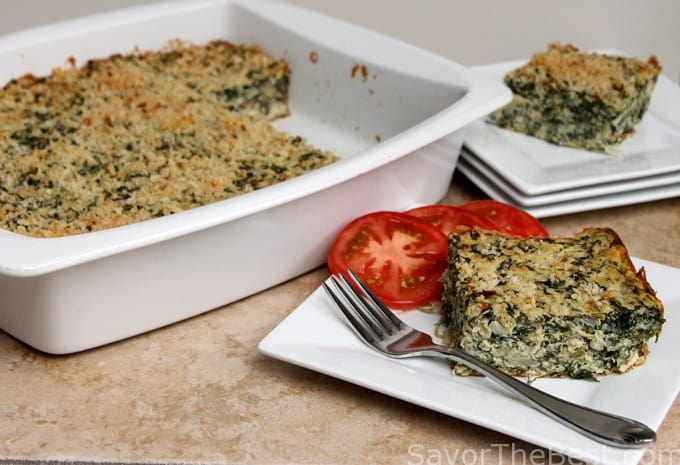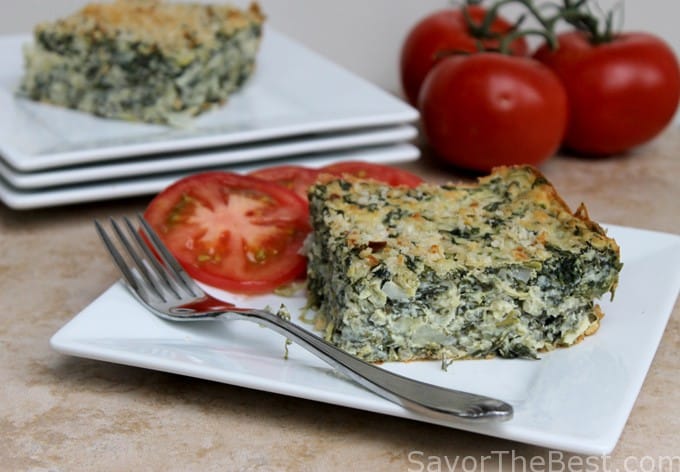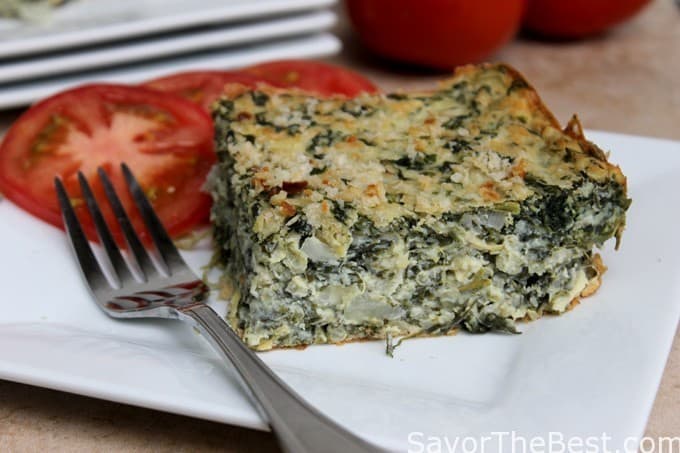 CONNECT WITH SAVOR THE BEST!
Be sure to follow us on our social media accounts
Facebook * Instagram * Pinterest * Twitter * Youtube
Did you make this recipe? We would love to hear from you. Drop us a comment below.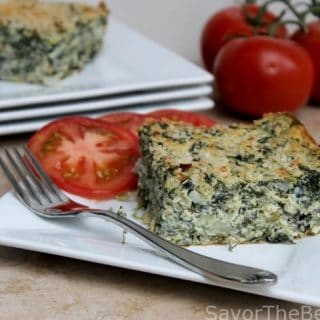 Spinach-Artichoke-Quinoa Casserole
Yield: 12
Prep Time: 30 minutes
Cook Time: 50 minutes
Total Time: 1 hour 20 minutes
An easy recipe for a spinach-artichoke-quinoa casserole that is healthy, low-fat and low calorie. This casserole freezes well and makes a great side dish or as a quick breakfast or lunch.
Ingredients
2 (10-ounce) packages of frozen spinach, thawed, water squeezed out and chopped
1 medium onion, chopped
9-ounce package frozen artichoke hearts, thawed, drained and chopped
2 medium portabello mushrooms, chopped
4 cloves garlic, minced
1 tablespoon fresh, rosemary, chopped
1 tablespoon fresh thyme, chopped
1-1/2 cups cooked, cold quinoa
1/2 cup all-purpose flour
1 teaspoon baking powder
1/2 teaspoon salt
1/4 teaspoon freshly ground black pepper
10-ounce log of soft goat cheese, room temperature
8-ounce package reduced-fat cream cheese
6 large eggs
1/2 cup bread crumbs (optional)
Instructions
Preheat the oven to 350°F
use non-stick spray to coat a 9x12 oven-proof baking dish
In a large mixing bowl, add the spinach,onions, artichoke hearts, mushrooms, garlic, rosemary, thyme and quinoa.
In a small bowl, mix the flour, baking powder, salt and pepper together then sprinkle on the vegetable mixture and toss to incorporate it well.
In a medium-sized mixing bowl using a stand mixer with the paddle attachment, add the goat cheese and the cream cheese and blend on medium speed to combine. Add the eggs, one at a time, blending well after each addition, until well combined.
Add the cheese mixture to the bowl of vegetables, stir to combine and pour it into the prepared baking dish, sprinkle the top with bread crumbs if using. Transfer to the middle rack of the oven and bake for 50-60 minutes or until it is slightly puffed in the center and a toothpick tests clean. Allow to cool for 5 minutes before slicing into 12 equal squares to serve.
Nutrition Information:
Yield: 12
Serving Size: 1
Amount Per Serving:
Calories: 242
Total Fat: 13g
Saturated Fat: 7g
Trans Fat: 0g
Unsaturated Fat: 5g
Cholesterol: 118mg
Sodium: 394mg
Carbohydrates: 19g
Fiber: 3g
Sugar: 2g
Protein: 13g
Nutrition information is a guideline only, is calculated automatically by third-party software, and absolute accuracy is not guaranteed.