Sweet potato casserole with pecan streusel is the perfect holiday side dish for anyone who likes their sweet potatoes with a little crunch and a crumbly buttery topping.

If you're opposed to marshmallows on your casserole, this recipe is for you. The sweet potatoes get tender and nicely caramelized when baking, while the pecan streusel adds a sweet, crispy texture on top. It's easy to make and quick to prep. Most of the work happens in the oven!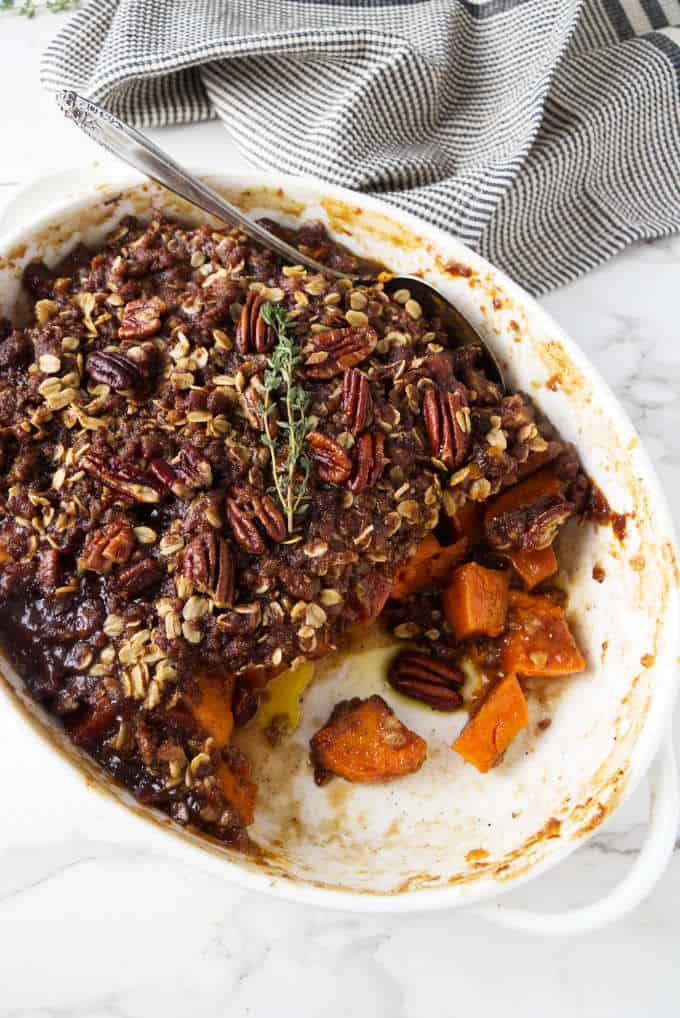 If a sweet crumbly, streusel topping can elevate apple pie and muffins, just imagine what it does to sweet potatoes. And I do want to be clear that this is a sugary-sweet side dish.
It is as sweet as a dessert, but it compliments all your savory sides like mashed potatoes and stuffing.
Why you will like this sweet potato casserole with pecan streusel
A holiday sweet potato casserole is the perfect side dish for your feast. Here's why you'll like this recipe:
The sweet potatoes are perfectly tender
The streusel makes for a delicious crunchy topping adding some nice texture to the dish
Preparation is easy and fast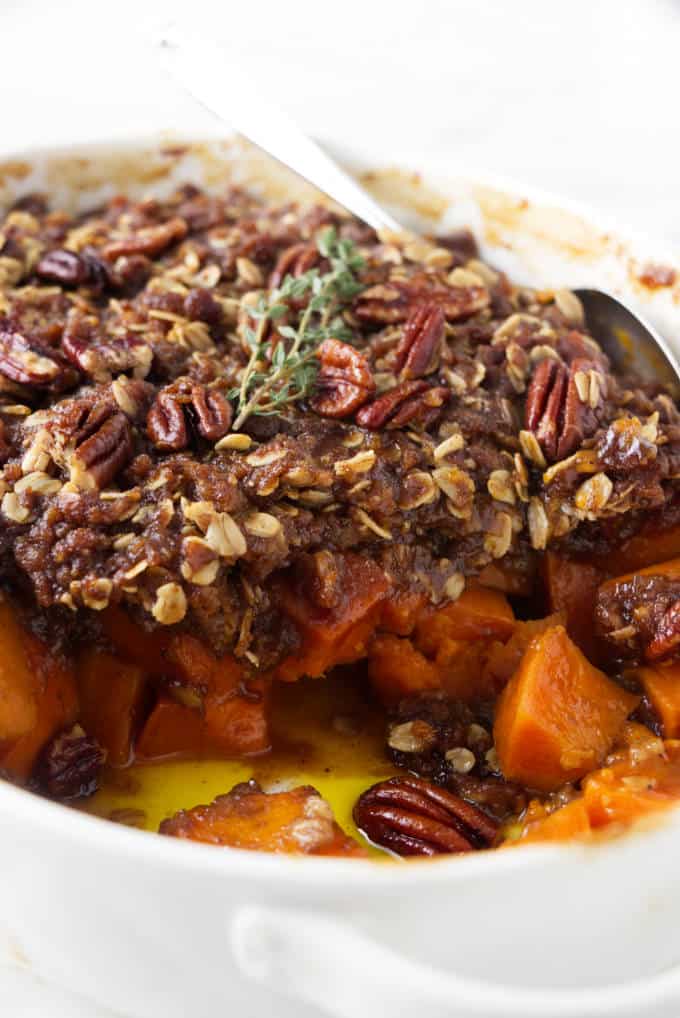 Ingredients needed for this recipe
The secret ingredient is the frozen concentrated orange juice but we can't forget the streusel topping. This is almost a dessert with all the sugar in the filling and topping but we aren't complaining. 🙂
To make the filling, add these items to your grocery shopping list:
Sweet potatoes. We like to peel the sweet potatoes but it isn't a necessary step if you leave the peel on, expect to get a little more 'texture'.
Butter. You can use salted or unsalted butter. The small amount of salt in salted butter will not affect the flavor.
Brown sugar. Dark brown or light brown sugar. Whatever you have on hand.
Concentrated frozen orange juice. Do not re-constitute the orange juice. Leaving it in the concentrated form will add a more intense orange flavor that compliments the buttery brown sugar mixture.
Orange zest. All you need from a whole orange is the zest. Just eat the rest of the orange or use it for orange juice in the morning. 🙂
Ground cinnamon and cumin. These warm spices complement the buttery, brown sugar, orange flavors so well.
Salt. Flavor enhancer.
Vanilla extract. Flavor enhancer.
For the pecan streusel topping, you'll need:
Butter. Don't use whipped tub butter. It has air whipped into it.
Pecans. Chop some pecans up but save a few large ones to sprinkle on top.
Brown sugar. Dark or light brown sugar will work fine.
Flour. All-purpose flour or sub with a gluten-free flour blend.
Oatmeal flakes. Old fashioned or quick-cooking oats will work fine.
Ground cinnamon.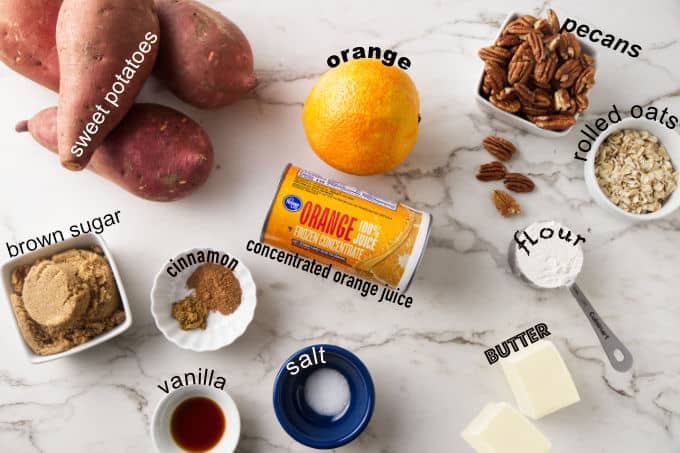 How to make sweet potato casserole with streusel topping
Here is a breakdown of the recipe. Make sure to scroll down to the printable recipe card below.
To make the filling, follow these basic steps:
Prep your sweet potatoes: Wash and peel sweet potatoes. Dice into 1/2-inch cubes and toss in a 9×13 baking dish. It really doesn't get any easier than this unless you decide to leave the skin on the potatoes.
Make sugar mixture: Combine the rest of the filling ingredients, except the vanilla, in a saucepan over medium heat. Let the sugar dissolve. Remove from heat and stir in the vanilla.
Pour sugar mixture over sweet potatoes: Toss the sweet potatoes making sure each cube gets coated in the sugar mixture.
To make the streusel, here are the steps:
Melt butter: Melt butter in a saucepan or in the microwave.
Create streusel mixture: Stir in the rest of the streusel ingredients. Mix well.
Here are the steps to assemble and bake your sweet potato casserole with streusel topping:
Top sweet potatoes with streusel: Coat the top of the sweet potato cubes with the streusel mixture.
Sprinkle extra pecans: Any extra pecan halves can be sprinkled on top.
Bake: Bake for 45 to 55 minutes, until the sweet potatoes are tender. If your streusel starts to brown too much, cover with foil.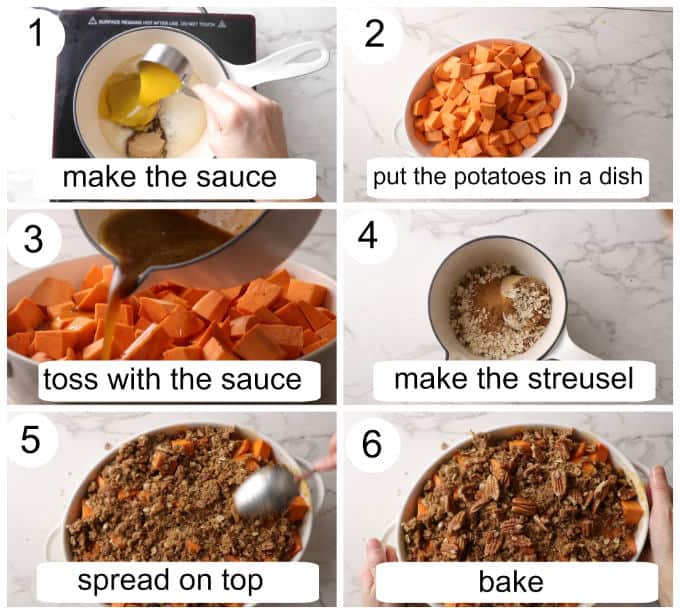 Tips for recipe success
Keep these tips in mind for the perfect sweet potato casserole:
The concentrated orange juice should not be reconstituted, as it will lose its intense orange flavor
Dice sweet potatoes evenly for even baking
Halfway through baking, cover your casserole with foil to prevent the streusel topping from burning
Frequently asked questions
Can you make sweet potato casserole with streusel ahead of time?
This sweet potato casserole dish is a great candidate for make-ahead cooking, especially during a busy holiday season. It keeps for several days in the refrigerator and is easy to reheat.
How long does sweet potato casserole with streusel keep?
You can store sweet potato casserole in the fridge for 3 to 5 days. Make sure you store it covered in an airtight container. When reheating, portion out the amount you plan to eat in a baking dish and reheat in the oven or microwave.
Can you freeze sweet potato casserole?
You can freeze sweet potato casserole. The best approach is to bake the casserole, let it cool down, then cover it and place it in the freezer.
When you are ready to eat, thaw it overnight in the fridge and bake it for your holiday feast.
This is an excellent choice if you know your holiday cooking prep will be hectic and chaotic. You can save yourself time in the days leading up to the holidays by assembling the sweet potato casserole in advance.
Are yams and sweet potatoes the same vegetable?
No. Yams and sweet potatoes are not the same vegetables, although the terms are sometimes used interchangeably. Real yams have a tree trunk-like skin and are quite rare in the US.
Orange or white sweet potatoes are a different vegetable altogether and are what you'll want to use in this recipe. If you're at a grocery store and you see orange sweet potatoes labeled as yams, they're really just sweet potatoes.
Are there eggs in sweet potato casserole?
While some recipes call for eggs in sweet potato casserole, this recipe does not. In other recipes, the eggs are used as a binder for a mashed filling. However, this version calls for diced sweet potatoes, so egg is not necessary as a binder.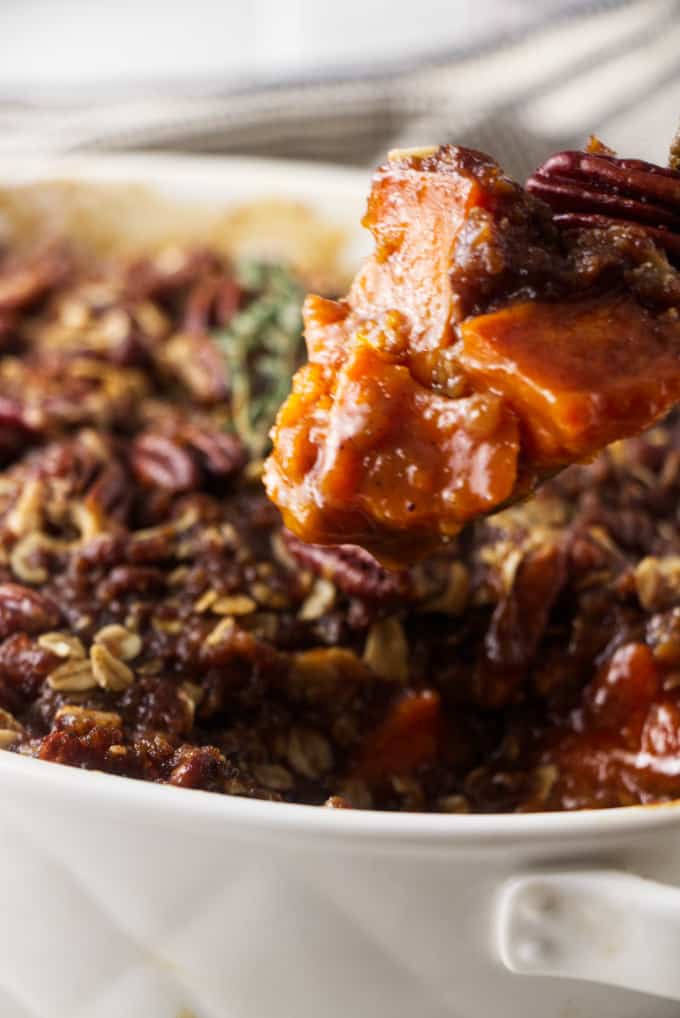 SOME OTHER RECIPES WE ARE SURE YOU WILL LOVE:
This sweet potato pie with marshmallow topping is creamy and smooth and reminiscent of a pumpkin pie.
Instant Pot mashed sweet potatoes are a flavor fusion of savory, sweet, rich, and nutty. Making them in the Instant Pot will make room in your oven for other dishes.
This sweet potato frittata is perfect for breakfast, lunch, dinner, or brunch. It is easy to make and so so delicious.
CONNECT WITH SAVOR THE BEST!
Be sure to follow us on our social media accounts
Facebook * Instagram * Pinterest * Twitter * Youtube
Did you make this sweet potato casserole with pecan streusel? We would love to hear from you. Drop us a comment below.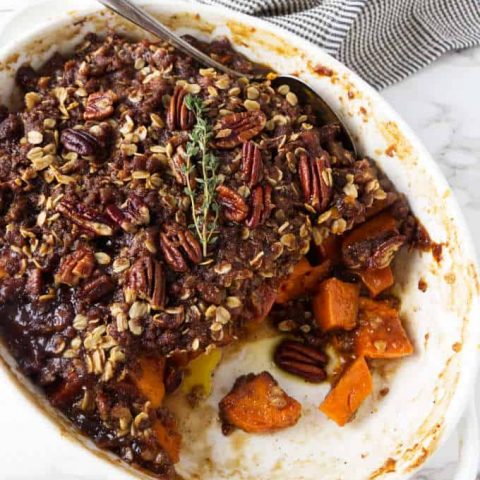 Sweet Potato Casserole with Pecan Streusel
Yield: 6 to 8 servings
Prep Time: 15 minutes
Cook Time: 45 minutes
Total Time: 1 hour
No need to pre-cook and mash the potatoes. Just slice them and toss them in the casserole dish. They get tender as they bake in a buttery, sweet, orange sauce. The crisp pecan streusel makes a perfect contrast with the soft sweet potatoes.
Ingredients
3 pounds sweet potatoes
5 tablespoons butter
1/3 cup brown sugar
1/3 cup frozen orange juice, thawed
1/2 teaspoon grated orange zest (from half of an orange)
1-1/2 teaspoon cinnamon
1 teaspoon cumin
1/2 teaspoon salt
1 teaspoon vanilla extract
Pecan streusel topping
5 tablespoons butter
1 cup chopped pecans
1 cup brown sugar
1/3 cup flour
1/3 cup oatmeal flakes
1 teaspoon ground cinnamon
Instructions
Preheat the oven to 350°F.
Wash and peel the sweet potatoes then cut them into 1/2-inch cubes. Toss the sweet potatoes into a 9x13 inch baking dish.
Melt the butter in a saucepan over medium heat. Add the brown sugar, concentrated orange juice, orange zest, cinnamon, cumin, and salt. Remove from heat and stir in the vanilla extract.
Pour the orange juice mixture over the sweet potatoes and toss to coat all the potato cubes.
Make the pecan streusel topping:
Melt the butter in a saucepan or in the microwave. Stir in the pecans, brown sugar, flour, oatmeal, and cinnamon. Spread the streusel topping over the sweet potatoes. Sprinkle with extra pecan halves.
Bake for 35 to 45 minutes or until the sweet potatoes are tender. Cover with foil halfway through the baking time to prevent the streusel from browning too much.
Notes
Use concentrated orange juice without re-constituting it.
Cut the chunks of sweet potatoes in evenly sized pieces as best as possible so they bake evenly.
Larger chunks of sweet potatoes will need to bake longer.
Recommended Products
As an Amazon Associate and member of other affiliate programs, I earn from qualifying purchases.
Nutrition Information:
Yield: 8
Serving Size: 1
Amount Per Serving:
Calories: 525
Total Fat: 25g
Saturated Fat: 10g
Trans Fat: 1g
Unsaturated Fat: 13g
Cholesterol: 38mg
Sodium: 317mg
Carbohydrates: 74g
Fiber: 8g
Sugar: 42g
Protein: 6g
Nutrition information is a guideline only, is calculated automatically by third-party software, and absolute accuracy is not guaranteed.