Our Cranberry Chutney with Fig and Blood Orange is unique and scrumptious with a blend of sweet, savory and tart flavors. It will outdo any store-bought cranberry sauce and might just become your new holiday favorite! The fig and blood orange add a special touch and make this a nice twist on traditional cranberry sauce.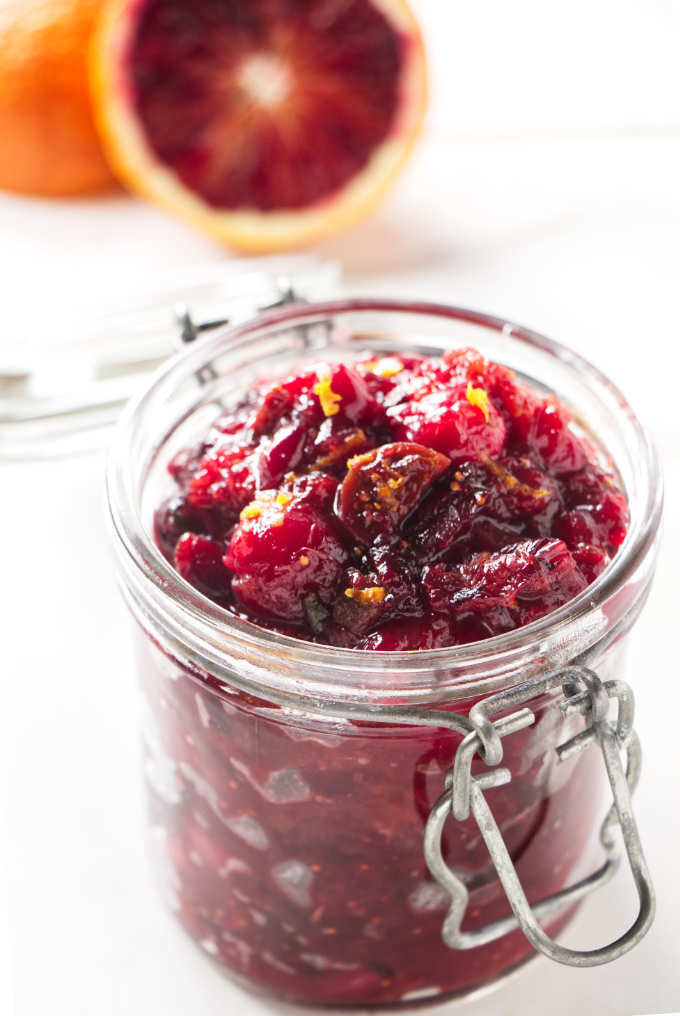 While we're big fans of our homemade cranberry sauce, we're also making room on our holiday table for this cranberry chutney with fig and blood orange.
The flavor is hard to beat! Tart cranberries get a boost of sweetness from the dried figs, while butter, thyme, and shallot add a light savoriness to the chutney. Red pepper flakes and ginger bring the perfect amount of heat, and the medley of flavors is surprisingly delicious.
Why you'll love it
Made with fresh and unique ingredients that are in-season, this cranberry fig chutney is a nice twist on classic cranberry sauce.
Use it in all the ways you'd traditionally use cranberry sauce- enjoy it alongside a roast turkey or chicken, spread it on a turkey sandwich, or pair it with a rich cheese (like our Baked Brie in Puff Pastry with Cranberry Sauce). You can even add it to stuffed chicken breast.
Here's why we love this cranberry chutney:
with only 5 minutes of prep and 10 minutes of cook time, it's incredibly quick and easy to make!
it's a gluten-free cranberry chutney recipe
the mix of flavors make this a new and exciting dish
You can also use this cranberry chutney the same way you might use our dried fig jam or our strawberry fig jam. It's versatile and adds a medley of flavors to your meals.
The Ingredient List
Our cranberry chutney recipe is simple and so is the ingredient list!
To make it, you will need:
blood oranges
butter
shallot, chopped
fresh rosemary
fresh thyme
salt and black pepper
crushed red pepper flakes
fresh cranberries
dried figs
brown sugar
balsamic vinegar
freshly grated ginger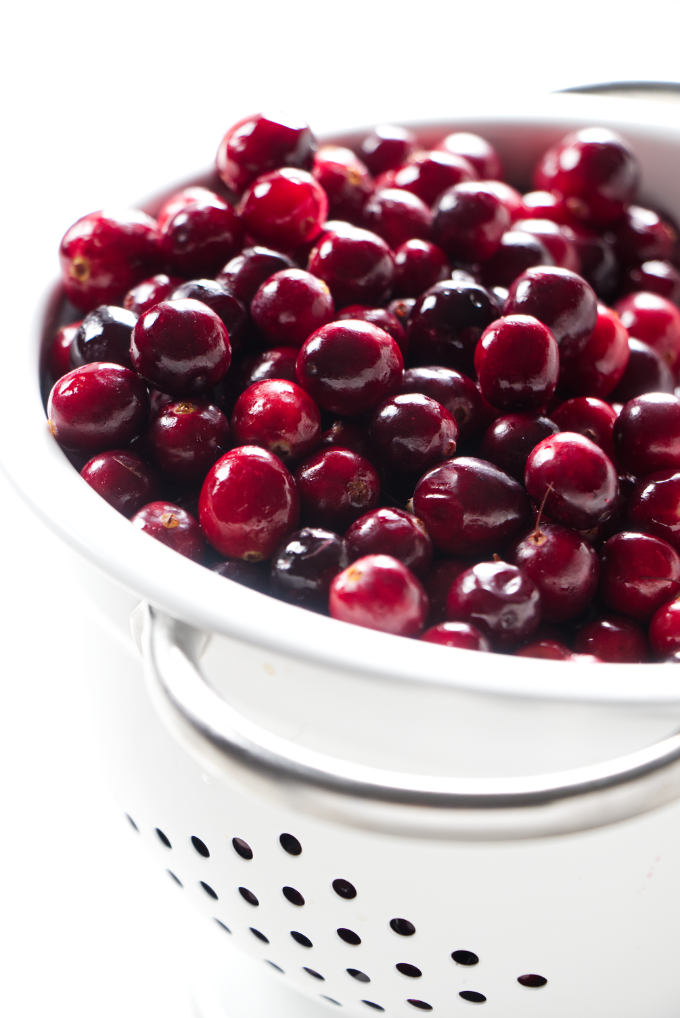 How to make Cranberry Chutney
Fresh cranberry season is short and we're taking full advantage of it! This easy cranberry chutney recipe is simple to prepare and you can make it ahead of your big holiday dinner, too.
Here's a quick look at the process, scroll down to the printable recipe card below for all the details:
Prepare the oranges. Zest the blood oranges and set the zest aside. Peel the oranges and discard the peel. Chop the blood orange fruit into small pieces.

Cook. In a large saucepan, melt the butter over medium heat. Add the shallot, herbs and spices. Cook until the shallot gets soft. Add the the rest of the ingredients.

Simmer. Bring the chutney to a simmer and cook until most of the berries burst.

Cool. Let the cranberry chutney cool then refrigerate until time to serve.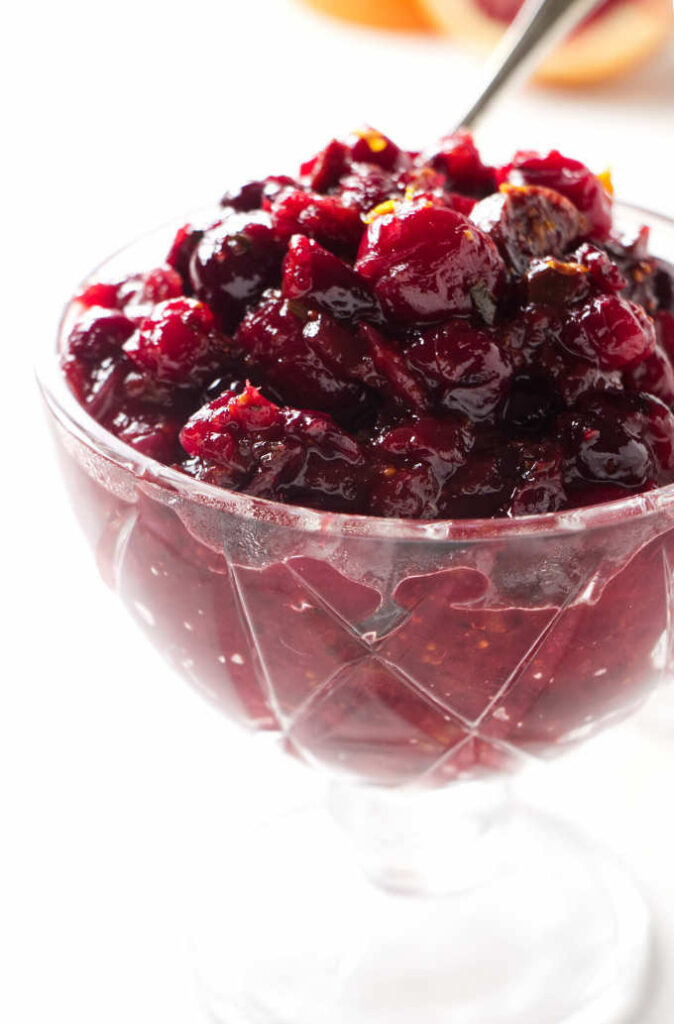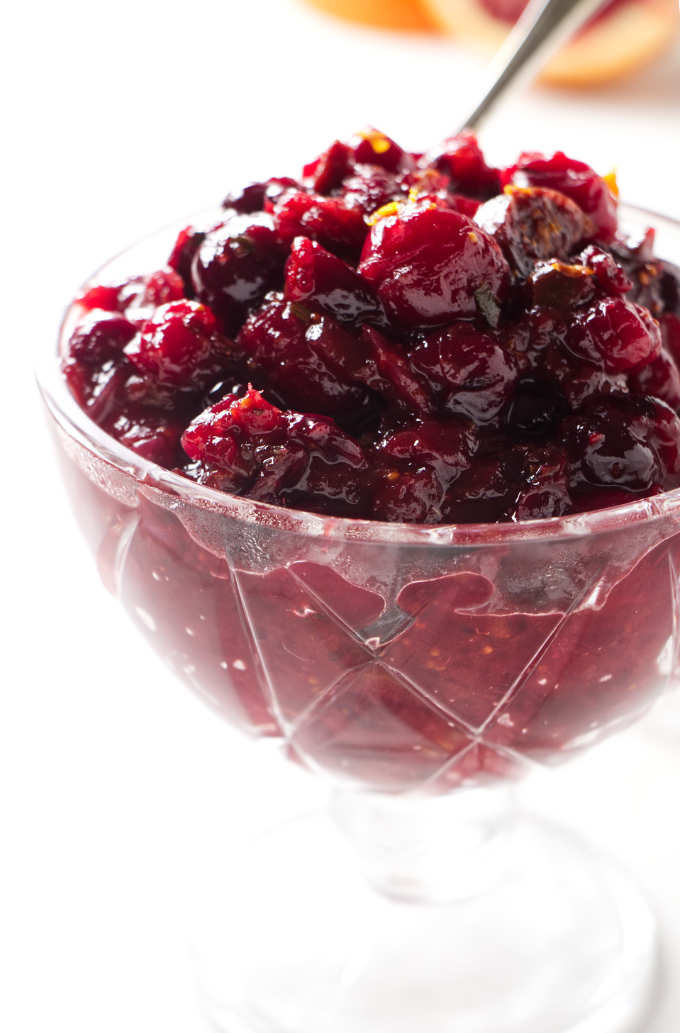 Frequently Asked Questions
How long can you keep cranberry chutney?
You can make this sauce in advance. In fact, you can prepare it a few days ahead, it will keep well for one week in the refrigerator.
Can you freeze homemade cranberry chutney?
Absolutely! Store the cranberry chutney in an air-tight, freezer-safe container and it will keep in the freezer for up to three months.
What do you use cranberry chutney for?
There are many uses for this simple cranberry chutney recipe! Enjoy it any way that you'd typically use a cranberry sauce- alongside the main course like a roasted turkey, in a sandwich, or as a spread paired with cheeses on a cracker.
Our cranberry chutney with fig and blood orange is a delightful side dish or spread that will liven up any holiday meal!
Helpful Tools
Some of the following are affiliate links. If you click on these links and purchase something, we may receive a small commission. You don't pay any extra but it will help us keep the lights on.
Some Other Recipes We Are Sure You Will Love:
Sweet, tangy, and rich, this cranberry curd tart is a holiday favorite. The tart cranberry curd is served on a pecan brown sugar crust, and served with a light, Swiss meringue.
With a rich and silky-smooth eggnog custard filling and grated nutmeg on top, this eggnog tart is a flavorful holiday treat! We love this spin on a classic custard pie and know you will too!
All the flavors of warm, spiced gingerbread are in this easy-to-make gingerbread crinkle cookie! They're soft and chewy with a crackly top and sugar coating for an extra dose of sweet.
Connect With Savor the Best:
Please follow us on our social media accounts
Facebook * Instagram * Pinterest * Youtube * Twitter
Did you make this recipe? We would love to hear from you. Drop us a comment below.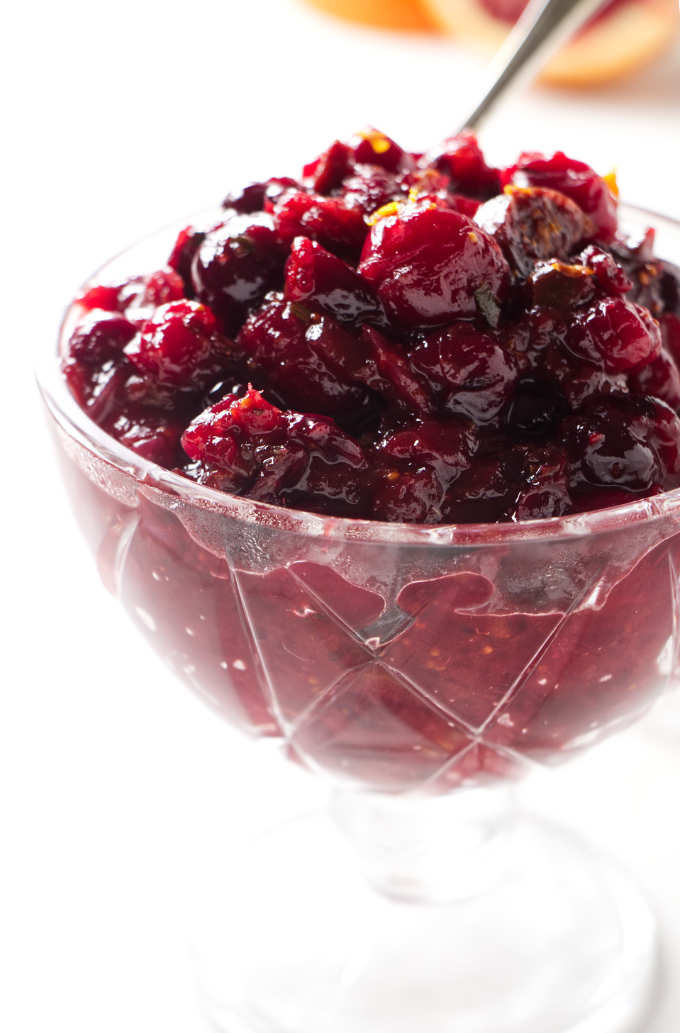 Cranberry Chutney with Fig and Blood Orange
This cranberry chutney is sweet, savory, tart, and a little spicy. It is a nice twist on traditional cranberry sauce.
Ingredients
2 blood oranges
3 tablespoons butter
1 large shallot, chopped
2 tablespoons chopped fresh rosemary
1 tablespoon chopped fresh thyme
1/2 teaspoon salt
1/2 teaspoon black pepper
1/4 teaspoon crushed red pepper flakes
1 pound fresh cranberries
10 ounces dried figs
3/4 cup brown sugar
1/4 cup balsamic vinegar
1 tablespoon freshly grated ginger
Instructions
Zest the blood oranges with a microplane zester. Set the zest aside for later.
Peel the oranges and toss the peel. Chop the fruit of the blood oranges into small pieces or pulse in a food processor.
Place the butter in a large saucepan and melt it over medium heat. Add the shallot, rosemary, thyme, salt, pepper, and red pepper flakes. Saute until the shallots get soft.
Add the cranberries, figs, sugar, balsamic vinegar, ginger, and the orange zest.
Bring the mixture to a simmer and cook for 7 to 10 minutes or until most of the berries burst.
Let the sauce cool then store it in the fridge until time to serve.
Notes
You can make this sauce in advance. Store it for 1 week in the fridge or for 3 months in the freezer.
Nutrition Information:
Yield:

12
Serving Size:

1/4 cup
Amount Per Serving:
Calories:

157
Total Fat:

2g
Saturated Fat:

1g
Trans Fat:

0g
Unsaturated Fat:

1g
Cholesterol:

5mg
Sodium:

112mg
Carbohydrates:

36g
Fiber:

4g
Sugar:

27g
Protein:

1g
Nutrition information is a guideline only, is calculated automatically by third-party software, and absolute accuracy is not guaranteed.