There's nothing like an old-fashioned sweet potato pie, right? My favorite is this Southern Sweet Potato Pie recipe, which comes with an extra layer of goodness- a toasted marshmallow topping. It's swoon-worthy: velvety smooth and rich, with a brown sugar pecan pie crust that makes this a next-level dessert for any time of the year!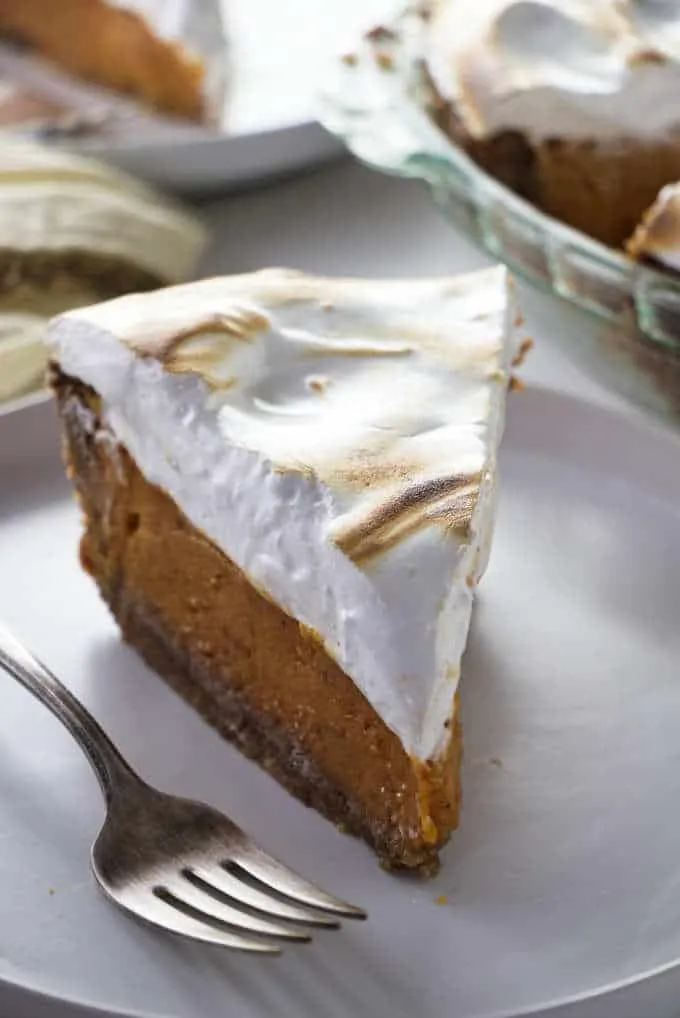 Sweet potato pie is a traditional Southern dessert that tastes very similar to pumpkin pie but has a richer flavor and dense but incredibly creamy texture. If you have never had sweet potato pie, you are in for a treat! We think it rivals pumpkin pie and makes a great addition to your holiday table.
If you live near the Seattle area, make your way south to Tacoma and visit the Southern Kitchen for a slice of their homemade, Southern sweet potato pie. But don't worry if you don't live around these parts because this sweet potato pie is easy to make.
let's make an old-fashioned sweet potato pie
This old-fashioned sweet potato pie is like a slice of sweet comfort. Homemade sweet potato pie is where it's at, and this is such a simple and delicious pie recipe, you'll want to make it again and again (and why not?). Plus, this recipe is easy enough to involve little kitchen helpers, especially ones who are enthusiastic about taste-testing the marshmallow topping. Big kids can do that, too. ?
The ingredients for this old-fashioned sweet potato pie filling are pretty basic, you might even have everything in your pantry already:
Sweet potatoes. You will need 2 pounds of sweet potatoes.
Butter. You gotta use butter or it's not a Southern sweet potato pie. ?
Brown sugar and granulated sugar. Use both sugars in this recipe. The brown sugar adds a bit of molasses flavor but if you use ALL brown sugar then the flavor is too overpowering.
Evaporated milk. Don't use sweetened condensed milk. You can substitute with cream but the evaporated milk is old-school and makes the pie taste like grandmas.
Eggs. The eggs are essential for structure and texture.
Maple syrup. Use pure maple syrup for the best flavor.
Spices (cinnamon, nutmeg, ginger, cloves). You can substitute the mix of spices with 2 teaspoons of prepared pumpkin pie spice but we like the combination and flavor of this blend.
Salt and vanilla extract. It doesn't take much of these ingredients to make a huge impact on flavor.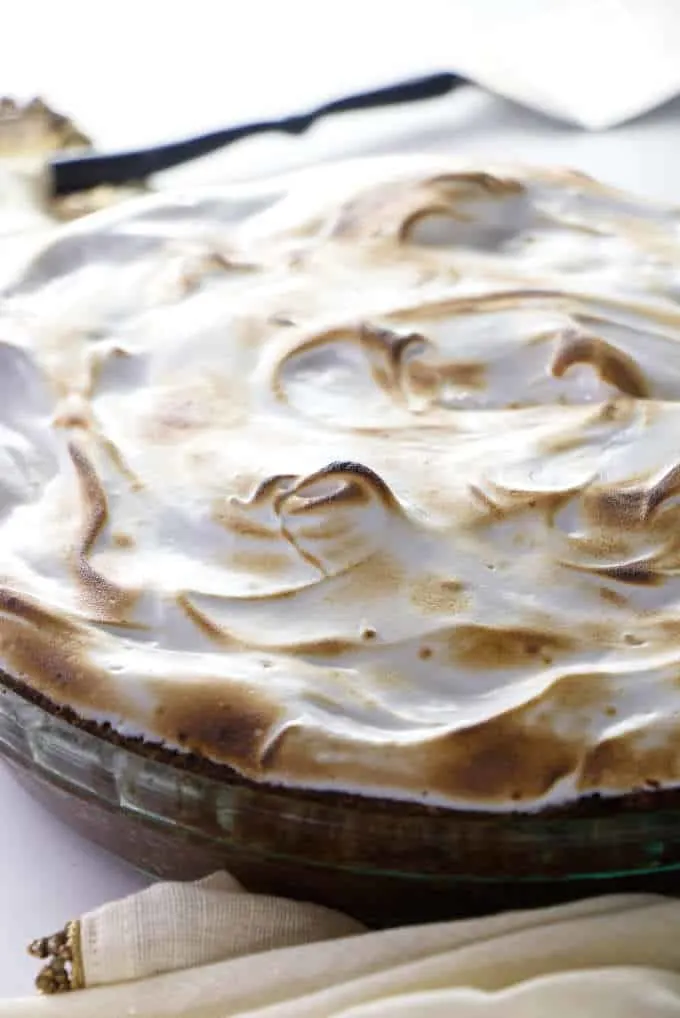 We pair this Southern sweet potato pie with our pecan brown sugar pie crust, the same delicious crust we use in our Cranberry Curd Tart recipe (another holiday showstopper!).
Here's how to make this decadent and silky, old-fashioned sweet potato pie:
Make sure you scroll down to the printable recipe card for the complete instructions.
Make the pie crust. We used our brown sugar pecan pie crust.
Bake the sweet potatoes and scoop out all that lovely orange flesh into a food processor.
Toss the rest of the ingredients in the food processor.
Blend everything until silky smooth.
Pour the mixture into the pie crust and bake.
Make the homemade marshmallow fluff while the pie bakes.
Spread marshmallow fluff on top of the pie. If you want a toasted marshmallow flavor use a kitchen torch to brown the top.
Frequently asked questions:
Can I use canned sweet potatoes?
You can use canned sweet potatoes if you find them canned ONLY in water. Don't use the sweet potatoes that are canned in sugar syrup. If you do use canned sweet potatoes make sure you drain ALL the liquid from the can.
Can I cook the sweet potatoes in the microwave?
If you don't want to take the time to bake the sweet potatoes then you can stick them in the microwave or boil them. We think the flavor is better when you roast the sweet potatoes in the oven
Can sweet potato pie be frozen?
You can freeze sweet potato pie for up to 3 months. Technically, you can freeze it longer but the quality diminishes.
Make sure it cools down completely before you stick it in the freezer. If you keep it in a pie storage container like this one then it won't get smashed in the freezer. And yes, you can freeze this Southern sweet potato pie with the marshmallow fluff on top. The marshmallow fluff won't be quite as fluffy and light when it thaws but it will still be delicious.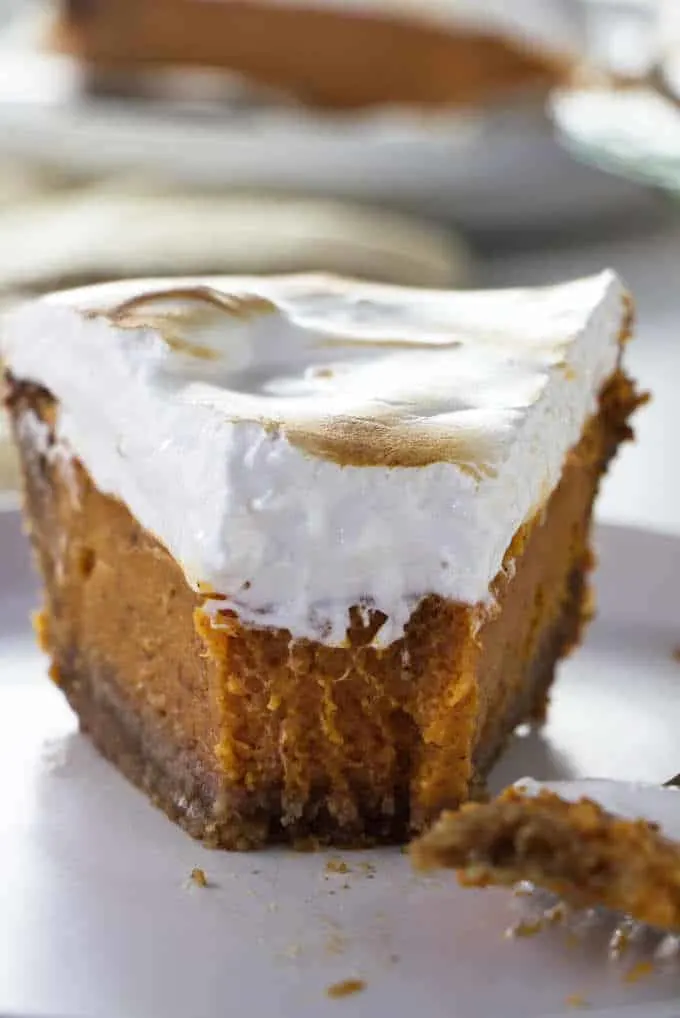 Pro tips for making old-fashioned sweet potato pie
How do I know when my sweet potato pie is done?
The sweet potato pie is done when a knife or toothpick inserted in the middle comes out moist but clean. The center of the pie should jiggle slightly, with just a tiny bit of give.
How do you store sweet potato pie?
This old-fashioned sweet potato pie can be covered loosely with plastic wrap and refrigerated for up to five days. If you have a pie storage container then it won't get smashed in the fridge. The marshmallow topping will stick to plastic wrap or the top of the storage container so we recommend spraying the under-surface of the plastic wrap or lid with some non-stick cooking spray.
Use a food processor or blender for best results.
A food processor will do the best job at blending all the ingredients to a smooth, silky mixture. If you don't have a food processor then a blender will work but you will need to stop the blender frequently and stir the mixture.
Some recipes will instruct you to stir everything by hand or with an electric mixer but those methods don't puree the sweet potato mixture into a silky smooth pie.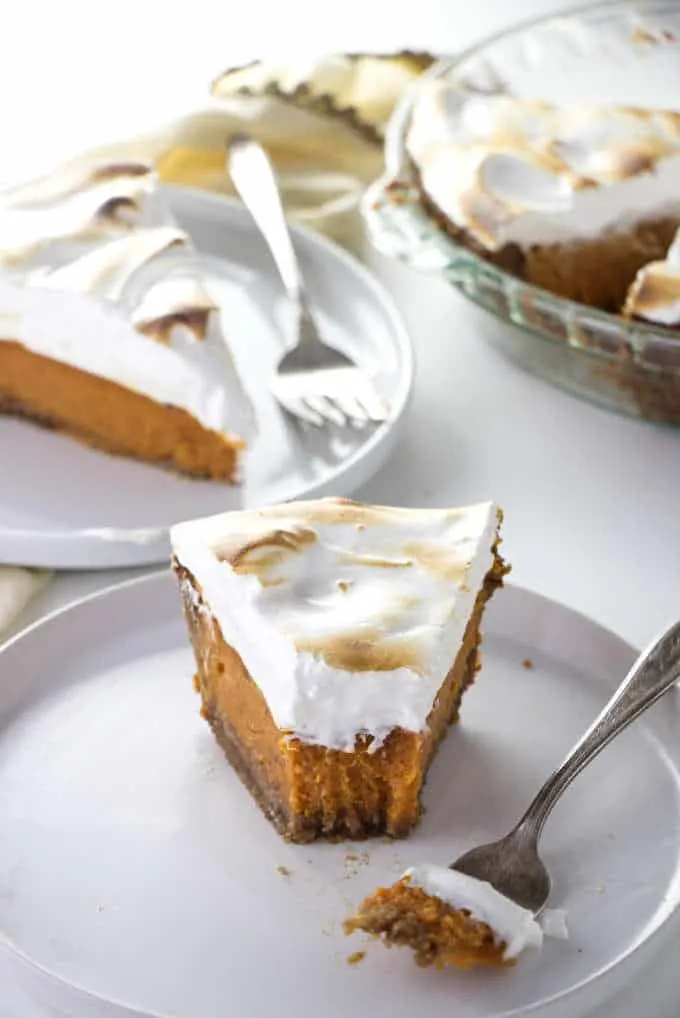 This homemade sweet potato pie is truly a Southern comfort dessert that everyone will enjoy!
SOME OTHER RECIPES WE ARE SURE YOU WILL LOVE:
Our Dutch Apple Pie with Oatmeal Streusel is the ultimate after-dinner treat! Sweet, roasted apples pair wonderfully with the crispy streusel topping. Just when you thought dessert can't get any better, a scoop of ice cream on top proves you wrong.
Enjoy breakfast any time of the day with these Sweet Potato Waffles, Duck Eggs and Smoked Salmon. This elegant breakfast or brunch dish is perfect for entertaining, and is sure to impress!
CONNECT WITH SAVOR THE BEST!
Be sure to follow us on our social media accounts
Facebook * Instagram * Pinterest * Twitter * Youtube
Did you make this recipe? We would love to hear from you. Drop us a comment below.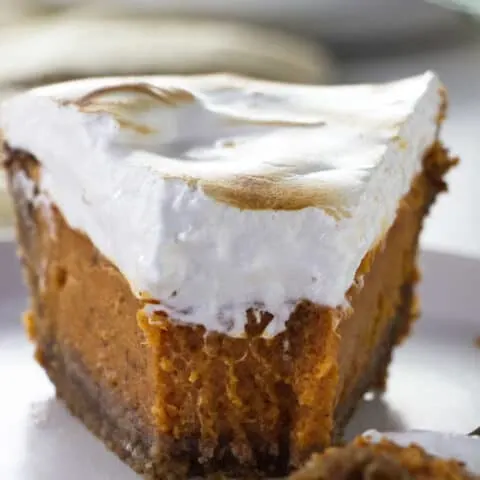 Sweet Potato Pie with Marshmallow Topping
Total Time:
1 hour
30 minutes
This old fashioned Southern sweet potato pie is velvety smooth, rich, and decadent. The brown sugar pecan pie crust and the homemade marshmallow topping make this an epic dessert. It is not just for the holiday season, make this any time of the year.
Ingredients
For the pecan brown sugar crust:
For the sweet potato pie:
2 pounds sweet potatoes
8 tablespoons butter, softened
1/2 cup brown sugar
1/2 cup granulated sugar
1/2 cup evaporated milk
2 eggs
3 tablespoons maple syrup
1 teaspoon vanilla extract
1 teaspoon ground cinnamon
1/2 teaspoon ground nutmeg
1/2 teaspoon ground ginger
1/8 teaspoon ground cloves
1/2 teaspoon salt
For the Marshmallow topping:
Instructions
For the crust
Make the recipe for the pecan brown sugar crust. Pre-bake the crust and let it cool while you make the sweet potato pie filling.
For the sweet potato pie:
Pierce several holes in the sweet potatoes and place them on a baking sheet. Bake for 45 to 55 minutes or until tender.
When the sweet potatoes are cool enough to handle slice them in half and scoop the flesh into a food processor.
Add the rest of the ingredients for the sweet potato pie and process until it is very smooth.
Pour the filling into the pie crust. Bake at 350°F for 45 to 50 minutes.
Remove from the oven and let cool on a wire rack.
For the marshmallow topping:
Make the recipe for the homemade marshmallow cream.
Spread the marshmallow on top of the pie.
Use a kitchen torch to brown the top of the marshmallow or place the pie under the broiler for 2 to 3 minutes.
Notes
Alternative methods to cooking your sweet potatoes: You can also boil or microwave them until they are tender.
Smaller sweet potatoes will bake faster. Extra-large sweet potatoes may need 60 to 70 minutes.
Nutrition Information:
Yield:

10
Serving Size:

1
Amount Per Serving:
Calories:

286
Total Fat:

11g
Saturated Fat:

7g
Trans Fat:

0g
Unsaturated Fat:

4g
Cholesterol:

65mg
Sodium:

243mg
Carbohydrates:

43g
Fiber:

3g
Sugar:

30g
Protein:

4g
Nutrition information is a guideline only, is calculated automatically by third-party software, and absolute accuracy is not guaranteed.