You're looking at fluffy, ooey, gooey, sticky, sweet and creamy marshmallow fluff. This is the kind of thing that will satisfy a sugar craving in an instant. It's the kind of stuff sweet dreams and epic desserts are made of and we are whipping it up from scratch. Because homemade is always better. ?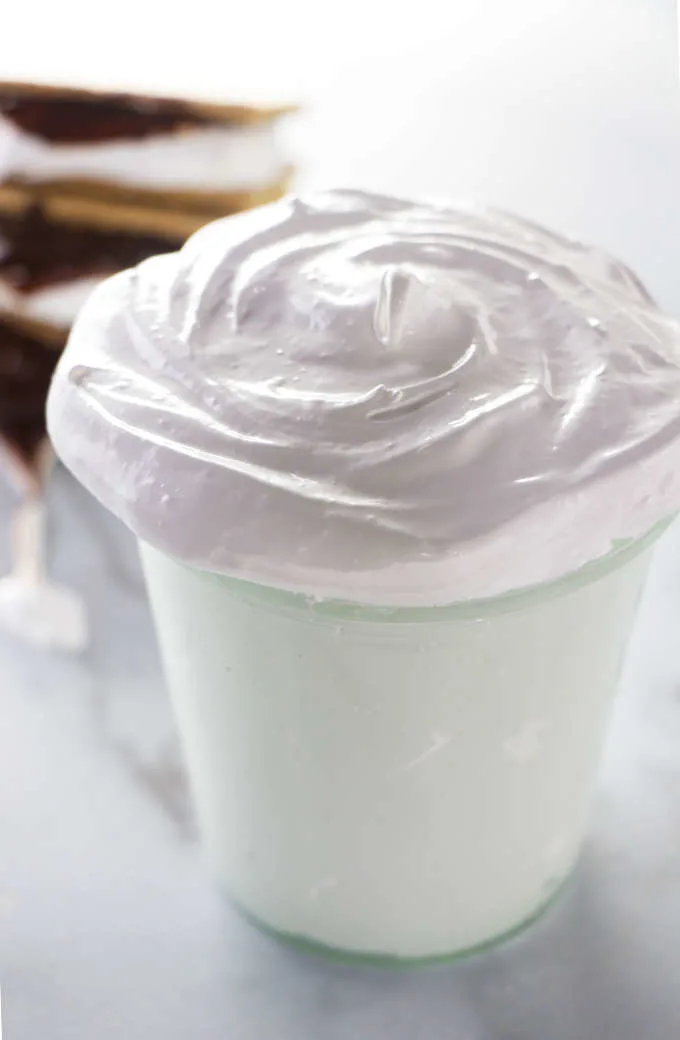 This soft and airy homemade marshmallow fluff combines simple ingredients for a real vanilla taste that you'll reach for over and over.
Marshmallow cream. Or spread. Or fluff.
The name isn't important. The ooey, gooey, fluffy goodness that'll kick your taste buds all the way back to your adolescence is what matters. Skip the jarred version in the store. Seriously, walk right past it and do not look back because this stuff is the real deal.
Now marshmallow fluff isn't something you should be chugging down by the gallon. But if you happen to lick the spoon once, or five times really, there's no judgment here. We've indulged in airy bites of fluff with no regrets plenty of times.
Okay, so it may be a smidge more time consuming than grabbing the store-bought version, but it's 100% better. And 1000% worth it. Even if you reach for it days after it's been made, this homemade fluff will taste fresh and airy every single time.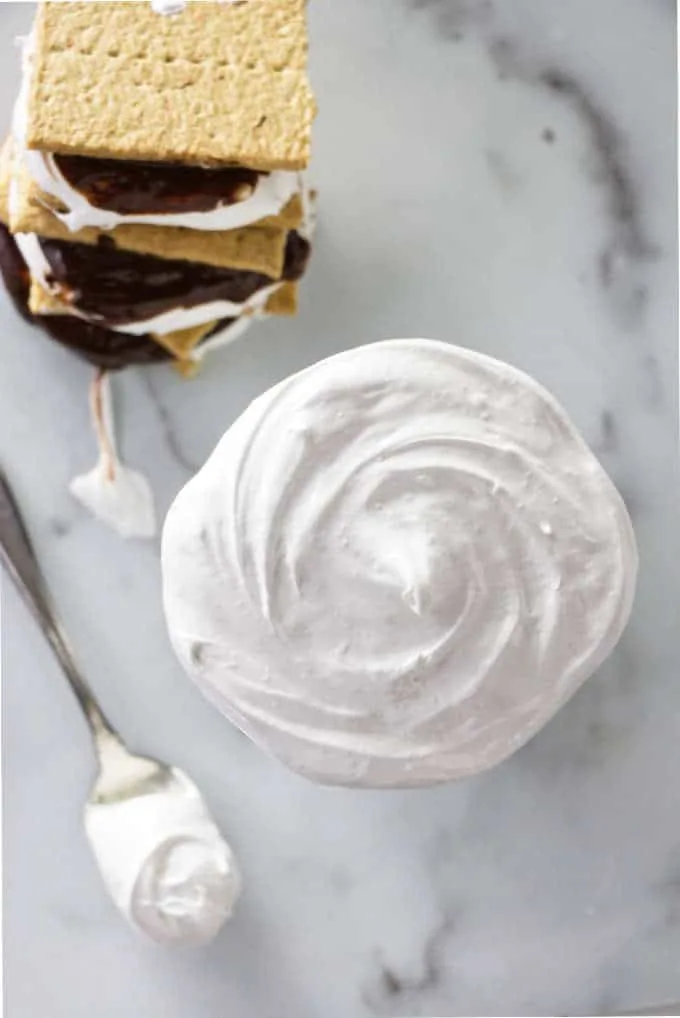 What to do with marshmallow fluff.
We know what you're thinking. What exactly can you do with marshmallow fluff? So many delicious things, my friend.
Use it as a dip on a dessert platter with fresh fruit, cookies and slices of pound cake, top sweet potatoes off for the perfect fall dessert, or even spread it between two snickerdoodle cookies and be crowned best baker at every gathering. This recipe is incredibly versatile and can take a plain-Jane dessert to the next level without too much effort.
Here are some more ideas:
As a topping for hot cocoa or chocolate milk.
Use it in a fruit dip.
Spread it between two chocolate cookies.
Filling for a cake roll.
Frosting for a chocolate cake.
As an ingredient for fudge.
Slather it on top of sweet potato pie.
Swirl into brownie batter.
Use it to make quick S' mores.
What's our favorite way to use this marshmallow fluff? We like to add a big dollop into an irresistibly rich, decadent mug of hot chocolate. Made with an easy homemade chocolate sauce, it's guaranteed to make your winter nights a lot cozier. By the way, our homemade marshmallow fondant tastes pretty good on hot chocolate as well.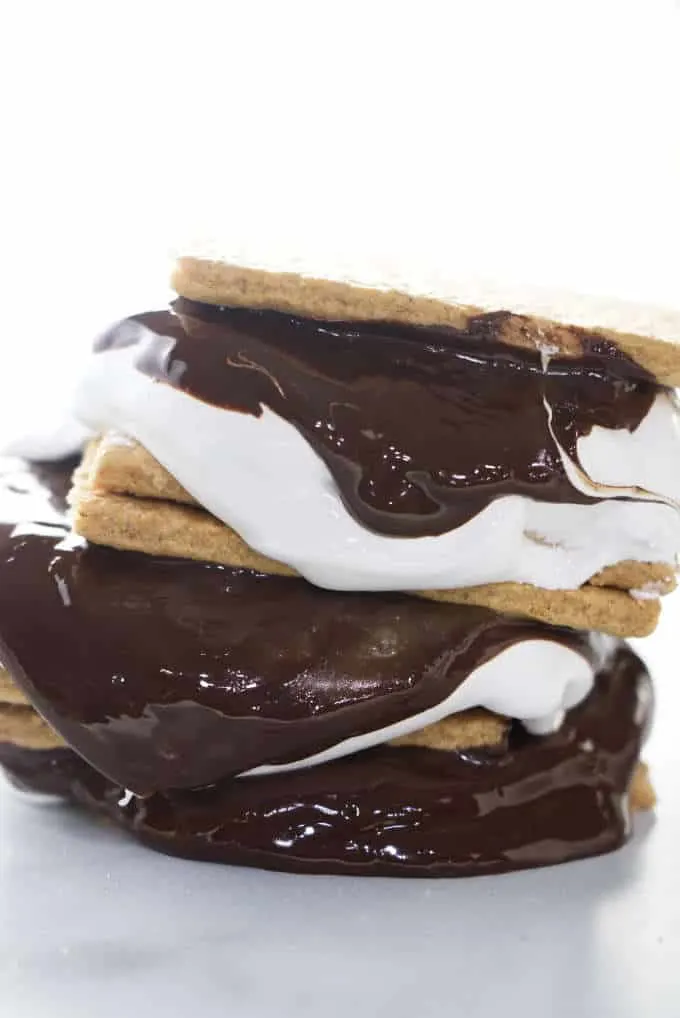 What is marshmallow fluff?
Marshmallow fluff is a sweet, spreadable confection that tastes and looks like melted marshmallows. It is not the same as melted marshmallows primarily because it does not contain gelatin. If you melt a marshmallow, it gets firm again after it cools but marshmallow fluff will stay loose, sticky, and spreadable since it does not have gelatin.
How to make marshmallow fluff.
You only need 4 ingredients to make marshmallow fluff but I add a bit of salt to the recipe to enhance the sweet vanilla flavor. Here is what you need:
Egg whites. Absolutely necessary for a light and fluffy spread.
Corn syrup. This isn't the same as high fructose corn syrup that you see in soda.
Sugar. That plain ole white, granulated sugar.
Vanilla. Use real vanilla for the best flavor.
Salt. Don't leave out the salt. Just a small amount will add a flavor dimension.
Here are the 4 basic steps to homemade marshmallow fluff. Make sure you scroll down to our printable recipe card for detailed instructions.
Start by heating the corn syrup, sugar, water, and salt until it is 245°F or firm ball stage.
Whip the egg whites to stiff peaks.
Drizzle the hot sugar syrup into the whipped egg whites.
Add the vanilla and continue whipping until the fluff cools down.
About the corn syrup:
The corn syrup makes a difference in this recipe for marshmallow fluff. It contributes to the texture and stability of the final product. It also prevents sugar crystals from forming in the syrup.
I realize that there is a lot of controversy over corn syrup but the stuff you buy in the grocery store isn't the same as the accursed High Fructose Corn Syrup that gets a bad rap.
Helpful tips for making marshmallow fluff.
Whipping the egg whites:
Start with a clean bowl and whisk. Egg whites will not whip if there is any grease in the bowl.
Don't get any yolk in the egg whites. Even a small speck of yolk will ruin the batch because you will not be able to whip the whites to fluffy, stiff peaks.
Separate the egg whites while they are cold. Cold eggs are easier to separate from the yolks.
Let the egg whites come to room temperature before whipping them. Egg whites will whip with more volume if they are at room temperature.
Don't start whipping the egg whites until the sugar syrup gets hot. It will take longer for the sugar syrup to reach temperature than it will take for the whites to whip. I usually wait until the sugar reaches about 220°F then I start whipping the whites.
Cooking the sugar syrup:
Use a candy thermometer for best results. The sugar syrup needs to reach the firm ball stage which is between 245°F and 250°F. The easiest way to check the correct temperature is with a candy thermometer.
Use caution around the hot sugar syrup. The sugar syrup gets molten hot and can cause severe burns if it gets on your skin. Keep children and pets away while you heat the sugar syrup. It is also a good idea to keep a bowl of ice water nearby in case you do get some hot syrup on you.
Pouring the sugar syrup into the egg whites:
Don't pour the syrup onto the whisk. If you get syrup on the whisk it will fling the syrup all over the inside of the bowl.
Don't let the syrup slide down the side of the bowl. If the hot syrup touches the cool bowl it will get hard and will not whip into the whites. If you use a stand mixer, there is a sweet spot right between the whisk and the side of the bowl. For a hand mixer, pour the syrup into the whites then quickly move the beaters to that area.
Coordinating the tasks:
Place the mixer near the stovetop. If you have the mixer close to the stove then you will not have to walk across the kitchen with hot syrup.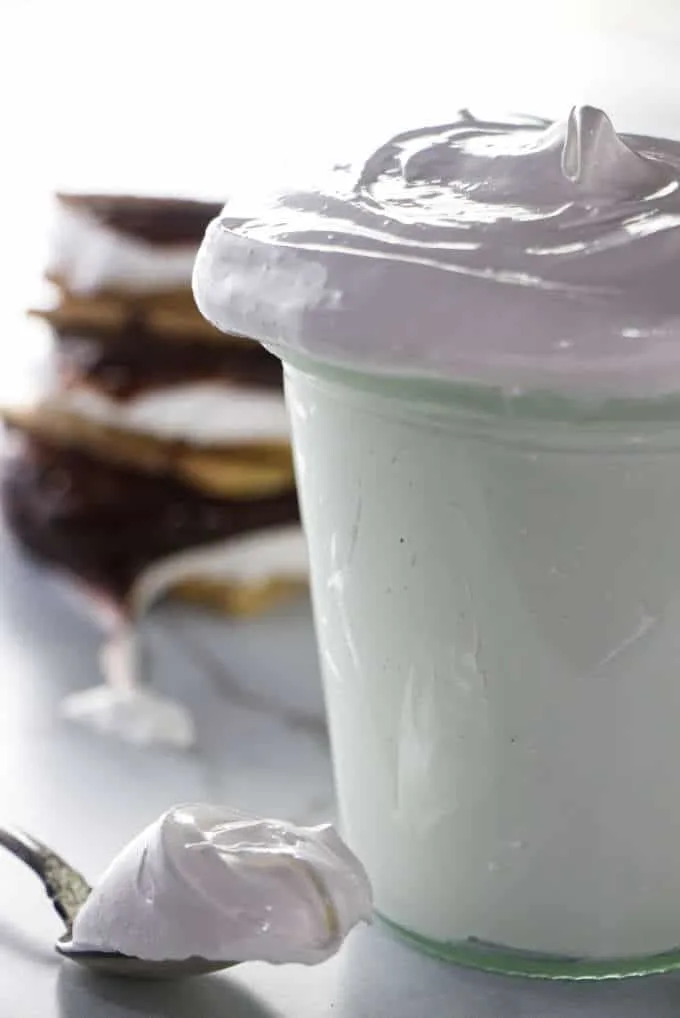 How long can you store homemade marshmallow fluff:
You can store the dreamy whip for up to 3 weeks. Keep it in an airtight container in the refrigerator. If it loses some of its 'fluff' then you can whip for a couple of minutes before using.
So go ahead and whip up a jar of this easy, creamy marshmallow fluff for your entire family to enjoy.
And if you find yourself making middle-of-the-night trips to the kitchen sneaking away bites of this sugary creation, we're sorry in advance. But we're sure your taste buds will thank us.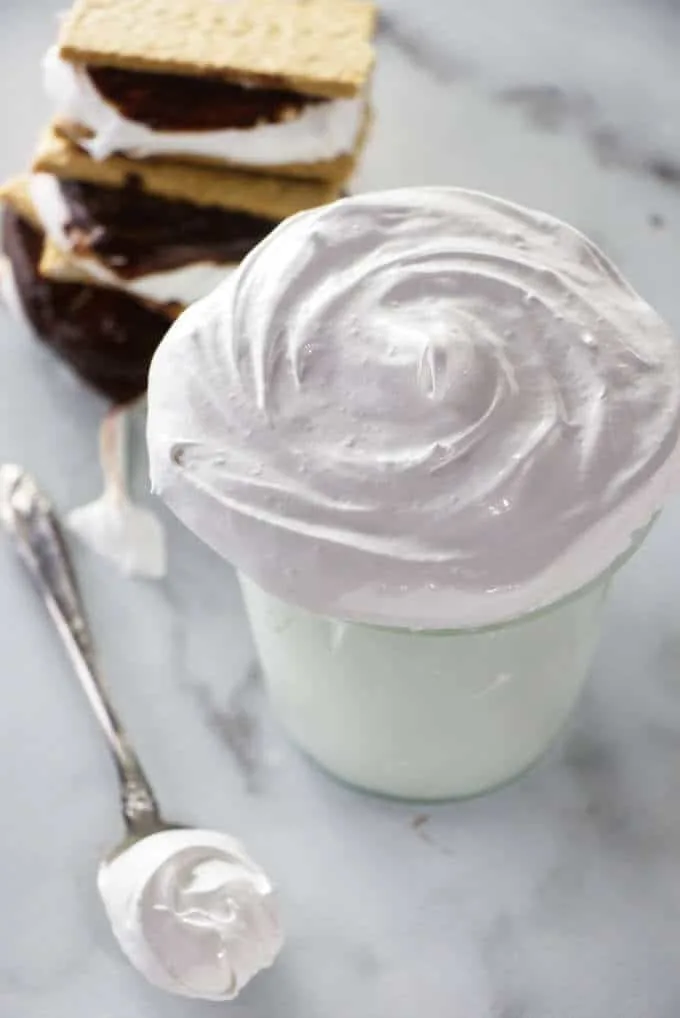 SOME OTHER RECIPES WE ARE SURE YOU WILL LOVE:
Our lemon meringue cake is frosted with an Italian meringue that is made very similar to this marshmallow fluff but it does not have any corn syrup.
This flourless chocolate cake goes well with our marshmallow fluff. Heck, sprinkle on some graham cracker crumbs for a spin on a s'mores flavored delight.
Use this marshmallow fluff as a filling for our gluten-free chocolate cake. It makes a delicious birthday cake.
CONNECT WITH SAVOR THE BEST!
Be sure to follow us on our social media accounts
Facebook * Instagram * Pinterest * Twitter * Youtube
Did you make this recipe? We would love to hear from you. Drop us a comment below.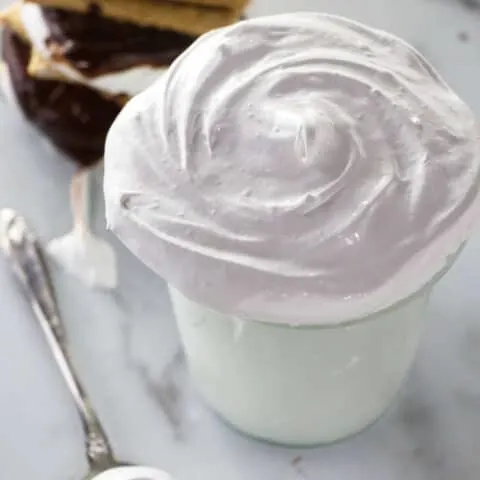 Homemade Marshmallow Cream
Light, fluffy, creamy and dreamy! This homemade marshmallow fluff (or cream) is fantastic on cakes, pies, brownies and hot chocolate. Use it as a dip for fruit or graham crackers or spread it between cookies for a cookie sandwich.
Ingredients
4 large egg whites, room temperature
3/4 cup plus 3 tablespoons sugar
1/3 cup water
1/2 cup corn syrup
1/4 teaspoon salt
1 teaspoon vanilla extract
Instructions
Place the egg whites in a bowl of a stand mixer and let it sit for a few minutes while you prepare the sugar syrup.
Set a candy thermometer in a saucepan. Heat 3/4 cup of sugar, the water, corn syrup and salt over medium heat. Stir until the sugar dissolves.
When the syrup reaches between 210°F to 220°F, begin whipping the egg whites on medium-low speed.
. When the egg whites start to get foamy, sprinkle in the remaining 3 tablespoons of sugar and continue whipping until you see soft peaks.
When the syrup reaches between 245°F to 250°F increase the mixer to medium-high and slowly drizzle the syrup into the whites while they are whipping (pour the syrup into the space between the whisk and the bowl so the syrup doesn't fling onto the sides of the bowl).
Add the vanilla extract and continue to beat for 2 to 3 minutes.
When the marshmallow fluff cools to room temperature, store it in an airtight container for 2 to 3 weeks.
Notes
Make sure the mixer and whisk do not have any trace of grease or the egg whites will not whip.
Use caution when you cook the sugar syrup. The syrup gets extremely hot and can cause severe burns if it gets on you.
If you place the stand mixer close to your cooktop you will not have to carry the molten hot sugar syrup across the kitchen.
245°F to 250°F is the firm ball stage. If you do not have a candy thermometer then you can do a cold water test. When you drop a bit of syrup into cold water it should hold its shape in a ball but still be pliable and soft if you squish it.
Make sure you do not pour the hot syrup over the whisk blade or the whisk will fling the syrup onto the sides of the bowl.
You can make the marshmallow fluff with a hand mixer if you do not have a stand mixer but you will need to beat the mixture a little longer.
The marshmallow fluff will become a bit deflated when you store it for a few days. You can re-beat it if it gets too flat
Recommended Products
As an Amazon Associate and member of other affiliate programs, I earn from qualifying purchases.
Nutrition Information:
Yield:

24
Serving Size:

4 tablespoons
Amount Per Serving:
Calories:

32
Total Fat:

0g
Saturated Fat:

0g
Trans Fat:

0g
Unsaturated Fat:

0g
Cholesterol:

0mg
Sodium:

32mg
Carbohydrates:

8g
Fiber:

0g
Sugar:

8g
Protein:

0g
Nutrition information is a guideline only, is calculated automatically by third-party software, and absolute accuracy is not guaranteed.