It can take a full day to safely thaw a Cornish Game hen in the fridge. If you don't have that kind of time just leave it in the freezer and cook it from frozen in the Instant Pot. Cook frozen Cornish game hens in the pressure cooker and you will have dinner on the table in less than an hour.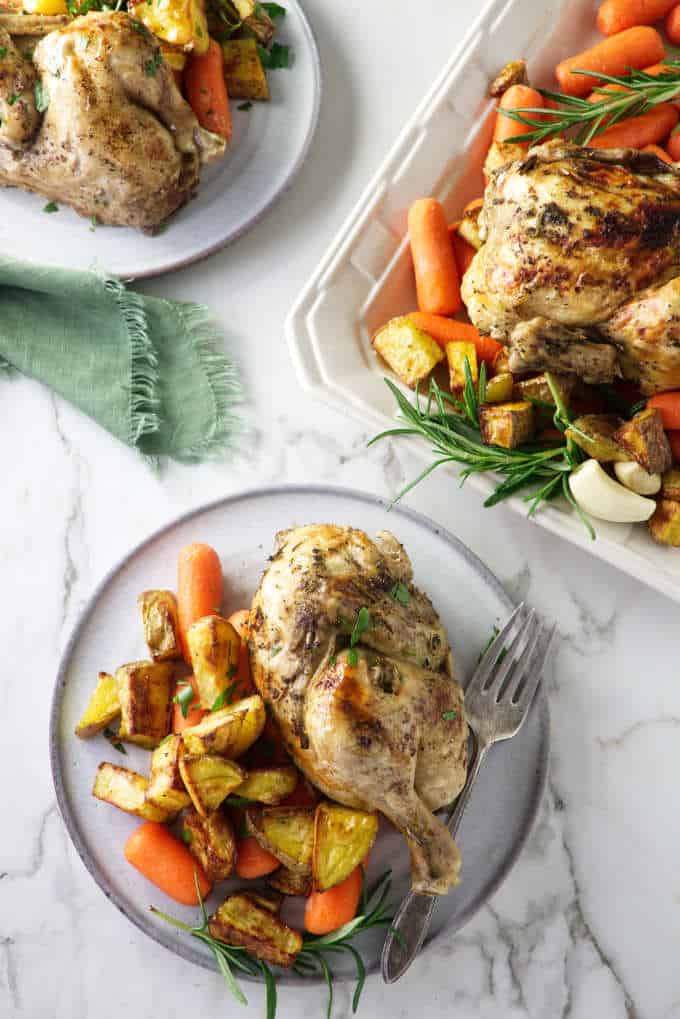 That's right, from frozen to hot and ready-to-eat in under 60 minutes. Not only that, but you only need about 5 minutes to prep the Game Hens then the Instant Pot will do the rest. By the time it is finished cooking you can have some steamed broccoli and a salad prepped and ready. Throw in some mashed red potatoes if you are really hungry and dinner is made.
How do you thaw a frozen game hen?
The best way to thaw a game hen is in the fridge. It generally takes a full day for the little birds to thaw out and if your fridge is colder than 40°F then it will take longer.
If you want to speed things up you can thaw game hens in cold water but in order to do it safely, it takes a little more attention. For one thing, the water needs to be cold. Never, never, never thaw any meat in warm water. It might be fast but it is just not safe.
Secondly, you need to change the cold water at least every 30 minutes. If the water warms up too much then you risk introducing bacteria and a nasty food born illness. So if your leaving for work this is not the best method since you won't be around to change the water frequently.
Now, according to the FDA food and safety site, it is safe to thaw poultry in a microwave but we really don't recommend doing that. Even on low defrost settings, microwaves distribute heat unevenly. Some of the thinner portions of the bird will start to cook while the thicker center will still be frozen. It really isn't an efficient way to thaw a larger piece of meat.
So if you don't have a full day to thaw the game hens or you won't be around to change the water that you are thawing the birds in, then just leave them in the freezer.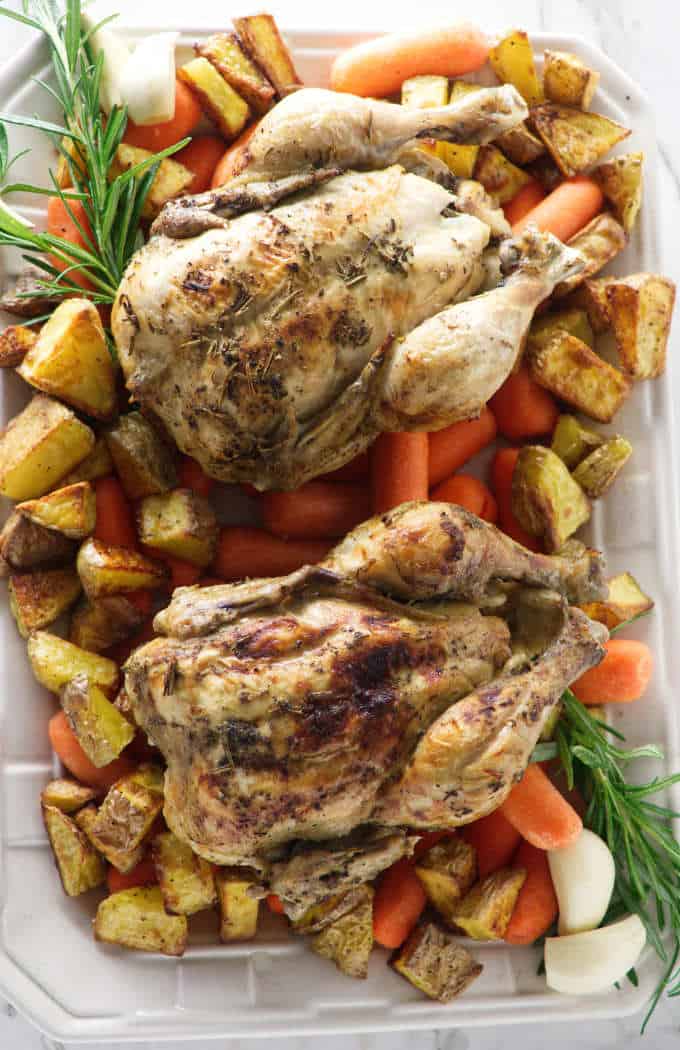 The best way to cook a frozen Cornish game hen:
The best way to cook a frozen game hen is in a pressure cooker. You can cook them in an oven from frozen but it will take longer and you have to take some measures to keep it from drying out or burning on the outside before it cooks completely on the inside
A pressure cooker like our Instant Pot cooks food under high pressure which raises the boiling point of the water, cooking it at a higher temperature. The high pressure also forces liquid into the meat which creates a tender, juicy Cornish game hen.
Since the heat and pressure get turned up, the inside of the Game hens cook more quickly without drying out the outer portion of the birds.
The drawback to cooking your Game hens in the pressure cooker is that it will not give you a crispy brown skin. The easiest and fastest solution to getting the skin brown is to pop it under the broiler for 5 minutes. Now, I want to warn you not to walk away when you do that. You can go from golden crispy skin to black and charred in an instant so keep an eye on them when they are under the broiler.
How to cook a frozen Cornish game hens in the pressure cooker.
Step 1: Get the birds ready.
First, you need to remove the package and make sure there isn't any paper-like material frozen to the birds. Most of the game hens I have purchased do not have any paper stuck to them but you should always check. If there is any paper frozen to them just run the little birds under cold water for a few seconds and it should come right off.
Step 2: Place the game hens in the Instant Pot.
You will want to put the trivet in the bottom of the pressure cooker then place the frozen game hens on top of the trivet. Pour in the chicken broth and the aromatics, or flavor base. In this case, we are using an entire onion along with the following seasonings:
garlic powder
salt
pepper
sage
rosemary
fresh garlic cloves
bay leaves
You can change up the blend to your liking but don't skip the salt. There isn't any blend of herbs that can replace the magic that happens when you add salt to your cooking.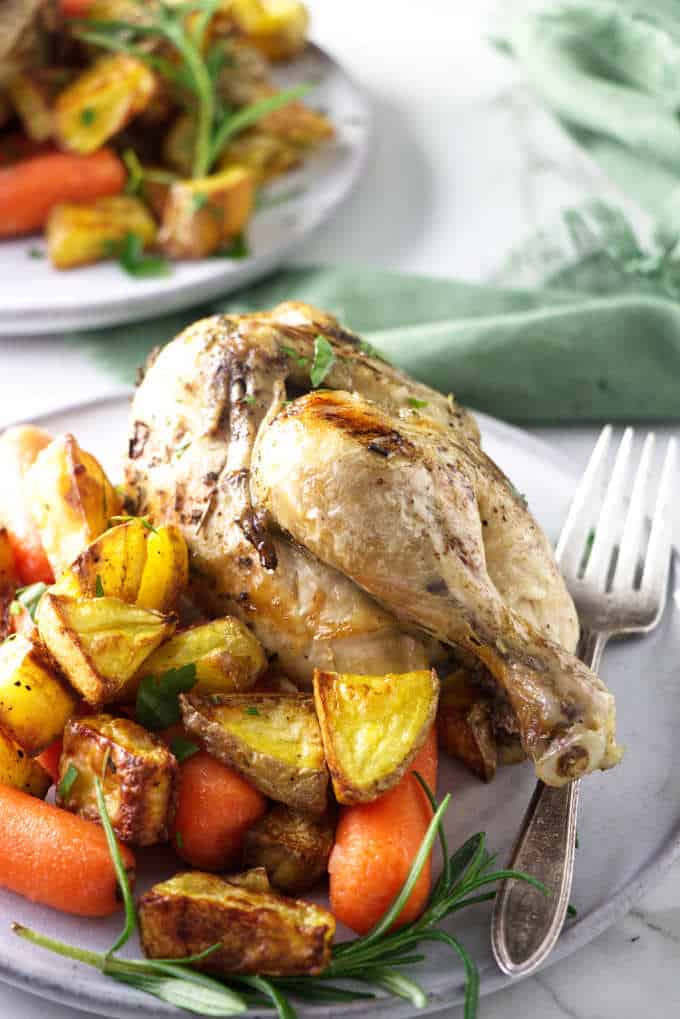 Step 3: Seal the pot and start cooking:
Now make sure the pot is sealed correctly and the pressure release valve is in the sealed position. Turn the settings to select high pressure for 33 minutes then press start. It takes some time for the Instant Pot to get hot and build up pressure. It takes even longer when you start out with frozen food so don't worry if it doesn't look like anything is happening right away. The pressure cooker should take about 15 to 20 minutes to come up to pressure and begin the 33 minute cook time.
Step 4: Release the pressure:
When the 33 minute cook time is complete the Instant Pot will automatically go into a warming mode. Let the Instant pot sit in this mode for 10 minutes. During this time the pressure will naturally release.
Keep in mind that the game hens will continue cooking during the natural release time. This is an important part of the cooking stage. When we tried this recipe with longer pressure cook times and less natural release times, the game hens were overcooked and just fell apart. By allowing 10 minutes of natural release time, the game hens get perfectly cooked and remain tender and juicy.
After the pressure cooker finishes 10 minutes of natural pressure release, flip the pressure valve to let out any remaining pressure.
Step 5: Check the temperature:
The game hens will vary slightly in size and thickness. larger game hens might need more time to cook. Grab an instant-read thermometer and check the temperature in the center of the birds. It should read 165°F. If the temperature is lower then stick them back into the pot and put the lid back on and set the pressure cooker for another 5 minutes or so.
If you don't have a thermometer then slice the skin between the leg and the breast and check to see if the juices run clear.
Step 6: Brown the Cornish game hens.
This step is optional but who doesn't like crispy brown skin on their game hens? Turn the broiler on high and place the game hens on a baking sheet then slide them under the broiler. Keep a close eye on them because it will only take 3 to 5 minutes for them t get a nice golden brown.
How many people does a Cornish game hen serve?
One game hen is enough to serve 1 to 2 people. We generally cut them in half and get two servings out of one bird. It is definitely enough when you have some sides for dinner. Serve them with some baked potatoes, roasted asparagus and a side salad.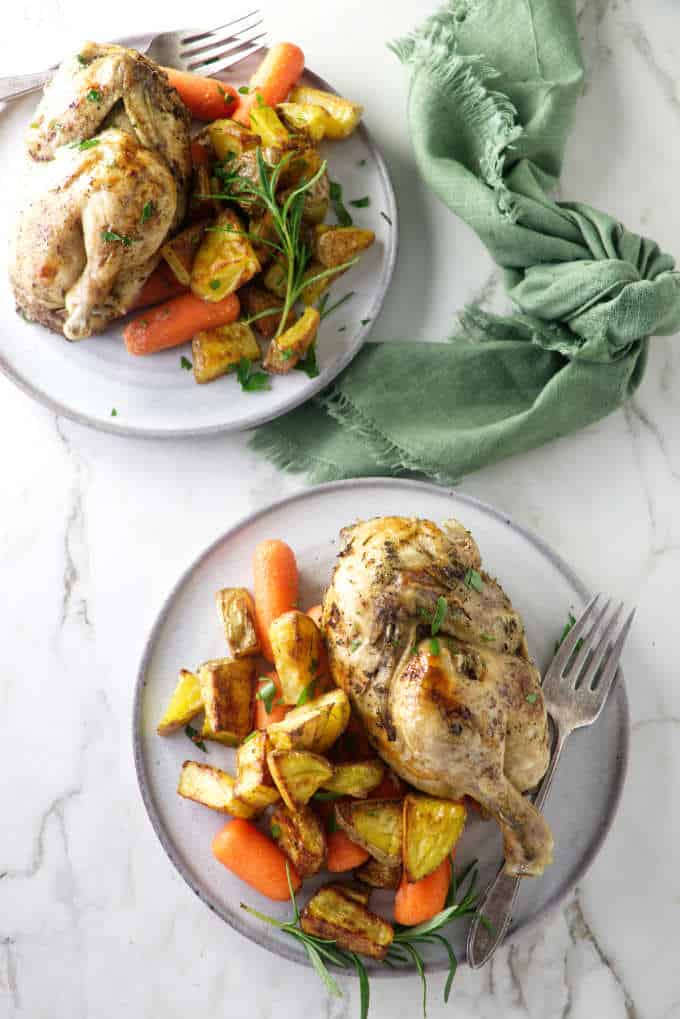 SOME OTHER RECIPES WE ARE SURE YOU WILL LOVE:
This recipe for an Instant Pot frozen turkey breast will save your day. A 4 to 5 pound frozen turkey breast will pressure cook in 60 minutes. Plan for an extra 25 to 30 minutes for the Instant pot to heat up.
We cook frozen chicken breasts in the Instant Pot quite frequently. You can cook them until they are perfectly poached or add a little bit of cook time so you can shred the meat for all kinds of recipes.
This Instant Pot chicken and dumplings is good old fashioned comfort food! Gather friends and family around the table and get ready to dig in!
CONNECT WITH SAVOR THE BEST!
Be sure to follow us on our social media accounts
Facebook * Instagram * Pinterest * Twitter * Youtube
Did you make this recipe? We would love to hear from you. Drop us a comment below.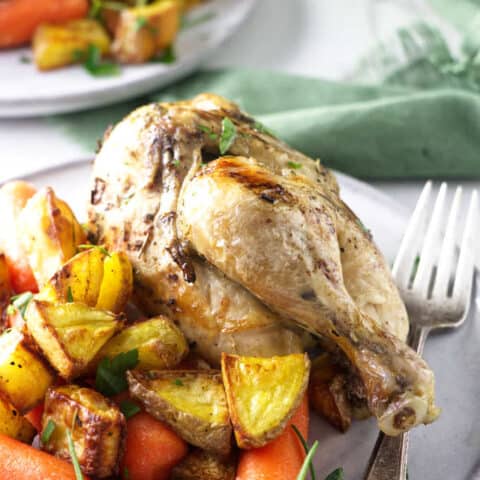 Instant Pot Frozen Cornish Game Hens
Yield: 4 servings
Prep Time: 10 minutes
Cook Time: 33 minutes
Additional Time: 10 minutes
Total Time: 53 minutes
If you didn't thaw your cornish game hens and need to start dinner right away, cook them in the Instant Pot and have dinner ready in under an hour.
Ingredients
2 frozen cornish game hens (1-1/2 pounds each)
1 cup chicken broth or water
1 onion, quartered
2 teaspoons garlic powder
1 teaspoons salt
3/4 teaspoon ground pepper
3/4 teaspoon dried sage
1/2 teaspoon dried rosemary
5 to 6 fresh garlic cloves
2 bay leaves
Instructions
Remove the packaging from the cornish game hens. If there is a piece of paper stuck to them then run them under the water to remove the paper.
Place the trivet in the instant pot and add the chicken broth and the onion.
Combine the garlic powder, salt, pepper, sage, and rosemary then rub it on the game hens.
Place the game hens in the Instant Pot and add the fresh garlic cloves and bay leaves. Put the lid on, seal it and select high pressure for 33 minutes.
When the cooking time is complete let the Instant Pot sit and release pressure naturally for 10 minutes then manually release the rest of the pressure.
The cornish game hens will not get brown in the Instant Pot. If you want the skin brown, turn the oven broiler on high. Set the game hens under the broiler for 3 to 5 minutes until the skin is brown.
Notes
When you release the pressure from the Instant Pot, check the internal temperature with an instant-read thermometer. It should read at least 165°F. If it is lower then put the game hens back in the Instant Pot and cook on high pressure for another 5 to 10 minutes. If your game hens weigh more than 1-1/2 pounds, add 5 minutes to the cooking time from the very beginning.
If you have different sized Cornish game hens adjust the cooking time based on their weight. It will take 22 minutes per pound to cook frozen Cornish game hens.
COOKING TIMES FOR HIGH ALTITUDE:
above 2,000 feet, cook 35 minutes
above 3,000 feet, cook 36 minutes
above 4,000 feet, cook 38 minutes
above 5,000 feet, cook 39 minutes
Recommended Products
As an Amazon Associate and member of other affiliate programs, I earn from qualifying purchases.
Nutrition Information:
Yield: 4
Serving Size: 1
Amount Per Serving:
Calories: 361
Total Fat: 24g
Saturated Fat: 7g
Trans Fat: 0g
Unsaturated Fat: 15g
Cholesterol: 170mg
Sodium: 847mg
Carbohydrates: 6g
Fiber: 1g
Sugar: 1g
Protein: 30g
Nutrition information is a guideline only, is calculated automatically by third party software, and absolute accuracy is not guaranteed.