This old-fashioned Oxtail Soup recipe results in a delicious, broth-y dish that is meaty and packed with healthy veggies. The long-simmering base of red wine, beef broth, and herbs gives the soup an intense depth of flavor. Serve up a hot bowl of this soup on a cold winter day and I guaranteed it will warm the tummy, heart, and soul.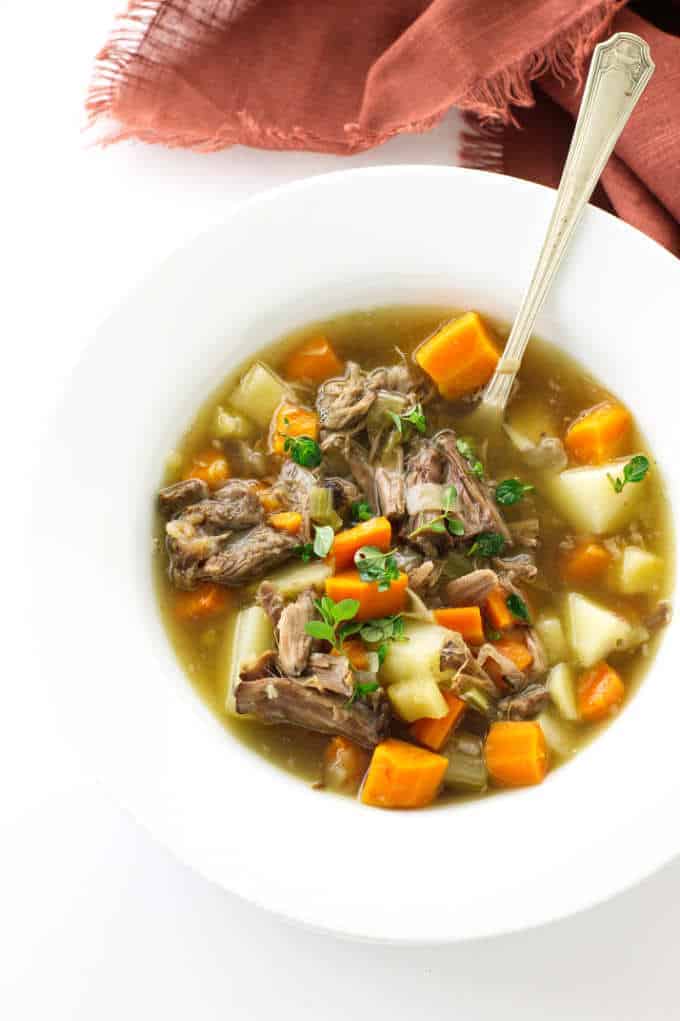 Why we love this Oxtail Soup recipe
Oxtail soup, made with simple ingredients and a long slow simmer is one of those good old-time comfort soups that are extra special in the cold winter months. Additional portions of vegetables can change this oxtail soup into a thick and nutritious oxtail stew. If you like this soup, you will like our lamb soup.
Our beef oxtail soup is:
healthy and hearty
a cozy, flavor-packed soup
delicious and so simple to make
Whenever I make this old-fashioned oxtail soup it brings to mind happy memories of my dad. As a young teenager, I remember how the thought of eating 'oxtails' was offensive to me but when dad served it, I ate it with gusto!
This beef oxtail soup is a nutritious, full-meal soup. All you need is some homemade biscuits, sourdough bread or cheddar cornbread to go with it. If you want to serve a few more things, a side salad or a meatloaf sandwich would go well with the soup.
Dad would start his soup early in the day with the oxtails simmering in a big pot on the back burner. He used plain ole water, no wine, and no fresh herbs but lots of vegetables. And he loved the fat floating on top!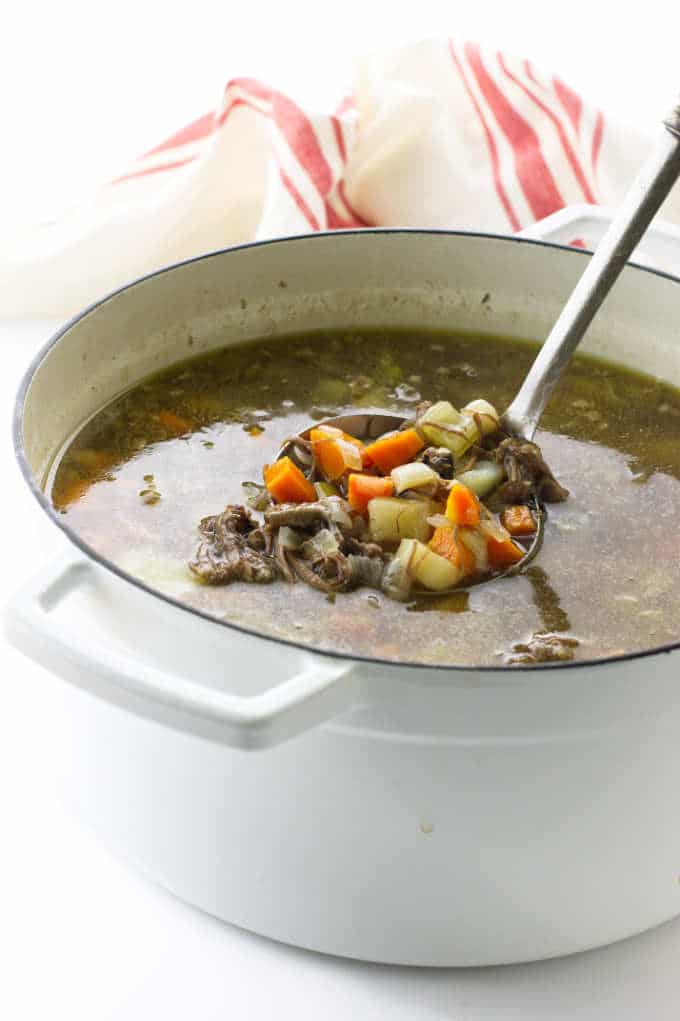 Are Oxtails a budget cut?
In those long-ago days, oxtail was one of the most budget-friendly cuts of beef you could buy. It was in the same price category as soup bones.
Dad had a large family to feed on a limited amount of finances so we had soup, stews, and beans with cornbread often.
Times have changed and oxtail is no longer as budget-friendly as it once was. When I saw the packages of oxtail in Costco's meat counter, I thought of my dad. I just had to buy them and make his old-fashioned oxtail soup recipe.
Oxtail Soup Ingredients
Here is a list of the ingredients you will need for this recipe. Scroll down to the printable recipe card for all the details. For this beef oxtail soup recipe, you will need:
Meaty oxtails. If you don't see oxtails in the grocery store, ask the butcher if it is available. Sometimes the oxtail is still in the back and they just haven't packaged it up.

Vegetable oil. You could also use leftover bacon grease to sear the oxtail.

Beef broth. Storebought is fine but this is the perfect recipe for homemade bone broth.

Dry red wine. The wine adds a rich flavor but if you don't cook with wine, just increase the beef broth.

Fresh garlic. You can also use dried garlic for convenience but we think fresh garlic adds a punchier flavor.

Fresh herbs. We used rosemary, thyme and bay leaves. If you tie the rosemary and thyme in a bundle with butchers twine, you can pull them out after the soup finishes simmering. You can also substitue the fresh herbs with dried herbs.

Onion.

Leeks. Look for leeks that are thinner since the thicker leeks tend to be more fibrous. You only need to use the white and light green parts of the leek.

Celery.

Carrots.

Parsnips. Parsnips look a bit like white carrots but they are sweeter. If you can't find parsnips, sweet potatoes would be a nice substitute.

Waxy potatoes. Waxy potatoes like New potatoes, red bliss, and creamer potatoes hold their shape in soup better than starchy potatoes like Russets.

Parsley. The parsley is for garnishing.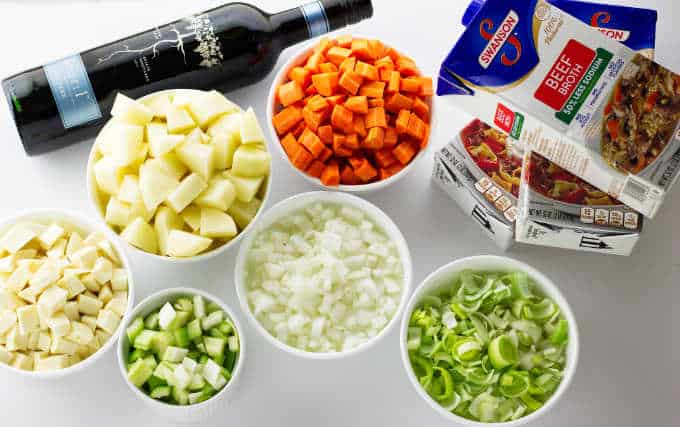 How to make Oxtail Soup
Oxtails are fatty and glutinous with a lot of connective tissues. It needs a long, slow simmer to break down all the tough tissues and release the flavor and juices.
Here is a brief overview so you can get an idea of what to expect with the recipe. Scroll down to the printable recipe card for all the details.
Brown the oxtail: Heat oil in a large Dutch oven or soup pot, and sear the oxtail sections until browned.

Simmer: Add the liquid and herbs. Bring the mixture to a boil and return the oxtail to the soup pot.

Discard the fat: Pour the cooking liquid into a smaller container and place it in the freezer until the fat rises to the top. Once it's solid, you can take the pot out of the freezer and scrape off all of that fat.

Remove the meat from the bones: This is the messy part and I cannot suggest any easier, less messy way. Just get in there with your hands and

separate the meat from the globs of fat, gristle, and bones.



Simmer the oxtail soup one last time: Transfer the cooking liquid and oxtail meat to the pot. Bring it to a boil, then reduce the heat and simmer.

Serve: Ladle the soup into serving bowls, garnish each serving with chopped parsley and enjoy with some warm crusty spelt sourdough bread, biscuits or hot brown butter cornbread!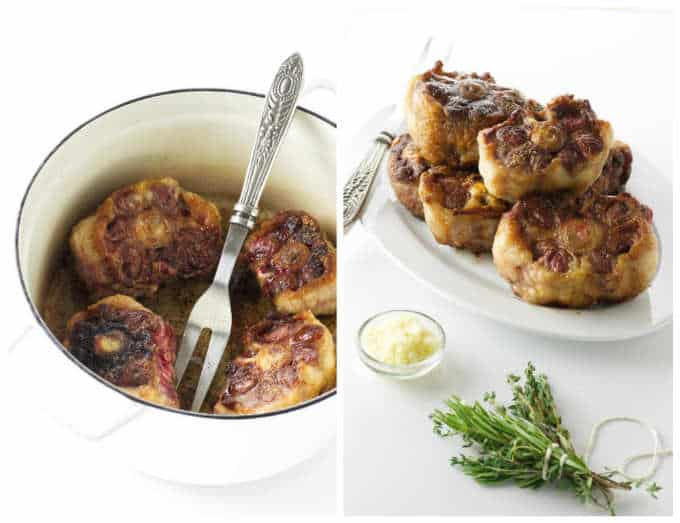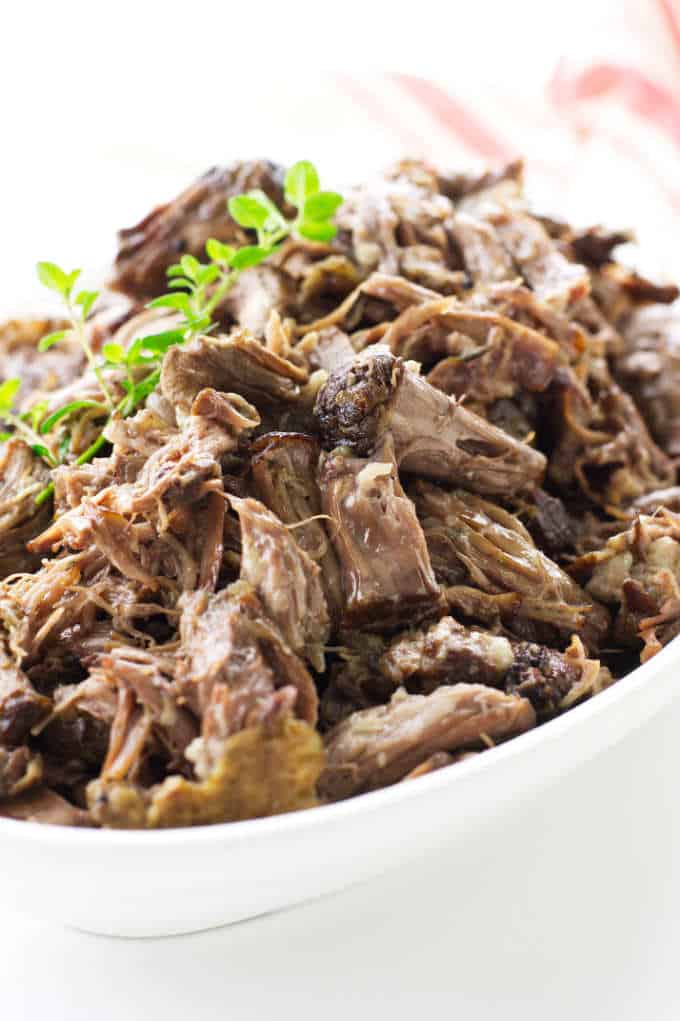 Tips for the Best Oxtail Soup
Searing the oxtail adds flavor. It adds a rich brown crust and caramalizes the meat (the Malliard reaction). Make sure you work in batches. If you crowd the pot, they will steam instead of brown.

You can brown and simmer the oxtail up to one day in advance. Refrigerate the cooking liquid overnight to allow the fat to rise and solidify.

Give the broth a long, slow simmer. The connective tissues will break down and the meat becomes super tender.

Transform this old-fashioned oxtail soup recipe into a meaty stew with one simple change! Simply reduce the cooking liquid by two-thirds or less.

Additional vegetables of your choice can be added or substituted. Sweet potatoes, cabbage, rutabaga, and turnips are some suggestions.

The soup is even better the next day. The flavors in this oxtail soup will intensify after refrigerating and reheating the next day.
Frequently Asked Questions
How long does it take to boil Oxtails?
We recommend about three hours, which is sufficient time to allow the oxtails to break down, tenderize, and infuse the broth with incredible flavor.
How do you clean oxtails before cooking?
Our oxtail soup recipe doesn't call for any special cleaning prep for the oxtails. Simply prepare them the same way you would any other stew meat. You can rinse them, but just be sure to pat them dry well with paper towels because wet meat doesn't brown.
What exactly is oxtail?
Oxtail is the actual tail of cattle. It is usually cut into short sections between the joints and used to give a rich, hearty flavor to stews and soups.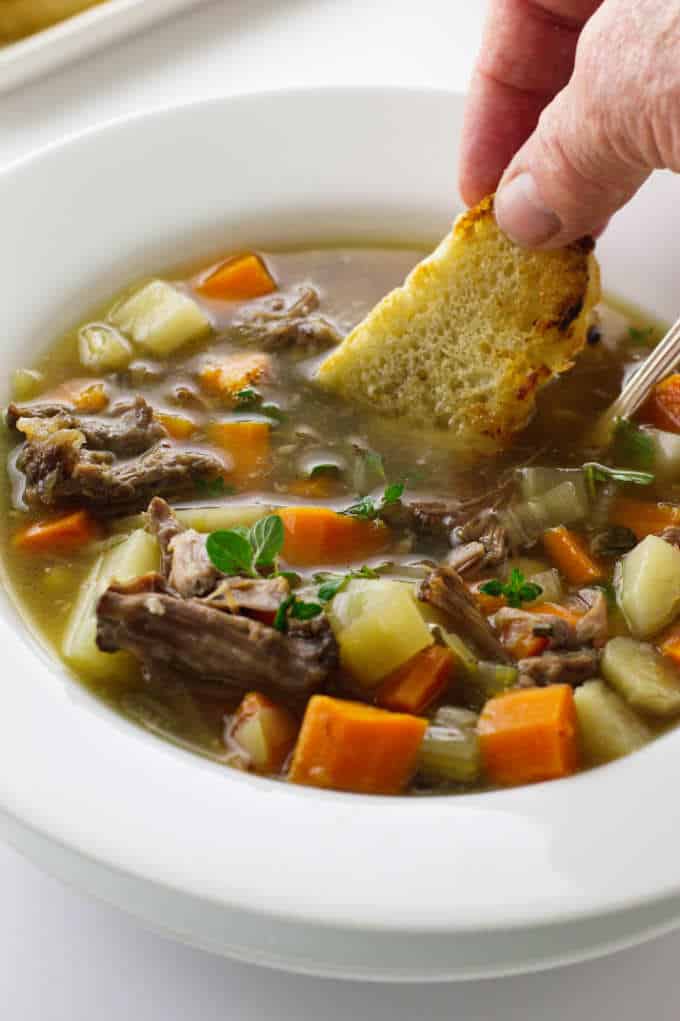 I hope you enjoy this old-fashioned oxtail soup recipe! This is one soup that's near and dear to my heart. I could cozy up to a bowl of this and a slice of bread any day.
Some More Recipes You Will Love
Italian Lentil Soup with sausage: Italian Lentil Soup with Sausage is thick and hearty with lentils, Italian sausage, vegetables and spices in a rich broth.
Split Pea and Ham Soup: Homemade Split Pea and Ham Soup is a classic, comforting soup, perfect for the cold winter weather. Thick with heart-healthy split peas, chunks of smoky ham and lots of nutritious vegetables.
Chicken Noodle Soup: Chicken noodle soup is so comforting not only when you are down with the flu but anytime. It is healthy and nourishing full of chicken chunks, vegetables and thick noodles in a flavorful chicken broth.
Connect With Savor the Best:
Please follow us on our social media accounts
Facebook * Instagram * Pinterest * Youtube * Twitter
Did you make this recipe? We would love to hear from you. Drop us a comment below.
Check out our soup cookbook. It is filled with wholesome and hearty soups. Each soup recipe is from scratch with real ingredients and filling enough to be enjoyed as a main-course meal.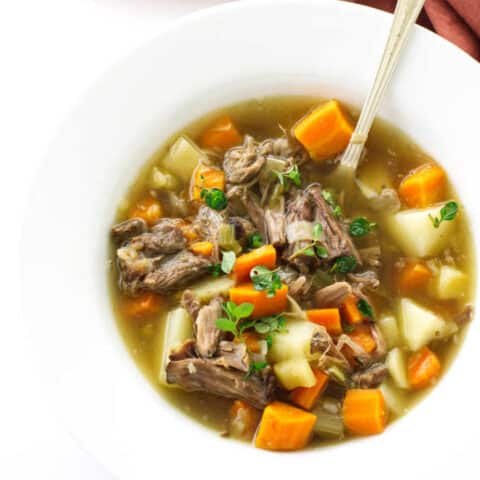 Oxtail Soup
Cook Time:
2 hours
5 seconds
Additional Time:
45 minutes
Total Time:
3 hours
15 minutes
5 seconds
This old-fashioned oxtail soup is rich and beefy. The broth is super-flavorful from a long, slow simmer and the flavor of the oxtails and healthy vegetables.
Ingredients
4 pounds meaty oxtails (about eight 3-inch segments), patted dry
5 tablespoons vegetable oil, divided
12 cups beef broth (3 boxes 32 oz. each)
2 cups dry red wine (16 ounces)
4 garlic cloves, chopped
Rosemary/thyme string tied bundle (2 sprigs fresh rosemary 1 sprig fresh thyme)
3 bay leaves
1 medium onion, chopped
2 leeks (white and pale green parts only), sliced
1 cup celery cut in 1/4-inch pieces
2 cups carrots, peeled, cut into 1/2-inch cubes
1 cup parsnips, peeled, cut into 1/2-inch cubes
1-1/2 pounds waxy potatoes, peeled, cut into 1/2-inch cubes
1/3 cup finely chopped fresh Italian parsley
Instructions
Pat the oxtail pieces dry with paper towels then season them with salt and pepper. Heat 2 tablespoons oil in a 6-quart Dutch oven or soup pot set over medium-high heat. Working in batches, add a portion of the oxtails and brown them on all sides, transfer to a plate and continue until all the oxtails have browned, about 20 minutes.
Add the beef broth, wine, garlic, herb bundle and bay leaves to the Dutch oven and bring to a boil. Return the browned oxtail to the pot, then reduce the heat to low, cover and simmer for 3 hours.
Using tongs, transfer the cooked oxtails to a plate and reserve, remove and discard rosemary/thyme sprig bundle. Transfer the cooking liquid into a smaller container and place in the freezer until the fat comes to the top and solidifies, about 1 hour.
Remove the container of liquid from the freezer and scoop off the solidified fat and discard. Transfer the oxtails to a cutting board and remove the meat, discard the bones and any grizzle. Reserve the oxtail meat on a plate.
Heat the remaining 3 tablespoons oil in the empty Dutch oven or soup pot and heat over medium-high. Add onions, leeks and celery. Sauté until onions are translucent, about 5 minutes. Add the carrots, parsnips and potatoes, cooking liquid and the meat, Bring the soup to a boil then reduce the heat to low, cover and simmer until the vegetables are tender, stirring occasionally, about 30 minutes.
Season to taste with salt and pepper. Ladle into bowls, garnish with chopped parsley and serve. This oxtail soup will be even tastier the next day after all those yummy flavors mingle together overnight.
Notes
Browning and simmering the oxtail can be made 1 day in advance. Refrigerate the cooking liquid overnight to allow the fat to rise and solidify.
To turn this soup into a stew, reduce the cooking liquid by two-thirds or less.
Additional vegetables of your choice can be added or substituted.
This oxtail soup will taste even better after refrigerating and reheating the next day.
Recommended Products
As an Amazon Associate and member of other affiliate programs, I earn from qualifying purchases.
Nutrition Information:
Yield:

10
Serving Size:

1-1/2 cups
Amount Per Serving:
Calories:

584
Total Fat:

28g
Saturated Fat:

9g
Trans Fat:

0g
Unsaturated Fat:

15g
Cholesterol:

139mg
Sodium:

798mg
Carbohydrates:

25g
Fiber:

3g
Sugar:

4g
Protein:

46g
Nutrition information is a guideline only, is calculated automatically by third party software, and absolute accuracy is not guaranteed.