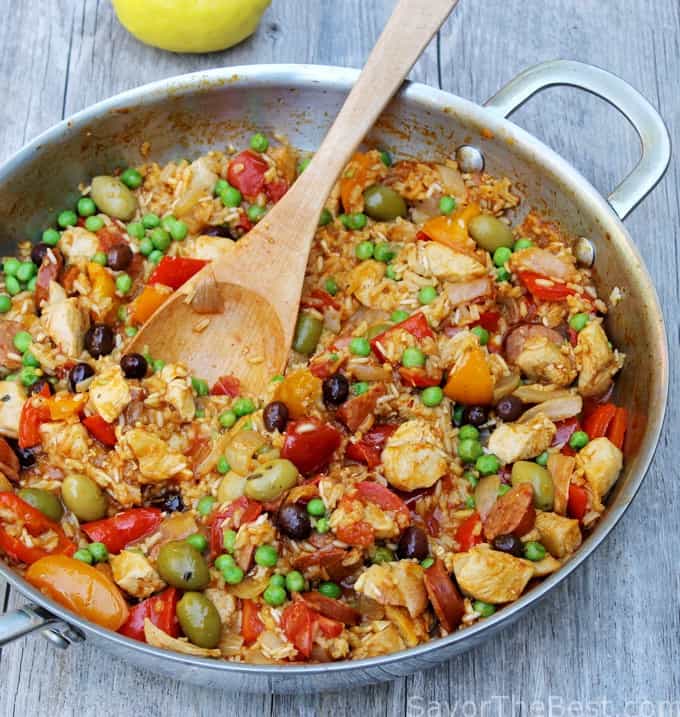 If you are looking for an easy, quick, one-pot dinner that is delicious and full of good flavor then this Spanish chicken-chorizo paella is a very good option.
Paella originated in Valencia Spain and included seafood, chicken, rabbit, snails, vegetables, spices and beans. Over time, it has evolved into 'whatever turns you on' and whatever you have in your pantry and freezer.
A person can really get creative with paella. A Paellera pan is used in Spain to make paella but a large skillet is a good substitute. I don't have one of those special Spanish pans but my large stainless-steel pan with lid sure looks like one.
There is a little Spanish restaurant in Poulsbo called Burrata Baristo and they have a great paella plus a wide variety of tapas. It is a fun evening to make our dinner of the tapa selections.
This recipe for Spanish paella has been adapted from my cookbook entitled, "200 Tapas & Spanish Dishes", which I love and will be using often. This is a great dish to serve on a weeknight family dinner or serving to a dinner guest.
You can put this together in 20 minutes and in another 25-30 minutes have it on the table. And, a big bonus….easy clean-up with this one-pot meal.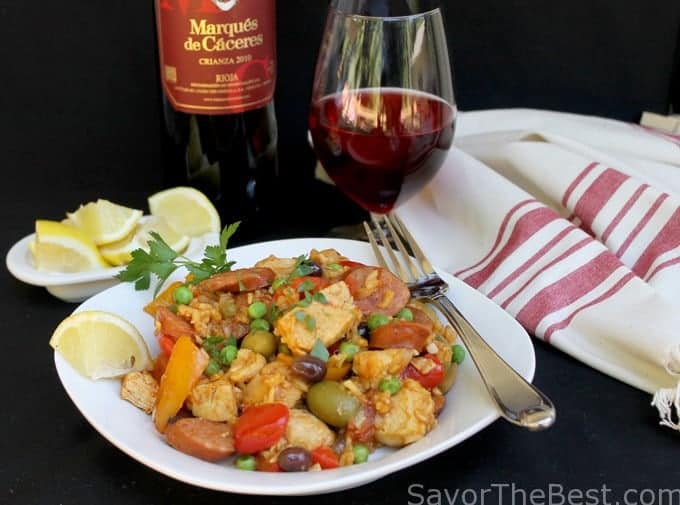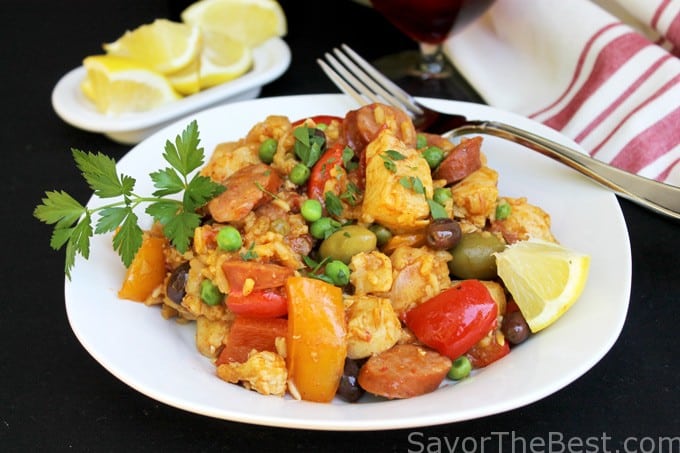 CONNECT WITH SAVOR THE BEST!
Be sure to follow us on our social media accounts
Facebook * Instagram * Pinterest * Twitter * Youtube
Did you make this recipe? We would love to hear from you. Drop us a comment below.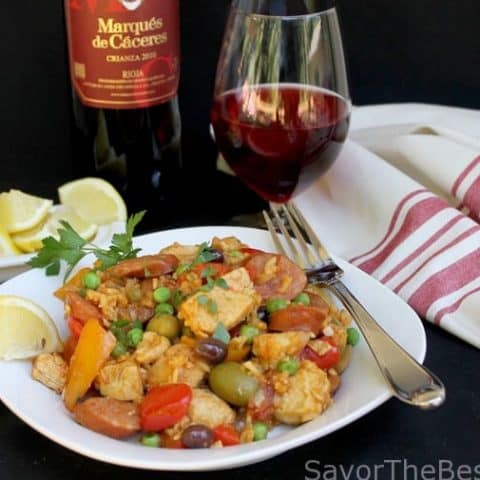 Chicken-Chorizo Paella
This Spanish-Chicken-Chorizo Paella recipe is easy, quick and a one-pot dinner that is full of good flavor.
Ingredients
2 pounds chicken breast, cut into 1-inch pieces
1/2 teaspoon sea salt
1/4 teaspoon freshly ground black pepper
2 tablespoons olive oil
1 large onion, coarsely chopped
5 ounces chorizo sausage
2 garlic cloves, finely chopped
1 red bell pepper, cored, seeded and diced
1 orange bell pepper, cored, seeded and diced
4 medium tomatoes, diced
1 cup long-grain white rice
1/2 teaspoon smoked paprika
1 large pinch saffron threads
1/4 teaspoon red pepper flakes
1/4 teaspoon chile powder
2 cups chicken broth
1 cup white wine
1-1/2 cups defrosted green peas
1 cup marinated mixed spanish olives
3 tablespoons chopped parsley for garnish
Lemon wedges to serve
Instructions
Season the chicken with the salt and pepper. In a large 12-13 inch skillet or paella pan, set over medium-high heat, heat the oil and add the chicken pieces and brown lightly, remove to a paper towel-lined plate and reserve.
In the same skillet or pan, add the onion and the chorizo and cook, stirring frequently until the onions are pale golden.
Add the garlic, bell peppers and tomatoes; cook for 2-3 minutes until softened.
Stir in the rice, paprika, saffron, red pepper flakes, chile powder, the reserved chicken. Add the chicken broth and the white wine bring the mixture to a boil, reduce the heat to simmer and cook for 20-25 minutes until the rice is tender. Increase the heat to medium-high again and allow the rice to form a crust on the bottom.
Remove the pan from the heat, add the green peas and the olives, mixing gently without disturbing the crust on the bottom, allow to sit off the heat for 2-5 minutes before serving. Sprinkle with parsley and serve directly from the paella pan with lemon wedges to squeeze on top.