I bet you are thinking this Lamb Shank Cassoulet is just another bowl of beans. Oh, you are so wrong! These large meaty lamb shanks and Great Northern beans are braised together in a low-temperature oven for three hours. While they cook, the beans absorb a fantastic flavor from the juices of the lamb shanks, wine, broth and mix of vegetables.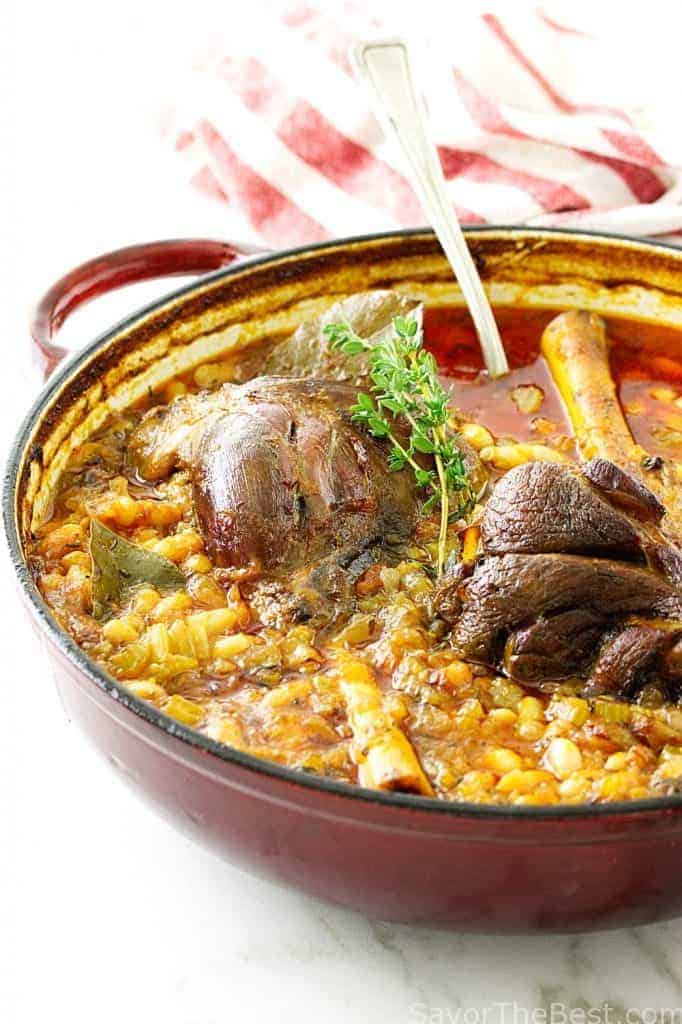 Nope, this is definitely not your average pot of beans. This lamb shank cassoulet is a gourmet-style pot of beans! There is an intense, wonderful flavor to this cassoulet after a long, slow braise in the oven.
What is a Cassoulet?
Cassoulet is a classic French dish from the south of France. Traditionally it is made with white beans, vegetables, duck, pork, sausage and lamb. Typically, a crusty crumb and herb topping is sprinkled over each portion when served.
This less complicated Lamb Shank Cassoulet is my version of that French multi-meat cassoulet. It is huge on flavor and a whole lot lower in calories.
My Lamb Shank Cassoulet Story:
Before I get to this recipe I have to share a short story with you…..It was February 2004 and my birthday. Don took me on an adventure to a weekend at a fancy resort near the Canadian border.
We had reservations to their first-class, fancy dining room with white tablecloths, flowers, candles and all the ambiance you would expect. Very romantic!
The waiter presented our menu and left us to make a decision and when he returned Don asked what he would suggest. Without a second's hesitation, he replied, The Lamb Shank Cassoulet is outstanding, it is our special of the evening."
Neither Don or I had ever heard of lamb shank cassoulet but since it had lamb in it the decision was made for Don! Well, you can imagine our surprise when his lamb shank cassoulet was presented to him.
He looked at it and said…"that's a bowl of beans!" It wasn't just any bowl of beans though, this was really, really special. Don was not disappointed!
Needless to say, when we returned home, I searched my cookbooks and found a French cassoulet recipe. This is my revised and tweeted version from my Time-Life Provincial France cookbook.
Ok, Let's Get back to our Lamb Shank Cassoulet Recipe: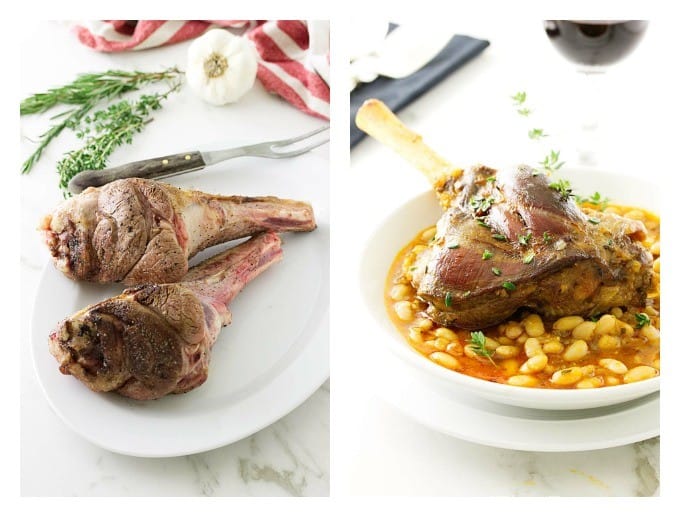 I have made this recipe many times and alternate between using cannellini beans or great northern beans. Both types of beans work well in this recipe. They should be salted and soaked overnight so they will absorb the flavors in the sauce.
The lamb shanks I used are American lamb shanks and they are pretty good size. One shank is plenty for two servings. When I can find Australian or New Zealand lamb shanks they generally will be smaller in size and I serve one shank per serving.
Preparing the Lamb Shank Cassoulet:
First, the lamb shanks are liberal seasoned with salt and pepper, then browned in olive oil and reserved. Next, I sautéed the vegetables, added the tomato paste, herbs and seasoning, wine, chicken broth, reserved beans and the browned lamb shanks.
I Increased the heat under the casserole on the stove top to get it good and hot. Then I transferred it to the oven where it braised for about three hours. As the lamb shanks released their juices, the beans absorbed all that wonderful flavor.
Using shallow soup plates divide the beans and lamb shanks into equal portions for servings and garnish with fresh herbs.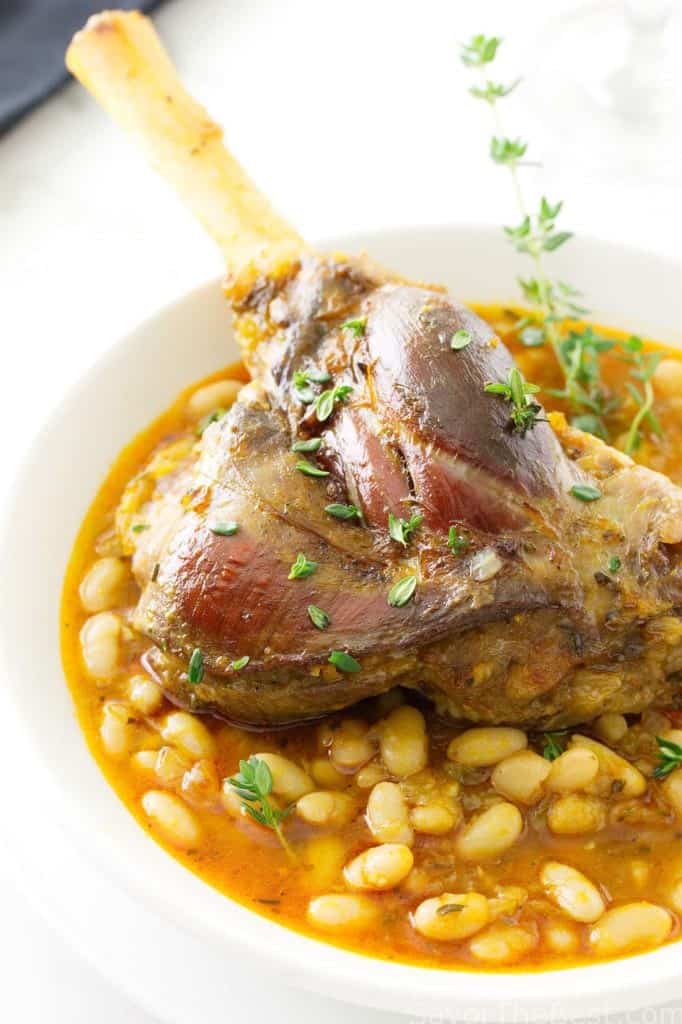 This lamb shank cassoulet is not a complicated recipe and it takes the humble bean to a new level. It is so good you may even decide to serve it at a special dinner.
Recipes for Lamb Lovers:
Connect With Savor the Best:
Please follow us on our social media accounts
Facebook * Instagram * Pinterest * Youtube * Twitter
Did you make this recipe? We would love to hear from you. Drop us a comment below.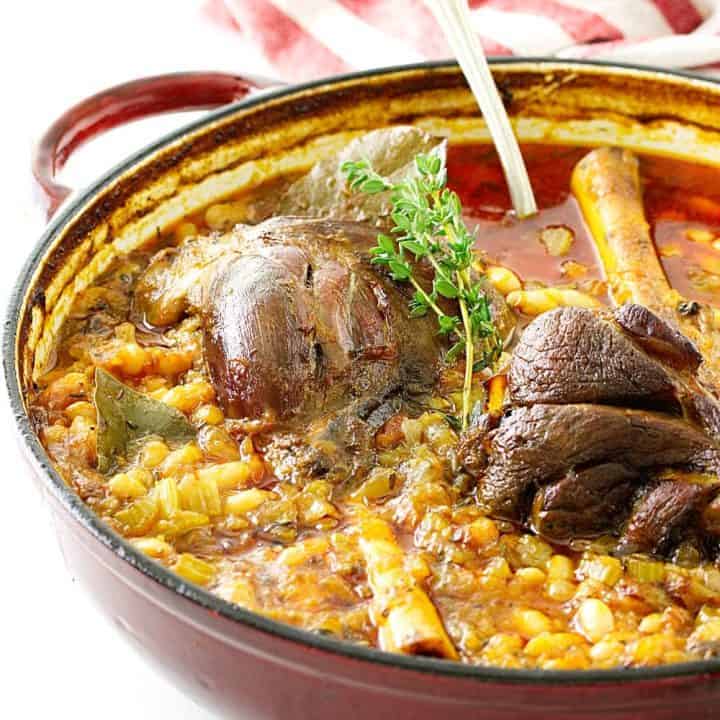 Lamb Shank Cassoulet
Cook Time:
3 hours
45 minutes
Total Time:
4 hours
15 minutes
For Lamb Shank Cassoulet we use large meaty lamb shanks and Great Northern beans. They are braised together in a low temperature oven for three hours with a savory mix of vegetables and fresh herbs. While the cassoulet cooks, the beans absorb a fantastic flavor from the juices of the lamb shanks, wine and mix of vegetables.
Ingredients
The Lamb Shank Cassoulet:
1 pound dry Great Northern beans
1 tablespoon table salt
2 meaty lamb shanks (about 2 1/2 pounds)
Salt and pepper
2 tablespoons olive oil
1 large onion, chopped
3 celery stalks, sliced (each about 8-inches long)
1 medium fennel bulb, chopped
4 garlic cloves, finely chopped
1/4 cup water
3 tablespoons tomato paste
2 tablespoons fresh thyme leaves
1 tablespoon chopped rosemary
2-3 dry bay leaves
1 cup dry white wine
4 cups chicken broth
1 teaspoon salt
1/4 teaspoon pepper
For Garnish
2 tablespoons thyme leaves for garnish
Thyme sprigs for garnish
Instructions
For the Beans:
Sort and rinse the beans, place in a bowl, add the salt and cover with cold water. Let sit at room temperature overnight. Drain and rinse beans and set aside.
For the Lamb Shank Cassoulet:
Preheat oven to 300F°
Using paper towels, pat the lamb shanks dry and season with salt and pepper
In a large Dutch oven set over medium-high heat, add the olive oil and when it is hot, add the seasoned lamb shanks. Adjust the heat if it begins smoking. When the lamb shanks are brown on all sides transfer them to a plate and reserve.
Add the onions, celery and fennel to the pan and sautée for 3 minutes, then add the garlic and cook another minute.
Combine the 1/4 cup water and the tomato paste then stir in the thyme, rosemary and bay leaves. Add the white wine and bring to a boil for 1-2 minutes to cook off the alcohol.
Add the reserved drained beans, chicken broth, salt and pepper. Stir to combine. Place the reserved lamb shanks to the pan, snuggling them down into the beans so they are not laying on top. Cover the pot and bring to a boil, then reduce the heat to medium-low, and cook for 10 minutes.
Transfer the covered pot to the middle of the oven and bake for 3 to 3 1/2 hours, turning the lamb shanks halfway through the cooking time. Continue cooking until the lamb shanks are very tender but not falling off the bones.
Transfer the pan from the oven and remove the lamb shanks to a platter. Cover with foil to stay warm. Skim off any excess fat from the surface of the braising liquid and remove and discard the bay leaves.
To Serve:
When the lamb shanks are cool enough to handle, remove the bones, grizzle and excess fat. Divide each shank into two-three servings, there should be about three to four ounces of lean lamb per serving.
Ladle the beans and liquid into warm soup plates, add a portion of lamb to each serving.
Garnish with thyme leaves and thyme sprigs. Serve with crusty warm bread.
Recommended Products
As an Amazon Associate and member of other affiliate programs, I earn from qualifying purchases.
Nutrition Information:
Yield:

6
Serving Size:

1
Amount Per Serving:
Calories:

532
Total Fat:

12.2g
Saturated Fat:

3.2g
Cholesterol:

68mg
Sodium:

1163mg
Carbohydrates:

57.3g
Fiber:

178g
Sugar:

4.9g
Protein:

42.4g