Braised lamb shanks!! If you are a lamb lover like our family, I am betting you will love this recipe for Braised Herb Lamb Shanks! The meat is fall-off-the-bone tender and full of flavor from the herb blend, wine and beef broth. And wait till you taste that sauce, it is perfect with mashed potatoes.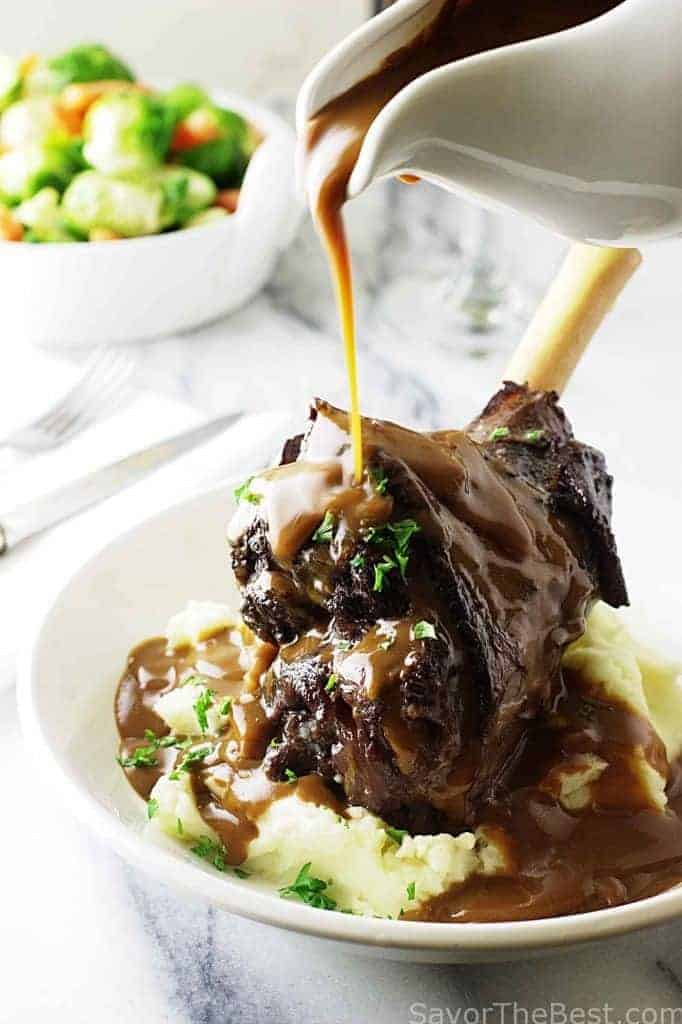 Braising is one of my favorite cooking techniques. A long, slow braise will magically transform an inexpensive, tough cut of meat into an impressive meal creation that you will be proud to serve to your most discriminating guests.
What is a lamb shank?
Lamb shanks are a perfect cut for this braising method. They are a large bone, muscular cut of meat. Also, they need a lot of liquid and a long, slow cook time to tenderize those tough muscles to release their flavor.
It is incredibly hard to over-cook a lamb shank so this is a very forgiving recipe. It makes a great Sunday dinner but honestly, it is so easy to make you could cook it any day. Don't save this just for special occasions.
How to braise:
Braising always begins with a good seasoning of the meat. Next, give it a nice brown sear in a hot brasier or Dutch oven.
Flavor aromatics of onions, celery, carrots, garlic are the usual components and we added fennel and fresh herbs as well. Plus, a lot of liquid is required to soften up those tough fibers.
We used a combination of red wine and beef broth. Braising can be done on the stovetop or in the oven. We chose the oven for our braised herb lamb shanks.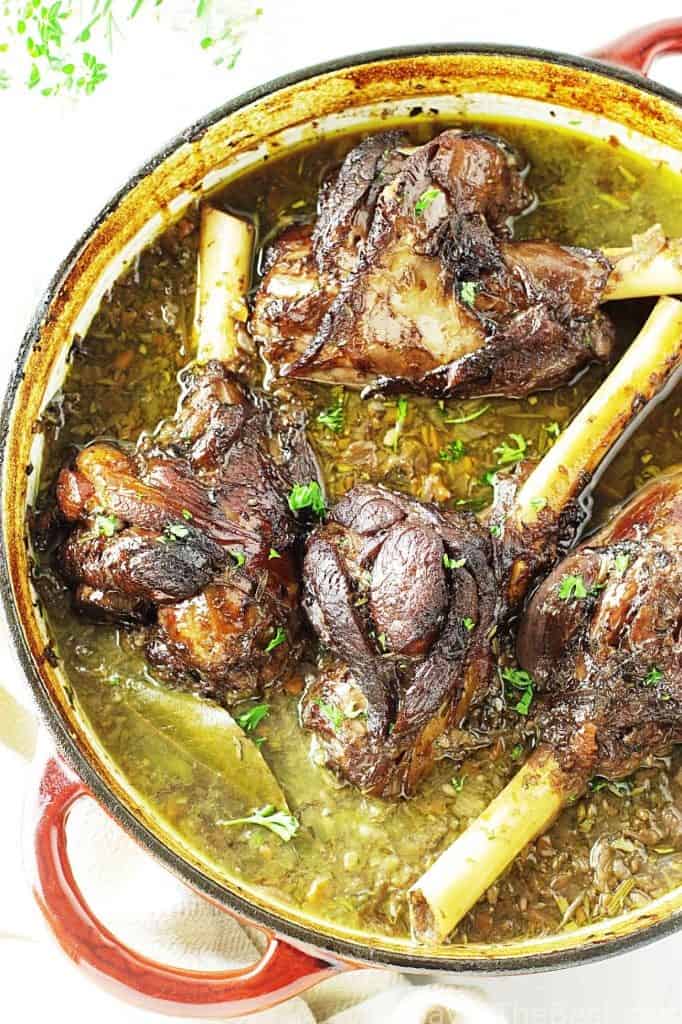 This is not a difficult recipe. Most of the work is done at the beginning of the process with the browning of the shanks. All the chopping and sautéing of the aromatics can be done in advance.
I actually browned the shanks and lightly sautéed the vegetables the day before and refrigerated them. The next day all I needed to do was add the broth and wine. Once you add the liquid, the oven takes over for the next three hours.
Finishing the braised herb lamb shanks:
After the shanks get tender transfer them to a plate and cover them with foil to rest. Make a sauce with the remaining braising liquid and vegetables. You will need to strain them through a fine-mesh strainer and press the vegetables down to extract as much of their good flavor as possible.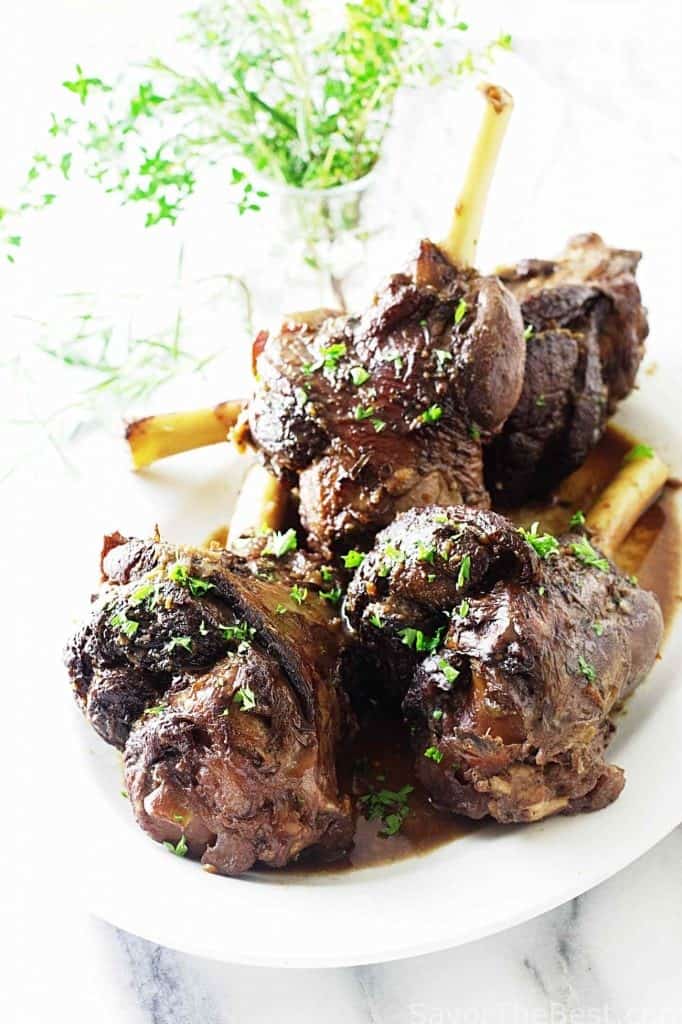 Add that rich braising liquid to a saucepan along with a dash of Worcestershire sauce for a little Unami taste.
Next, boil the braising liquid until it becomes reduced to two cups. Add a paste made from butter and flour (Beurre Manie) into the liquid to slightly thicken the sauce.
What is a Beurre Manié?
The butter/flour paste is a French method known as Beurre Manié and it is a great last-minute thickener. I personally prefer the Beurre Manié of thickening over making a roux which usually gives me lumpy sauces.
Using a Beurre Manié paste will consistently give me a lump-free, smooth sauce.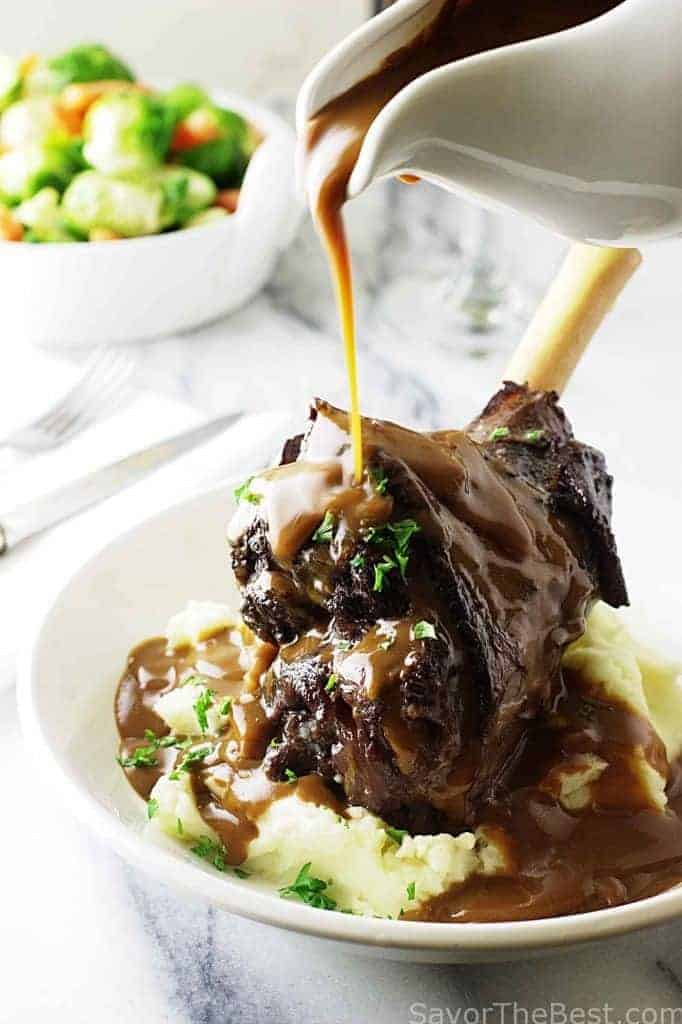 The finished product is a tender, meaty, flavor-bursting lamb shank served on a mound of mashed potatoes and a rich, silky sauce poured over the top. Yum! Try this recipe soon! Braised lamb shanks are so easy to make.
Check out these recipes: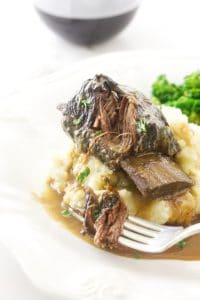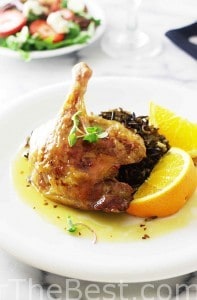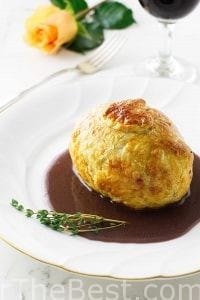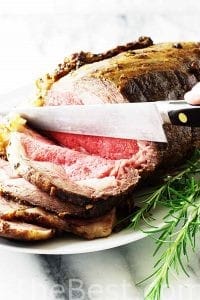 Connect With Savor the Best
Please follow us on our social media accounts
Facebook * Instagram * Pinterest * Twitter * Youtube
Did you make this recipe? We would love to hear from you. Drop us a comment below.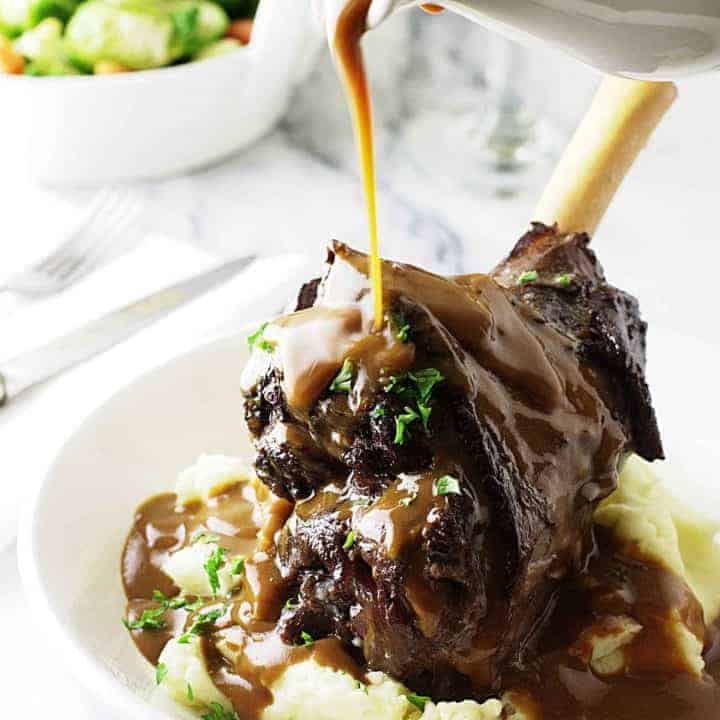 Braised Herb Lamb Shanks
Yield: 4 to 8 servings
Prep Time: 30 minutes
Active Time: 3 hours
Total Time: 3 hours 30 minutes
Braising the lamb shanks produce succulent, fall-off-the-bone tender meat that is bursting with flavor from the herb blend, wine and beef broth. The lamb shanks are served to guests on a mound of mashed potatoes with a portion of the rich, silky sauce over the top.
Ingredients
4 lamb shanks about (1 to 1-1/4 pounds each)
Salt and freshly ground black pepper
4 tablespoons olive oil
1 large onion, coarsely chopped
3 stalks celery, coarsely chopped
2 large carrots, coarsely chopped
1 medium fennel bulb, coarsely chopped
6 cloves garlic, crushed or grated
4 sprigs fresh thyme
2 tablespoons chopped fresh parsley
2-3 tablespoons chopped fresh rosemary
4 bay leaves
3 cups beef broth
3 cups dry red wine, divided
1 tablespoon Worcestershire
2 tablespoons butter, softened
2 tablespoons flour
1/2 cup chopped fresh parsley for garnish
Instructions
Preheat the oven to 325°F
Season the lamb shanks generously with salt and pepper. Heat the oil in a large Dutch oven, or a brasier pot over medium-high heat. Add 2 of the lamb shanks and brown well on all sides, about 2-3 minutes. Transfer to a plate and set aside and repeat with the remaining 2 lamb shanks.
In the same pot add the onion, celery, carrot, fennel, garlic, thyme, rosemary and the bay leaves and cook just until the onions are soft. Return the browned lamb shanks to the pot and add the beef broth and 2 cups of wine. The liquid should nearly cover the shanks, add more broth or water if necessary, and bring the pot to a boil.
Reduce the heat to low, cover the pot and and transfer to the oven until the meat is very tender, 2 1/2 to 3 hours.
When the lamb shanks have become tender, carefully transfer them to a platter and cover with foil to keep warm. Strain the cooking liquids through a fine mesh strainer into a saucepan, pressing down on the vegetables with the back of a spoon. Discard the solids left in the strainer, spoon off and discard as much of the fat as possible from the surface of the strained cooking liquids. Return the strained braising liquids to the cook-top set over medium-high and add the remaining 1 cup of wine and the Worcestershire sauce. Bring the braising liquids to a boil and cook until reduced to about 2 cups. About 5-10 minutes.

For the Sauce:
Meanwhile, in a small dish combine the soft butter and the flour together mashing with a fork or back of a tablespoon to make a paste. When the braising liquids have reduced to 2 cups, remove the saucepan from the heat and whisk the butter/flour paste into the liquid. Return the pot to the heat and cook for another 2-3 minutes until the flour is fully cooked and the sauce has slightly thickened.
Serve the lamb shanks in individual shallow bowls on top of mounds of mashed potatoes and garnished with chopped parsley.
Transfer the sauce to a serving pitcher or dish to be served over the lamb shanks.
Notes
The butter/flour paste is a French technique known as Beurre Manié and it is a great last-minute thickener.
In making a Beurre Manié, for each cup of liquid blend 1 tablespoon flour with 1 tablespoon soft butter.
Serve with either mashed potatoes, pasta or polenta.
Nutrition is based on 8 servings (half a lamb shank per person)
Recommended Products
As an Amazon Associate and member of other affiliate programs, I earn from qualifying purchases.
Nutrition Information:
Yield: 8
Serving Size: 1
Amount Per Serving:
Calories: 697
Total Fat: 38g
Saturated Fat: 13g
Cholesterol: 195mg
Sodium: 526mg
Carbohydrates: 9.5g
Sugar: 2.3g
Protein: 58g
Have you made these braised lamb shanks? We would love to see a picture. Tag us on Instagram.