Today I asked Don if he wanted lamb for dinner and his enthusiastic reply was, 'Oh, yeah! I will get us a nice bottle of red wine to go with it' What a guy! So, Lamb Shanks – Osso Buco Style is what we are having for dinner tonight. Yum!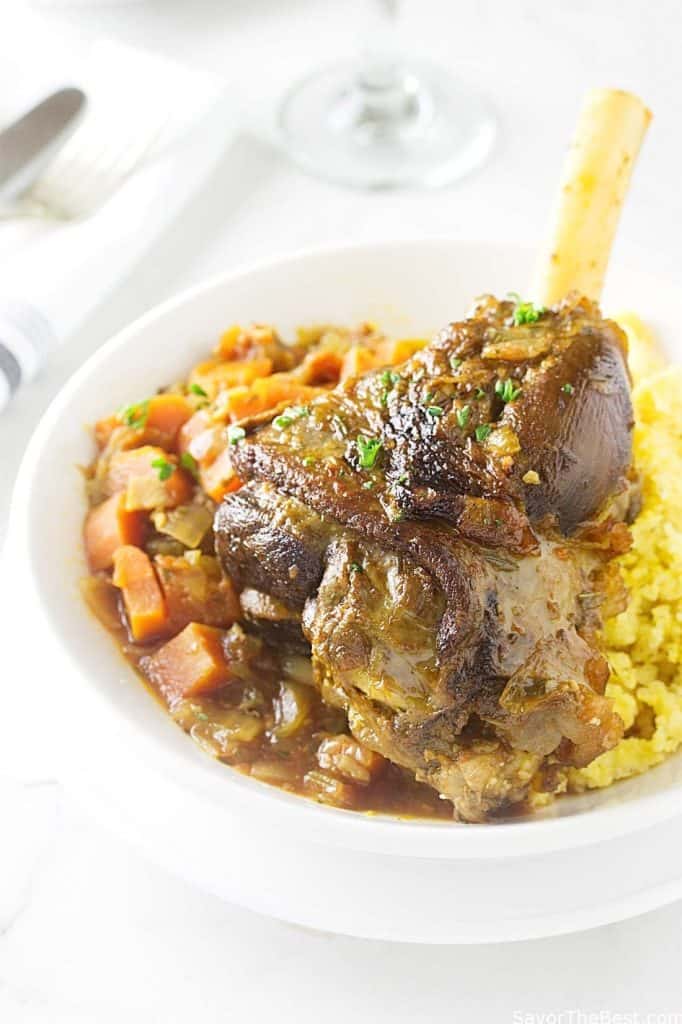 This recipe for Lamb Shanks – Osso Buco Style is a favorite entrée at our home. The meaty lamb shanks are oven braised for two to three hours with a combination of vegetables, garlic, wine and fresh herbs.
The finished lamb shanks are tender and insanely delicious swimming in a rich bed of veggies and sauce.
What is Osso Buco?
Osso Buco originated in Milan where veal shank is traditionally used in the preparation.
The name, Osso Buco is Italian for bone with a hole in it which refers to the marrow hole at the center of the cross-cut veal shank. However, seeing as I do not 'do' veal and Don loves lamb I prepare Osso Buco with lamb shanks.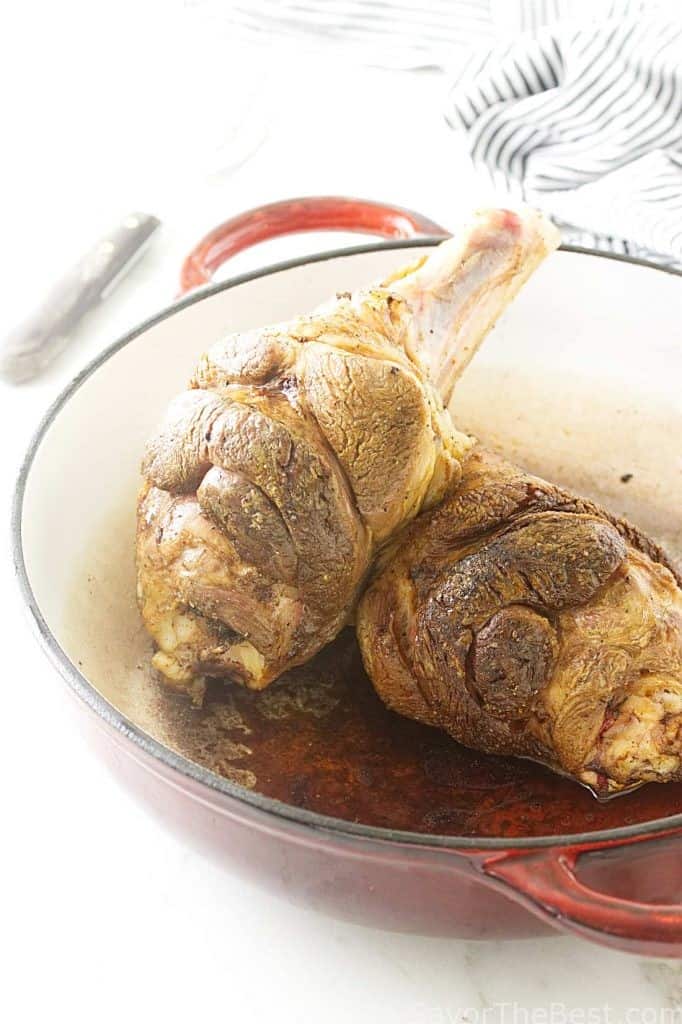 This is a very uncomplicated recipe and makes a wonderful entrée to serve for a special occasion. Before serving to guests, although I do verify that they like the taste of lamb.
When I was growing up lamb was not something that my mom prepared as my dad preferred beef. He said he had enough lamb during his sheep-shearing days.
I had not experienced the great pleasure of the taste of lamb until I was married and my good friend, Kathy, invited us for dinner and roasted a leg of lamb. I was hooked!! Lamb in some form finds its way to our table quite often.
How to Prepare Lamb Shanks – Osso Buco Style
It all begins with a couple nice meaty lamb shanks. I am using American lamb shanks and I asked the butcher to not cut them at the joint. Australian or New Zealand lamb shanks can also be used if they are available in your area.
The lamb shanks are seasoned with salt and pepper then they get a good browning in a heavy-bottomed, lidded Braiser or Dutch oven.
Next, chopped onions, carrots, celery and garlic are sautéed just until softened. Crushed tomatoes, tomato paste, beef stock, wine and fresh rosemary and thyme are added. Then those lovely, browned lamb shanks are snuggled down into the mixture and the covered pot is transferred to the oven for a long, slow braise.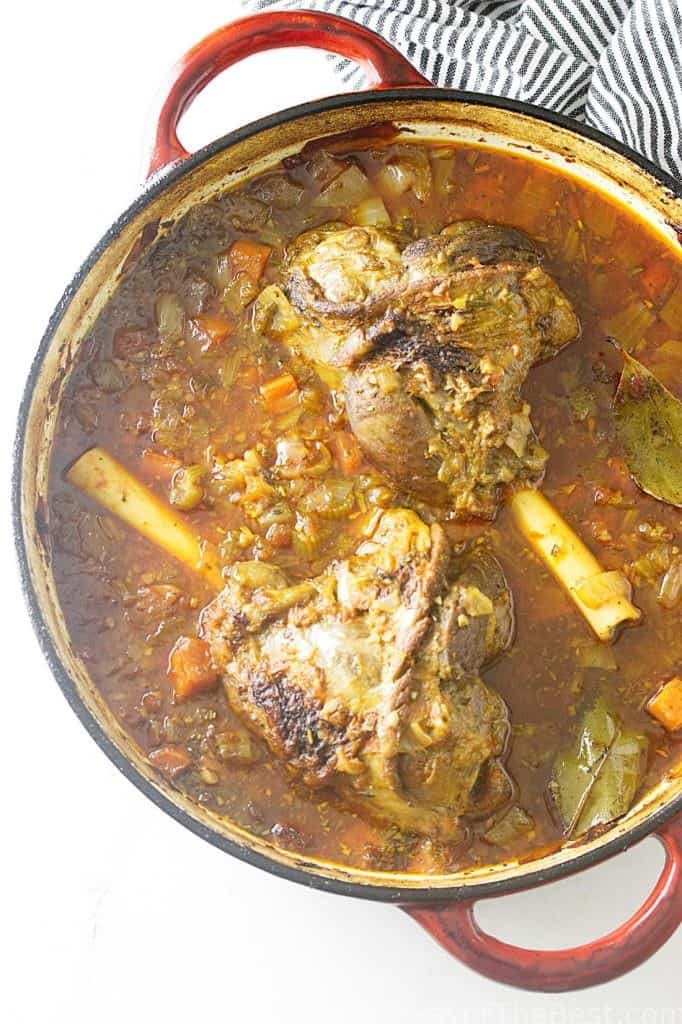 During the cooking your kitchen will be filled with the most incredible aroma!
The lamb shanks and vegetables do their magic transforming these simple ingredients into an insanely delicious dinner entrée.
All you need to complete this awesome dinner is a dish of creamy polenta, a crisp salad, a crusty loaf of bread and your favorite red wine. Enjoy!
More Great Recipes:
Adapted from Food and Wine Magazine
For more great lamb recipes see the post on Our Best Lamb Recipes. You will be inspired!
Connect With Savor the Best:
Please follow us on our social media accounts
Facebook * Instagram * Pinterest * Youtube * Twitter
Did you make this recipe? We would love to hear from you. Drop us a comment below.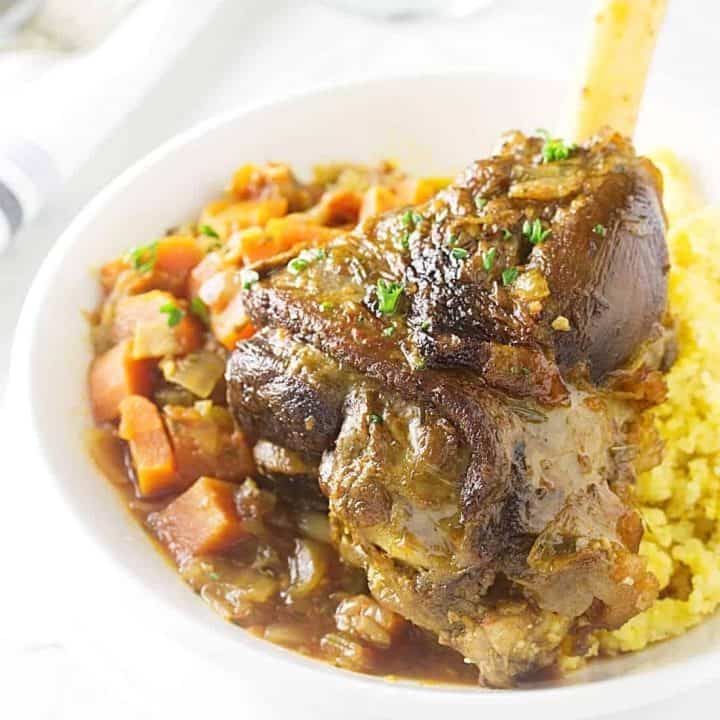 Lamb Shanks - Osso Buco Style
Cook Time:
2 hours
45 minutes
Total Time:
3 hours
25 minutes
Lamb Shanks - Osso Buco Style is a savory entree of lamb shanks braised long and slow in wine, vegetables and herbs. Serve with a potato mash or polenta.
Ingredients
2 large meaty lamb shanks (approx. 1½ pounds each)
½ cup olive oil
4 tablespoons butter
Sea salt
fresh ground black pepper
2 large yellow onions, coarsely chopped
4 carrots 8" long, coarsely chopped
4 stalks of celery 8" long, coarsely chopped
8 garlic cloves, minced
2 cups good red wine
1 can (14 oz) crushed tomatoes
1 tablespoon tomato paste
2 cups beef stock
1 tablespoon lemon zest
3 tablespoons finely chopped fresh rosemary
1 tablespoon fresh thyme
1 tablespoon lemon zest
Instructions
Preheat the oven to 350 F. In a heavy bottomed oven proof pan or dutch oven, heat the oil and butter over medium heat. Season the lamb shanks liberally with salt and black pepper. Cook until browned on all sides, turning frequently. Transfer the lamb shanks onto a plate and set aside while preparing the vegetables and sauce.
In the same pan add the onions, carrots, celery and garlic and sauté over medium heat until softened, stirring often so that it does not burn. Adjust heat if necessary.
Add the wine, tomatoes, tomato paste, beef broth, rosemary, thyme and lemon zest. Bring to a boil and add the reserved lamb shanks. Cover with a lid, transfer to the oven and braise for 2 hours. Remove the lid after 1½ hours and continue to roast the additional 30 minutes until the lamb is very tender and the sauce has reduced and thickened up a little.
Divide the lamb shanks into four shallow dishes with some of the sauce spooned over the top and along side of the lamb.
Notes
There is about 8-10 ounces of lean meat on each of the large lamb shanks, nutrition values are based on 4 ounce servings.
These are also delicious served with mashed potatoes.
Nutrition Information:
Yield:

4
Serving Size:

1
Amount Per Serving:
Calories:

638
Total Fat:

45g
Saturated Fat:

14g
Trans Fat:

0g
Unsaturated Fat:

29g
Cholesterol:

76mg
Sodium:

633mg
Carbohydrates:

23g
Fiber:

5g
Sugar:

9g
Protein:

17g
Nutrition information is a guideline only, is calculated automatically by third party software, and absolute accuracy is not guaranteed.