If you are fortunate enough to have an Instant Pot in your kitchen, you will find it handy for making rice dishes. Our Instant Pot sushi rice recipe always comes out perfect, eliminating the stress of getting consistently cooked rice for homemade sushi rolls.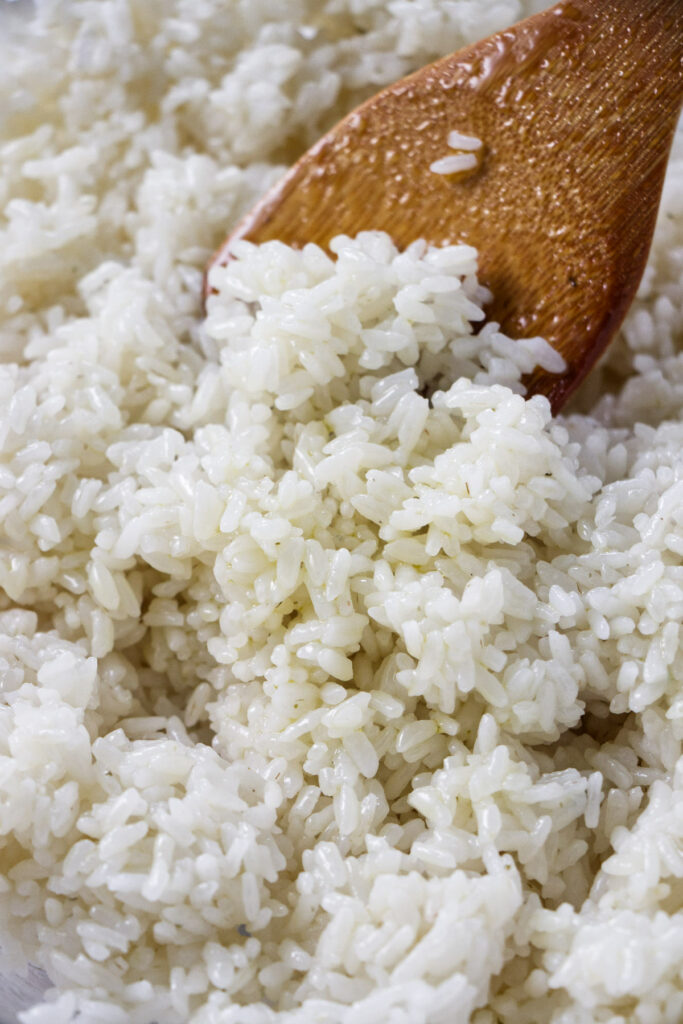 This easy, foolproof recipe will show you how to cook sushi ricein the Instant Pot with just a few simple ingredients. You can use it for traditional sushi, sushi bowls, nigiri, or an American-style Philadelphia roll. We even got creative and used it to make sushi stacks.
Why This Recipe Works
The Instant Pot guarantees consistent results every time (the tight seal prevents evaporation).

You don't have to watch the pot. If you don't return to the kitchen when the rice finishes cooking, the Instant Pot will automatically switch to "keep warm" mode or turn off.

Each step is simple and results in delicious, authentic sushi rice.

We have tested and refined this Instant Pot sushi rice recipe, so you can expect to see fantastic results.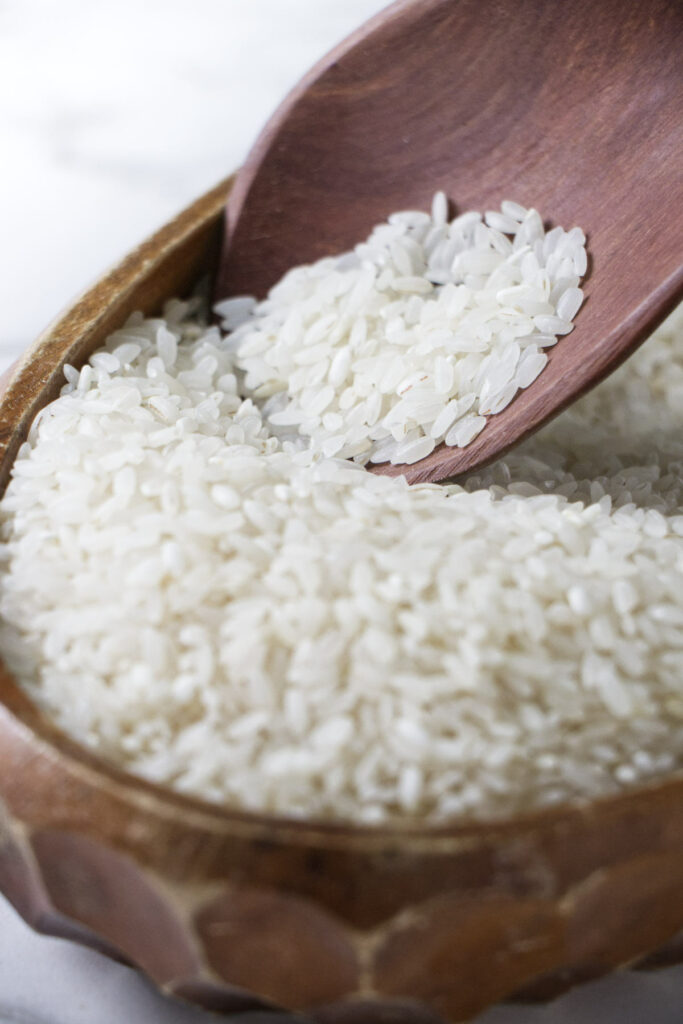 Ingredients Needed
Here is a list of the ingredients you will need to make Instant Pot sushi rice. Scroll down to the printable recipe card for all the details.
Rice. Purchase short-grain Japanese rice. If you can't find any, then Calrose rice works almost as well. Do not use long-grain rice or Arborio rice.

Kombu/dried seaweed. This gives the rice an authentic flavor and aroma.

Rice vinegar. Unseasoned rice vinegar. You can use seasoned rice vinegar if you like, but you may want to reduce the sugar and salt.

Sugar and salt. We added just enough seasoning to represent authentic restaurant-style sushi rice. If you like your rice seasoned more, you can adjust the amounts.
How to Make Instant Pot Sushi Rice
Here is a brief overview to get an idea of what to expect with the recipe. Scroll down to the printable recipe card for all the details.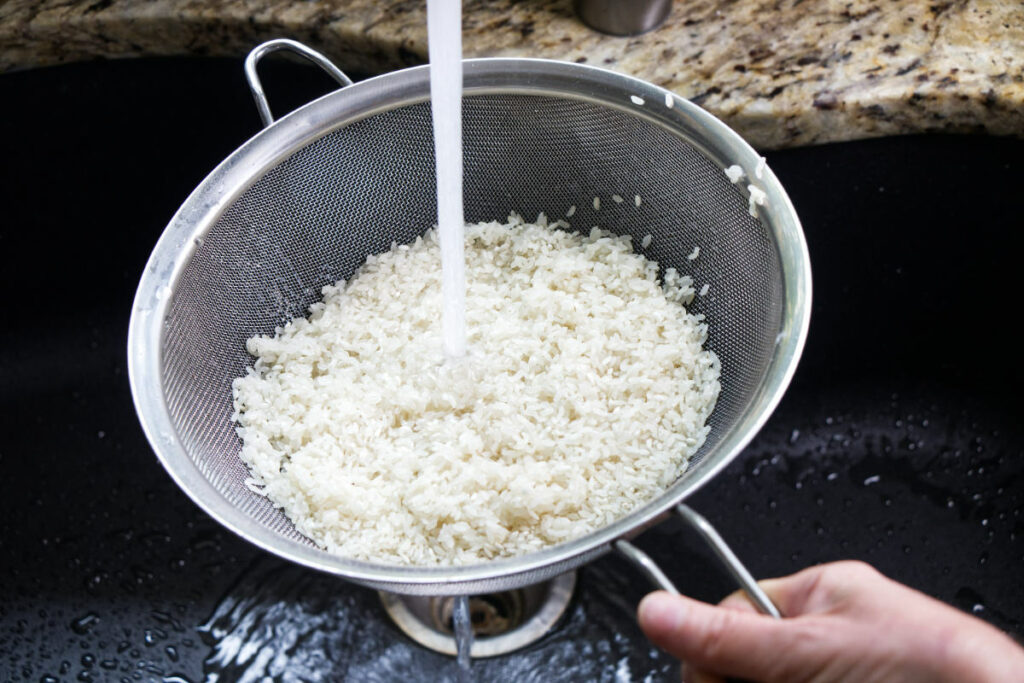 Rinse the rice until the water runs clear.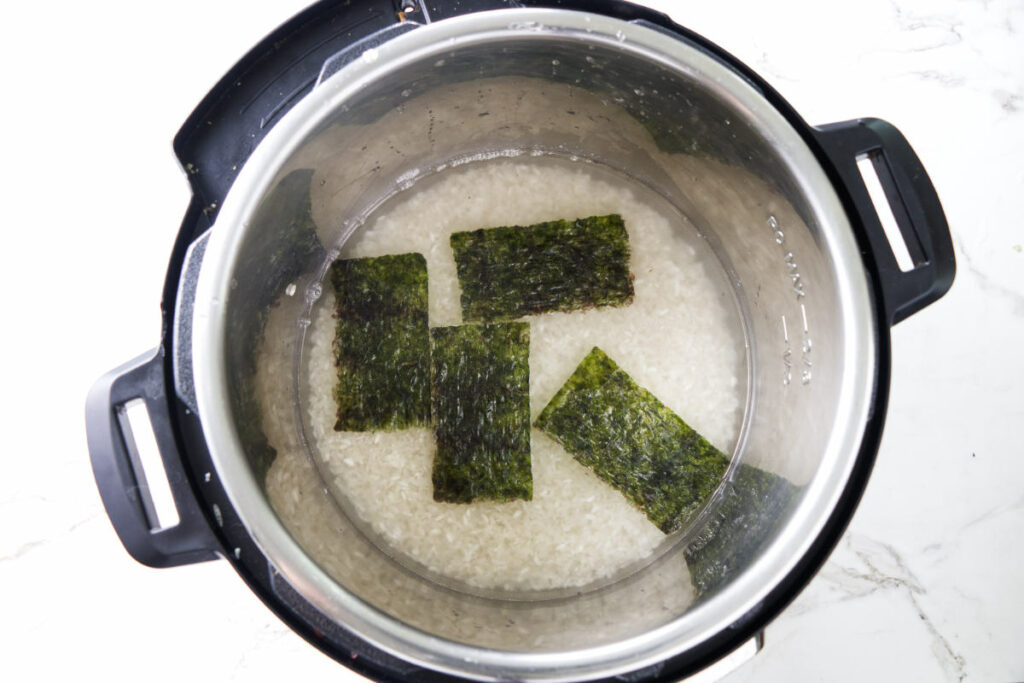 Add the rice and water to the Instant Pot. Toss in dried seaweed if desired.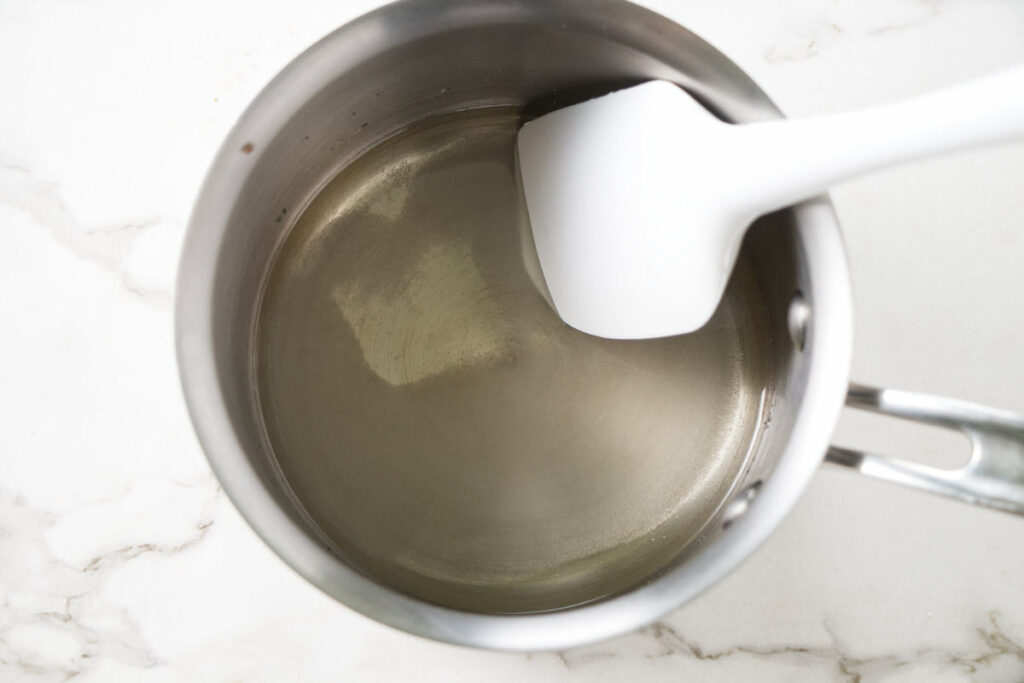 Make the seasoned vinegar while the rice cooks in the Instant Pot.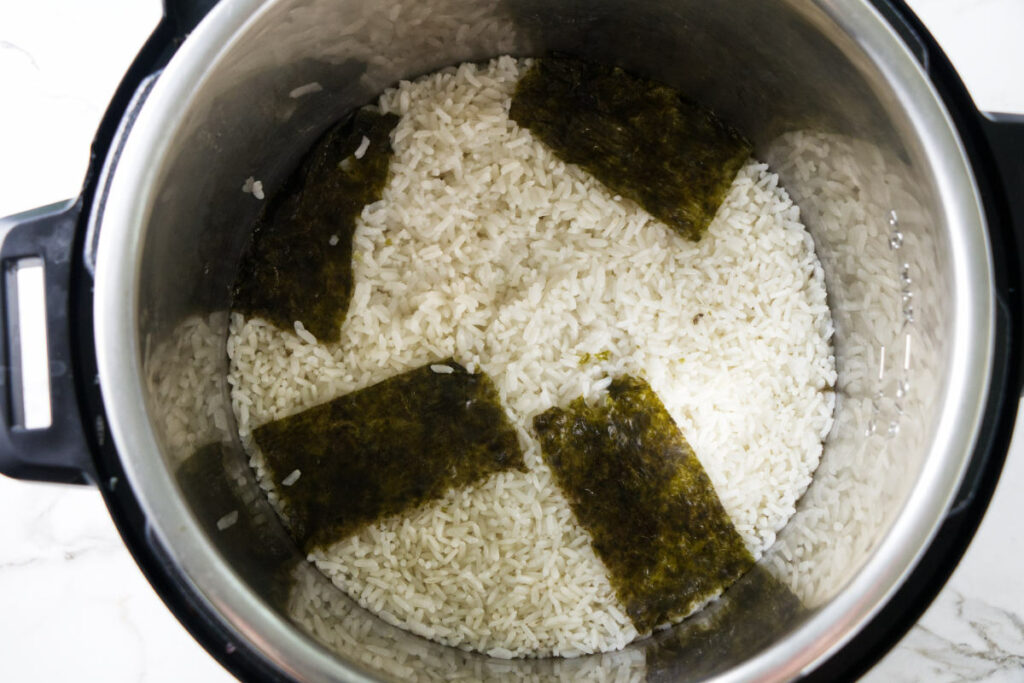 When the rice is finished cooking, toss the dried seaweed (if used) and transfer it to a large bowl.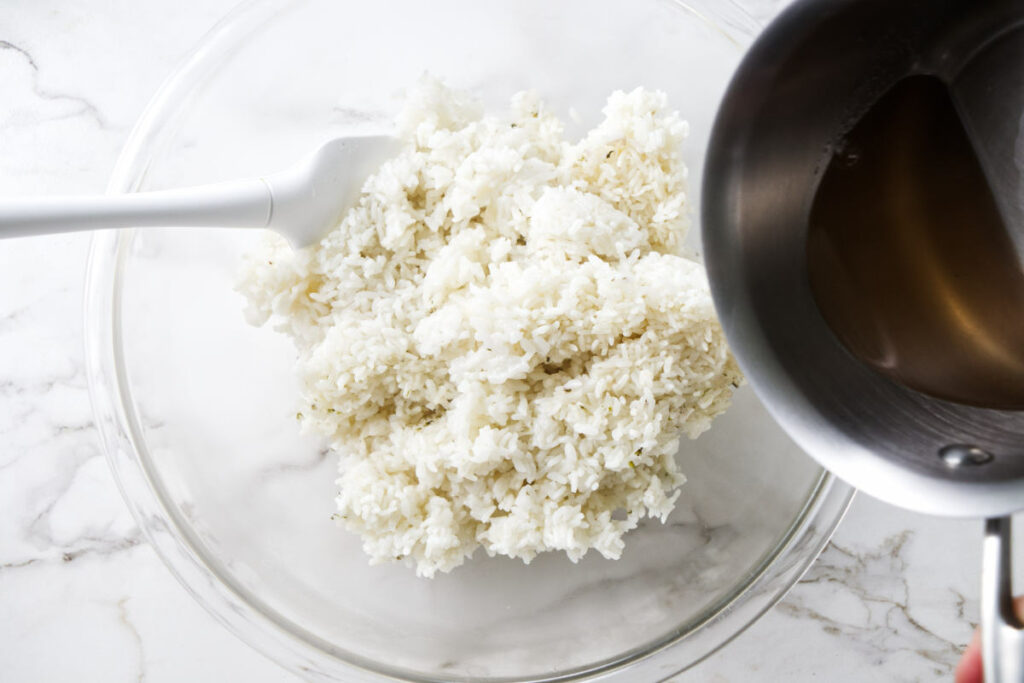 Pour the seasoned vinegar mixture over the hot rice.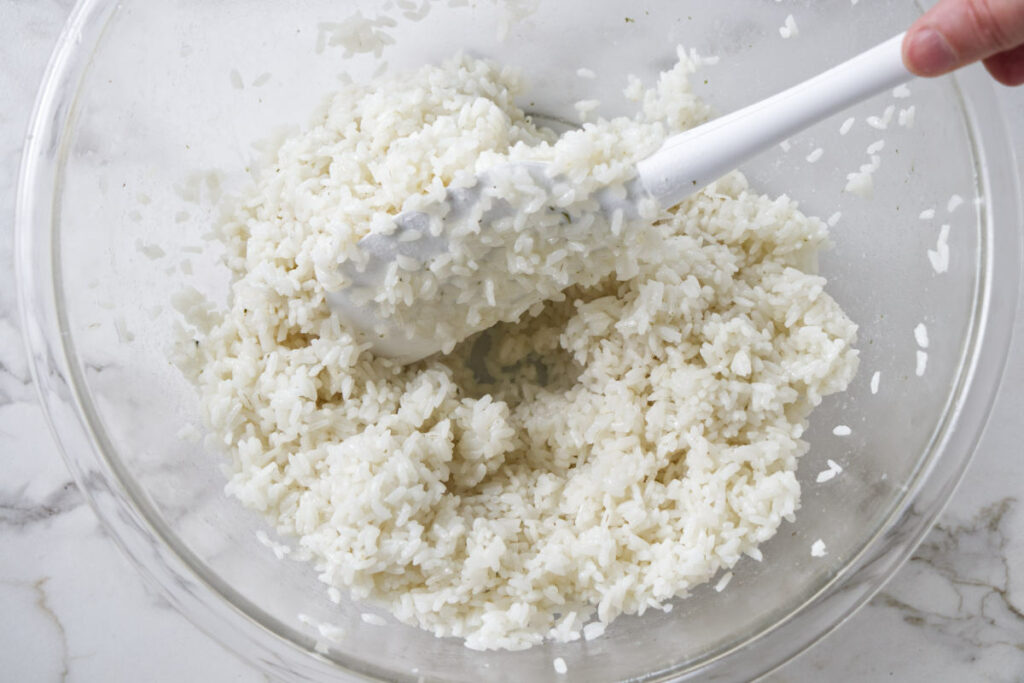 Use a wide spatula or wooden spoon to fold and flip the rice.
Tips for success
Short-grain rice is a must in this recipe. Long-grain rice will not have the sticky texture that sushi rice needs.

You can use Japanese or California sushi rice, depending on what you can find in the store.

Always rinse the rice in a fine strainer before adding it to the Instant Pot.

Once the rice has cooked, allow the Instant Pot to release the pressure naturally.

Transfer the rice to a glass or wooden bowl and use a wooden spoon to mix it.

Use a large, wide bowl to mix the rice with the vinegar solution. The more surface area you have, the quicker the rice will cool down.

Don't let the Instant Pot stay in the "keep warm" mode for longer than 30 minutes or the rice can dry out. If you need it to stay in the pot longer then turn the 'keep warm" setting off.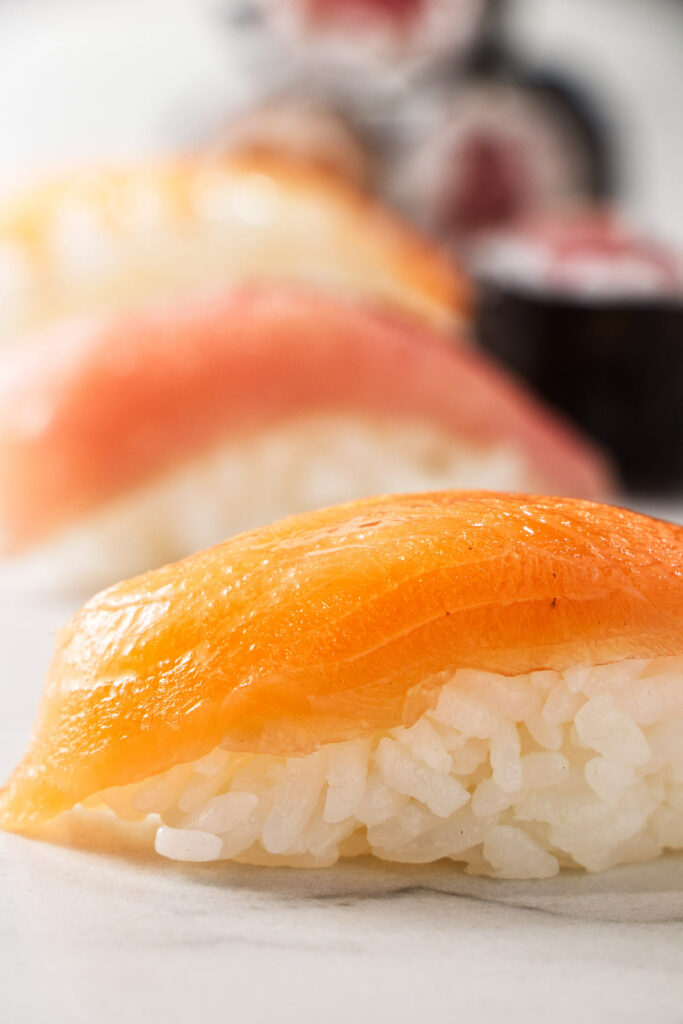 Frequently Asked Questions
Can you use regular rice to make sushi rice?
No. Sushi rice needs to be sticky to work correctly, and short-grain Japanese sushi rice is the optimal choice.
What makes sushi rice sticky?
Short-grain rice has more starch than long-grain rice. The higher concentration of starch helps the rice grains stick together and gives the right consistency for sushi rice.
Does sushi rice have to be cold before rolling it?
Sushi rice should be around room temperature when you make your sushi rolls. It will be too firm and difficult to work with if it is cold.
Are Jasmine and Basmati rice good for sushi?
No. Both Jasmine and Basmati are long-grain rice and they do not have enough starches.
Can I use Arborio rice to make sushi?
No. Even though Arborio is a short-grain rice with a high concentration of starch, it is not ideal for sushi. Arborio rice is firmer and it has a property called chalk which makes it release the starches and gives the rice a creamy texture that is perfect for risotto.
Instant Pot sushi rice is a fast and easy recipe that virtually anyone can make. It is best to use freshly cooked rice in homemade sushi dishes, so make yourself a fresh batch whenever you're in the mood for Japanese cuisine.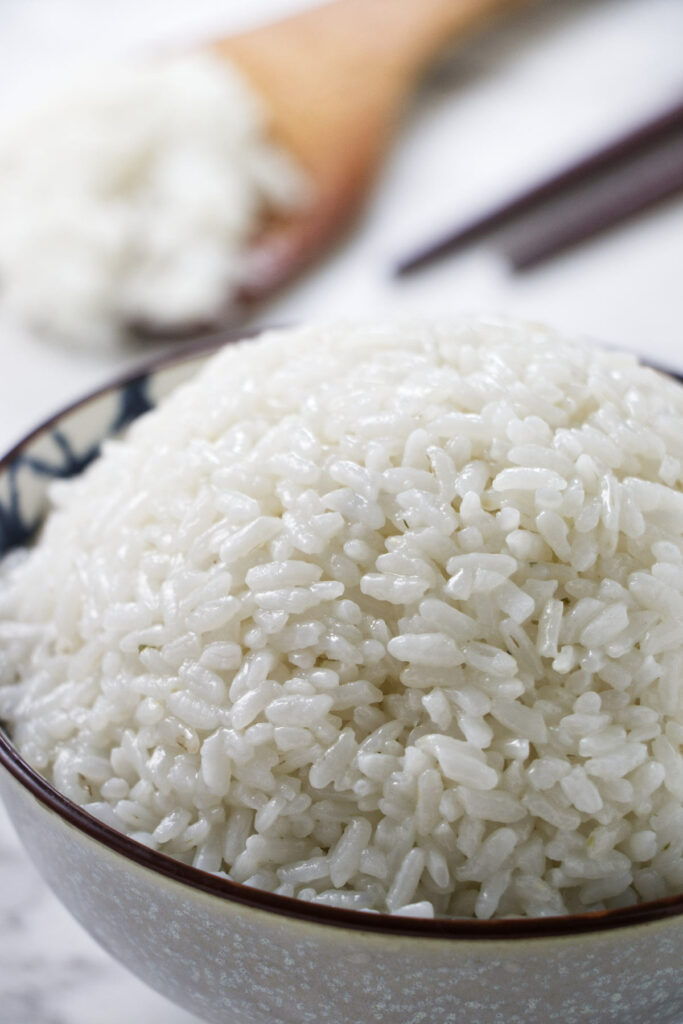 Helpful Tools
Some of the following are affiliate links. If you click on these links and purchase something, we may receive a small commission. You don't pay any extra but it will help us keep the lights on.
Some Other Recipes We Are Sure You Will Love:
Our black rice sushi roll is a unique spin on a classic. You can even cook the black rice in an Instant Pot.
Don't forget to serve your homemade sushi rolls with this refreshing Japanese cucumber salad on the side.
On those nights when you don't have the patience to roll your sushi, try making our ahi tuna poke sushi bowl instead. You could also prepare a
Connect With Savor the Best:
Please follow us on our social media accounts
Facebook * Instagram * Pinterest * Youtube * Twitter
Did you make this recipe? We would love to hear from you. Drop us a comment below.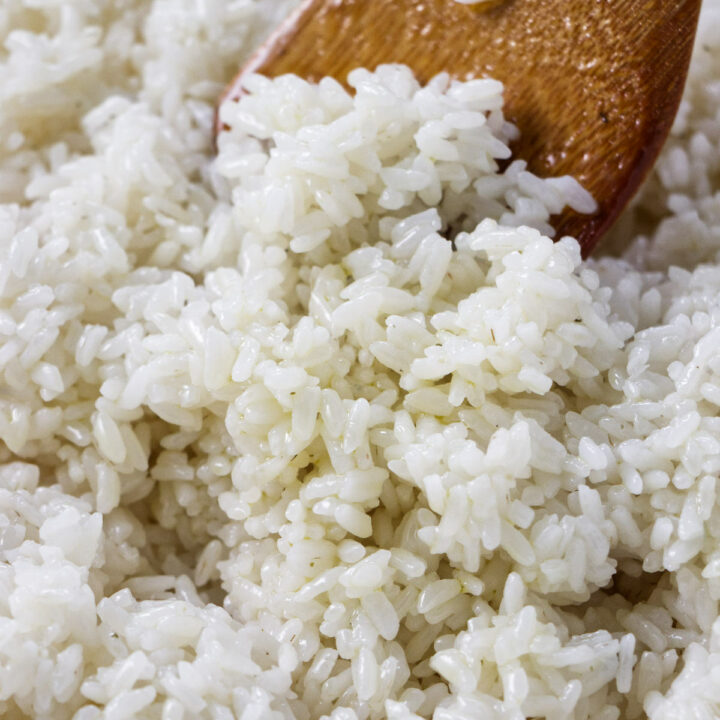 Instant Pot Sushi Rice
Additional Time:
13 minutes
Instant Pot sushi rice is a quick and easy way to make delicious sushi rice at home.
This rice is perfectly cooked, sticky, and has a lovely flavor. It's perfect for making sushi rolls, nigiri, or even inarizushi.
If you want an authentic flavor and aroma from the sushi rice, toss some dried kelp in the Instant Pot when the rice cooks. It is optional but gives the rice a little something extra.
Ingredients
2 cups short grain Japanese rice
2 cups water
Optional: 1 large Kombu (dried seaweed) or 4 small seaweed snacks
1/3 cup rice vinegar
2 tablespoon sugar
1 teaspoon salt
Instructions
Place the dry rice in a fine-mesh strainer and rinse it under running cold water for 2 to 3 minutes until the water runs clear. Optionally, you can swirl it around in a bowl of water and change the water several times.
Add the rice and 2 cups of water to the Instant Pot. Toss in the kombu, if using. The kombu is optional but it gives the rice an authentic aroma of sushi rice.
Seal the Instant Pot and cook on high pressure for 3 minutes.
Allow the Instant Pot to do a natural pressure release (about 12 to 14 minutes).
Combine the rice vinegar, sugar, and salt in a saucepan. Heat over medium heat until the sugar dissolves. (or use a microwave)
While the rice is still hot, transfer it to a glass or wooden dish (discard the kombu if you used it).
Add the vinegar mixture and use a wide wooden spoon or silicone spatula to fold and flip the rice. Don't use a vigorous stirring motion because the rice grains will break and become mushy. If you have a fan, blow it on the rice while you fold it repeatedly. The fan will cool the rice quicker and make it look glossy.
Notes
You can keep the rice covered at room temperature with a damp cloth for a couple of hours.
When you toss the rice with the vinegar solution, use the largest bowl you have. A large bowl will help the rice cool down faster.
Many people advise against using a metal bowl to mix the sushi rice in, as it can give the rice a metallic taste.
If you store the rice in the refrigerator, it will get dry and hard. You can bring it back up to room temperature by zapping it in the microwave for a few seconds at a time. If it is still too dry when it reaches room temperature, sprinkle it with a couple of teaspoons of water and zap it in the microwave for a few seconds.
Nutrition Information:
Yield:

6
Serving Size:

1
Amount Per Serving:
Calories:

108
Total Fat:

0g
Saturated Fat:

0g
Trans Fat:

0g
Unsaturated Fat:

0g
Cholesterol:

0mg
Sodium:

357mg
Carbohydrates:

24g
Fiber:

0g
Sugar:

4g
Protein:

2g
Nutrition information is a guideline only, is calculated automatically by third-party software, and absolute accuracy is not guaranteed.