This vibrant Ahi Tuna Sashimi Salad with Wasabi Emulsion is a tantalizing and healthy whole-meal salad. You're going to love the combination of flavors in this salad with the wasabi emulsion. Unforgettable!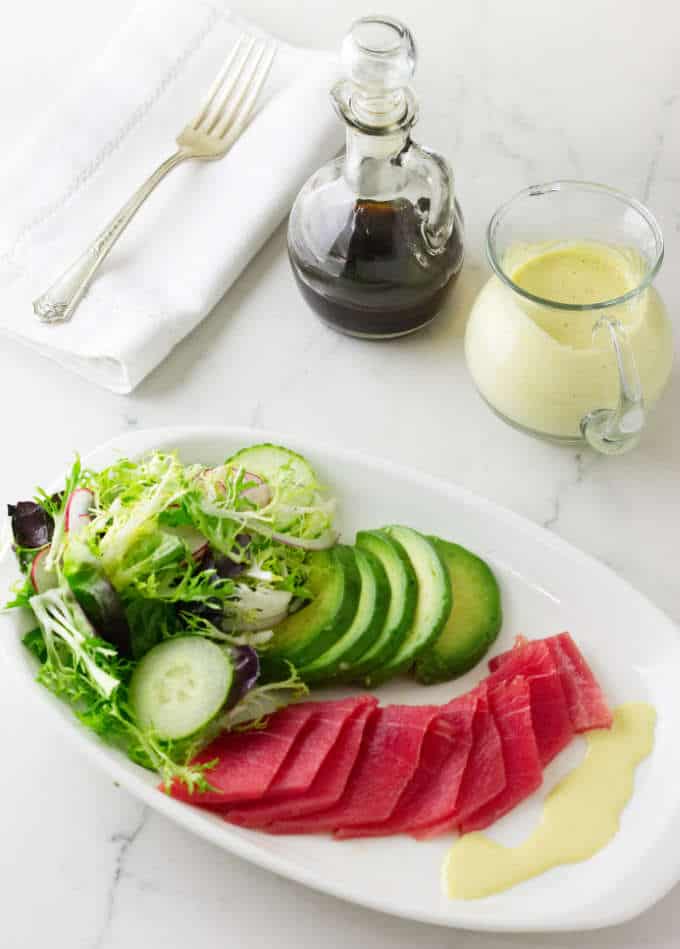 Bring a little Japanese cuisine into your home with this Ahi tuna sashimi salad with wasabi emulsion.
What is Sashimi?
Sashimi is a Japanese delicacy. It is very fresh raw fish or meat sliced into thin pieces. Sashimi is often eaten with soy sauce, preserved ginger and wasabi paste.
Is Yellowfin Tuna the Same as Ahi tuna ?
Ahi is the name for two types of tuna, yellowfin, and bigeye. Yellowfin tuna has a mild flavor and a firm texture, making it perfect for sashimi. Bigeye tuna has a higher fat content which gives it a creamy, buttery flavor. We prefer Bigeye tuna for our sashimi.
Yellowfin tuna live in tropical and subtropical oceans. You can find them in the waters around the U.S. Pacific Islands and off southern California.

Yellowfin tuna range in color from pink to deep red.
Good quality Bigeye tuna have reddish-pinkish flesh.
You will recognize the Bigeye tuna by its plump body, its larger head and its unusually large eyes.
The Bigeye tuna live in deeper, colder waters than the yellowfin tuna which is why they have a higher fat content.
Where to Buy the Freshest Ahi Tuna:
When you make this ahi tuna sashimi salad, you should make sure you buy the freshest and best quality Ahi tuna. It helps to know your supplier and where they purchase their tuna.
We buy our Ahi tuna loin at a market where there is a top-drawer Japanese deli. They have a variety of sushi, sashimi and many delicacies of their cuisine. This fresh tuna came from the waters off Hawaii. The products at our favorite Japanese deli are always super-fresh and top quality.
As soon as we get this fresh tuna home, it goes straight into the freezer until it is ready to thaw and prepare. Freezing the tuna serves two purposes.
First, freezing destroys any bacteria in the fish. We like to freeze the fish ourselves for that extra peace-of-mind. Although eating raw fish is generally safe for most people, if you have a weakened immune system or are pregnant, you should avoid eating it.

Second, slicing the tuna while it is partially frozen will make it easier to slice thinly.
How we made our Ahi Tuna Sashimi Salad with Wasabi Emulsion:
This sashimi-style salad joins forces with crisp salad greens, creamy avocado, cucumber, red onion, and zesty radishes. We tossed the salad with a light soy-sesame dressing. This dressing truly compliments the textures and flavors of the salad.
We made the wasabi emulsion in our mini-food processor. It is a blend of egg yolks, rice vinegar, pickled ginger, wasabi paste and melted butter. When you drizzle the melted and cooled butter into the whirling blender, it turns into a creamy thick sauce.
You will have more than enough wasabi sauce for leftovers. You can store the extra wasabi emulsion in the refrigerator for several days. We used this wasabi sauce for our Sake-Red Miso Glazed Sablefish recipe. The sauce is also great drizzled on steamed veggies.
You have got to try this salad. The zesty wasabi emulsion is amazing. The crowning touch to this salad is the chilled, thin slices of Ahi tuna.
SOME OTHER RECIPES WE ARE SURE YOU WILL LOVE:
CONNECT WITH SAVOR THE BEST!
Be sure to follow us on our social media accounts
Facebook * Instagram * Pinterest * Twitter * Youtube
Did you make this recipe? We would love to hear from you. Drop us a comment below.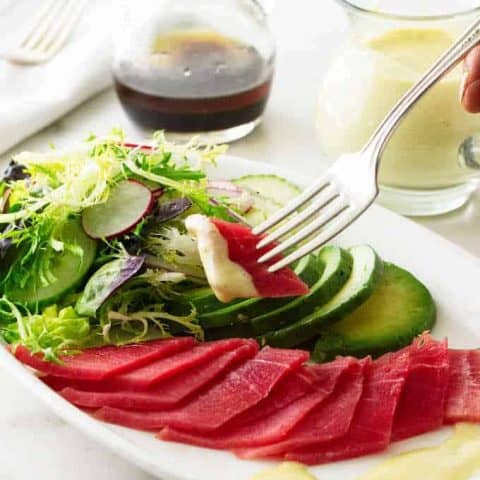 Ahi Tuna Sashimi Salad With Wasabi Emulsion
This vibrant Ahi Tuna Sashimi Salad with Wasabi Emulsion is a tantalizing whole-meal salad for anyone who enjoys sashimi.
Ingredients
For the Wasabi Emulsion:
10 tablespoons melted butter, cooled
3 egg yolks
1-1/2 tablespoons wasabi paste
2 tablespoons rice vinegar
2 tablespoons chopped pickled ginger
Pinch of kosher salt
For the Soy-Sesame Dressing:
1/2 cup toasted sesame oil
1/4 cup rice vinegar
3 tablespoons soy sauce
1 tablespoon finely grated fresh ginger (peeled)
Salt and pepper to taste
For the Salad:
5 oz. mixed salad greens
1 English cucumber, thinly sliced
1/2 red onion, thinly sliced
4 large red radishes, thinly sliced
1 large avocado, peeled, pitted and quartered
8 ounces Ahi Yellowfin tuna, thinly sliced
Instructions
For the Wasabi Emulsion:
Add the egg yolks, wasabi paste, vinegar, ginger and salt to a blender and process until smooth. With the motor running, slowly drizzle in the cooled butter. Blend until fully incorporated and smooth. Transfer to a dish or pitcher and refrigerate until needed.
For the Soy-Sesame Dressing:
Add all of the ingredients to a small, lidded jar and shake well to combine.
For the Salad:
To a large salad bowl, add the greens, cucumber, onion and radishes. Toss with a portion of the salad dressing. Arrange the dressed greens on 4 salad plates and add the avocado slice. Divide the tuna equally and arrange on the salad plate. Spoon or pour a portion of the reserved wasabi sauce to each salad. Serve immediately
Notes
Both the wasabi emulsion and the soy-sesame dressing can be made in advance and refrigerated.
Either a mini-food processor or an stick blender works well for the wasabi sauce. If using a stick blender place the ingredients inside a pint-size Mason jar and drizzle in the butter while blending.
The wasabi sauce will keep for 3 or 4 days in a covered container in the refrigerator.
Partially freezing the tuna will make slicing the tuna thinly much easier.
The wasabi emulsion will make 2 cups with 40 calories per tablespoon
The soy-sesame dressing will make 1 cup with 66 calories per tablespoon
Recommended Products
As an Amazon Associate and member of other affiliate programs, I earn from qualifying purchases.
Nutrition Information:
Yield:

4
Serving Size:

1 Salad with 2 oz Tuna
Amount Per Serving:
Calories:

187
Total Fat:

10.5g
Saturated Fat:

2.2g
Cholesterol:

26mg
Sodium:

37mg
Carbohydrates:

9.6g
Fiber:

4.1g
Sugar:

2.2g
Protein:

15.3g